I came up with this sugar-free mango and banana bread recipe as I felt we were having too many sugary things lately, and I'm also really trying to control the amount of sugar my toddler has each day. I had a couple of ripen mangos sitting around, and I thought why not try to make something healthy to have as a snack or for breakfast. I must admit the first couple of trials were not very successful, but I finally got the right amounts for this delicious and healthy mango & banana bread! It's so moist and tender inside, but a bit thicker than a usual cake. Although it has no sugar, it's quite sweet from the fruits and the chopped mango cubes inside give it a nice freshness on every bite.
Jump to:
Why you should try my recipe
Great moist texture, not too cakey not too bready
Preparation time takes less than 10 minutes
Cooks in only 40 minutes
Has no sugar, all sweetness comes from the fruits
Perfect for babies and little children as it has no sugar
Ingredients & How-to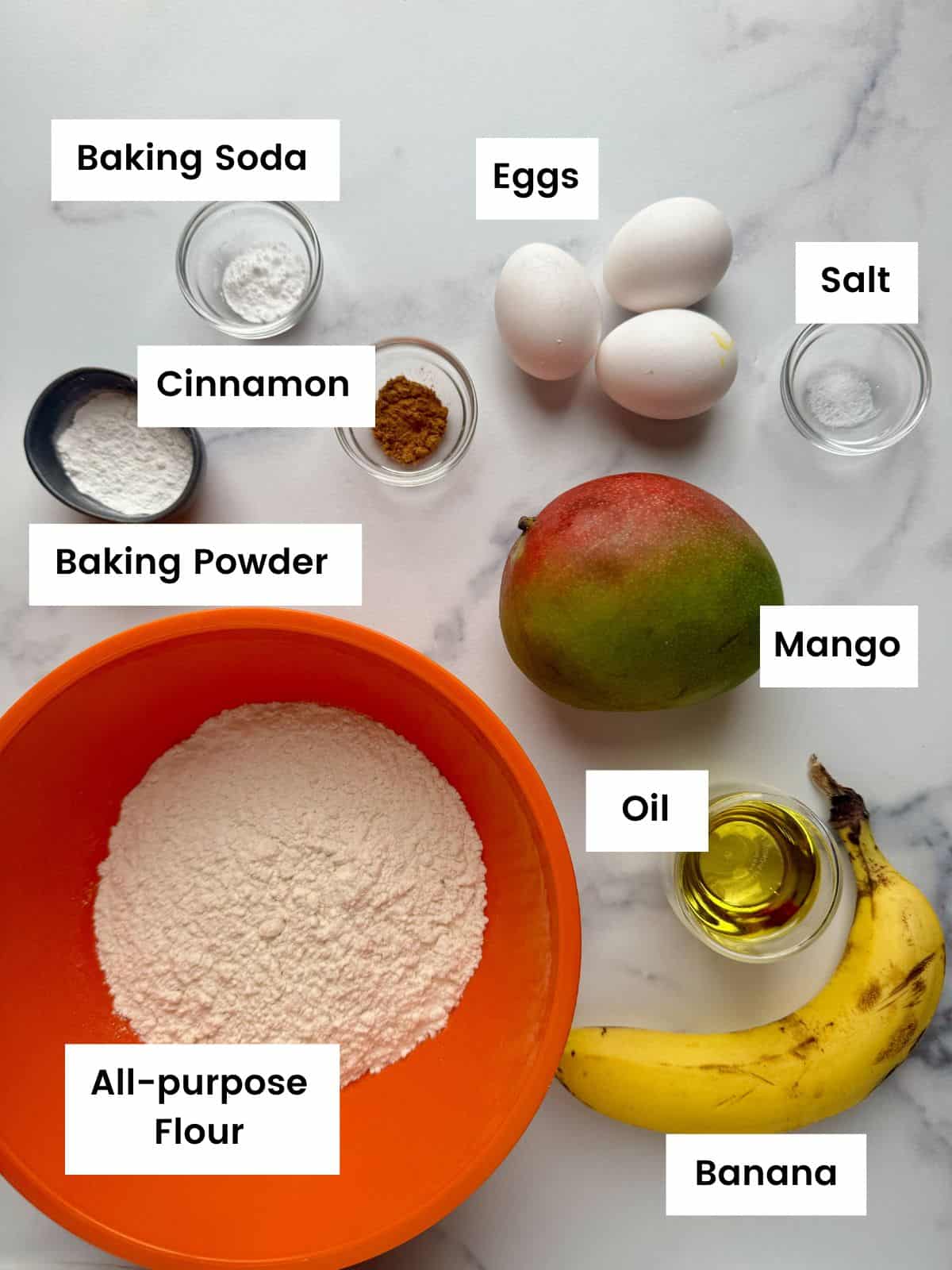 The main ingredients for this sugar-free bread are mango, banana, flour, eggs and vegetable oil. As it doesn't have any other sweeteners, you will need to use a ripe mango and banana. If your banana or mango are not ripened yet, then you can put them in the microwave for 15 seconds or put them in the oven for half an hour at 150°C/300°F. In either case, let them cool down at room temperature or in the fridge for a bit before continuing with the recipe.
After peeling and removing the stone from the mango fruit, I cut half of it into cubes and put the other half in a mini chopper along with the banana. I blend well the fruits until I get a nice smooth texture like purée and then put the mixture in a big bowl. Then I add the three eggs and whisk until all eggs are well incorporated with the mango & banana purée.
Mamazilla's Product Recommendations
Now it's time to put the rest of the ingredients in. I first add the vegetable oil and half a teaspoon of cinnamon and mix well. Cinnamon goes very well with mango and banana, so I find this addition gives some extra flavor to my mango and banana bread. If you don't have any cinnamon powder, you could replace it with half a teaspoon of mixed spice.
Then it's time for the flour and baking powder. I add the self-raising flour and baking powder to the mixture and using a whisk or a spatula I start mixing it all until the flour is well incorporated. The texture is going to be a bit thicker than a cake mixture. Finally, I add the chopped mango cubes and gently fold the mixture with the spatula so they are evenly distributed.
It's time for the oven! Make sure your oven is preheated to 180°C/350°F. I use a bread loaf tin with some parchment paper or if you prefer just add some vegetable oil all around so it's easier to get the bread out. Then carefully I add the mixture to the tin with my spatula. I bake the mango & banana bread for around 40 minutes until it has a nice golden brown color. If you are not sure, you could use a small knife or a wooden skewer and check if it comes out wet then it might need a few more minutes.
Mamazilla's Product Recommendations
Serving suggestions
We usually have this no sugar mango & banana bread for breakfast plain or with a little bit of butter on it. It's also great as a snack with your coffee or for taking with you on a walk and days-out.
Sugar-free mango bread is great also for babies that follow the Baby Led Weaning method and little children where you try to control the daily sugar intake to a minimum. My toddler loves a small slice for a breakfast with some yogurt and berries on the side.
Storage
You can store the mango and banana bread in an airtight container at room temperature for 3-4 days or in the fridge for a week. This is also freezable for up to two months, just cut it into slices beforehand and then take out one or two slices whenever you want.
FAQ
How can I ripe a banana fast? You could microwave the banana for 15 seconds or place it on a baking tray and put it in the oven for half an hour at 150°C/300°F. Let it cool down completely before adding it to your mixture.

Can I use plain flour instead of self-raising flour? Yes you can, to replace 2 cups of self-raising flour simply add 2 cups of plain flour with one teaspoon of baking powder and one teaspoon of baking soda.

Can I freeze the mango bread? Mango & banana bread is freezable for up to two months. Cut it into slices beforehand and put some parchment paper between the slices so they don't stick together.

Can I give mango bread to my baby? This recipe for mango & banana bread has no sugar or salt so it's perfect for babies that follow BLW method and for little children. Depending on the age of your little one, you could cut it into finger size pieces or large cubes.
Watch the video
Sugar Free Mango & Banana Bread Loaf
This no sugar mango & banana bread loaf is great for breakfast or a healthy snack. It's really moist inside and those chopped mango bits give each bite some extra freshness. So delicious and perfect for little children too!
Category: Cakes
Difficulty: Easy
Print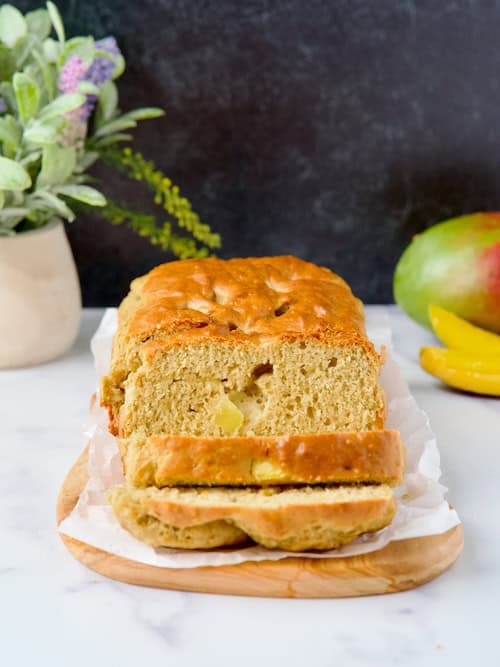 Ingredients
1 ripe mango
1 ripe banana
3 eggs
2 cups self-raising flour
2 teaspoons of baking powder
½ teaspoon of cinnamon
¼ cup vegetable oil
Instructions
Preheat the oven to 180°C/350°F

Peel the mango and remove the stone.

Chop half of the mango into cubes and set aside for later on.

Add the other half of the mango to a food processor with the peeled banana.

Blend until you have a smooth texture.

Add the mixture to a bowl. Add the eggs, vegetable oil and cinnamon.

Mix until all well incorporated.

Add the flour and baking powder. Start mixing the flour in with a whisk and as the mixture thickens use a spoon or spatula.

Finally, add the chopped mango cubes and gently mix until they are evenly distributed.

Place the mixture into a lined loaf tin and bake for 40 minutes or until golden brown.
Notes
After you take it out of the oven, leave it for 5-10 minutes before removing it from the tin as it's soft and might break.
Storage
You can store the mango & banana bread in an airtight container for up to 2-3 days or in the fridge for a week.
Nutrition Info (per serving)
Calories: 196kcal | Carbohydrates: 29g | Protein: 5g | Cholesterol: 56mg | Fat: 7g | Saturated Fat: 1g | Polyunsaturated Fat: 4g | Monounsaturated Fat: 1g | Fiber: 2g | Sodium: 450mg | Potassium: 120mg | Sugar: 6g
I am not a nutritionist. The nutrition information has been calculated using an on-line calculator, and is intended for information and guidance purposes only. If the nutrition information is important to you, you should consider calculating it yourself, using your preferred tool.