Look at the color of this beetroot and yogurt dip! Doesn't it look great and yummy?! This dip is similar to tzatziki but instead of cucumber it has beetroot, hence the color. I like to add some pine nuts in it as it really adds to the flavor and texture, but if you don't like them or you have an allergy, you could just leave them out. It will only take you 15 minutes to prepare the beetroot dip and then you just let it rest in the fridge to get all the flavors out.
Jump to:
Why you should try my recipe
Easy steps to follow for the creamiest beetroot dip.
How to store the beetroot dip to last for almost a week.
Perfect to dip breadsticks, pita bread or fries and veggie sticks.
Ready in just 15 minutes.
Healthier and more refreshing than mayo based dips.
Ingredients & How-to
To make this beetroot and yogurt dip, you will need some simple ingredients beetroot, greek yogurt, dill, pine nuts, vinegar, olive oil, garlic and some salt. Very similar to the tzatziki sauce ingredients. So let's get started!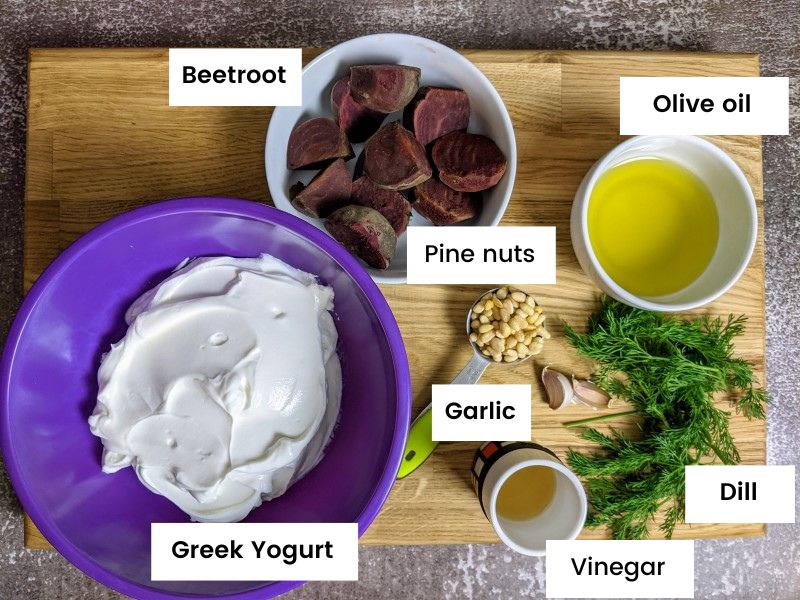 01. I use 3-4 beetroots depending on the size. It's better if you boil them first for around 5 minutes just to soften up a little bit. After, you could use a blender and give it a few spins until they are coarsely cut or a grater. If you handle the beetroots with your hands, it's better if you put on some gloves as you are going to end up with red hands.
02. Now we are ready to mix everything together. I'm using strained greek yogurt which is thicker than the greek style one. That helps to prevent a runny dip. In a big bowl, I add the yogurt, coarsely cut beetroot, pine nuts, olive oil, vinegar, chopped garlic, chopped dill and a little bit of salt.
The dill and pine nuts are optional but I highly recommend them as they add to the flavor and texture. As for the garlic, depending on how strong you want the flavor, you could add one or two cloves that you finely chop with a knife or using a garlic presser.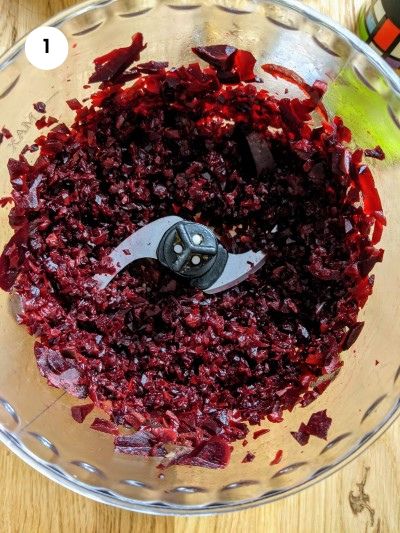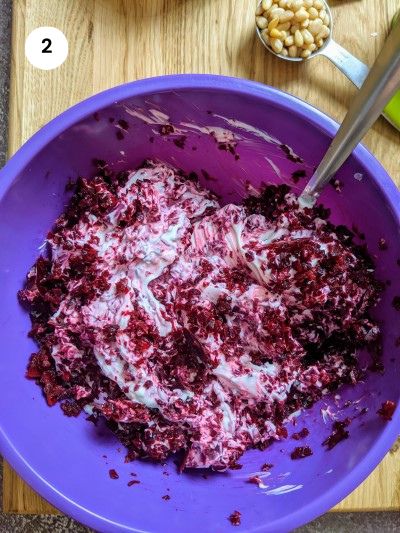 03. I mix everything well and then place the beetroot and yogurt dip in the fridge. Leaving it to rest for 15 minutes to half an hour will help to enhance all the flavors and make it even tastier. So be a little patient here.
Serving suggestions
This beetroot and yogurt dip goes well with so many things. It's a nice alternative to tzatziki sauce or healthier than mayonnaise based sauces as it's less fatty and has the beetroot in it. We love to have it with
Grilled meat
Grilled vegetables
Bread and pitta bread
Raw vegetables like carrot sticks
As sauce in wraps and sandwiches
If you are sharing the beets dip with little ones under 12 months, then I recommend leaving out the salt as you need to keep the daily salt intake to a minimum and also leaving out the pine nuts as it is a choking hazard.
Storage
If you have any leftover beetroot and yogurt dip, you could store it in an airtight container in the fridge for up to 4 days. After that, the sauce might get more runny and it will lose some of its flavor.
FAQ
Can I make the beetroot dip dairy-free? For a dairy-free version of the beetroot and yogurt dip, you could substitute the greek yogurt with a dairy-free of your choice like coconut yogurt.

Can I give my baby beetroot dip? For babies under 12 months, you should leave out the pine nuts and salt when preparing the beetroot dip. Salt intake should be kept to a minimum for babies and pine nuts have a choking hazard risk.

Why is my beetroot dip too runny? If your beetroot and yogurt dip turns out to be too runny, then you have used a creamier and more runny yogurt. Make sure you use strained greek yogurt and your beets are not overboiled. Don't boil them for more than 5 minutes, we just need them to soften up in order to blend them.
Watch the video
Beetroot & Yogurt Dip
This beetroot and yogurt dip is so refreshing with a tangy taste from the yogurt and beets. It's so delicious and ready in just 15 minutes! You could serve it with some bread, veggies or some grilled meat. Enjoy!
Print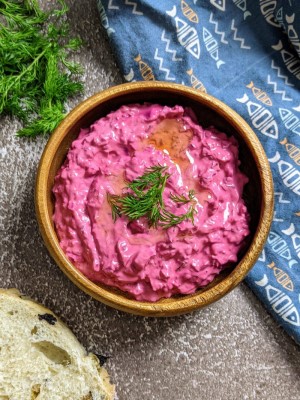 Ingredients
2 cups (500gr) greek yogurt
3 medium beetroots (around 200gr)
2 tablespoons of vinegar
2 tablespoons of olive oil
1-2 garlic cloves pressed or finely chopped
1 tablespoon of dill finely chopped
1 tablespoon of pine nuts
salt
Instructions
Peel the beetroots and boil them for 5 minutes.

Place the boiled beetroot in a blender. Give it a few spins until it's coarsely cut.

Put the yogurt, beetroot, chopped dill, vinegar, olive oil, chopped garlic, pine nuts and salt in a big bowl.

Mix well until all ingredients are well combined.

Leave to rest for 10-30 minutes in the fridge before serving to let the flavors blend.
Notes
You could substitute greek yogurt with an alternative one like coconut milk yogurt for a dairy free / vegan version.
Storage
You can store any leftover dip in an airtight container in the fridge for up to 4 days.
Nutrition Info (per serving)
Calories: 108kcal | Carbohydrates: 5g | Protein: 6g | Cholesterol: 0mg | Fat: 7g | Saturated Fat: 3g | Polyunsaturated Fat: 0g | Monounsaturated Fat: 2g | Fiber: 1g | Sodium: 39mg | Potassium: 96mg | Sugar: 4g
I am not a nutritionist. The nutrition information has been calculated using an on-line calculator, and is intended for information and guidance purposes only. If the nutrition information is important to you, you should consider calculating it yourself, using your preferred tool.