Figs are in season, so here I come with another salad, this time containing beet and figs. A couple of years ago, around this time, I shared with you another favorite, my fig and grilled halloumi salad, which you all loved. This salad now is more earthy from the beet, sweet from the ripe figs and the saltiness of feta cheese gives it a great balance.
It's full of goodness from the veggies, fruits, cheese and nuts and it takes about 30 minutes to prepare. I love having it with a slice of crusty bread for a light dinner but you could also serve it as an appetizer or side with your main. So, let's get started!
Jump to:
Why you should try my recipe
Very easy to prepare and healthy.
Perfect for a light lunch and lunch boxes.
Full of nutrients and quite filling.
Great for barbecues and gatherings.
Ingredients & How-to
The ingredients you will need for this healthy beet and fig salad are: beets, figs, red onion, arugula, walnuts, feta cheese, vinegar, olive oil, balsamic vinegar, and salt.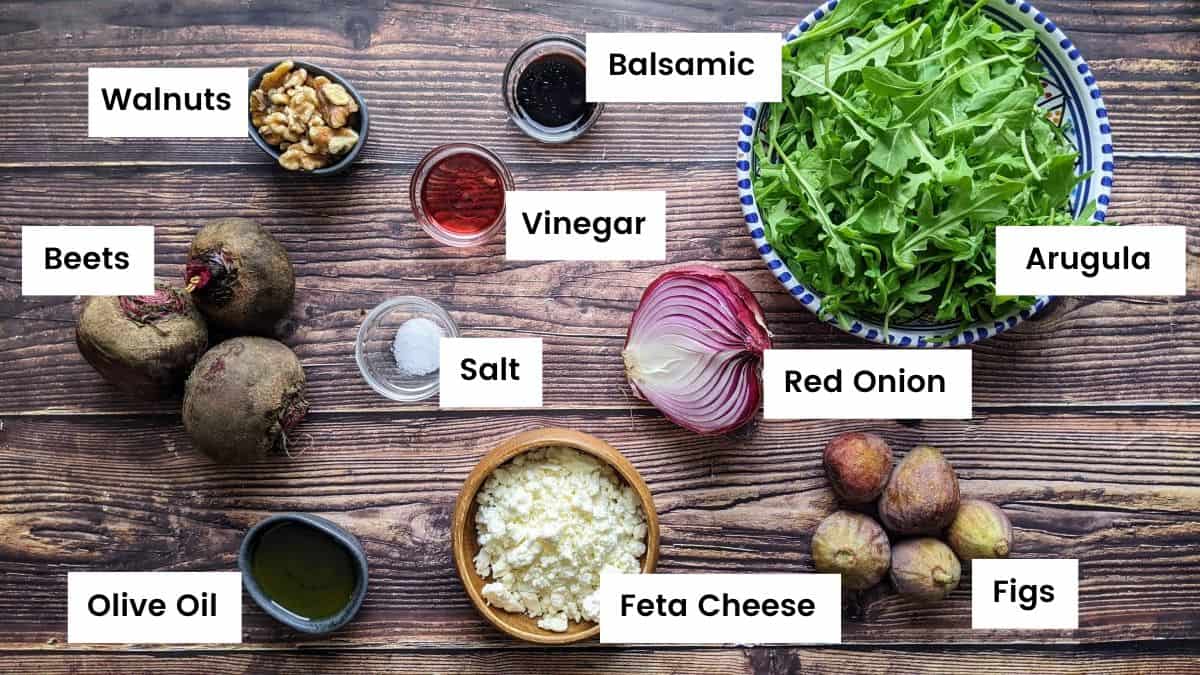 You could use any type of beets you like. Usually, I make it with red beets, but you could also make it with yellow or heirloom beets.
01. I start with preparing the beets. I peel them and cut each one in half. Then I cut each half into slices about 0.5cm / 0.25in thick. Cutting them before boiling will speed up the process. Make sure you wear gloves when handling the beets or wash your hands immediately after, and the same goes for your wooden board.
02. I fill a pot with water and bring it to a boil. Then I add the beets and boil them for 15-20 minutes until they are fork tender. We don't want them to get very soft and break easily but also not be raw and hard. When the beets are ready, I take them out of the water and leave them to cool down for 5-10 minutes.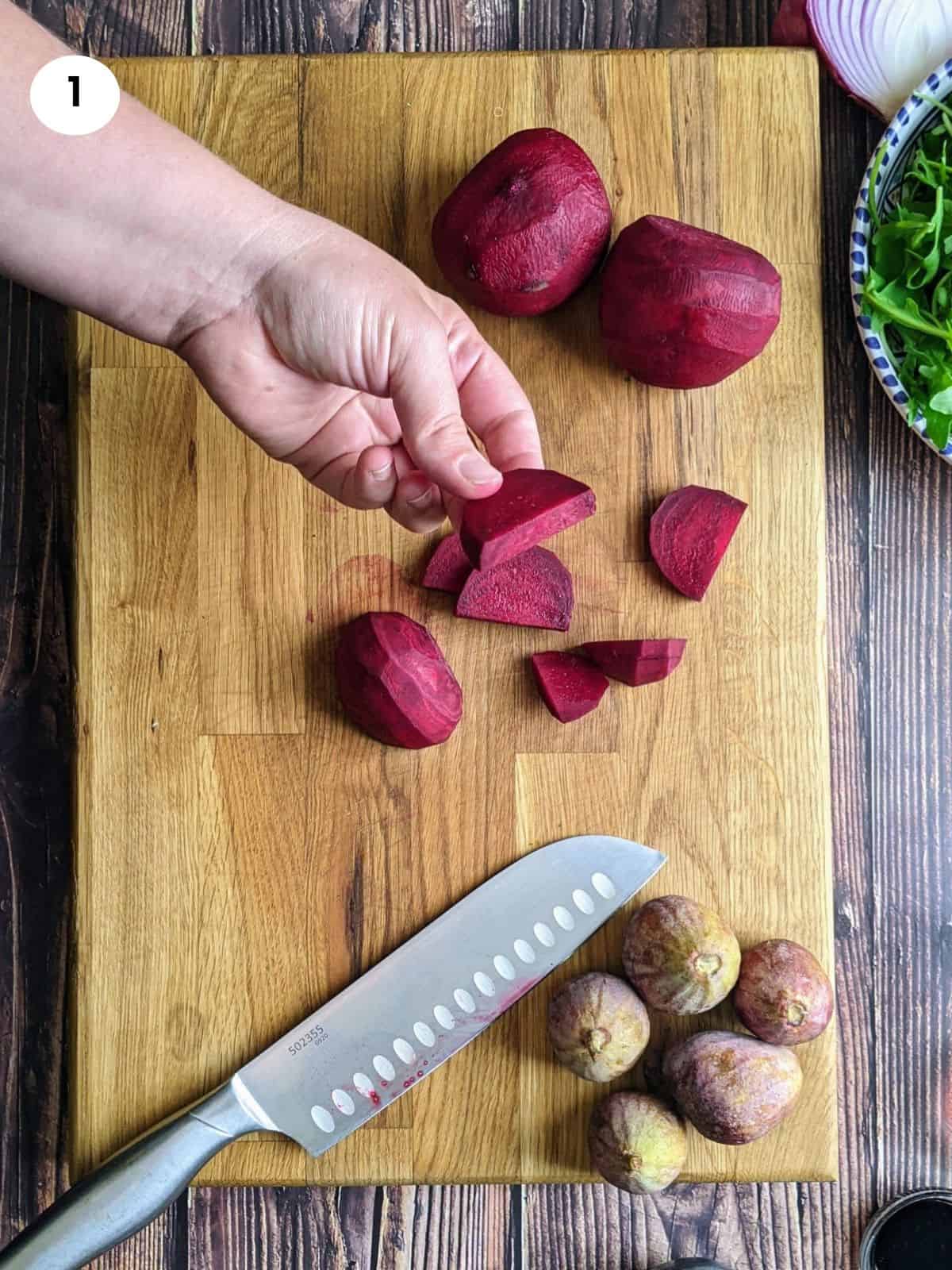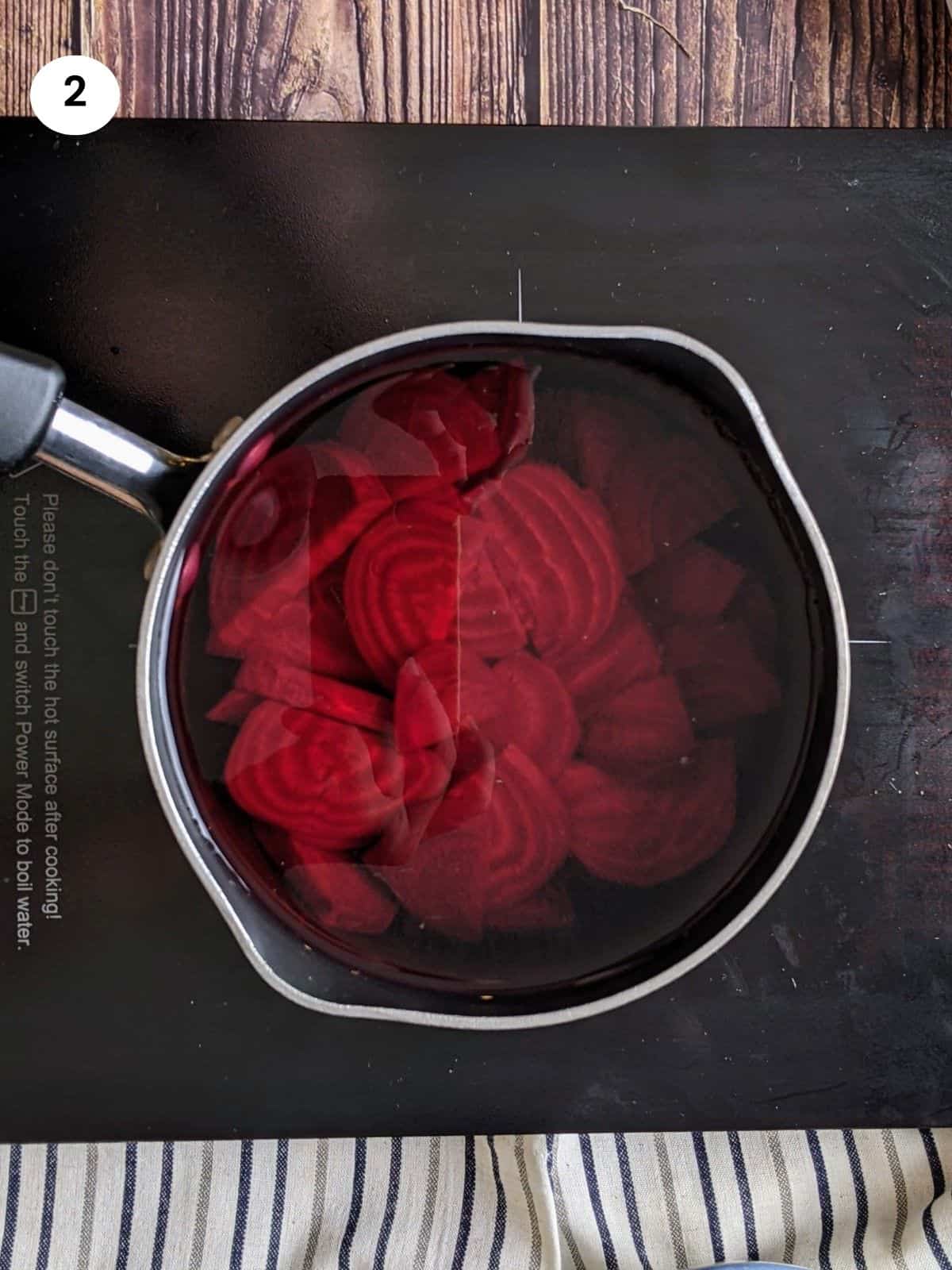 03. While the beets are boiling, I prepare the rest of the ingredients. I cut half a red onion into thin slices. Usually, red onions are big compared to yellow onions, so I'm using only half. If however you happen to find small ones, you could use a whole onion. I prefer to use red onions in salads when used raw, as they have a slightly milder taste.
04. Then, I put cold water and some ice in a bowl and place the onion slices in. I leave them in the water until the beets are ready and it's time to assemble the salad. The cold water helps to get some of the onion's sharp taste off and also to keep them crispy.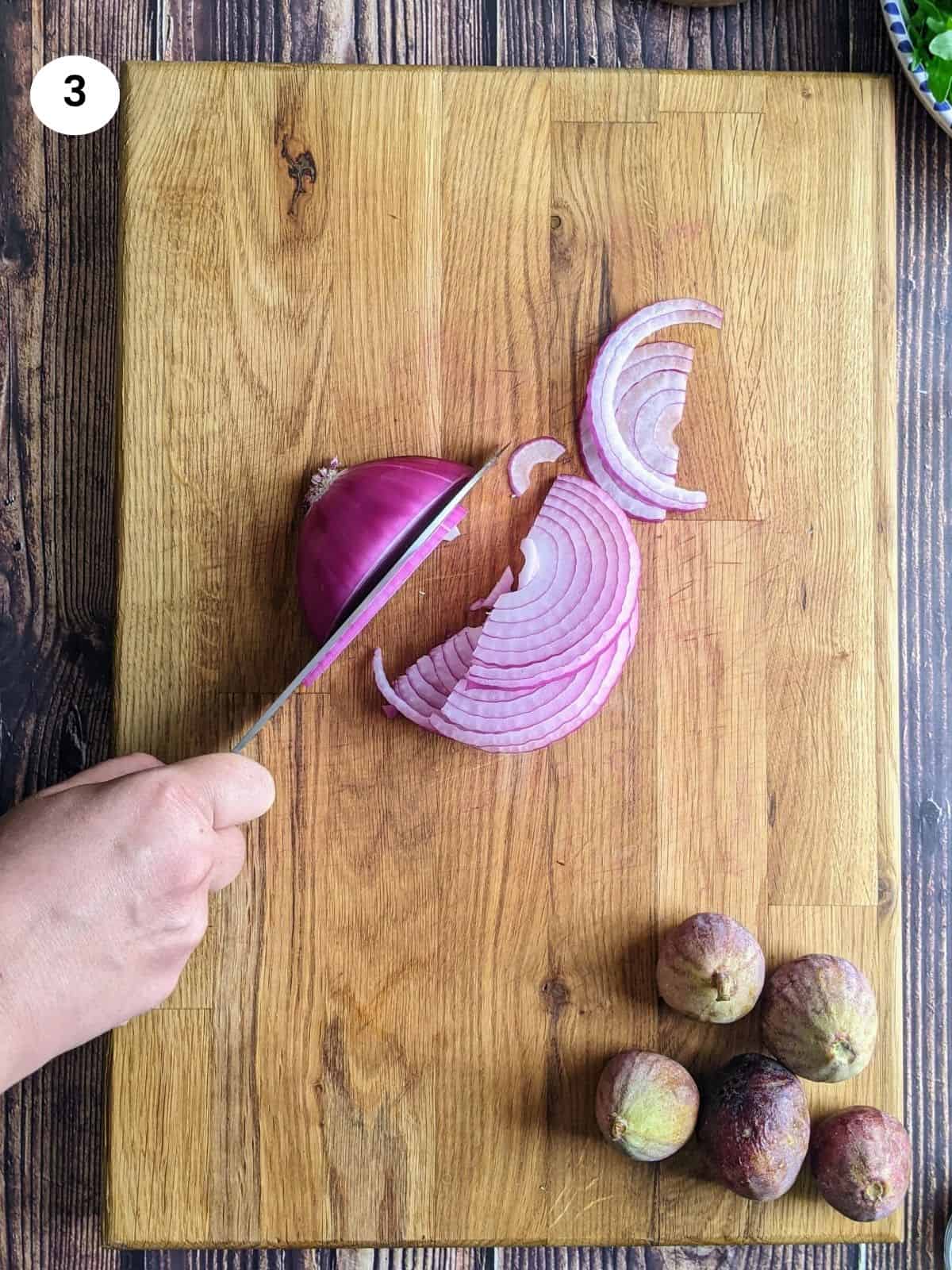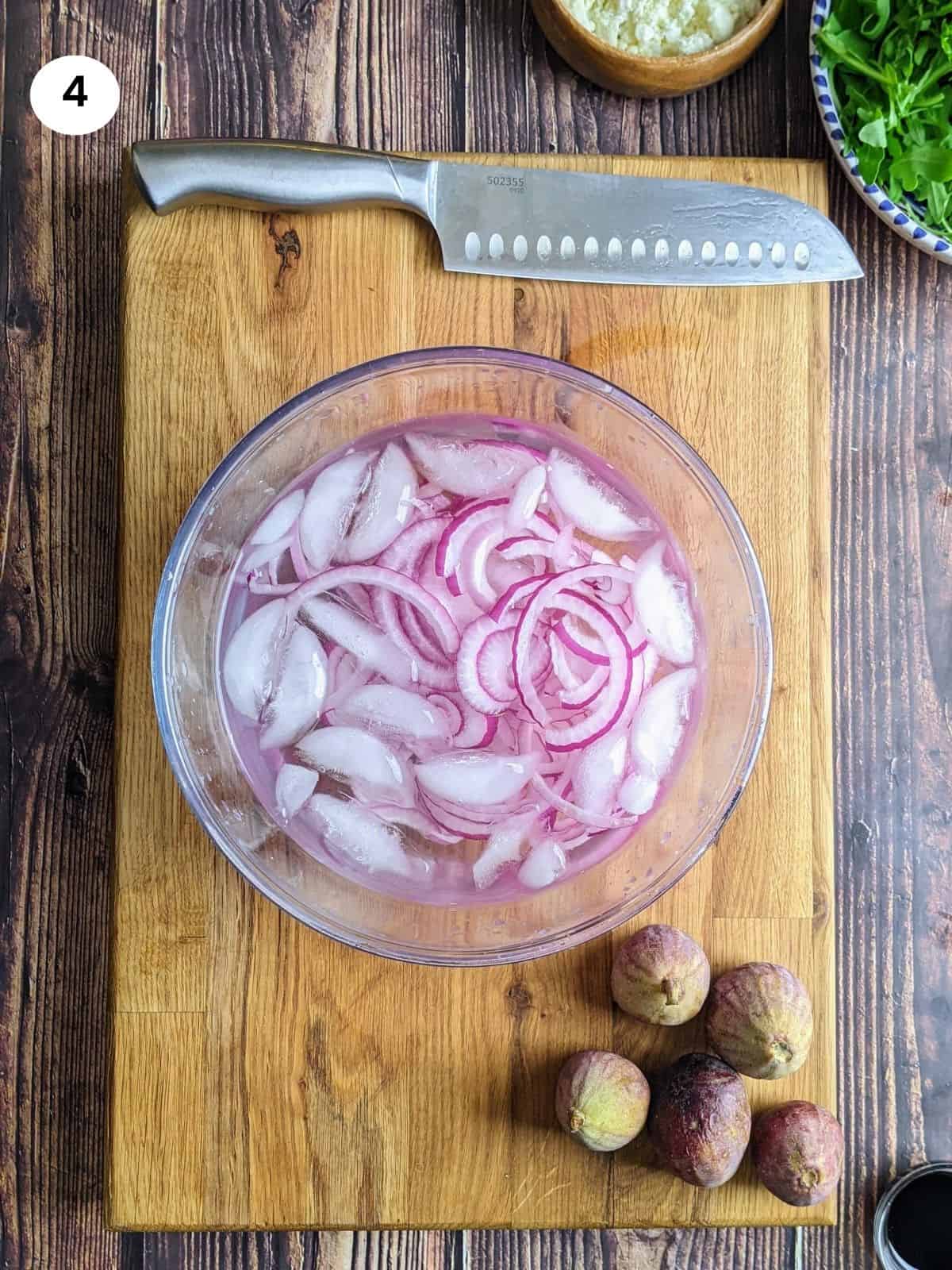 05. I coarsely chop the walnuts into smaller bits and set them aside. Instead of walnuts, you could use pine nuts, peanuts or cashews. I always have walnuts in my house and I find they go really well with the beets and the figs.
06. Finally, I cut the figs in quarters vertically. If the skin is too hard, then you can peel them but usually ripe figs have a thin, edible skin so just give them a good wash and cut them.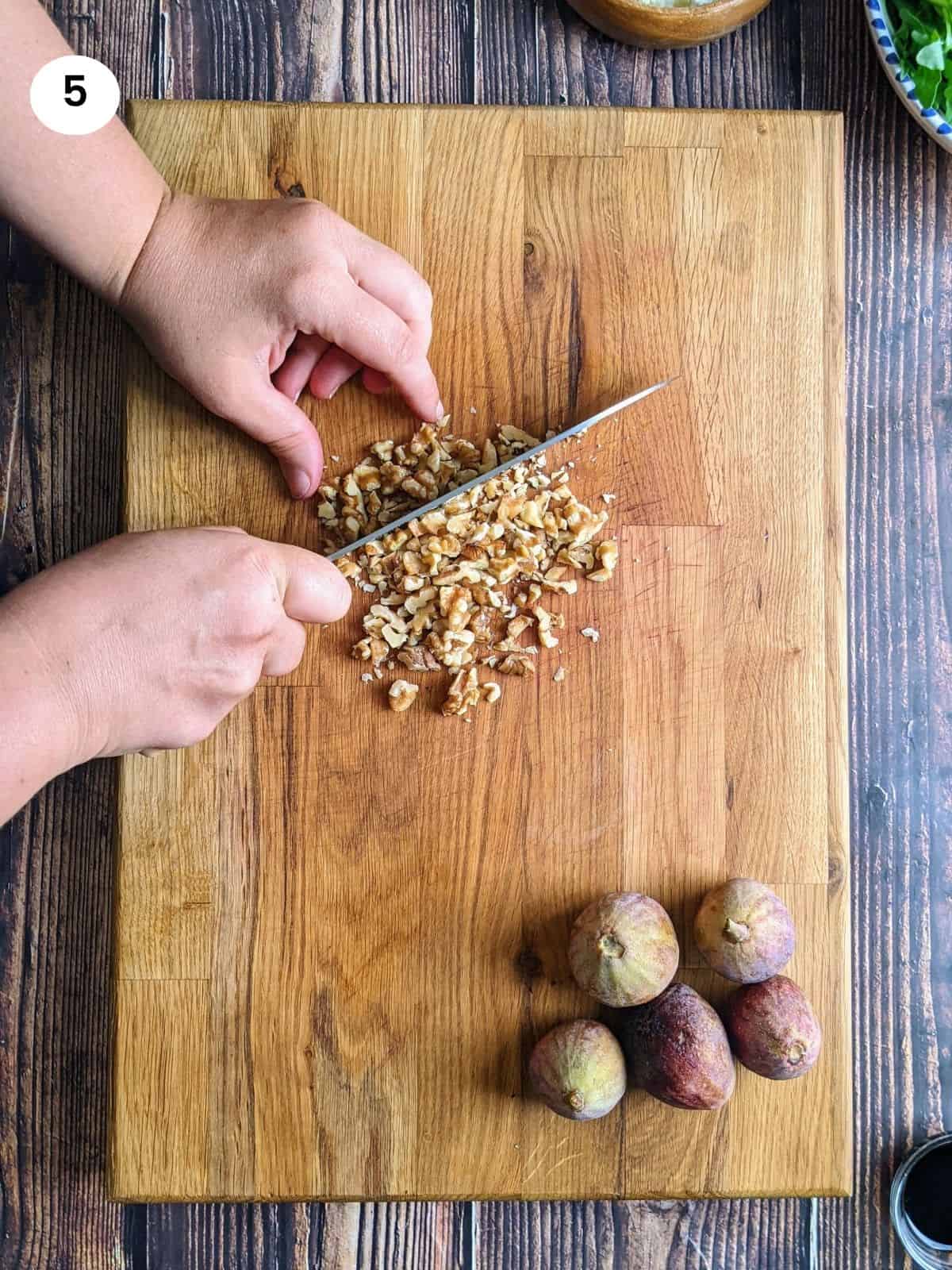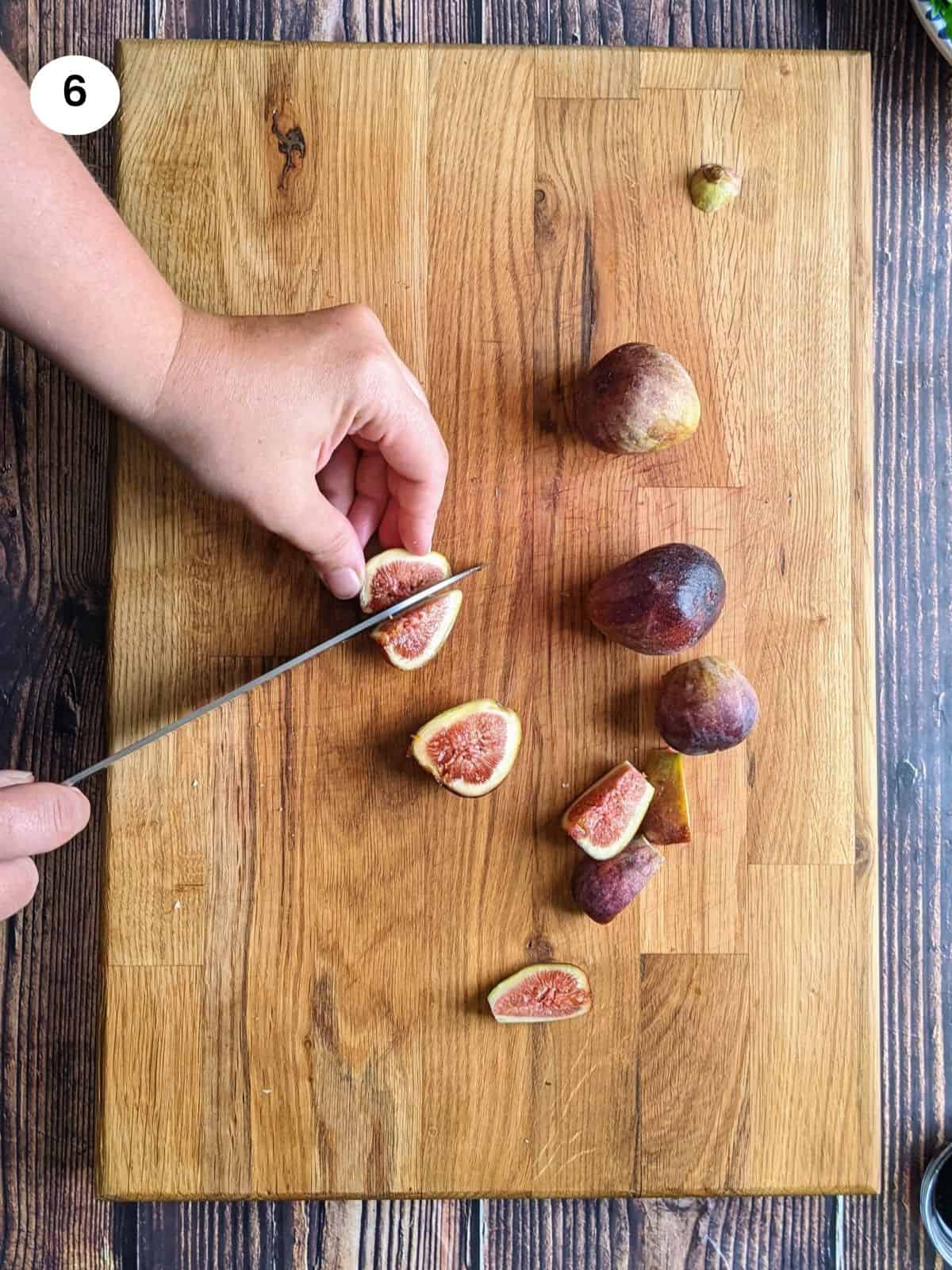 07. Now, it's time to assemble the salad. I start by adding the arugula to the bottom of my serving bowl. Then I strain the water off the onion slices and place them on top of the arugula.
08. I add the beet slices and figs on top, then the crumbled feta cheese and chopped walnuts. For the dressing, I'm using olive oil, red vinegar and some balsamic that really compliments the flavors, and don't forget a little bit of salt to taste.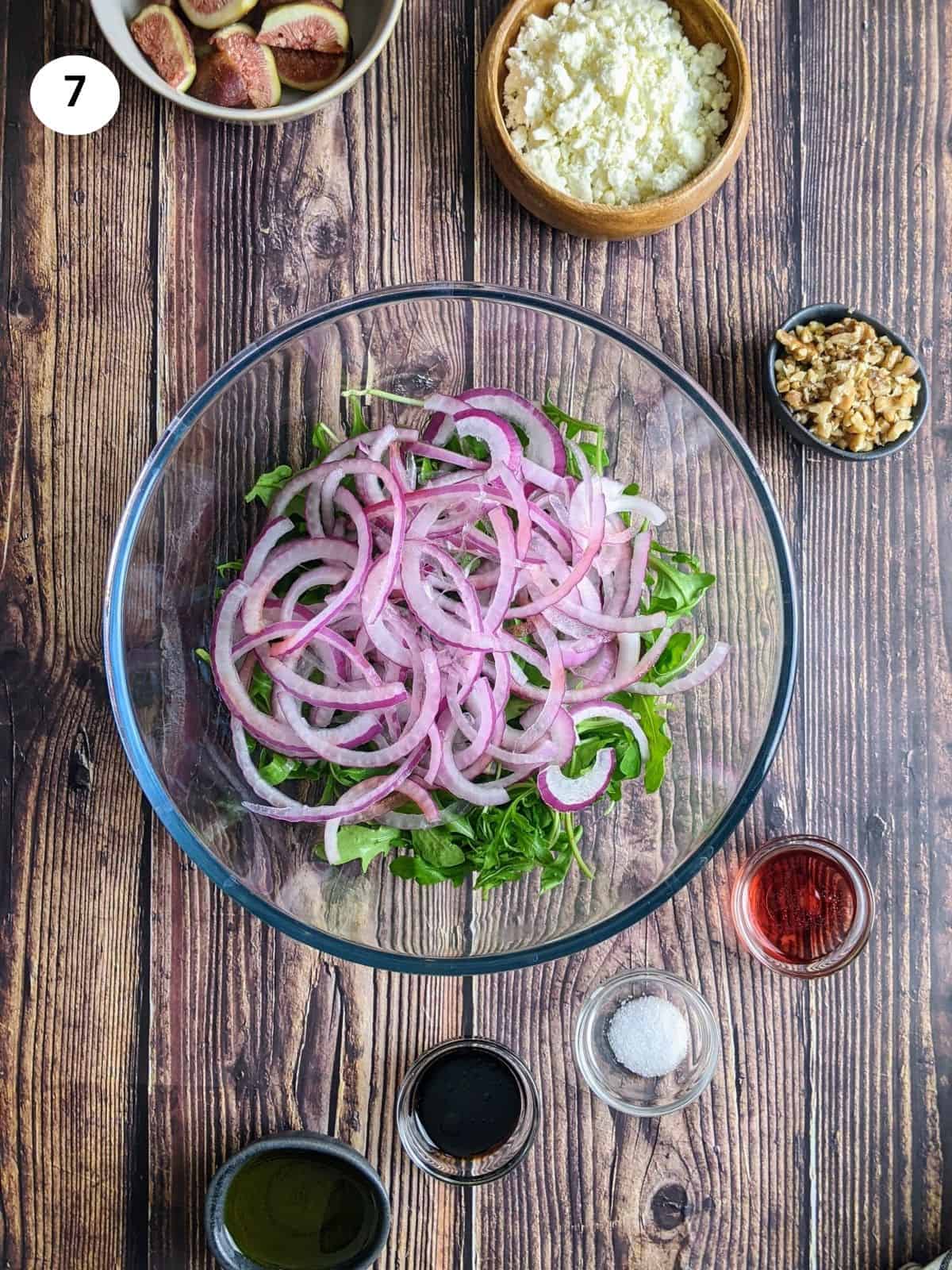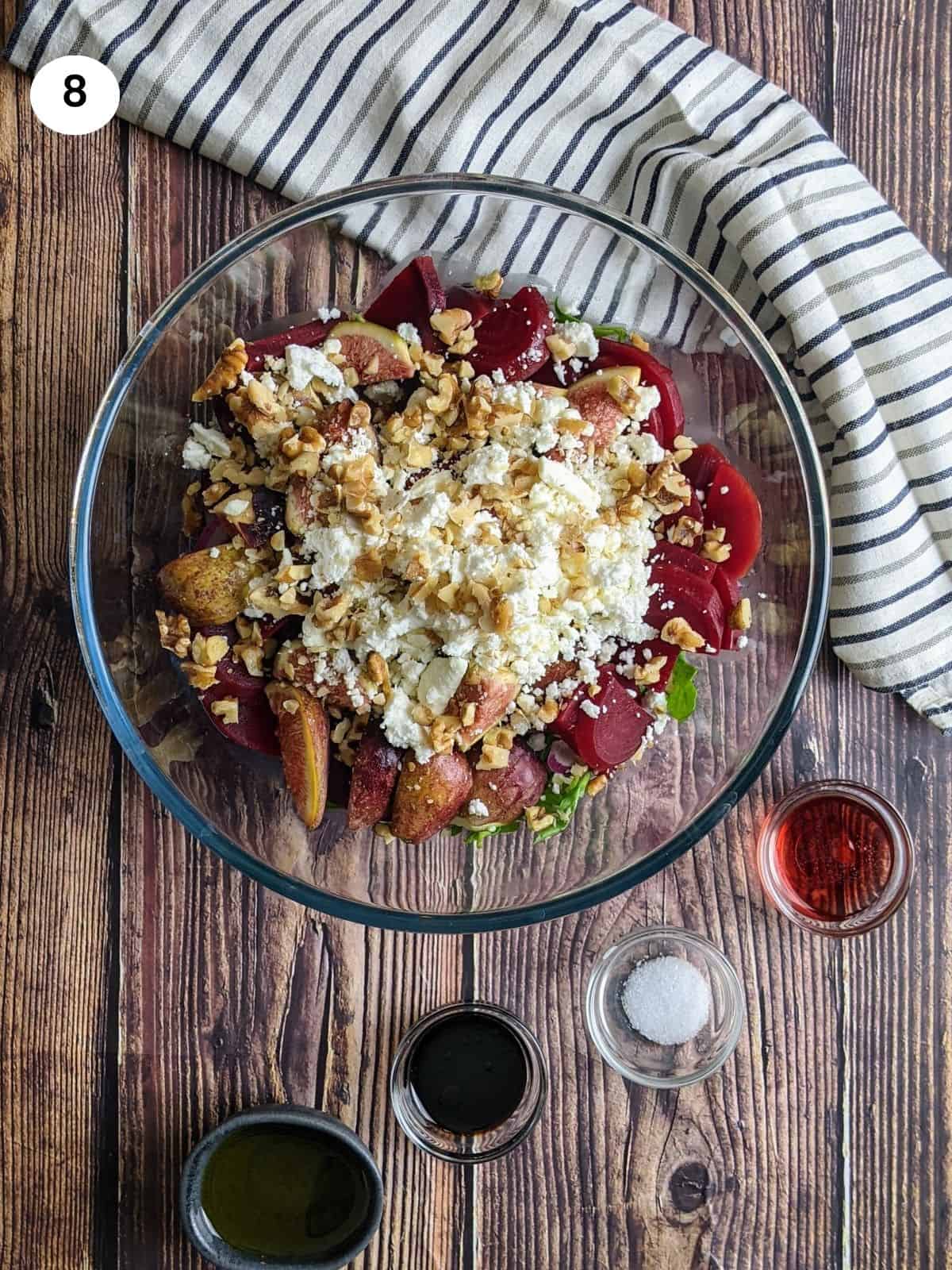 Substitutions
You could substitute the walnuts with pine nuts or pecans or cashews.
You could substitute the arugula with mixed salad greens.
Tips
Make sure you strain the water off the beets, onions and arugula leaves well as you don't want the dressing to get too watery.
When assembling the salad, I suggest adding the ingredients in the order I do in the recipe, as it's easier to eat and get a bit of everything with your fork.
Cut the beets in advance into slices to reduce the boiling time.
Serving suggestions
We usually have this beet and fig salad as a side dish with our main or as a light lunch on its own with some crusty bread. The combination of beets, walnuts and feta cheese is quite filling and gives you a good balance of nutrients and protein to keep you going.
I love having this salad with my healthy, baked meatballs (biftekia) for lunch or with some grilled chicken.
Storage
You could store any remaining of the beet and fig salad in the fridge for later on or for the next day. After adding the dressing, the arugula salad will get wilted if left for too long or stored in the fridge. You could also put the cooked beets in the fridge and assemble the salad as needed.
FAQ
How long does it take to boil beets? If you cut the beets in slices, it should take about 15-20 minutes to get fork tender.

What can I use instead of arugula salad? Instead of arugula salad, you could use mixed greens or baby spinach salad.

What can I use instead of walnuts? You could replace the walnuts with another nut of your choice like pine nuts or cashews.
Watch the video
Beet And Fig Salad With Feta Cheese
This beet and fig salad is a great combination of earthy beets and sweet figs, topped with tangy feta cheese and nutty walnuts. You could serve it as a side dish with your main, have it as a light lunch with a slice of crusty bread or as an appetizer. Enjoy!
Category: Salads
Difficulty: Easy
Print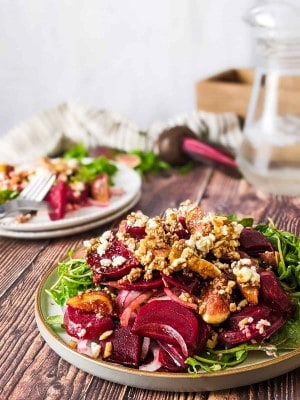 Ingredients
3 beets
5 figs
½ cup feta cheese
4 cups arugula (rocket salad)
½ red onion
⅓ cup walnuts chopped
4 tablespoons olive oil
1 tablespoon balsamic vinegar
1 tablespoon vinegar
salt
Instructions
Peel the beets and cut them in half. Then cut them into slices about 0.2in or 0.5cm thick.

Boil the beets for 15-20 minutes until fork tender. Then remove from water and let them cool down for 5 minutes.

Cut the red onion into thin slices. Place the onion slices into a bowl with cold water with ice cubes. Leave them in while the beets are boiling.

Add the washed arugula salad to a bowl and place the onion slices on top. Add the beets, figs, feta cheese crumbles and chopped walnuts.

Add the salt and drizzle with the olive oil, vinegar and balsamic.
Notes
- You could use lettuce or mixed salad greens instead of arugula.
- You could use pecans or pine nuts instead of walnuts.

Storage
You could store the salad in the fridge and have it the next day, although the arugula will get wilted.
Nutrition Info (per serving)
Calories: 215kcal | Carbohydrates: 24g | Protein: 7g | Cholesterol: 16mg | Fat: 11g | Saturated Fat: 3g | Polyunsaturated Fat: 5g | Monounsaturated Fat: 2g | Fiber: 5g | Sodium: 442mg | Potassium: 583mg | Sugar: 17g
I am not a nutritionist. The nutrition information has been calculated using an on-line calculator, and is intended for information and guidance purposes only. If the nutrition information is important to you, you should consider calculating it yourself, using your preferred tool.