Tyrokafteri, or tirokafteri or htipiti as it's also known, is another popular Greek dip that you can find in most Greek tavernas under the appetizers section. Its name means spicy cheese and that's what it literally is, a spicy feta cheese dip with a light red color that comes from roasted red peppers, another key ingredient. Tyrokafteri is a very popular meze and we often have it as part of a meze platter along with other dips like tzatziki, taramasalata or my refreshing beets & yogurt dip. Its bold flavor and fiery kick make it a great accompaniment to ouzo or a cold beer, making it perfect for gatherings with friends.
You don't need any special skills to make this Greek spicy feta cheese dip. You could roast the peppers yourself or to make things even easier, you could get a jar of roasted red peppers and make the dip in less than 10 minutes. So if you are convinced and want to give it a go, keep on reading and let's make this creamy and spicy dip together!
Jump to:
Why you should try my recipe
Easy-to-follow steps for the perfect tyrokafteri dip.
I offer many substitutions and choices on the ingredients.
Many serving suggestion ideas.
Ready in less than 30 minutes.
Healthier and more refreshing than mayo based dips.
Ingredients & How-to
To make this tyrokafteri Greek dip, you are going to need some feta cheese, greek yogurt, red pepper, chili pepper, oregano, vinegar, olive oil and garlic.
I'm using a red pepper, either bell pepper or a red horn pepper. This pepper is actually sweet and will give a nice red color and flavor to tyrokafteri dip. For the spicy bit, I'm adding a chili pepper. This can be any chili pepper you prefer, red or green, and you can choose how fiery you want it to be. Instead of a chili pepper, you could also use a teaspoon of chili flakes that you simply put straight in the food processor along with the other ingredients.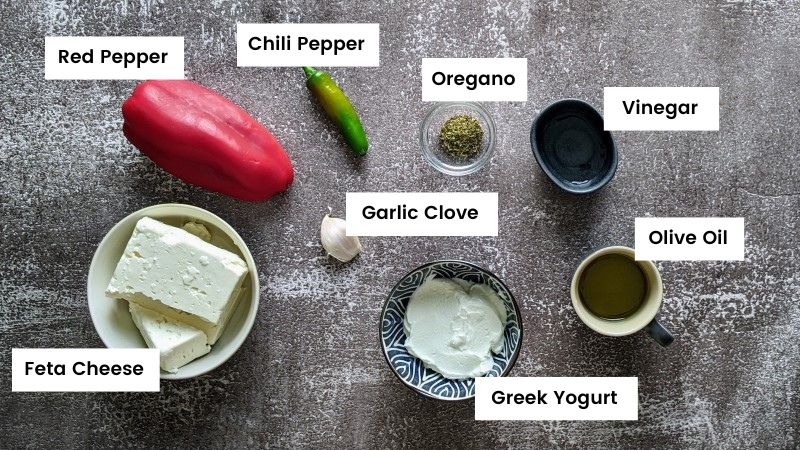 01. To start, I'm cleaning the peppers and cutting them into half. I remove the stem and any seeds. If your chili pepper is too hot, you should probably handle it wearing gloves as you don't want to be touching after your eyes and getting that burn feeling!
To speed up the making of tyrokafteri and for convenience, you could also use a roasted red pepper found in jars in most of the grocery stores. You just give it a rinse and add it to the food processor.
02. I'm placing the peppers on a tray lined with parchment paper with the skin facing up. Then, using some olive oil or any oil of your preference, coat the peppers before placing them in the oven. It will only take 15-20 minutes for the peppers to get soft. We don't want them to melt, just to get soft enough to be able to remove the skin.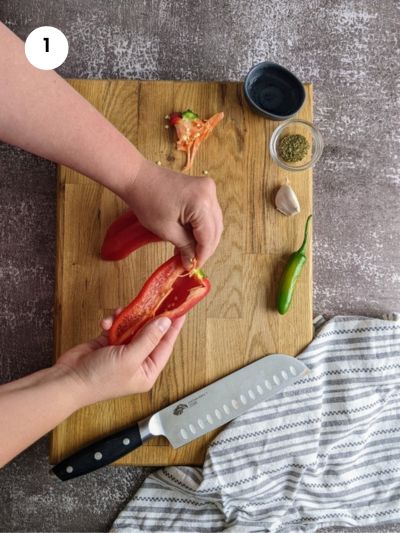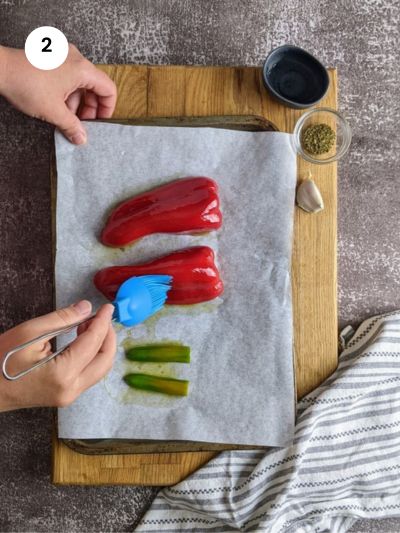 03. When I take the peppers out of the oven, I cover them with a bowl and leave them to rest for about 5 minutes. As they are still hot, it's difficult to handle straight out of the oven. I find that covering them with a bowl or a towel if you prefer, helps to keep the steam inside and then it's much easier to peel.
04. I start from the tip of the pepper and gently remove the skin till I reach the stem. You could also use a knife to gently keep the pepper down while you pull the skin up. Whatever you find easier. If it's difficult to peel the chili pepper then you could just leave it as it is.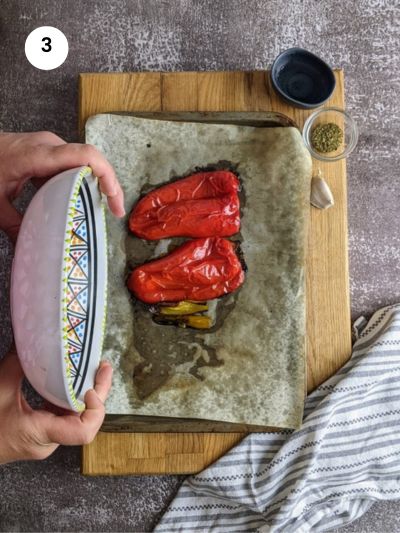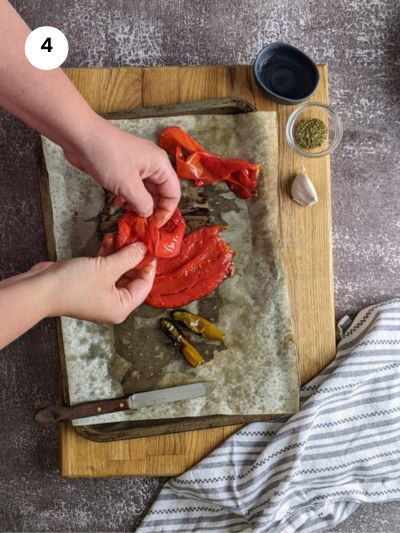 05. Now it's time to add everything to a food processor. I add the roasted peppers, about 5 tablespoons of Greek strained yogurt, a garlic clove, some vinegar, olive oil and oregano. The Greek yogurt is going to make the tyrokafteri dip creamy and smooth as the feta cheese is thick on its own. To adjust how creamy you want the feta cheese dip to be, you could add more or less spoonfuls of Greek yogurt.
The garlic clove will give this spicy Greek feta cheese dip an extra kick but we don't want it to be overwhelming so keep it down to just one clove. As for the oregano, it will give the tyrokafteri some extra aroma and you could either mix it with the rest of the ingredients or sprinkle it on top in the end.
06. Finally, it's time to add the feta cheese in. You can buy a block of cheese and simply add it to the food processor or you could get feta crumbles. Whatever you prefer.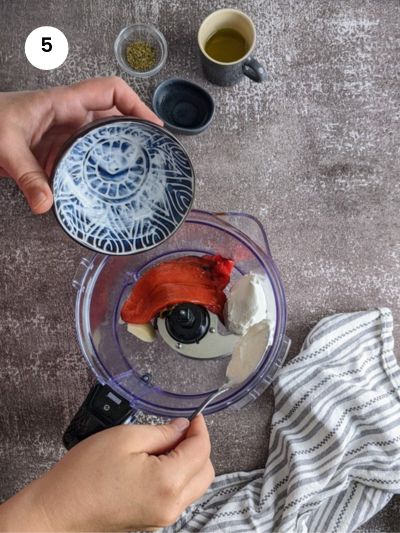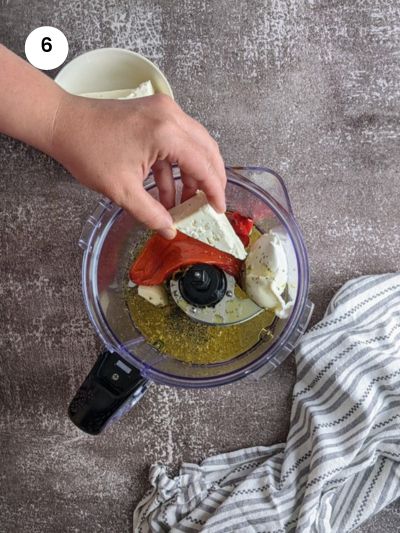 07. I mix everything well for a few second to a minute. We want to break the feta cheese and mix it with the rest of the ingredients while we keep some of the texture. Then I place the tyrokafteri dip in the fridge. Leaving it to rest for 10-15 minutes will help to enhance all the flavors and get more spicy.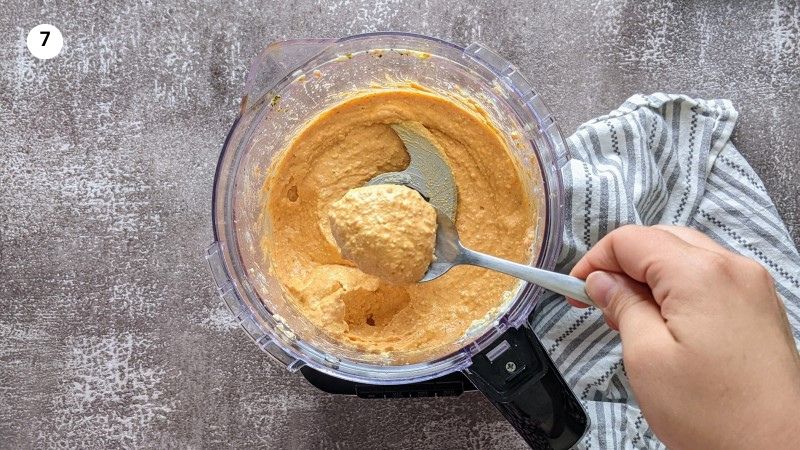 Substitutions
You could use roasted red peppers found in jars instead of roasting a pepper yourself.
You could use chili flakes instead of a chili pepper, or a combination of both.
You could use plain yogurt instead of Greek strained yogurt but you might get a thinner and creamier tyrokafteri dip as plain yogurt is more watery.
You could leave out the oregano or replace it with some other dry herbs of your preference.
Serving suggestions
Tyrokafteri is so versatile! We love to have it with
Grilled meat and vegetables: Serve Tyrokafteri as a delicious accompaniment to grilled vegetables or meat. The creamy and spicy dip pairs well with the smoky flavors of the grilled food.
Bread and crackers: Offer a selection of crusty bread, pita bread, or a variety of crackers alongside the Tyrokafteri dip. This allows guests to spread the dip on their preferred base.
Raw vegetables like carrot, cucumber or celery sticks.
As spread in wraps and sandwiches: Use Tyrokafteri as a flavorful spread for sandwiches or wraps. It adds a tangy and spicy kick to cold cuts, roasted vegetables, or grilled chicken.
As part of a Greek meze platter: Serve Tyrokafteri as part of a traditional Greek meze platter. Include other dips like tzatziki, hummus, and taramasalata, along with pita bread, olives, and fresh vegetables.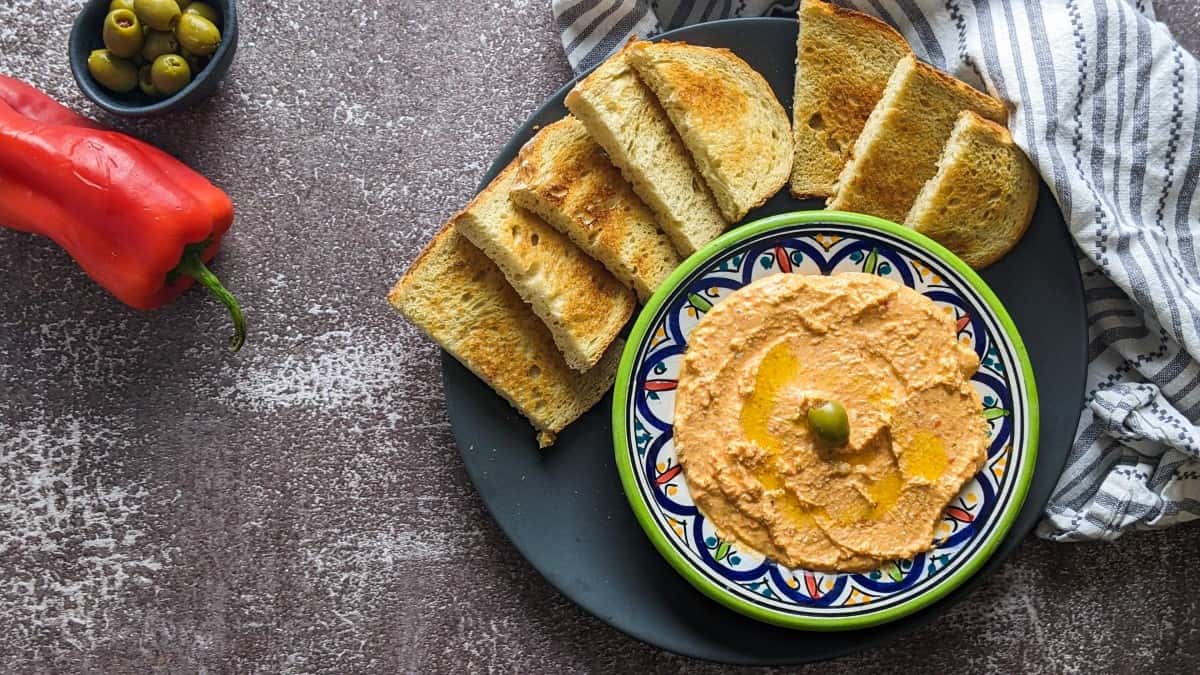 Storage
If you have any leftover tyrokafteri dip, you could store it in an airtight container in the fridge for up to a week. I haven't tried freezing it as it's so quick and easy to make so I can't recommend that. If you have tried freezing it let me know how it went in the comments down below.
FAQ
What is tyrokafteri made of? The key ingredients of tyrokafteri dip are feta cheese, roasted red peppers that give the spicy dip its nice red color, chili pepper for the spiciness, yogurt and olive oil to make it creamy and garlic and vinegar for an extra kick.

Do I need to add salt to tyrokafteri? No, you should avoid adding any salt to tyrokafteri as the feta cheese is already high in sodium.

Why is my tyrokafteri too runny? To avoid getting a runny tyrokafteri dip, you should use strained Greek yogurt as it's thicker than plain yogurt, don't use too much olive oil and also don't forget to avoid overmixing the dip. The more you blend the ingredients the more the feta cheese will break down and lose most of its texture, resulting in a very creamy and often runny tyrokafteri.
Watch the video
Tyrokafteri - Greek Spicy Feta Cheese Dip
Tyrokafteri is a delicious Greek dip that is easy to make and perfect for any occasion. Its creamy texture and spicy kick make it a crowd-pleaser, and its versatility allows for endless possibilities in terms of serving options. Whether you're dipping bread or vegetables into it, using it as a sauce for grilled meats or sandwiches, or simply spreading it on crackers, tyrokafteri is sure to be a hit at your next gathering. So why not try making this flavorful dip yourself? You won't be disappointed! Enjoy!
Print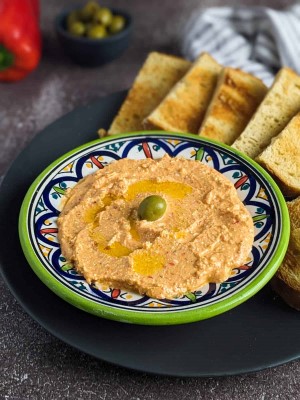 Ingredients
250gr / 9oz feta cheese
1 red pepper
1 chili pepper
1 tablespoon of vinegar
5 tablespoons of Greek yogurt
1 garlic cloves
½ teaspoon of oregano
¼ cup olive oil
Instructions
Cut the peppers in half and remove the stem and seeds. Place on a lined tray with the skin facing up and brush with some olive oil. Bake for 15-20 minutes in a preheated oven to 180°C/350°F.

After removing the peppers from the oven, cover with a bowl and rest for 5 minutes. Peel the skin and set aside.

In a food processor, add the roasted peppers, feta cheese, garlic clove, yogurt, olive oil, vinegar and oregano.

Mix well until you get a thick paste. Transfer to a bowl and place in the fridge for 15 minutes to let all the flavors to blend.
Notes
- You could use roasted red peppers that come in a jar instead of roasting them yourself.
- Instead of a chili pepper, you could use a teaspoon of chili flakes.
- You could use plain yogurt instead of Greek strained, but you might get a more creamy dip.
Storage
You can store any leftover dip in an airtight container in the fridge for up to a week.
Nutrition Info (per serving)
Calories: 156kcal | Carbohydrates: 4g | Protein: 8g | Cholesterol: 18mg | Fat: 12g | Saturated Fat: 5g | Polyunsaturated Fat: 1g | Monounsaturated Fat: 5g | Fiber: 0g | Sodium: 388mg | Potassium: 46mg | Sugar: 3g
I am not a nutritionist. The nutrition information has been calculated using an on-line calculator, and is intended for information and guidance purposes only. If the nutrition information is important to you, you should consider calculating it yourself, using your preferred tool.