Rock cakes or rock buns, an english traditional! One of my husband's favorites and one that brings him memories from his childhood. A few years ago, when we were visiting family in Greece, he tried a sweet bread roll with sultanas that we make in Greece and then he told me about rock cakes and how similar they taste. I've never heard of rock cakes before then and I will be honest, I was a bit confused about their name compared to their shape and texture. Although they are called cakes, their texture is more dense and something between cookies and cake, and they have a rough surface that resembles a rock.
These no refined sugar rock cakes are easy to prepare. No need for special baking skills here. It will take you less than 40 minutes to prepare the mixture and bake them. I often make them with my little girl, so if you have children, this can be a family fun activity and believe me they will love the end result!
Jump to:
Why you should try my recipe
Very healthy, no refined sugar rock cakes.
Ready in just 40 minutes.
Freezable for up to 3 months, so you could make a big batch and have some ready anytime.
Great healthy treat for little children.
Perfect for lunchboxes, picnics, walks, snacks.
History of Rock Cakes
Rock cakes go back to the second world war when the Ministry of food tried to promote a cake with less sugar and fewer eggs, an important savings in a time of strict rationing. In this recipe, I replace most of the sugar by using fruits and only use two tablespoons of coconut sugar which are optional and you can always omit if you prefer not to use any sugar at all.
Coconut Sugar
I like to use coconut sugar instead of white refined sugar when I make healthy baked treats. Coconut sugar is plant-based and not very processed, that's why it retains some nutrients found in the coconut palm tree, like iron, zinc, calcium and potassium. Coconut sugar also has a lower GI compared to refined sugar, which means a lower risk of blood sugar spikes.
For all these reasons, I like to substitute often refined sugar with coconut sugar in my recipes. However, it is still sugar! It has the same amounts of fructose as refined sugar and the same calories. You should still treat it as any other sweetener and have it in moderation.
Ingredients & How-to
To make these low sugar rock cakes, you will need some basic baking ingredients butter, flour, baking powder, vanilla extract, egg and your special ingredients which are, sultanas or dried mixed fruits, an apple, a banana, cinnamon and optionally some coconut sugar.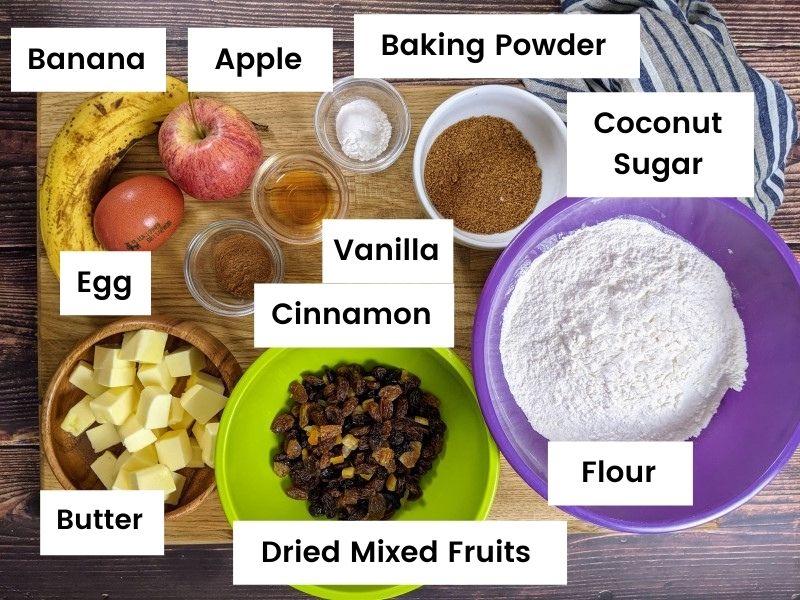 01. First, I add all the dry ingredients to a bowl, flour, coconut sugar, baking powder and cinnamon. I then add the cold butter, cut into cubes. Using my fingertips, I start rubbing the butter into the flour mixture until it resembles breadcrumbs.
02. If you shake the bowl then any lumps will come up to the surface. Try not to use your palms as you don't want the butter to melt. If you have a food processor, you could also add the ingredients there and give it a few spins until you get a sandy texture.
Now, I add the dried mixed fruit to the flour mixture. If you don't have dried mixed fruit then you could just use sultanas or raisins. I always go with whatever I have in my cupboard!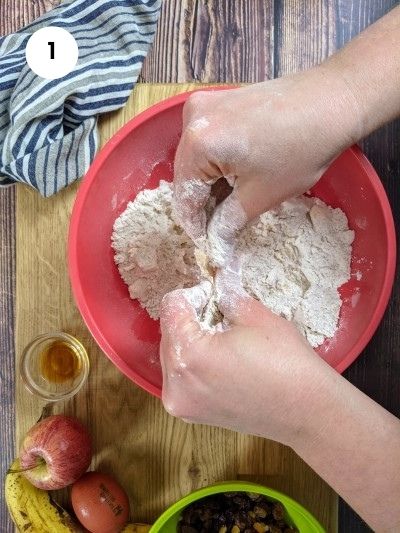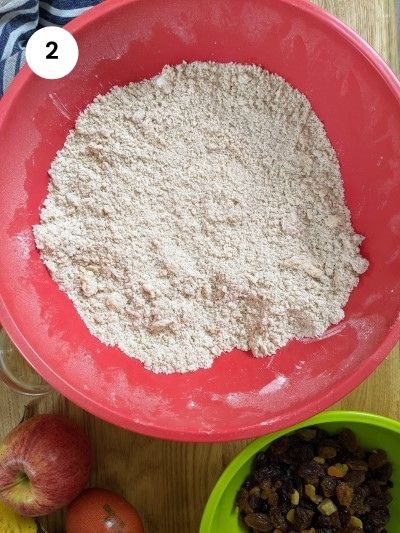 03. All the sweetness in these low sugar rock cakes comes from one banana and one apple and the two tablespoons of coconut sugar, which are optional. For the apple, I simply peel it and then using a hand grater, I coarsely grate it.
04. For the banana, I recommend using a ripe banana as they are sweeter and better for substituting sugar in baking. If you don't have a ripe banana, then put one in the oven for 10 minutes or microwave it for 3-4 minutes and that will help. I use a masher or a fork to mash the banana and then add it to a bowl along with the egg, grated apple and the vanilla extract.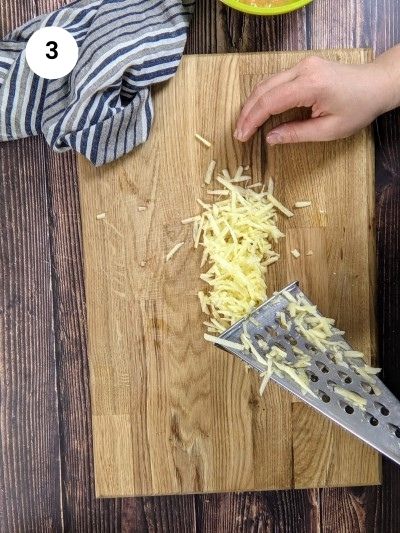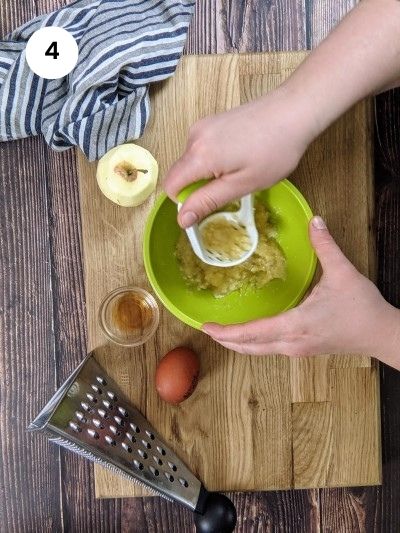 05. Finally, I mix the dry ingredients with the wet ones using a spatula or my hands. Using a spoon I place around 12 balls on a lined baking tray. The rock cakes don't need to have a perfect shape, their surface doesn't need to be smooth. After all, that's why they are called rock cakes!
06. Now it's time for the oven. I bake them for 15-20 minutes until they have a nice golden brown color. When you take them out of the oven, leave them to rest for 3-4 minutes before placing them on a wire rack to cool down completely.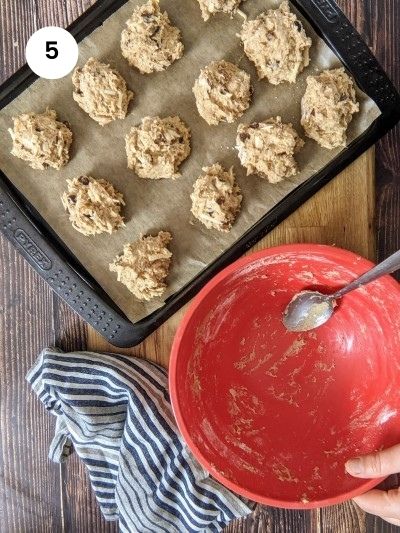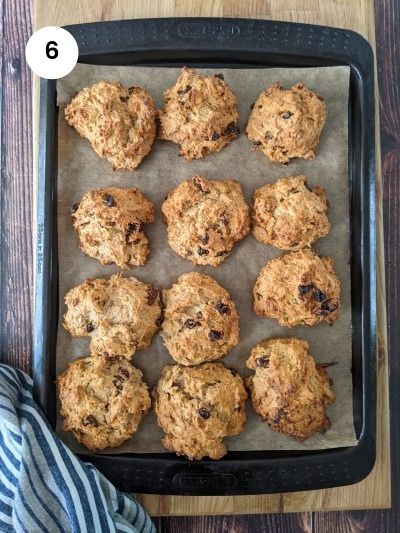 Mamazilla's Product Recommendations
Serving Suggestions
We usually have the no refined sugar rock cakes plain or with some butter. You could also use your favorite spread like peanut butter or no-sugar cocoa spread. They are also great for packing. Just wrap a couple in foil or put them in a lunchbox and take them with you when you are out or at a picnic.
Storage
Store the low sugar rock cakes in an airtight container at room temperature for up to a week. They are also freezable for up to 3 months. When you are ready to consume, leave them at room temperature and eat when thawed completely.
FAQ
How long does it take to bake rock cakes? You will need to bake rock cakes for 15-20 minutes at 180°C/350°F to get that nice golden brown color.

How to store rock cakes? You can store rock cakes in an airtight container at room temperature for up to 7 days.

Are rock cakes freezable? Rock cakes are freezable for up to 3 months. For defrosting, leave them at room temperature until completely thawed.

Are rock cakes suitable for babies? No refined sugar Rock Cakes are suitable for babies from 6 months old.
Watch the video
No Sugar Rock Cakes
These rock cakes are really delicious and much healthier than the traditional ones. All the sweetness comes from a banana, an apple and two tablespoons of coconut sugar. They are a great healthy treat for little ones and a nice snack to take out on walks.
Print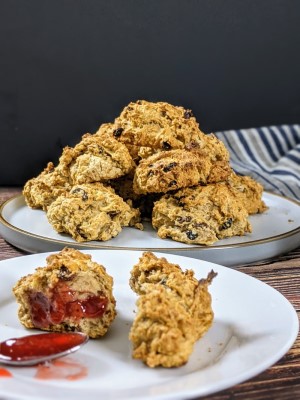 Ingredients
1 ¾ cup (275gr) self-raising flour
¾ cup (100gr) dried mixed fruit
4oz / 100gr cold butter cut into cubes
2 tablespoons of coconut sugar
1 teaspoon of cinnamon
1 teaspoon of baking powder
1 banana
1 apple
1 egg
1 teaspoon of vanilla extract
Instructions
Preheat oven to 180°C/350°F.

Mix in a bowl the flour, coconut sugar, cinnamon and baking powder.

Add the cold butter cut in cubes to the mixture.

Rub it into the flour mix using your fingertips until the mixture looks like breadcrumbs.

Add the mixed fruit into the bowl and mix until incorporated.

Peel the apple and grate it. Mash the banana and add it to a bowl along with the grated apple, egg and vanilla extract.

Add the mixture to the flour mix and with a spatula or your hands mix well until all ingredients are well combined.

Using a spoon place 12 balls (no need for a perfect shape here) of the mixture onto a lined baking tray.

Bake for 15-20 minutes or until golden brown. Allow to cool for a couple of minutes, then turn them out onto a wire rack to cool down.
Notes
The coconut sugar is optional, so if you are serving these to babies under 12 months or you prefer no sugar at all then you can skip it. You could also use just sultanas instead of dried mixed fruit.
Storage
Keep them in an airtight container at room temperature for up to a week. Rock cakes are also freezable for up to 3 months.
Nutrition Info (per serving)
Calories: 202kcal | Carbohydrates: 31g | Protein: 3g | Cholesterol: 33mg | Fat: 8g | Saturated Fat: 4g | Polyunsaturated Fat: 0g | Monounsaturated Fat: 2g | Fiber: 1g | Sodium: 63mg | Potassium: 80mg | Sugar: 10g
I am not a nutritionist. The nutrition information has been calculated using an on-line calculator, and is intended for information and guidance purposes only. If the nutrition information is important to you, you should consider calculating it yourself, using your preferred tool.