This Greek lemony artichoke stew is an aromatic traditional Greek dish also known as 'Agginares a la polita' which means 'artichokes city-styled', referring to the city of Constantinople. It's one of my favorite Greek stews and this recipe comes from my mom who used to make this when I was little. I know that people find it too much to peel an artichoke but I assure you, if you try this artichoke stew, it's totally worth it.
A hearty and comforting stew that takes less than an hour to prepare and cook and it's full of goodness and nutrients. And if you feel like experimenting and trying other Mediterranean stews, which are also vegan by the way, I recommend to try my spinach and rice stew or my green beans and potatoes stew. So let's get started!
Jump to:
Why you should try my recipe
Preparation time takes less than 10 minutes.
Cooking time under an hour.
Works with fresh or frozen artichokes.
Stores well in the fridge for up to 3 days.
Easily adjustable recipe for babies and toddlers.
Ingredients & How-to
The main ingredients for this vegan Greek artichoke stew are artichokes, potatoes, carrots, lemon, green onions, onion, flour, dill, salt and pepper. Depending on the season and what I can find in the market, I use fresh or frozen artichokes. If you can find fresh globe artichokes then I recommend those to frozen. Just remove the hard bits and leaves until you reach the center, then get rid of the hairy bits with a knife until you get a nice clean artichoke heart. Sometimes the stem is soft enough to keep too, just remove the outer layer with a knife until you reach the light green interior stem. If you decide to use frozen artichoke hearts then just thaw them out half an hour before.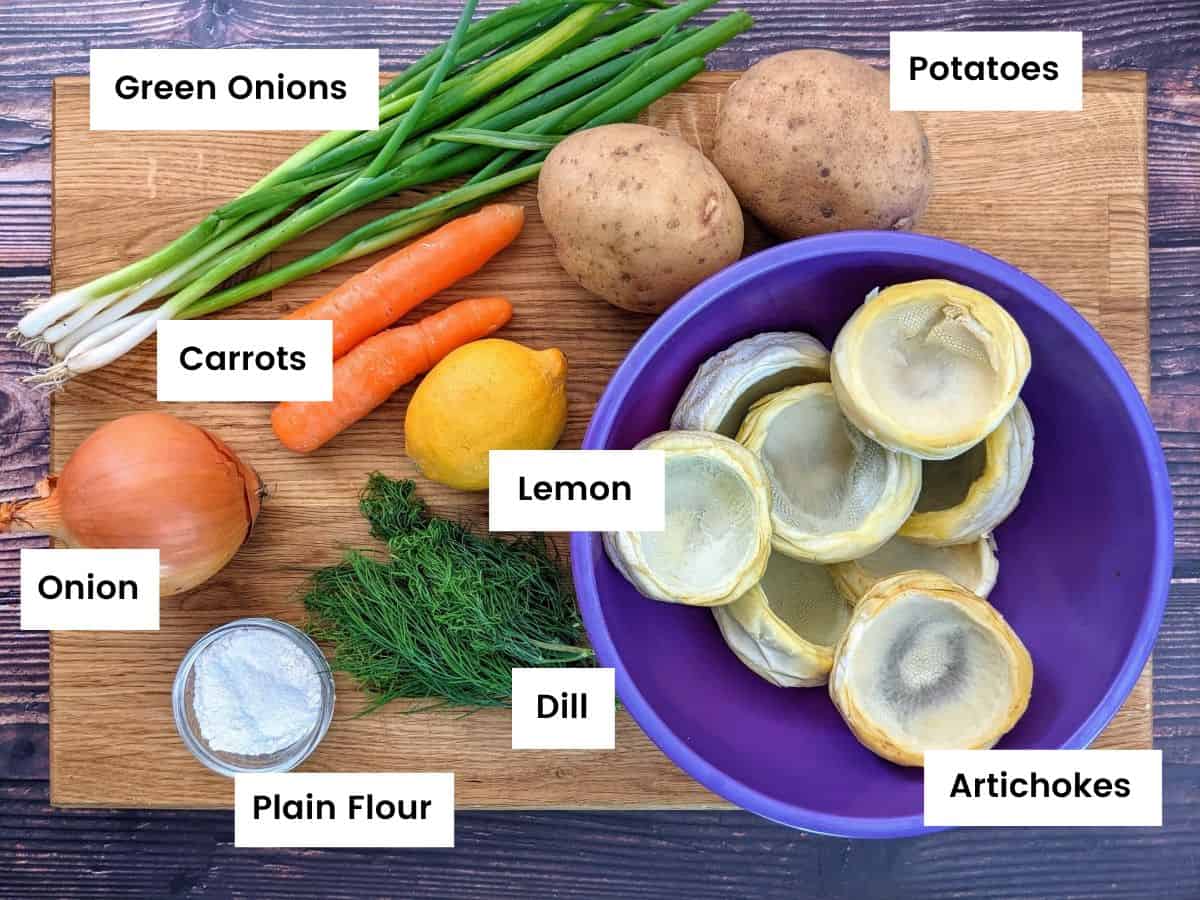 01. I start by preparing the vegetables. I peel and cut the carrots into slices. If you prepare this for a little one, you could cut the carrots into sticks or dice. Just make sure that they are soft when you pinch them before you serve them.
02. I continue with chopping a bunch of fresh dill. Dill is a key ingredient in this artichoke stew. It gives a very nice aroma and goes very well with the lemon. So I don't recommend skipping it. I remove any hard bits of the fresh dill and then I finely chop it.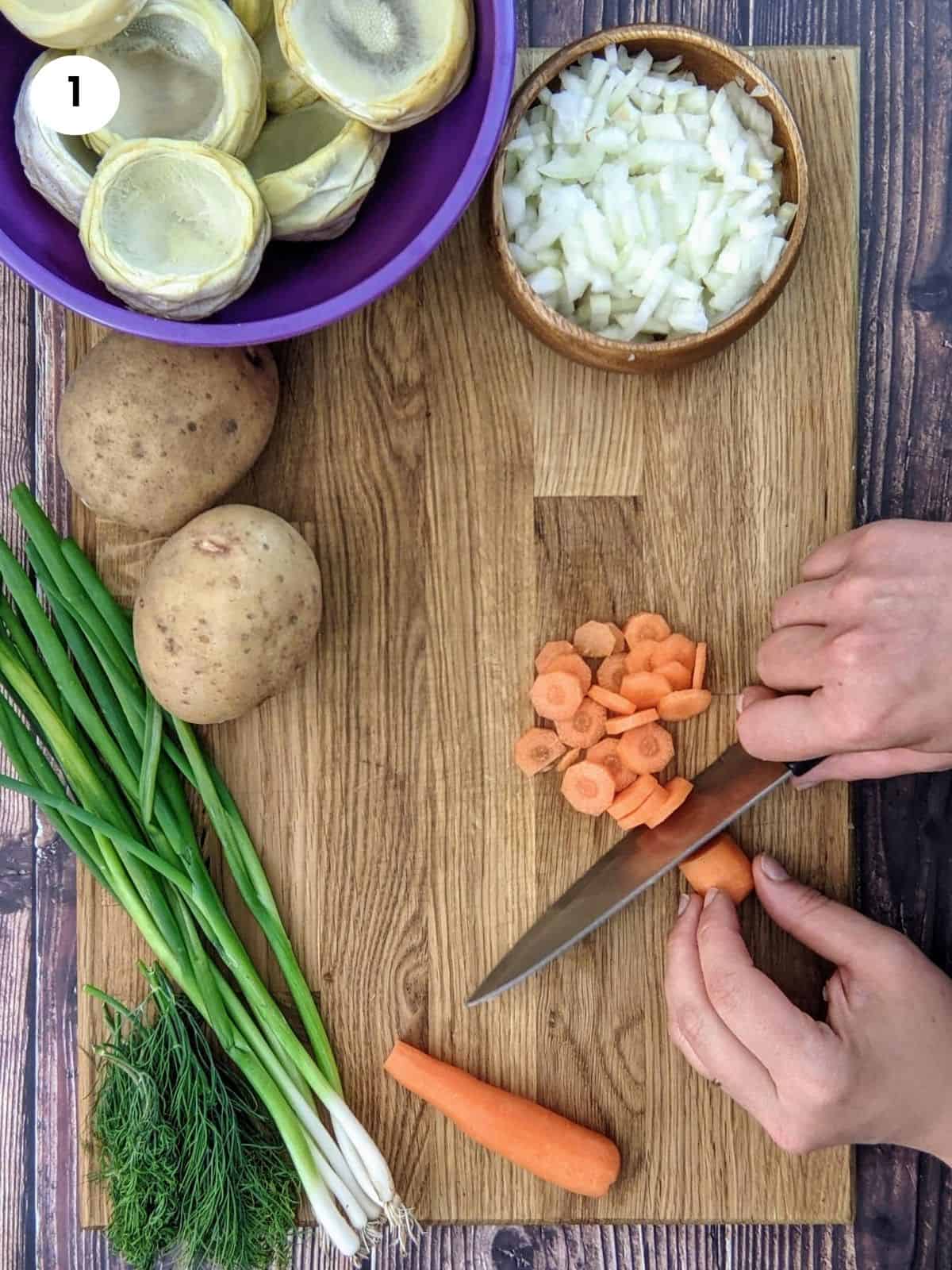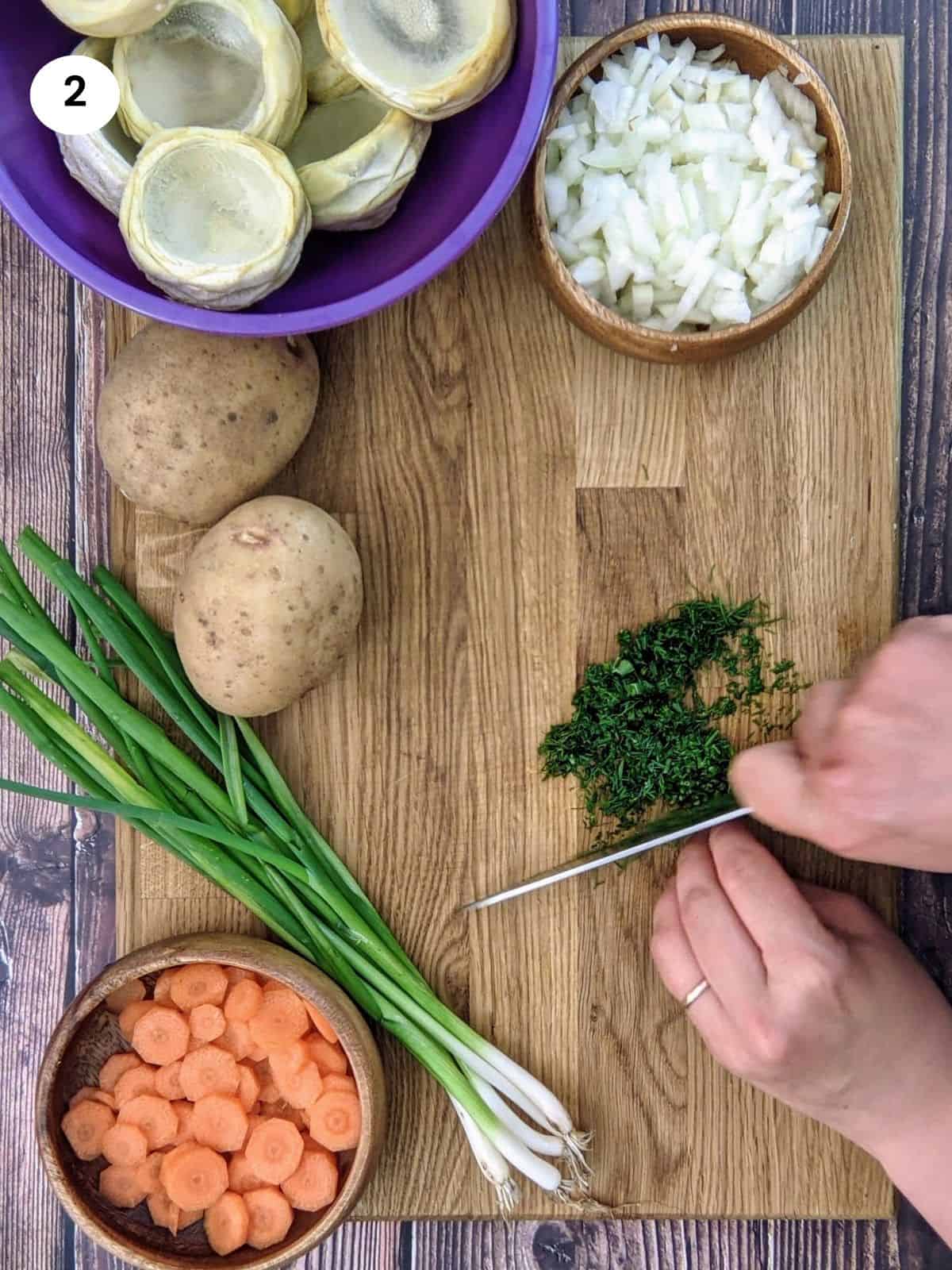 03. With the rest of the ingredients, I just chop the onions into cubes and the green onions into slices. I cut the potatoes into big dice and set them aside.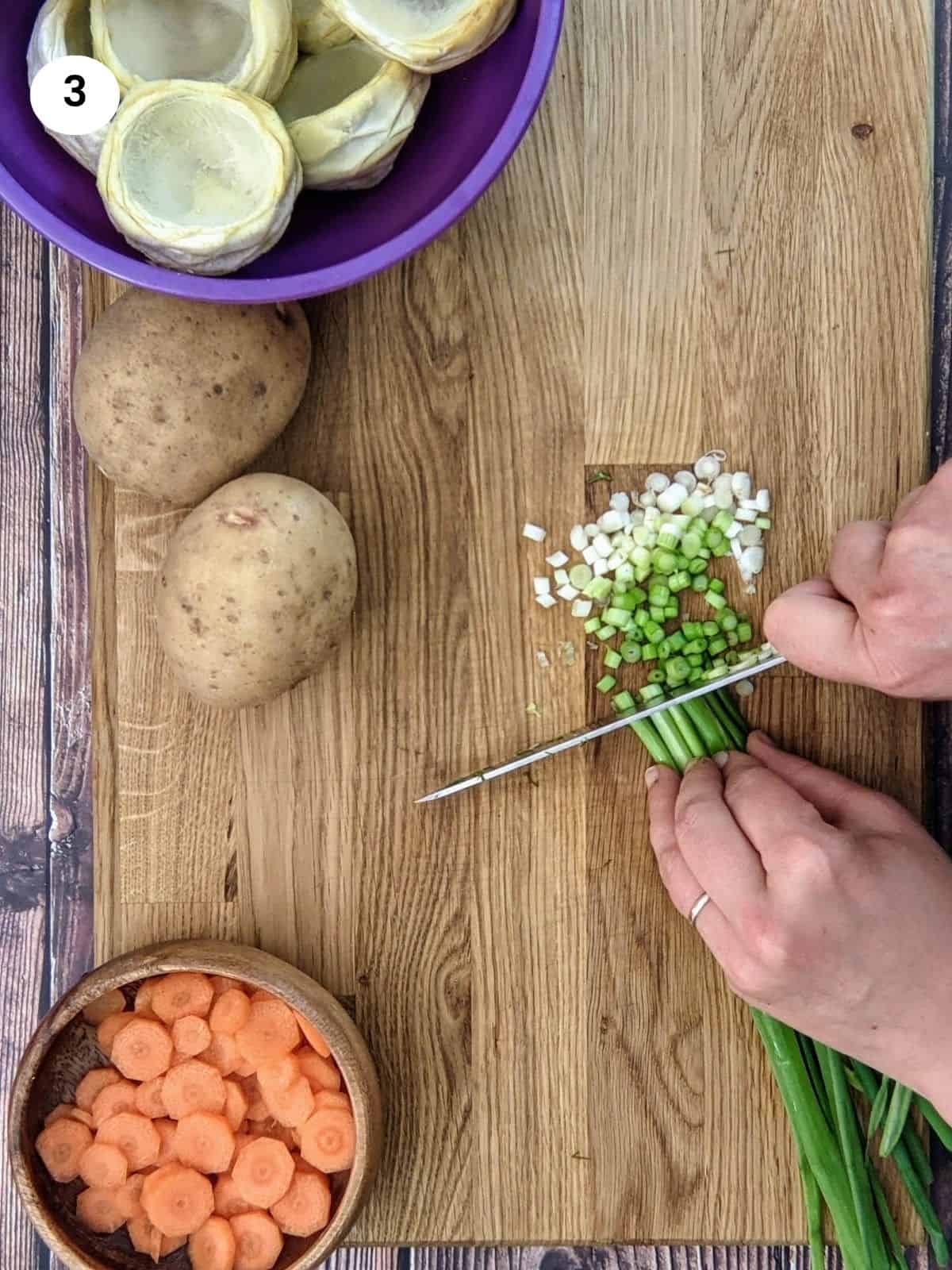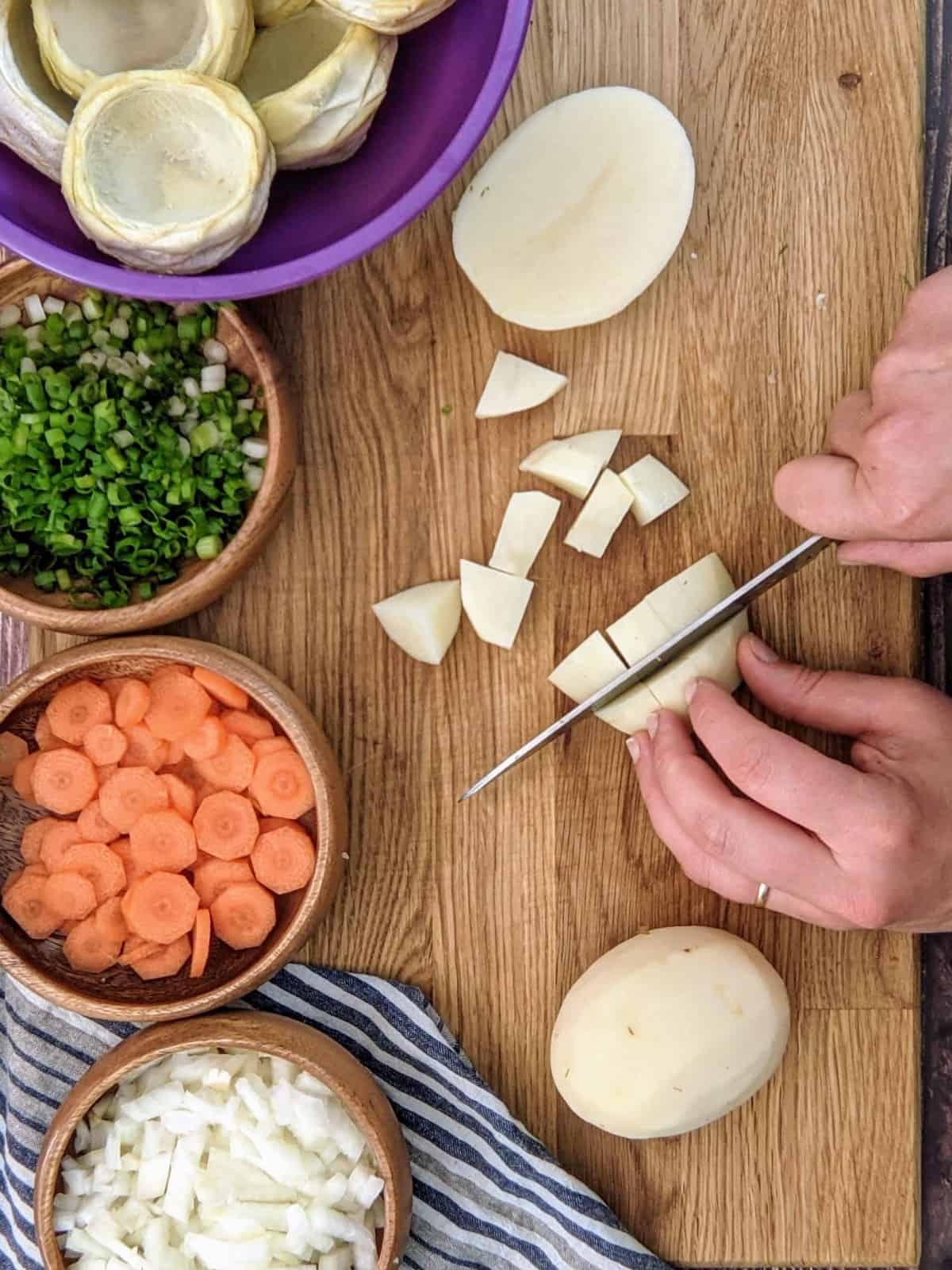 04. I start by sauteing the chopped onion with the oil for 4-5 minutes Then I add the rest of the ingredients, the potatoes, carrots, green onions and artichokes with about 2 cups of water. I leave them to cook for half an hour on medium to low heat. Towards the end, I put the dill in the pot as it will lose most of its flavor if added from the start.
In a small bowl, I combine the lemon juice and one tablespoon of flour until it's combined and I add it to the artichoke stew with half a cup of water. I let it cook for 10 more minutes over medium heat until the sauce thickens and the veggies are cooked.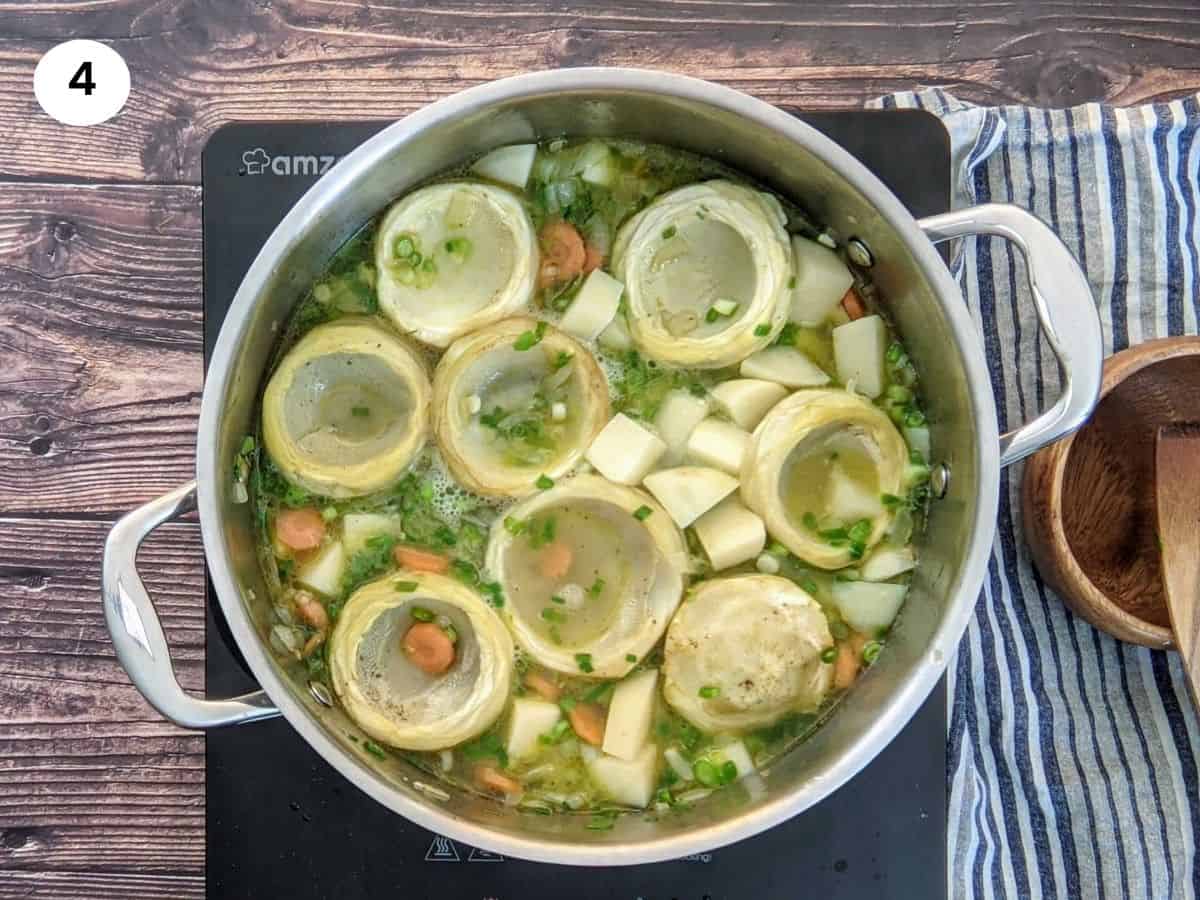 Tips
You could leave the flour out or replace it with cornstarch if you are on a gluten-free diet.
If you are using fresh artichokes then as you peel them and get the heart out, put it in a bowl with water and lemon slices to prevent it from darkening.
Add the chopped dill towards the end so it doesn't lose its aroma and flavor.
Serving suggestions
We usually have this Greek artichoke stew as a main with some warm crusty bread on the side to dip in that delicious lemony sauce. You could also drizzle a bit of olive oil and lemon juice on the plate before serving.
Storage
You can store any leftovers of this artichoke stew in the fridge for up to 2-3 days. Just warm it up in the microwave or in a small pan for a couple of minutes and serve. I don't recommend freezing it as the potatoes get very soggy when thawed.
FAQ
What type of artichokes can I use for 'aginares a la polita'? I recommend using fresh globe artichokes but if you can't find any then you could use frozen artichoke hearts.

What can I replace the flour with if I'm gluten-free? If you are following a gluten-free diet you could either skip the flour or add one gluten-free of your choice like corn flour.

Is the artichoke stew suitable for a baby? You could give the artichoke stew to babies from 6 months old, just make sure that you cut all the vegetables in the right shape and do not add any salt for babies under 12 months.
Watch the video
Greek Artichoke Stew - Aginares a la Polita
This Greek hearty artichoke stew is so easy to prepare and it's ready in under an hour. A plant-based Mediterranean dish, full of goodness and nutrients from all the veggies. Serve it with some nice crusty bread to dip in that thick lemony sauce. Enjoy!
Print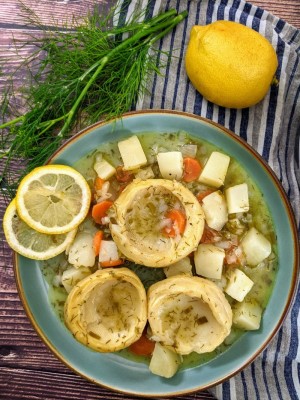 Ingredients
8 artichoke hearts
1 onion
2 potatoes
2 carrots
5 green onions
2 tablespoons of dill
4 tablespoons of olive oil
1-2 lemons
1 tablespoon of flour
salt & pepper
Instructions
Start by preparing and cutting the vegetables. Chop the onion and green onions, peel the potatoes and cut them into cubes. Peel the carrots and cut them into slices or cubes, chop the dill finely.

If you are using fresh artichokes remove all hard parts and keep the hearts. Place the hearts in a bowl with water and a few lemon slices so they don't get dark. If you are using frozen artichoke hearts, then just take them out of the freezer half an hour before.

Place the olive oil in a pot and heat over medium to high heat.

Add the chopped onion and sauté for 4-5 minutes.

Add the carrots, green onions, potatoes, artichokes, salt and pepper.

Add 2 cups of water. Lower heat to medium-low. Cover the pot and cook for 30 minutes.

Uncover and add the chopped dill. Mix in a small bowl the juice from 1-2 lemons and the flour until it's dissolved.

Add the lemon juice mixture to the pot with half a cup of water. Stir a little bit.

Cover the pot with a lid and cook for 10 more minutes over medium heat.
Notes
- Flour is used to make the sauce more thick. If you are following a gluten-free diet, you could replace it with cornstarch or a flour of your choice. You could also skip the flour and just add the lemon juice to the stew without losing any flavor at all.
- You could use frozen or fresh artichokes to make the stew.
Storage
You can store any leftovers of this aginares a la polita stew in the fridge for up to 2-3 days.
Nutrition Info (per serving)
Calories: 294kcal | Carbohydrates: 29g | Protein: 5g | Cholesterol: 0mg | Fat: 19g | Saturated Fat: 3g | Polyunsaturated Fat: 2g | Monounsaturated Fat: 13g | Fiber: 7g | Sodium: 832mg | Potassium: 799mg | Sugar: 5g
I am not a nutritionist. The nutrition information has been calculated using an on-line calculator, and is intended for information and guidance purposes only. If the nutrition information is important to you, you should consider calculating it yourself, using your preferred tool.