If you follow me and check my recipes, you would have already guessed by now how much I love stews and casseroles. Although most people relate Greece to souvlaki and mousaka, Greek cuisine is full of other dishes that are not so famous but they are equally tasty in their own way. Here, I'm sharing with you another favorite recipe of my childhood, stewed peas with carrots and potatoes.
Jump to:
Why you should try my recipe
A hearty dish, full of flavor.
Great as a side dish or as main with some bread.
Stores well in the fridge for up to 3 days.
Nice idea for babies and little children.
Ingredients & How-to
The main ingredients for the stewed peas are potatoes, carrot, peas, chopped tomatoes, onion, dill, green onions, olive oil, salt and pepper.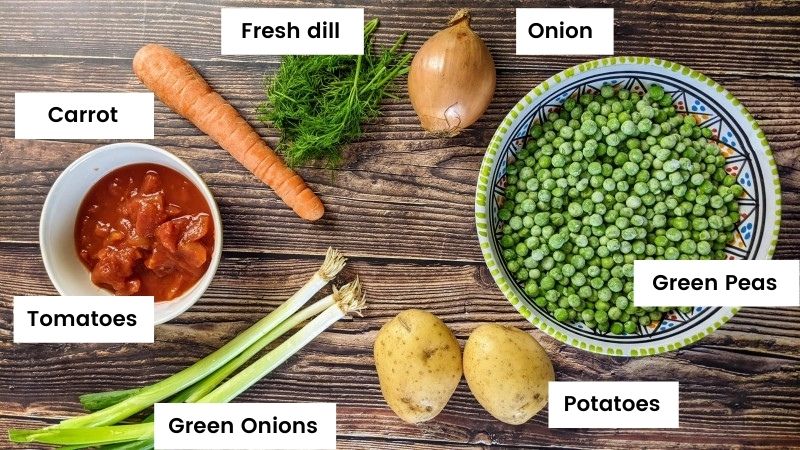 01. I start by chopping and cutting all the vegetables. I peel the onion and cut it into cubes, cut the green onions in half lengthwise and then into slices. I cut the potatoes into big chunks and the carrot into slices or cubes.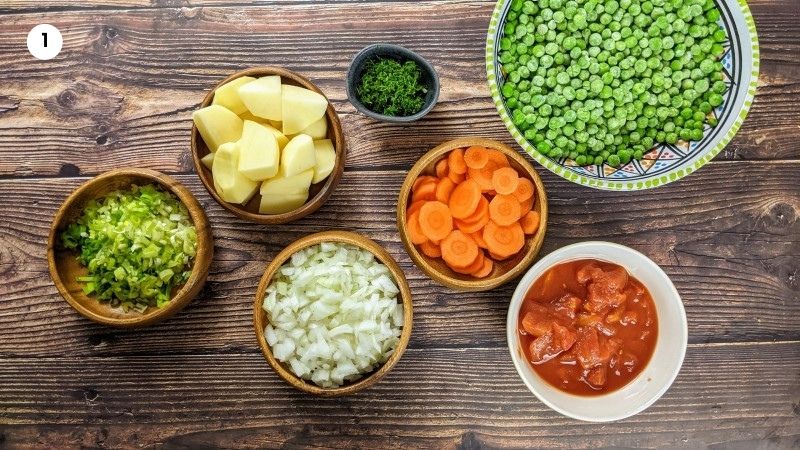 02. As with most stews, I first add the oil to a big pot and sauté the onion for a few minutes. That helps to get all the sweetness of the onion out.
03. Now, I add the rest of the vegetables, the potatoes, carrots, peas, green onions but leave the dill for later on. For the seasoning, I'm just using some salt and ground pepper.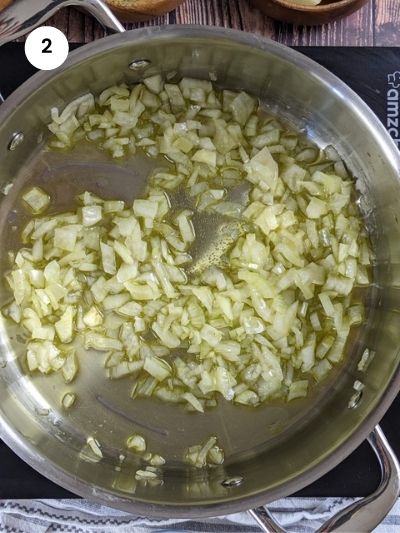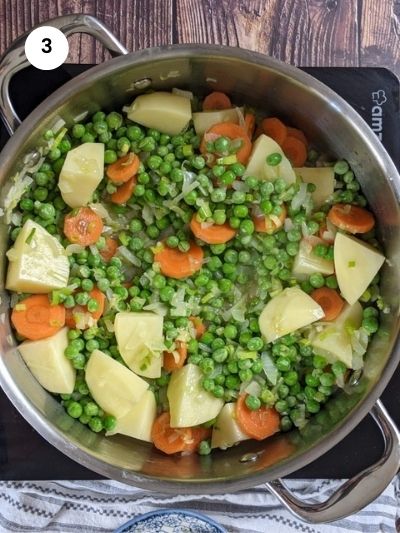 04. I add the chopped tomatoes and give it a good stir. Then I add about a cup and a half of water to the pot. I leave it to cook in low heat for about 30 minutes before adding the dill. Dill is very sensitive and same as parsley should be added towards the end to keep its color, freshness and aromas.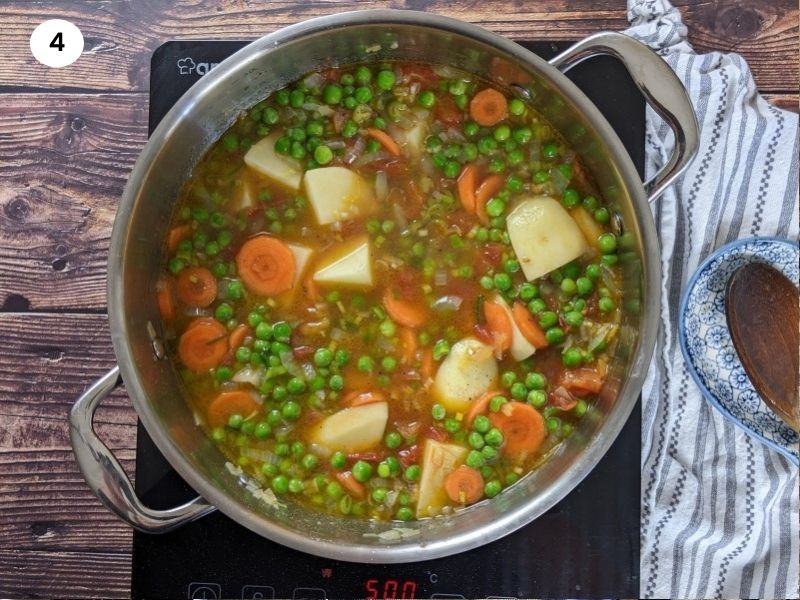 Serving suggestions
Serve it soon after you turn off the heat whilst it's still warm. We usually have the stewed peas as a main with some nice crispy bread and feta cheese on the side.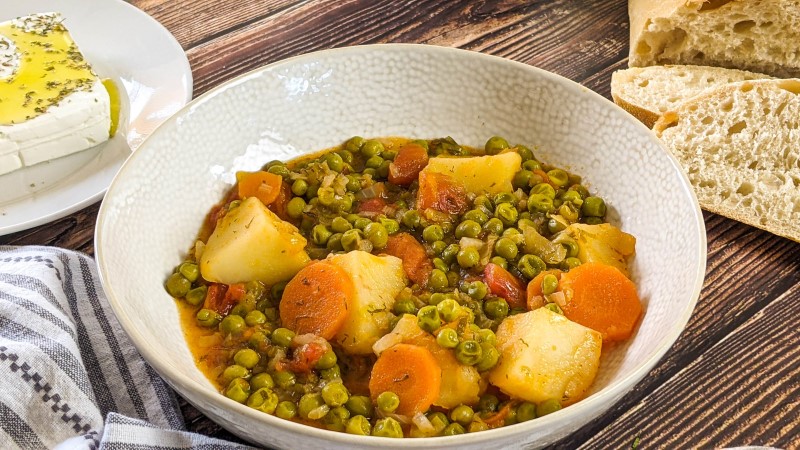 Storage
You can store any leftovers of the stewed peas in the fridge for up to 2-3 days. Just warm it up in the microwave or a small pot for a couple of minutes and serve.
FAQ
What type of tomatoes can I use for the peas and carrots stew? You could use a couple of ripe tomatoes that you blend in a food processor or canned chopped tomatoes. If you decide to use fresh tomatoes, then you don't need to add a lot of water to the stew when cooking, as the fresh tomatoes are more watery.

Is the peas stew suitable for a baby? Yes, it is suitable for babies from 6 months old if you don't add any salt whilst it is being cooked. Make sure that you cut all the vegetables into cubes as the round shape can be a choking hazard and cook everything until it's soft.
Watch the video
Stewed Peas, Carrots & Potatoes
This green peas stew with carrots and potatoes is full of goodness and flavors. Great as a side dish or main with a slice of bread and some feta cheese. A traditional vegan Greek dish, very healthy and full of vitamins. Enjoy!
Print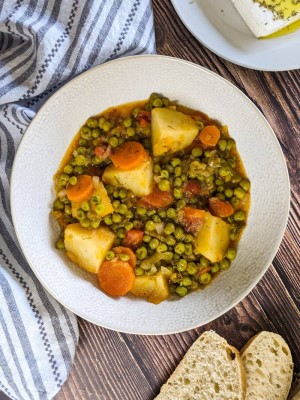 Ingredients
300gr / 2 cups green peas (fresh or frozen)
1 onion
2 potatoes
1 carrot
3 green onions
½ cup / 150gr chopped tomatoes (fresh or canned)
3 tablespoons of chopped dill
3 tablespoons of olive oil
salt
ground pepper
Instructions
Start by preparing and cutting the vegetables. Chop the onion, peel the potatoes and cut them into bite size pieces. Cut the green onions in half lengthwise and then into slices, the carrot into slices or cubes, and chop the dill finely.

Add the olive oil to a pot and heat up over medium to high heat. Add the chopped onion and sauté for 3-4 minutes.

Add the green onions, carrot slices, potatoes, green peas, chopped tomatoes and 1 ½ cups of water.

Add salt and ground pepper to taste. Lower heat to medium-low. Cover the pot and simmer for 30 minutes.

Uncover and add the dill. Stir a little bit and cook for 10 more minutes. Do check occasionally in case you need to add more water.

Serve whilst still warm.
Notes
- You could use fresh or frozen peas.
- Instead of canned tomatoes, you could use 2 medium tomatoes that you grate or chop.
Storage
You can store any leftovers in the fridge for up to 2-3 days.
Nutrition Info (per serving)
Calories: 366kcal | Carbohydrates: 48g | Protein: 13g | Cholesterol: 0mg | Fat: 14g | Saturated Fat: 2g | Polyunsaturated Fat: 2g | Monounsaturated Fat: 10g | Fiber: 13g | Sodium: 959mg | Potassium: 849mg | Sugar: 10g
I am not a nutritionist. The nutrition information has been calculated using an on-line calculator, and is intended for information and guidance purposes only. If the nutrition information is important to you, you should consider calculating it yourself, using your preferred tool.