This is a traditional greek dish called 'spanakorizo' that means spinach stew with rice. My mom used to make this very often when we were kids as it has simple ingredients that you often have in your pantry and it's very quick to prepare, ready in 30-40 minutes. How great is that, especially on those busy mornings when you have too many things to juggle with.
Did I mention that spinach stew with rice is also a vegan dish? It's not only delicious but full of nutrients too. Spinach has loads of antioxidants, fiber and iron. Lemon juice has vitamin C and helps with the absorption of iron from the spinach. Rice is rich in carbs that give your body loads of energy. What a great combination of vitamins and nutrients!
Jump to:
Why you should try my recipe
A hearty dish, full of flavor and aromas.
Dairy-free, Gluten-free, Egg-free and Vegan.
Stores well in the fridge for up to 2 days.
Ingredients & How-to
The main ingredients for the Greek spinach stew with rice are spinach, rice, carrots, lemon, onion, garlic, tomato, parsley and dill.
Depending on the season and what I can find in the market, I use normal or baby spinach. If you use normal spinach then cut it coarsely after rinsing it. With baby spinach you don't need to cut it, just give it a good rinse.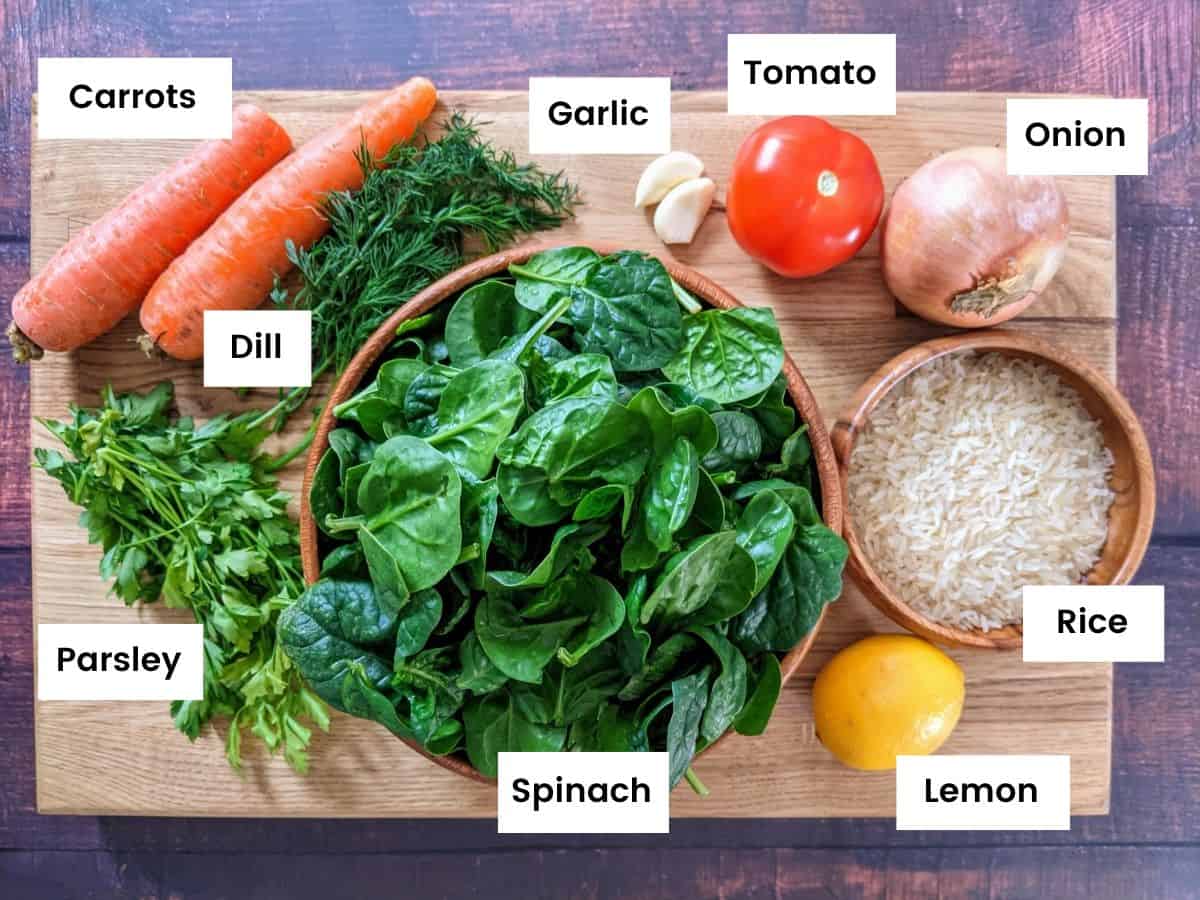 01. To start, I prepare the vegetables for the stew. I cut a large onion into cubes and chop the garlic. I'm using one fresh tomato that cut into cubes. You could also use 1/3 cup of canned chopped tomatoes or a tablespoon of tomato paste if you don't have fresh tomatoes, but I like to use more fresh vegetables where I can.
02. Although traditional Greek spinach and rice stew doesn't have carrot inside, I like to add one or two as it adds more goodness to the stew. I'm using one large or two small carrots that I cut into cubes or slices.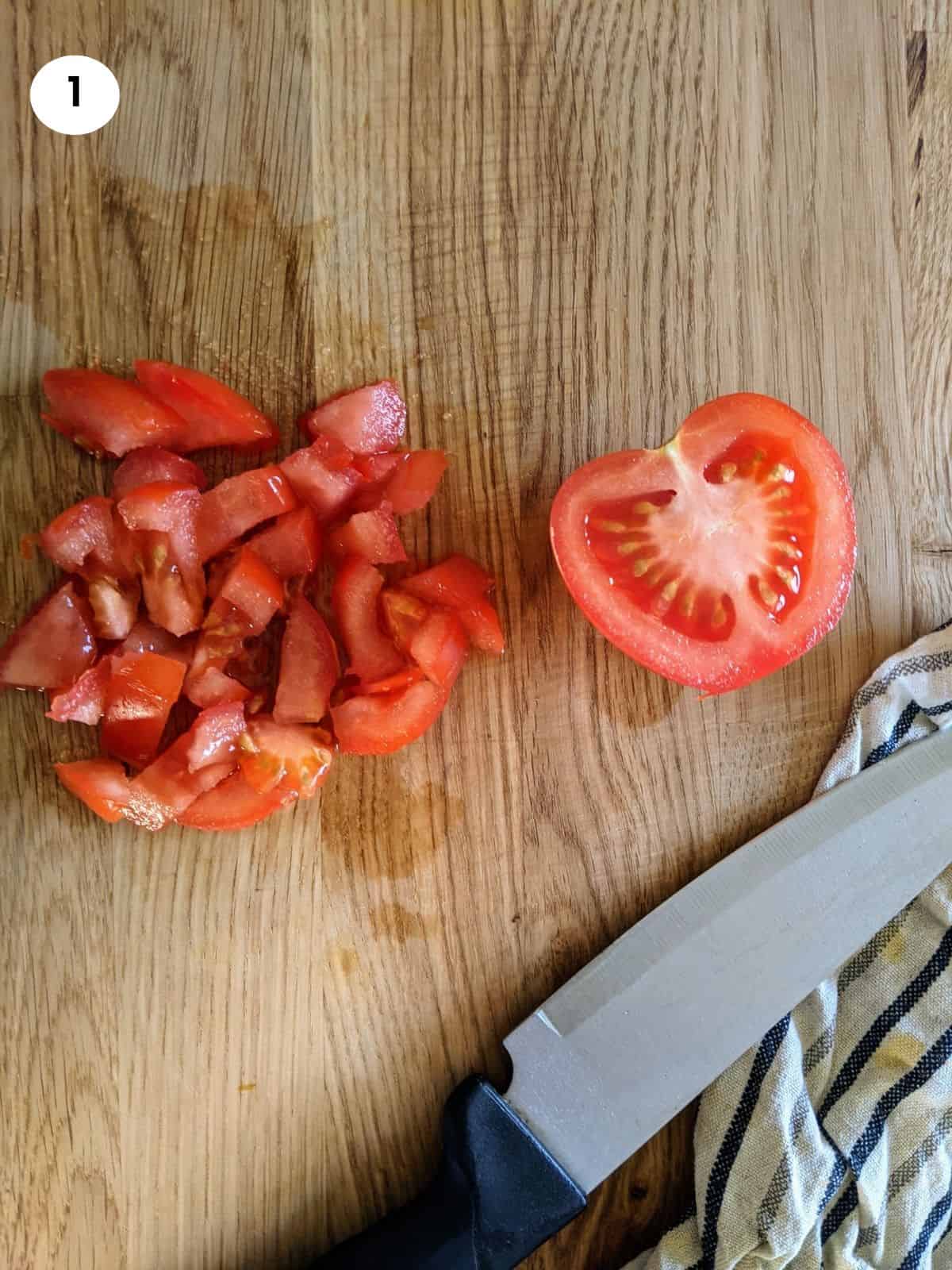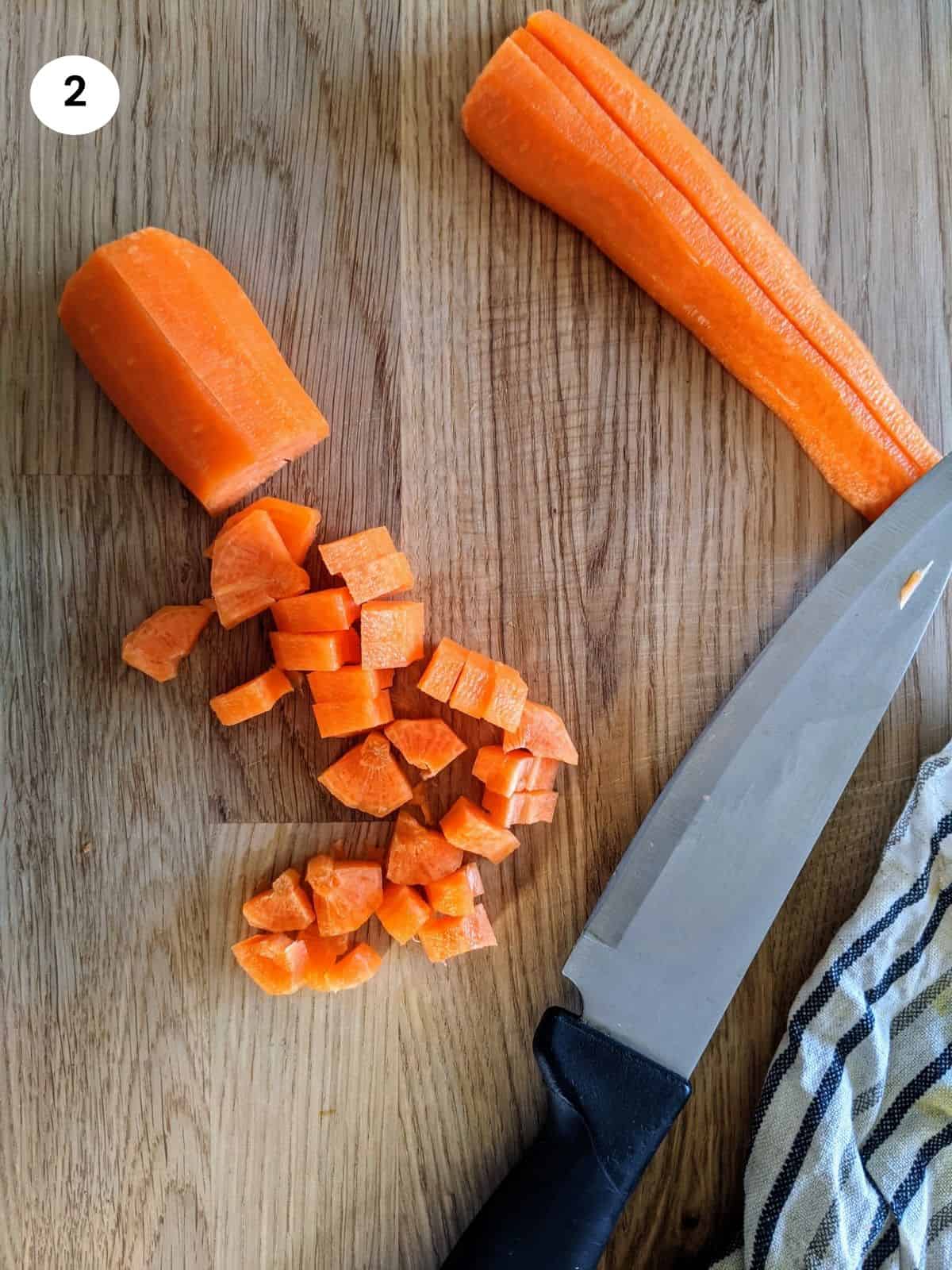 03. Same as with all the other greek stew recipes, I start with a little bit of olive oil in a pot. I sauté a chopped onion for a couple of minutes until it's soft and translucent. Then I add the garlic, carrot, tomato, rice and season with salt & pepper. I give it a stir to mix all the ingredients before adding the greens.
04. Finally, I add the spinach, chopped dill and parsley. The spinach has lots of volume, but it's getting cooked it will reduce in size. I just add the water to the pot and leave it without the lid until the spinach is wilted. The parsley and dill adds some freshness and aromas to the dish, but you could leave them out if you don't like the taste of them. The lemon juice gives the stew a really nice kick and if you are a fan of lemony food then I recommend squeezing some on your plate after you serve, I always do!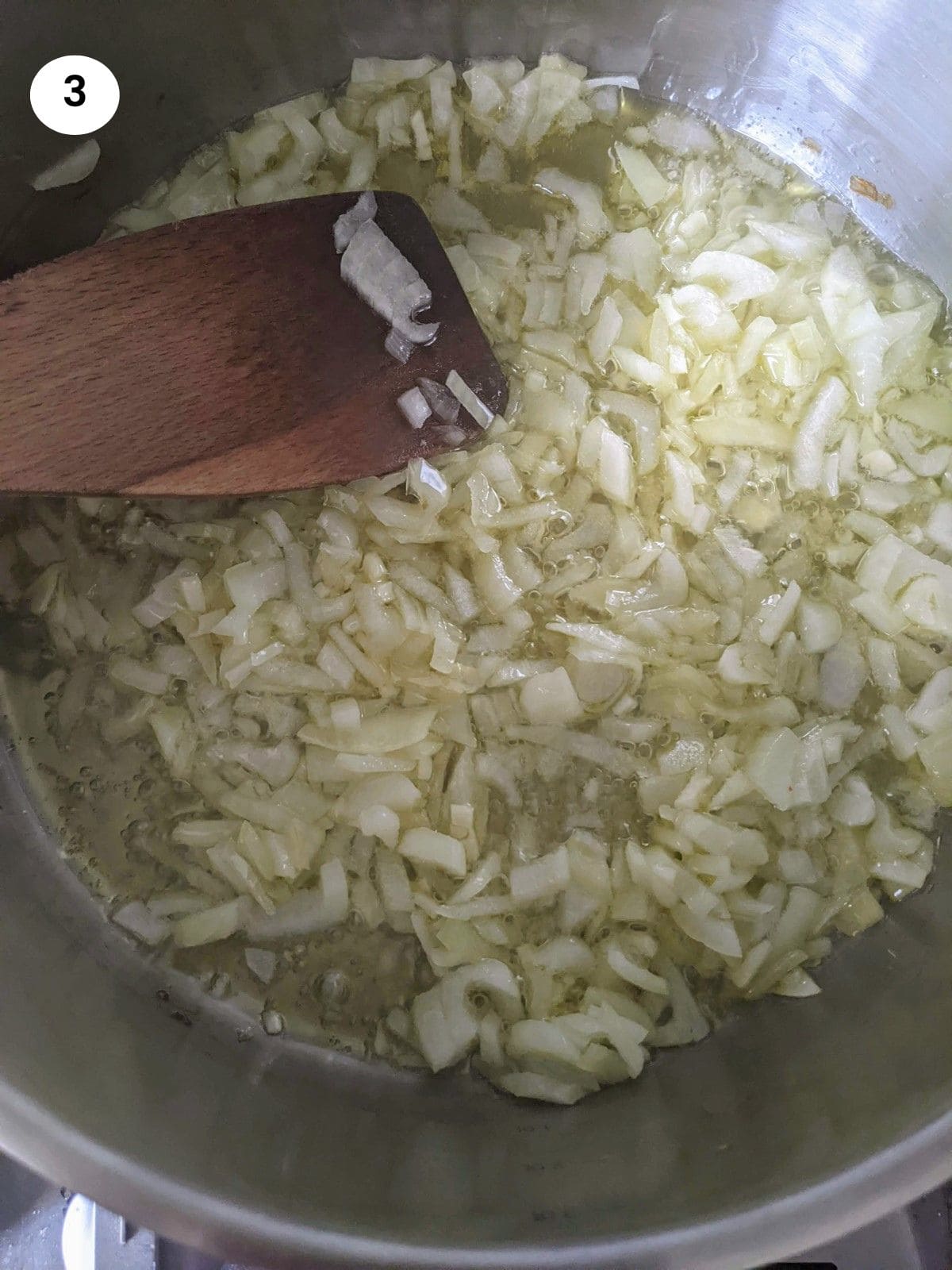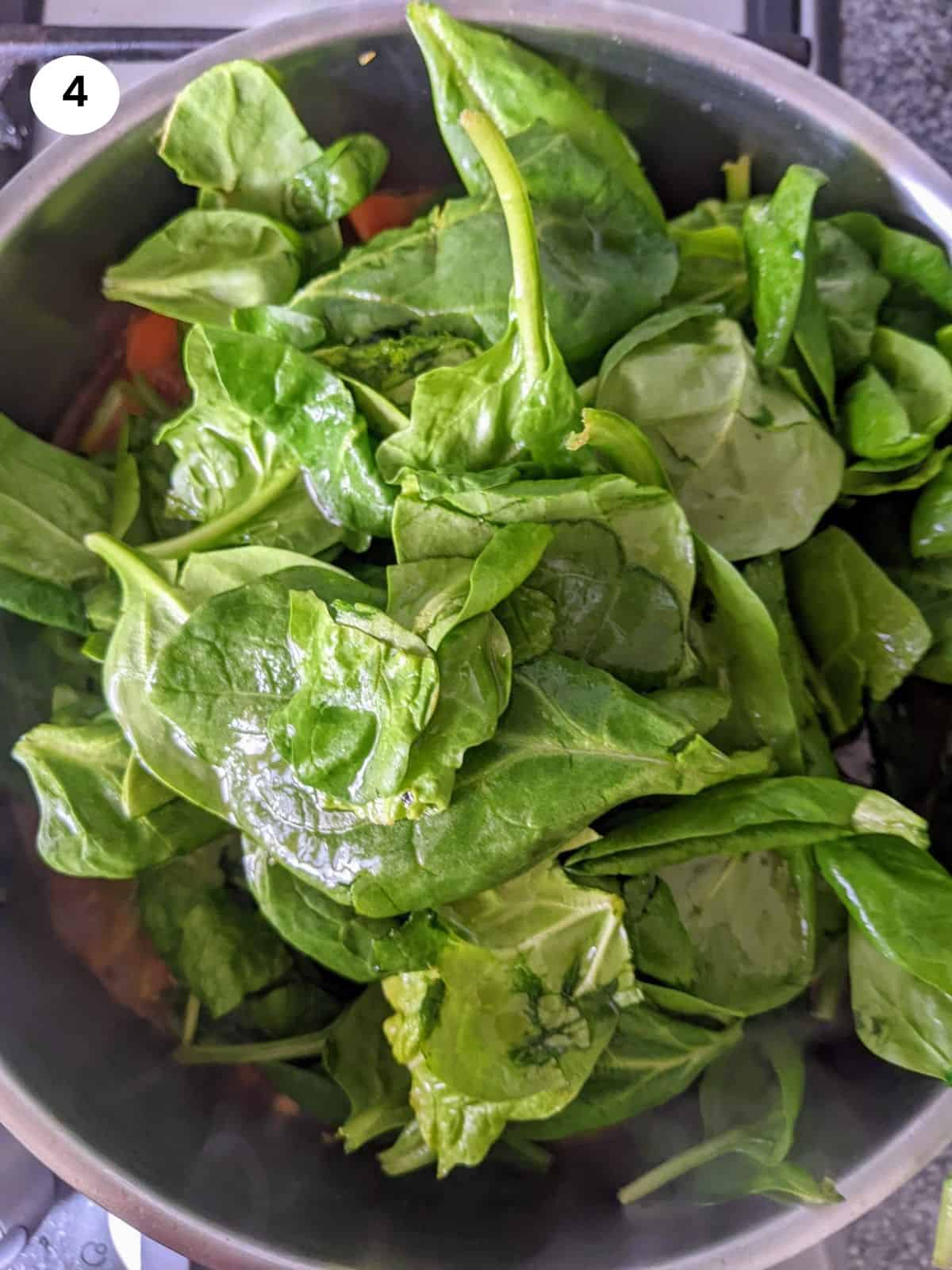 Serving suggestions
We usually have the spinach stew with rice as a main with some nice crispy bread on the side and a salad. In Greece we also like to eat it with a piece of feta cheese on the side. You could also drizzle with a bit of olive oil and lemon juice on the plate after you serve.
Storage
If you have any leftovers of spinach stew with rice, you could store it in the fridge for up to 2-3 days. Just warm it up in the microwave or in a small pan for a couple of minutes and serve. I don't recommend freezing it as the rice doesn't taste good when defrosted.
FAQ
What type of rice can I use for spinach stew with rice? I'm using easy cook long grain rice for the spinach and rice stew but you could also use short-grain rice like arborio or bomba.

Can I use frozen spinach for the spinach stew? Yes, you could use frozen spinach but it will need less time to cook in this case. I recommend leaving the carrots, tomato and rice to cook for 15 minutes before adding the spinach to the pot. Then cook for 15 more minutes, until the rice is completely cooked.
Watch the video
Spinach Stew With Rice
Spinach stew with rice is a traditional greek dish called 'spanakoruzo' which literally means spinach and rice. It's a vegan dish that mainly contains spinach, rice, onion, olive oil and lemon juice. This combination of rice and vegetables is not only delicious but also full of vitamins and nutrients.
Print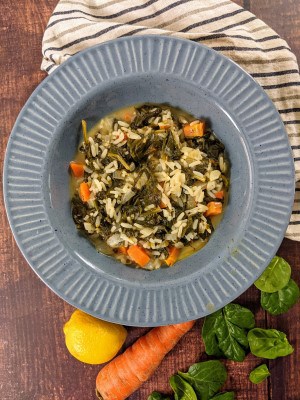 Ingredients
9oz / 250gr spinach
1 onion chopped
1 tomato diced
2 carrots cut into cubes
2 garlic cloves chopped
1/2 cup long grain rice
2 tablespoons of parsley chopped
1 tablespoon of dill chopped
3 tablespoons of olive oil
1 lemon
salt & pepper
Instructions
Place a pot over medium heat and add the olive oil in.

Add the chopped onion and sauté for 3-4 minutes.

If spinach leaves are too big cut in half. If it's baby spinach leave it as it is.

Add the rest of the ingredients in the pot: chopped garlic, carrots cut into cubes, diced tomato, spinach, chopped parsley, chopped dill, rice and juice of the lemon.

Add salt & pepper and 2 cups of water.

Cover with a lid and let it cook for 30 minutes on low heat or until rice is cooked.
Notes
- If there is too much water left after 30 minutes then increase heat to high and cook for a few more minutes.
Storage
You can store any leftovers in the fridge for up to 2-3 days.
Nutrition Info (per serving)
Calories: 219kcal | Carbohydrates: 21g | Protein: 4g | Cholesterol: 0mg | Fat: 14g | Saturated Fat: 2g | Polyunsaturated Fat: 2g | Monounsaturated Fat: 10g | Fiber: 4g | Sodium: 153mg | Potassium: 683mg | Sugar: 5g
I am not a nutritionist. The nutrition information has been calculated using an on-line calculator, and is intended for information and guidance purposes only. If the nutrition information is important to you, you should consider calculating it yourself, using your preferred tool.