One would say that cannelloni is a classic Italian baked pasta dish perfect for a cozy night in or a special occasion dinner. You can find baked cannelloni recipes with all kind of fillings like ground meat or veggies and cheese and the taste and texture is very similar to lasagna. Instead of having layers though, we add some sauce around the cannelloni to allow them to cook and top up with a white sauce or cheese to avoid burning whilst in the oven.
In this baked cannelloni recipe we combine cannelloni tubes with a flavorful filling of squash, ricotta cheese, and spinach. Topped with a creamy béchamel sauce and a sprinkle of grated Parmesan cheese, each bite is a heavenly blend of textures and savory goodness. Prepare to be captivated by the aroma wafting from the oven as the cannelloni bakes to perfection, resulting in a comforting and satisfying meal that will leave your taste buds craving for more. And if you find yourself in love with cannelloni, next time why don't you try my baked cannelloni with spinach and feta cheese recipe.
Jump to:
Why you should try my recipe
Delicious pasta dish that everyone will enjoy.
Easy to follow step-by-step instructions on how to make the white sauce.
Enough to feed a big family.
Great source of vitamins and nutrients.
Ingredients & How-to
For this baked cannelloni dish, you are going to need some cannelloni pasta, squash cut into cubes, ricotta cheese, spinach, onion, italian herbs, grated parmesan, salt and pepper. For the béchamel sauce we are going to need milk, plain flour, butter or oil and ground nutmeg.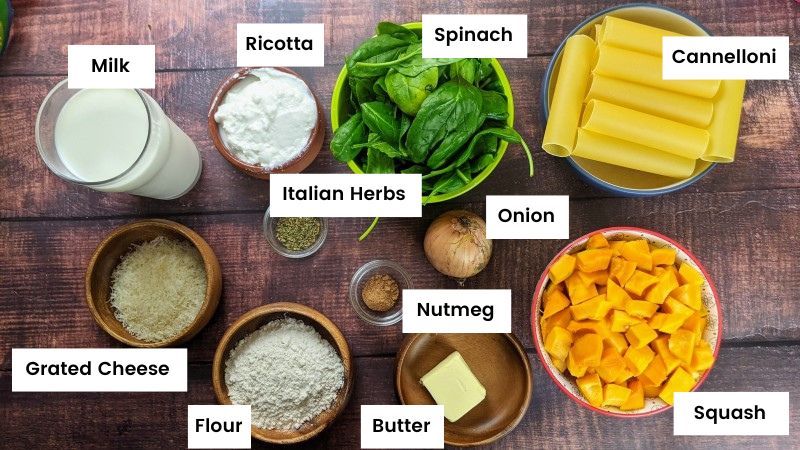 1. Squash & Ricotta Filling
01. I start with preparing the cannelloni filling first. In a pot, I add the chopped onion with some olive oil and sauté for 3-4 minutes until it turns translucent. This process allows all the sweetness of the onion to come out, resulting in a delectable and flavorful filling.
02. Then, it's time to add the squash that's precut into cubes. You could use any type of squash you like, butternut squash, acorn squash, red kuri, whatever you can find. I add about a cup of water to the pot and season with salt and pepper. It will take about 10-15 minutes to get softer and fork tender.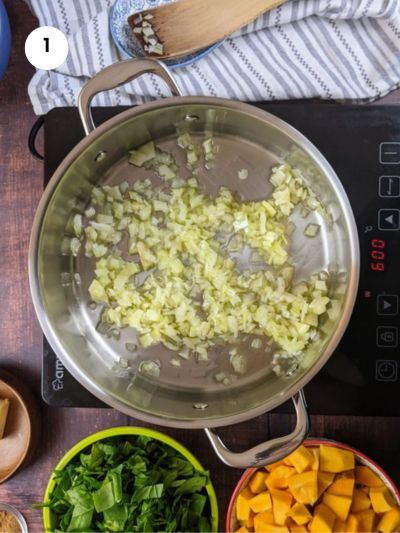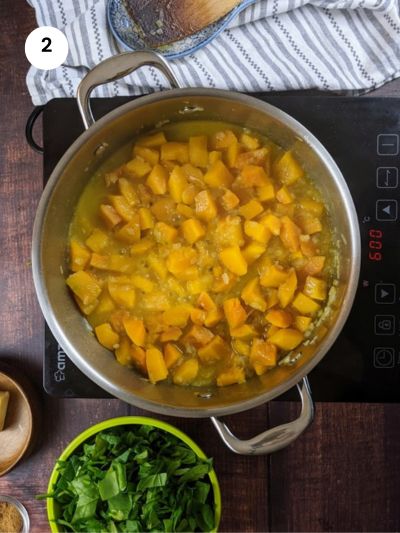 03. Once the squash has reached a soft texture, I proceed to incorporate the chopped spinach and thoroughly combine it with the squash. I allow the mixture to cook for approximately 4-5 minutes until the spinach begins to wilt, ensuring all the flavors meld together nicely.
04. Using a fork, I mash the squash until lumpy. We want it to be soft and creamy to fill in the cannelloni with a piping bag but it's ok if there are small bits left and it's a bit lumpy for some extra texture.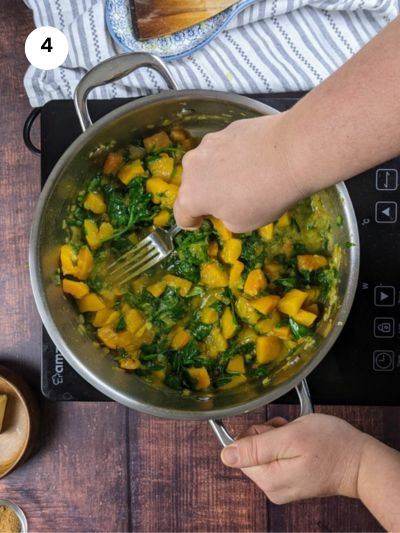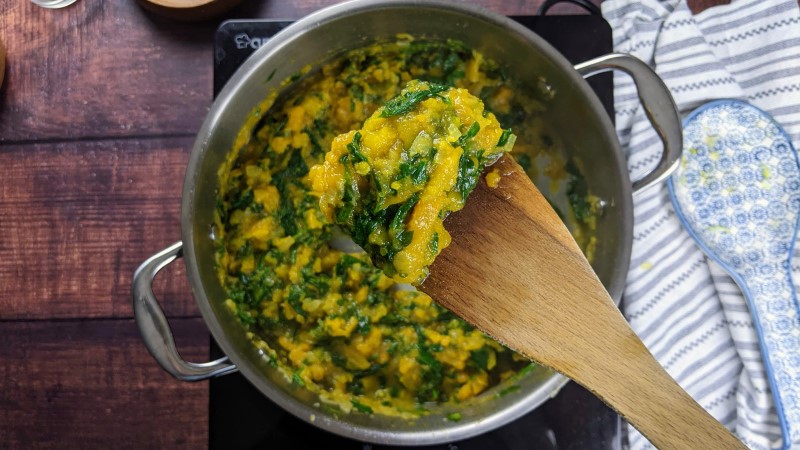 05. The final step for the filling to be ready, is adding the ricotta cheese and seasoning with some dried italian herbs mix for some extra flavor and aroma. You could also use some oregano or thyme if you prefer, but I like the italian herb mix as it has my favorite herbs and really elevates the flavor.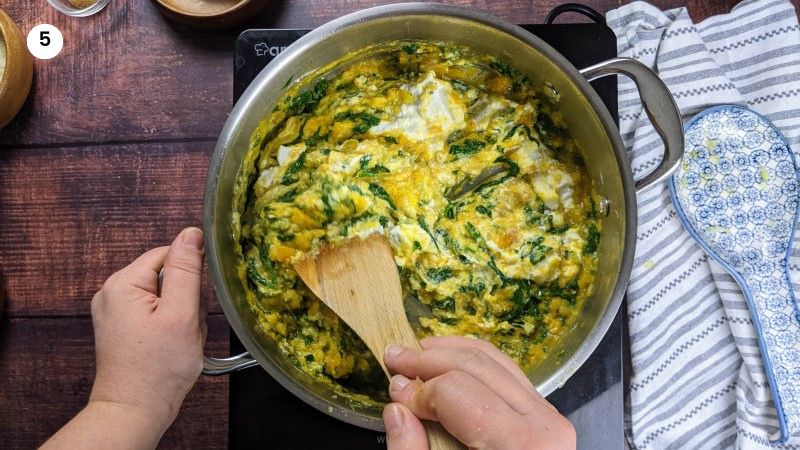 2. Preparing the béchamel sauce
01. While making a béchamel sauce may appear daunting to some, it is actually a straightforward process that only requires gathering all the necessary ingredients and having a whisk on hand. To begin, we combine equal parts of flour and oil or butter in a pot, and heat it while continuously stirring until the flour is fully absorbed and reaches a light brown color, being careful not to let it burn. This particular step is crucial in order to minimize the flour's taste in the final sauce.
02. Next, I proceed to gradually incorporate the milk into the mixture while continuing to whisk vigorously. Initially, you will observe that upon adding the milk and whisking, it quickly combines with the flour mixture, resulting in a firm and dough-like consistency. Rest assured, this is completely normal! As we continue adding more milk, you will witness the sauce progressively thinning out and developing a velvety, creamy texture.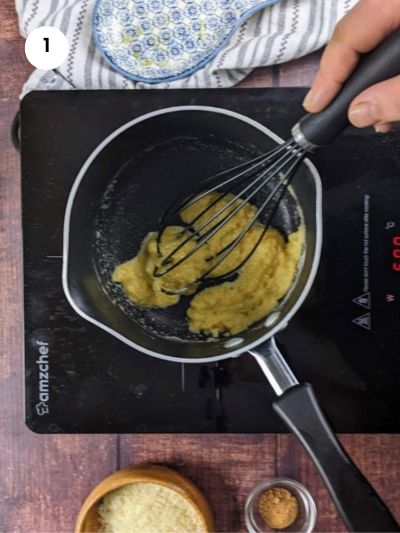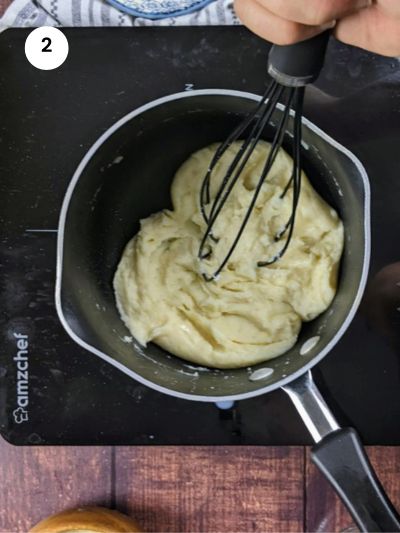 03. To avoid any lumps, you need to keep whisking while pouring the milk with the other hand. I'm using 0.5 litres of milk, that's about 2 cups. When the sauce is ready and creamy, I turn off the heat and add the nutmeg. If you are not a fan of nutmeg then you could leave it out, but I find it really gives a nice kick to the béchamel sauce.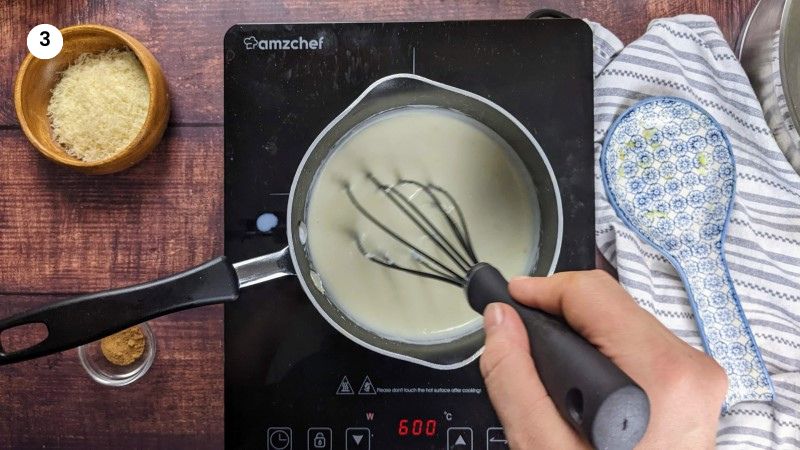 3. Assembling
01. Now that both the filling and topping white cream is ready, I start assembling the baked cannelloni. To facilitate the process, I transfer the filling into a piping bag, enabling a more convenient way to dispense the squash and ricotta mixture into each cannelloni. The quantity of cannelloni required will vary depending on the size of the baking tray, typically ranging from 12 to 15 pieces.
02. Before placing the cannelloni in a tray, I pour approximately one cup of milk into it. This additional liquid is crucial for the cannelloni to cook properly during the baking process, as the milk will be absorbed by the time they are ready to be removed from the oven. If there is any filling left, you could mix it up with the milk before placing the cannelloni on top.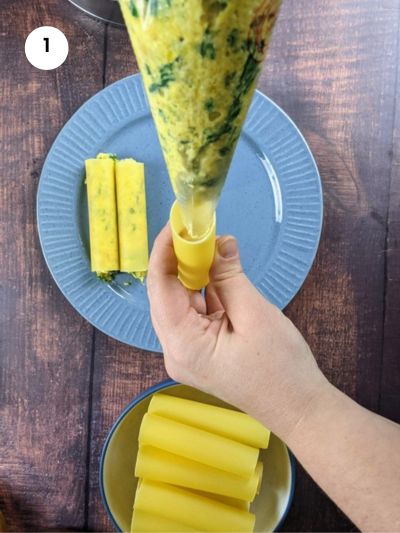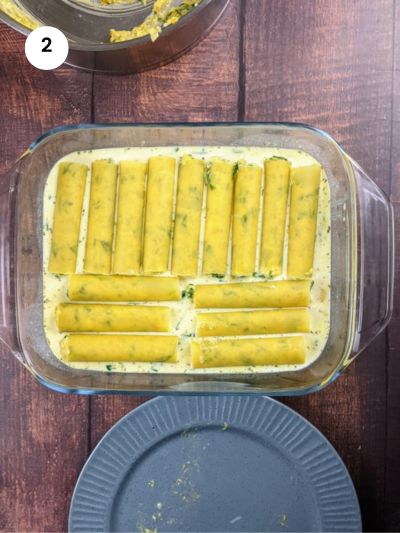 03. With the cannelloni neatly arranged in the tray, I proceed to generously pour the béchamel sauce over them, ensuring they are fully covered. To complete the dish, I sprinkle a generous amount of grated Parmesan cheese on top of the béchamel. You could also opt for grated Cheddar or Kefalotyri cheese as a substitute for Parmesan.
04. The cannelloni are now prepared to be placed in the oven for baking. They will be cooked for approximately 40 minutes, allowing sufficient time for the milk to be fully absorbed and the cannelloni to become tender and thoroughly cooked. When the baked cannelloni is ready, the white sauce and cheese on top will have a nice golden brown color.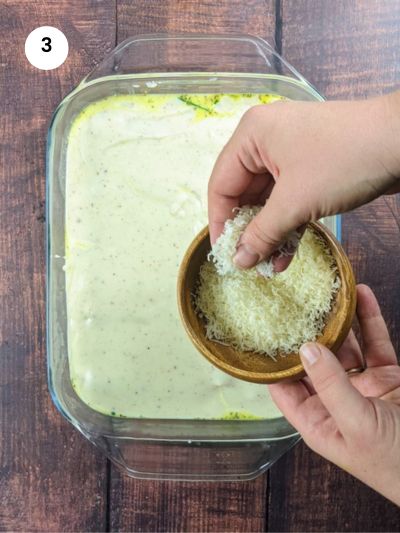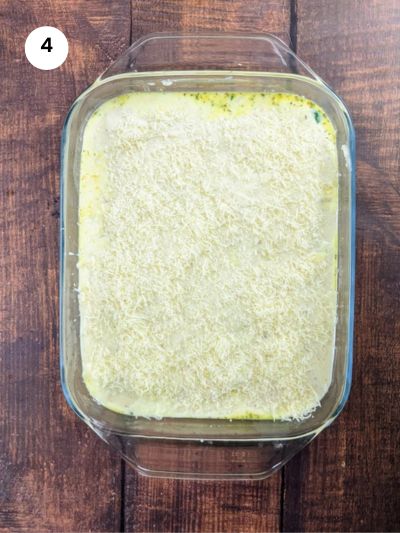 Substitutions
You could substitute the ricotta cheese with cottage or goats cheese.
You could use butternut, acorn, red kuri squash or pumpkin cut into cubes.
You could use chard greens instead of spinach.
You could use cheddar cheese, pecorino or kefaloturi cheese instead of parmesan.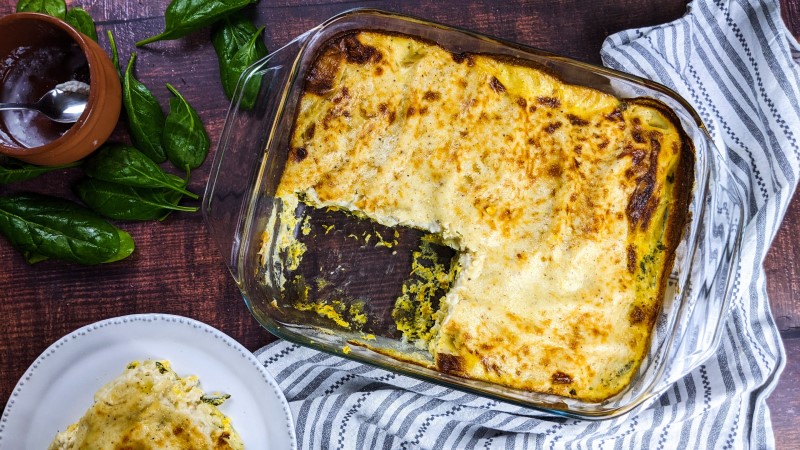 Serving suggestions
This squash and ricotta baked cannelloni is best served warm whilst the béchamel sauce is creamy and runny right when it comes out of the oven. We usually have it as a main with some salad on the side like a crisp garden salad or a Greek salad. You could also pair the cannelloni with some warm, garlic-infused bread or breadsticks. The garlic bread provides a delightful contrast in texture and flavor.
Storage
If you have any leftover baked cannelloni, then you can store them in the fridge for the next day. Just warm them up in the oven for 5-8 minutes until the sauce is hot and creamy.
FAQ
Can I use manicotti instead of cannelloni tubes? Yes, you can definitely use manicotti pasta tubes instead of cannelloni. Manicotti pasta is ridged and slightly larger compared to cannelloni, so you will probably need less for the same amount of filling. The assembling process is the same. You will still need to add some sauce for the pasta to cook and top up with béchamel before placing in the oven.

Does the cannelloni pasta need to be pre boiled or will it soften and cook in the sauce while baking? When making baked cannelloni, you don't need to preboil the pasta. In order for the cannelloni to evenly cook, you need to add some sauce like tomato sauce or milk at the bottom of the dish before placing the filled cannelloni as they need sufficient liquid to absorb and cook whilst in the oven. To avoid burning and getting dry, you will also need to cover them usually with a béchamel sauce.
Watch the video
Baked Cannelloni With Squash And Ricotta
Baked cannelloni filled with squash and ricotta cheese is a delicious and comforting dish that will satisfy your hunger and warm your soul. An easy to prepare filling ready in just 15 minutes and step-by-step instructions on how to make the creamiest béchamel sauce to top up the cannelloni. Whether you're looking for a hearty meal to feed your family or hosting a dinner party with friends, this baked cannelloni recipe is sure to impress. Enjoy!
Category: Pasta
Difficulty: Medium
Print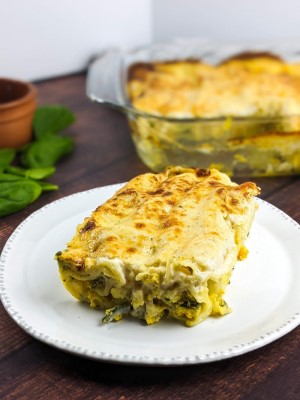 Main Ingredients
12-15 cannelloni pasta
450gr or 4 cups squash cut into cubes
3 cups / 100gr spinach
1 onion
250gr / 1 cup ricotta cheese
1/2 tablespoon of italian herbs
1 cup milk
salt & pepper
Béchamel Ingredients
1/4 cup plain flour
1/4 cup / 40gr butter
500ml / 2 cups milk
1 teaspoon ground nutmeg
1/2 cup grated parmesan
Instructions
In a pot, heat up some olive oil over medium heat. Add the chopped onion and sauté for 3-4 minutes until translucent.

Add the squash cubes and a cup of water. Season with salt and pepper and let it cook for 15 minutes.

Add the chopped spinach and leave it for 4-5 minutes until wilted.

Using a fork, mash the squash until lumpy. Add the italian herbs and the ricotta cheese. Mix everything well and set aside.

To make the béchamel sauce, add the flour and butter to a pot. Mix them well using a whisk and cook for 4-5 minutes until you get a nice light brown color but not burnt.

Start adding the milk little by little while you keep whisking the flour mixture. When the milk is incorporated, pour more into the pot until you get a smooth, slightly thick béchamel sauce. When the sauce is ready, add the nutmeg and stir to combine.

To assemble the dish, add the filling to a piping bag. Start filling the cannelloni and set aside on a plate.

In an ovenproof dish, pour the milk and add any remaining of the filling. Mix together and then place the cannelloni on top.

Pour the béchamel sauce on top of the cannelloni using a ladle and spread to cover all of them. Add the grated parmesan cheese on top.

Place the tray in a preheated oven to 180°C/350°F and bake for 40 minutes until the sauce and cheese get a golden brown color.
Notes
- You could use any type of squash you have in your pantry like butternut squash, red kuri, acorn etc.
- Instead of parmesan cheese, you could use cheddar, padano, pecorino or kefaloturi.
Storage
You can store any leftovers of this baked cannelloni dish in the fridge for the next day. Warm it up in the oven or microwave until piping hot.
Nutrition Info (per serving)
Calories: 522kcal | Carbohydrates: 60g | Protein: 23g | Cholesterol: 28mg | Fat: 21g | Saturated Fat: 12g | Polyunsaturated Fat: 0g | Monounsaturated Fat: 2g | Fiber: 3g | Sodium: 290mg | Potassium: 674mg | Sugar: 15g
I am not a nutritionist. The nutrition information has been calculated using an on-line calculator, and is intended for information and guidance purposes only. If the nutrition information is important to you, you should consider calculating it yourself, using your preferred tool.