Everyone would agree that pasta is one of those types of food that everyone likes to eat. Here, I'm sharing with you, my spinach and feta cheese cannelloni recipe. A comfort food, that is rich and creamy. For the filling, I'm using spinach and feta cheese along with some more vegetables. The cannelloni are cooked in a homemade tomato sauce that is very easy to prepare in just 5 minutes and to make them even more creamy, we are adding on top some béchamel sauce. This cannelloni dish is a crowd pleaser and will definitely impress your guests. Let's get started!
Jump to:
Why you should try my recipe
Delicious pasta dish that everyone will enjoy.
Easy to follow steps on how to prepare and cook it.
Enough to feed a big family.
Great source of vitamins and nutrients.
Ingredients & How-to
To make this spinach and feta cannelloni dish, you are going to need cannelloni pasta, fresh spinach, feta cheese, onion, leeks, green onions, parsley, tomato purée, oregano, garlic cloves, salt and pepper.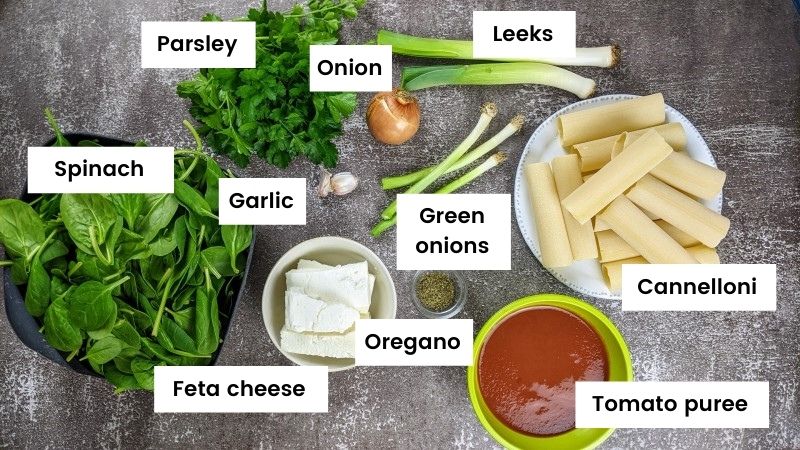 1. Tomato Sauce & Filling
01. I like to start with preparing all the veggies first. I wash the spinach leaves well and depending on the size I cut them roughly into smaller chunks. If you are using baby spinach, then you can leave it as it is. Then, I chop the onion into cubes, cut the leeks and green onions into slices, finely chop the parsley and cut the garlic cloves into smaller bits.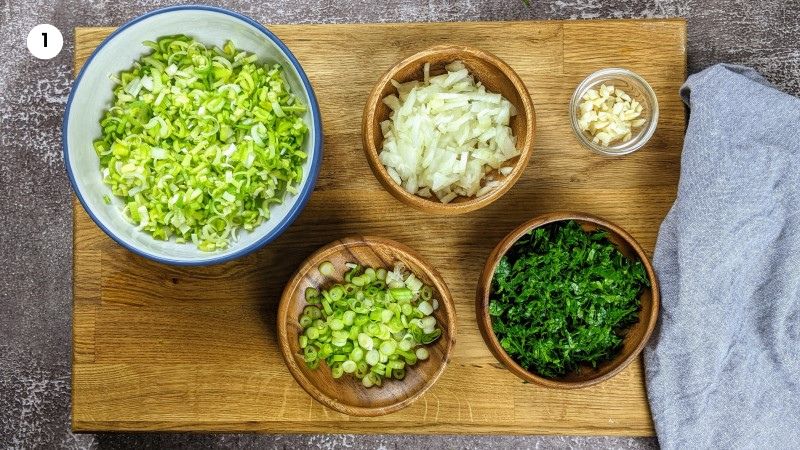 02. Moving to the stove, I start with preparing the tomato sauce. In a small pot, I first sauté the garlic cloves with some olive oil for 1-2 minutes until it's soft. Garlic can easily get burnt, so do keep an eye on it. Then I add the tomato purée with the oregano, salt and freshly ground pepper, I add a little bit of water, around a cup, and I leave it to simmer for just 5 minutes. The sauce will still be watery, but we need that to cook the cannelloni pasta in the oven later on.
03. For the cannelloni spinach and feta filling, I start with preparing the spinach first. In a big pot, I sauté the onion for a few minutes until it's translucent and all the sweetness and flavor is out. Then I add the leeks, green onions and give it a stir.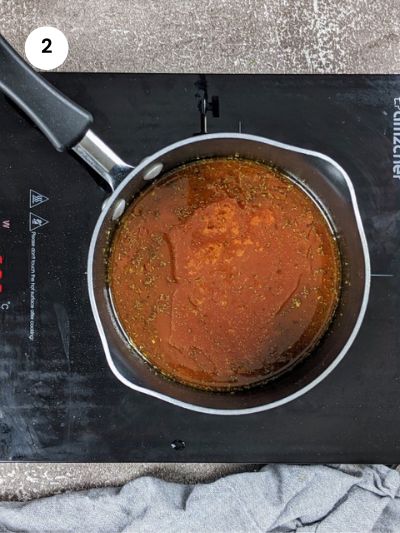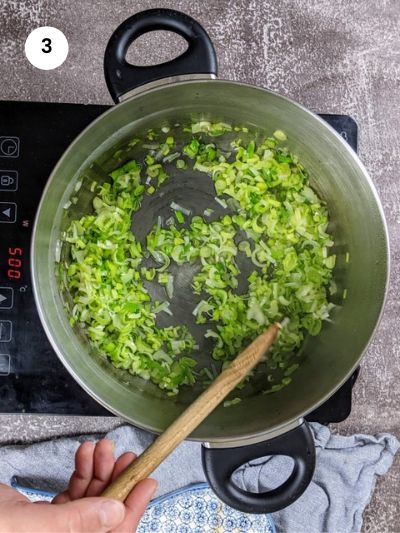 04. Now it's time to add the spinach leaves. With the heat, the spinach leaves will get wilted and lose most of the volume. Just give it a stir so the bottom leaves don't get burnt and for the fresh leaves to touch the bottom of the hot pot. It will just take a few minutes.
05. When the spinach is wilted, I just put it in a bowl and leave it to cool down for a few minutes. Then, I add the feta cheese and chopped parsley, season with salt and pepper, and mix everything well.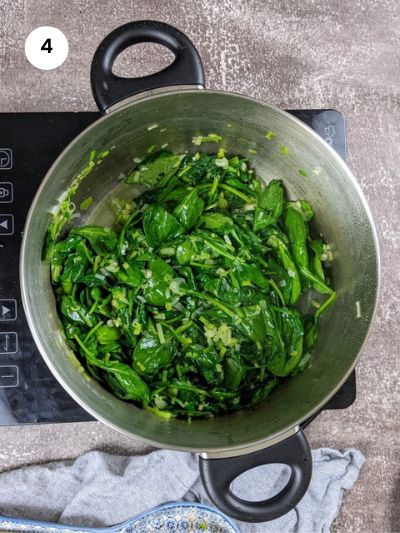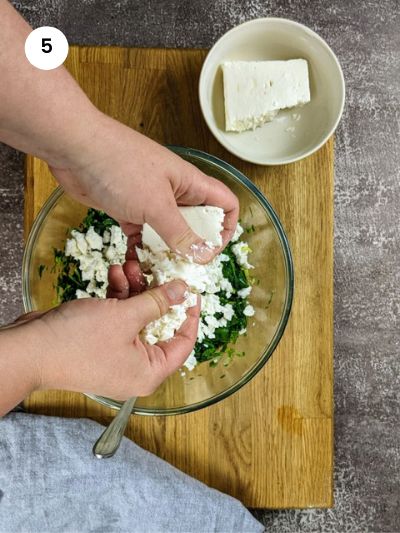 06. Our spinach and feta filling is ready, so now it's time to stuff the cannelloni. I find it easier to use my finger to stuff the cannelloni, as I can easier control the pressure and prevent any breaking. You could also use a piping bag if you prefer but you might find that the feta cheese crumbles get stuck and it's difficult to squeeze the filling out.
So, if you are like me, just put on some gloves and gently start filling the cannelloni with the spinach and feta mixture. The filling is enough for about 12-14 cannelloni, if you have any leftover filling in the end no need to throw it away, you can add it to the ovenproof dish under the cannelloni.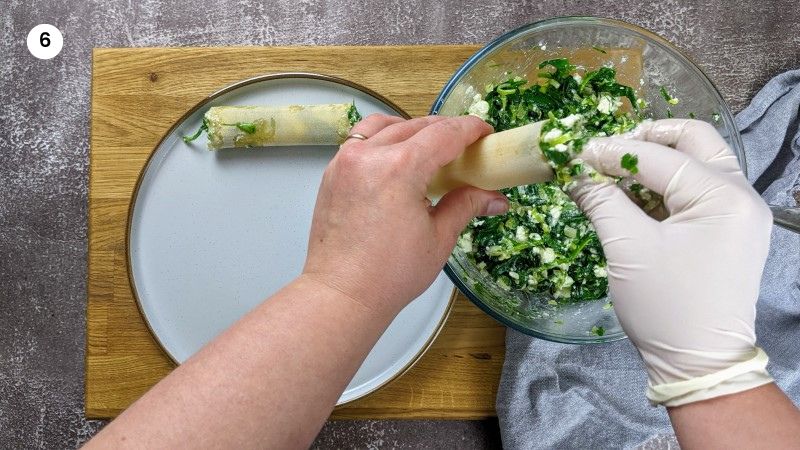 07. Before making the white sauce, I put everything together in an ovenproof dish to be ready for the béchamel. Firstly, I add half of the tomato sauce and any leftover of the filling, and I spread it to cover the whole dish. Then I carefully place the stuffed cannelloni and pour the remaining tomato sauce on top.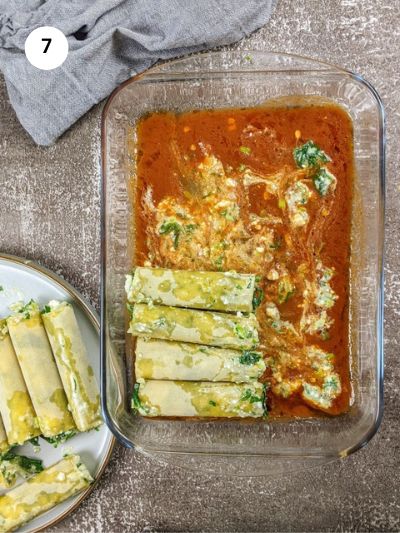 2. Preparing the béchamel sauce
The ingredients I'm using to make the white sauce are very simple, milk, flour, oil or butter, nutmeg, salt and pepper. In the béchamel sauce that we put on the Greek pastichio, we usually add also cheese and an egg yolk for the color but here I'm keeping it simple since the filling of the cannelloni already has cheese in it.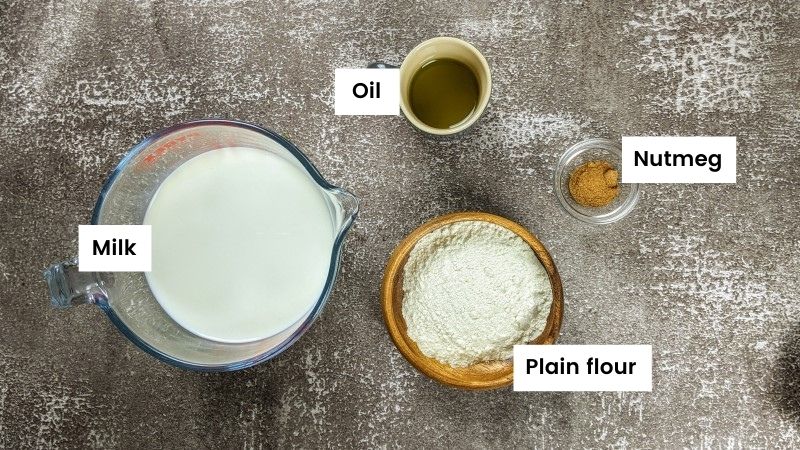 01. Some people find quite overwhelming the process of making a béchamel sauce, but it's really quite simple and as long as you have all the ingredients gathered around your pot and a whisk in hand, you are all good to go. To get started, we add the same amount of flour and oil or butter to a pot. We heat it up and keep stirring until the flour is absorbed and it has a nice brown color (not burnt!). This step is important for our sauce to have less of a floury taste.
02. Now, I start adding the milk little by little while I keep whisking vigorously. You will notice that when you first add the milk and start whisking, it is absorbed immediately by the flour mixture and becomes hard and doughy. This is absolutely fine! As we keep adding milk, you will see that the sauce becomes thinner and thinner.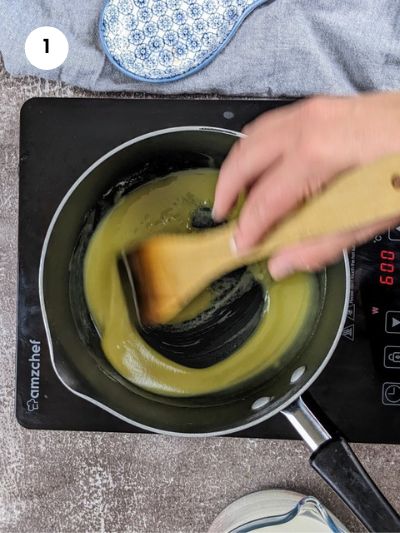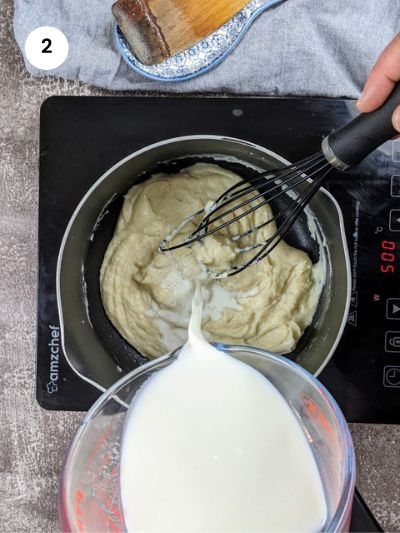 03. To avoid any lumps, you need to keep whisking while pouring the milk with the other hand. I'm using 0.5 litres of milk, that's about 2 cups. When the sauce is ready and creamy, I turn off the heat and add the nutmeg, salt and freshly ground pepper. If you are not a fan of nutmeg then you could leave it out, but I find it really gives a nice kick to the béchamel sauce.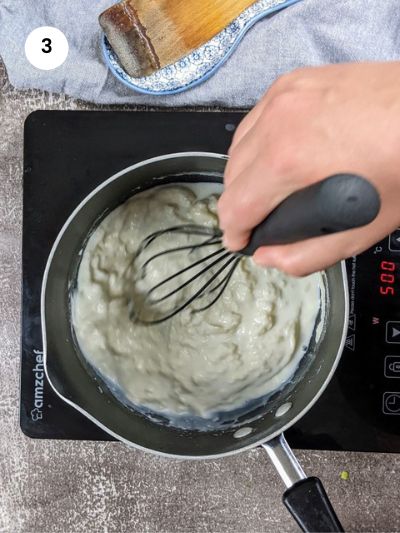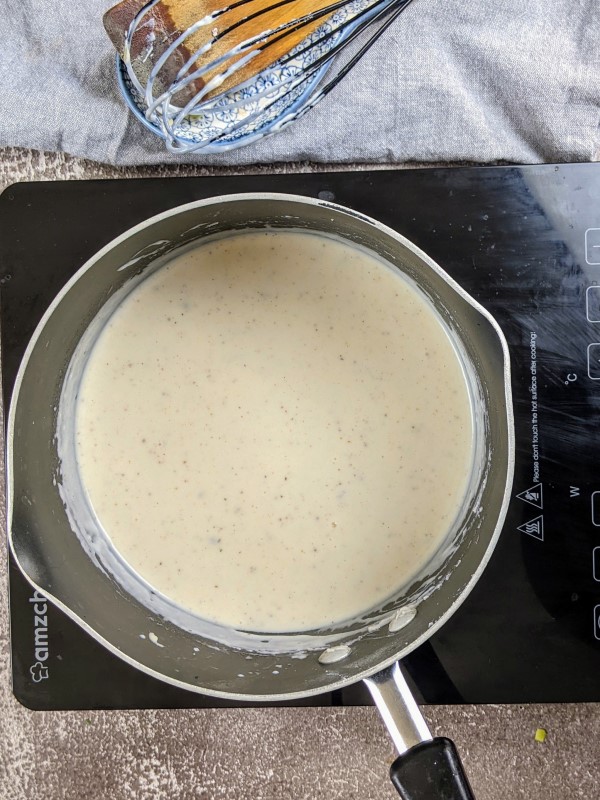 04. Now that the white sauce is ready, I simply pour it with a ladle over the cannelloni. With a spatula or a spoon, I spread the béchamel until all the cannelloni are covered and place them in the oven to bake. It takes about 30 minutes for the cannelloni to cook and the béchamel to get a nice brown color on top.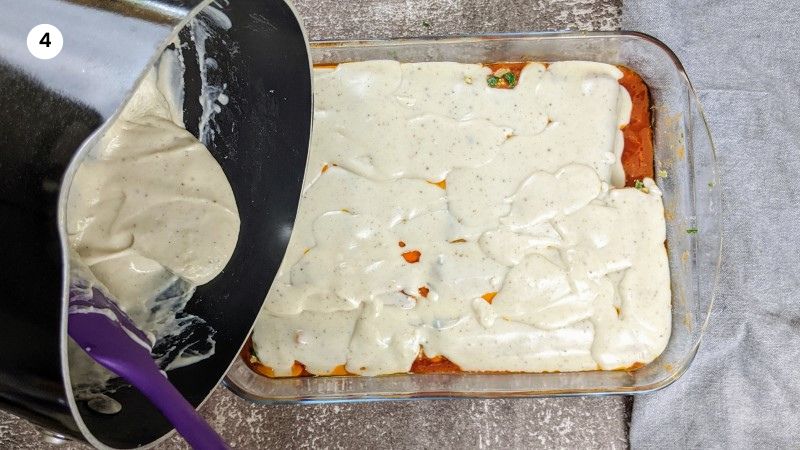 Serving suggestions
We usually have the spinach & feta cannelloni as a main with some salad on the side. It's best served warm and fresh when it comes out of the oven.
Storage
If you have any leftover cannelloni, then you can store them in the fridge for the next day. Just warm them up in the oven for 5-8 minutes until the sauce is hot.
FAQ
How can I make this cannelloni recipe vegan? To make the spinach and feta cheese cannelloni vegan, all you need is to replace the feta cheese with a vegan one of your choice and for the bechamel sauce to use a plant-based milk instead of cows milk.

What can I replace with the bechamel sauce? If you find making the bechamel sauce too intimidating, then you could instead mix some cream cheese with milk and also add some grated cheese. Mix it all together, cover the cannelloni with the sauce and bake as usual.
Watch the video
Spinach and Feta Cheese Cannelloni
This spinach and feta cannelloni dish is the absolute comfort food. A combination of pasta with veggies and cheese, topped up with a creamy bechamel sauce. A healthy dish, packed with vitamins and nutrients that everyone is going to love. Enjoy!
Category: Pasta
Difficulty: Medium
Print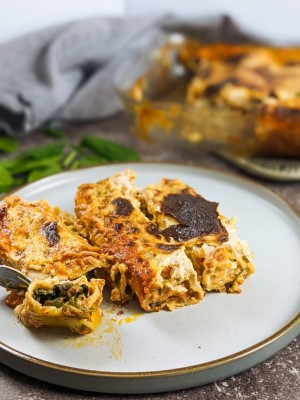 Main Ingredients
12-14 cannelloni pasta
9oz / 250gr spinach
9oz / 250gr feta cheese
1 onion
2 leeks
3 green onions
1 cup / 250ml tomato puree / passata
2 garlic cloves
½ tablespoon of oregano
a bunch of parsley (¼ cup when chopped)
salt & pepper
White Sauce Ingredients
¼ cup of plain flour
¼ cup of olive oil or butter
0.5lt / 2 cups milk
1 teaspoon ground nutmeg
salt & pepper
Instructions
In a small pot, add some olive oil and heat over medium heat. Add the chopped garlic cloves and sauté for a minute. Add the tomato purée, the oregano and season with salt and pepper. Add a cup of water and simmer for 5 minutes. Set it aside as we are going to use it later on.

In a pot, add some olive oil and heat over medium heat. Add the chopped onion and sauté for 3-4 minutes until translucent. Add the chopped leek and green onions and give it a stir. Add the spinach leaves and keep stirring until wilted.

Transfer the spinach leaves to a bowl and allow them to cool down. Add the crumbled feta, chopped parsley and season with salt and pepper. Mix everything well.

Start stuffing the cannelloni pasta with the spinach and feta mixture. Use your fingers to push the mixture inside the cannelloni or a piping bag.

Place half of the tomato sauce in an ovenproof dish. Then place the stuffed cannelloni on top and cover with the remaining tomato sauce.

For the white sauce, add the oil or butter to a pot along with the flour. Heat over medium heat and keep stirring until the flour has dissolved, and the mixture looks brown but not burnt.

Start adding the milk little by little while you keep whisking the flour mixture. When the milk is incorporated, pour more into the pot until you get a smooth, slightly thick béchamel sauce. When the sauce is ready, add the nutmeg and season with salt and pepper.

Pour the white sauce over the cannelloni and make sure they are all covered using a spatula. Place the tray in a preheated oven to 180°C/350°F and cook for 30-35 minutes.
Notes
- For a dairy-free and vegan version, you could substitute the feta cheese with a vegan one of your choice, and use dairy-free milk for the white sauce.

Storage
You can store any leftover spinach and feta cannelloni in the fridge for the next day.
Nutrition Info (per serving)
Calories: 617kcal | Carbohydrates: 67g | Protein: 25g | Cholesterol: 33mg | Fat: 27g | Saturated Fat: 9g | Polyunsaturated Fat: 3g | Monounsaturated Fat: 12g | Fiber: 4g | Sodium: 990mg | Potassium: 612mg | Sugar: 8g
I am not a nutritionist. The nutrition information has been calculated using an on-line calculator, and is intended for information and guidance purposes only. If the nutrition information is important to you, you should consider calculating it yourself, using your preferred tool.