This is my version of a traditional greek dish called 'Giouvetsi'. Orzo pasta, one of the key ingredients, originates from Italy but it's very popular in middle eastern cuisine and Greece where it's known as 'kritharaki' or 'manestra'. My version of the greek casserole, on top of the key ingredients which are beef, orzo pasta and tomatoes, has a few more vegetables and spices making it even more healthy and tasty. We usually have this on a Sunday, something equivalent to an english Sunday roast, and the whole family really loves it! I often make it when we have friends or family visiting and it's always a big hit.
Jump to:
Why you should try my recipe
Delicious casserole with a great balance of meat, carbs and veggies.
Easy to follow steps on how to prepare and cook it.
Enough to feed a big family or for the next day.
Great for babies and little ones.
Ingredients & How-to
To make this beef and orzo pasta casserole, you are going to need beef, orzo pasta, carrot, leek, onion, chopped tomatoes, garlic, mushrooms, bay leaves, allspice, salt and pepper.
Orzo pasta is very popular in mediterranean and middle eastern cuisines. It has shape similar to rice but a bit bigger and it can be used in casseroles, stews, soups or even salads. In this recipe, I add it towards the end, after my beef and veggies are cooked as it doesn't need much time to cook. So let's get started!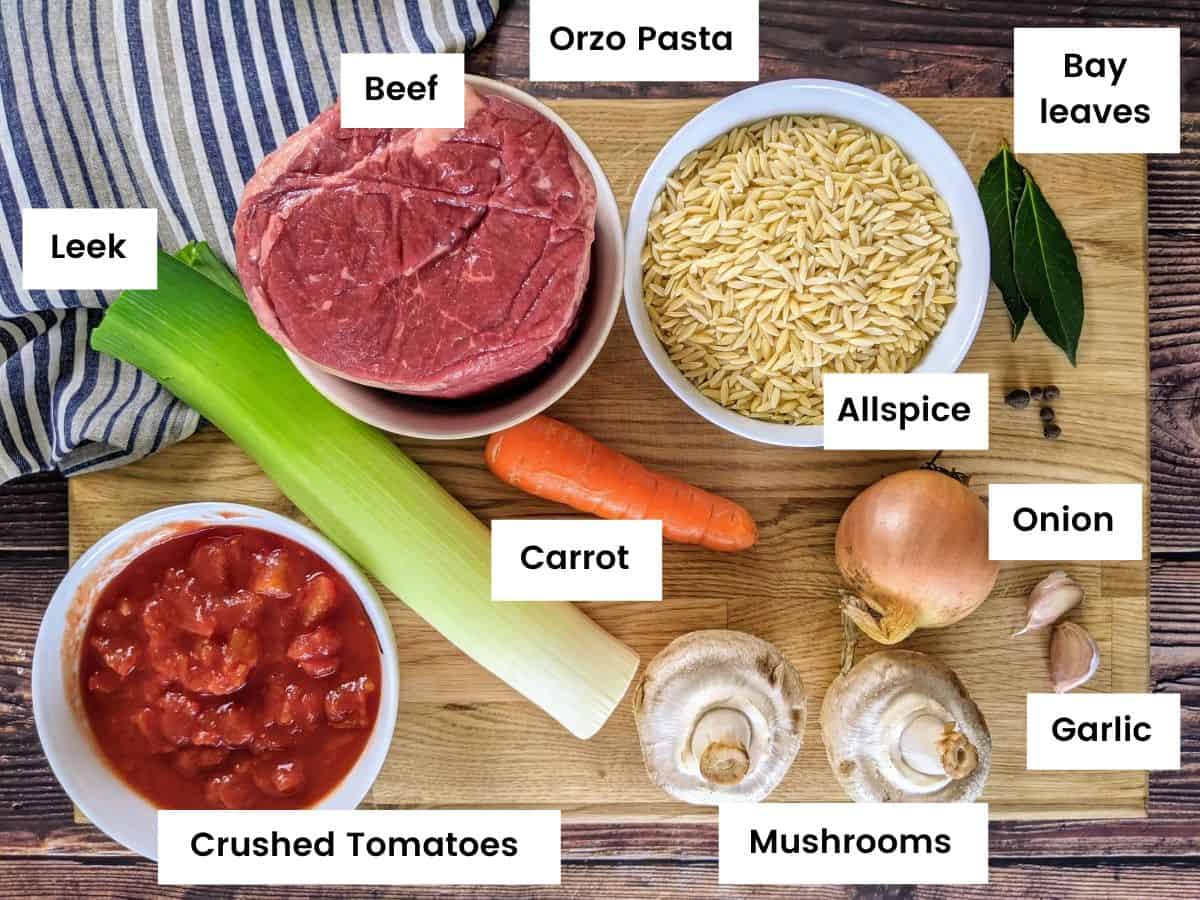 01. I start with preparing the meat. You can get pre-cut beef into cubes or a whole piece of beef and cut it yourself into 2cm/0.8" cubes. I almost always go with the second choice, as it gives me the option to select my beef cut and it's usually cheaper. If you prefer to buy a whole piece of beef, then I recommend getting a beef brisket or shoulder cut as they are perfect for casseroles and stews.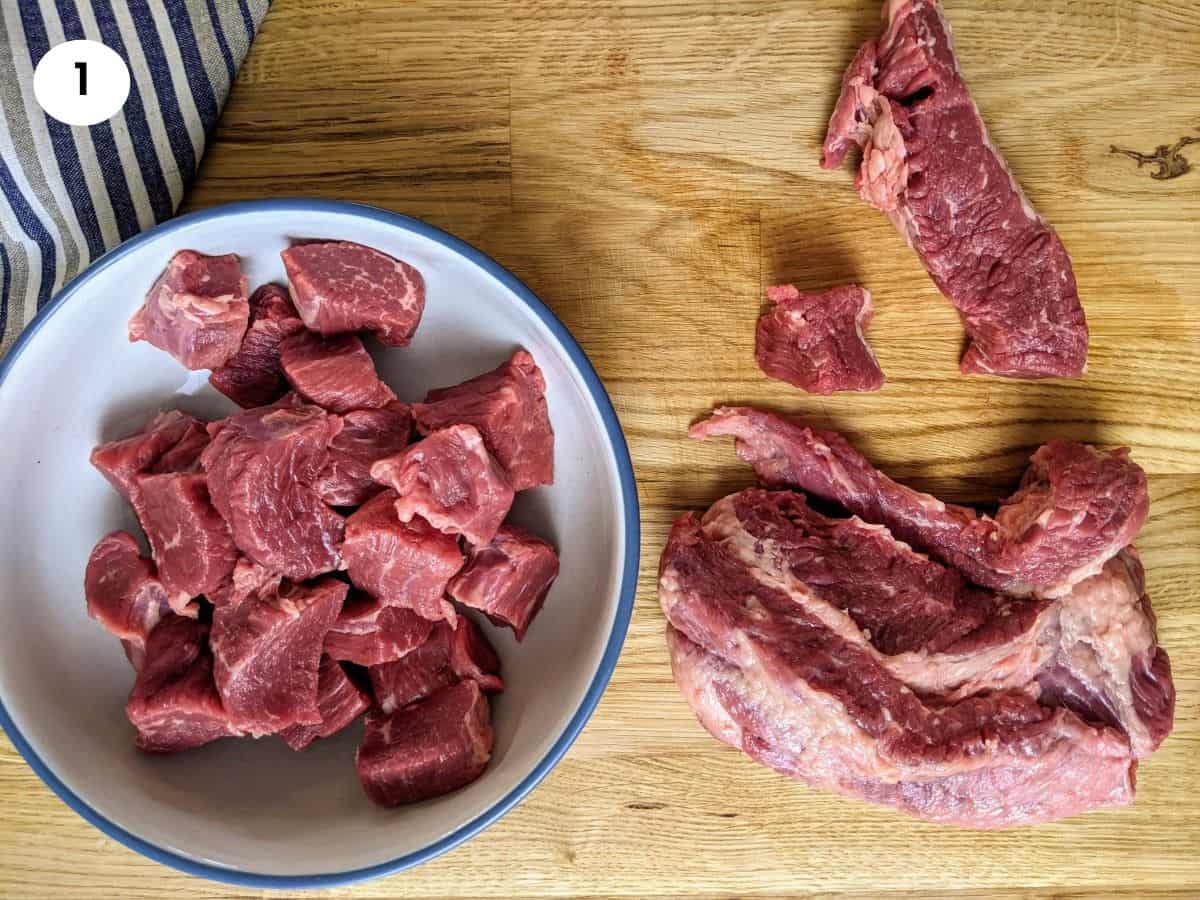 02. Moving to the pot, I start by sautéing the chopped onion and then I add the meat to the pot and brown it for a couple of minutes. When the meat has a nice brown color on all sides, I add the chopped tomatoes, spices and water to the pot. You will need to cook the meat with the tomato sauce at low heat for at least an hour until it's tender and easy to prick with a fork. Depending on your stove, you might need to add a little bit more water, so do check every now and then just in case.
03. When the meat is soft but not melting, it's time to add the chopped veggies to the pot. I find that adding some extra vegetables compared to the traditional recipe that only has orzo, gives the casserole a bit more body and it's also a great way for everyone to eat more veggies! Carrots, leek and mushrooms are usually the ones I always add, but if you have some celery around that goes well too. I leave it to cook for 30 more minutes before moving to the next step.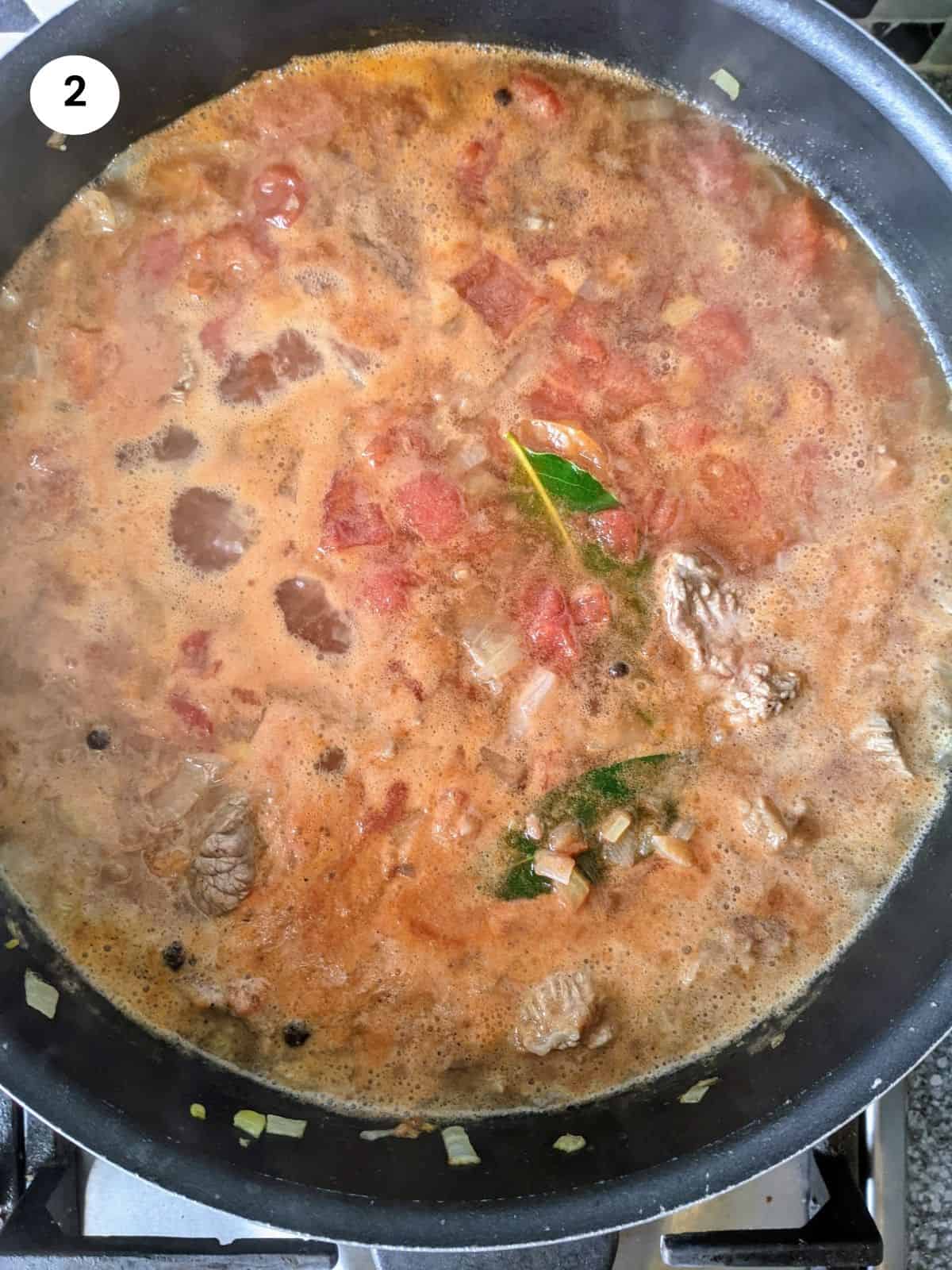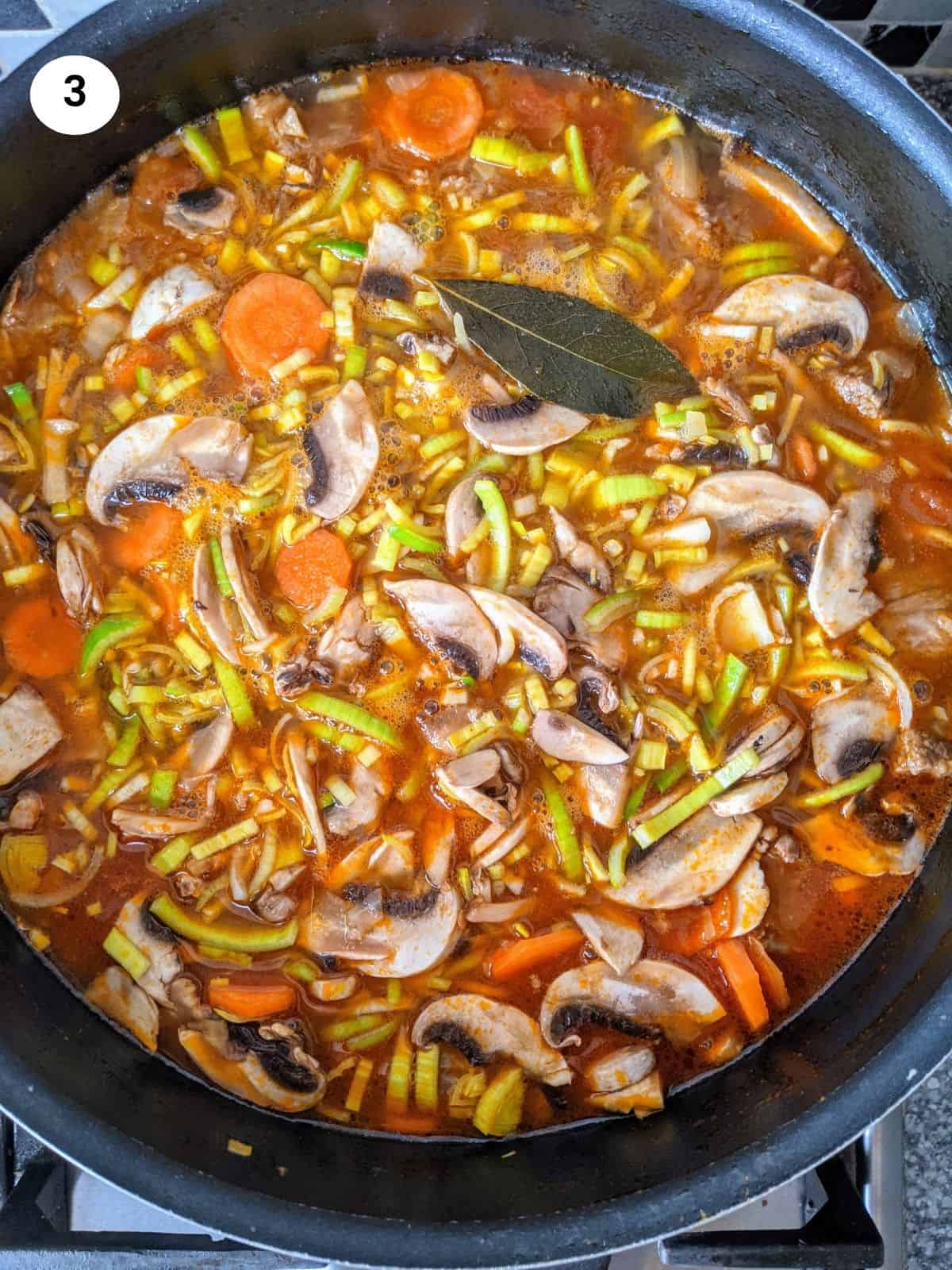 04. When the veggies are tender, it's time to add the orzo pasta. I add one more pint (500ml) of water in and then stir a little bit to get it all mixed well. I transfer the food to a casserole dish and cover it with some kitchen foil or a lid. The pasta will double its size, so make sure that your oven dish is big enough.
05. I place the casserole dish in the oven and bake just for 15 minutes, enough time for the orzo to cook. Then I remove the kitchen foil and leave it for 5 minutes in the oven to get a nice color. That's it, it's ready!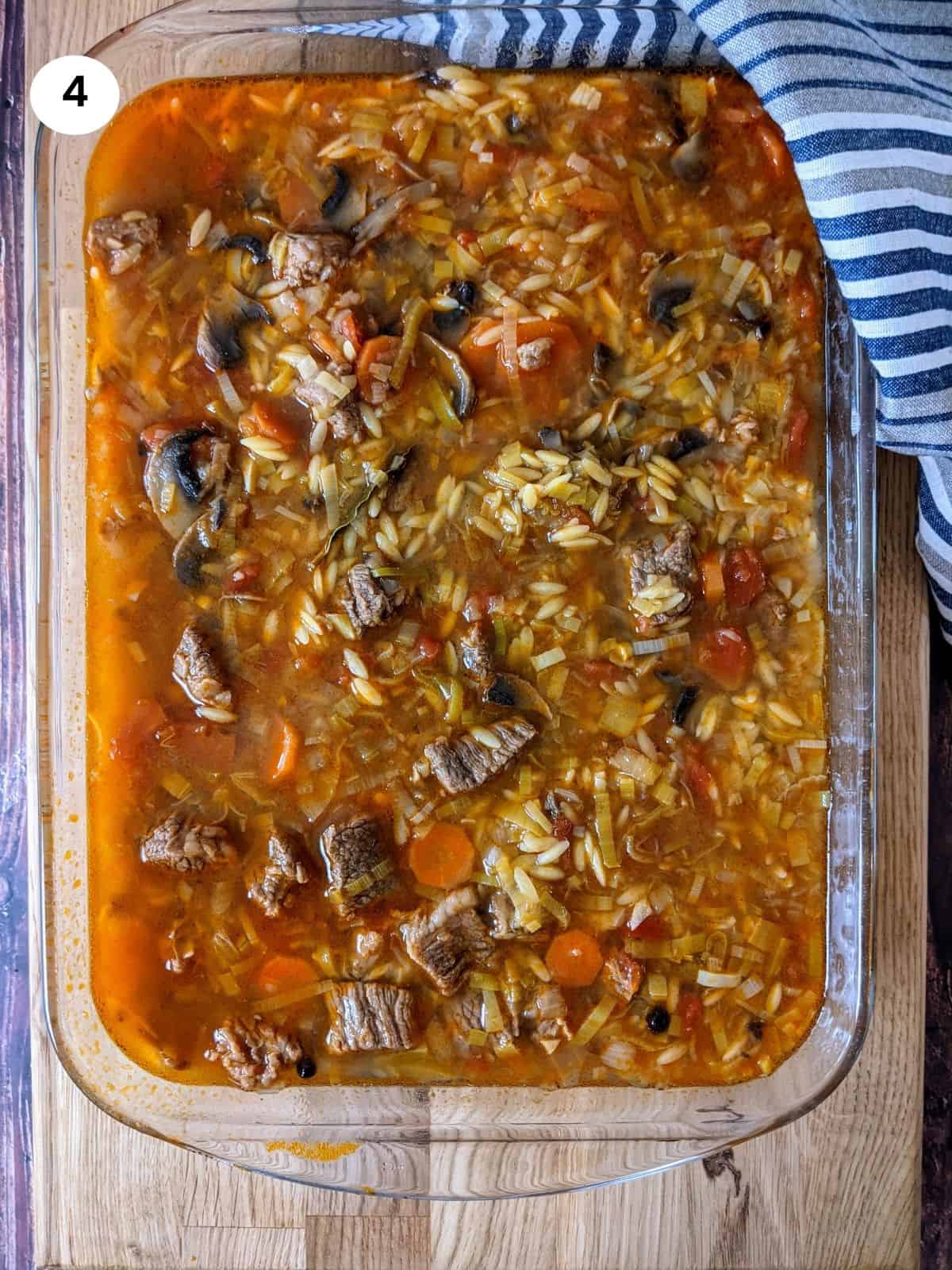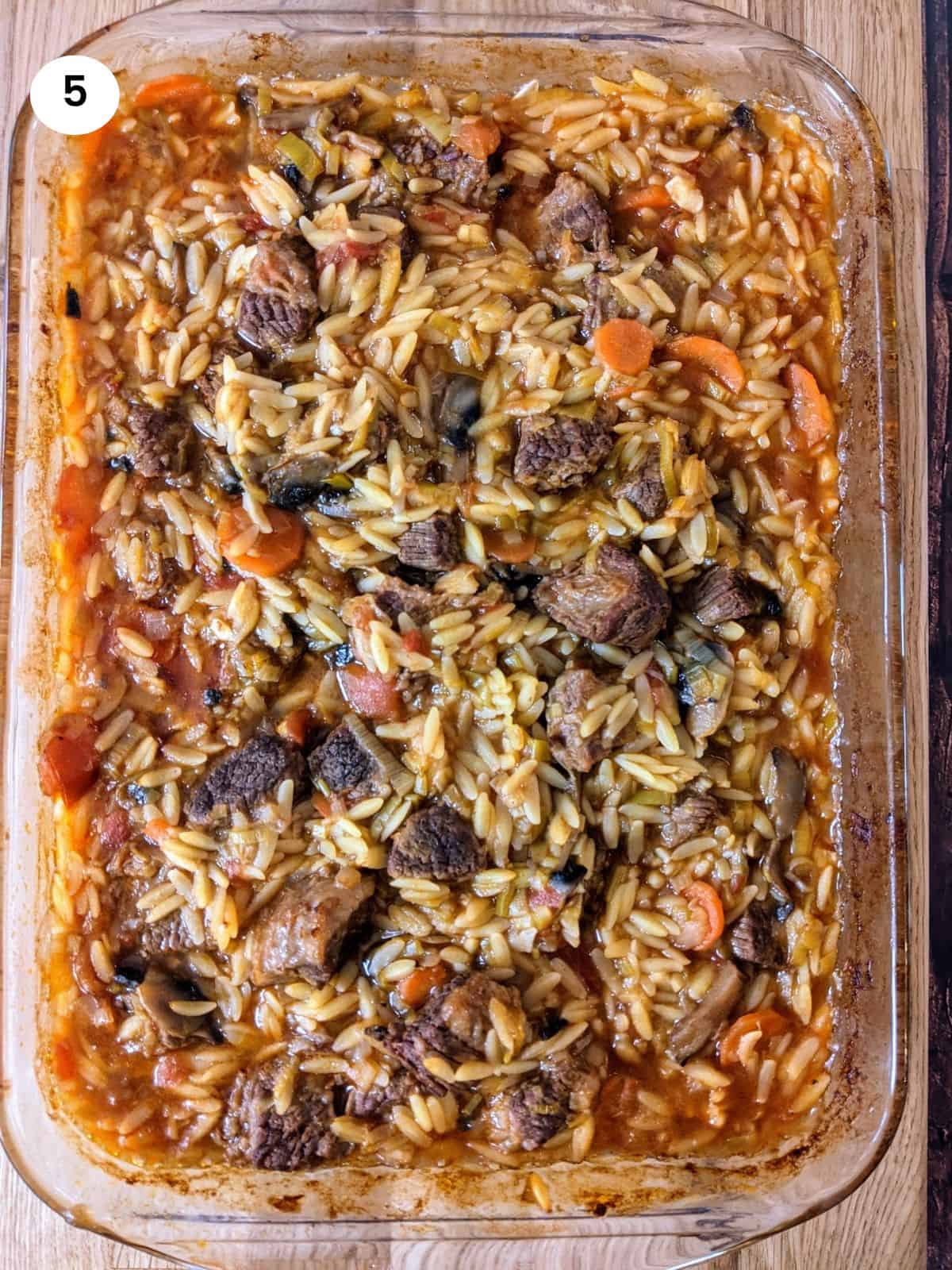 Herbs & Spices for Youvetsi
Apart from salt & pepper, I like to add to my Youvetsi some bay leaves and whole allspice kernels. I find that they give some extra aromas and enhance the flavor of the meat and compliment all the ingredients well. So here is a little bit more about them
Did you know that bay leaves are full of nutrients, help with digestion and improve gut health! You can use dry ones or if you have a bay tree like me, just cut a couple of leaves and add them to the pot with your beef whilst it's being cooked.

Allspice is a very aromatic spice that I often use in savory tomato based dishes. I find that it gives my sauce some extra aromas similar to nutmeg and cinnamon. Despite its name, it's not a mix of different spices! It's a brown kernel that looks very similar to a peppercorn. I prefer using kernels instead of ground allspice, as they have a stronger aromatic taste but you can use either, whatever you have in your cupboard. Just make sure that you remove the kernels and the bay leaves before serving.
Serving suggestions
You could have some grated hard cheese on top like parmesan, graviera or cheddar but it's totally optional and if you are dairy-free you can skip this. We usually have the beef and orzo casserole warm, when it comes out of the oven but it's also on the next day if you just warm it up.
Storage
If you have any leftover youvetsi, you can store it in the fridge and have it on the next day. You can also store the casserole in the freezer for a couple of months.
FAQ
What type of beef cut can I use for beef casserole? For beef casserole, you should get a slow roasted beef cut like beef brisket, shoulder, skirt or shin cut.

What type of spices to use for greek youvetsi? For the greek youvetsi casserole, I like to use some allspice kernels and bay leaves on top of salt and pepper. They really add to the flavor.

Is the beef and orzo pasta casserole suitable for a baby? Yes, it is suitable for babies from 6 months old if you don't add any salt whilst it's being cooked. The casserole is ideal for little ones as it has loads of protein, iron and vitamins from the vegetables.
Watch the video
Beef and Orzo Pasta Casserole
This is a healthy, hearty, comfort food! It has a few vegetables apart from the beef and orzo pasta, so it's also great for little children who are usually more difficult with eating veggies. It's a big hit whenever we have friends visiting. Everyone loves it.
Category: Pasta
Difficulty: Medium
Print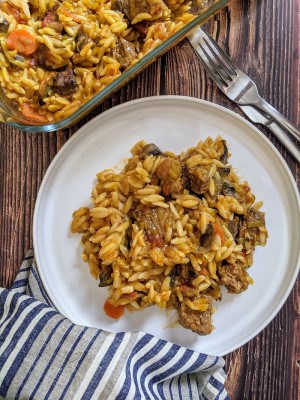 Ingredients
1.8lb / 800gr beef cut into cubes
1 1/2 cup / 250gr orzo pasta
1 onion chopped
1 leek
1 carrot sliced
2 mushrooms
2 garlic cloves chopped
1 can chopped tomatoes (14oz / 400gr)
2 bay leaves
4-5 all spice kernels
salt & pepper
Instructions
Heat around 1/2 cup of olive oil in a pot over medium heat. Add to the chopped onions and sauté for 2-3 minutes.

Add the meat (cut in cubes) and turn around with a wooden spoon until it's brown on all sides.

Add the chopped tomatoes, bay leaves, allspice, salt, pepper and a big glass of water (around 1 pint/500ml).

Turn heat down to low and allow to simmer with the lid on for an hour. Check every now and then in case the water has evaporated and you need to add more.

In the meantime, prepare your vegetables. Cut the leek lengthwise in half and then coarsely cut each half into slices. Cut the mushrooms in half and then slices. Cut the carrots in round slices or cubes.

When the meat is soft and tender, add the leek, carrot, mushrooms and garlic slices in. Add some more water if necessary and simmer for 30 more minutes. At this point, turn on your oven to preheat to 180°C/350°F.

Add to the pot the orzo pasta, stir a bit and transfer into an oven proof dish. Add a big glass of water (around 1 pint/500ml).

Cover the dish with kitchen foil and bake for 15 minutes. Remove the kitchen foil and bake for 5 more minutes.
Notes
- You can use precut beef or get a beef cut like brisket or shoulder and cut it yourself into 2cm cubes.
- If you can't find any allspice kernels then you could use one teaspoon of ground allspice.
Storage
You can store any leftover in the fridge for the next day or freeze it for up to 2 months.
Nutrition Info (per serving)
Calories: 449kcal | Carbohydrates: 37g | Protein: 51g | Cholesterol: 133mg | Fat: 10g | Saturated Fat: 3g | Polyunsaturated Fat: 0g | Monounsaturated Fat: 4g | Fiber: 3g | Sodium: 134mg | Potassium: 476mg | Sugar: 7g
I am not a nutritionist. The nutrition information has been calculated using an on-line calculator, and is intended for information and guidance purposes only. If the nutrition information is important to you, you should consider calculating it yourself, using your preferred tool.