This lentil, orzo and roasted eggplant stew is great in the summer or all year long if you could get hold of eggplants. It's great for vegans or if you like a meatless day meal as it combines many vegetables, carbs from the orzo pasta and protein from the lentils. I personally love to have this stew with a slice of bread to soak all the juices and a little bit of feta cheese crumbled on top.
Jump to:
Why you should try my recipe
A dish full of flavor and very aromatic.
Nutritious, full of vitamins from all the vegetables, protein from the lentils and the pasta gives you that energy boost.
Great as a side dish or main with some bread and cheese on the side.
Stores well in the fridge for up to 3 days.
Freezes well for up to 3 months.
Nice way for babies and little children to eat more veggies and legumes.
Ingredients & How-to
The main ingredients for this lentil, orzo and eggplant stew are eggplants, onion, garlic, carrots, peppers, dried lentils, orzo pasta, fresh parsley, tomato passata, bay leaf, chilli flakes, olive oil, salt and pepper.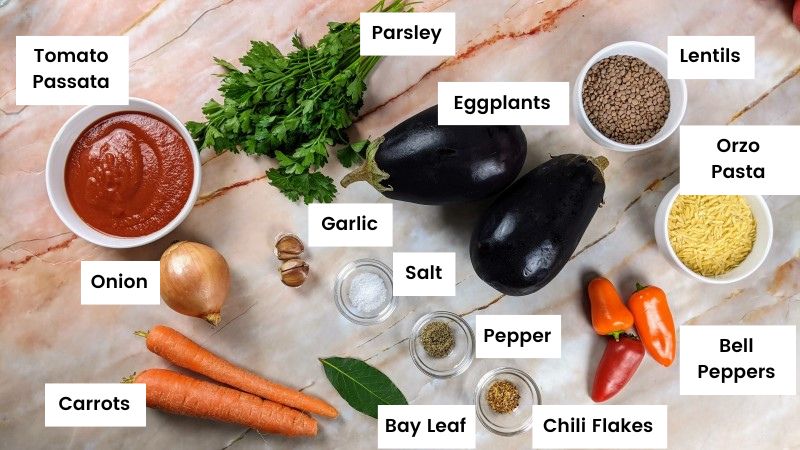 What eggplants to use for the stew
I usually make this mediterranean roasted eggplant stew using globe eggplants that are easy to find in super markets and local markets. You could also use long chinese eggplants or fairytale ones that are a bit sweeter but you will need to use more as they are smaller in size.
01. Before I start preparing and chopping all the vegetables, I fill in a big jug or bowl with water and add the lentils. Soaking the lentils in water for 15-30 minutes will help to ease digestion and reduce cooking time. That is of course if you are using dry lentils like me. If you prefer to use canned ones, you could simply rinse them and add them to the stew.
02. Now it's time to prepare and chop all the vegetables. There are quite a few in this lentil, orzo and roasted eggplant stew, so preparation might take 10-15 minutes, but it's so worth it. All these veggies are what give it this delicious flavor on its bite. As usual, I cut the onion into cubes and finely chop the garlic cloves. I peel and cut a couple of carrots into cubes, and the same with 2-3 small bell peppers.
Where I live, it's easy to get hold of small bell peppers that have a sweet peppery flavor. If you can only find large peppers or long horn peppers then feel free to use one of those and cut it again into cubes after removing the seeds and any hard parts.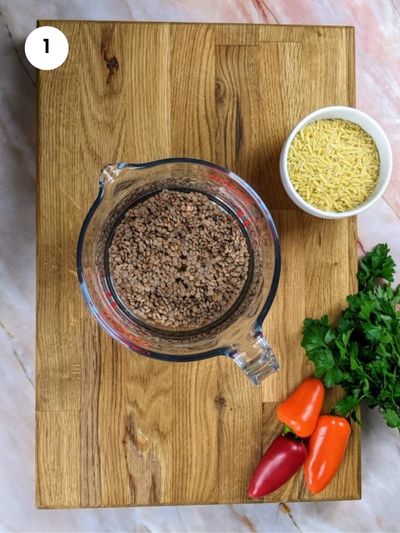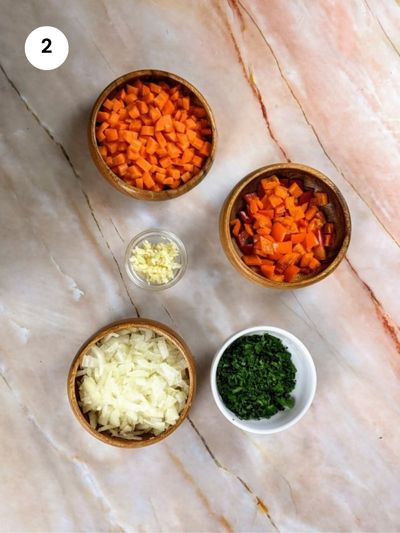 03. I leave the eggplants for the end, as they brown easily when exposed to the air. I cut the hard stem and then cut each one into large cubes. Then, I place them on a lined baking tray and drizzle with some olive oil. Then, I put the eggplants in the oven to get roasted for 20 minutes while I cook the stew in the pot.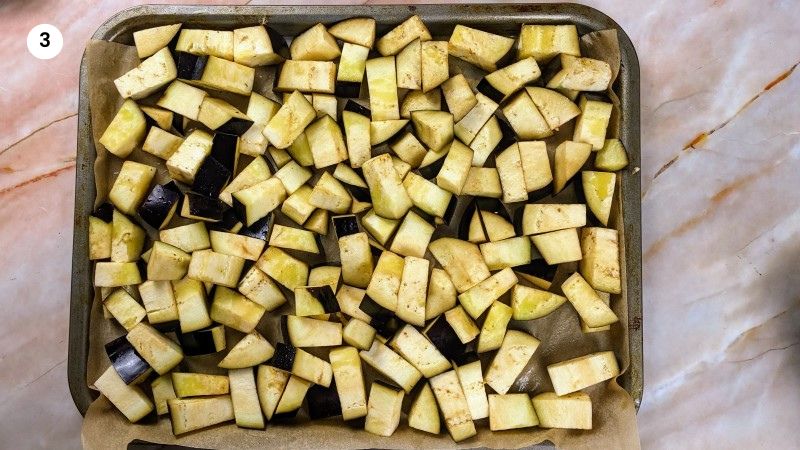 Mamazilla's Product Recommendations
04. Now it's time to make the stew in the pot. I start with sautéing the chopped onion for a few minutes until it's translucent and all the sweetness is out. Then I add the garlic, peppers, carrots and lentils.
05. I give it a good mix and then add the tomato passata and season with salt, ground pepper, some chili flakes and a bay leaf. The chili flakes are optional but highly recommended as they give a nice kick to the eggplant stew. I add a big glass of water and cook for 15 minutes. The lentils and vegetables need to be cooked ahead of the orzo pasta as they are hard and the pasta will go too soft and melt if everything is put together in the pot at the same time.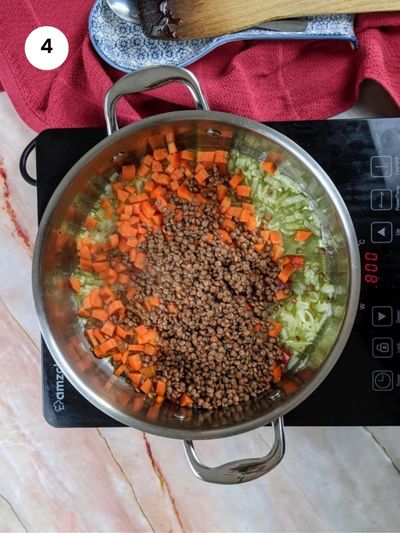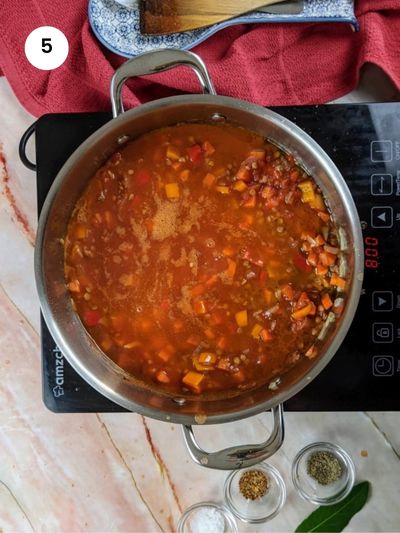 06. When the vegetables start to get a bit softer, I add the orzo pasta to the stew and some more water. The pasta will need around 10-15 minutes to cook and will absorb most of the sauce and water in the pot. So do keep an eye in it in case you need to add some more water and keep stirring occasionally to prevent it from sticking at the bottom of the pot.
07. When the pasta is almost ready, I add the chopped parsley in. I like to add the parsley and any other green herbs towards the end in my stews as in this way they keep their flavor and aroma. I leave it to cook for about 5 minutes or until the pasta is cooked.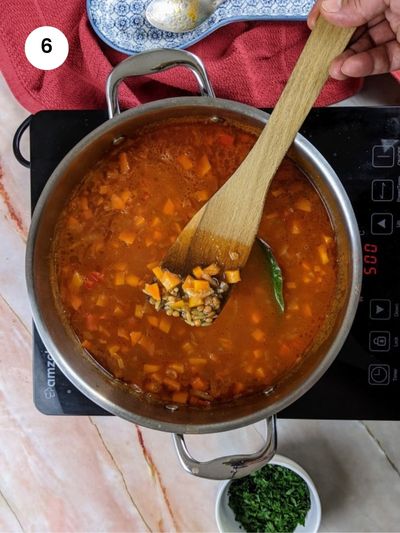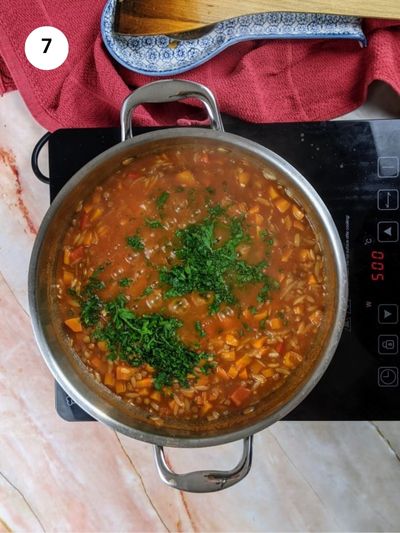 08. When the stew is ready and all ingredients cooked, I turn off the heat and add the roasted eggplant in. I give it a good stir to incorporate the eggplant and now it's ready to serve. I don't want to continue cooking the eggplant in the pot as it will get too soft and soggy and the flesh will melt. By adding it in the end, after I turn off the heat, it keeps its shape and that roast flavor.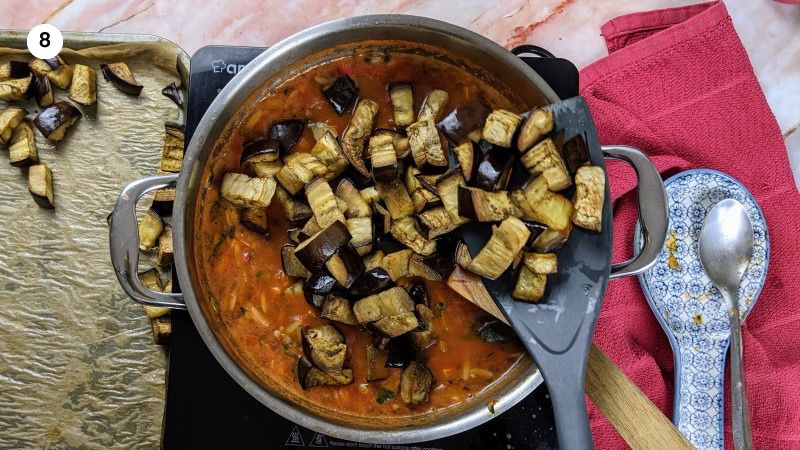 Serving suggestions
As with most stews, we love to have this mediterranean lentil, orzo and roasted eggplant stew with a generous slice of bread on the side to soak all the sauce. If you are not vegan, you could have it with a little bit of feta cheese or any other cheese you like. I find the tangy taste of feta cheese with the sweet and juicy stew and the pasta, a great combination!
Storage
You can store any leftovers of the lentil, orzo and eggplant stew in the fridge for up to 3 days. Just warm it up in the microwave or a small pot for a couple of minutes and serve. If you prefer the stew a bit more saucy then you could add a little bit of water to the pot before warming it up.
You could also store the roasted eggplant stew in the freezer for up to 2 months. Leave it in the fridge overnight to defrost and warm it up until piping hot before serving.
FAQ
What type of eggplants is best to use for a stew? Globe eggplants are great roasted and for stews as they have lots of flesh. You could use chinese or fairytale eggplants that are sweeter and smaller, just remember that they might take less time to cook.

What type of tomatoes can I use for the roasted eggplant stew? You could use 2-3 ripe tomatoes that you blend in a food processor or canned chopped tomatoes or tomato passata.

Can I give the stew to my baby? Yes, it is suitable for babies from 6 months old if you don't add any salt while cooking. Make sure the vegetables are well cooked and soft.
Watch the video
Lentil, Orzo And Roasted Eggplant Stew
This Mediterranean lentil, orzo pasta and roasted eggplant stew is so healthy and delicious. Full of nutrients, protein from the lentils and the addition of orzo pasta will give you the necessary energy to make the day. Serve it while it's still warm with a generous slice of bread and some crumbled feta cheese on top. Enjoy!
Print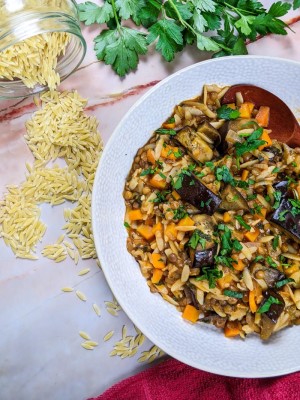 Ingredients
2 eggplants
1 onion
2-3 garlic cloves
½ cup orzo pasta
½ cup dried lentils
2-3 small bell peppers
1-2 carrots
1 cup (220gr) tomato passata
1 bay leaf
½ teaspoon chilli flakes (optional)
salt & pepper
Instructions
Add the dried lentils to a bowl filled up with cold water to soak while you prepare the vegetables.

Peel the onion and cut it into cubes. Finely chop the garlic cloves. Cut the bell peppers and carrots into cubes. Finely chop the fresh parsley.

Cut the eggplants into big cubes and place them on a lined baking tray. Drizzle with some olive oil and place in a preheated oven to 180°C/350°F, for 20 minutes.

In a pot, add 3-4 tablespoons of olive oil and heat over medium to high heat. Add the chopped onion and sauté for 3-4 minutes until translucent.

Drain the lentils and add them to the pot. Add the chopped garlic, pepper and carrot cubes to the pot. Mix everything well.

Add the tomato and 2 cups of water. Season with salt and pepper. Add the bay leaf and chili flakes.

Cover and cook on medium to low heat for 15-20 minutes.

Add the orzo pasta and 1-2 cups of water to the pot. Cook for 10 minutes, stirring occasionally to prevent pasta from sticking to the bottom of the pot. Add some more water if it's all absorbed.

Add the chopped parsley and cook for 5 more minutes, or until the pasta is cooked.

Turn off the heat. Add the roasted eggplant cubes to the pot and stir to incorporate. Serve while it's still hot.
Notes
- You could add tomato passata or if you don't have any, replace it with a cup of chopped tomatoes or a couple of fresh tomatoes cut into cubes.
- The chili flakes are optional but I recommend them as it adds a nice kick to the roasted eggplant stew.
Storage
You can store any leftover mediterranean roasted eggplant stew in the fridge for up to 2-3 days. Store in the freezer and consume within 3 months.
Nutrition Info (per serving)
Calories: 345kcal | Carbohydrates: 43g | Protein: 11g | Cholesterol: 0mg | Fat: 15g | Saturated Fat: 2g | Polyunsaturated Fat: 1g | Monounsaturated Fat: 10g | Fiber: 14g | Sodium: 123mg | Potassium: 256mg | Sugar: 8g
I am not a nutritionist. The nutrition information has been calculated using an on-line calculator, and is intended for information and guidance purposes only. If the nutrition information is important to you, you should consider calculating it yourself, using your preferred tool.