Did you know that its origins can be traced back as far as the ancient Romans, who served a dish of cabbage, vinegar, eggs and spices?! It was the Dutch though the ones who came up with the creamy coleslaw salad that we all know today. They called it koosla which literally means cabbage salad.
This basic coleslaw recipe is a very easy and quick to prepare. You could serve it as a side dish with your main or add it to your sandwich or wrap. We love to have it as a side with my easy and aromatic Greek meatballs. So versatile!
Jump to:
Why you should try my recipe
Ready in 10 minutes.
Doesn't contain loads of mayonnaise.
Packed with nutrients and goodness.
Perfect side dish for meat or salad in your wrap or sandwich
Ingredients & How-to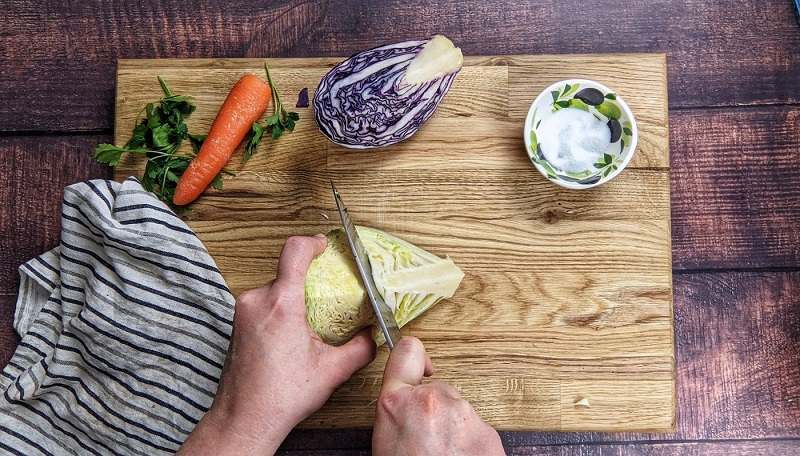 The key ingredients to make a classic coleslaw salad are cabbage and mayonnaise. I like to mix green and purple cabbage not only cause it looks more colorful but also because purple cabbage is very nutritious and full of antioxidants. I find it easier to cut the cabbage in quarters for removing the hard stem and cutting it into thin slices.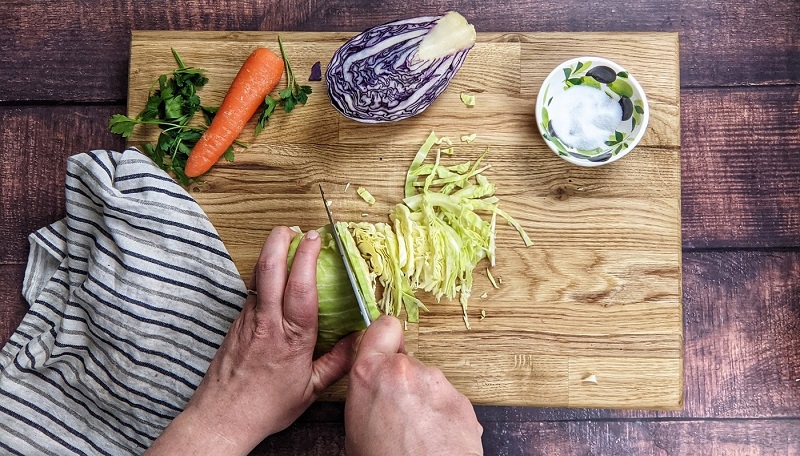 Then I continue with slicing the green onions and grating the carrot. I add everything to a big bowl and now it's time for the sauce. You could use full fat or light mayonnaise if you prefer a low calorie coleslaw. I only use ⅓ cup of mayonnaise but you can adjust it and add more if you prefer more creamy and saucy. On top of the mayonnaise, my sauce includes a little bit of mustard and vinegar that gives it an extra kick. Finally, I add some chopped parsley for some extra freshness. That's it! The salad is ready.
Serving suggestions
You can have this easy basic coleslaw as a salad or side dish with your main, it goes very well with meat and burgers! We also love having it in our wraps and sandwiches.
Storage
Coleslaw salad can be stored in the fridge for up to 4-5 days. I actually prefer it on the second day as the cabbage gets a bit softer and the salad is more juicy. I wouldn't recommend freezing it as it would get quite watery when defrosted. However if you do try it, I would love to know how it went. Just leave me a comment below the recipe!
FAQ
What kind of cabbage can I use for coleslaw salad? Coleslaw salad can be made with just green coleslaw or a mix of green and purple cabbage for a multi-colored salad.

How long can I keep the coleslaw salad in the fridge? Coleslaw salad made with mayonnaise will last in the fridge for 4-5 days stored in an airtight container.

What type of mayonnaise can I use for the coleslaw salad? You could use any mayonnaise of your preference for the coleslaw salad, full fat, light or even vegan mayonnaise.
Watch the video
Easy Homemade Basic Coleslaw
This is a homemade basic coleslaw recipe with green and purple cabbage that is very easy and quick to prepare. You could use full fat, light or vegan mayo. Add a little bit of parsley in for some extra freshness.
Category: Salads
Difficulty: Easy
Print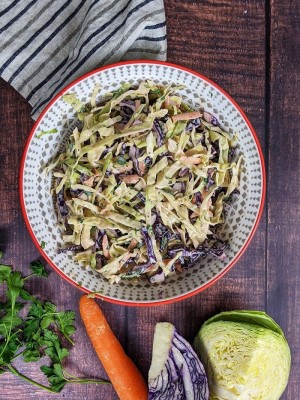 Ingredients
¼ green cabbage
¼ purple cabbage
2 green onions
1 carrot
2 tablespoons of vinegar
2 teaspoons of mustard
⅓ cup (70gr) mayonnaise
2 tablespoons of parsley finely chopped
salt
Instructions
Remove hard stem from the cabbages and shred into thin slices.

Grate the carrot.

Slice the green onions.

Add cabbage, onions, carrot and parsley in a big bowl.

Mix vinegar, mustard, mayonnaise and salt in a small bowl. Then add the mix to the big bowl.

Mix well until all ingredients are well incorporated.
Notes
You can use full/low fat or vegan mayonnaise without losing anything in taste. I use only ⅓ cup of mayo but you could add more if you prefer it more creamy.
Storage
Store it in the fridge for up to 4-5 days.
Nutrition Info (per serving)
Calories: 106kcal | Carbohydrates: 5g | Protein: 1g | Cholesterol: 5mg | Fat: 9g | Saturated Fat: 1g | Polyunsaturated Fat: 5g | Monounsaturated Fat: 2g | Fiber: 1g | Sodium: 160mg | Potassium: 124mg | Sugar: 3g
I am not a nutritionist. The nutrition information has been calculated using an on-line calculator, and is intended for information and guidance purposes only. If the nutrition information is important to you, you should consider calculating it yourself, using your preferred tool.