This cauliflower & bacon salad is full of goodness and so delicious too. Must be the bacon! The cauliflower is almost raw and that gives it a nice crunchy texture. I always cook cauliflower in the same way, either boiled or braised in tomato sauce, which are both great recipes and I will definitely share them at one point. This time though, I felt like trying something different and it turned out so yummy that I had to share the recipe with you.
Cauliflower & Benefits
Cauliflower belongs to the cruciferous vegetable family along with broccoli, cabbage and many more vegetables. You can find it in different shades, purple, green and white which is the most common. Cauliflower is full of goodness and health benefits. One serving of cauliflower can cover your daily recommended amount of vitamin C and a quarter of the daily recommended amount of vitamin K. It's also anti-inflammatory, full of antioxidants and fiber. What more can I tell you to convince you into adding it to your diet?!
Ingredients & How-to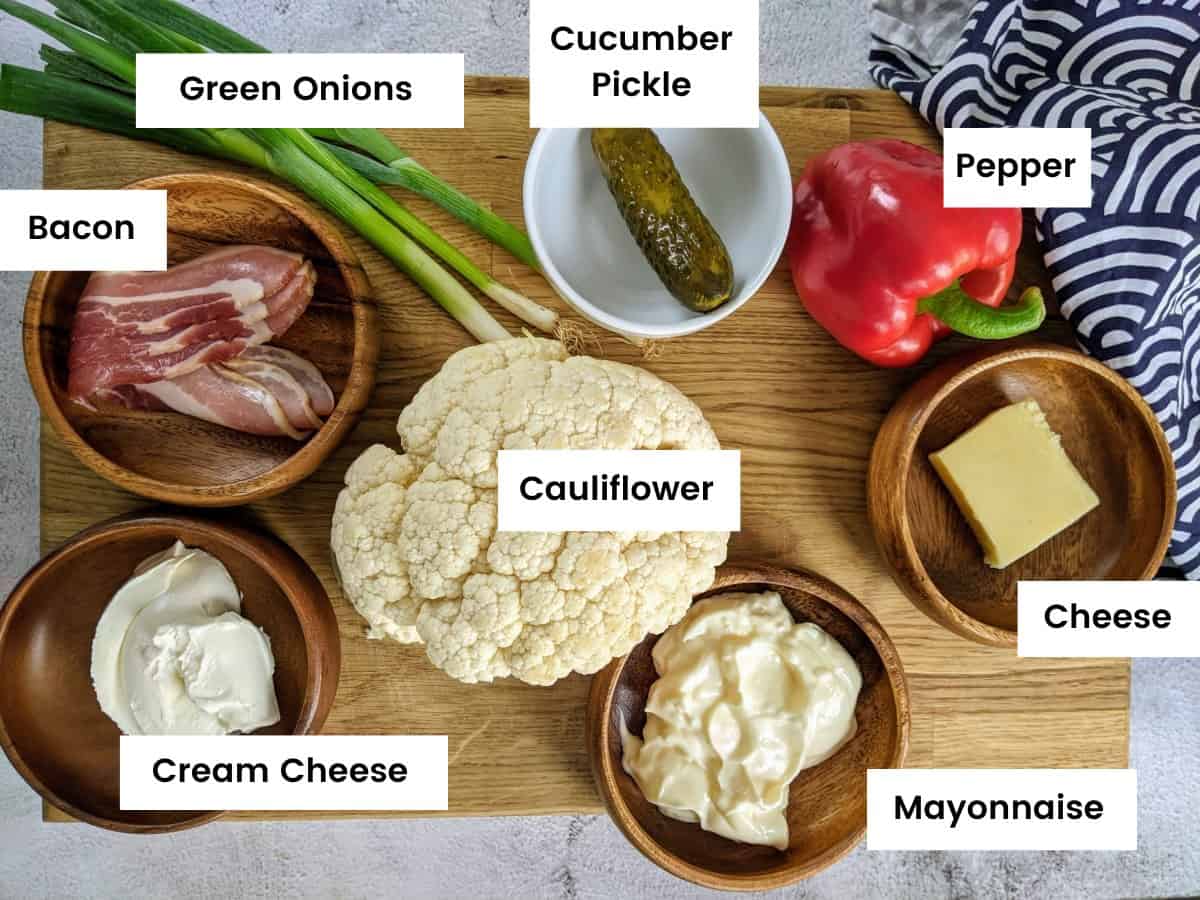 The recipe has simple ingredients that you sometimes have already in your fridge. I start with preparing the vegetables and bacon, and then prepare my sauce before mixing everything all together. I usually buy a pack with 10-15 bacon rashers, I use 3 for this recipe and then freeze the rest in bags of 3. Simply cut each bacon rasher first lengthwise and then into squares. I then cook them in a pan with a little bit of oil. Hold yourself from cleaning that pan as we will need it for the cauliflower.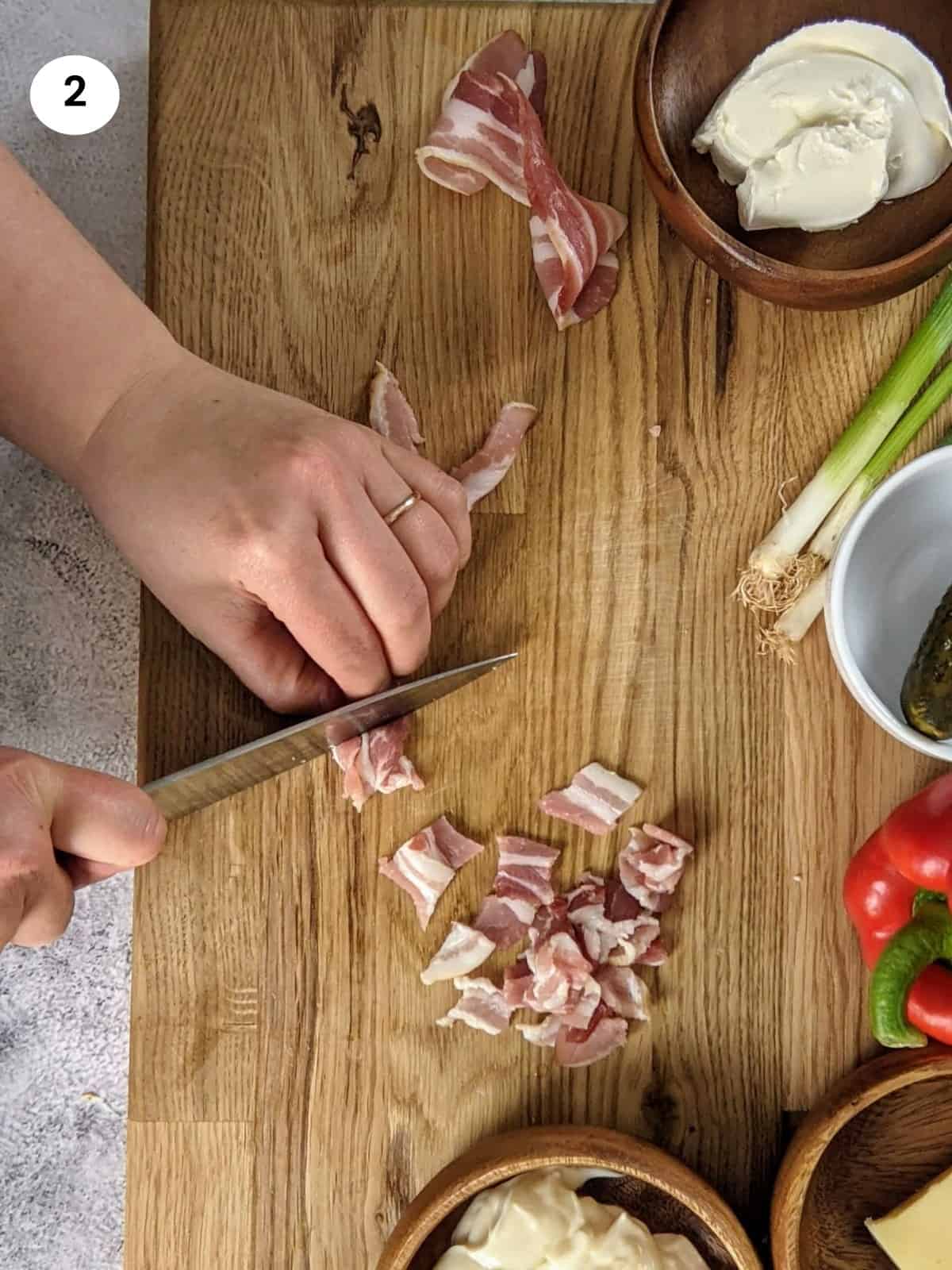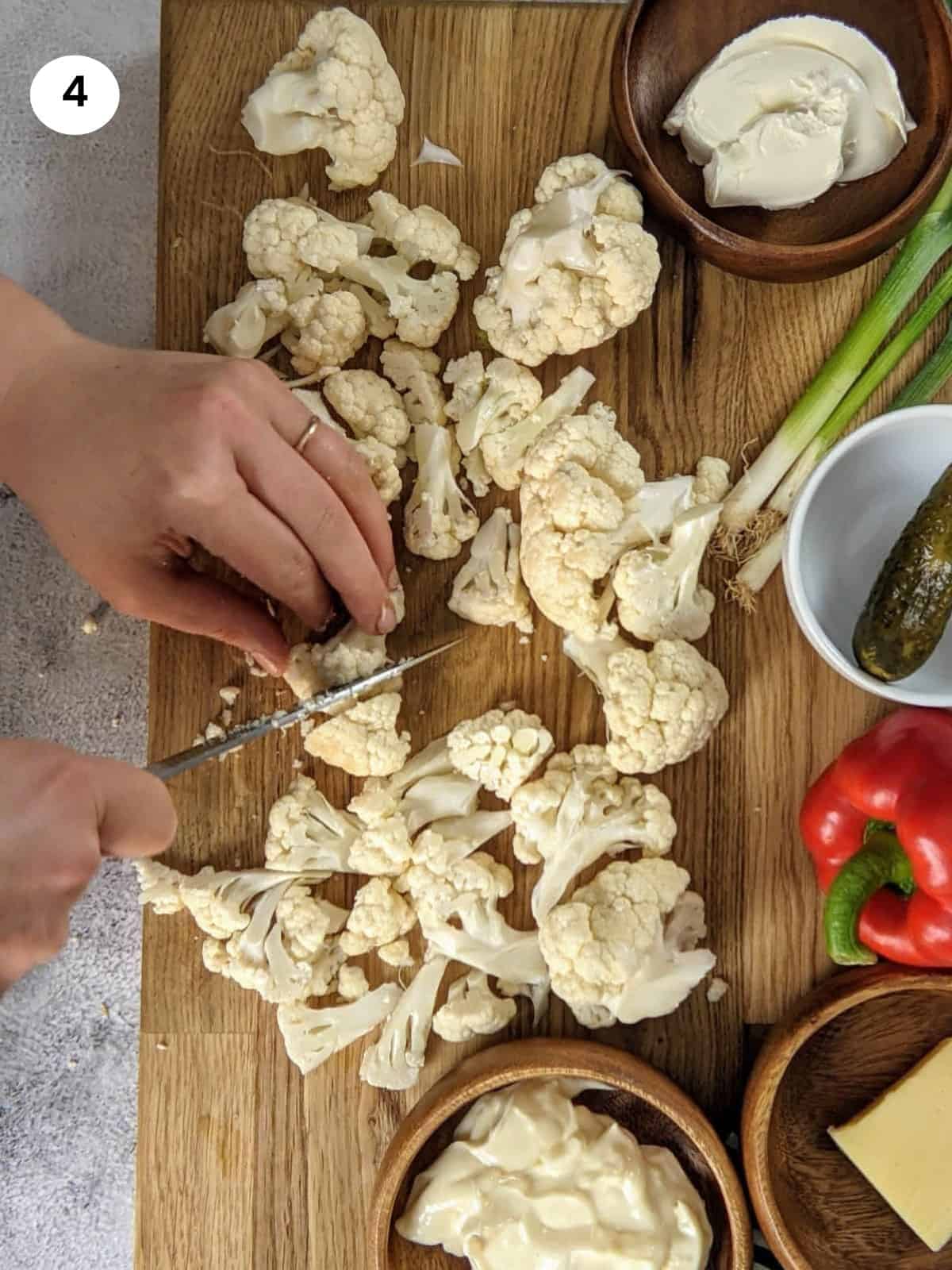 I remove the hard stem of the cauliflower and then cut it into bite sized pieces. I use first my hands to remove each floret and then cut it into smaller pieces with the knife. In the same pan that I cooked the bacon, I add the cauliflower and turn it first for half a minute to get a bit of color and flavor from the oil. I then add half a cup of water and let it cook for no more than 5 minutes. Just to soften up a little bit and be easier to fork but not really soft like when you steam or boil it. I want to keep the crunchiness of the cauliflower in the salad as it feels more fresh and healthy.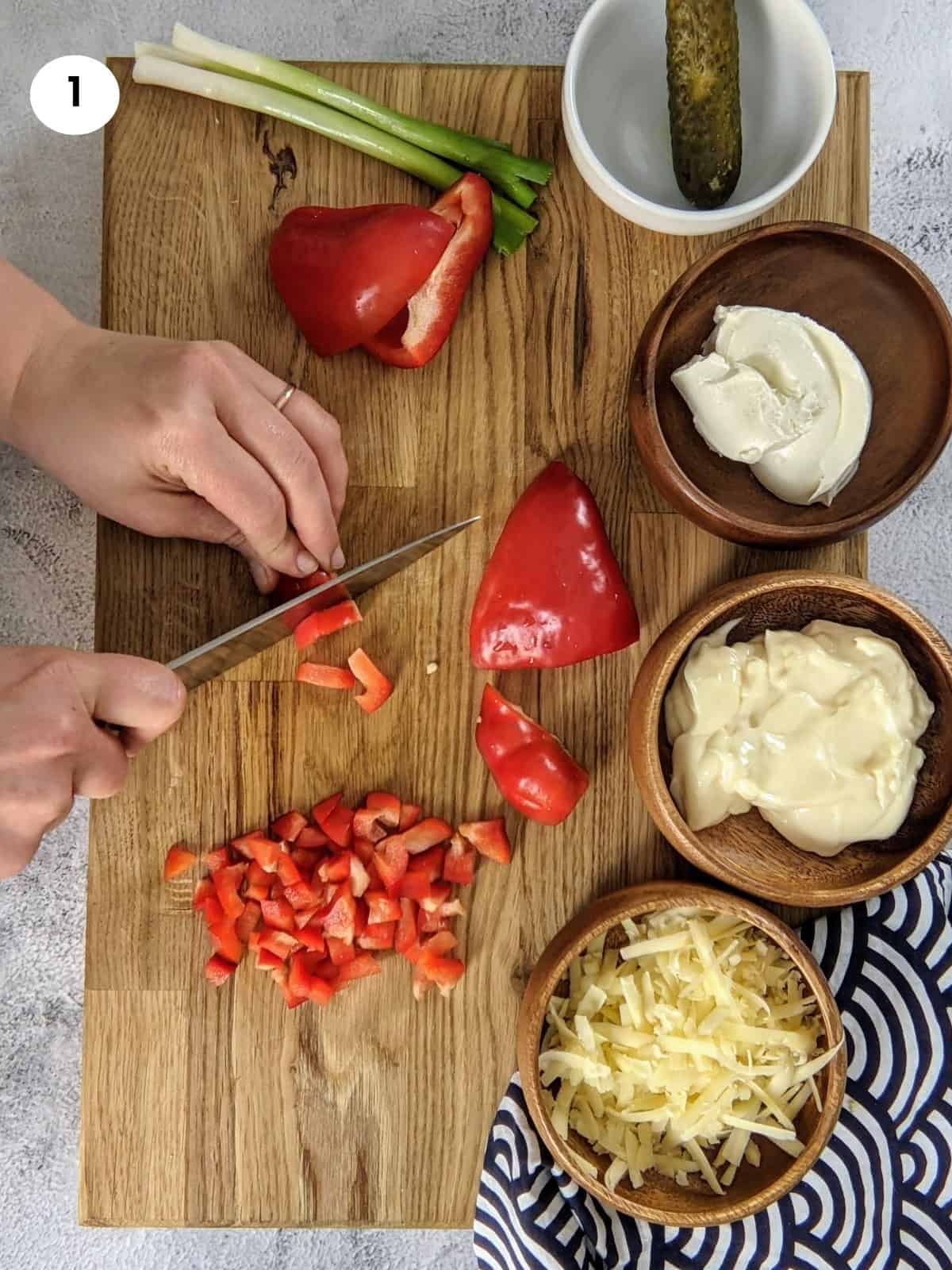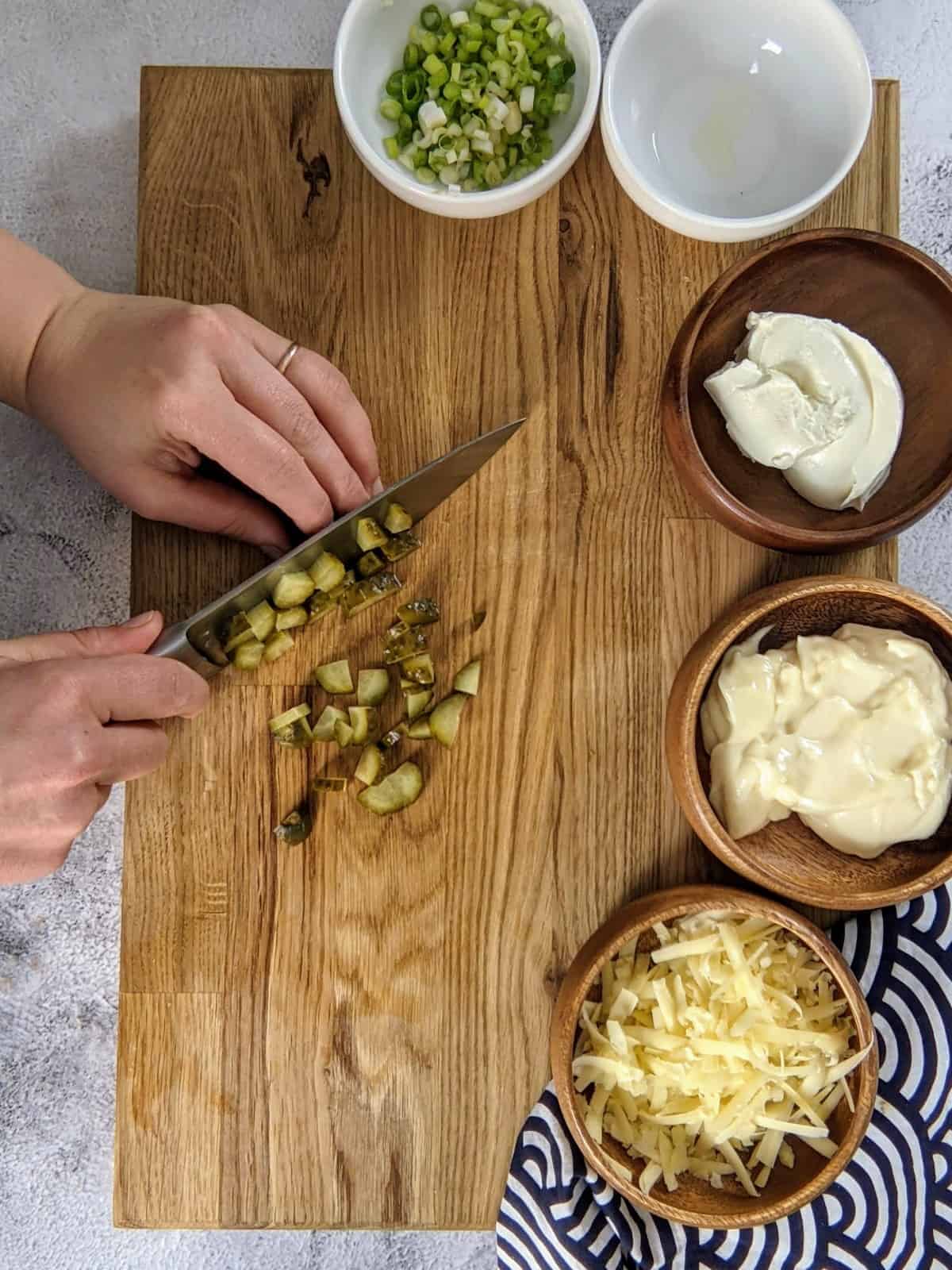 Finally, I cut the pepper, pickled cucumber and green onions into small pieces around 1cm each. No need for perfection here, just try to cut them into small pieces so you get a bit of everything in each bite.
For the sauce, I mix cream cheese, mayonnaise and cheddar. You could use any hard cheese that you like, hard goats cheese or graviera would taste good too. I like mixing a bit of mayo and cream cheese for the sauce. Give it a try and you will love it! It does taste much better than using only mayonnaise.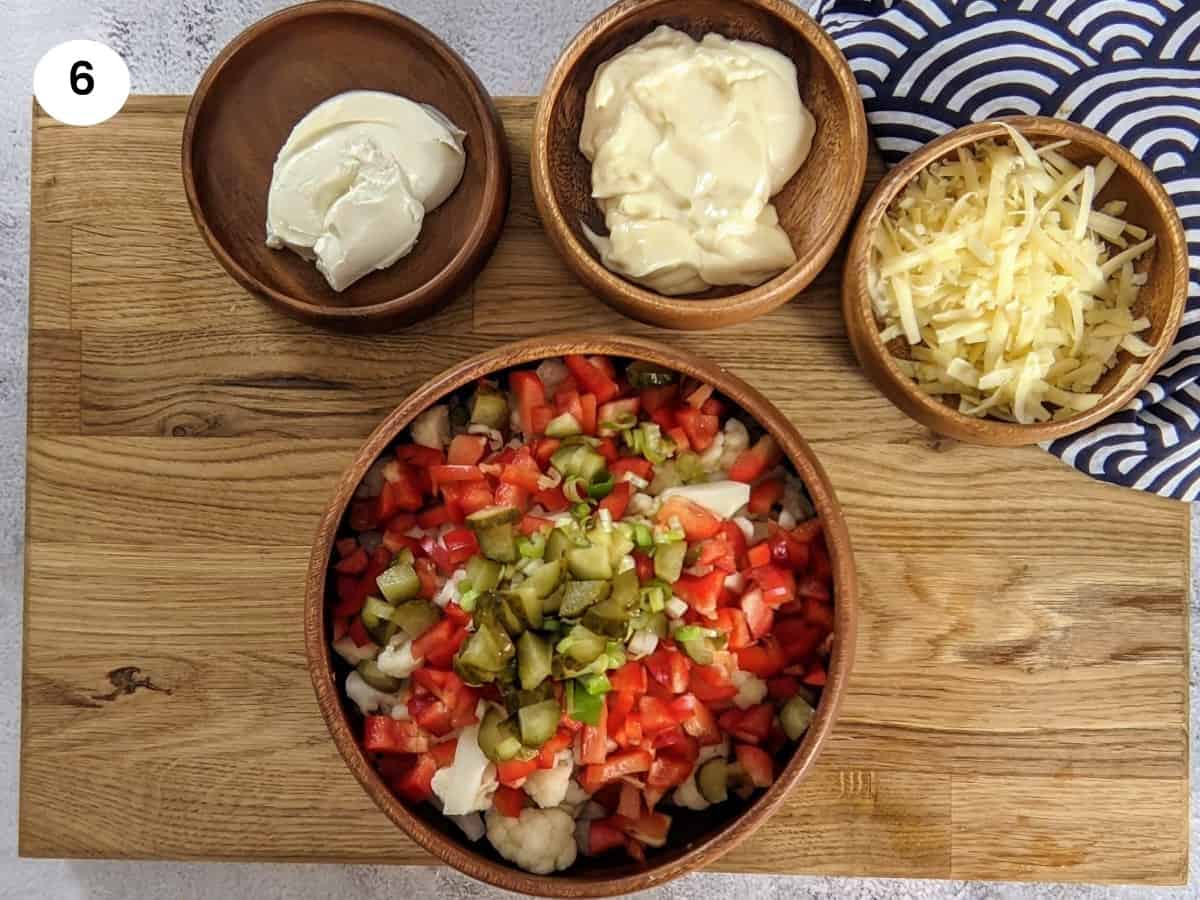 Serving suggestions
You can have it as a salad or side dish with your main, it goes very well with meat and burgers.
Storage
You can store it in the fridge for up to 4-5 days. I do not recommend freezing any salad that has mayo.
Watch the video
Crunchy Cauliflower & Bacon Salad
This cauliflower & bacon salad will become one of your favorites! It's crunchy from the cauliflower and pepper, creamy from the mayonnaise and cream cheese and the bacon gives it that salty and savory taste.
Category: Salads
Difficulty: Easy
Print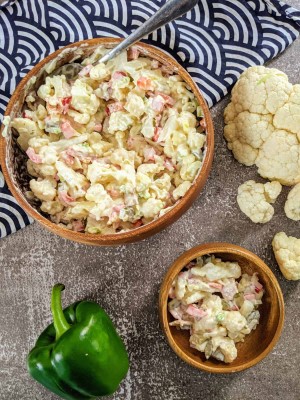 Ingredients
1/2 cauliflower
3 bacon rashers
3 green onions
1 pepper
1 pickled cucumber
1/4 cup (50gr) hard cheese
1/2 cup (100gr) mayonnaise
1/3 cup (80gr) cream cheese
Instructions
Cut each bacon rasher lengthwise and then into squares.

Heat a little bit of oil in a pan and cook the bacon rasher pieces for 2-3 minutes. Remove the cooked bacon and keep the oil in the pan.

Cut the cauliflower into bite sized pieces. Add the cauliflower pieces to the same pan you cooked the bacon. Stir for half a minute and then add half a cup of water in. Cook for 4-5 minutes over medium heat until the water has evaporated (the cauliflower shouldn't get soft).

Cut the pepper, pickled cucumber and green onions into small pieces around 0.5in (1cm).

Add the cauliflower, bacon pieces, pepper, cucumber and green onions in a big bowl.

In a small bowl, mix the cream cheese, mayonnaise and hard cheese. Add them to the big bowl with the vegetables and bacon and mix well until all well combined.
Notes
You can use full fat or light mayonnaise. For the hard cheese, I use cheddar but you can use any other type of hard cheese you like.
Storage
Store it in the fridge for up to 4-5 days.
Nutrition Info (per serving)
Calories: 246kcal | Carbohydrates: 5g | Protein: 6g | Cholesterol: 29mg | Fat: 22g | Saturated Fat: 7g | Polyunsaturated Fat: 8g | Monounsaturated Fat: 5g | Fiber: 2g | Sodium: 379mg | Potassium: 240mg | Sugar: 2g
I am not a nutritionist. The nutrition information has been calculated using an on-line calculator, and is intended for information and guidance purposes only. If the nutrition information is important to you, you should consider calculating it yourself, using your preferred tool.