Dolmadakia or dolmades are a popular dish in the Mediterranean diet and one of my favorite Greek foods that my mom used to make when I was a kid. In the summer, she was using grape leaves and zucchini flowers and stuff them with rice and fresh herbs. In the winter, we had cabbage rolls or lahanodolmades with a mixture of rice and ground meat.
You can find many variations for the filling of dolmadakia. With rice and ground meat, rice and herbs cooked in a tomato sauce, bulgur wheat and herbs or the traditional Greek way that I'm showing you here. Grape leaves stuffed with rice and fresh herbs, cooked in a pot on low heat and served with lemon juice and olive oil.
What I love about dolmadakia is that you can have them hot or cold, straight out of the fridge on the next day with a couple of spoons of Greek yogurt on the side to dip them in. It takes some time to prepare them but once you make the first 5 or 10 you will get better and better and then your fingers will just do all the work without much thinking.
Jump to:
Why you should try my recipe
A classic mediterranean dish full of flavor and aromas.
You can have it as a meze or main with some yogurt on the side.
Great for vegan diet or lenten period.
How-to make them with fresh or jarred grape leaves.
Stores well in the fridge for up to a week.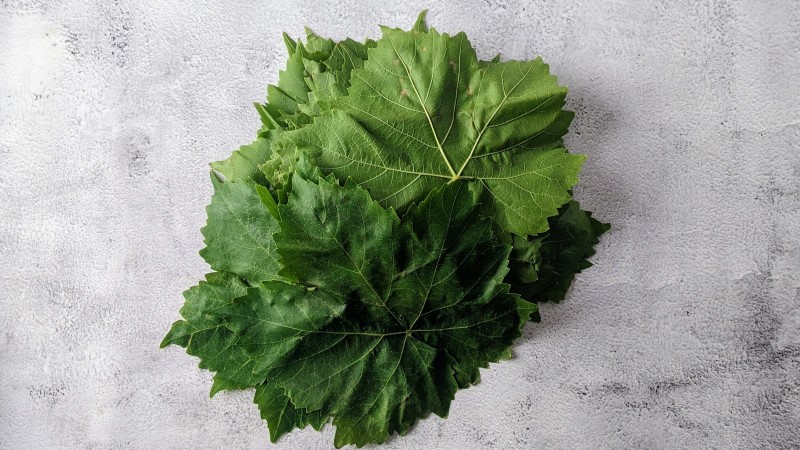 Ingredients & How-to
The main ingredients for this dolmadakia dish are grape leaves, rice, onion, lemon, fresh parsley, fresh mint, fresh dill, green onions, olive oil, salt & pepper. You could use fresh or jarred grape leaves for your dolmadakia. Fresh grape leaves are picked between late Spring and early Summer. You can find them in local farmer markets or international super-markets. If you can't find any fresh grape leaves then you could also use jarred ones as an alternative.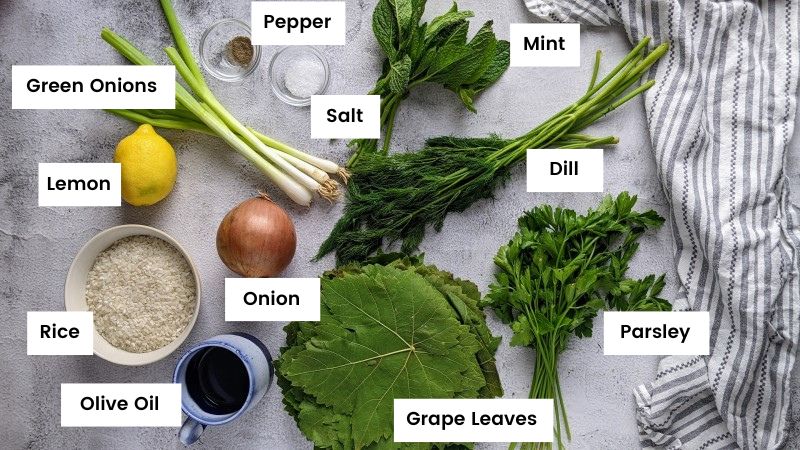 01. To start, I need to prepare the grape leaves. I fill up a big pot with water and bring it to a boil. Then I grab 6-8 grape leaves from the pile and put them in the boiling water. Now, if you are using fresh vine leaves, you need to leave them for 3-5 minutes in the water, depending on how soft they are. If you are using jarred grape leaves, then they are already cooked so all you need to do is drain them, lay them flat and blanch them in the boiling water for half to one minute.
02. Using a slotted spoon, I remove the grape leaves from the water and set them aside to cool down. I continue until all the grape leaves are blanched. I'm using around 35-40 grape leaves. You could also store the blanched grape leaves in the refrigerator and fill them up on the next day, or store them in the freezer for another time.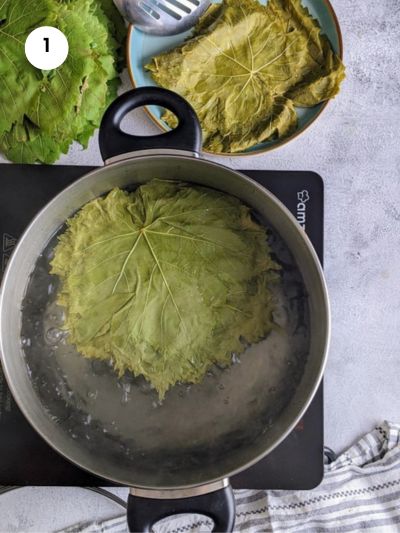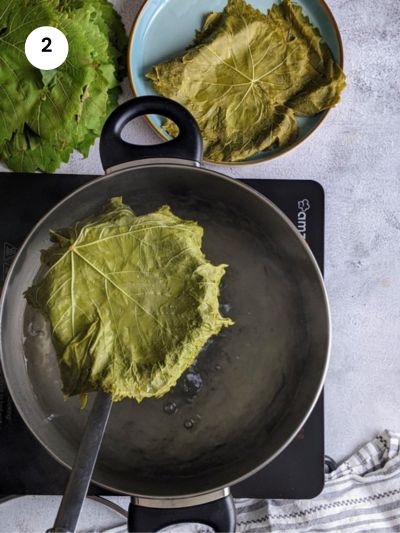 03. Now that the grape leaves are ready and cooling down, it's time to prepare the filling. I start by chopping the onion into cubes and the green onions into slices. I finely chop all the fresh herbs, fresh dill, parsley and mint. If you don't have any of the fresh herbs you could substitute it with dry. Since our dolmadakia don't have any meat in them, all the fresh herbs are needed to give them that extra flavor and aromas.
As you remove the stalks from the fresh herbs, don't throw them away. Keep them on a plate as we are going to need them later on to put at the bottom of the pot.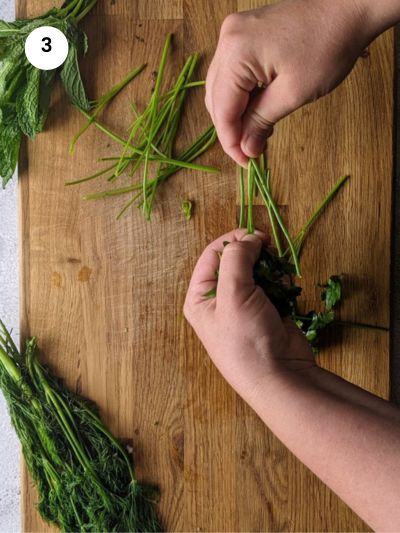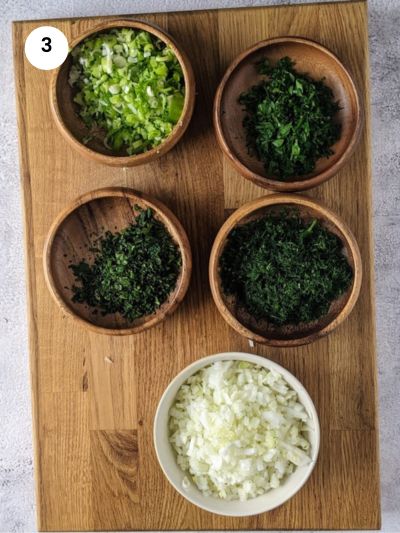 04. Before mixing all the ingredients for the filling, I like to sauté the onion first. I add some olive oil to a pot and then cook the chopped onion for a few minutes until it's soft and translucent. That will bring out all the sweetness and make the filling taste much, much better. Then I add the chopped green onions and rice and about a cup of water. I leave everything to cook for 3-5 minutes in medium-low heat, or until the water is absorbed. You will notice that the rice will become more sticky and that is going to help to fill the grape leaves later on.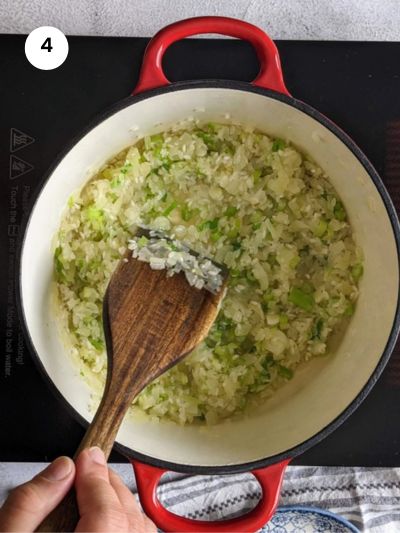 05. I put the onion and rice filling in a bowl and add the zest from a lemon. This is optional but I like my dolmades to have a lemony flavor and the zest does add a nice aroma to them on top of the lemon juice that we add later on. Then I add the chopped fresh herbs, parsley, mint and dill to the bowl along with the olive oil and season with just salt and pepper.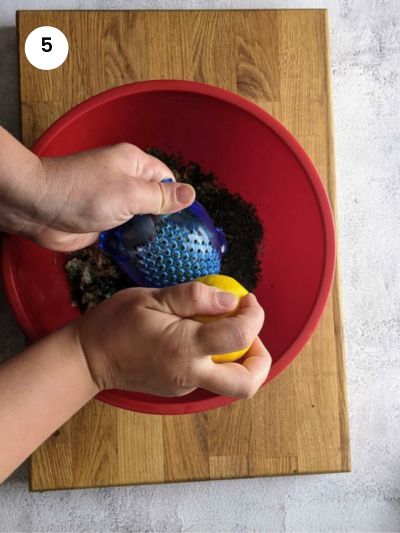 06. To assemble the dolmadakia, I like to use a small plate so it's easier to fold. The grape leaf has two sides. The bumpy side, that is rougher if you touch it, and the shiny side. We place each leaf with the bumpy side facing up on the plate.
I add about a spoonful of the filling to the bottom of the leaf where the stem used to be. The leaves usually vary in size, so you can adjust the amount of filling. Just remember that the rice will get bigger when cooked, so we don't want to put too much.
07. I fold the bottom and side of the leaf to cover the rice and then gently roll it towards the pointy end of the leaf. In the end, you will get a dolma with a cylinder shape, similar to a small spring roll. Some people like to fold the dolmadakia in small triangles, but I find the roll shape much easier to do.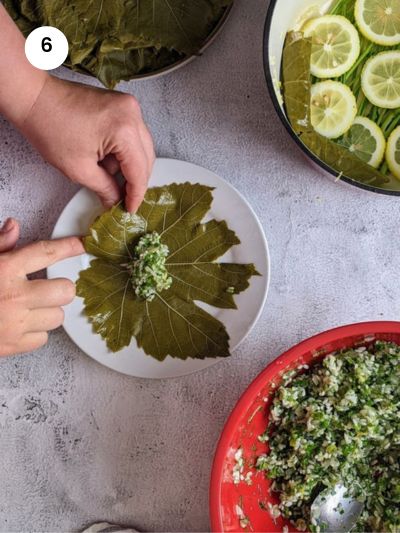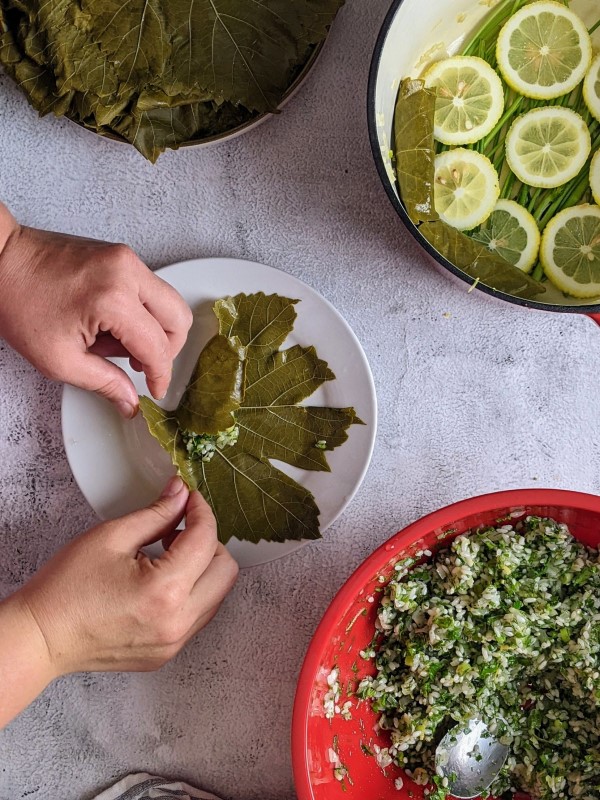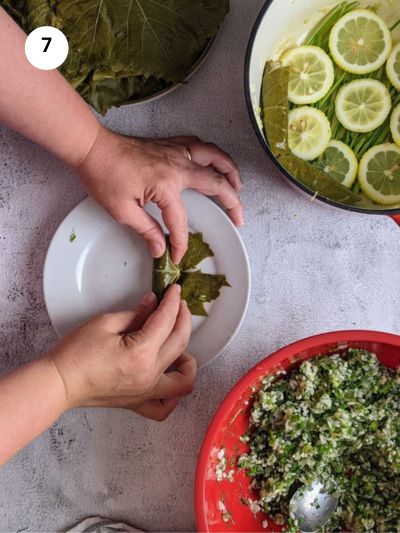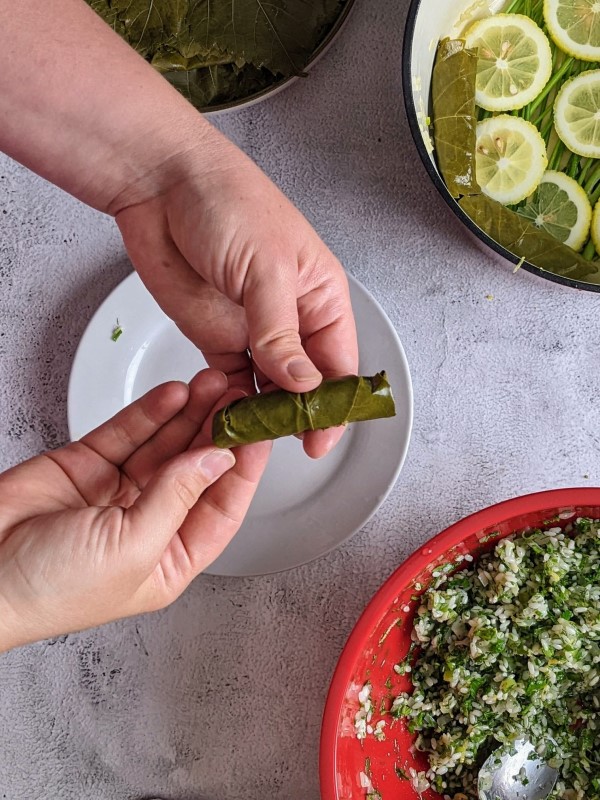 08. Before I place the dolmadakia in the pot, I add to the bottom of the pot the stalks from all the fresh herbs that I chopped earlier on. On top of the stalks, I place some lemon slices. This is to prevent the stuffed grape leaves from touching the bottom of the pot and getting burnt or melt.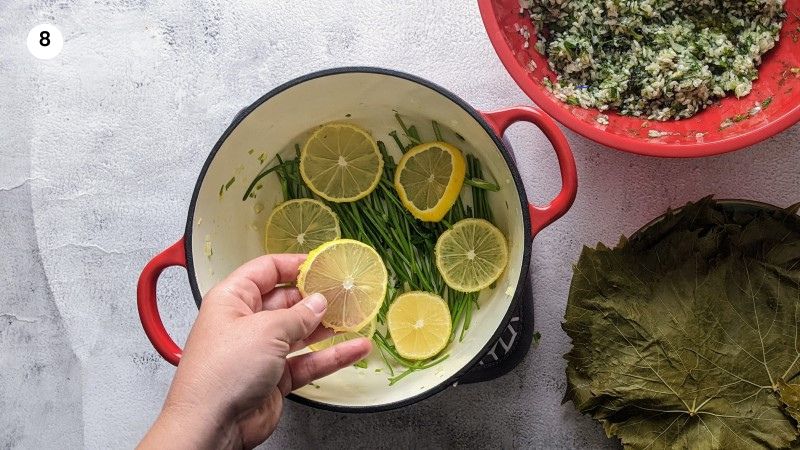 09. Then I start putting the dolmades in the pot in a circle, one next to the other, until the whole bottom of the pot is covered. Then continue with another layer. Make sure the grape leaves are close to each other, so there isn't enough room to move around a lot. When all the stuffed grape leaves are placed in the pot, I cover them with an upside-down plate. The plate is going to hold the dolmadakia down and prevent them from floating and breaking while they are being cooked.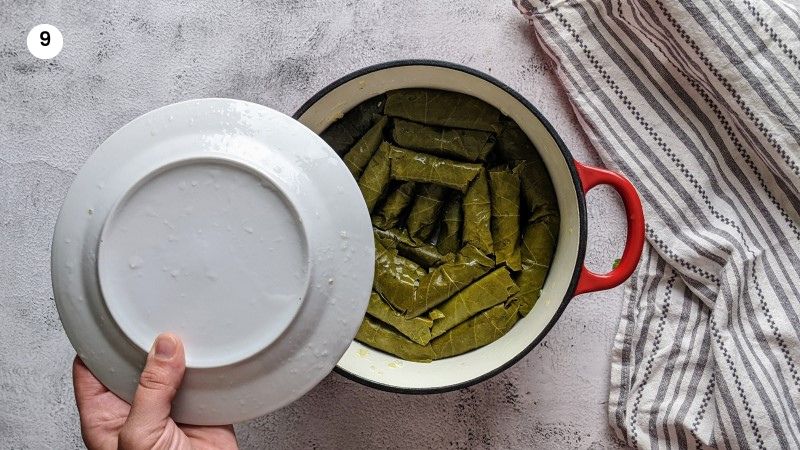 10. I add a couple of cups of water to the pot and the juice from 1-2 lemons, depending on how lemony you like them. It will take about 40-45 minutes for the dolmadakia to be ready in medium-low heat. If you are not sure, then carefully using a fork, you could remove the plate and get one out to try it and see if the rice is cooked. Also, do check occasionally if the water is enough in case you need to add a little bit more.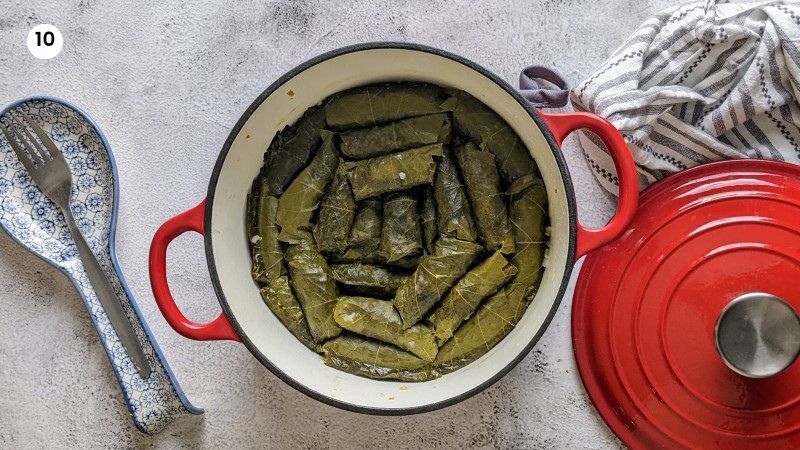 Tips
You could use any short-grain rice you like arborio, carolina or calrose rice. Alternatively, you could use bulgur wheat.
If you can't find any of the fresh herbs, you could substitute them with a couple of teaspoons of dry herbs.
In place of lemon zest, you could use lime zest.
Use the herb stalks, lemon slices or any broken grape leaves at the bottom of the pot as a layer to protect the stuffed grape leaves from touching it and getting burnt or mushy.
Don't put too much filling as it will be difficult to fold and they will also break as the rice expands when being cooked.
Add a plate upside-down on top of the layered dolmadakia in the pot to prevent them from moving around and floating while the water is boiling.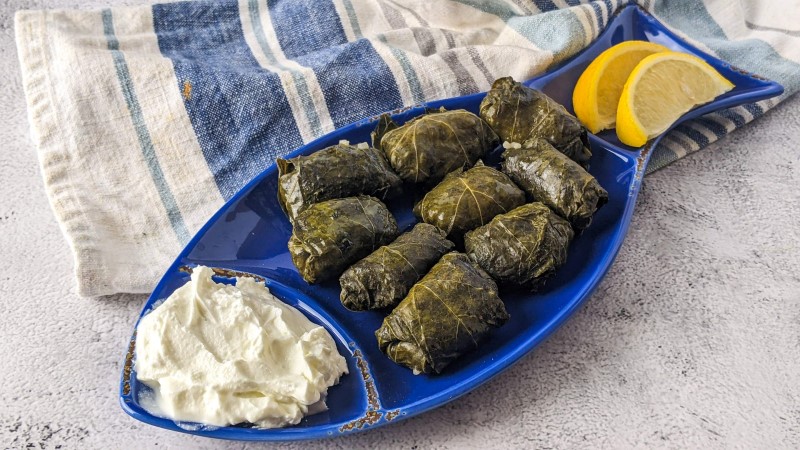 Serving suggestions
We like to have these stuffed grape leaves or dolmadakia, with some Greek yogurt on the side or with some Greek salad. They are also great for a meze platter and gatherings as they can be eaten in one or two bites and are a delicious finger food.
Storage
You can store any leftover dolmadakia in the refrigerator for up to a week. It's one of those things that you can eat hot or cold and that's what makes it a great meze or finger food. I don't recommend freezing them as the rice becomes very soggy when thawed and the dolmades won't taste that good.
FAQ
What type of rice can I use for dolmadakia? For dolmadakia, we need some medium or short-grain rice like calrose, carolina or arborio rice. The reason is that this type of rice has higher amylopectin that makes it hold together and get sticky easier compared to long-grain rice.

What can I serve with dolmadakia? Dolmadakia are great dippers due to their shape, so you could serve them with some type of refreshing dip like yogurt, or a mix of yogurt and fresh dill or sour cream. Alternatively, you could serve them with some salad or grilled veggies or meat on the side for a full meal.

What is the difference between dolma and dolmadaki? Dolmas is the Greek name for stuffed grape leaves and refers to a single item, whereas dolmades or dolmadakia refers to multiple stuffed grape leaves.

What type of grape leaves can I use for dolmadakia? You could use fresh or jarred grape leaves to make dolmadakia. They will both need to be blanched in boiling water before adding the filling and cooked.

Is dolmadakia gluten-free? Yes, dolmadakia are usually gluten-free since the filling contains rice and fresh herbs. However, some people like to use bulgur wheat or a mixture of bulgur wheat and rice, so in this case they will not be gluten-free.
Watch the video
Dolmadakia - Greek Stuffed Grape Leaves
Dolmadakia, also known as stuffed grape leaves, is a well-loved Mediterranean appetizer. This delightful dish involves carefully filling grape leaves with a delightful mixture of rice, fresh herbs, and a drizzle of lemon juice and olive oil. These delectable bites make a perfect addition to a meze platter, offering a burst of flavors and textures. They also serve as a delicious finger food, ideal for gatherings and picnics. Enjoy!
Print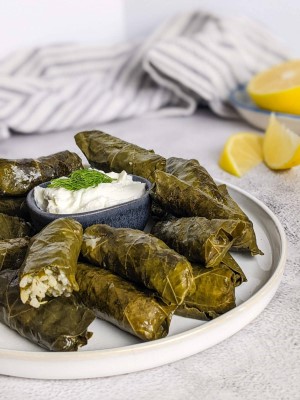 Ingredients
35-40 grape leaves fresh or jarred
1 onion
3-4 green onions
1 cup short-grain rice
bunch of fresh mint (⅓ cup)
bunch of fresh parsley (⅓ cup)
bunch of fresh dill (⅓ cup)
⅓ cup olive oil
1-2 lemons
salt & pepper
Instructions
Fill up a big pot with water and bring it to a boil. Blanch the grape leaves in batches of 6-8 for 3-5 minutes if fresh or 30-60 seconds if jarred. Remove with a slotted spoon and set aside to cool down.

To prepare the filling, cut the onion into cubes, and green onions into slices and finely chop the fresh dill, parsley and mint. Keep the stalks from the herbs aside to be used later on.

Heat some olive oil in a pot over medium-high heat. Add the chopped onion and sauté for 3-4 minutes. Add the chopped green onions, rice and 1 cup of water and cook on medium-low heat for 3-5 minutes until the water evaporates.

Transfer the onion and rice to a bowl. Add the cut fresh herbs and the olive oil. Add the zest from one lemon and season with salt & pepper.

In a big pot, place the stalks from the herbs at the bottom. Slice a lemon and place the slices on top.

Place a grape leaf on a plate with the rough side up and the shiny side touching the plate. Add a heaped tablespoon of rice to the center of the grape leaf.

Fold the bottom of the grape leaf to cover the rice and then the sides inwards. Roll it gently all the way to the tip to form a little cylinder.

Place the dolma in the pot on top of the lemons. Repeat with the rest of the grape leaves placing them in the pot tight next to each other avoiding any big gaps.

Cover with a small plate inverted to prevent the dolmadakia from moving and breaking whilst boiling. Add about 2 cups of water, or enough to reach the level of the plate. Add the juice from 1 lemon.

Cook in medium-low heat for 40-45 minutes or until the rice is cooked but not mushy.

Serve with Greek yogurt or sour cream as an appetizer or main.
Notes
- You could substitute the rice for bulgur wheat or a mix of both.
- Instead of water, you could add vegetable broth for some extra flavor.
- Don't overstuff the grape leaves as the rice will expand whilst boiling.
Storage
You can store any leftovers in the fridge for up to 5-7 days.
Nutrition Info (per serving)
Calories: 299kcal | Carbohydrates: 37g | Protein: 5g | Cholesterol: 0mg | Fat: 15g | Saturated Fat: 2g | Polyunsaturated Fat: 2g | Monounsaturated Fat: 11g | Fiber: 5g | Sodium: 982mg | Potassium: 211mg | Sugar: 2g
I am not a nutritionist. The nutrition information has been calculated using an on-line calculator, and is intended for information and guidance purposes only. If the nutrition information is important to you, you should consider calculating it yourself, using your preferred tool.