This cabbage and rice stew is a traditional Greek dish called 'lahanorizo' that literally translates to cabbage rice. My mom used to make this very often when we were little as it has simple ingredients that you often have in your pantry and it's very quick to prepare, ready in less than an hour. How great is that, especially on those busy mornings when you have too many things to juggle with.
It's a popular dish during lenten period as it combines lots of vegetables that are full of vitamins and carbs from the rice that give you the energy to make your day. You can find different versions of lahanorizo with the key ingredients of cabbage and rice always being present of course. In my version, I like to add some lemon juice for acidity and a little bit of cumin powder that really elevates the flavor and goes very well with the cabbage. So let's get cooking!
Jump to:
Why you should try my recipe
A hearty dish, full of flavor and aromas.
Great for vegan diet or lenten period.
Ready in less than an hour.
Very easy to make with simple ingredients.
Stores well in the fridge for up to 2 days.
Ingredients & How-to
The main ingredients for this lenten Greek dish of cabbage and rice stew are cabbage, rice, carrots, celery stalks, lemon, onion, garlic, tomato, fresh dill, cumin, salt & pepper. Just a few humble ingredients that when you put them together, you end up with a comfort food full of flavor and aromas.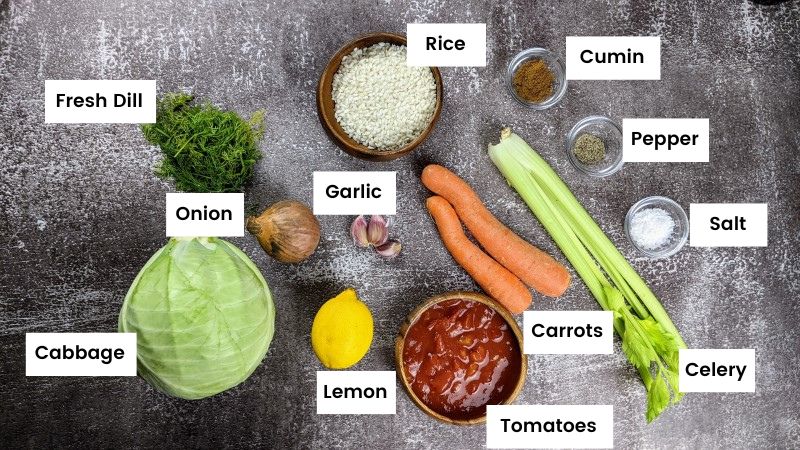 01. To start, I prepare all the vegetables for the stew. I'm using a small cabbage around 1lb / 400-500grams. I start by cutting the cabbage into four and then I take each and cut it into slices until I reach the thick root. You don't need to cut it as thinly as when making a coleslaw salad, about the width of your little finger is good enough. I give it a wash and set it aside until I have prepared the rest of my vegetables.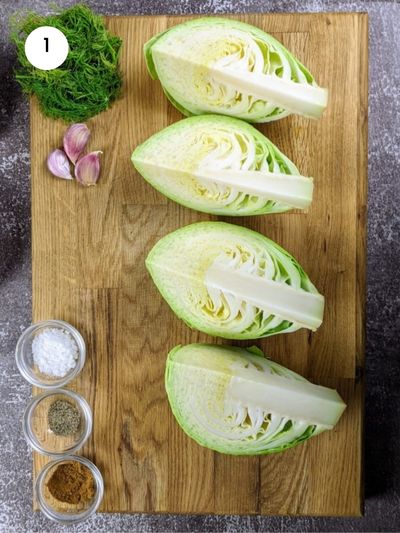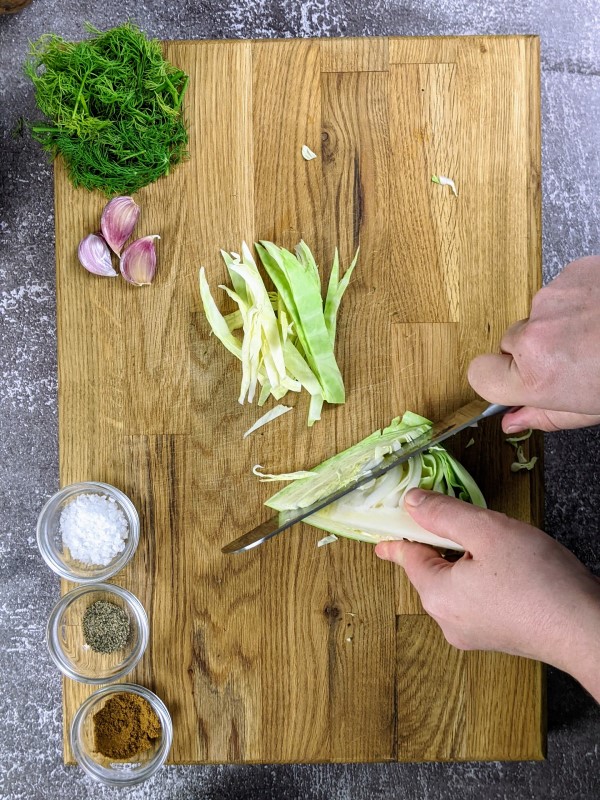 02. Then, I continue with the rest of the vegetables. I cut the onion into cubes, same with the carrots, and slice the celery stalks. I'm using fresh dill for some extra flavor and aroma. If you are not a big fan of dill, you could replace it with parsley that has a milder taste.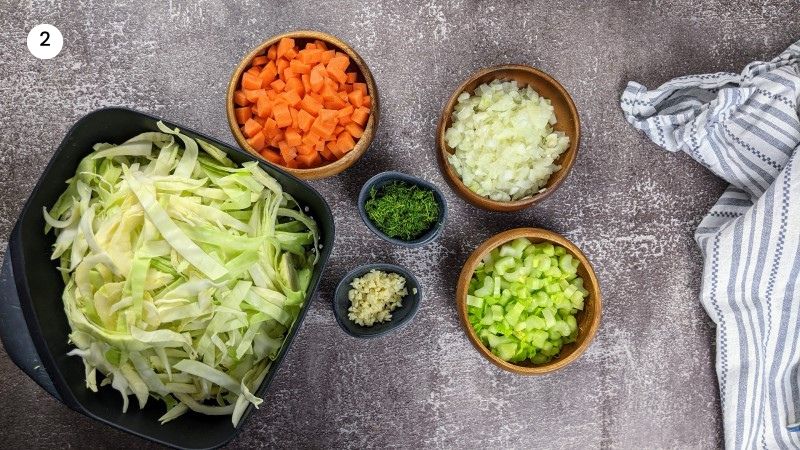 03. Now let's start cooking! Same as with all the other greek stew recipes, I start with a little bit of olive oil in a pot. I sauté the chopped onion for a couple of minutes until it's soft and translucent. Then I add the garlic, carrot and celery and mix well. I add the crushed tomatoes and season with salt, pepper and some cumin. I find that cabbage and cumin go so well together and give an extra kick to my stew.
04. Now, it's time for the cabbage. As the cabbage has lots of volume, we put it on top of the vegetables and the spices and simmer with some water until it's soft for about 15 minutes. Every now and then, I stir the stew to mix the cabbage slices with the vegetables and if the water evaporates, then I add a little bit more.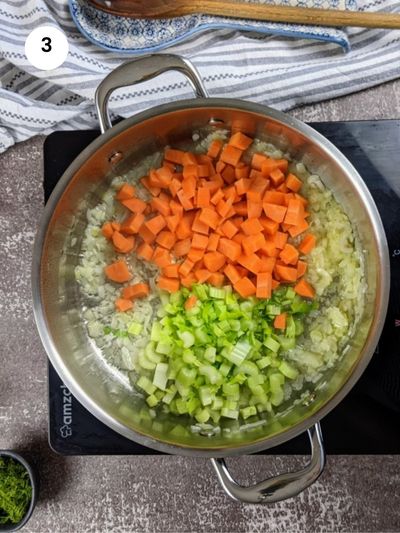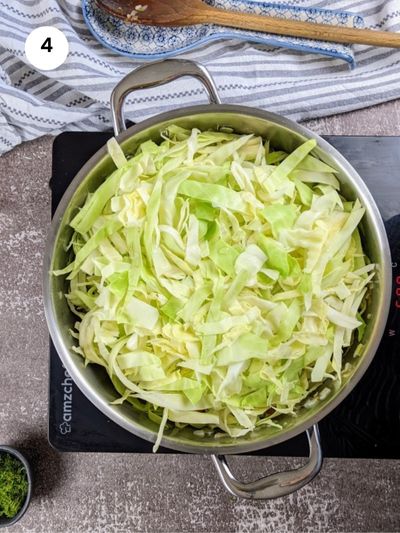 05. When the cabbage and the vegetables get soft after about a quarter of an hour, I add the rice to the pot along with a cup of water and cook for 20 more minutes. I'm using short-grain rice for this cabbage and rice stew like arborio rice. If you don't want to use rice, you could replace it with coarse bulgur wheat.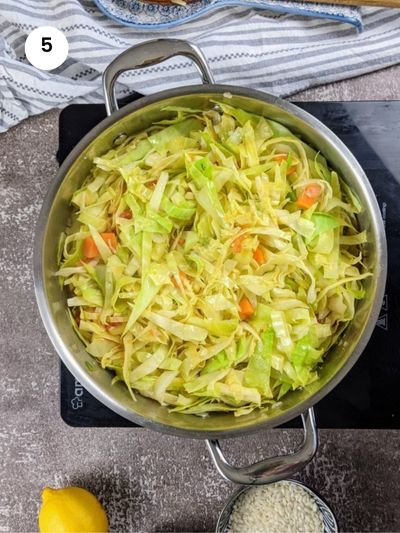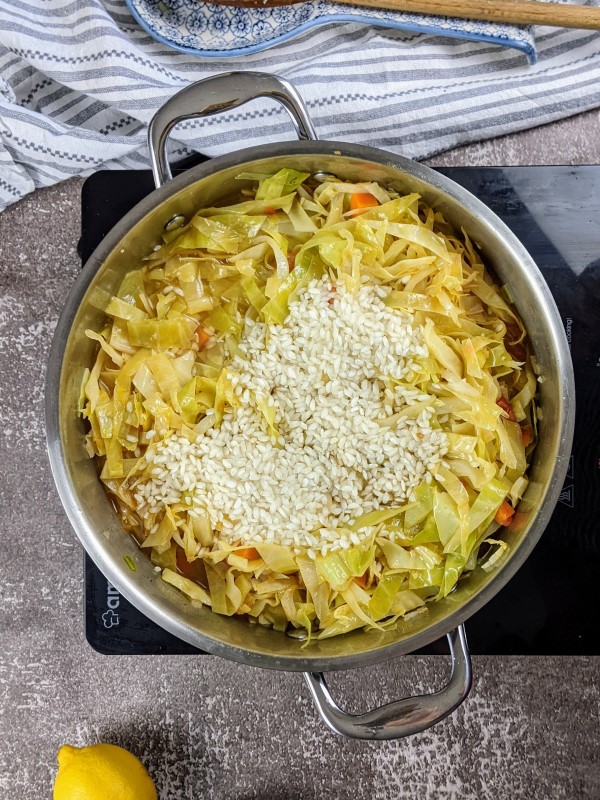 06. While the rice is in the pot and being cooked, I like to stay close and stir it every now and then. You need to stay on top of it in case you need to add more water as the rice will absorb all the liquid in the pot.
07. When the rice is almost cooked, I add the chopped fresh dill and the lemon juice and give it a stir to mix it all up and leave it to cook until the rice and the vegetables are cooked. I add the juice of a big lemon but you can adjust it to your preferences.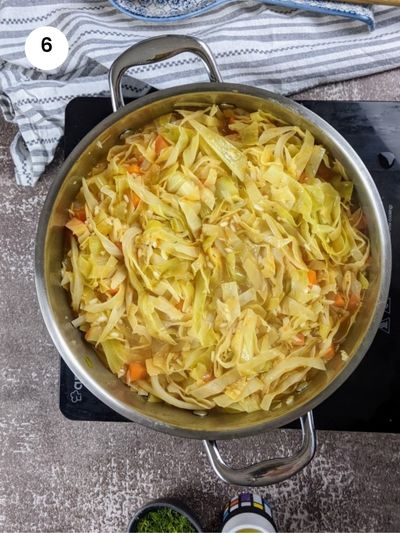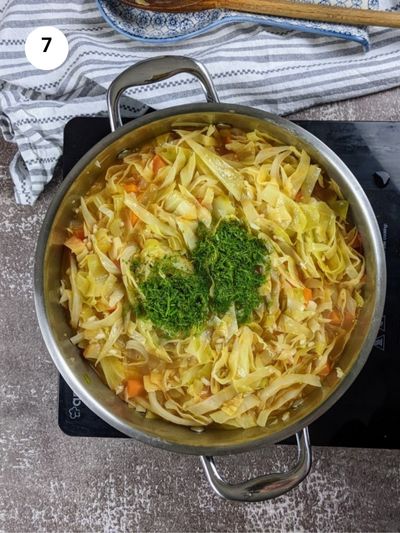 Serving suggestions
We usually have this cabbage and rice stew as a main with some nice crispy bread on the side and some cheese if you are not vegan or having it during lent. You could also drizzle a bit of olive oil and lemon juice on the plate after you serve. Lahanorizo is one of those foods that it's better served hot as the longer it sits in the pot, the thicker it will get since the rice will continue absorbing the water from the stew.
Storage
If you have any leftovers of cabbage and rice stew, you could store it in the fridge for up to 2-3 days. Just warm it up in the microwave or in a small pan for a couple of minutes and serve. I don't recommend freezing it as the rice doesn't taste good when defrosted. I find that it kind of becomes soggy and loses a lot of its taste.
FAQ
What type of rice can I use for cabbage and rice stew? I'm using short-grain rice like arborio or bomba for the cabbage and rice stew as the sauce gets a bit thicker and it binds everything together.

Can I use red cabbage for the cabbage and rice stew? Yes, you could also use red cabbage for the lahanoruzo or Greek cabbage and rice stew but be prepared for the stew to get a bit of a color.
Watch the video
Greek Cabbage And Rice Stew - Lahanorizo
Cabbage and rice stew, or lahanorizo as we call it in Greek, is a winter must have. Very easy to make, not requiring any special cooking skills and enough to feed a big family or for leftovers for the next day. Serve it with a slice of bread to soak all the juices and why not drizzle with some olive oil and lemon juice for an extra kick. Enjoy!
Print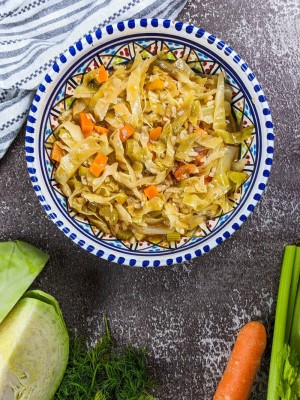 Ingredients
1 small cabbage around 1lb / 400-500gr
1 onion
3-4 celery stalks
1-2 carrots
2-3 garlic cloves
½ cup short-grain rice
2 tablespoons of fresh dill
½ cup crushed tomatoes
4-5 tablespoons of olive oil
1 lemon
½ teaspoon of cumin
salt & pepper
Instructions
Cut the cabbage into four. Take each quarter and cut it into slices about your little finger size.

Cut the onion and the carrots into cubes. Cut the celery stalks into slices. Finely cut the fresh dill and chop the garlic.

Place a pot over medium heat and add the olive oil.

Add the chopped onion and sauté for 3-4 minutes.

Add the carrots, celery and garlic. Stir for a minute.

Add the crushed tomatoes, cumin, salt and pepper. Add the cabbage slices and a cup of water.

Cover with a lid and let it cook for 15 minutes on medium/low heat.

Add the rice and a cup of water. Let it cook for 20 minutes, stirring occasionally. You might need to add more water.

Add the chopped dill and juice of lemon and leave it to cook for 5 more minutes or until the rice is cooked.
Notes
- You could substitute the fresh dill with parsley.
- Instead of water, you could add vegetable broth for some more flavor.
Storage
You can store any leftovers in the fridge for up to 2-3 days.
Nutrition Info (per serving)
Calories: 236kcal | Carbohydrates: 30g | Protein: 4g | Cholesterol: 0mg | Fat: 13g | Saturated Fat: 2g | Polyunsaturated Fat: 1g | Monounsaturated Fat: 9g | Fiber: 7g | Sodium: 130mg | Potassium: 490mg | Sugar: 8g
I am not a nutritionist. The nutrition information has been calculated using an on-line calculator, and is intended for information and guidance purposes only. If the nutrition information is important to you, you should consider calculating it yourself, using your preferred tool.