This celery, mushroom and chicken pie dish is not a traditional Greek dish and something typical Mediterranean. It's inspired by the English cuisine and all the years I've lived in England. One thing I loved having when going out to pubs is English pies. There is a great variety of pies and it's such a hearty, comfort and filling dish.
So when I found myself with an excess amount of celery roots, I thought of using them as a filling for an easy to cook pie. I came up with this combination of celery, mushroom and chicken filling that works perfectly and I'm using store bought puff pastry for the pie to make it super easy and fast to make. Perfect for those weekdays when you don't have enough time for complicated food recipes.
What I also love about this recipe is that it serves a crowd, enough to feed a big family or if it's just you, then you could have the leftovers the next couple of days or freeze some for a rainy day. So let's get started!
Jump to:
Why you should try my recipe
Filling, comfort dish.
Full of protein and vitamins from the chicken and all the veggies.
Enough to feed a whole family.
Great as a main with some veggies or a salad on the side.
Ready in just an hour.
Ingredients & How-to
To make this delicious pie you are going to need some boneless chicken, celery and celery root, mushrooms, onion, garlic cloves, white wine, butter, light cream or half & half, flour, puff pastry, egg, thyme, salt and pepper. For full quantities check the recipe down below.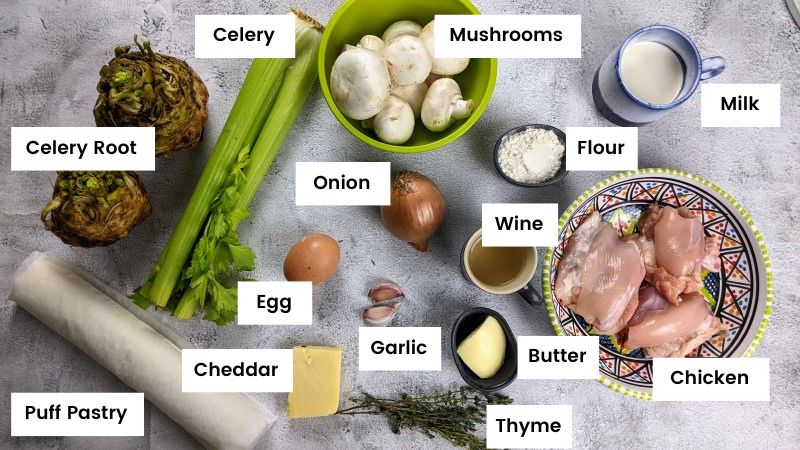 01. To start, I'm preparing all the vegetables for the pot. I'm using both celery stalks and celery root for this pie. First, I clean and cut 4-5 celery stalks into thick slices. If they come with some green leaves, feel free to use those too as they taste really nice and are easy to cook.
02. Celery root or celeriac is one of my favorite root vegetables. It's not so difficult to peel them and remove any soil compared to squash that, let's be honest, takes quite some effort to peel. The way I like to peel the celeriac is by cutting a slice from the bottom side where all the roots are, and then letting it stand on my chopping board. Then I run my knife from top to bottom, following the curve and removing the hard and dirty skin of the celery root. When I'm done, I cut it into thick cubes and set it aside. Just make sure that you don't leave it to stand too long as it will start getting brown when exposed to air.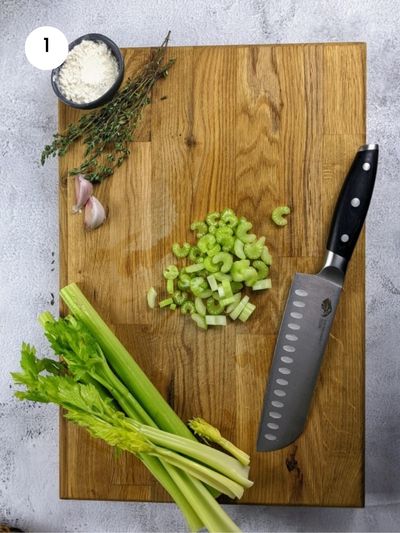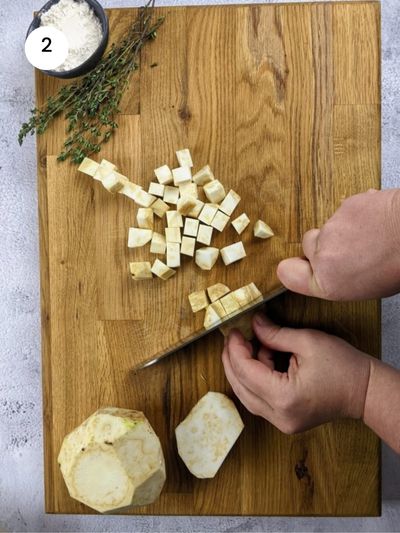 03. One other key ingredient for my pie is the mushrooms. I'm using button or cremini mushrooms which are both great for stews and I cut them into slices. You will have about 2 to 2 ½ cups of sliced mushrooms when you are done. To add more flavor to my pie filling, I'm also using an onion that I cut into small cubes and a couple of garlic cloves.
04. Now, it's time for the protein. I always leave it till the end as I need to clean my cutting board and knife very well after handling the chicken. You could use any cut of the chicken that you like. Usually, I'm going for boneless chicken thighs that are a bit juicier but you could also use chicken breast if you prefer it. I cut the chicken into smaller chunks to cook evenly with the veggies.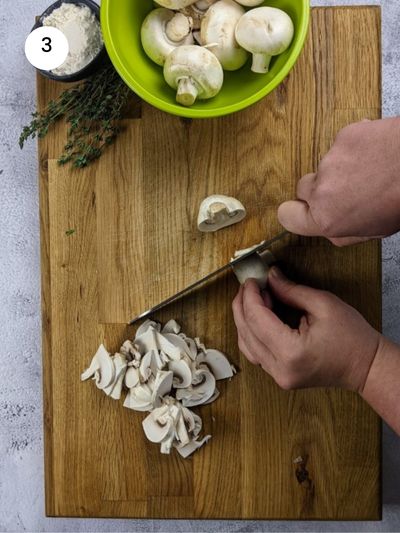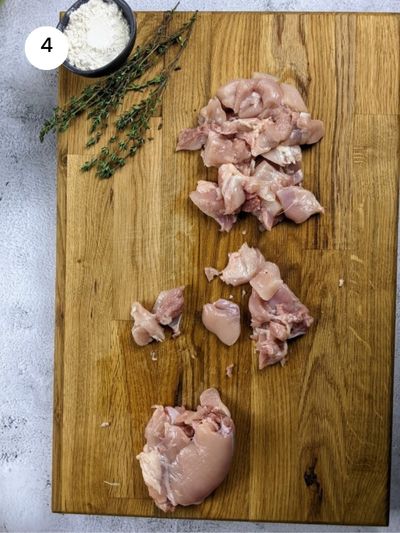 05. Now it's time to move to the pot! Firstly, I add the chicken chunks with some oil and cook it on medium heat for 4-5 minutes until it's brown on all sides. Then, I add the chopped onion and garlic cloves to the pot and sauté for 3-4 minutes, just to get all the sweetness out before adding the rest of the veggies.
06. Next, it's time for the rest of the vegetables. I add the celery and celery root cubes, the mushroom slices and mix everything well using a little bit of white wine. For seasoning and some extra aroma, on top of the salt and pepper, I like to add a little bit of thyme. If you don't have thyme or you don't really like it, you could leave it out or replace it with some other herbs like parsley or fresh dill.
Before covering the pot with the lid, I add a little bit of water, just a cup. The vegetables will release more juices while they are getting cooked so it's better to check occasionally and add some more water if needed.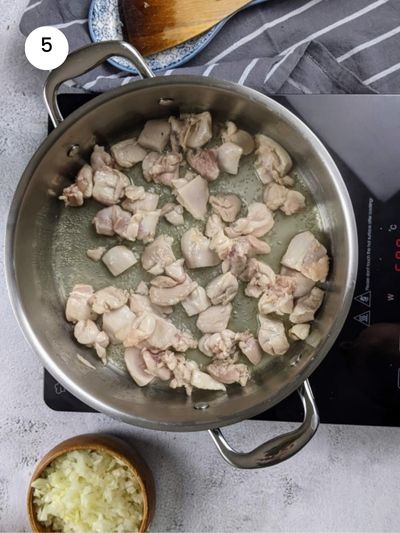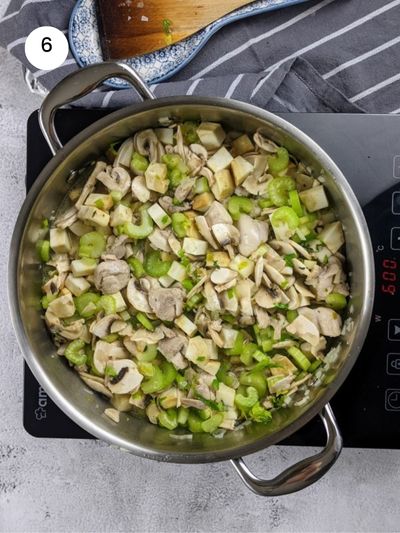 07. When the vegetables are cooked and you can easily pierce the celery root with a fork, it's time to add the cream, butter, flour and cheese. I start with the butter and cream and give it a minute until the butter has melted, then I add the flour and stir to thicken the sauce and finally the grated cheese. I prefer to use a light cream or single as it's called in England. You could also use half & half cream which is also lighter than whipping cream. As for the grated cheese, feel free to use cheddar or gouda or any other melting type of cheese that you usually have with your pasta.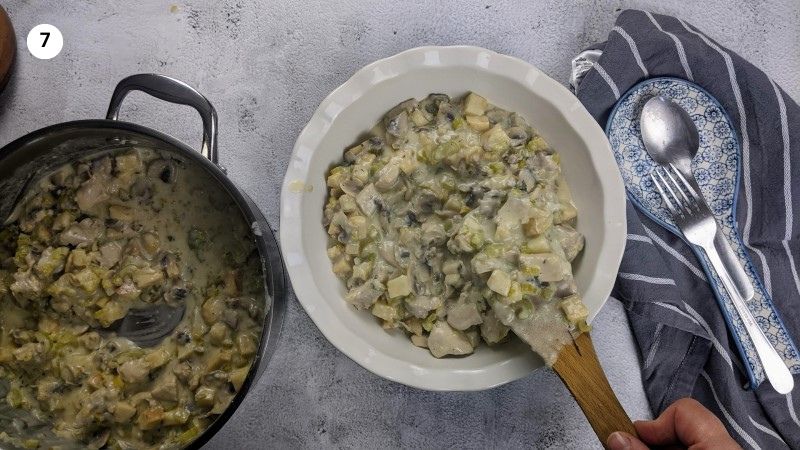 08. I'm using a 25cm or 9" round ceramic pie dish. I add the filling to the pie dish and leave it to cool down a bit while I preheat my oven to 180°C/350°F. On top of the filling, I add the puff pastry sheet and then carefully cut it with a knife around the pie dish.
09. Before baking the pie, I make 4-5 slits down the center to let it vent. Then I brush the top pastry with a beaten egg and put it in the oven to bake. It takes about 20 minutes to get ready but afterwards you will need to wait 10 minutes to cool down a bit before cutting any slices. I know that's the hard part!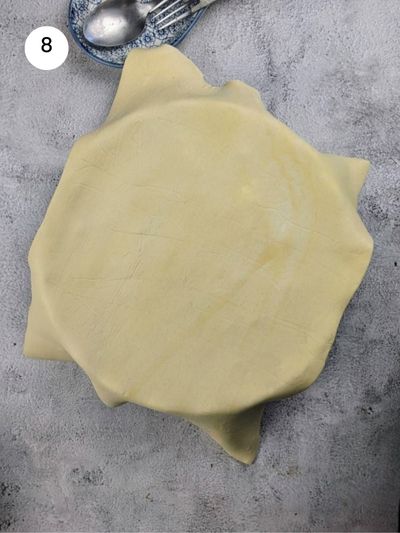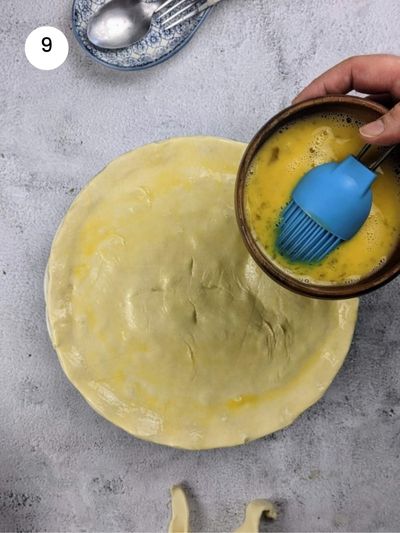 Mamazilla's Product Recommendations
Serving suggestions
We usually have a slice of this celery, mushroom and chicken pie served with some veggies or a salad on the side. You could try it out with my Pearl Couscous & Beetroot Salad or Fig and Grilled Halloumi Salad.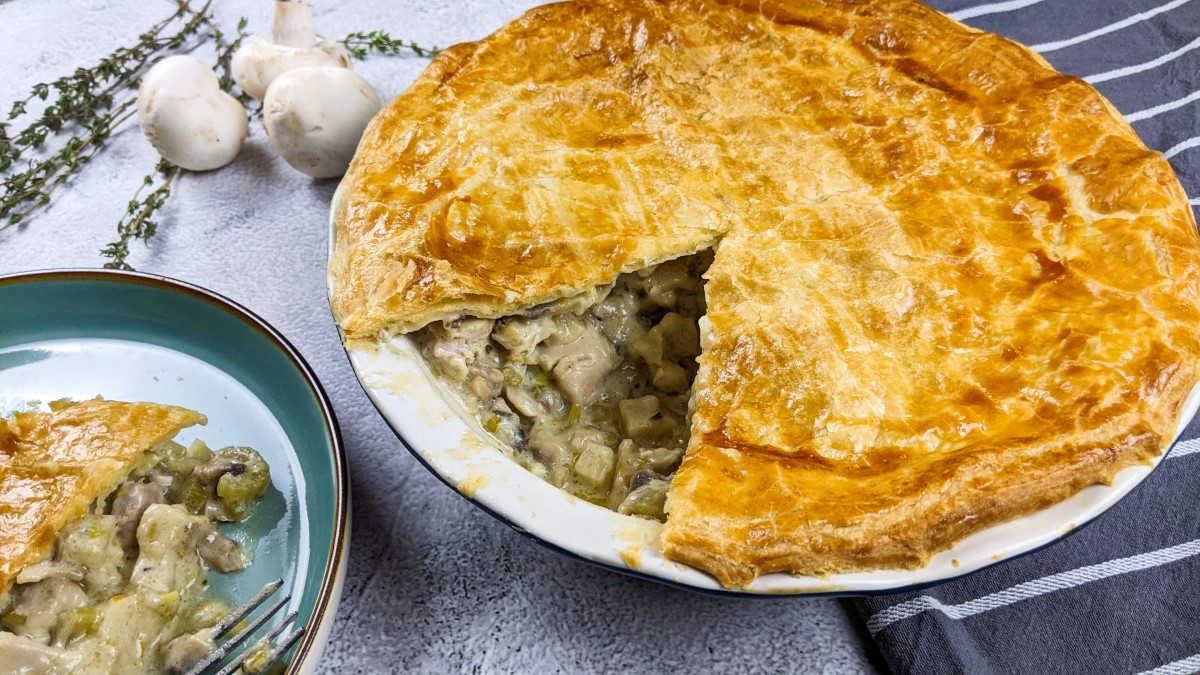 Storage
If you have any leftover of the celery, mushroom and chicken pie, you could put it in the fridge and have it within the next couple of days warmed up in the microwave or oven. The pie crust will get softer and won't be as crispy as on the first day but it will still taste very good.
You could also freeze it after it's baked, then put it in the oven from frozen until it's piping hot. Or you could freeze the filling if you want to make smaller pies or individual ones, then defrost the filling add some to a pie dish, cover it with the puff pastry and bake.
FAQ
Can I freeze the celery, mushroom and chicken pie? You can freeze the celery, mushroom and chicken pie for up to 2 months, then bake from frozen for 14-16 minutes until piping hot.

How can I use the leftover puff pastry trimmings? You could cut the puff pastry trimmings into small bits and bake them. Then sprinkle them with some powdered sugar for a light sweet snack or add some to a bowl with some custard or patisserie cream for an easy dessert.

My pie dish is too small, what can I do with the leftover filling? If you have a small pie dish or you simply want to make a smaller pie and you have some leftover filling, then you could put the rest in the freezer for up to 2 months. Then simply defrost the filling and make pie another day.

What can I use instead of light cream? If you don't have a light cream or simply looking for alternatives to a cream, then you could use a couple of tablespoons of cream cheese or milk and a tablespoon of flour to thicken the sauce.
Watch the video
Celery, Mushroom And Chicken Pie
This english pie dish with celery, mushrooms and chicken is so easy to make, with a hearty filling and just some puff pastry on top, baked in only 20 minutes. Serve it with some salad or veggies on the side for a full meal. Enjoy!
Category: Meat
Difficulty: Easy
Print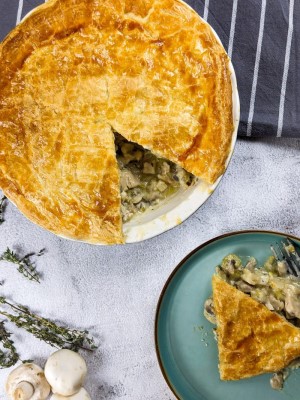 Ingredients
300gr / 10oz boneless chicken
4-5 celery stalks
1 big or 3 cups in cubes of celery root (celeriac)
200gr / 7oz mushrooms
1 onion
2-3 garlic cloves
4 tablespoons olive oil
¼ cup white wine
1 tablespoon of butter
150ml / ⅔ cup of light cream or single cream or half & half
2 tablespoons of flour
1 egg
50gr / ½ cup grated cheddar or gouda
1 teaspoon thyme
salt & pepper
Instructions
Cut the celery stalks into slices and the same with the mushrooms. Cut the onion into cubes and finely cut the garlic cloves.

Peel the celery root and remove any dirty, soily bits. Cut it into big cubes.

Cut the chicken into big chunks and set aside.

In a pot, heat the olive oil on medium heat and add the chicken chunks. Cook for 4-5 minutes until brown on all sides.

Add the onion and garlic cloves and cook for 3-4 minutes.

Add the mushrooms, celery and celeriac to the pot along with the white wine and mix well.

Add the thyme and season with salt & pepper. Add 1 cup of water and cover with a lid. Cook for 20 minutes in medium-low heat and check occasionally in case you need to add more water.

Uncover, add the butter and cream and give it a stir until the butter has melted. Add the flour and mix to dissolve. Add the grated cheese and mix until incorporated and the sauce is thicker.

Add the filling to a pie dish around 25cm or 9in. Preheat the oven to 180°C/350°F while the filling is cooling down.

Cover the pie dish with the puff pastry. Cut around the edges with a knife or scissors and remove the excess pastry.

Make 4 slits down the center of the pie to help with the vent. Brush with a beaten egg and put it in the oven to bake for 20 minutes.

When ready, let it rest for 5-10 minutes before cutting.
Notes
- If your celery stalks come with some greens, you could also use those in the filling.
- You could use any grated cheese of your preference like cheddar, gooda, mozzarella or kefaloturi.
- Use light cream or single cream or half & half instead of heavy whipping cream or double cream.
Storage
You can store any leftover celery, mushroom and chicken pie in the fridge and have it within the next couple of days. You could also freeze it for up to 2 months, then bake from frosted until pipping hot.
Nutrition Info (per serving)
Calories: 371kcal | Carbohydrates: 21g | Protein: 26g | Cholesterol: 6mg | Fat: 20g | Saturated Fat: 7g | Polyunsaturated Fat: 1g | Monounsaturated Fat: 9g | Fiber: 3g | Sodium: 369mg | Potassium: 664mg | Sugar: 5g
I am not a nutritionist. The nutrition information has been calculated using an on-line calculator, and is intended for information and guidance purposes only. If the nutrition information is important to you, you should consider calculating it yourself, using your preferred tool.