This baked meatballs and potatoes recipe is one of my family's favorites. The meatballs are so tender and juicy and the potatoes are lemony and full of aromas. It's a dish that everyone will love, especially the little ones. It's very simple to prepare and then you just let the oven do all the hard work. You could serve these meatballs and potatoes with a colorful, delicious Greek salad, or some veggies on the side and some refreshing tzatziki dip.
Jump to:
Why you should try my recipe
Full of protein and vitamins.
Big hit with adults and children.
Great as a main with some veggies or a salad on the side.
Can feed a family.
Ingredients & How-to
To make the meatballs you will need some ground meat, onion, olive oil, breadcrumbs, garlic cloves, egg, vinegar, carrot, parsley, dry oregano, salt and pepper. I'm using a mix of ground meat for the baked meatballs and potatoes, half pork and half beef, but if you want you can use only one type of ground meat. I find that the blend works better as the meatballs are more soft and juicy.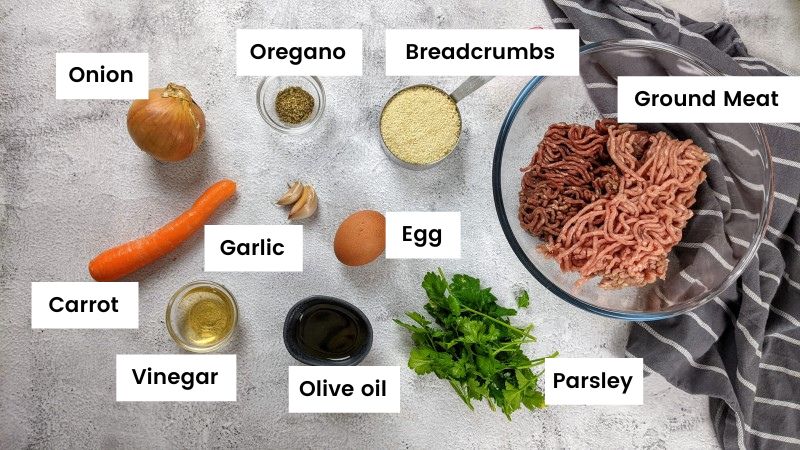 For the potatoes, I'm using lemon, oregano, mustard, tomato paste, olive oil, salt and pepper. I use around 5-6 large potatoes, so if you have smaller ones just put more, about double the amount depending on size.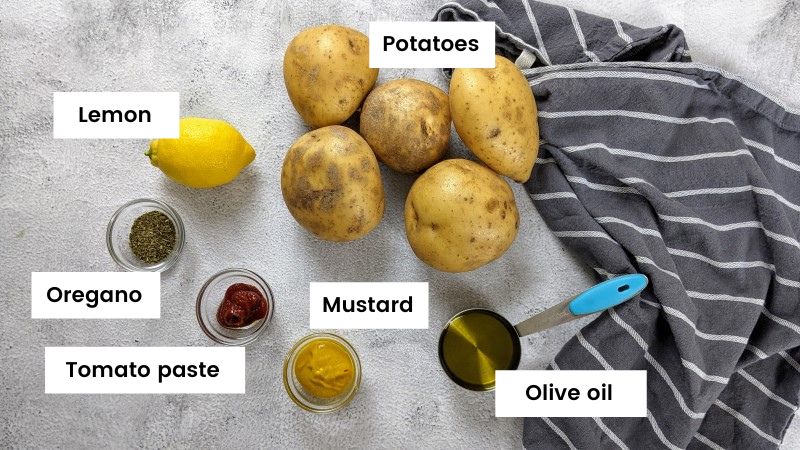 01. To prepare the meatballs mixture, I add the onion and parsley with olive oil and vinegar to a blender to cut the onion finely. Alternatively, you could use a grater and grate the onion straight into a bowl. As for the rest of the vegetables, finely chop the garlic cloves and grate the carrot.
02. Now that all the veggies for the meatballs are ready, I put everything in a big bowl. The ground beef, ground pork, grated or blended onion, breadcrumbs, garlic, egg, parsley, grated carrot, oregano, olive oil and vinegar (if not already added to the blender with the onion) and season with salt and freshly ground pepper. All these different ingredients are what make these meatballs so juicy, soft and full of flavor!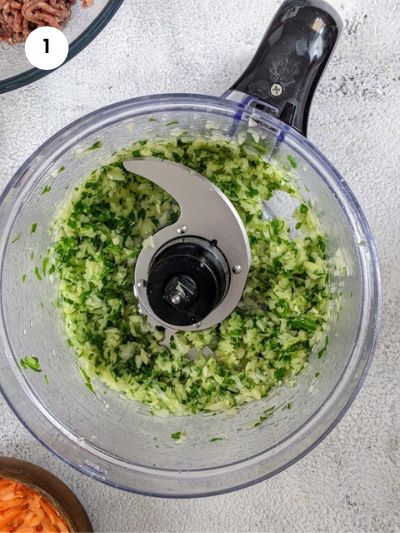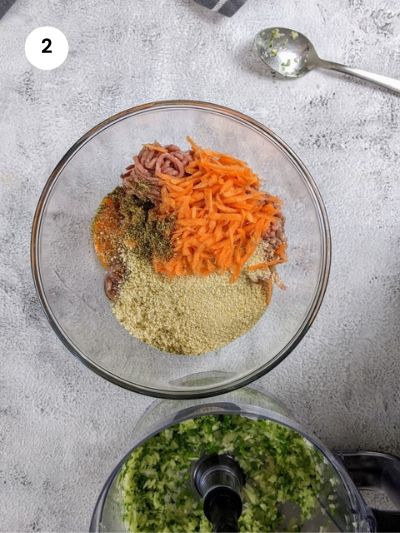 03. I start mixing everything well for about 3-4 minutes and you will notice that gradually the ground meat gets a lighter color as it's blended with the rest of the ingredients. Now the meatballs mixture needs to rest for 10-15 minutes in the fridge. This will help to enhance all the flavors and the breadcrumbs will absorb any of the humidity that might come out from the veggies.
04. When the meatballs mixture has rested, I take it out of the fridge and start shaping the meatballs. The Greek meatballs that we either grill or bake with potatoes in the oven, do not have a round ball shape but they look more like chunky burgers. I take a little bit of the mixture and shape it into a ball, then I pat it with my palms to flatten it out.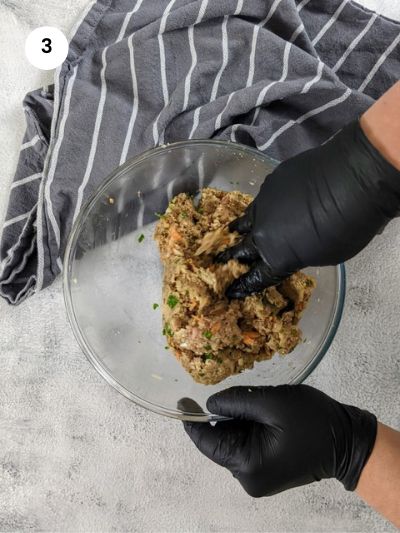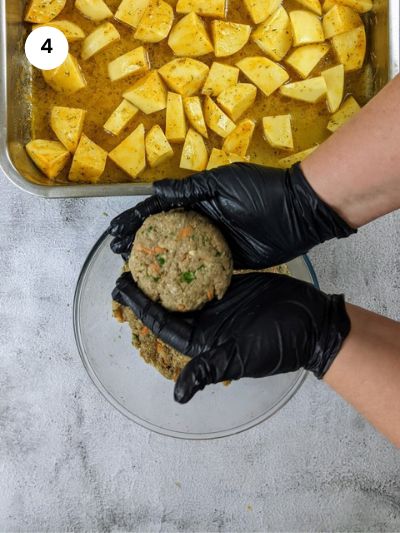 05. As for the potatoes, I'm using 5-6 large potatoes. After peeling them, I cut them into big chunks or wedges. To marinade the potatoes, I'm mixing the juice from one lemon, mustard, olive oil, oregano and a tablespoon of tomato paste.
06. In an ovenproof dish, I place the potatoes first that are coated with the lemony mixture. Then, I add around a cup of water that is going to help the potatoes to cook and get soft.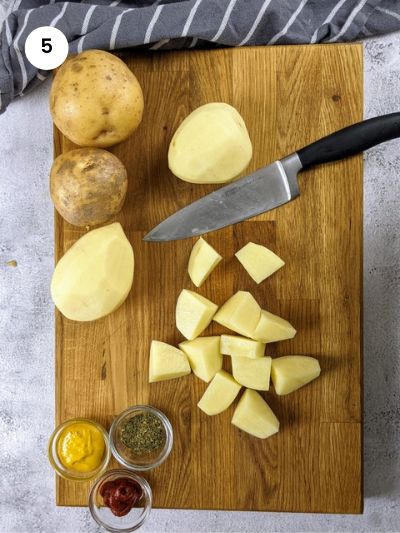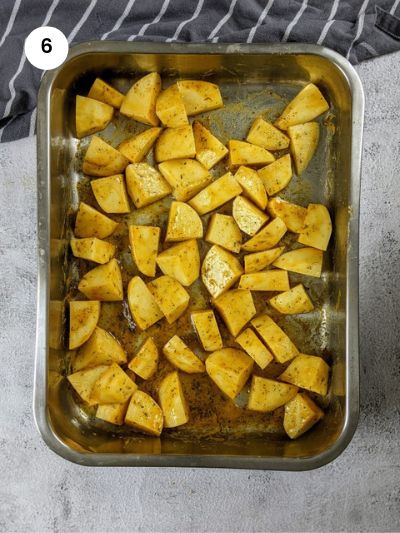 07. On top of the potatoes, I place the meatballs and then cover the tray with some foil. The meatballs can get easily burnt, same with the potatoes, so I first cover them with the foil until they get a bit soft and then I uncover them and put back in the oven to get a nice color on both sides of the meatballs.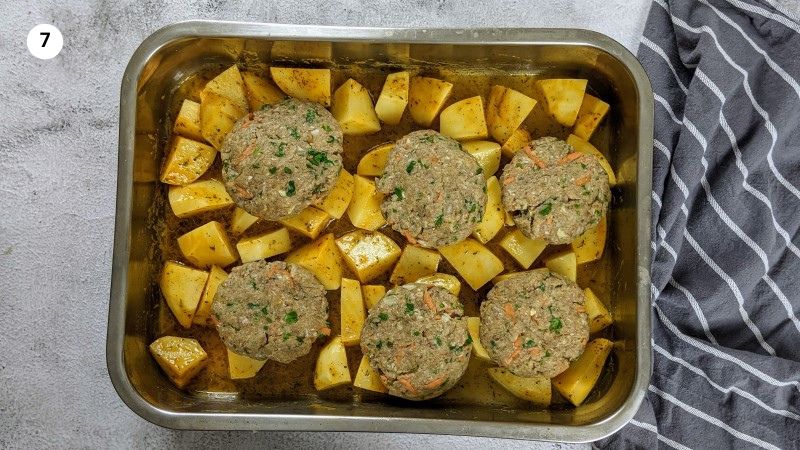 Serving suggestions
We usually have these baked meatballs and potatoes as a main with some veggies or a salad on the side. They also go great with Greek tzatziki sauce.
These aromatic & juicy meatballs and potatoes are perfect for children and babies that follow the baby led weaning method as they are really soft and easy to hold with their little hands. If you are preparing this dish for babies under 12 months, then you could leave out the salt as you should keep the daily salt intake as low as possible.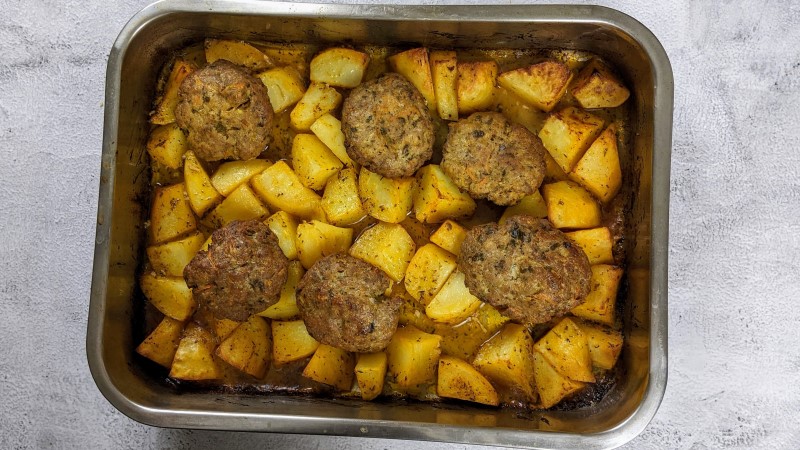 Storage
You can store any leftover meatballs and potatoes in the fridge and have them the next day warmed up. The meatballs can also go in the freezer but I wouldn't recommend freezing the potatoes as their texture when defrosted is not good.
FAQ
Can I freeze the meatballs and potatoes? I don't recommend freezing the potatoes as they will become soggy and won't taste nice when defrosted. Instead, you could freeze the meatballs before being cooked. When ready to cook, cut the potatoes, add the seasoning, place the frozen meatballs on top and bake as usual.

Can I make the meatballs without eggs? Yes, you can. The egg is going to help the meatballs to keep a nice round shape, so leaving it out might make your meatballs not look as pretty but they will lose nothing in taste.

Are the meatballs and potatoes suitable for children and babies? Meatballs and potatoes are suitable for children and babies from 6 months old. Just make sure you leave out the salt for little ones under 12 months old.
Watch the video
Easy Baked Meatballs And Potatoes
These baked meatballs and potatoes are so soft and juicy, and the potatoes are lemony and full of aromas. A dish that you will love and have again and again, since it takes very little time to prepare and then the oven will do all the work. Serve it with a salad or boiled vegetables and some tzatziki sauce or feta cheese on the side. Enjoy!
Category: Meat
Difficulty: Easy
Print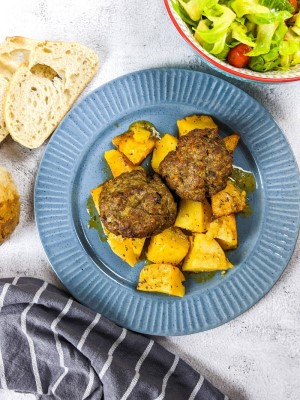 Meatball Ingredients
200gr / 7oz ground beef
200gr / 7oz ground pork
2 tablespoons olive oil
1/2 cup of breadcrumbs
1 medium carrot grated
1 onion
2 cloves of garlic
1 tablespoon of vinegar
2 tablespoons of parsley chopped finely
1 egg
1 teaspoon of oregano
salt & pepper
Potato Ingredients
5 big potatoes
1 tablespoon of mustard
1 lemon
1 tablespoon of tomato paste
1 tablespoon of oregano
1/3 cup of olive oil
salt & pepper
Instructions
Grate the onion using a grater or a food processor. Grate the carrot and finely chop the garlic cloves.

In a big bowl, add the grated onion, carrot, garlic, ground beef and pork, olive oil, breadcrumbs, vinegar, chopped parsley, egg, oregano, salt & pepper.

Mix everything well for 3-4 minutes until everything is well combined. Leave the mixture to rest for 15 minutes in the fridge while you prepare the potatoes.

Peel the potatoes and cut them into smaller chunks. In a bowl mix the mustard, lemon juice, tomato paste, oregano, olive oil and season with salt & freshly ground pepper. Coat the potatoes with the mixture.

Take the meatballs mixture out of the fridge. Shape into a ball and flatten each one out using your palms.

Place the potatoes in an ovenproof dish and add the meatballs on top. Add a cup of water to the tray, cover with foil and bake for 60 minutes at 180°C/350°F. Uncover and bake for 10 minutes. If the water has evaporated add 1/2 a cup. Then flip the meatballs over and bake for 10 more minutes until they get a nice color on both sides.
Notes
- If you are in a hurry, you can shape them immediately without leaving the mixture to rest in the fridge. It might be a bit more difficult to shape though.
- You can make the meatballs in advance and freeze them. Then cut the potatoes and coat them. Put everything in a tray and add the frozen meatballs on top.
Storage
You can store any leftover meatballs and potatoes in the fridge for the next day. The meatballs also freeze well before being cooked. Consume them within 2 months of being frosted.
Nutrition Info (per serving)
Calories: 789kcal | Carbohydrates: 98g | Protein: 34g | Cholesterol: 41mg | Fat: 32g | Saturated Fat: 6g | Polyunsaturated Fat: 3g | Monounsaturated Fat: 19g | Fiber: 13g | Sodium: 255mg | Potassium: 2293mg | Sugar: 9g
I am not a nutritionist. The nutrition information has been calculated using an on-line calculator, and is intended for information and guidance purposes only. If the nutrition information is important to you, you should consider calculating it yourself, using your preferred tool.