There is something nostalgic about figs. I think it's because fig is the fruit that marks the end of the summer and the beginning of fall. When my fruit box had a packet of fresh figs this week, I knew I had to come up with a recipe to combine this sweet fruit with something fresh and summery. So, I cut some cherry tomatoes and arugula leaves from my garden (the last ones before the cold starts to hit) and here it is! Figs and grilled halloumi salad!
This salad is so light, healthy and delicious that you are going to love it as a side dish with your main or a light dinner with some crispy bread. It's really easy to prepare and it will take you just 10 minutes to put everything together and enjoy it.
Jump to:
Why you should try my recipe
Very easy to prepare and ready in just 10 minutes.
Light, healthy vegetarian salad.
Sweet & sour! Great side dish for meat or fish.
Ingredients & How-to
This fig and grilled halloumi salad recipe is really simple and you will only need some figs, cherry tomatoes, arugula leaves, halloumi cheese, olive oil, balsamic vinegar and salt. Before you start, give a good wash to the arugula leaves, cherry tomatoes and figs.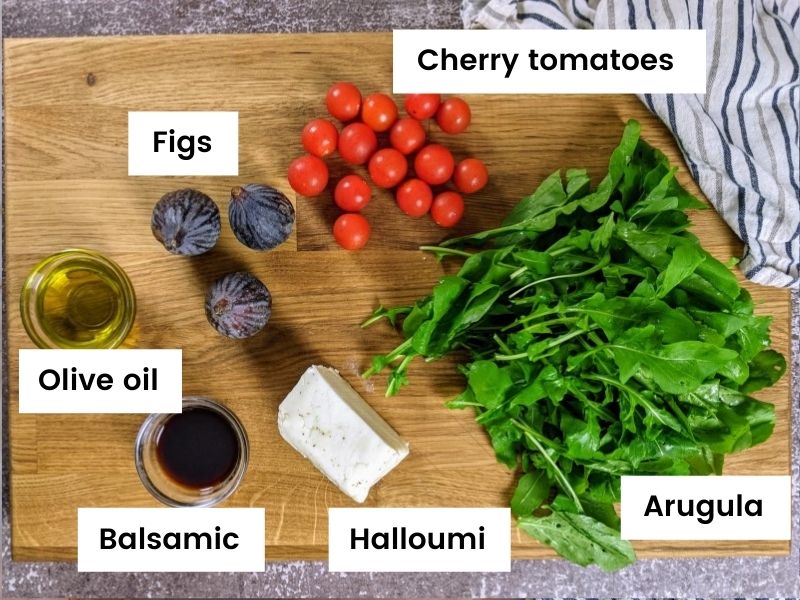 01. I'm using around 12-15 cherry tomatoes. After I wash them, I simply cut them in half and leave them on the side.
02. Then, I cut the fresh figs in quarters. If the figs are ripe, then you can leave the skin on, as it's quite soft and edible. Otherwise, if you think it's hard and you would like to remove it, then using a knife gently peel them starting from the top to the flat bottom.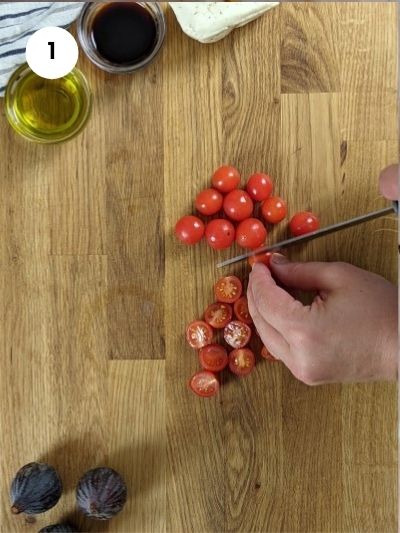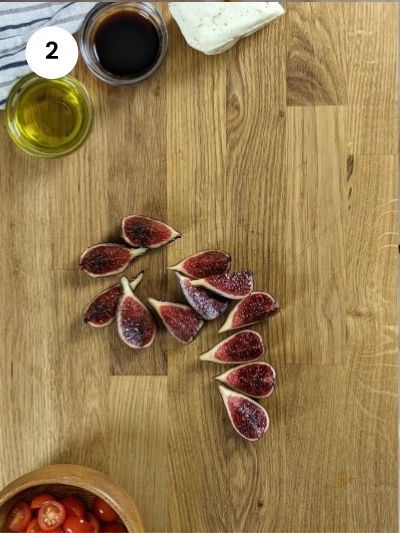 03. I'm using grilled halloumi cheese for this salad. Firstly, I cut the halloumi into slices with around 1cm/ 0.4in thickness. In a nonstick frying pan or griddle pan, I add a little bit of oil and place the halloumi slices. The halloumi will get soft and squidgy in the middle after being cooked and be nice & crispy outside.
04. I leave the halloumi slices to cook for 2-3 minutes on each side until they have a nice golden brown color. You will notice that when you put it in the pan, lots of liquid starts to appear after a few seconds. Wait until all the liquid disappears before flipping it over.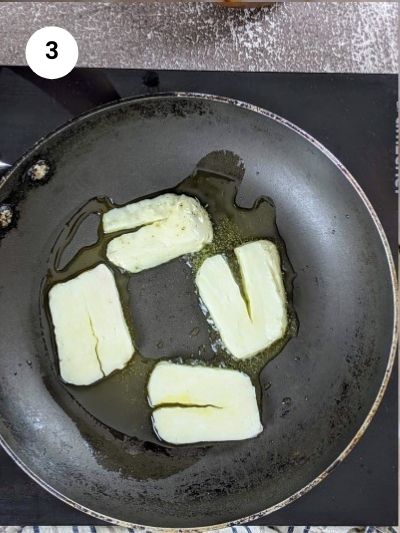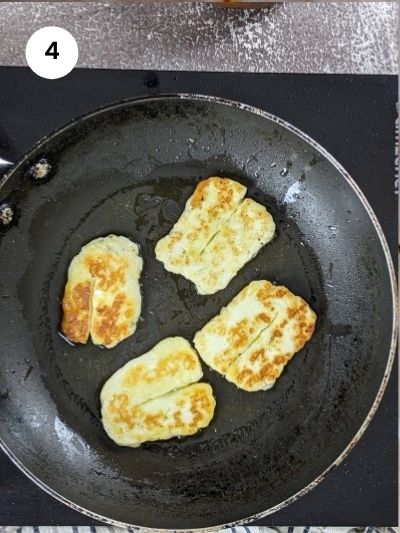 Mamazilla's Product Recommendations
05. Now it's time to assemble the salad and put everything together. In a big bowl, I add the arugula leaves and then the rest of the ingredients, the chopped tomatoes, figs, grilled halloumi. I like to cut the halloumi slices into 3-4 smaller pieces so I can get a bit of everything in every bite.
For the dressing, in a small bowl, I put two tablespoons of olive oil with one tablespoon of balsamic vinegar and a pinch of salt. I stir well to combine them and drizzle my salad with the vinaigrette.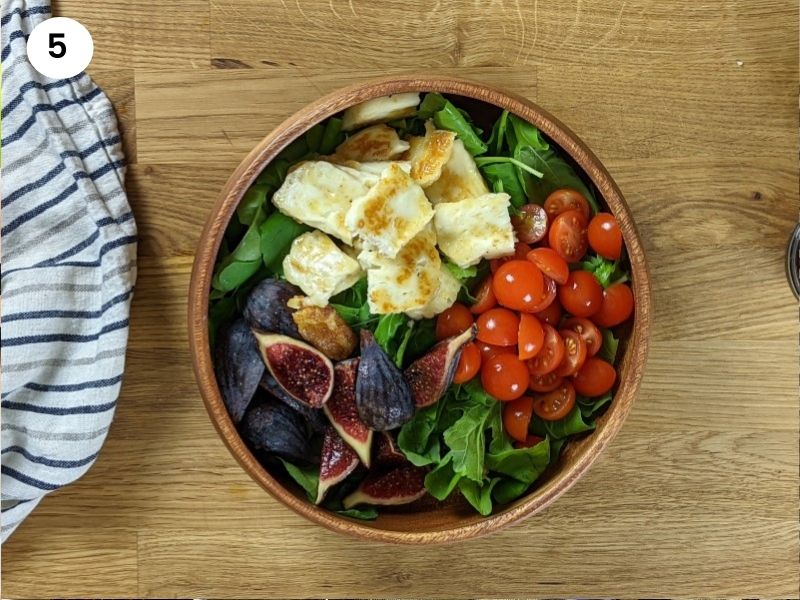 Serving suggestions
You could serve this fig and grilled halloumi salad with a slice of bread and enjoy it as a light lunch or dinner. It's also a great side for some grilled meat or fish, like salmon or grilled seabass.
Storage
I don't recommend storing any of the salad after you add the dressing, as the arugula leaves will get very soft with the vinaigrette. If you would like to make the salad in advance, you could wash the arugula, cherry tomatoes and figs. Cut them and put them in an airtight container in the fridge for up to a day in advance. You could also prepare the vinaigrette and keep it in the fridge in a small jar. Then, when it's time to eat, grill the halloumi cheese, put everything together in a bowl and serve.
FAQ
Do I have to peel the figs? The figs skin is edible. If the figs are not very ripe and the skin is thicker then if you prefer, you could remove it all or just the hard bits.

How thick do the halloumi slices need to be for grilled halloumi? You should cut the halloumi into slices between 0.5-1 cm or 0.2-0.4 inches, as you are aiming for it to be crispy outside and soft & chewy in the middle. If you cut it too thin, you won't be able to get that squidgy middle layer.

What can I substitute the arugula salad with? Instead of using arugula leaves for this fig and grilled halloumi salad, you could substitute it with some baby lettuce leaves or a mix of salad leaves.

Can I store the fig and grilled halloumi salad in the fridge? You could prepare the salad without the halloumi and dressing and store it in the fridge for a few hours up to a day. When it's time to serve, simply cook the halloumi and add the dressing.
Watch the video
Fig and Grilled Halloumi Salad
This fig and grilled halloumi salad is the perfect combination of sweet and sour. The salty squidgy halloumi with the sweetness from the figs and the peppery arugula make a salad that it's going to become one of your favorites. Try it out as a side with some meat or fish, or as a light meal with a slice of bread.
Category: Salads
Difficulty: Easy
Print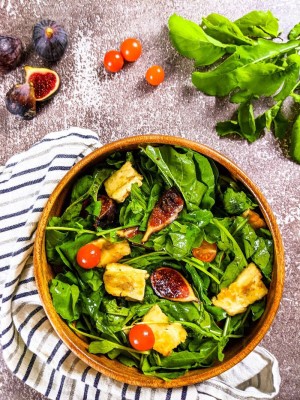 Ingredients
100gr /4 oz / 5 cups arugula leaves
12-15 cherry tomatoes
3 figs
100gr / 4 slices halloumi
3 tablespoons of olive oil
1 tablespoon of balsamic vinegar
pinch of salt
Instructions
Wash the arugula, tomatoes and figs well.

Cut the cherry tomatoes in half and the figs in quarters. If the skin of the figs is too hard you could peel them.

Place the arugula leaves in a bowl. Add the tomatoes and figs.

Cut the halloumi cheese in four slices of 1cm/0.4in thickness.

Add 1 tablespoon of oil to a non-stick pan or griddle pan and heat over medium heat.

Place the halloumi slices and leave them for 2-3 minutes on each side until soft and golden.

Cut the halloumi into smaller pieces and add it to the salad.

In a small bowl, add 2 tablespoons of olive oil, 1 tablespoon of balsamic vinegar and a pinch of salt. Mix well.

Add the dressing to salad and serve.
Notes
I like using arugula leaves for this salad but you could replace it with lettuce leaves if you prefer.
Storage
You can prepare the salad and store it in the fridge without the dressing and the halloumi for a day. When ready to serve, simply grill the halloumi, and add it to the salad along with the dressing.
Nutrition Info (per serving)
Calories: 246kcal | Carbohydrates: 15g | Protein: 9g | Cholesterol: 0mg | Fat: 18g | Saturated Fat: 7g | Polyunsaturated Fat: 1g | Monounsaturated Fat: 7g | Fiber: 3g | Sodium: 53mg | Potassium: 297mg | Sugar: 12g
I am not a nutritionist. The nutrition information has been calculated using an on-line calculator, and is intended for information and guidance purposes only. If the nutrition information is important to you, you should consider calculating it yourself, using your preferred tool.