Third week of my 'One Smoothie Recipe a week' challenge and I have a very sweet and filling smoothie. This week's fruit box had bananas and dates so I used these two as my main ingredients and added some coconut milk and yogurt. The recipe makes two glasses of smoothie, great for starting your day full of energy.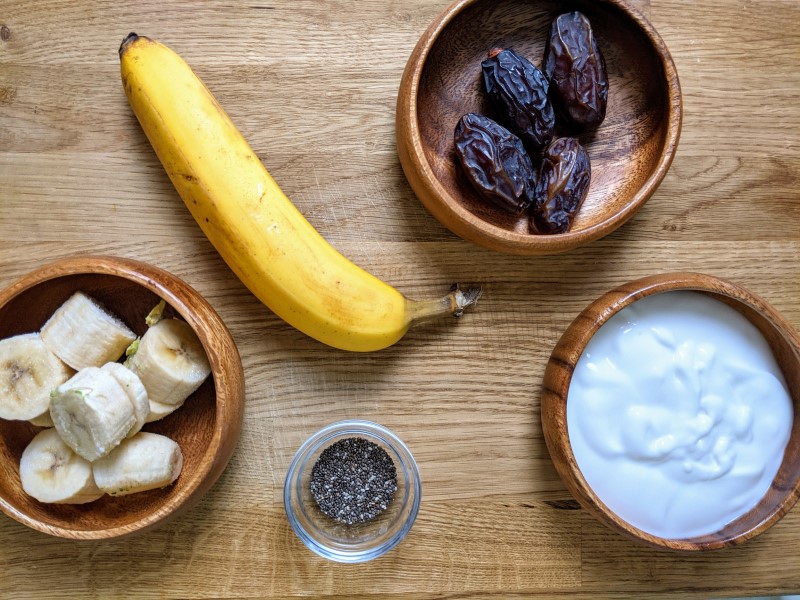 What's inside
The main ingredients for this week's smoothie are bananas, dates, coconut yogurt and coconut milk. I use two bananas for this recipe, one of them at room temperature and the other one is frozen. You can put it in the freezer chopped from the previous night or an hour before making the smoothie. Make sure that your dates don't have any stones in them and then cut them in half before adding them to the blender. I also add some chia seeds for some extra fiber and goodness.
Health Benefits
This smoothie is packed with nutrients. It's detoxifying and great for digestion. Here is a breakdown of the most important nutrients that each ingredient offers:
bananas: vitamin B6, B12, potassium and magnesium
dates: vitamin A, B1, B2, B3 and B5, fiber
coconut: protein, manganese, B vitamins
chia seeds: fiber, proteins, omega-3 fatty acids
Storage
You could store it in the fridge for the next day in an airtight bottle or make it the previous night for a quick breakfast.
Watch the video
Banana & Dates & Coconut Smoothie
One Smoothie a Week - Week #3: This is a very sweet smoothie recipe that is perfect for busy mornings! The main ingredients are bananas, dates, coconut milk and coconut yogurt. A detoxifying and digestion enhancing smoothie, great for starting your day full of energy.
Print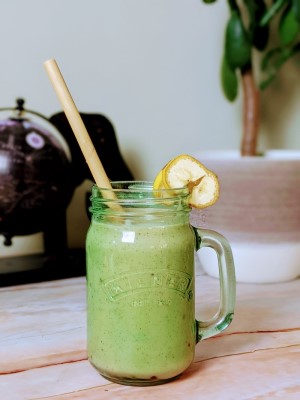 Ingredients
2 bananas (1 at room temperature & 1 frozen)
4 dates without the stones
½ cup coconut yogurt
1 cup coconut milk
½ tablespoon of chia seeds
4 ice cubes
Instructions
Chop one banana and freeze it for an hour or more.

Chop the other banana. Remove stones from dates if not pitted.

Add all ingredients to the blender and give it a few spins.
Storage
You could store it in the fridge for the next day or make it the previous night and have it for breakfast.
Nutrition Info (per serving)
Calories: 255kcal | Carbohydrates: 47g | Protein: 3g | Cholesterol: 0mg | Fat: 8g | Saturated Fat: 6g | Polyunsaturated Fat: 1g | Monounsaturated Fat: 0g | Fiber: 6g | Sodium: 2mg | Potassium: 562mg | Sugar: 0g
I am not a nutritionist. The nutrition information has been calculated using an on-line calculator, and is intended for information and guidance purposes only. If the nutrition information is important to you, you should consider calculating it yourself, using your preferred tool.