Soutzoukakia Smurneika, as we call the recipe for meatballs in tomato sauce in Greek, have more spices and a different shape compared to the usual meatballs. This is a traditional Greek recipe that you should definitely try. The meatballs are so aromatic, full of flavor and cooked in a rich tomato sauce. It does take a little bit of time and effort to make them but believe me, you will be awarded by the end result.
If you are looking for more traditional Greek recipes to impress your family or friends, I recommend trying this giouvetsi (beef and orzo pasta) casserole dish or a pork and cabbage stew to warm up your belly.
Jump to:
Why you should try my recipe
Hearty, delicious dish.
Big hit with adults and children.
Freezable for up to 2 months.
Step-by-step instructions on how to make the most soft and juice meatballs.
Ingredients & How-to
The ingredients you are going to need for the meatballs are ground meat, bread, garlic, wine, olive oil, cumin, salt and pepper. I use only ground beef in my recipe but you could also use half beef and half pork if you prefer to mix it up.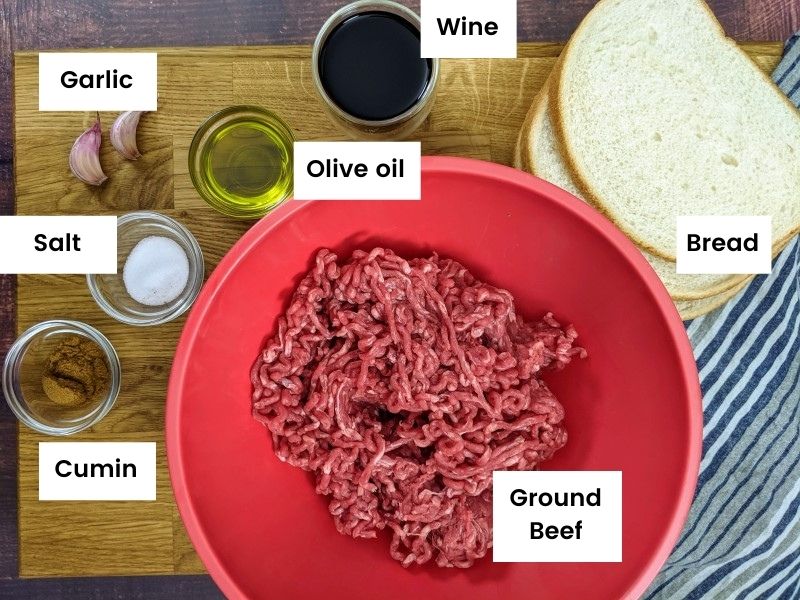 Making the meatballs
01. To prepare the meatballs mixture, I start by soaking the bread in red wine. Bread and wine help the meatballs to be more soft and add to the flavor. I use toast bread and remove the brown crust first before soaking it in the wine. You could use any kind of bread and you will find that it works better if it's one day old bread.
Then I combine all the ingredients and then leave the mixture to rest for 10-15 minutes in the fridge. That helps all the aromas from the spices to mix with the minced meat and also it's easier to shape the meatballs after. When the meatballs mixture is ready, I start shaping them into an oval shape like small barrels with a length similar to my index finger.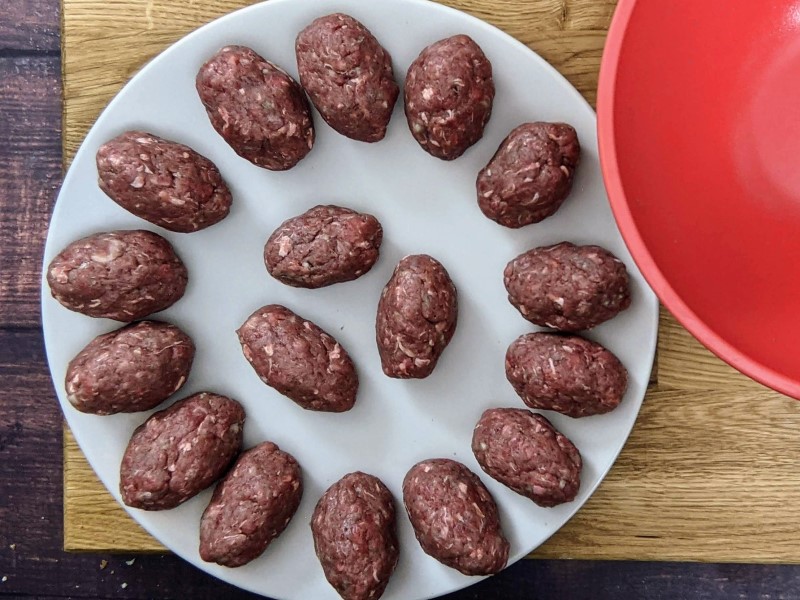 02. The recipe yields around 15-20 meatballs, after shaping all the mixture it's time to shallow fry them. Some people like to coat the meatballs in flour before frying them but I prefer not to, as they will absorb more oil and they are a bit heavier.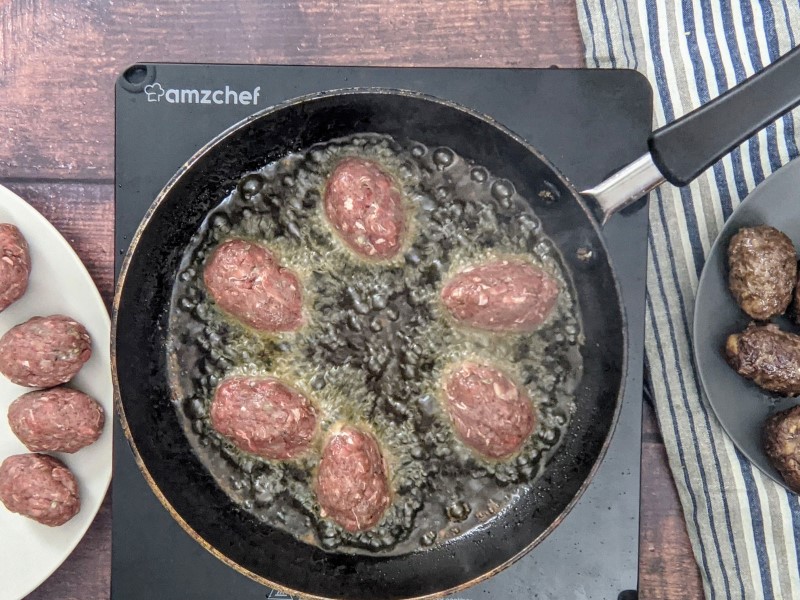 I place a little bit of oil in a nonstick frying pan, around 1''/2cm and fry them in 2-3 batches. Just a couple of minutes, one minute on each side, will do the job. All you want is a nice color on the outside, they will be fully cooked later on in the tomato sauce.
Mamazilla's Product Recommendations
Making the sauce
The ingredients for the tomato sauce are tomato purée or passata, onion, garlic, tomato paste, cinnamon, salt, bay leaves and allspice kernels.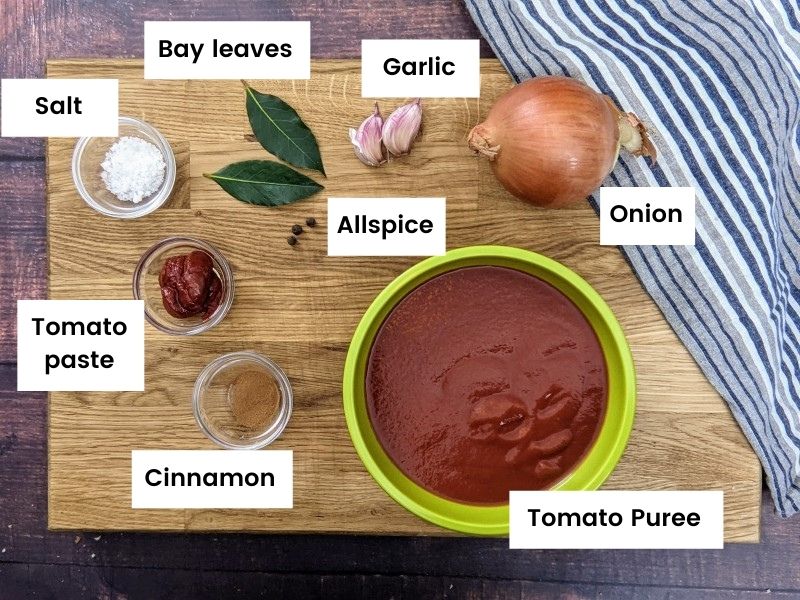 01. For the tomato sauce, I first like to sauté the onion and garlic for 3-4 minutes to soften up and get all that sweetness out. Then, I add a little bit of tomato paste, ground cumin, bay leaf, salt and pepper, give it a good stir with a wooden spoon and cook for one-two minutes. This helps to release all the aromatic flavor of the spices and the tomato paste that will make our tomato sauce taste amazing! The next step is adding the tomato puree or chopped tomatoes if you prefer, with a little bit of water. I let it simmer for 5 more minutes before adding the soutzoukakia meatballs in.
02. The final step is to add the soutzoukakia meatballs to the tomato sauce. Simply, using a tong or just a fork, place the meatballs on top of the tomato sauce all around. If your sauce is too thick, add half a cup of water, cover the pot with a lid and let it simmer over low heat for around 30 minutes until the sauce is nice and thick. Do check occasionally and if the water has evaporated you might need to add a bit more.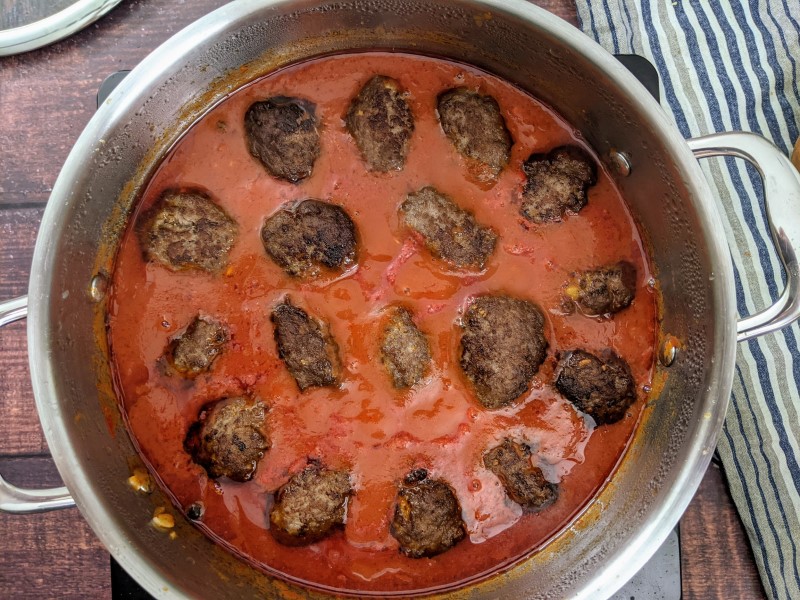 Serving suggestions
We usually serve these Greek meatballs with rice or mashed potatoes. They also go well with fries or wedges and salad.
Storage
You can store any leftover Greek meatballs in the fridge and have them the next day warmed up. These can also go in the freezer for a couple of months. Just defrost them and warm them up in a pot or microwave for a few minutes before serving.
FAQ
What seasoning do the Greek meatballs in tomato sauce have? Greek meatballs in tomato sauce have cumin and garlic in them that gives them a very nice and unique flavor.

What can I serve the Greek meatballs in tomato sauce with? Usually, you will find that the Greek meatballs in tomato sauce are served with rice or mashed potatoes but you could also serve them with fries or steamed vegetables for a healthier side.

Can little children have meatballs in tomato sauce? Yes, of course. They contain lots of protein and are a great dish for little children especially if you combine them with veggies on the side. If you are concerned about the salt intake, or you are sharing with a baby under 12 months, then I recommend not adding any salt.

Are meatballs in tomato sauce freezable? If you have any leftover Greek meatballs in tomato sauce you could store them in the freezer for up to 2 months.
Watch the video
Greek Meatballs In Tomato Sauce - Soutzoukakia
Greek meatballs in tomato sauce, or Soutzoukakia as we call them in Greek, have a long oval shape compared to usual round meatballs. The key ingredients are cumin, garlic and bread soaked in wine first. They are very soft, full of flavor and come with a thick and tasty tomato sauce. Try them with some rice or mashed potatoes and you will have everyone asking for the recipe!
Category: Meat
Difficulty: Medium
Print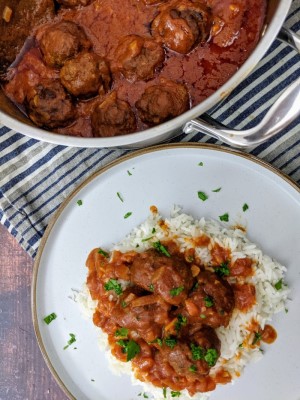 Meatball ingredients
1lb / 500gr ground beef
3 slices (150gr) white bread
⅓ cup red wine
2 cloves garlic
2 tablespoons of olive oil
1 teaspoon of ground cumin
1 teaspoon of salt
½ teaspoon of ground pepper
Tomato Sauce ingredients
2 cups tomato puree (passata)
1 onion chopped
2 cloves garlic chopped
1 tablespoon of tomato paste
2 bay leaves
2-3 allspice kernels
¼ teaspoon of cinnamon
1 teaspoon of salt
Instructions
Remove the brown crust of the bread. Cut it into smaller pieces with your hands and add it to a bowl.

Add the wine to the bread and make sure all pieces are coated. Leave it on the side while you prepare the rest.

Add the beef mince to a large bowl. Using a hand crusher or a pestle, mash the garlic cloves and add them to the mince.

Add the ground cumin, salt, pepper and olive oil.

Finally, add the bread and mix well until all ingredients are incorporated.

Leave it in the fridge for 10 minutes to rest.

Shape the meat mixture into long oval shapes.

Heat up some oil in a frying pan over medium to high heat. Place the meatballs in the oil, 5-6 at a time.

Leave them for a couple of minutes on each side until they have a nice brown color. Then set aside for later on.

Start cooking the tomato sauce. Heat up 4-5 tablespoons of olive oil over medium heat.

Add the chopped onion and garlic. Sauté for 2-3 minutes until soft.

Add the tomato paste, cinnamon, salt, bay leaves and allspice kernels. Stir for 1-2 minutes until the tomato paste has a nice red color and spices are mixed well.

Add the passata and a cup of water. Stir a little bit and cover the pot. Let it simmer for 5 minutes over medium to low heat.

Place the meatballs on top of the tomato sauce. Cover and simmer for 30 minutes checking occasionally in case you need to add more water.

When the tomato sauce is thick, turn off the heat and serve.
Notes
Bread and wine make the meatballs become nice and soft. If you have some day old bread that works better with soaking and crumbling.
Storage
You can store any leftover meatballs in the fridge for the next day. They also freeze well after being cooked, consume within 2 months.
Nutrition Info (per serving)
Calories: 506kcal | Carbohydrates: 18g | Protein: 10g | Cholesterol: 0mg | Fat: 29g | Saturated Fat: 2g | Polyunsaturated Fat: 2g | Monounsaturated Fat: 12g | Fiber: 2g | Sodium: 1026mg | Potassium: 135mg | Sugar: 5g
I am not a nutritionist. The nutrition information has been calculated using an on-line calculator, and is intended for information and guidance purposes only. If the nutrition information is important to you, you should consider calculating it yourself, using your preferred tool.