Strapatsada or kagiana is a popular dish in Greece especially in the summer months when there is an excess of fresh tomatoes. It's very easy and quick to make and has only a few ingredients that make it a great choice for family lunches or light snacks on busy days. You could also find it in tavernas and mezedopolia (meze & drink places) in its plain version made with just tomatoes and eggs or with the addition of feta cheese and sometimes fries.
In my house, we like to have it usually for lunch served with some warm & crispy bread or pitta bread slices and some salad on the side like a traditional Greek salad. It's also great for breakfast or brunch as it's full of protein and goodness and will give you enough energy to start your day.
Jump to:
Why you should try my recipe
Quick and easy to prepare.
You only need 5 main ingredients to make it.
Great side dish or appetizer with some crispy bread or pitta bread.
Perfect for breakfast or brunch.
Ingredients & How-to
This recipe for strapatsada aka Greek eggs with tomatoes is very simple and has only a few ingredients: tomatoes, feta cheese, eggs, oregano, olive oil, salt and pepper. That's it, simple! For full quantities check the recipe down below.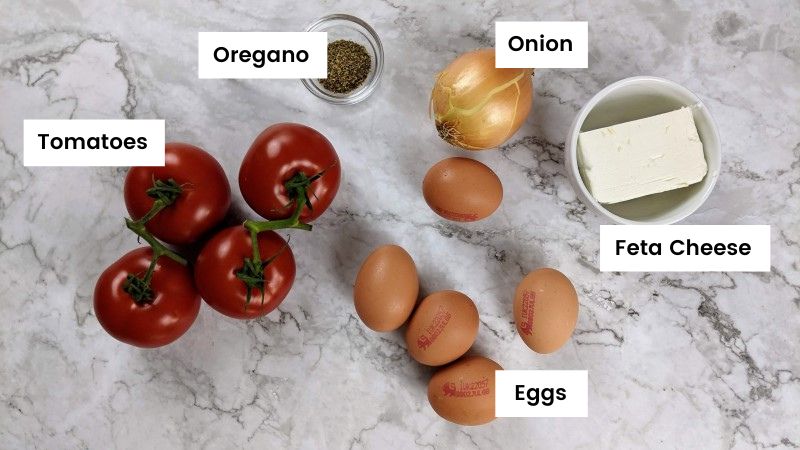 01. I start with cutting the tomatoes and the onion. I'm using 4 medium tomatoes that are ripe and juicy. You could also use a mix of tomatoes and cherry tomatoes if you prefer. I'm cutting the tomatoes into cubes and same with the onion.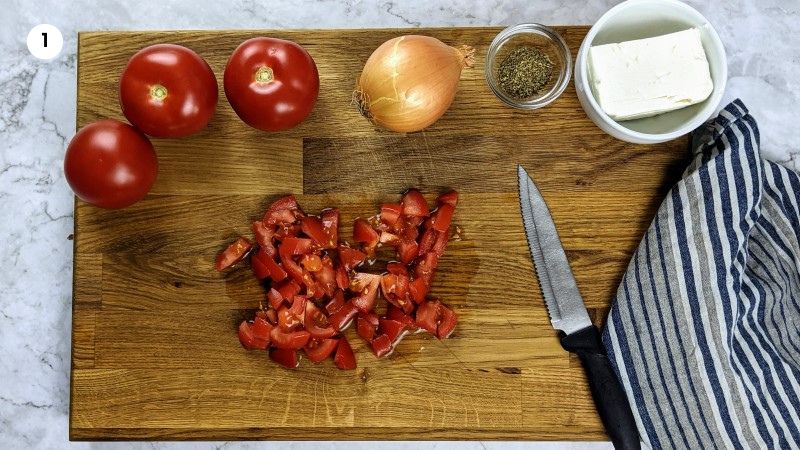 02. You could use a simple frying pan or a cast iron skillet to make the Greek eggs and tomatoes. I personally love my cast iron skillet and use that when making eggs or an omelette. Firstly, I add the onion cubes with a little bit of olive oil to the pan, around 2 tablespoons will do the job. I sauté the onion for 3-4 minutes until it gets soft and translucent. Basically, we want the onion to get all its flavor and sweetness out.
03. Now it's time to add the tomatoes. I give it a good stir to mix with the onion and season with some salt and pepper. Some people like to take the tomato skin off by blanching them, but I prefer to just cut them into cubes. If your tomatoes are overripe sometimes it's easy to remove the skin without blanching and overripe tomatoes will give the Greek eggs and tomatoes a beautiful red color.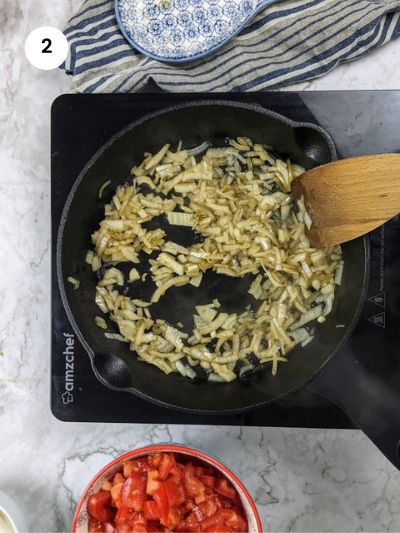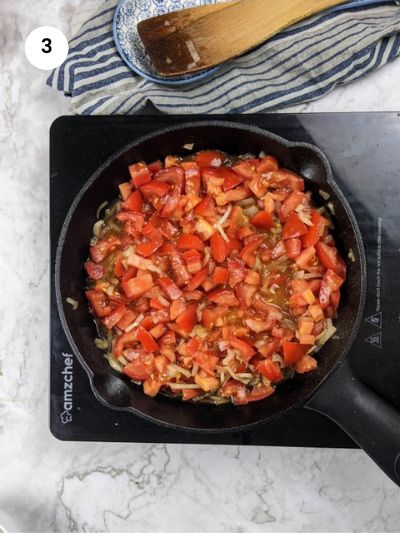 04. It will take about 10 minutes for all the tomato juices to evaporate and to get more saucy. The key for a nice strapatsada dish, is to cook the tomatoes well until all the juices are gone. Make sure that the heat is not very high, we want to simmer the tomatoes.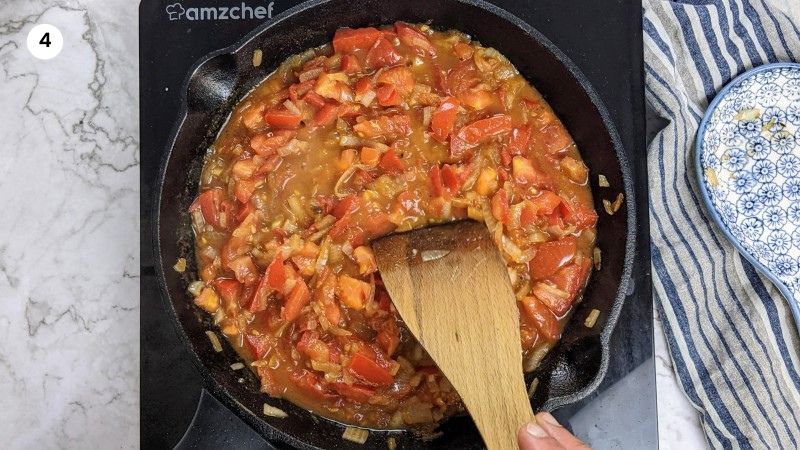 05. When the tomatoes are ready, it's time to add the eggs. I'm using 5 medium eggs for my strapatsada that gives me a nice balance between the eggs and tomatoes. I break the eggs in a bowl and simply beat them with a fork just enough to break the yolks. Then, I add them to the pan and gently stir. The heat needs to be medium-low as we don't want to burn the eggs but cook them slowly with the tomatoes.
06. On top of the tomatoes and eggs, I start crumbling the feta cheese. I'm using about 100gr of feta cheese, that's around half a cup when crumbled. Along with the feta cheese I'm adding about a tablespoon of oregano that is going to give a nice aroma to my Greek eggs and tomatoes. Oregano is an aromatic herb that compliments a lot tomatoes and feta cheese.
Some people don't add feta cheese to strapatsada as they don't like the taste of it or they don't like it when melted. My grandma actually would often make it just with tomatoes and eggs. If you are not a big fan of feta cheese, you could leave it out or if you simply don't like it melted, then you could just crumble some on top when served.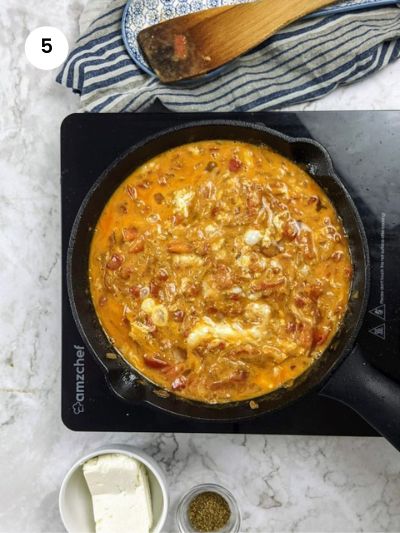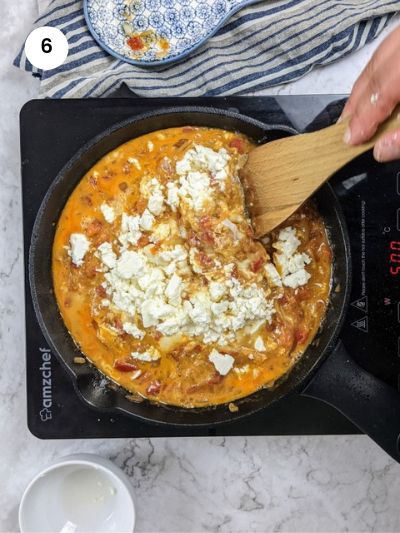 07. It will take about 10 minutes to get the eggs cooked and in the meantime I keep stirring every now and then so the eggs don't stick to the bottom of the pan.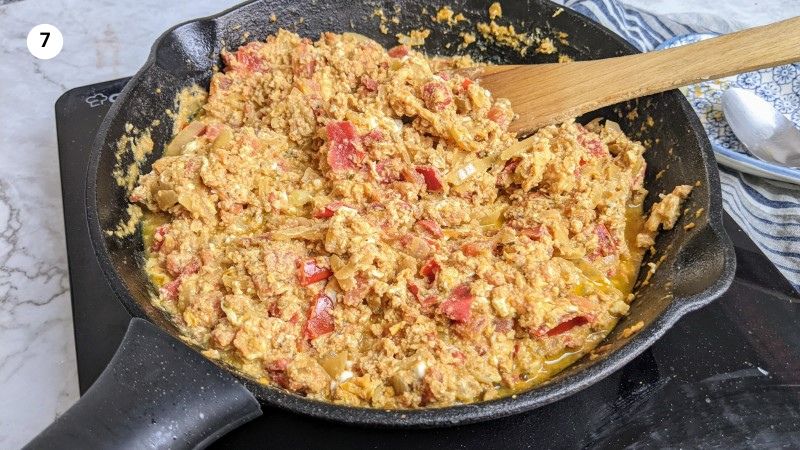 Serving suggestions
Serve this strapatsada dish while it's still warm. We like to have it as a side dish with our main or as a light lunch with some salad or potato wedges on the side and a slice of warm, crispy bread or some pita bread. It's also quite nice for breakfast or brunch as it's quite filling and full of protein and goodness.
Storage
If you have any leftover Greek eggs with tomatoes, you could store it in the fridge and have it on the next day. Before serving, make sure it's warmed up well in a pan or microwave until piping hot.
FAQ
Does strapatsada have cheese in it? You could make strapatsada without adding any cheese in it, simply with tomatoes and eggs. For a creamier and tangy taste, you could add some crumbled feta cheese to the pan while it's being cooked.

Can I use canned tomatoes for strapatsada? You could use a can of chopped tomatoes to make the Greek scrambled eggs and tomatoes instead of fresh tomatoes cut in cubes.

What can I serve with strapatsada? You could serve the strapatsada with some slices of bread or pita bread to enjoy as a meze or appetizer. For a meal, you could serve it with some wedges or salad on the side.
Watch the video
Greek Eggs With Tomatoes - Strapatsada
Strapatsada is a Greek dish made mainly with eggs and tomatoes that will take you only 30 minutes to make. Serve it with some slices of bread or some green salad. Enjoy!
Print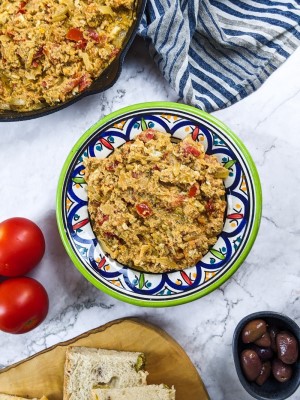 Ingredients
4 medium tomatoes
5 eggs
100gr / 3.5 oz feta cheese
1 onion
1 tablespoon of oregano
2 tablespoons of olive oil
salt & pepper
Instructions
Cut the tomatoes into cubes and set them aside. Cut the onion into cubes.

In a frying pan, add the olive oil and the onion. Saute for 3-4 minutes over medium heat until the onion is soft and translucent.

Add the tomatoes and simmer for about 10 minutes until the juices have evaporated. Season with salt and freshly ground pepper.

Add the eggs to a bowl and stir just enough to break the yolks. Add the eggs to the pan and the crumbled feta cheese on top.

Add the oregano and gently stir with a spatula to break down the eggs.

Cook for 8-10 minutes in low heat until the eggs are cooked.

Serve immediately while it's still hot.
Notes
- You could add some chili flakes if you like hot spicy flavors.
- If you don't like the texture of melted feta cheese, you could leave it out or simply add some on top after the eggs are cooked.
Storage
Store the strapatsada in the fridge and consume within 1 day.
Nutrition Info (per serving)
Calories: 334kcal | Carbohydrates: 15g | Protein: 20g | Cholesterol: 328mg | Fat: 22g | Saturated Fat: 7g | Polyunsaturated Fat: 3g | Monounsaturated Fat: 10g | Fiber: 3g | Sodium: 625mg | Potassium: 593mg | Sugar: 8g
I am not a nutritionist. The nutrition information has been calculated using an on-line calculator, and is intended for information and guidance purposes only. If the nutrition information is important to you, you should consider calculating it yourself, using your preferred tool.