Bougiourdi or Bouyiourdi is a dish that you can find in tavernas and meze places, especially in northern Greece. This Greek delicacy is very easy to make and it's basically a combination of feta cheese with tomatoes and peppers baked in an ovenproof dish until the tomatoes and peppers get soft and the feta cheese melts. It's a Mediterranean fondue type of dish, that is very refreshing and we enjoy it with some crispy bread or pita bread slices.
You will find a few variations of this dish, with the main ingredients always being feta cheese and tomatoes. Some people are using cherry tomatoes, tomatoes cut in slices or a combination of tomato cubes and tomato slices like in my recipe here. As for the peppers, some people like to add a hot spicy pepper especially if bougiourdi is served as a meze dish to accompany drinks or if you are not a fan of hot flavors, you could simply use sweet bell peppers. So let's get started!
Jump to:
Why you should try my recipe
Very easy to prepare.
You only need 5 ingredients to make it.
Great side dish or appetizer with some crispy bread or pitta bread.
Perfect for gatherings as a meze dish.
Ingredients & How-to
This recipe for baked feta cheese with tomatoes is very simple and has only a few ingredients: tomatoes, feta cheese, peppers, oregano, olive oil, salt and pepper. That's it, simple! For full quantities check the recipe down below.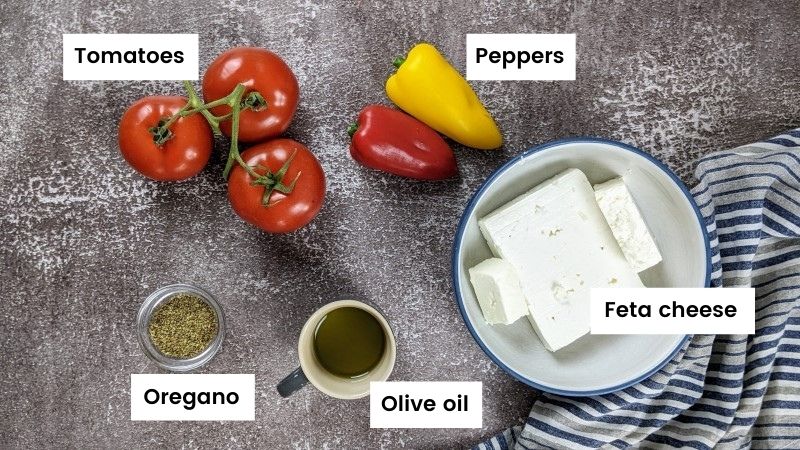 01. I start with cutting the tomatoes. I'm using 3 medium tomatoes that are ripe and juicy. You could also use a mix of tomatoes and cherry tomatoes if you prefer. I'm cutting two of the tomatoes into cubes and the other one into thin slices.
02. Traditionally, we add a mix of hot and sweet peppers. Since we are sharing this with the little ones in my family, I just add bell peppers, but it's up to you and your preferences. I cut the peppers in half and remove all the seeds, then I simply cut them into slices.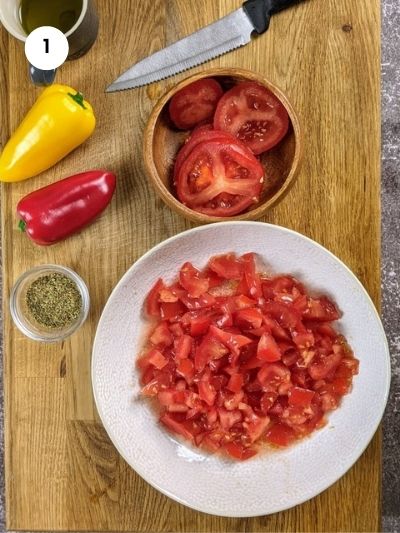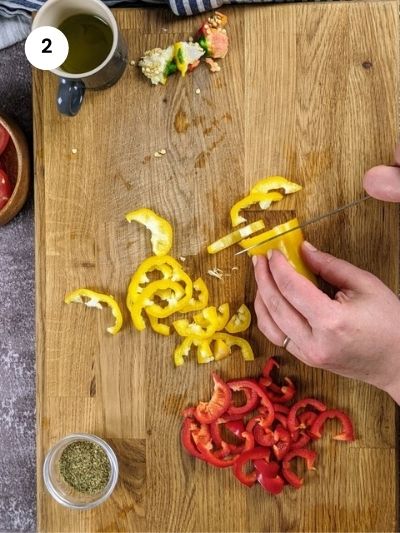 03. Now that the vegetables are cut, it's time to add everything to the ovenproof dish. Firstly, I add the tomato cubes with the peppers and mix them all well. I like to drizzle with some olive oil for some extra goodness, but try not to overdo it as we don't want the bougiourdi to be very oily and heavy. We need a nice balance of olive oil and juices from the tomatoes and peppers. Just a couple of tablespoons are enough.
04. On top of the tomatoes and peppers, I start crumbling the feta cheese to almost cover all the top. I'm using a block of feta cheese, that's about 200gr or a bit more than a cup when crumbled. Feta cheese is a key ingredient to bougiourdi, but you will find that many Greek people like to also add some grated or cut into cubes goats cheese like graviera or kefaloturi. This will make the bougiourdi a bit more stringy as the cheese will melt, so it's up to you and your preferences.
I sprinkle the feta cheese with half of the oregano and season with some salt and freshly ground pepper. If your feta cheese is too salty, or you simply are on a low sodium diet, you could leave out the salt and just stick to the oregano and pepper.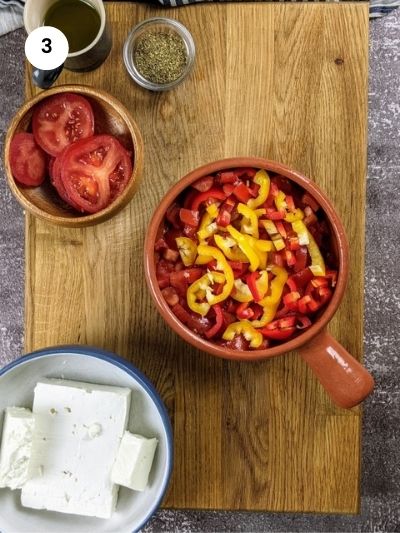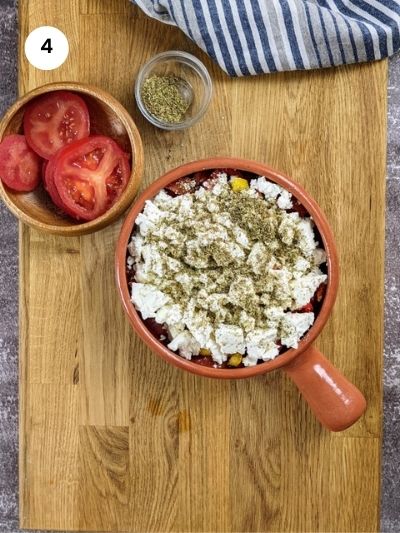 05. For the final touch, I'm adding the tomato slices on top of the feta cheese and I sprinkle with the remaining oregano. Make sure the tomato slices are not too thick, as they won't get as soft as we need them.
06. Before putting the ovenproof dish in the oven, I cover it with some kitchen foil. As the feta cheese and tomatoes can get easily burnt, we cover it so it gets slowly cooked in all its juices and then towards the end, I remove the foil and put it back in the oven for a few more minutes to get a nice color on the feta cheese and the tomato slices.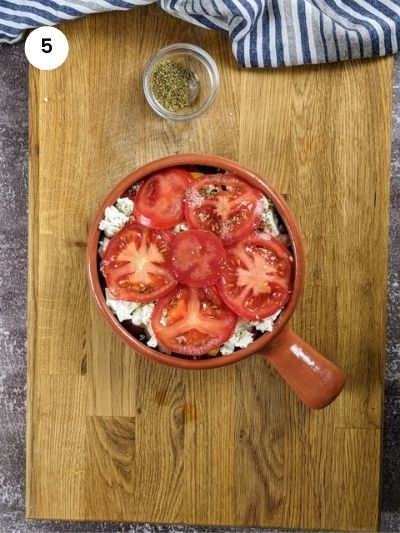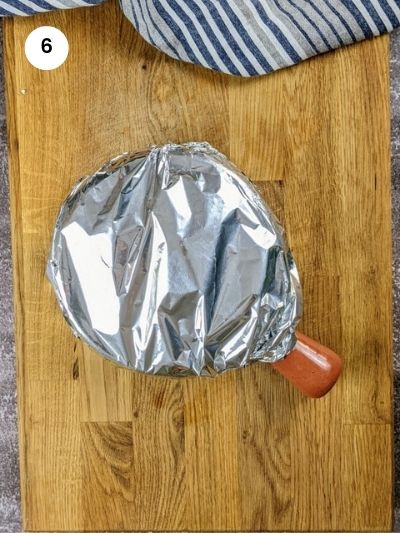 Serving suggestions
Before serving this baked feta cheese with tomatoes dish, I mix everything well while it's still in the ovenproof dish and it's hot. This way, all the feta is mixed with the tomatoes and peppers and when you get a bit with your fork or bread you will have a taste of everything.
Bougiourdi is a meze or tapas dish that we have as an appetizer or a side dish. You will find it in many tavernas menus, especially in northern Greece, and people often have it when they are out for drinks as a meze.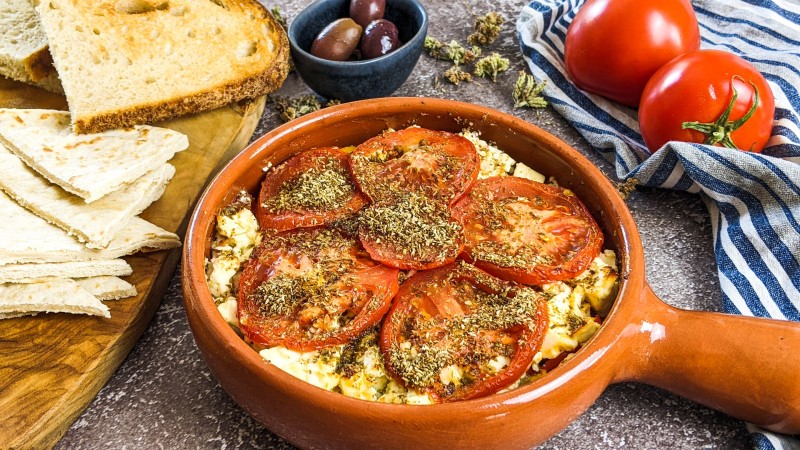 Storage
If you have any leftover bougiourdi, you could store it in the fridge and have it on the next day. Before serving, make sure it's warmed up well in the oven or microwave until piping hot.
FAQ
What type of peppers can I use for bougiourdi? You can use a combination of bell peppers and chilli peppers when making bougiourdi. Just make sure that the peppers are not more than the tomatoes.

What spices can I use for bougiourdi? The main spices that are used for bougiourdi are oregano, salt and ground pepper. For a more hot spicy bougiourdi, you could add some chilli flakes.

What type of cheese do I put in bougiourdi? One of the key ingredients for bougiourdi, is feta cheese. You will find though that in some places they add some goats cheese cubes along with the feta. The feta cheese when baked will get more creamy and crumbly whereas the goats cheese will melt and be more stringy. If you decide to add some goats cheese, just make sure that it's less than the feta, around ¼ of it.
Watch the video
Bougiourdi - Baked Feta Cheese With Tomatoes
This baked feta cheese with tomatoes, otherwise known as bougiourdi, is the ultimate meze dish. So easy to prepare, with only 5 simple ingredients that everyone can make. A dish you can share with friends at gatherings or enjoy with some drinks as a tapas or meze. Serve it with some bread to soak all the juices and some olives. Enjoy!
Print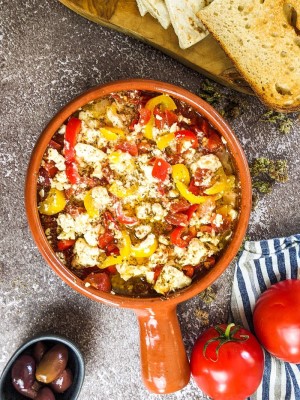 Ingredients
3 medium tomatoes
200gr / 1 ⅓ cup feta cheese
1-2 bell peppers
1 tablespoon of oregano
2 tablespoons of olive oil
salt & pepper
Instructions
Cut 2 of the tomatoes into cubes and the other one into slices. Cut the peppers in half lengthwise, remove any seeds and then cut them into slices.

In an ovenproof dish, add first the diced tomatoes and the peppers. Drizzle with some olive oil.

Add the crumbled feta cheese on top. Sprinkle half of the oregano on top. Season with salt and pepper.

Add the tomato slices on top of the feta and sprinkle with the remaining oregano.

Cover with foil and bake for 30 minutes at 180°C/350°F. Uncover and bake for 15 more minutes.
Notes
- You could add a chili pepper if you like spicy flavors.
- If your feta cheese is too salty, you could leave out the salt and just add oregano and ground pepper.
Storage
Store the bougiourdi in the fridge and consume within 2 days.
Nutrition Info (per serving)
Calories: 207kcal | Carbohydrates: 9g | Protein: 12g | Cholesterol: 26mg | Fat: 14g | Saturated Fat: 6g | Polyunsaturated Fat: 1g | Monounsaturated Fat: 5g | Fiber: 2g | Sodium: 677mg | Potassium: 283mg | Sugar: 4g
I am not a nutritionist. The nutrition information has been calculated using an on-line calculator, and is intended for information and guidance purposes only. If the nutrition information is important to you, you should consider calculating it yourself, using your preferred tool.