Everyone in my family loves these roasted potatoes, they are very light, aromatic and have a sweetness from the orange juice and the maple syrup. Very soft on the inside and with a lightly crispy exterior. They are also vegan as they don't have any butter, just a bit of olive oil. They don't require much of a prep, really easy and quick to prepare your ingredients and then just put them in the oven for about an hour and they are ready!
Ingredients & How-to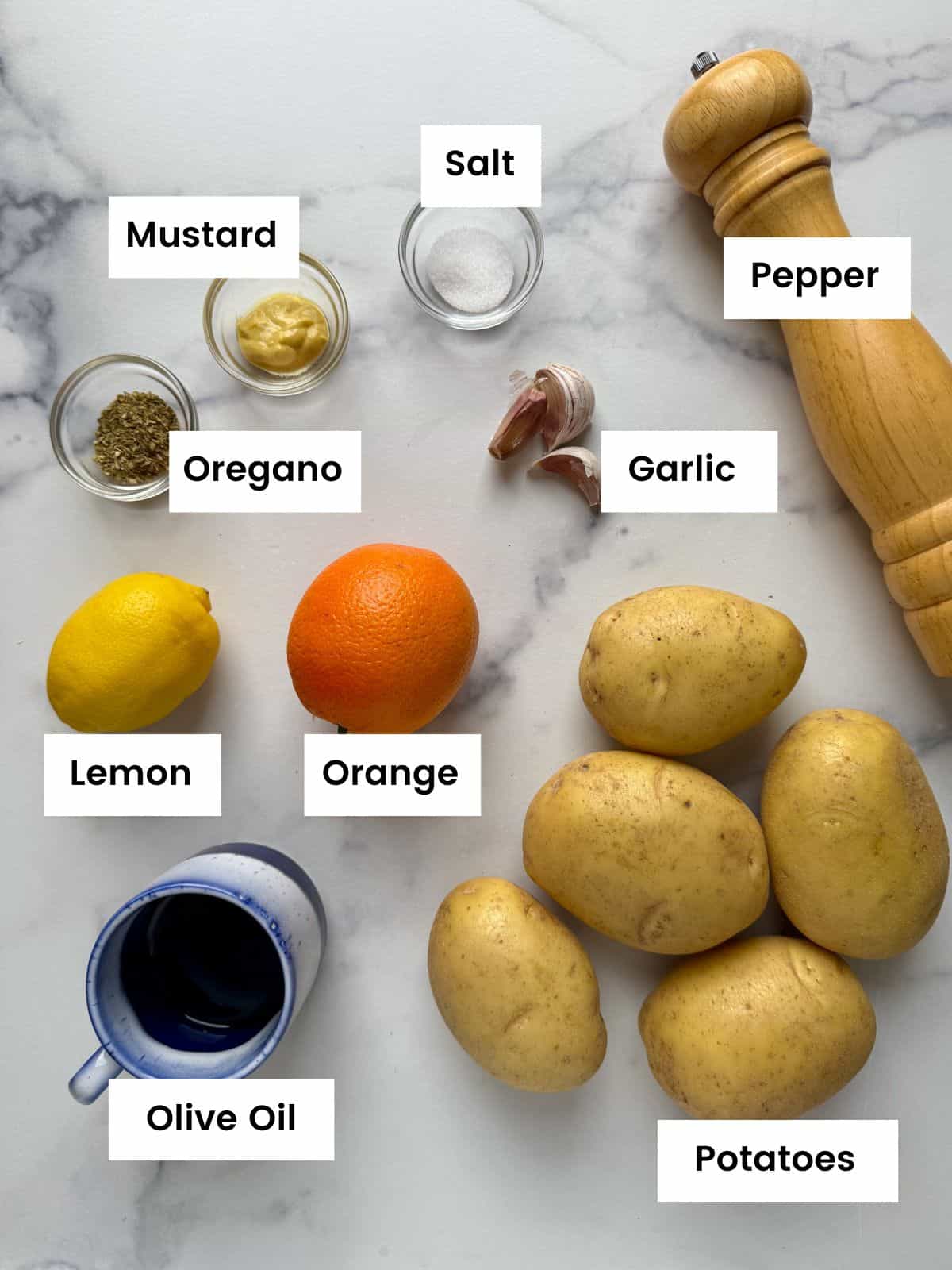 I use five large potatoes that I first peel, cut lengthwise and then into 1.5″ cubes. I find that this is the perfect bite size and also great for little ones to grab with their little fingers. You could also leave the skin on, especially if you have new potatoes, I leave it to you.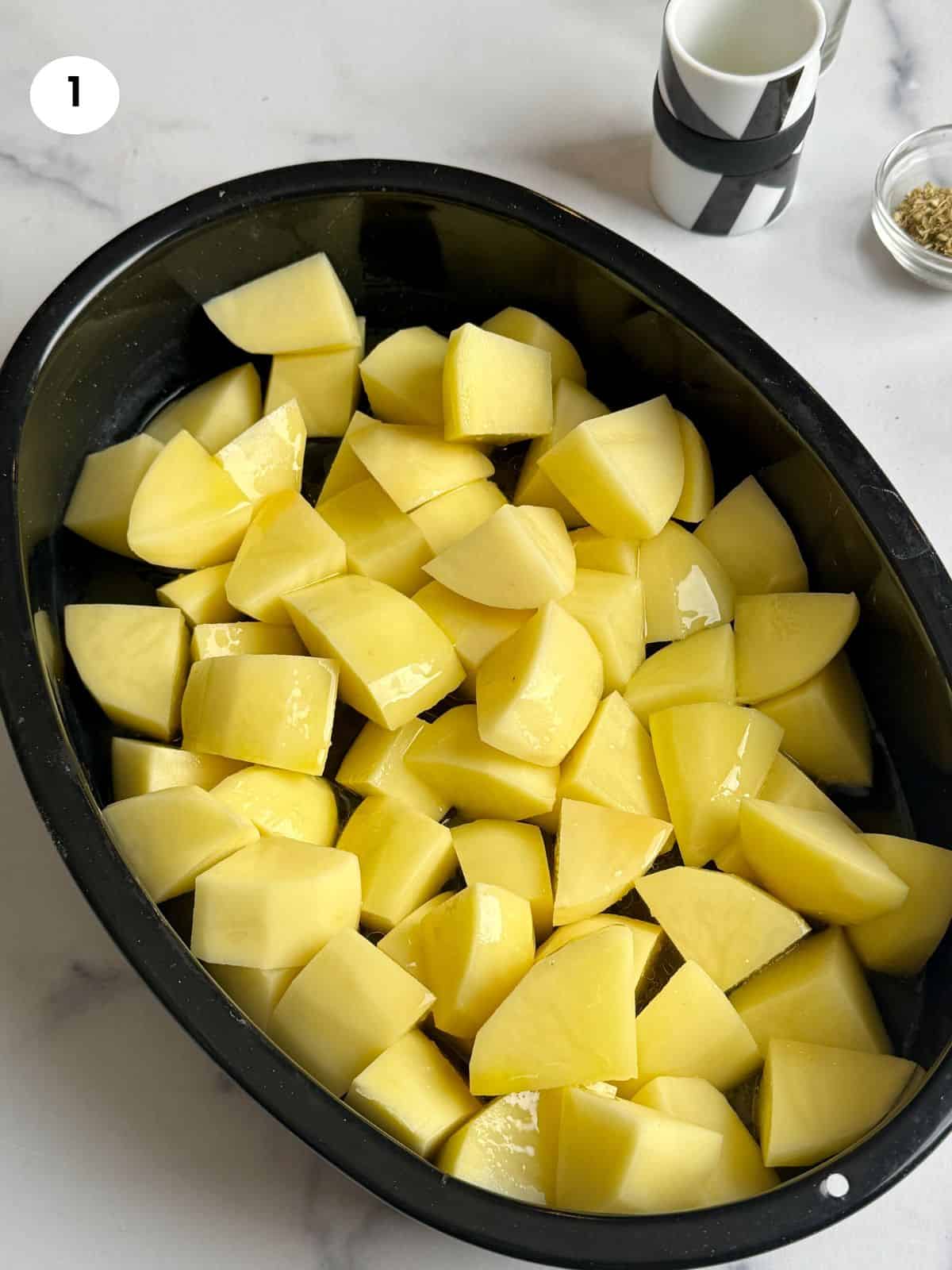 My secret mixture that gives that sweet and aromatic flavor is a mixture of orange & lemon juice with some mixed herbs and maple syrup. I always have a dried herbs mix in my kitchen. Usually, it is a mix of oregano, parsley, thyme and basil. If you don't have one then just use some oregano and thyme as I think these two are a must for the flavor. You could also substitute maple syrup with honey if you prefer the flavor of the latter. Just give it a good stir as honey tends to be a bit thicker than maple syrup.
Finally, I pour the mixture over the potatoes and give it a nice mix using my hands or a spoon so all of them are well coated. You don't need to add any water as you have plenty of liquids from the orange and lemon juice. Make sure you put a lid on the baking tray or some kitchen foil as you want to keep the moisture in. That way the potatoes will be soft inside. Then I remove the cover and bake for a bit longer to get a more crispy exterior.
Mamazilla's Product Recommendations
Serving suggestions
We usually have them as a side dish with some meat or my grilled meatballs but they do taste nice also just on their own. These are also great for little ones as they are the perfect size for their little fingers. Just skip the salt if you are serving a baby under 12 months.
Storage
Store any leftovers in the fridge and consume within 2-3 days. Herb roasted potatoes taste great when they come out of the oven but also on the next day. Just warm them up in the microwave for a minute or in a small pan.
Watch the video
Easy Herb Roasted Potatoes
You are going to love these herb roasted potatoes! So mediterranean, they are very light, aromatic and easy to prepare. Did I tell you they are also vegan? No butter here, just olive oil. Their sweetness comes from an orange and some maple syrup. So yummy!
Print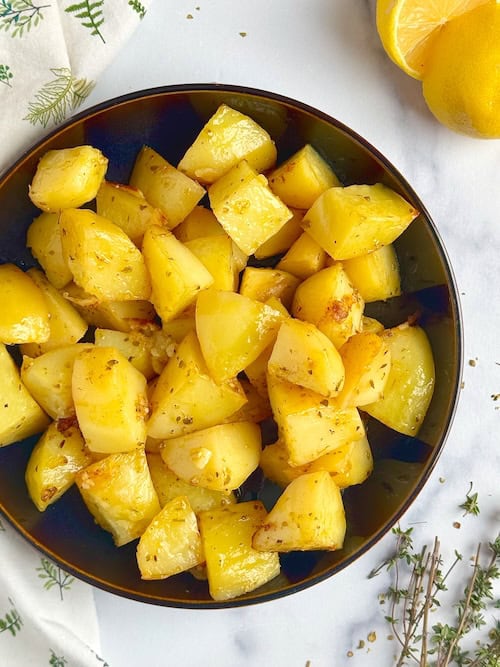 Ingredients
5 large potatoes
1 lemon
1 orange
⅓ cup olive oil
1 tablespoon of mixed dried herbs
2 teaspoons of mustard
1 tablespoon of maple syrup
pinch of pepper & salt
Instructions
Preheat the oven to 180°C/350°F

Peel the potatoes and cut each one first lengthwise and then into 1.5″ cubes.

Take the juice of a lemon and an orange.

In a small bowl, mix the lemon juice, orange juice, olive oil, mustard, maple syrup and mixed herbs.

Add the potatoes to a big tray and pour over the mixture. Mix well so all potatoes are well coated.

Cover the tray with a lid or foil.

Bake for 45 minutes. Remove cover and bake for 15 more minutes.
Notes
You can replace maple syrup with honey.
Storage
Store in the fridge and consume within 2 days.
Nutrition Info (per serving)
Calories: 224kcal | Carbohydrates: 14g | Protein: 1g | Cholesterol: 0mg | Fat: 19g | Saturated Fat: 3g | Polyunsaturated Fat: 2g | Monounsaturated Fat: 13g | Fiber: 1g | Sodium: 71mg | Potassium: 195mg | Sugar: 3g
I am not a nutritionist. The nutrition information has been calculated using an on-line calculator, and is intended for information and guidance purposes only. If the nutrition information is important to you, you should consider calculating it yourself, using your preferred tool.