This is a traditional Greek casserole that comes from Crete and it's called 'Boureki', which is basically baked zucchinis and potatoes. In some families, they add a pastry around the filling, similar to shortcrust pastry, but here I'm sharing the way my mom used to make it when we were little.
This Greek zucchini casserole doesn't need much of a prep. It will take you only 10-15 minutes to prepare all ingredients. Then you just put everything in a tray, mix them well, and let the oven do all the work. The recipe can serve a big family or, if you are a small family, you have your lunch sorted for the next day. Yey!
Jump to:
Why you should try my recipe
Easy to prepare in only 15 minutes and then let your oven do all the work.
Delicious Vegetarian dish full of vegetables and goodness.
Whole tray to feed a big family or save you from cooking the next day.
Stores well in the fridge for up to 3-4 days.
Ingredients & How-to
The key ingredients for the Greek Boureki are the zucchinis, the potatoes and the cheese. The rest of the ingredients are here to add to the flavor and to link the key ingredients together into this delicious, mouth-watering casserole dish.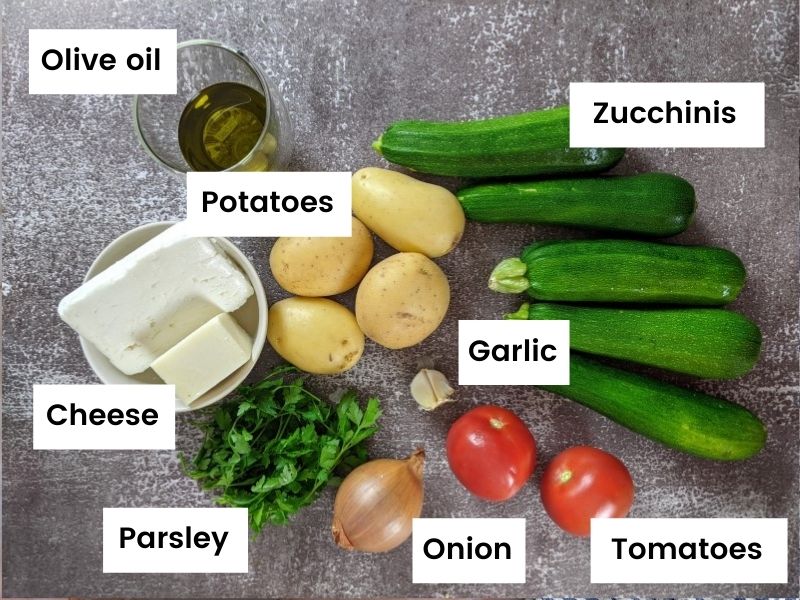 01. I start with the zucchinis. After I give them a good wash, I trim both ends to remove the hard bits. Then I cut them into slices of 0.5cm / 0.2'' thickness.
02. Moving on to the potatoes. I peel them and cut them into slices with the same thickness as the zucchinis, 0.5cm / 0.2''. I'm using four medium potatoes but you could use more or less depending on the size. Remember, you need a good balance between the zucchini and the potato slices.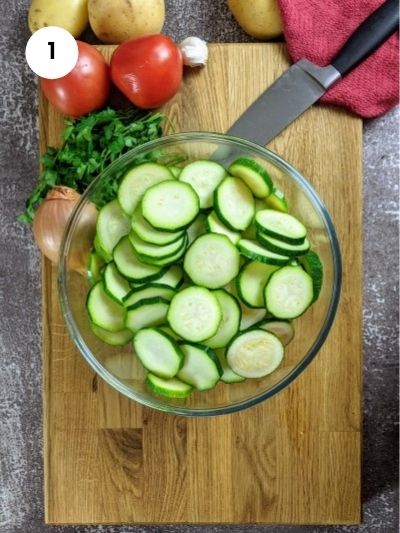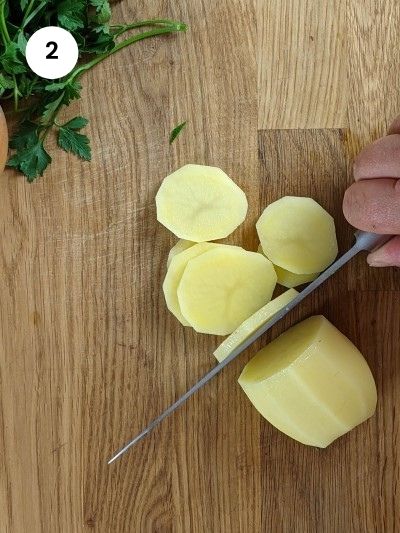 03. The next step is to cut the onion and the garlic. I peel the onion and then roughly cut it into cubes. Same with the garlic cloves, I peel them and then I roughly cut them.
04. Then, it's time for the parsley. I give it a good wash, remove the hard stems and then finely chop it. I'm using a bunch of parsley, that's around 3 tablespoons after being chopped.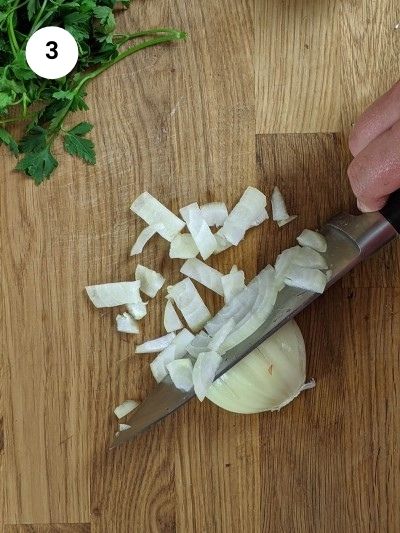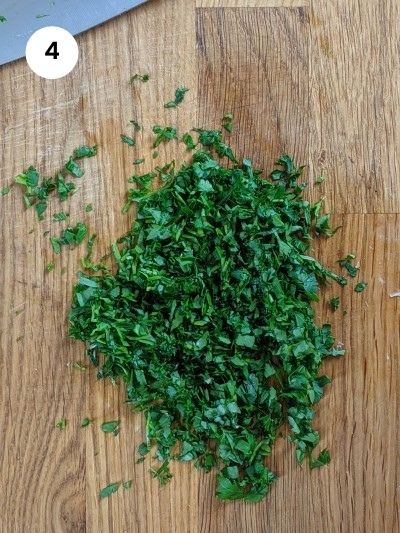 05. Now it's time for the tomatoes. I'm using 2 medium sized tomatoes, that I just wash well and put into a small chopper to blend them. You could also use a hand grater and grate them on the thick side. Whatever suits you best.
06. Just give it a couple of spins, and the tomatoes are blended and ready to be added to the casserole. If you don't have any fresh tomatoes, then you could use ½ cup of canned chopped tomatoes instead. You will just need to add a little bit more water to the tray as the canned tomatoes are less watery compared to the fresh ones.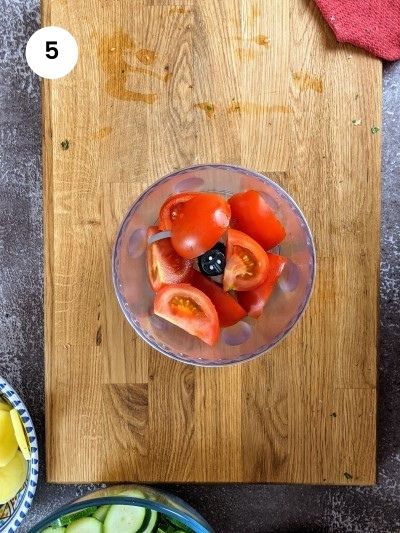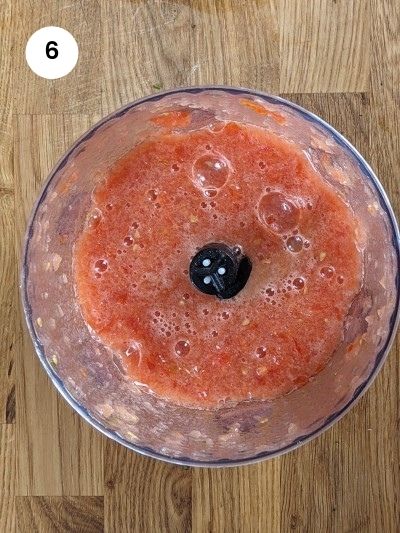 Mamazilla's Product Recommendations
07. Now it's time to combine all the ingredients and put them in the tray. I add all the vegetables: zucchinis, potatoes, onion, garlic, parsley, tomatoes to a big tray. You want the tray to be full till the middle, if the vegetables are packed in a small tray then the top ones will dry out and the bottom ones will overcook and melt. I'm using a baking tray with dimensions around 10x 14in (27x37cm) as a reference.
For the cheese, I like to add two different types. I use one block of feta cheese that I just crumble with my fingers. If you don't like feta cheese, you could replace it with a soft cheese like ricotta or myzithra. I also add some grated hard cheese like graviera, kefaloturi, parmesan, manchego, romana or hard goats cheese. Whichever you prefer and you can find at your local store.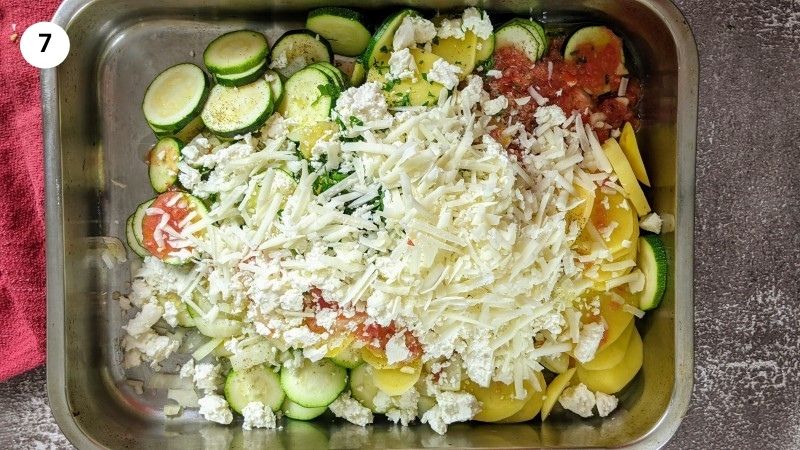 08. I add the seasoning, just a bit of salt and pepper, half a cup of olive oil and half a cup of water. If you are using canned tomatoes then add one cup of water instead of half. With my hands or a spatula, I mix well all the ingredients and now it's time for the oven.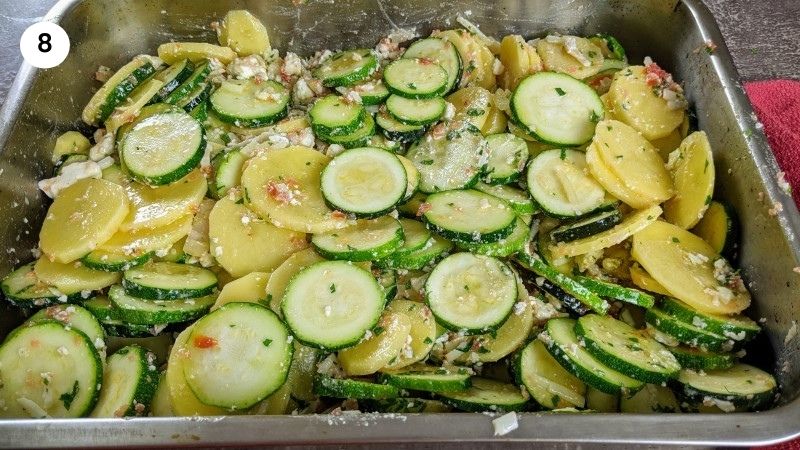 09. I first cover the tray with some kitchen foil and put it in the oven for an hour to bake. Then, I take it out and remove the kitchen foil. If it looks too dry, then you could add half a cup of water. Finally, I put it again in the oven for half an hour uncovered. In this way the potatoes will get a bit more crunchy and have a nice brown color.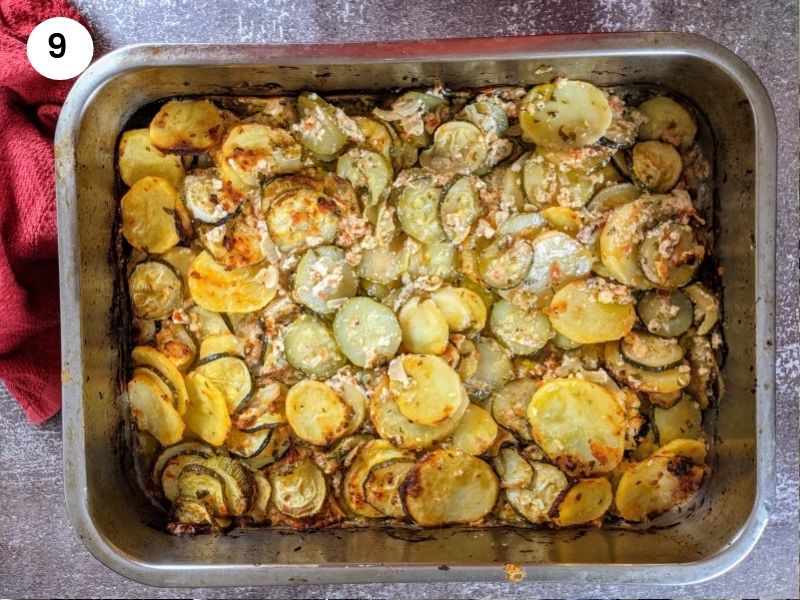 Serving suggestions
We usually have the boureki as main for lunch or dinner with some nice crispy bread on the side. You could also serve it with a light salad like mix of salad leaves with some cherry tomatoes and a drizzle of olive oil.
If you are planning to share this with a little one under 12 months, then do not add any salt when preparing the casserole as the cheese has already enough sodium for the little ones. When serving them, you could cut the potatoes and zucchinis into smaller pieces so it's easier to hold and put in their mouth.
Storage
You can store any leftovers of the zucchini and potato casserole in the fridge for up to 3-4 days. Just warm it up in the microwave or a small pot for a couple of minutes and serve.
FAQ
How long can I keep zucchini casserole in the fridge? You could store the zucchini casserole in an airtight container in the fridge for up to 3-4 days. When ready to eat, simply warm up in a microwave or the stove for a few minutes.

What type of tomatoes can I use for the greek zucchini casserole? I prefer using fresh tomatoes for the Greek zucchini casserole that I blend in a food processor or grate using a hand grater. You could also use canned chopped tomatoes. In this case, you substitute 2 fresh tomatoes with half a cup of canned tomatoes.

What type of cheese can I use for Greek boureki? I like to use a combination of a soft and a hard cheese. You could use 1 block of feta cheese, that's around 200gr, or some soft cheese like ricotta or myzithra cheese (a traditional cretan cheese). For the hard cheese, you could use some kefaloturi, graviera, manchego, romana or parmesan cheese.
Watch the video
Boureki - Greek Zucchini & Potato Casserole
This is a recipe for a traditional Greek dish called Boureki. A combination of zucchini and potato slices, with a mix of soft and hard cheese that will make your mouth water. Such a delicious, rustic food that can feed a big family or you could save some for the next day. It's really easy to prepare all the vegetables and then you just wait for it to be baked. Enjoy!
Print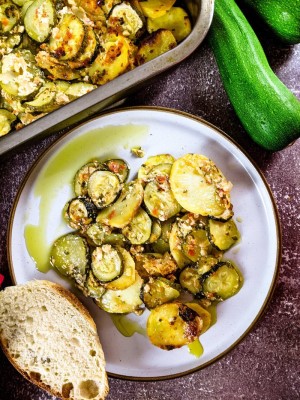 Ingredients
5 zucchinis
4 potatoes
1 onion
2 garlic cloves
1 block / 200gr / 7oz feta cheese or myzithra
2.5oz / 70gr / ½ cup hard cheese (kefaloturi, parmesan, romana, manchego, goats cheese)
a bunch / 3 tablespoons of parsley
½ cup olive oil
2 tomatoes
1 teaspoon of salt
½ teaspoon of ground pepper
Equipment
chopper (paid link)
Tray
Bowl
Grater
Instructions
Start by preparing the vegetables.

Cut the zucchinis into slices with 0.5cm/0.4in thickness. Same with the potatoes.

Chop the onion into dices, roughly chop the garlic cloves and the parsley.

Blend the tomatoes using a food processor or grate them using the thick side of a grater.

On a big baking tray, around 10''x 14'' (27x37cm), add all the chopped vegetables: zucchinis, potatoes, onion, garlic, parsley, tomatoes.

Add the olive oil, salt and pepper.

Crumble the feta cheese using your fingers and add it to the tray.

Grate the hard cheese and add it to the tray.

Add half a cup of water. Mix all ingredients well.

Cover with kitchen foil. Bake in a preheated oven to 180°C/350°F, for 1 hour.

Uncover (if it's too dry, add ½ a cup of water) and bake for 30 more minutes.
Notes
- You could use canned chopped tomatoes instead of fresh ones. In this case, use half a cup of canned tomatoes and add 1 cup of water instead of half a cup.
- You could use any hard cheese of your choice like manchego, romana, parmesan, graviera, kefaloturi etc.

Storage
You can store any leftovers in the fridge for up to 3-4 days.
Nutrition Info (per serving)
Calories: 575kcal | Carbohydrates: 38g | Protein: 8g | Cholesterol: 18mg | Fat: 45g | Saturated Fat: 9g | Polyunsaturated Fat: 4g | Monounsaturated Fat: 26g | Fiber: 6g | Sodium: 820mg | Potassium: 1155mg | Sugar: 7g
I am not a nutritionist. The nutrition information has been calculated using an on-line calculator, and is intended for information and guidance purposes only. If the nutrition information is important to you, you should consider calculating it yourself, using your preferred tool.