This twisted rock cakes or rock buns recipe with chocolate chips instead of mixed fruits and raisins, is equally delicious and easy to make. I fell in love with rock cakes a few years ago when my husband introduced me to them and I keep on making them ever since. We love the traditional ones but I've also tried to make a couple of different variations of them, like this one here, chocolate chip rock cakes.
What I like about the rock cakes is that they are so easy to make and they take just 15-20 minutes to bake. I often get my little one involved as the steps are simple and it's quite fun to make together. As they have a bit of sugar in them, I recommend sharing the rock cakes with little ones sparingly if you trying to minimize the sugar intake. For a healthier, sugar-free version of rock cakes, please check my healthy rock cakes recipe made with fruits.
What are Rock Cakes
Rock cakes or rock buns are traditional British biscuits filled with mixed fruit or raisins. Although they are called 'cakes' they are more like biscuits with a rough surface that resembles a little rock. The key ingredients for rock cakes are sugar, flour, egg and butter. They are hard outside and a bit softer in the middle.
Jump to:
Why you should try my recipe
Very easy to make with simple ingredients.
Ready in just 40 minutes.
Freezable for up to 3 months, so you could make a big batch and have some in hand anytime.
Perfect for guests and as a teatime treat.
Ingredients & How-to
To make these chocolate chip rock cakes, you will need some basic baking ingredients butter, flour, baking powder, vanilla extract, egg, sugar and chocolate chips.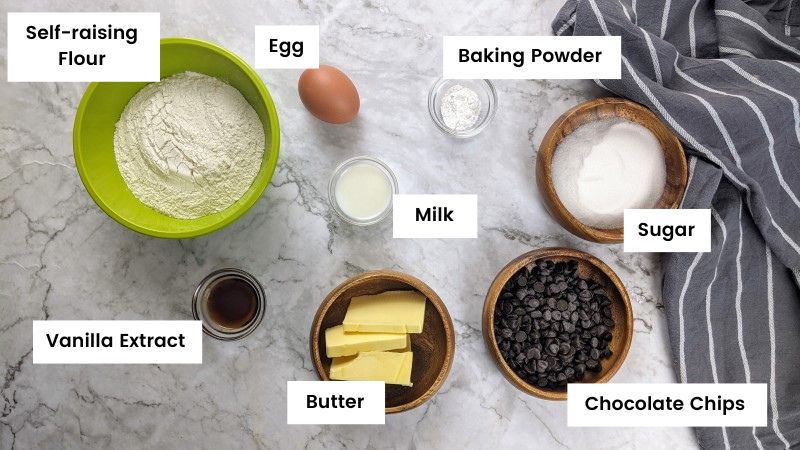 01. To start, I add all the dry ingredients to a bowl, flour, sugar and baking powder. I then add the cold butter, cut into cubes. Using my fingertips, I start rubbing the butter into the flour mixture until it resembles breadcrumbs. You could also use a food processor to mix them to speed up the process.
02. The mixture should resemble breadcrumbs and have a coarse sandy texture. If you shake the bowl then any lumps will come up to the surface. Try to use just your fingertips to get the desired texture as the butter will easily melt if you use your palms.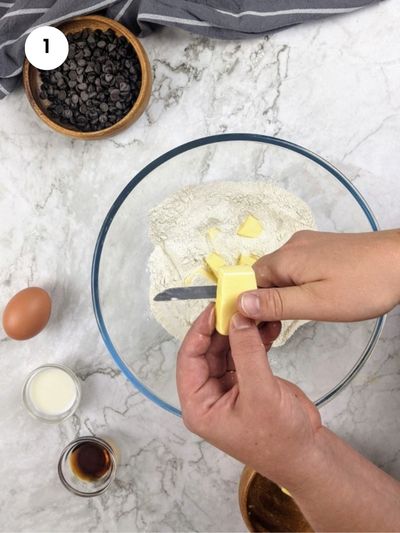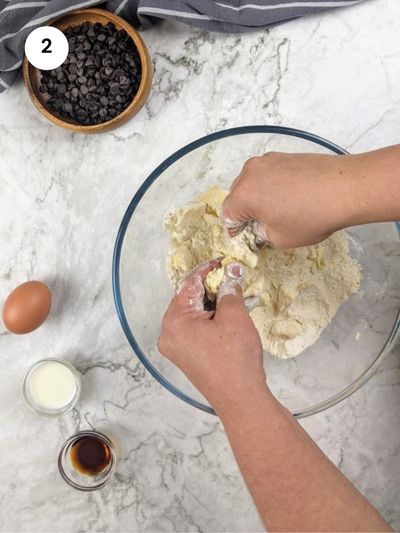 03. When I finish with rubbing the butter, it's time to add all the wet ingredients to the bowl. I add the vanilla extract, a tablespoon of milk and the egg. I gently mix everything with a spatula until it comes together into a nice soft dough.
04. Finally, I add the chocolate chips to the dough. You can use whatever type of chocolate chips you prefer, dark ones or milk chocolate ones or even cocoa nibs for a healthier version. I gently mix them with a spatula to incorporate them into the dough evenly.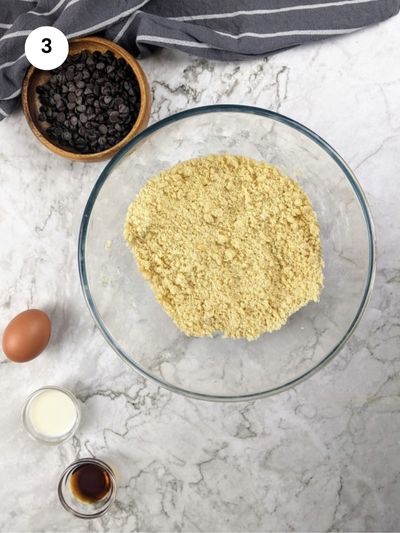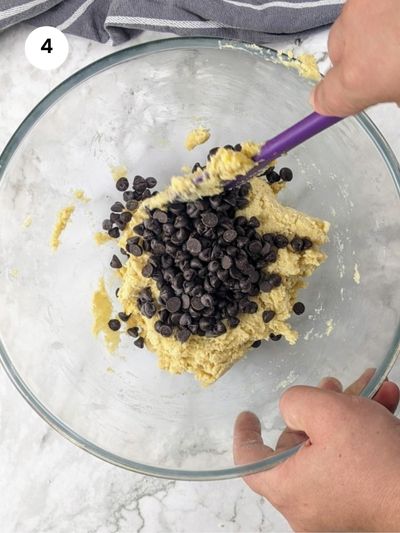 05. Now it's time to place the rock cakes to a lined baking tray. I take a heaped tablespoon of the dough and place it on a lined tray. You don't have to shape it nicely, and that's the beauty of the rock cakes. I usually get around 9 to 12 rock cakes out of the dough, but it depends on how big or small you want them to be.
06. Finally, the oven! I bake the rock cakes for 15-20 minutes until they have a nice golden brown color. When you take them out of the oven, leave them to rest for 3-4 minutes before placing them on a wire rack to cool down completely as they will be soft and easy to break.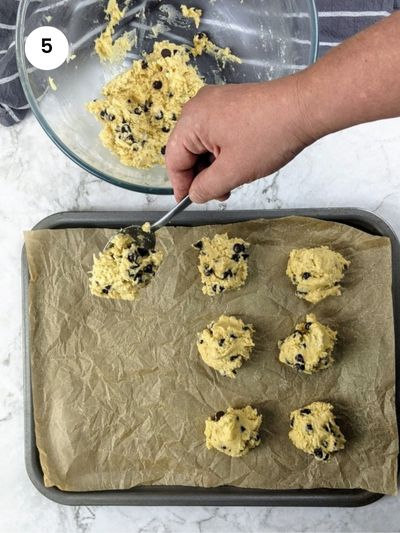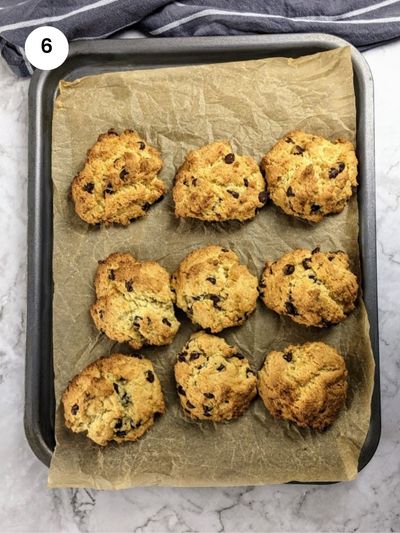 Mamazilla's Product Recommendations
Serving suggestions
We usually have these chocolate chip rock cakes in the morning with a cuppa or as an afternoon treat. You could have them plain or cut them in half and add some butter and jam or any type of spread you like. They are also great for picnics and lunchboxes or simply wrap one and add it in your bag to have as a snack when you are out and about.
Storage
You could store the chocolate chip rock cakes at room temperature for up to a week. They are also freezable for up to 3 months. When you are ready to consume, leave them out at room temperature and eat when thawed completely or warm them up for a minute in the microwave.
FAQ
How long does it take to bake rock cakes? It will take you only 15-20 minutes at 180°C/350°F to bake the rock cakes and get that nice golden brown color.

How to store rock cakes? You can store rock cakes in an airtight container at room temperature for up to 7 days.

Are rock cakes freezable? Rock cakes are freezable for up to 3 months. For defrosting, leave them at room temperature until completely thawed.

Are rock cakes biscuits or cakes? Although called cakes, rock cakes have more of a biscuity texture. They don't have a soft spongy texture like cakes but are more crumbly and buttery.
Watch the video
Chocolate Chip Rock Cakes
These rock cakes have chocolate chips instead of mixed fruit like the traditional english ones but they are equally delicious and yummy. They are great as a tea time treat, for picnics, lunchboxes and many more. Very easy to make and ready in half an hour, a must try sweet treat. Enjoy!
Print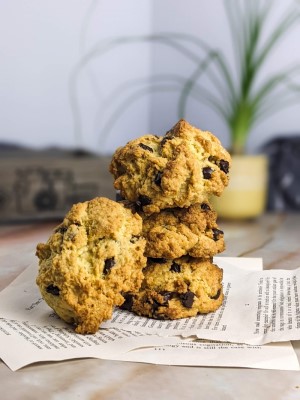 Ingredients
250gr / 2 cups self-raising flour
85gr / ½ cup chocolate chips
110gr / 1 stick cold butter
50gr / ¼ cup sugar
1 teaspoon of baking powder
1 tablespoon milk
1 egg
2 teaspoons vanilla extract
Instructions
Mix in a bowl the flour, sugar and baking powder. Add the cold butter cut in cubes to the mixture.

Rub it into the flour mixture using your fingertips until the mixture resembles breadcrumbs.

Add the egg, milk and vanilla extract. Using a spatula or your hands, mix everything together until it becomes dough.

Add the chocolate chips and incorporate into the dough.

Using a spoon, place 9-12 balls (no need for a perfect shape here) of the mixture into a lined baking tray.

Bake for 15-20 minutes or until golden brown in a preheated oven to 180°C/350°F. Allow them to cool down for a couple of minutes, then turn them out onto a wire rack.
Notes
You could use dark or milk chocolate chips or even chocolate nibs.
Storage
Keep them in an airtight container at room temperature for up to a week. Rock cakes are also freezable for up to 3 months.
Nutrition Info (per serving)
Calories: 206kcal | Carbohydrates: 26g | Protein: 5g | Cholesterol: 86mg | Fat: 9g | Saturated Fat: 5g | Polyunsaturated Fat: 1g | Monounsaturated Fat: 2g | Fiber: 1g | Sodium: 236mg | Potassium: 31mg | Sugar: 10g
I am not a nutritionist. The nutrition information has been calculated using an on-line calculator, and is intended for information and guidance purposes only. If the nutrition information is important to you, you should consider calculating it yourself, using your preferred tool.