These greek orange cookies remind me of my childhood. My mom used to make this kind of cookies all the time when I was young and I'd usually have them with a glass of milk. These orange cookies or 'koulourakia', as we call them in Greek, are great for people that are vegan or follow a dairy-free diet, are full of flavor and orangy aromas, and most of all, ready in less than 40 minutes. You can enjoy them with your afternoon coffee or why not, take a couple with you when you are out and about.
If you haven't tried Greek cookies before, let me enlighten you. Greek koulourakia don't have the usual round shape. We usually make them in coil shape, braided or in a circle. The texture is also very different to soft cookies (like chocolate chip cookies) and resembles more of biscuits. Greek cookies that are made with butter and baking powder like Greek easter cookies are more soft in the middle and airy. The vegan Greek cookies like these orange ones or another favorite of mine, the grape molasses cookies, have oil instead of butter and that makes hard and crunchy. These cookies are great dippers for coffee or a cup of milk (the way my daughter loves to have them).
Jump to:
Why you should try my recipe
Very easy to prepare, you just mix the ingredients altogether.
Ready in less than 40 minutes.
Great dippers for coffee or a glass of milk.
Hard outside and soft in the middle.
They can last for a couple of weeks at room temperature.
Ingredients & How-to
This greek orange cookies recipe has only 6 simple ingredients: flour, baking powder, baking soda, orange, powdered sugar and olive oil.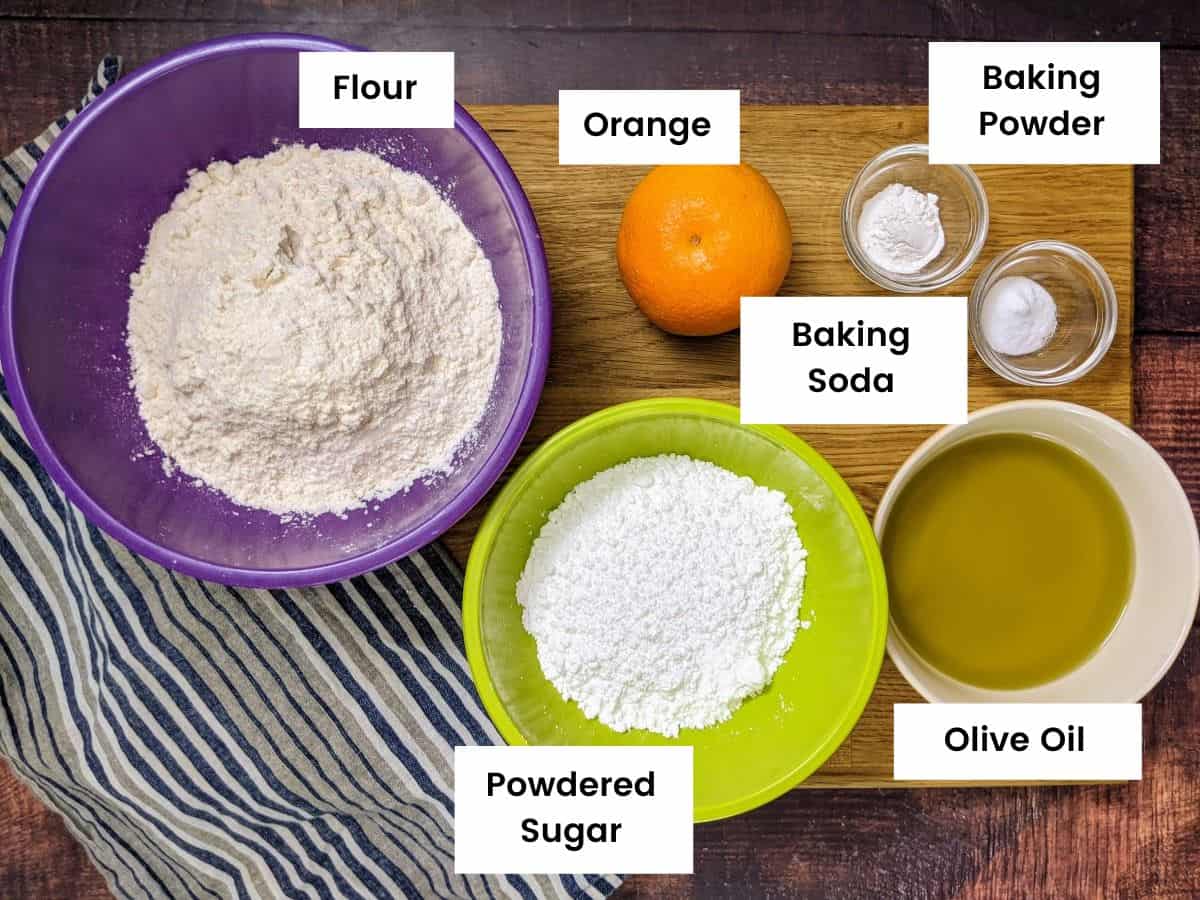 01. I start by mixing the powdered sugar and the oil together. I like using powdered sugar instead of caster sugar in this recipe, as powdered sugar will dissolve easier and faster with the olive oil just by stirring it for a couple of minutes.
02. When the sugar has dissolved, I add the orange zest and give it another stir to combine.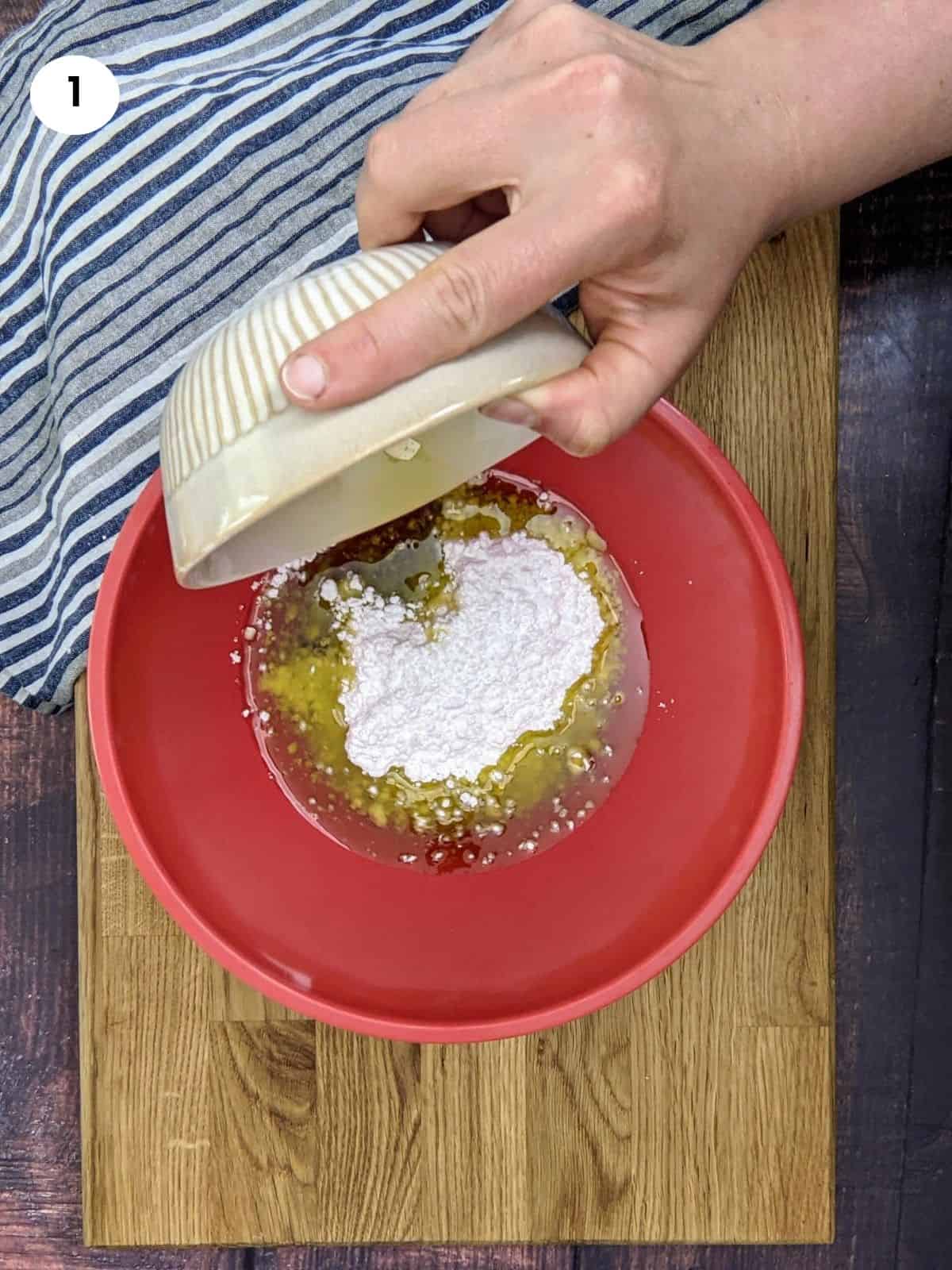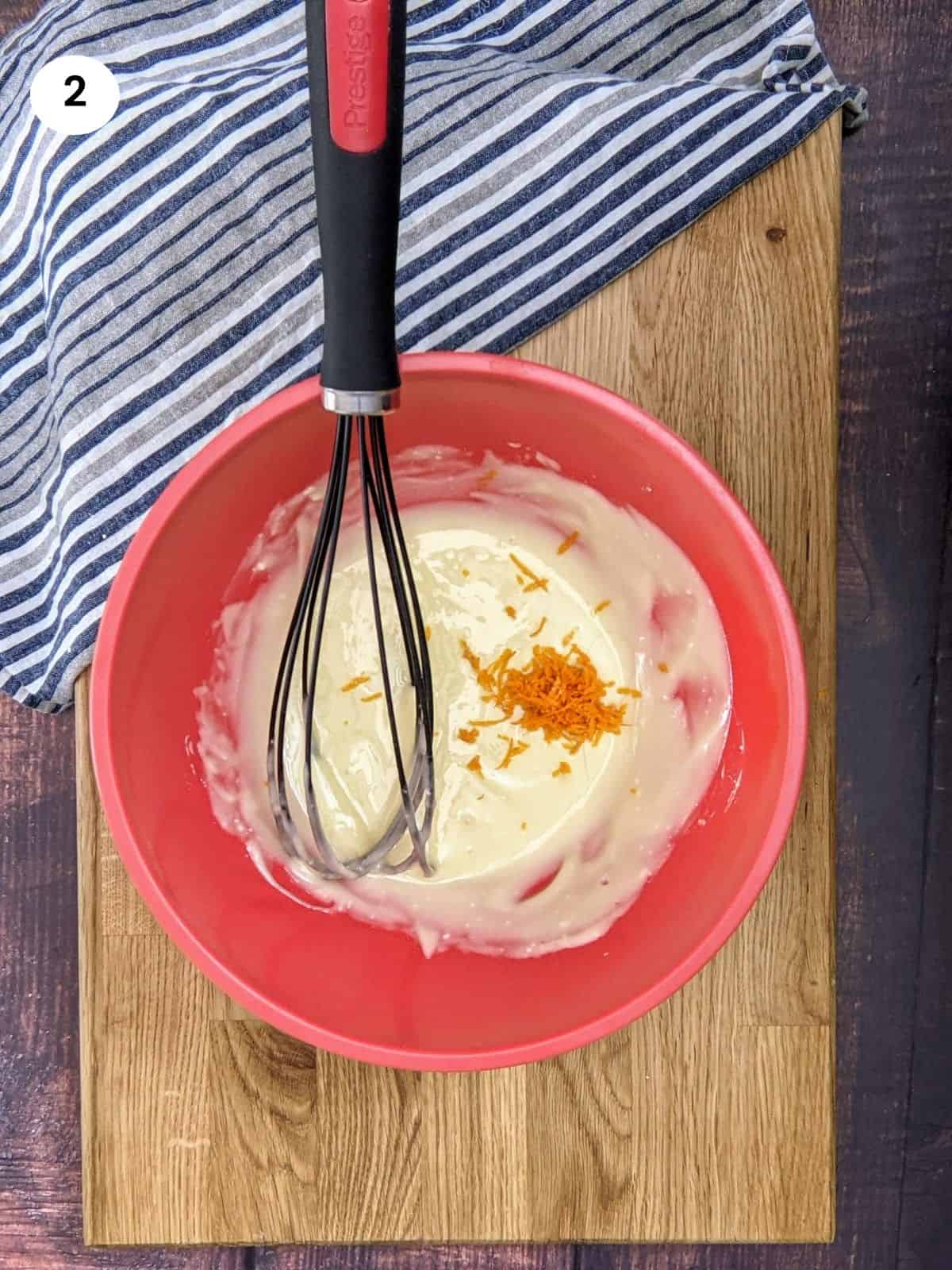 03. Then, I squeeze the juice out of the orange and mix it with the baking soda. This is a key step, as the orange juice with the baking soda will cause a reaction and the mix will start foaming.
04. I then add the orange juice to the powdered sugar and oil mixture and stir it a bit to combine.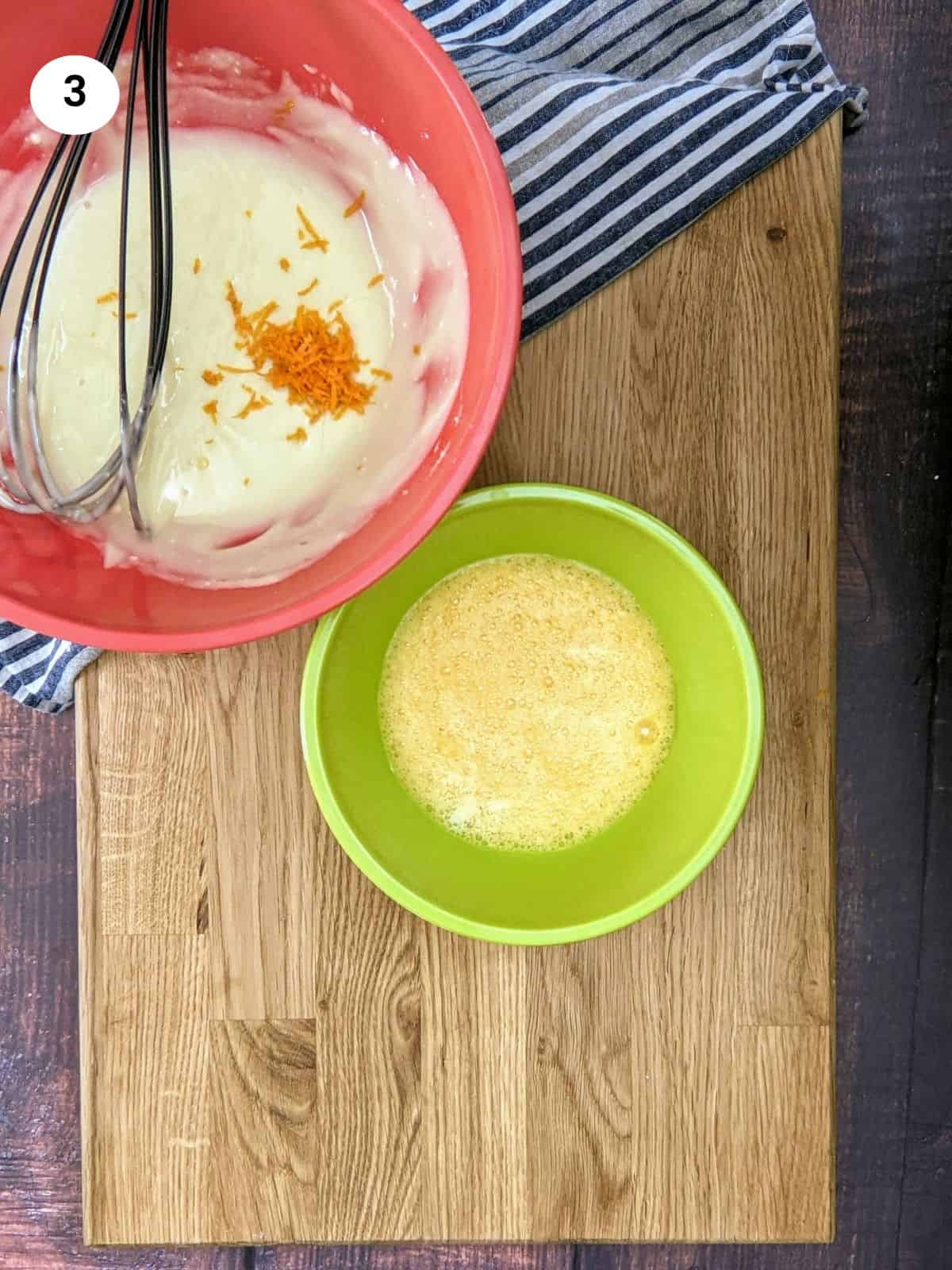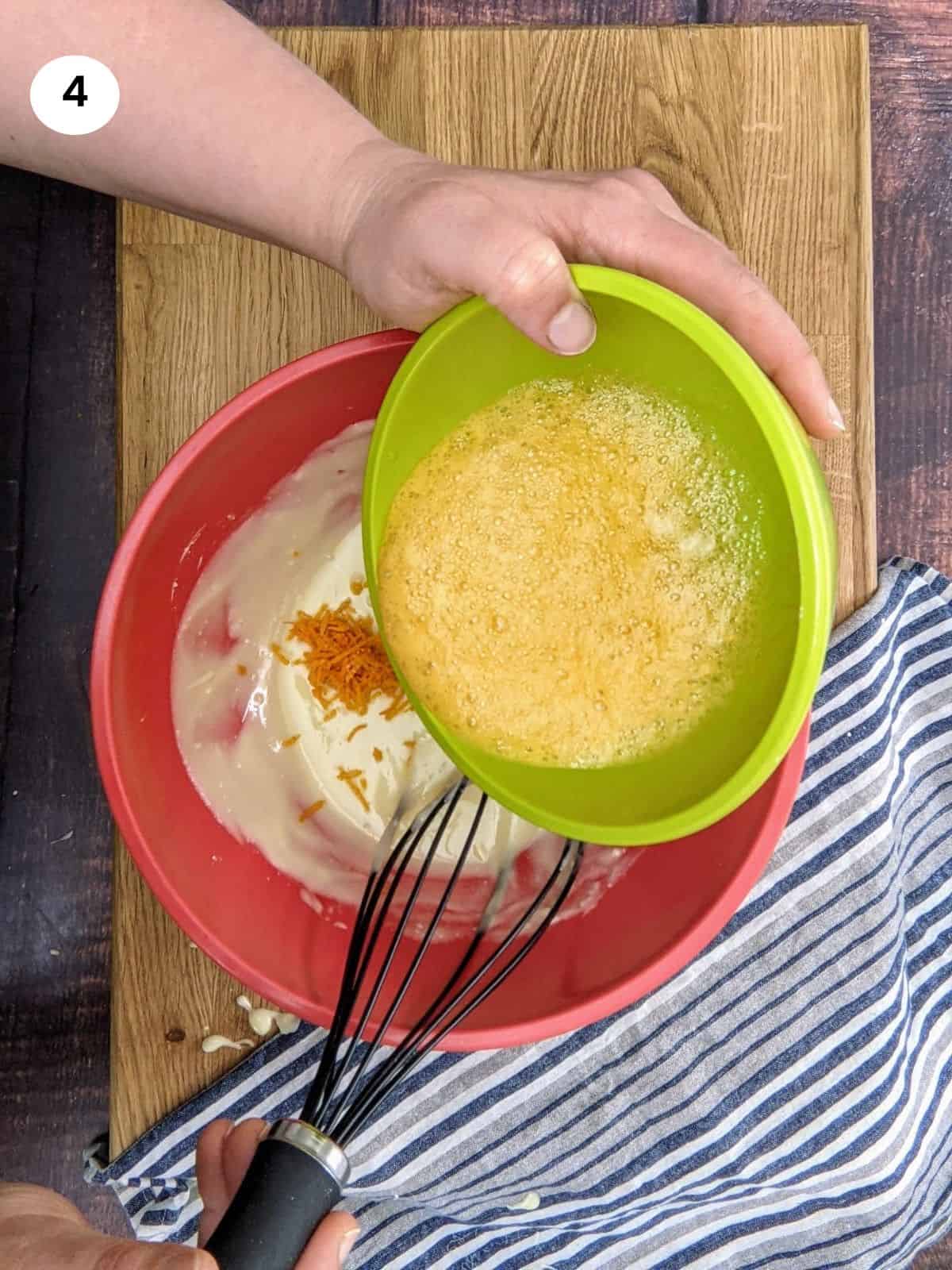 05. Now, it's time to add the plain flour and a teaspoon of baking powder that will help my cookies to rise and be lighter.
06. After adding all the ingredients together, try not to knead the dough too much as the oil will come out and separate which is something we don't want. Just mix it with your hands or a spatula for 2-3 minutes until all the flour is incorporated with the wet ingredients and then move to shaping the biscuits.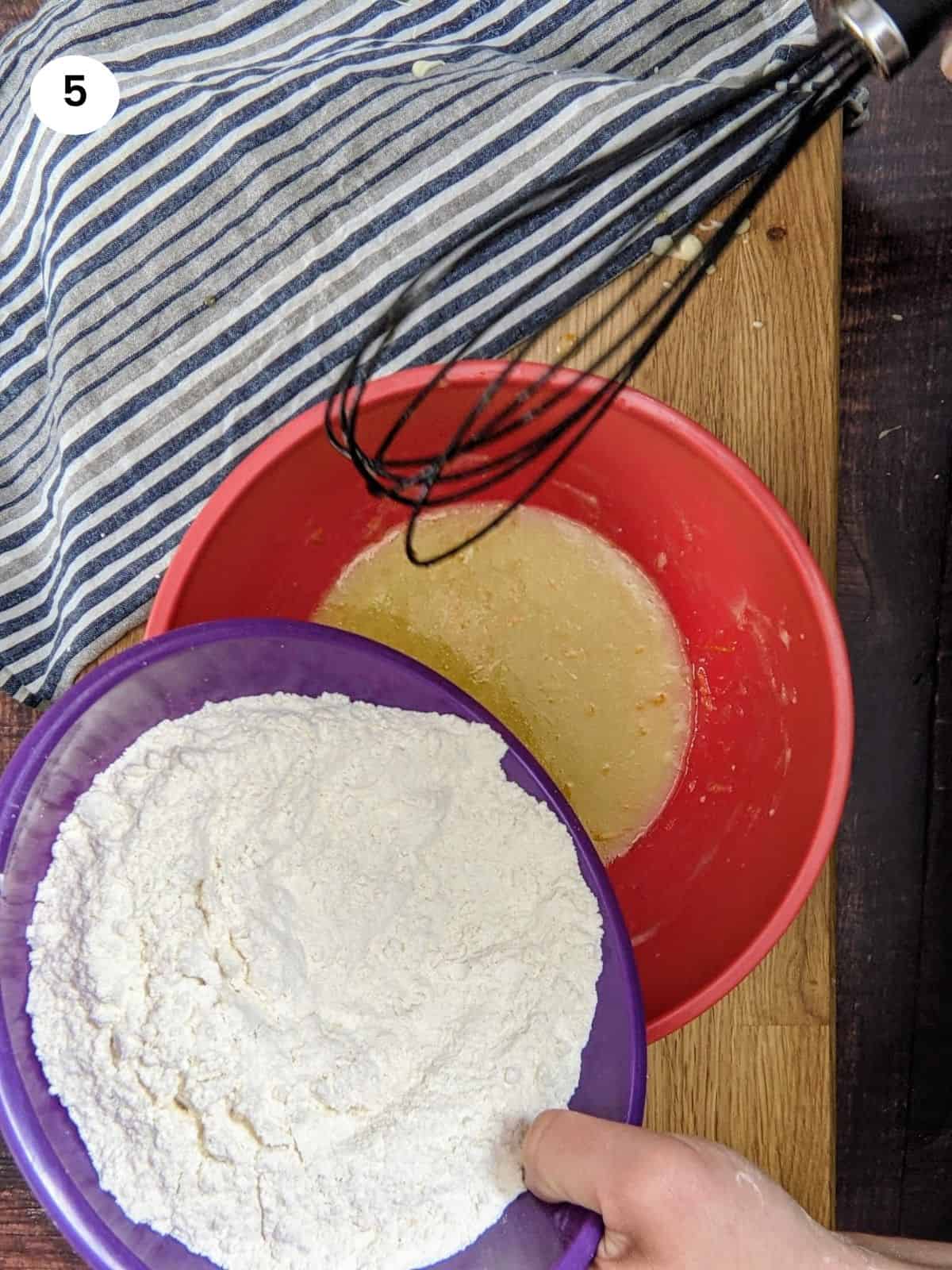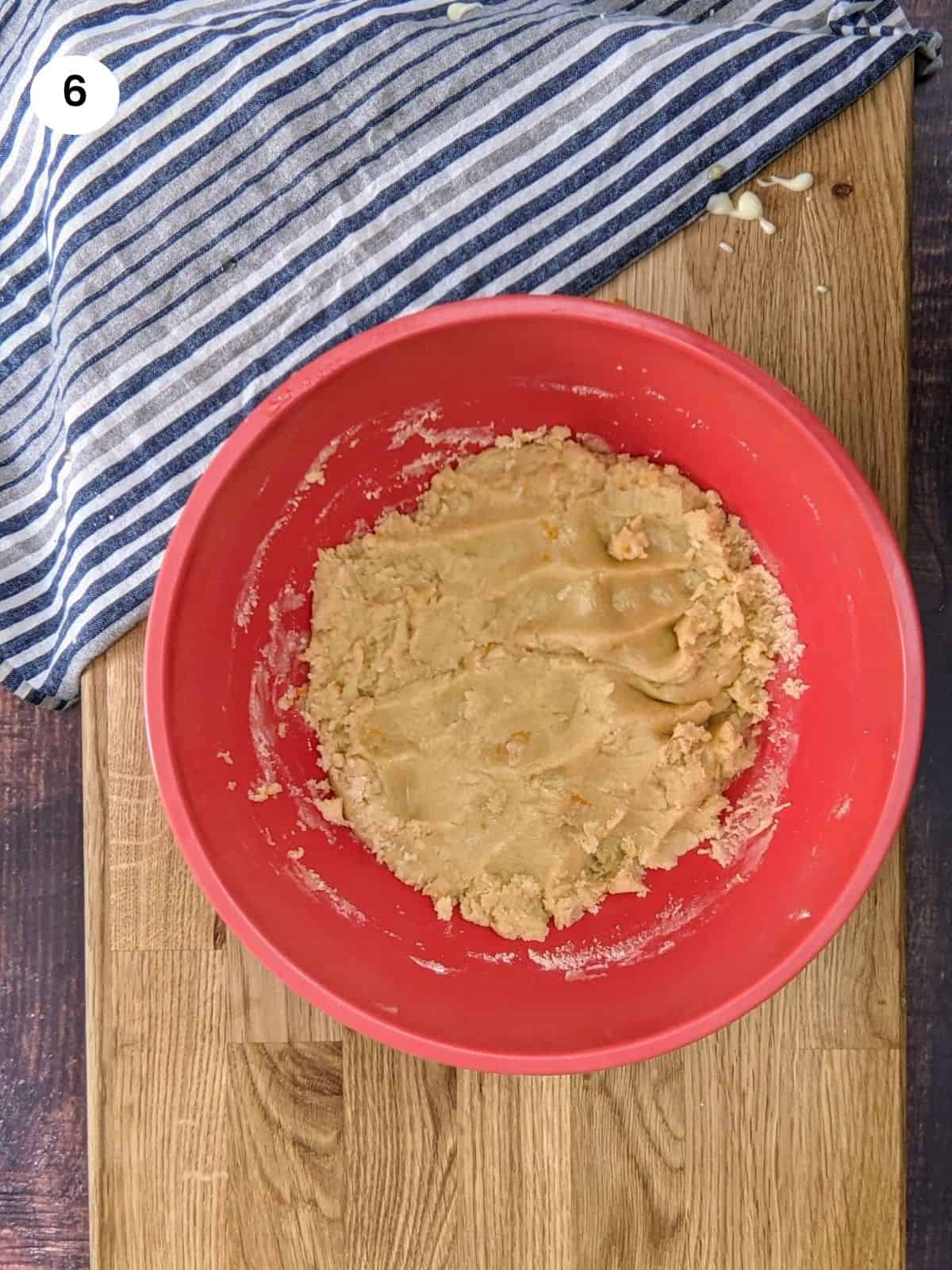 07. I take a small piece of dough around 30gr and shape it into a ball using my palm and fingers. Don't overwork the dough ball in your hand as the oil will start separating .
08. Then I roll it on the wooden board to a long rope around 12cm / 5" before shaping the cookie.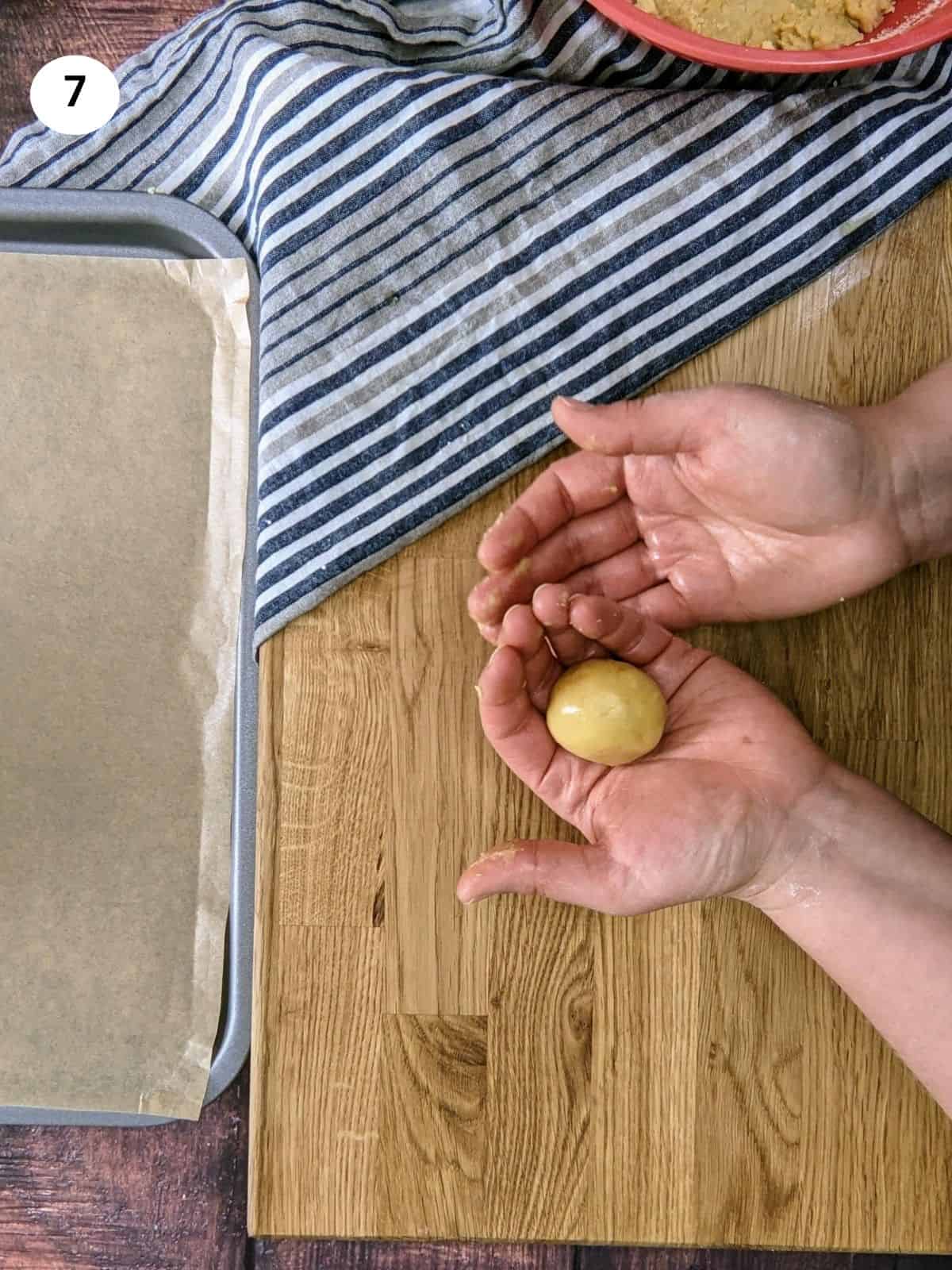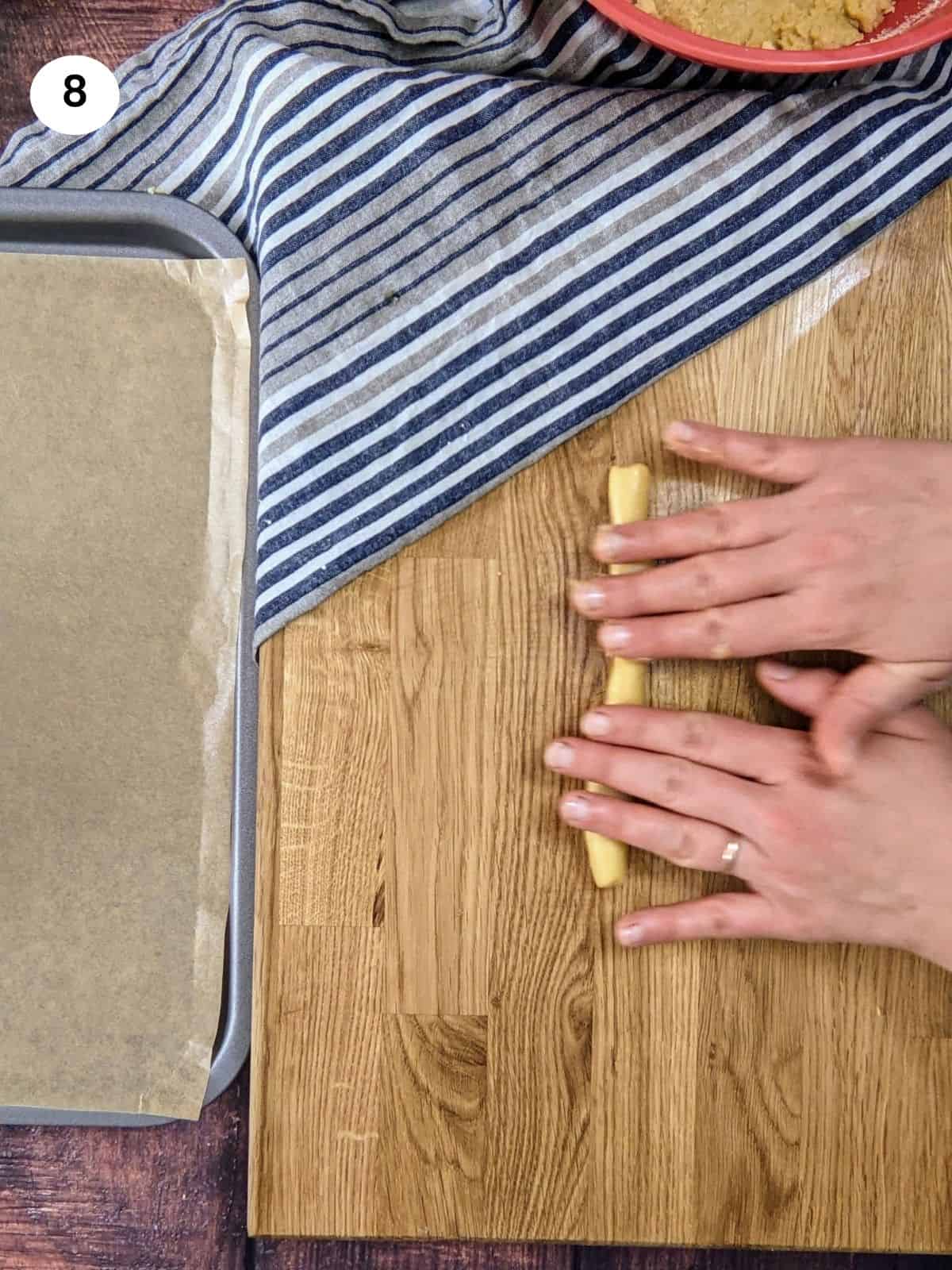 09. Now I join the two ends together and lightly press them into forming a circle.
10. You can shape them as you like, circles, braids, coils. Be playful and why not, ask one of your little ones to help out. Children love playing with dough!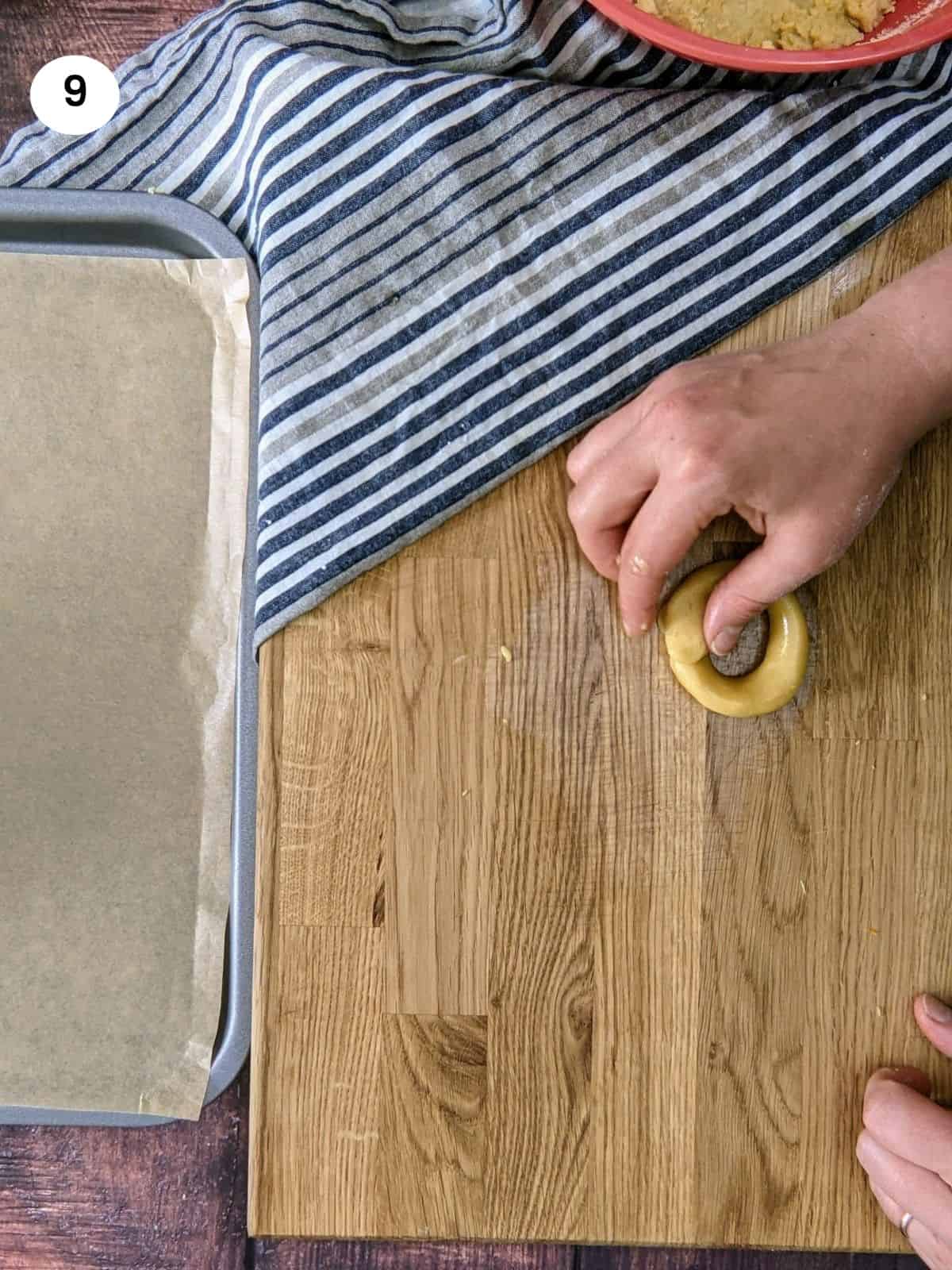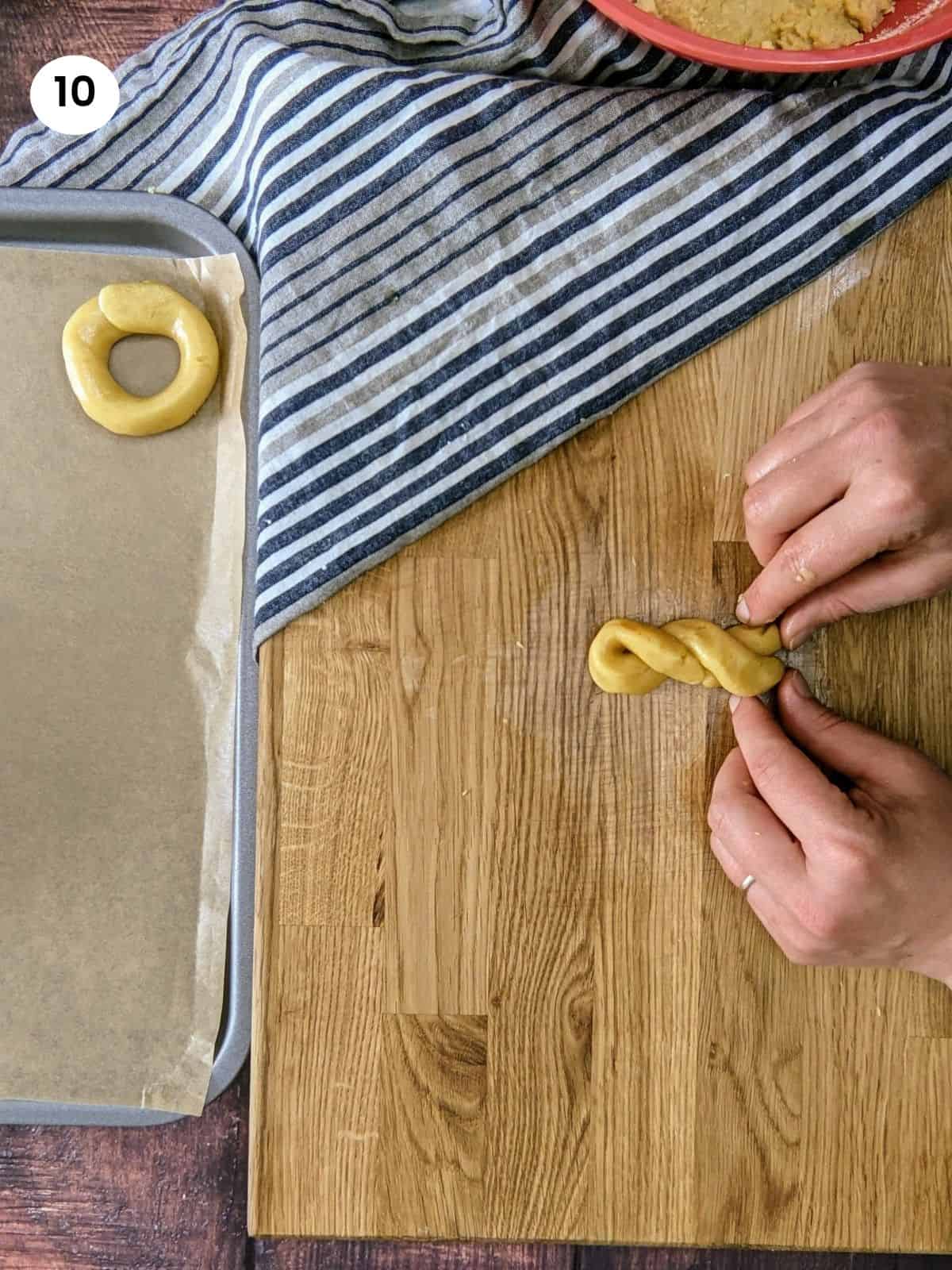 11. The recipe makes around 25-30 cookies. I place the cookies on a baking tray lined with parchment paper. I recommend baking the cookies into two trays as they need at least one finger space between them.
12. It only takes 15-20 minutes to get ready so keep an eye and take them out when they have a nice golden brown color. After taking them out of the oven, let them rest for 5-10 minutes as they will be very soft and might break.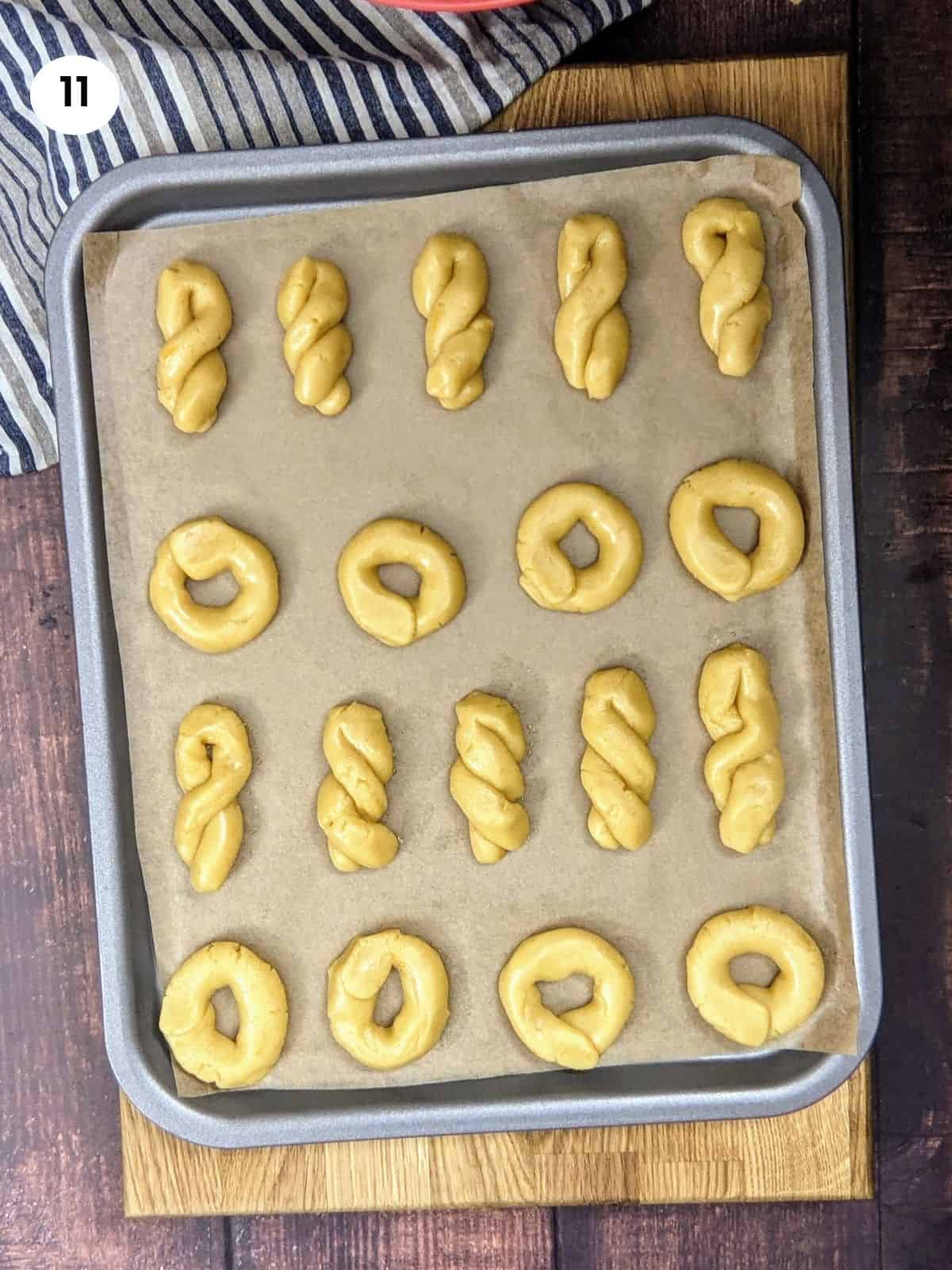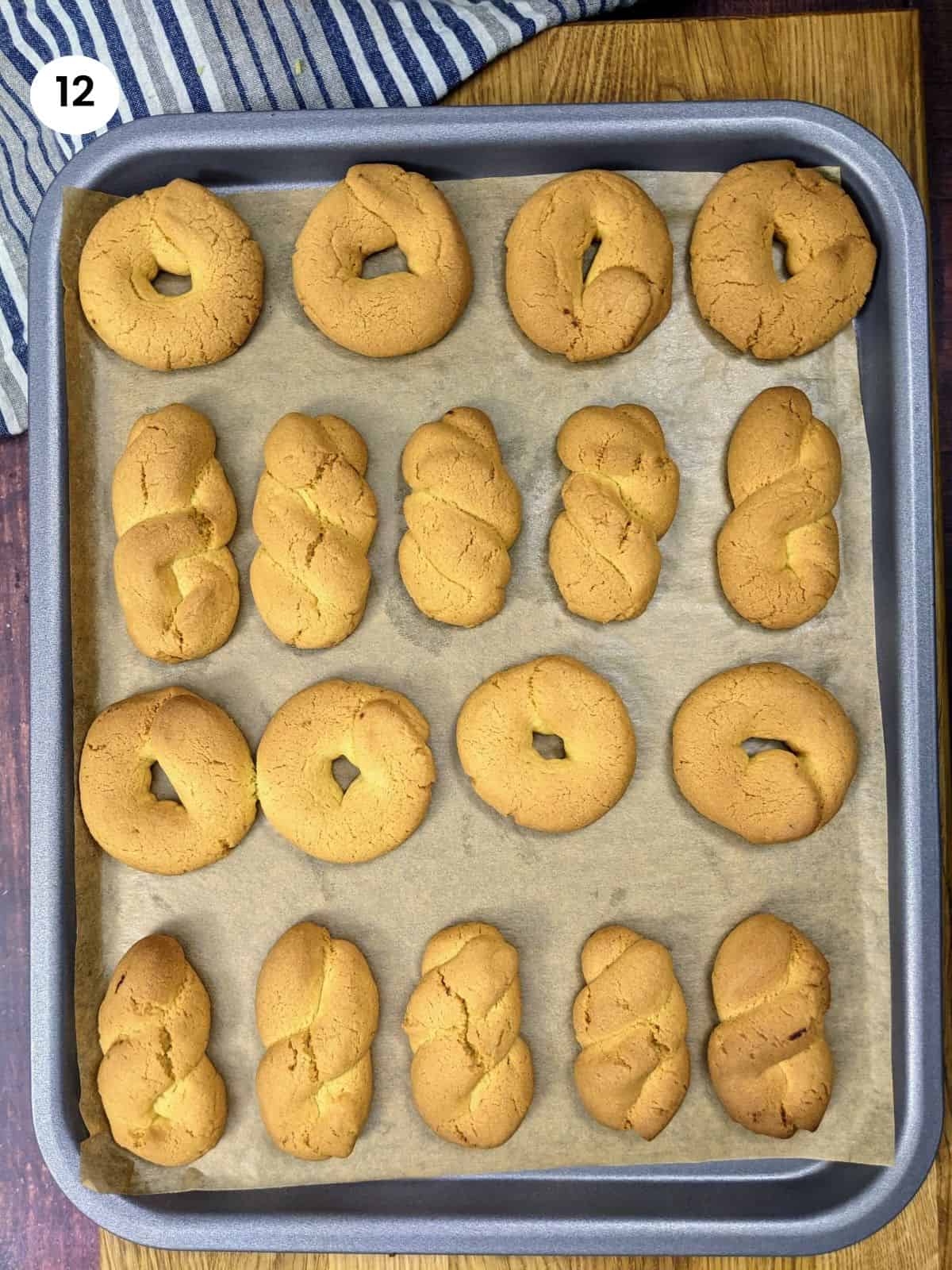 Mamazilla's Product Recommendations
Serving suggestions
These vegan orange cookies are great as dippers for coffee or a cup of milk. They are also easy to pack, so you can take a couple with you when you are out and about as a snack or add them to your lunchbox.
Storage
You can store them in an airtight container for a couple of weeks if you can resist eating them in a few days!
FAQ
How long do the greek orange cookies last? The greek orange cookies can last up to 2 weeks at room temperature, stored in an airtight container.

Are the orange koulourakia vegan? Yes, greek orange cookies are vegan since they do not have any dairy or eggs.
Watch the video
Greek Orange Cookies
These traditional Greek orange cookies or 'koulourakia', as we call them in greek, are ready in less than 40 minutes so you have no excuse not to try them out. With a distinct orange flavor and crunchy on the outside, they are the perfect dipping companion to your coffee or tea. Did I tell you that they are also vegan?! They have no dairy or eggs, perfect for those following a vegan diet or have allergies.
Print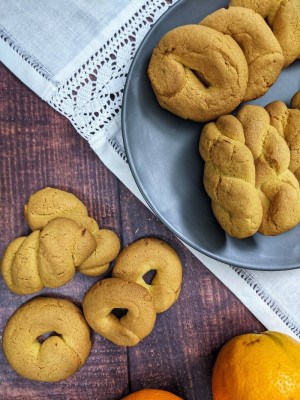 Ingredients
2 ½ cups (300gr) plain flour
1 cup (120gr) powdered sugar
½ cup (100gr) olive oil
1 teaspoon of baking powder
½ teaspoon of baking soda
1 orange
Instructions
Preheat the oven to 180°C/350°F.

Mix the powdered sugar with the olive oil in a bowl.

Stir well for 3-4 minutes until the sugar has dissolved.

Add the zest of the orange in the mix.

Take the juice of the orange and put it in a small bowl. Add the baking soda and stir for a couple of seconds so it starts foaming.

Add the orange mix to the oil and sugar mix and stir.

Mix the flour with the baking powder.

Slowly add the flour into the mixture whilst stirring with a wooden spoon or a whisk.

Do not over mix as the oil in the dough will start separating.

Take a small ball of dough and shape it into a circle or braid.

Place them on a baking pan lined with some parchment paper.

Bake for 15-20 minutes or until golden.

Let them rest for 5-10 minutes before removing them from the baking pan.
Notes
This recipe yields 20-25 cookies depending on the size. Leave some space between them in the baking pan as they will get bigger whilst cooking. After taking them out of the oven, let them rest for a bit as they will be very soft and will break.
Storage
Keep them in an airtight container for up to two weeks.
Nutrition Info (per serving)
Calories: 100kcal | Carbohydrates: 14g | Protein: 1g | Cholesterol: 0mg | Fat: 4g | Saturated Fat: 1g | Polyunsaturated Fat: 0g | Monounsaturated Fat: 3g | Fiber: 0g | Sodium: 29mg | Potassium: 6mg | Sugar: 5g
I am not a nutritionist. The nutrition information has been calculated using an on-line calculator, and is intended for information and guidance purposes only. If the nutrition information is important to you, you should consider calculating it yourself, using your preferred tool.