Green pesto sauce is one of my favorites. I love having it with pasta or in a sandwich and you just need some mozzarella cheese and cherry tomatoes to compliment it and enhance its flavor. In this green pesto recipe, I'm using cavolo nero, a dark green type of kale, instead of basil. This dark color kale originates from Italy and it's getting quite popular over the past years for its sweet cabbagy flavor and all the health benefits, as it's packed with vitamins and iron. I'm also going to show you how to serve this cavolo nero pesto sauce with some spiralized zucchini pasta for a light, low-carb meal, so let's get started!
Jump to:
Why you should try my recipe
Nice alternative to basil green pesto that will impress everyone with its rich flavor.
It takes 15 minutes to prepare.
Stores in the fridge for a week and in the freezer for up to 6 months!
Versatile. Great with pasta, sandwiches, eggs and more. Just use your imagination.
Great way for little ones to eat kale and have a healthy sauce on their pasta.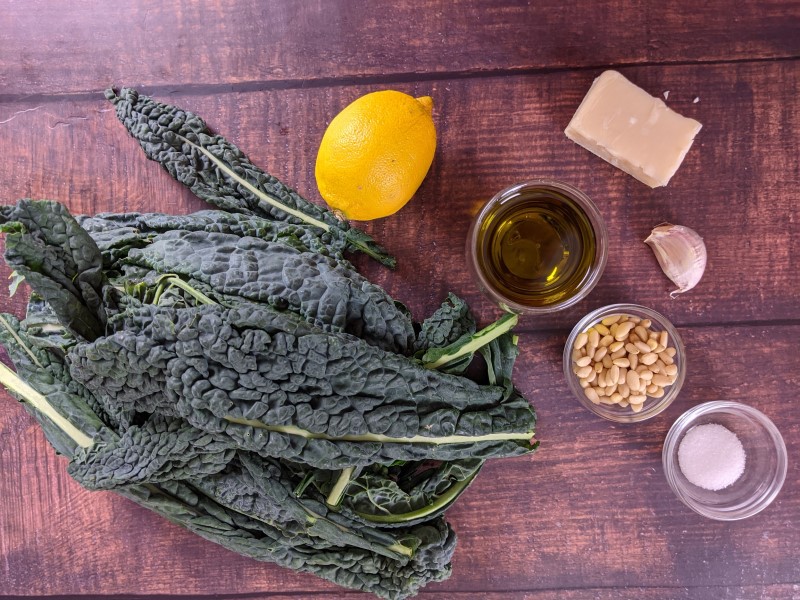 Ingredients & How-to
You only need a few simple ingredients for this cavolo nero pesto recipe on top of the kale, olive oil, lemon juice, garlic, pine nuts, parmesan and a little bit of salt.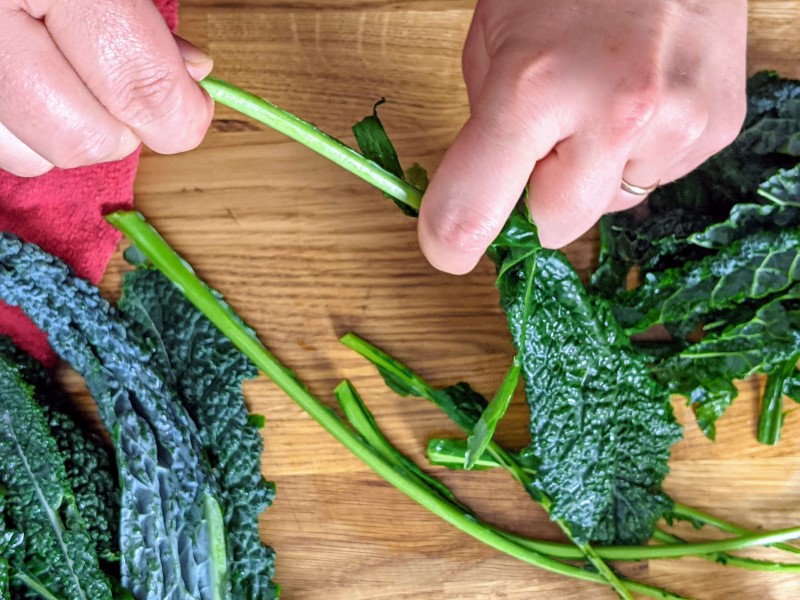 The first thing to do is to prepare the cavolo nero. The stems are quite tough and difficult to eat, so I remove them by just using my fingertips and pulling down the green leaves. Then I place the cavolo nero leaves in a big pot with boiling water and leave them for just 5 minutes until they soften up a bit.
To preserve the green color of the cavolo nero leaves, I place the leaves in a bowl with cold icy water when I remove them from the boiling water. This is just to look better and stop it from being overcooked while sitting, and it won't have any difference in the taste. So if you don't have any ice available, simply drain the kale and continue with the recipe.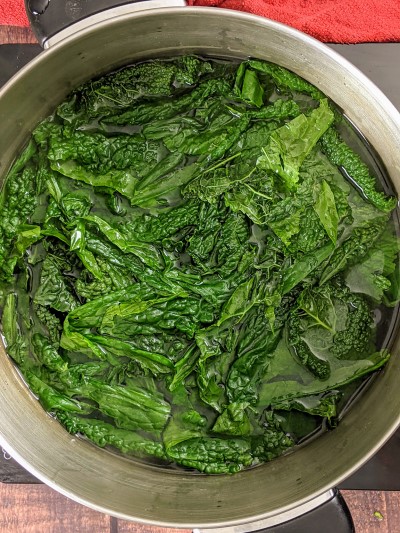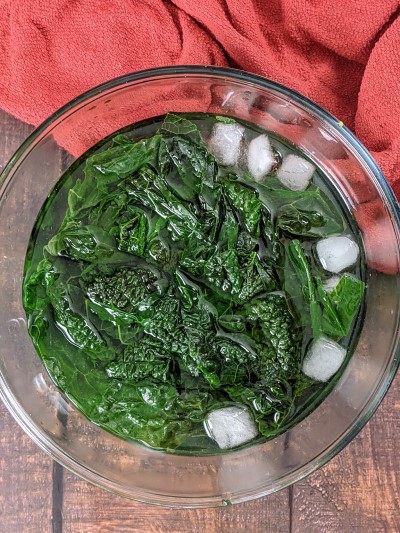 Then, I just put all the ingredients in a food processor, the drained cavolo nero, olive oil, pine nuts, lemon juice, grated parmesan, garlic and salt. I blend everything for a minute until it becomes a thick paste. If you don't like pine nuts, you could replace them with cashews or do not add any nuts at all. I do find though that the nutty flavored pesto has an extra kick and texture that is really nice, especially when used with pasta.
For a dairy-free and vegan version, you could also replace the parmesan with a vegan hard cheese of your choice or do not add any cheese at all. In this case, if the pesto is too watery, then add a few more nuts and blend it all again.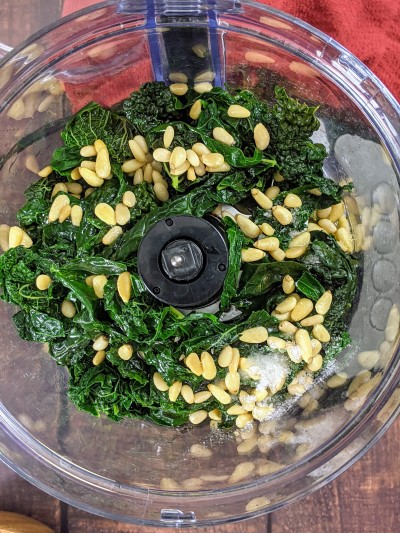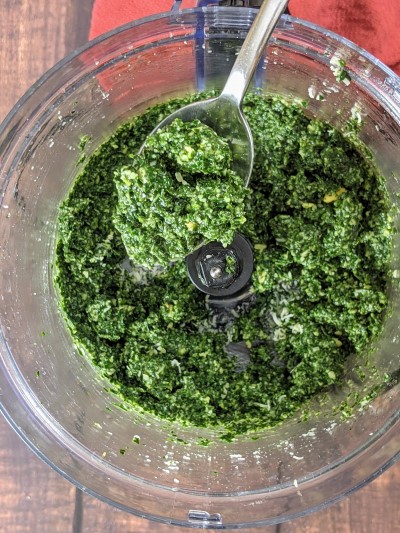 Mamazilla's Product Recommendations
For a low-carb & light meal, I like to make some zucchini pasta using a spiralizer and then mix it with a couple of tablespoons of my cavolo nero pesto. For some extra flavor and texture, I add some cherry tomatoes on top or if you prefer you could add some sun-dried tomatoes chopped in small pieces.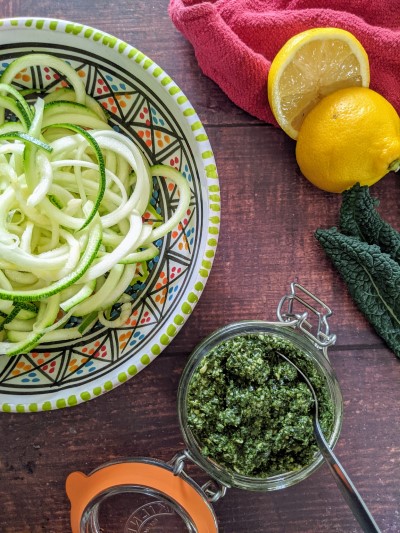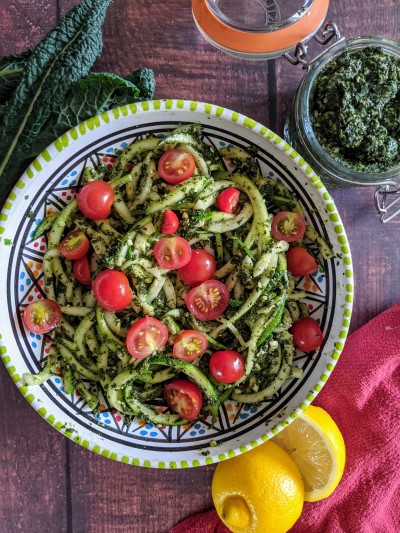 Serving suggestions
You can serve the cavolo nero pesto sauce with pasta, spread it on a baguette and add some mozzarella and tomatoes, as a base on your pizza, with some eggs and bread for breakfast and numerous more ways. It's really versatile! I leave it to your imagination. Why don't you leave me a comment down below and tell me how you've had yours!
Storage
I recommend storing it in a jar and put it in the fridge for 6-7 days. If you are not going to consume it all within a week then you could store some in the freezer for up to 6 months. Add a heaped tablespoon of cavolo nero pesto to each space of an ice cube case and put it in the freezer for a couple of hours. When it's solid, remove them and put them in a bag or a container and store it in the freezer. This way, every time you want to add some to your pasta, you just take an ice cube out and put it in a pan with your pasta and warm it up for a couple of minutes.
FAQ
How to cook cavolo nero for pesto? The best way to cook the cavolo nero is blanching. Place the cavolo nero leaves in boiling water and cook for 4-5 minutes then remove them and quickly put them in a bowl with cold icy water. This way, the cavolo nero leaves will preserve the green color and will not be overcooked whilst sitting hot.

What can I serve with cavolo nero pesto? You could try the cavolo nero pesto with some pasta, as a base on your pizza, spread it in a sandwich along with some cheese and tomatoes, with eggs, ham and bread for breakfast and so many more ways.

How can I make the cavolo nero pesto vegan? For a vegan & dairy-free version of this cavolo nero pesto recipe, substitute the parmesan cheese with a vegan alternative or do not use any cheese at all and add one more tablespoon of pine nuts.

Is cavolo nero pesto suitable for babies? Cavolo nero pesto is great for babies and little children as it has a smooth texture and it's full of vitamins and iron. Just make sure you don't add any salt to the mixture as the parmesan cheese is already too salty.
Watch the video
Cavolo Nero Pesto with Zucchini Pasta
This cavolo nero pesto sauce is so easy to make and has a sweet, nutty flavor that you are going to love. Try it out with some zucchini noodles and cherry tomatoes on top or spread some on your sandwich and add some mozzarella cheese and tomatoes. For a dairy-free & vegan version, replace the parmesan with a vegan hard cheese of your choice or skip it and add an extra tablespoon of pine nuts.
Category: Pasta
Difficulty: Easy
Print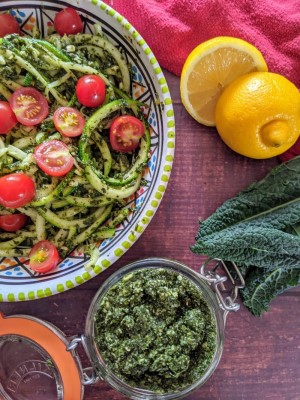 Ingredients
3 cups cavolo nero
2 tablespoons of pine nuts
¼ cup olive oil
2 tablespoons of lemon juice
½ cup (50gr) parmesan
1 garlic clove
½ teaspoons of salt
Instructions
Remove the hard stem from the cavolo nero leaves.

Place the leaves in a pot with boiling water. Boil for 5 minutes.

Remove the cavolo nero from the pot and place in a bowl with water and ice cubes.

Drain the cavolo nero and place it in a food processor.

Add the other ingredients: pine nuts, oil, garlic clove, salt, lemon juice and parmesan.

Blend until smooth.

Spiralize a zucchini and serve with one or two tablespoons of pesto and cherry tomatoes on top.
Notes
- You can replace pine nuts with cashews.
- For a dairy-free & vegan option, you could leave out the parmesan or replace with a vegan cheese.
Storage
Store the cavolo nero pesto in a sealable jar in the fridge and consume within a week. Freeze it for up to 6 months.
Nutrition Info (per serving)
Calories: 140kcal | Carbohydrates: 3g | Protein: 3g | Cholesterol: 0mg | Fat: 13g | Saturated Fat: 1g | Polyunsaturated Fat: 1g | Monounsaturated Fat: 7g | Fiber: 0g | Sodium: 194mg | Potassium: 31mg | Sugar: 1g
I am not a nutritionist. The nutrition information has been calculated using an on-line calculator, and is intended for information and guidance purposes only. If the nutrition information is important to you, you should consider calculating it yourself, using your preferred tool.