This lemon and garlic kale salad is one of my favorite ways to make kale. It's really light, full of flavor and goodness. A great side dish with your main or a light lunch with a slice of bread. It only takes a few minutes to prepare and it's so healthy.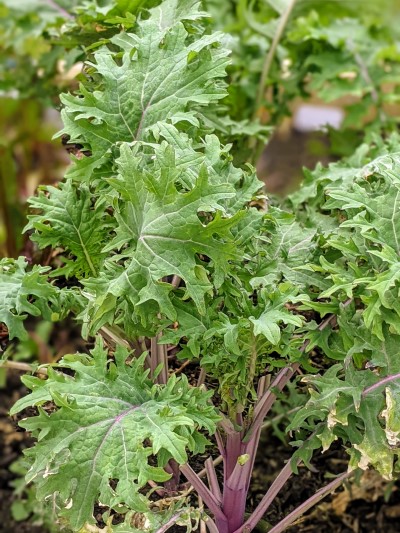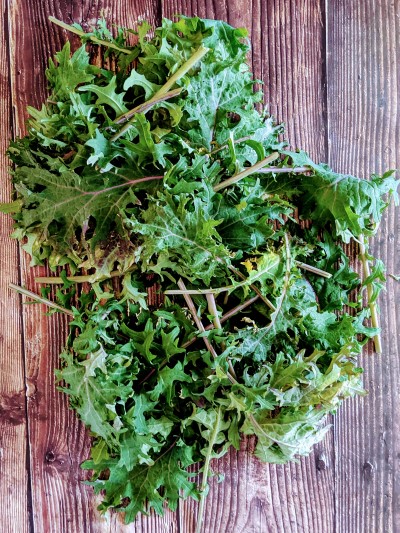 I'm not a great gardener but I do like to put a few vegetable and herb seeds every year. There is something very satisfying about this growing process. A few months ago, I decided to try and grow some kale from seeds. I planted some seeds under a cloche in my new wooden planter and although we had a cold winter this year, they managed to survive and make it to spring. Hooray! I started cutting some leaves a few weeks ago and they taste amazing! So tender and full of flavor!
Kale varieties & Nutrients
Kale comes in many varieties with a slightly different taste. The most common one is curly kale and you can find it at the supermarket or farmers markets. Other types are Redbor kale with purple color leaves, dinosaur kale otherwise known as cavolo nero and russian kale with flat leaves. Kale is very nutritious too. It's packed with vitamin A, vitamin K and vitamin C. It also has folate, a key vitamin for brain development.
Ingredients & How-to
To make this sautéed kale salad recipe, you will need only 4 simple ingredients, kale, lemon, garlic and olive oil. Simple and easy!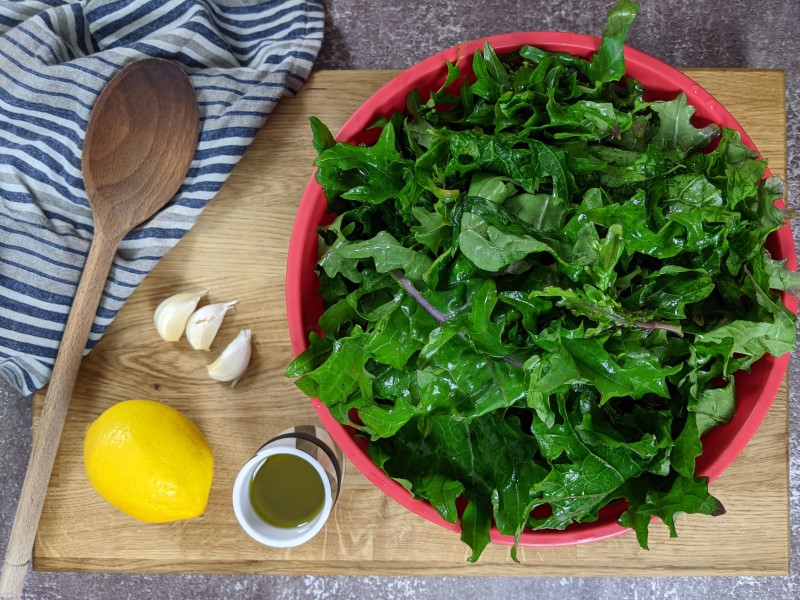 01. The first step is preparing the kale leaves. I've used Red Russian Kale when making this recipe which I grew in my garden. You could use whatever type you like and you can find in your market. Usually, the supermarkets have bags with precut kale that only needs washing. You could go with that option to save you some time if you are in a hurry. However, if you get your kale from a market and it comes in big leaves then remove the hard stem with your hand by pulling down the leaf and don't forget to give them a good wash.
02. Moving to the pot, I sauté the garlic first in a tablespoon of olive oil just for a minute. Be careful here as you don't want it to burn, just to soften up. Then I add the kale with half a glass of water and cover the pot. While it's cooking it will lose most of its volume and get wilted.
03. I cook it over medium-low heat for 12 to 15 minutes until the water has evaporated. Then I turn off the heat and add the juice of a lemon and a tablespoon of extra virgin olive oil. You could add more lemon and olive oil to your liking and add a little bit of salt to taste.
Serving suggestions
You can have this lemon and garlci kale salad as a light lunch with a slice of bread or as a side dish with your main. Why don't you try them out with my grilled meatballs for.
Storage
If you have any leftover kale salad, you could store it the in the fridge for up to 2 days. Do not warm it up, just leave it outside at room temperature for five minutes or have it cold as I like it especially in the summer.
FAQ
Can I use the kale hard stems? Yes, the whole kale leaves with the stems are edible. They will still stay a bit hard after cooking but it's up to your preference.

How long does sautéed kale last in the fridge? You could store sautéed kale in the fridge and consume within 2 days.

What can I serve with sautéed kale? You can serve sautéed kale with some protein for a balanced dish like meat or fish.
Watch the video
Sautéed Lemon & Garlic Kale Salad
This sautéed kale salad recipe with garlic and lemon is really easy and quick to make. It's light, full of flavor and nutrients. A great side dish with your main or a light lunch with a slice of bread.
Category: Salads
Difficulty: Easy
Print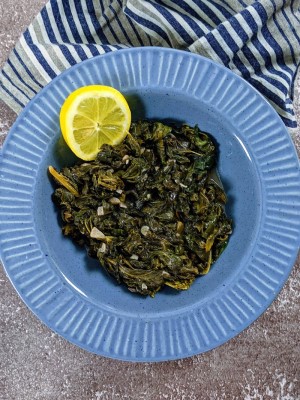 Ingredients
9oz / 250gr kale
3 garlic cloves
2 tablespoons of olive oil
1 lemon
1 teaspoon of salt
Instructions
Clean the kale leaves well, remove hard stem and if the leaves are big cut each one in half.

Chop the garlic cloves.

Heat one tablespoon of olive oil in a large saucepan over medium heat.

Add the chopped garlic cloves and sauté for 1 minute.

Add the kale with ½ cup of water and a teaspoon of salt.

Let it cook for 12-15 minutes over medium-low heat until the water has evaporated.

Turn the heat off. Add the juice of 1 lemon, one tablespoon of olive oil and serve.
Notes
You could add a little bit more olive oil in the end up to your liking.
Storage
Store it in the fridge for up to 2 days. Do not warm it up, just leave it outside at room temperature for five minutes before serving.
Nutrition Info (per serving)
Calories: 195kcal | Carbohydrates: 15g | Protein: 6g | Cholesterol: 0mg | Fat: 15g | Saturated Fat: 2g | Polyunsaturated Fat: 2g | Monounsaturated Fat: 10g | Fiber: 3g | Sodium: 1211mg | Potassium: 627mg | Sugar: 1g
I am not a nutritionist. The nutrition information has been calculated using an on-line calculator, and is intended for information and guidance purposes only. If the nutrition information is important to you, you should consider calculating it yourself, using your preferred tool.