Briami or briam, also known as Greek roasted vegetables casserole, is a delicious and wholesome Mediterranean dish that is bursting with flavors and vibrant colors. This is a vegan dish that we usually enjoy in the summer months when we have an excess of vegetables like eggplants and zucchini. A combination of seasonal vegetables with fresh herbs and olive oil that you can enjoy as a main dish with some cheese or bread, or as a side dish with your main.
The key to briam's success lies in the slow-roasting process, which allows the vegetables to caramelize and release their natural sweetness. The dish is often finished with a generous drizzle of extra virgin olive oil, which not only enhances the flavors but also contributes to the overall health benefits of the meal.
Try serving it with tzatziki dip or tyrokafteri dip on the side for an extra kick and a slice of warm, crusty bread to soak up the juices.
Jump to:
Why you should try my recipe
The ultimate summer dish, full of flavor and very aromatic.
Nutritious, full of vitamins and goodness from all the vegetables.
Great as a side dish or main with some bread and cheese on the side.
Stores well in the fridge for up to 4 days.
Ingredients & How-to
The main ingredients of this briami recipe are eggplants, zucchinis, bell pepper, potatoes, onion, garlic, carrots, tomatoes, oregano, tomato paste, fresh parsley, oregano, olive oil, salt and pepper.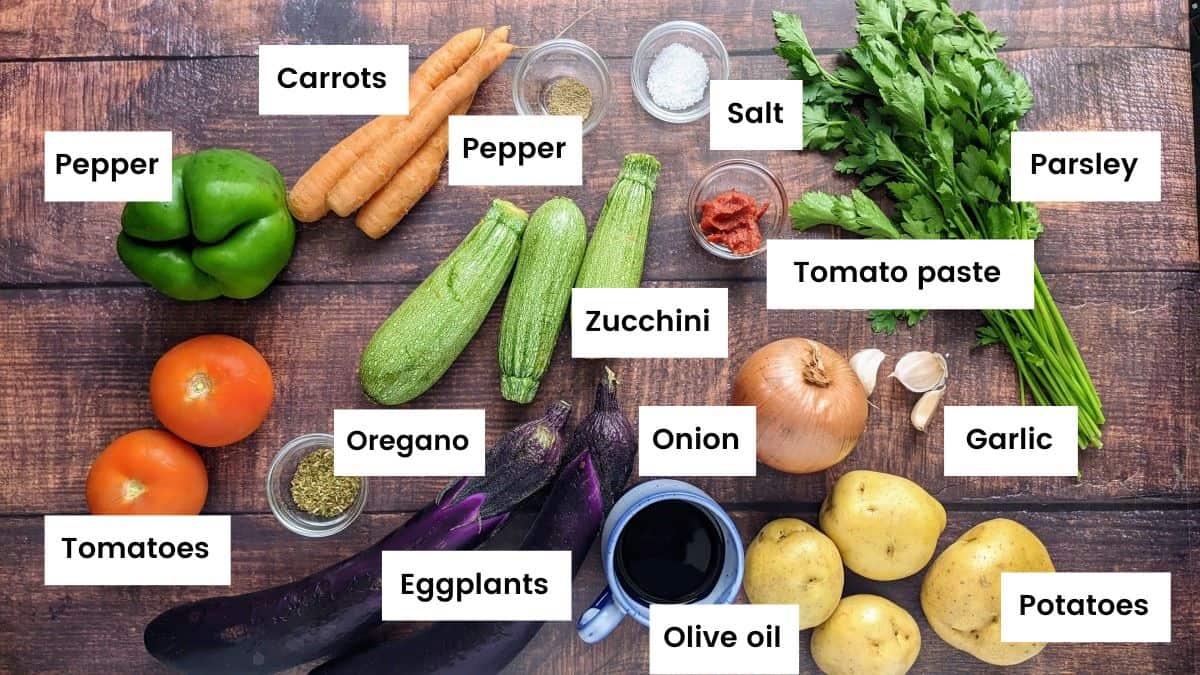 What eggplants and zucchinis to use for briami
There are so many varieties of eggplants and zucchinis out there and sometimes you can get confused on which one to use for each recipe. Well for this briami casserole dish, you need not to worry as you can't really get it wrong. My favorite eggplant types to use are globe, chinese and fairytale. Since the size can vary a lot between different types of eggplants, for this briami recipe I'm using about 3 cups of eggplant chunks. That is 1 globe or 2 chinese eggplants or about 3 fairytale ones.
Similar to the eggplants, you can find a few different types of zucchini. I'm going for the long ones for this Greek roasted vegetable casserole, either summer green or dark green zucchinis. These can also vary in sizes, so I'm using about 3 cups again, 2-3 zucchinis depending on the size.
01. I start with cutting all the vegetables. I leave the potatoes and eggplants for the end since when they get cut they get darker. I wash and remove the stem and seeds of the bell pepper. Then I cut it into big chunks about 1-1.5 inches.
02. I remove the hard bits at the end of each zucchini and then slice it lengthwise. Then I cut each half into big chunks about 1 inch each.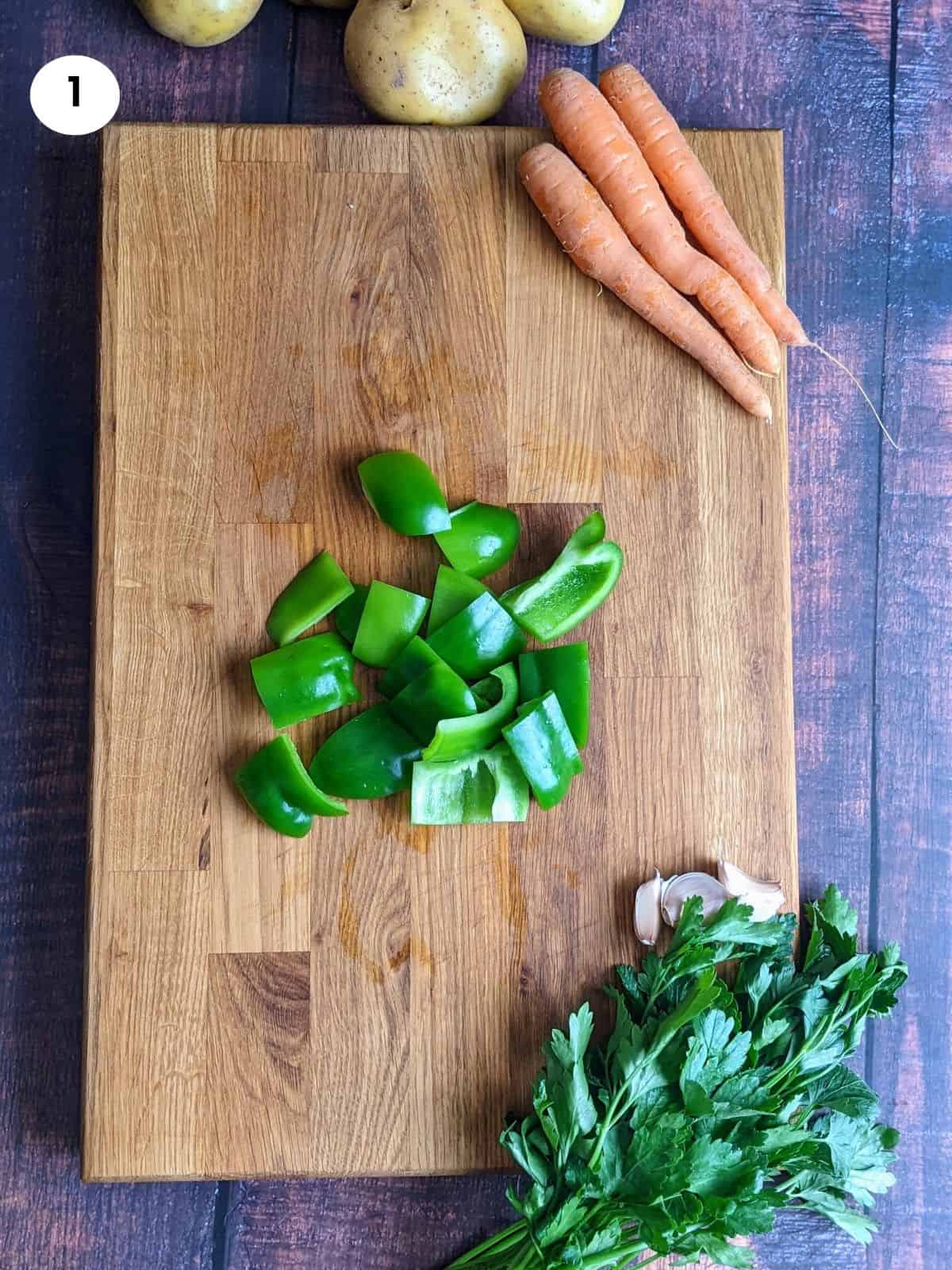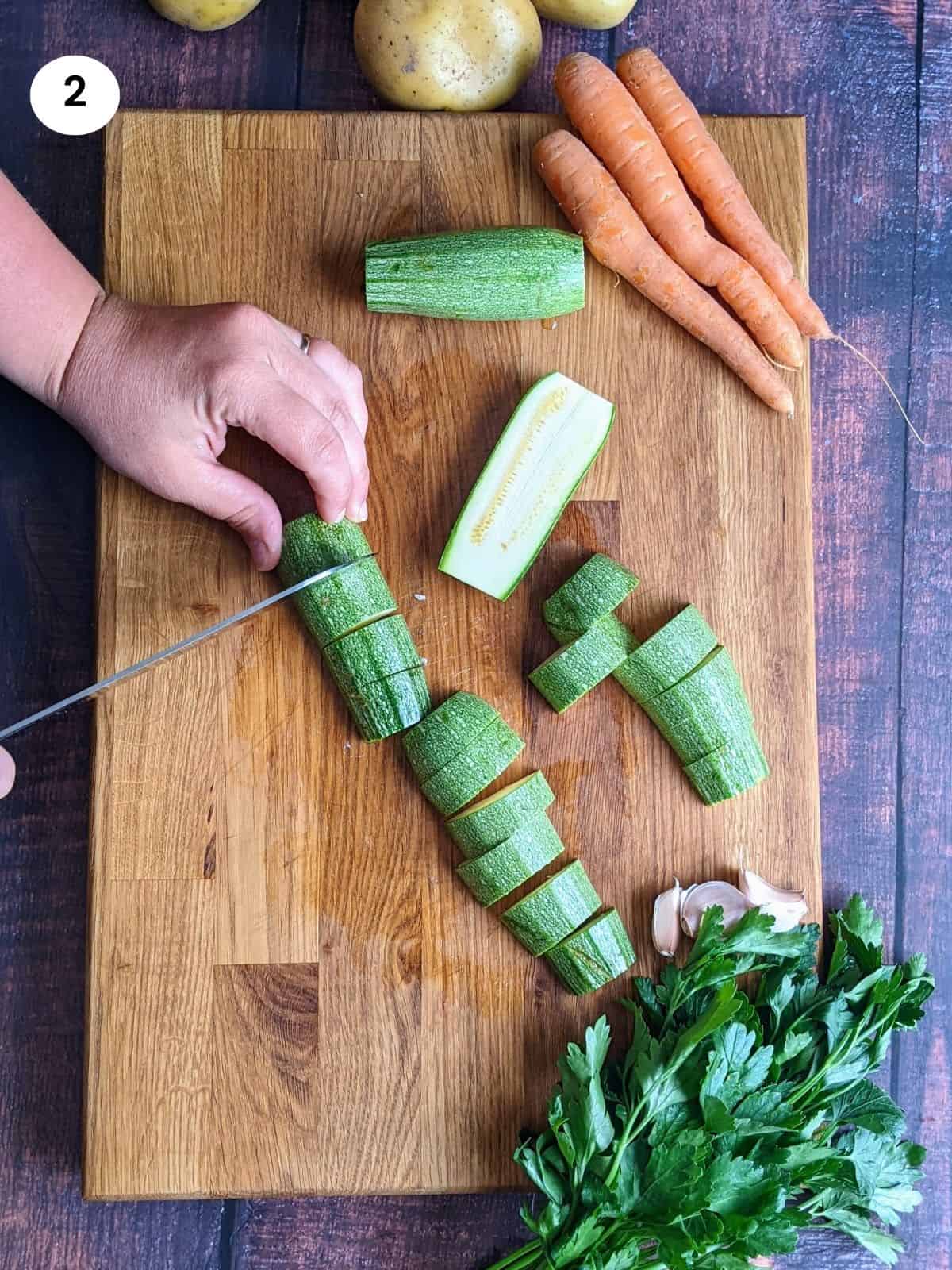 03. I continue with the tomatoes. I'm using a couple of big tomatoes, if you can find some nice juicy, red ones then you will get an even nicer color and taste for your briami. I roughly cut them into cubes and set aside.
04. You can cut the carrots into circles or sticks. I prefer the sticks as it's safer for the kids but it's completely up to you. I peel them then cut them lengthwise into four.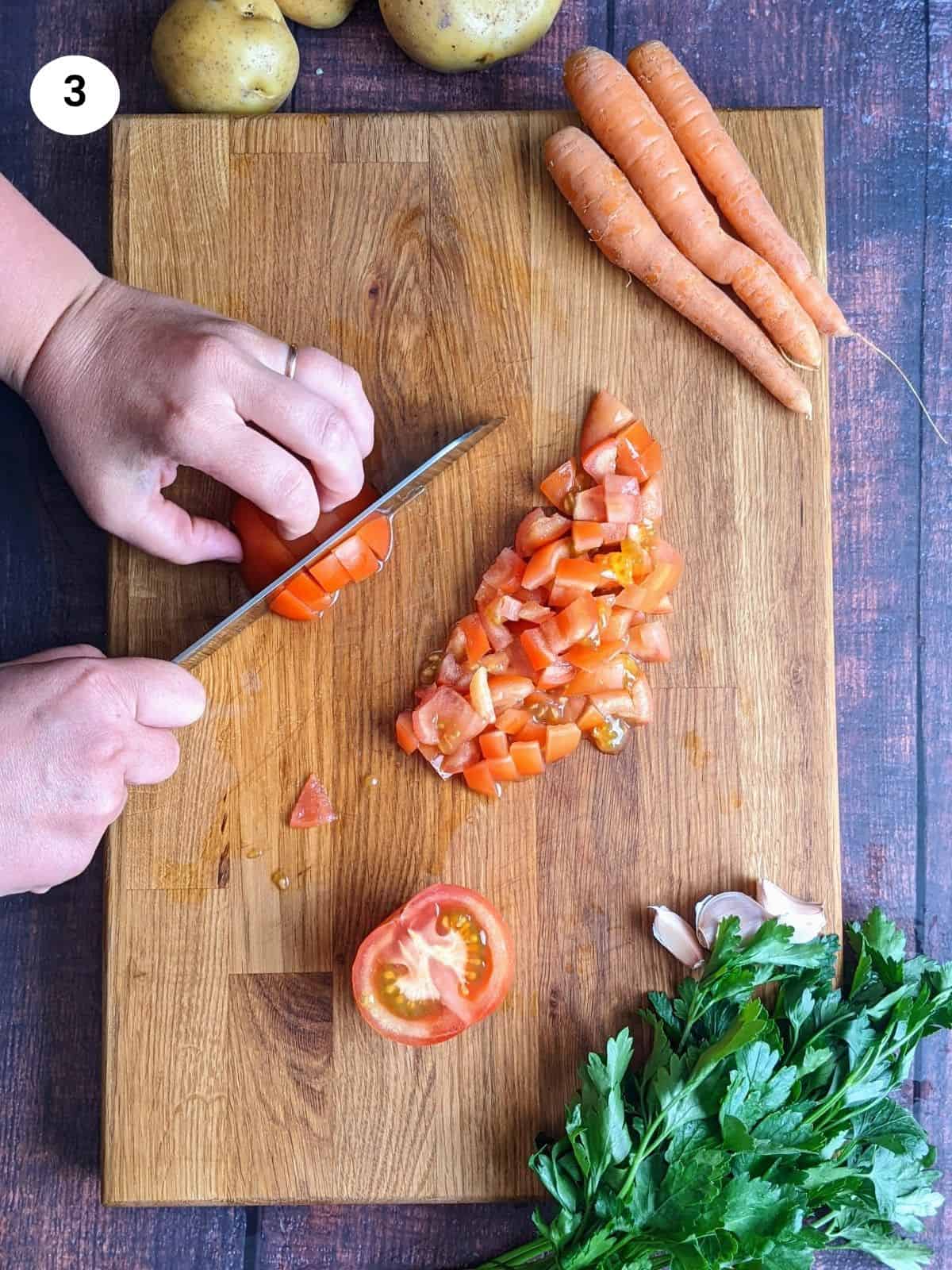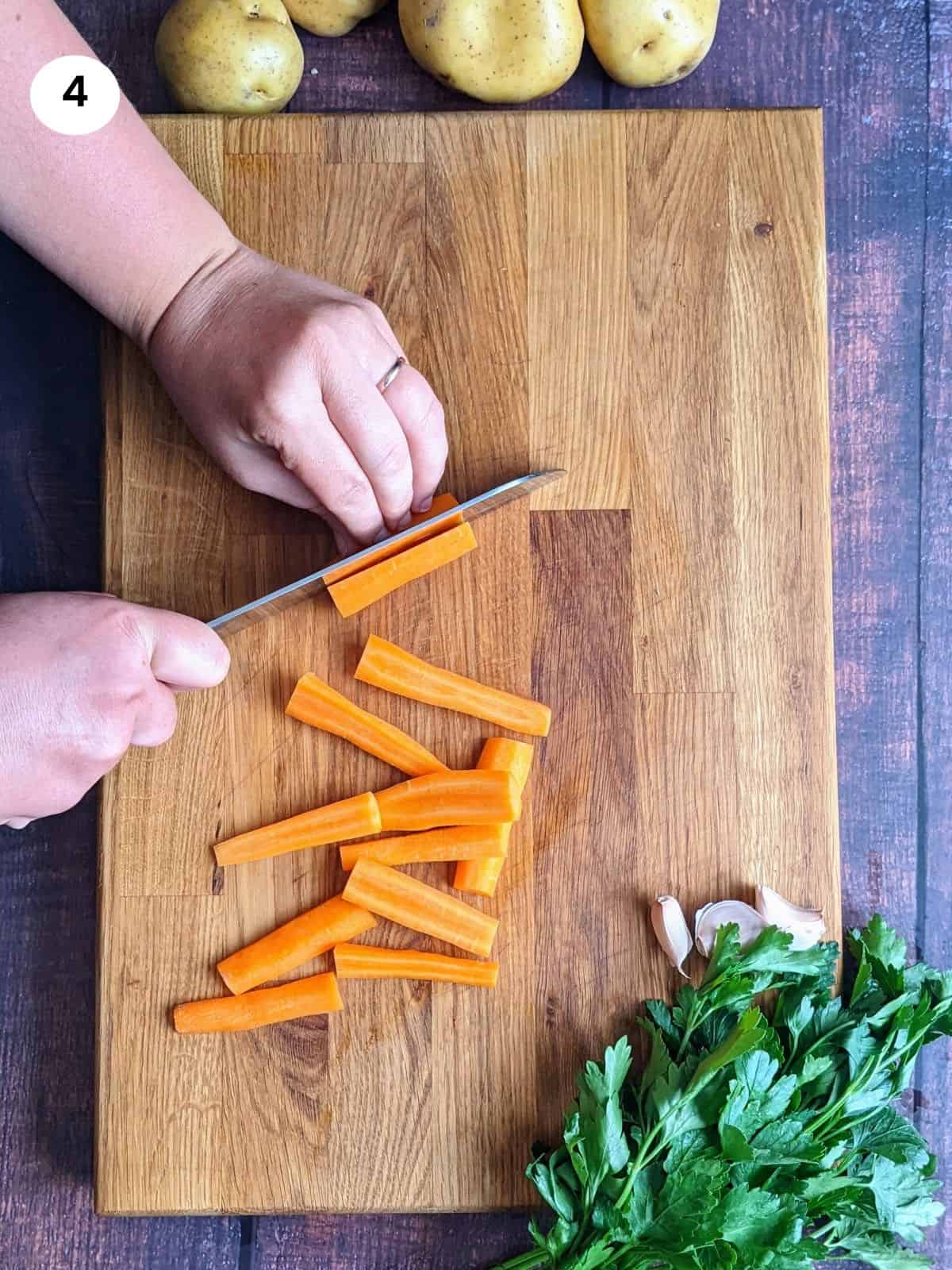 05. It wouldn't be a Greek casserole without onion and garlic. I cut the onion in half and then into big chunks, and coarsely cut a couple of garlic cloves.
06. You can add different types of fresh herbs to briami. A must-have is fresh parsley, then if you have, you could also chop some fresh mint or dill or thyme.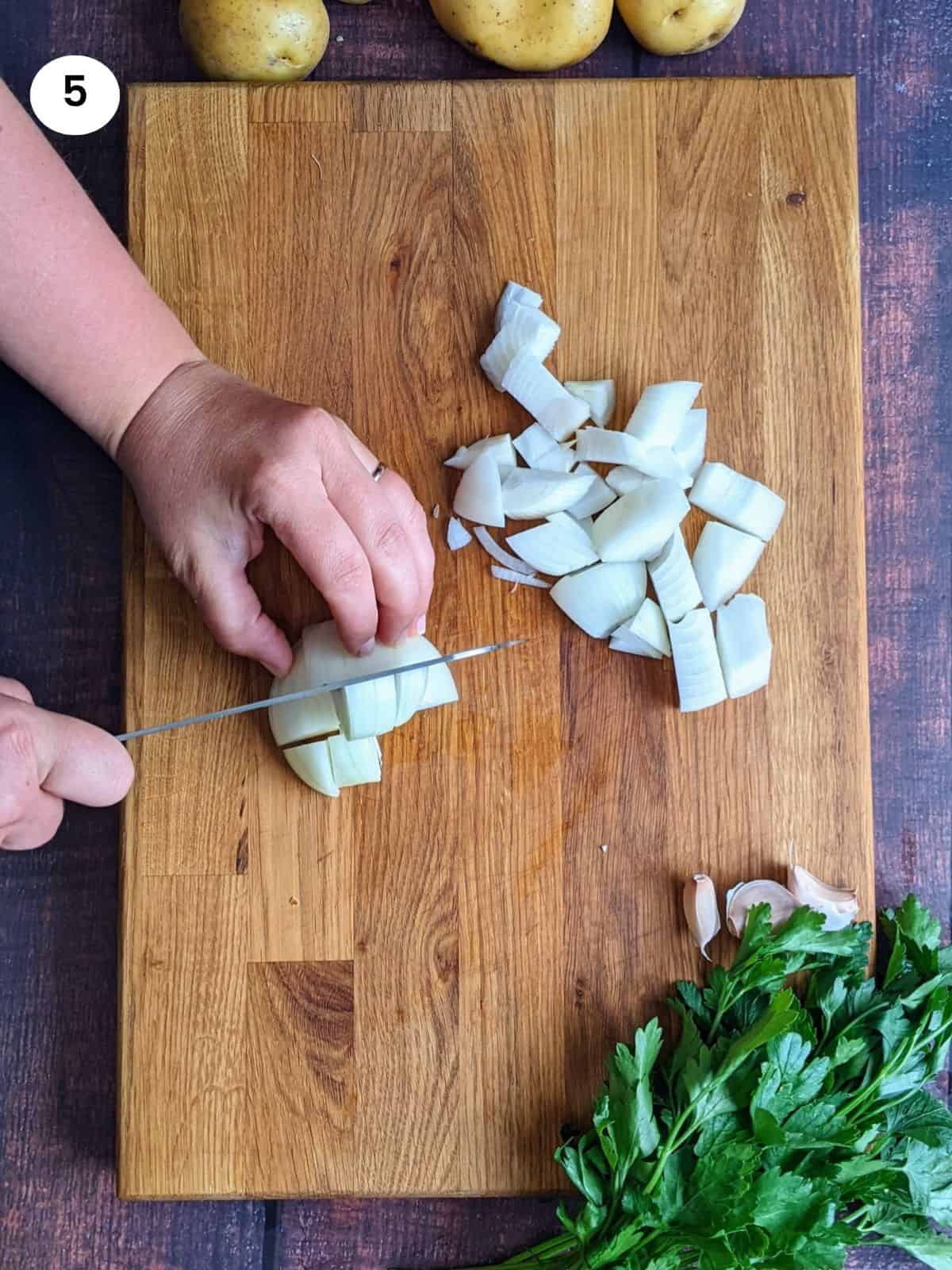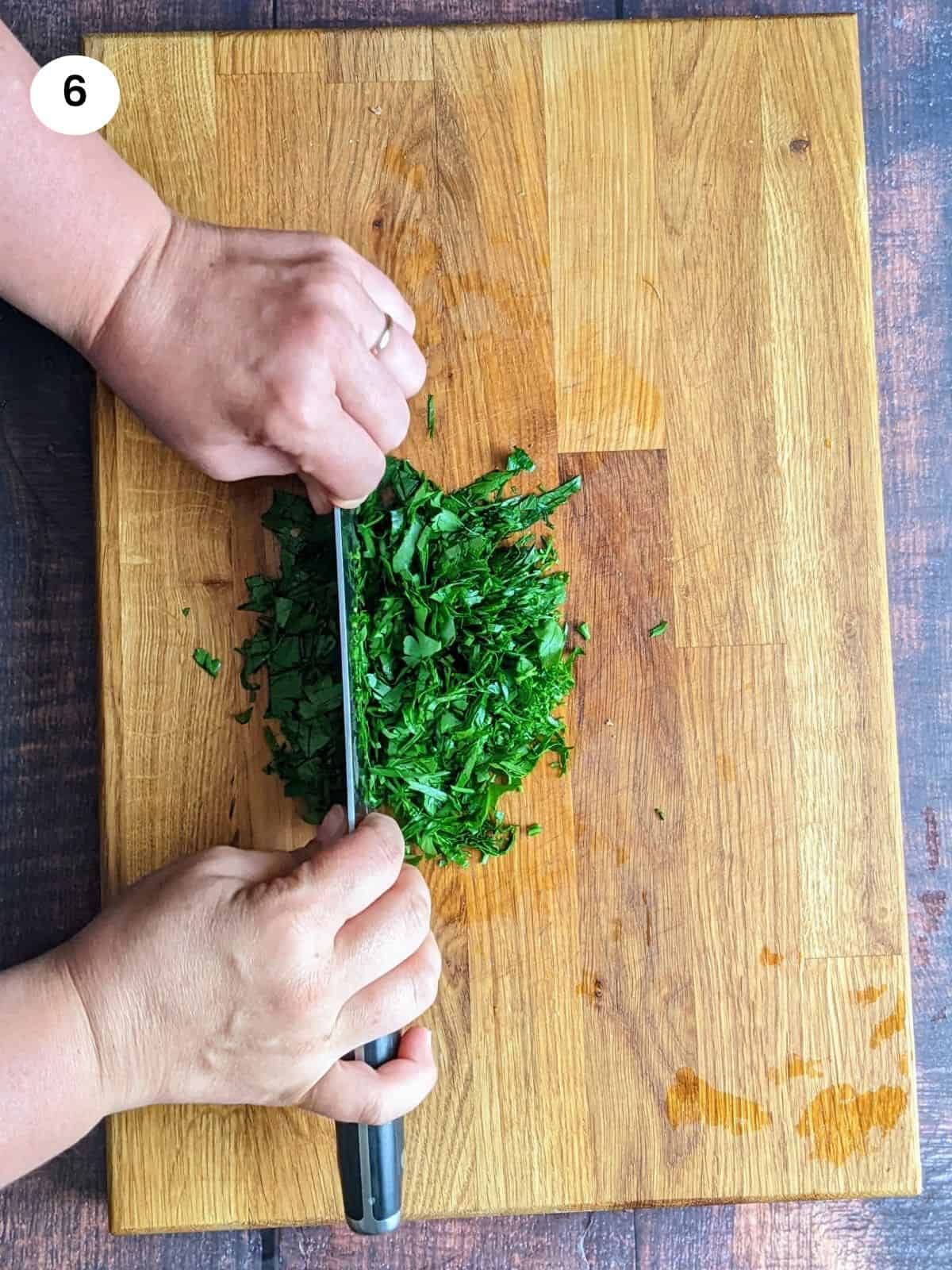 07. I'm using two chinese long eggplants that I cut in half lengthwise and then into big chunks.
08. Same with the potatoes, I peel them and then cut them into quarters if they are big or just in half for smaller ones.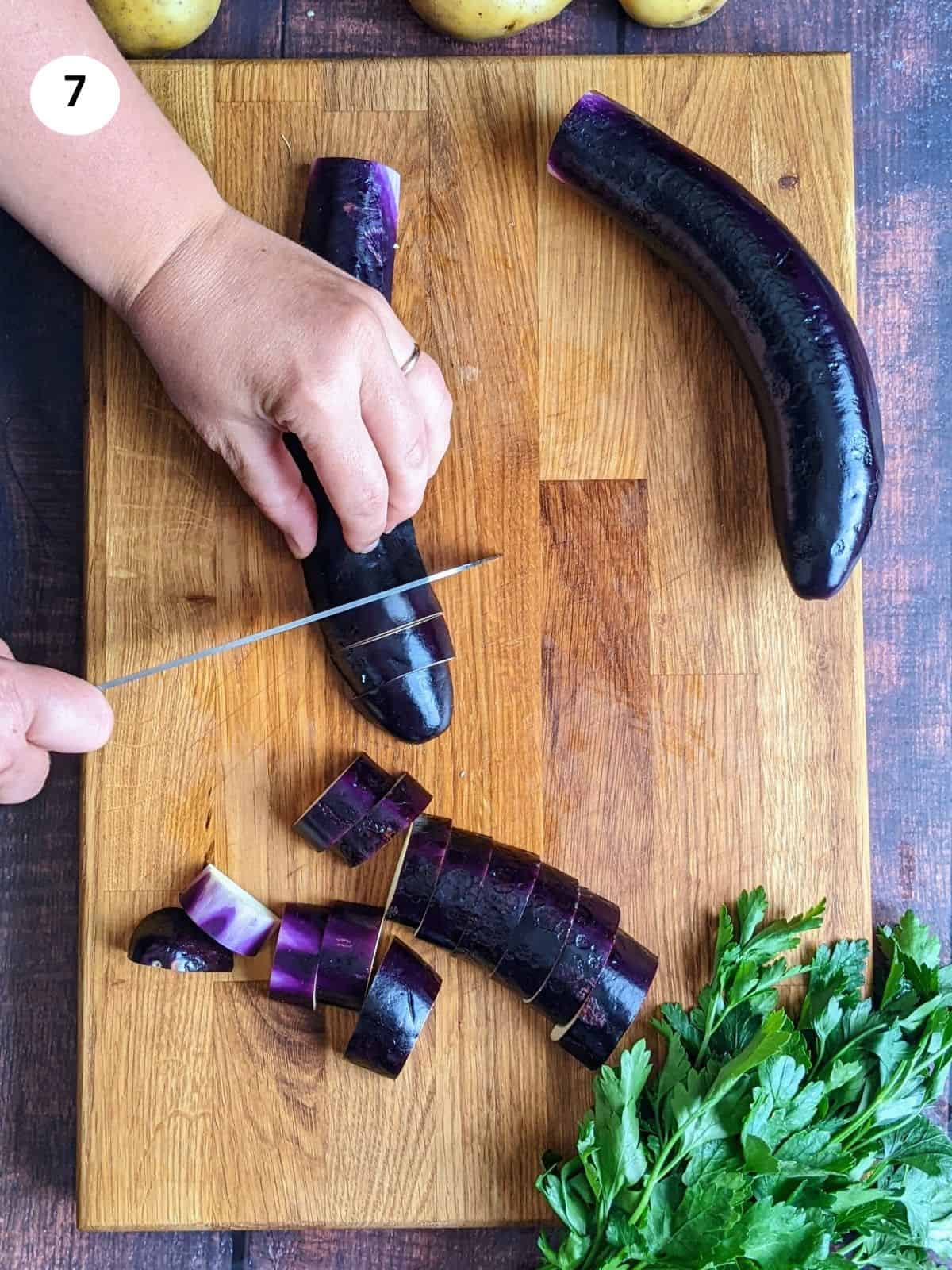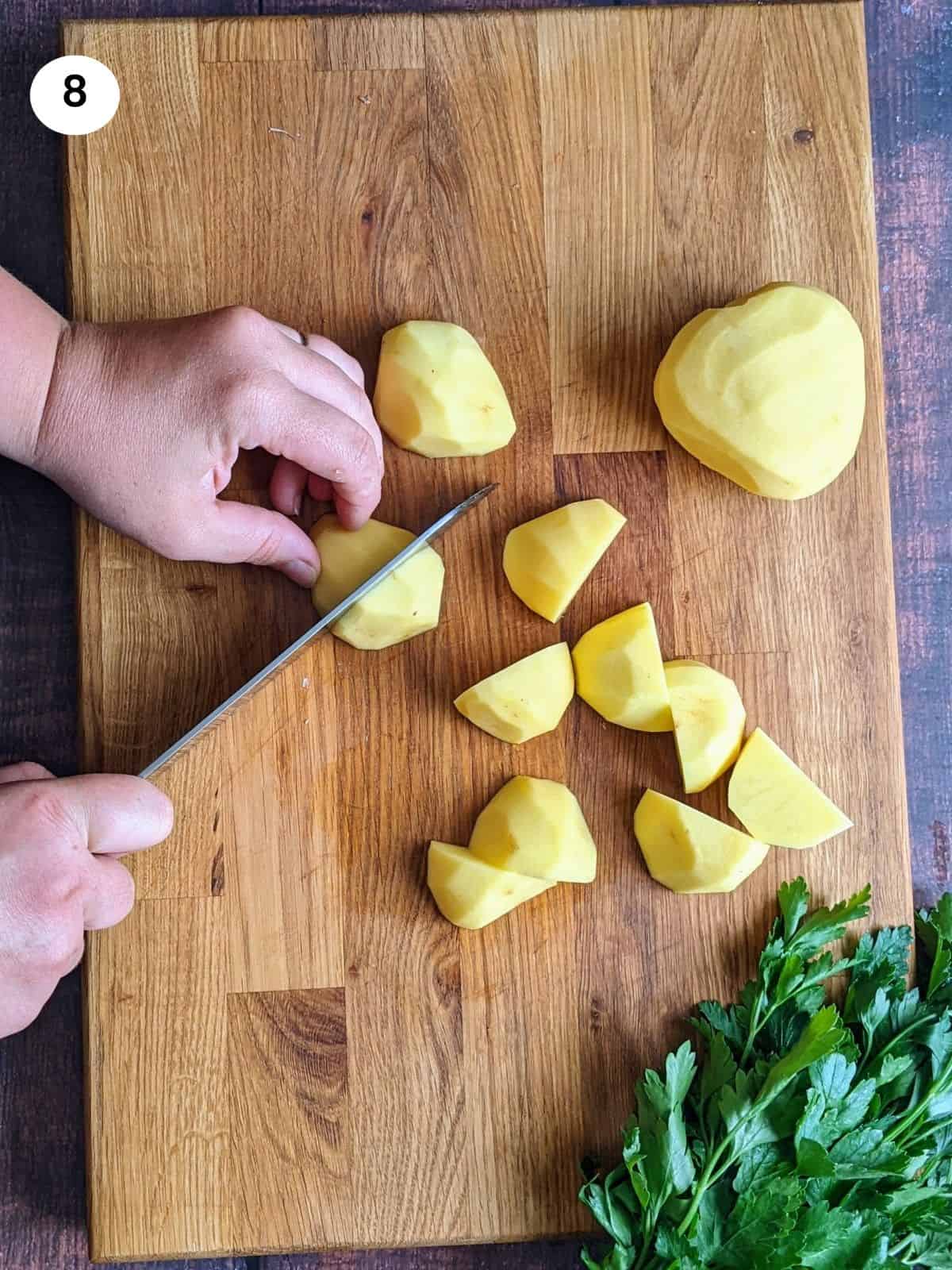 09. I place all the chopped vegetables in a big tray. I like to add a tablespoon of tomato paste as it adds some sweetness to the vegetable casserole and gives it a stronger tomato taste. For seasoning, I'm just adding some oregano for extra aroma and salt & pepper to taste.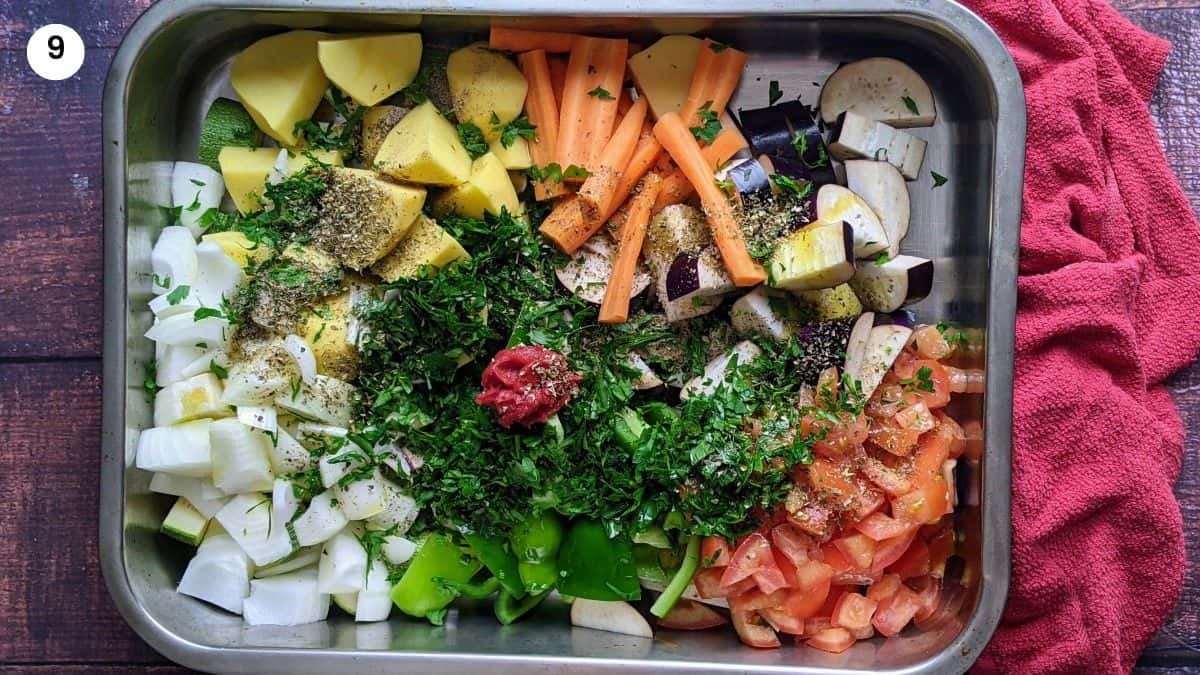 10. I'm adding half a cup of water and half a cup of olive oil. I mix everything very well to blend all the vegetables with the seasoning and it's now ready for the oven. Before I place it in, I cover it with some parchment paper and foil to protect the vegetables from burning and allow them to release their juices. Then I uncover and bake for half more hour or until the water is gone and the veggies are soft.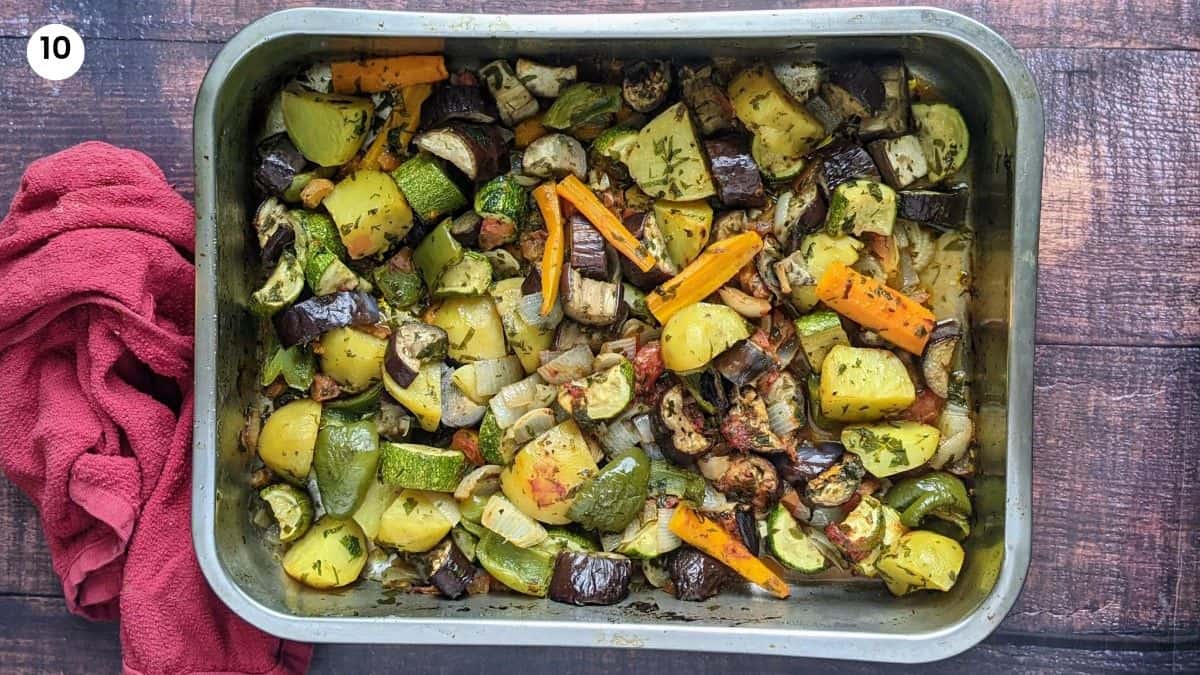 Serving suggestions
We love having this Greek briami vegetable casserole dish with some feta cheese or kefaloturi on top and a slice of bread on the side. It's also a great side dish for grilled meat or biftekia. For some extra goodness you could drizzle some olive oil on top before serving.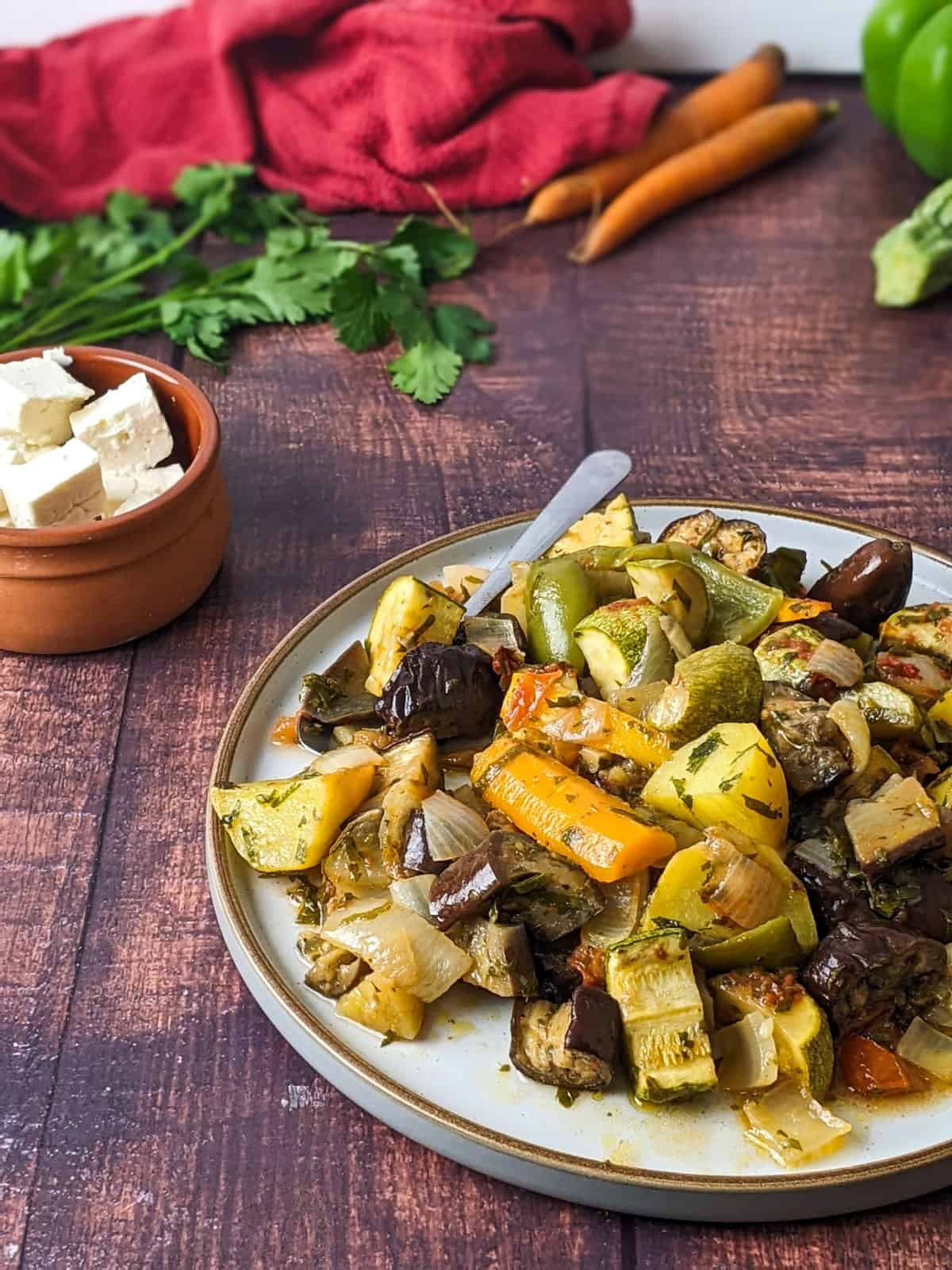 Storage
You can store any leftovers of the Greek roasted vegetable casserole in the fridge and consume within 4-5 days. Make sure you warm it up thoroughly before serving. As the briami has potatoes in it, I don't recommend freezing it. The potatoes don't do well in the freezer and get very soggy when thawed. If you however leave out the potatoes and just make the briami with the rest of the vegetables, then you could freeze it for up to 3 months.
FAQ
What is briam made of? Briam is a Greek roasted vegetable dish that has a variety of summer vegetables like eggplants, zucchini, carrots, potatoes, peppers and onions.

What is the difference between briami and tourlou? Both briami and tourlou are made with a variety of summer vegetables like eggplants, zucchini, potatoes and peppers. The difference is that briami is made in the oven where we slow roast the vegetables for more than an hour whereas tourlou is a stew made on the stove.

Is briami and briam the same dish? Yes, briami and briam refer to the same Greek mixed roasted vegetable dish.
Watch the video
Briami - Greek Roasted Vegetables Casserole
This traditional briami dish is a staple in Mediterranean cuisine, particularly during the summer months when vegetables are at their peak. It's very easy to prepare but you need to be patient while it's getting slowly baked in the oven to release all the sweetness of the vegetables out. This Greek roasted vegetables casserole offers a healthy and satisfying option for those seeking a plant-based meal or a flavorful side dish to complement various main courses. Enjoy!
Print
Ingredients
2 eggplants
2-3 zucchinis
2 tomatoes
3-4 potatoes
2-3 carrots
1 onion
2-3 garlic cloves
1 bell pepper
½ cup olive oil
1 tablespoon tomato paste
1 tablespoon oregano
salt & pepper
Instructions
Start by washing and chopping the vegetables. Cut the eggplants in the middle lengthwise and then into big chunks. Same with the zucchini and the potatoes.

Cut the tomatoes into big cubes. Remove the seeds of the pepper and cut into big chunks. Cut the onion in the middle and then into big cubes.

Peel the carrots and cut them into sticks. Chop the garlic cloves coarsely. Chop the fresh parsley finely.

Add all the chopped vegetables into a big tray. Add the chopped parsley, tomato paste, olive oil and oregano. Season with salt and pepper.

Mix everything well to combine. Add ½ a cup of water.

Cover with parchment paper and foil. Bake for 1 hour at 180°C/350°F. Uncover and bake for 30 more minutes, or until the veggies are cooked and the water has evaporated.
Notes
- You could use any type of zucchini and eggplant you can find at your local market.
- You could use a mix of dried herbs instead of oregano.
Storage
You can store any leftover of this briami dish in the fridge for up to 4-5 days.
Nutrition Info (per serving)
Calories: 331kcal | Carbohydrates: 34g | Protein: 5g | Cholesterol: 0mg | Fat: 21g | Saturated Fat: 3g | Polyunsaturated Fat: 2g | Monounsaturated Fat: 13g | Fiber: 6g | Sodium: 85mg | Potassium: 1030mg | Sugar: 7g
I am not a nutritionist. The nutrition information has been calculated using an on-line calculator, and is intended for information and guidance purposes only. If the nutrition information is important to you, you should consider calculating it yourself, using your preferred tool.