I love this recipe! I have it every other morning with a heaped spoon of greek yogurt and some berries. This is a very filling breakfast that can keep you going for hours. Needless to say, it's very healthy too! Nuts are known for their health benefits, they are full of unsaturated fats that help with bad cholesterol and have loads of nutrients like vitamin E, potassium and magnesium. Chia seeds are also rich in fiber, antioxidants and omega-3 fatty acids. If you'd like some extra sweetness you could add some honey or rice malt syrup before throwing it in the oven, or just add some fruits in your bowl.
What's inside
This is a simple 5-6 ingredients only recipe. The coconut flakes and nuts give it this crunchy granola texture and you will need some butter or coconut oil for the ingredients to stick together.
I always have some almonds and walnuts in my cupboard, so my nuts mix has both of those. You could really add any nuts you like and have available, almonds, walnuts, hazelnuts, cashews.. any nuts. If I have around any pumpkin seeds, I toss in some of those too! I prefer using a chopping blender to chop the nuts as it's much faster than using a knife and if I'm going to share this with my little one, I give it some extra spins to get them into smaller pieces.
When we were dairy free in my house, I was substituting the butter with coconut oil. You can use either, it's up to your preference and your diet! Sometimes I add a tablespoon of honey or rice malt syrup to the mix before throwing it in the oven. That gives it some extra sweetness, especially if you are having it plain. You can also simply add some fruits or raisins to your bowl and skip honey.
Mamazilla's Product Recommendations
Serving suggestions
If you are having the coconut granola for breakfast you could add a couple of spoonfuls of yogurt and some fruits like berries or sliced banana. This is also nice for nibbling or as a snack, I often put some in a small container and take it with me when I go out for a walk or shopping in case I get a bit hungry!
Storage
Store it in an airtight container for up to 10 days. You can also freeze it for a couple of months although it's so easy and quick to make that I rarely freeze it.
Watch the video
No Sugar Coconut granola
Try this coconut sugar-free granola for breakfast with a couple of spoonfuls of yogurt and some fruits. It will fill you up with loads of energy!
Print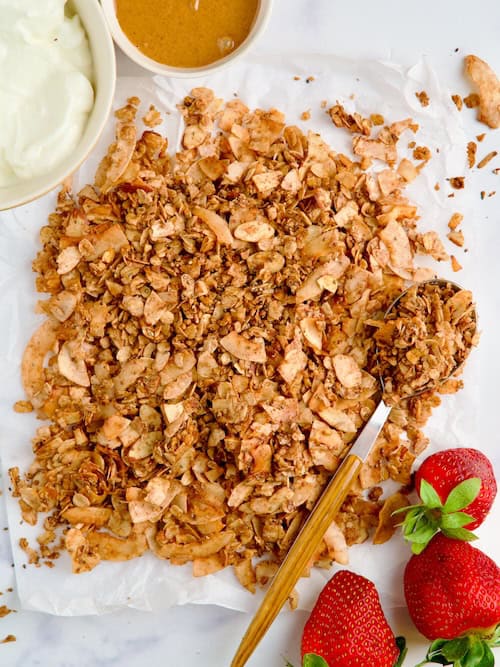 Ingredients
2 cups (200gr) mixed nuts
3 cups (150gr) coconut flakes
⅓ cup (80gr) melted butter or coconut oil
1 tablespoon of chia seeds
1 tablespoon of ground cinnamon
1 tablespoon of honey or rice malt syrup (optional)
Instructions
Chop the nuts roughly by knife or using a blender.

Mix coconut flakes, chopped nuts, chia seeds and cinnamon in a big bowl.

Add the melted butter and honey (optional). Stir well until all ingredients are well combined.

Add the mix in a tray lined with baking paper or a pyrex tray.

Bake at 160°C/325°F for 20 minutes. For crunchier granola leave it for 5 more minutes.
Notes
You could substitute the butter with coconut oil for a vegan and dairy free version. You could also add some raisins instead of the honey or rice malt syrup. If you're sharing this with little ones, make sure you blend the nuts well.
Storage
You can store it in an airtight container for up to 10 days. You can also freeze it for a couple of months.
Nutrition Info (per serving)
Calories: 300kcal | Carbohydrates: 11g | Protein: 3g | Cholesterol: 13mg | Fat: 27g | Saturated Fat: 14g | Polyunsaturated Fat: 5g | Monounsaturated Fat: 5g | Fiber: 6g | Sodium: 11mg | Potassium: 227mg | Sugar: 4g
I am not a nutritionist. The nutrition information has been calculated using an on-line calculator, and is intended for information and guidance purposes only. If the nutrition information is important to you, you should consider calculating it yourself, using your preferred tool.