These mango pancakes are really healthy and tasty. They don't have any sugar in them, as they get all their sweetness from the mango fruit. For a bit of texture you can blend or chop the mango finely, otherwise blend till it's smooth. They are great for breakfast but also as a snack or treat for little ones, and they are so easy and too quick to make. We all need some quick recipes in hand some mornings, right?! The recipe makes 6-8 pancakes, so double-up for a bigger batch and don't worry if they are not all eaten, you could always put them in the freezer for another day.
Jump to:
Why you should try my recipe
Sugar-free pancakes. No sugar added, all the sweetness comes from the mango.
Great breakfast for adults and little children.
Nice idea for babies that follow the Baby-led weaning method.
Freezable. Store them for up to 2 months. Great for busy mornings!
Ingredients & How-to
As with most pancake recipes, you will only need a few ingredients to make them: mango, flour, baking powder, milk, egg and vanilla extract. For full quantities check the recipe down below.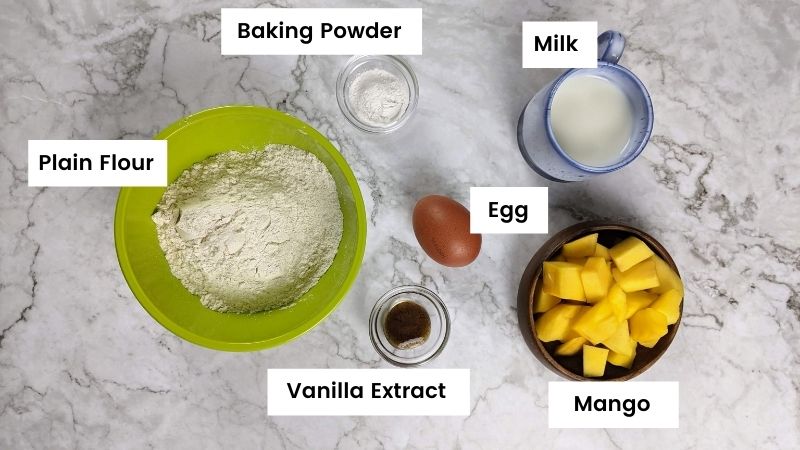 01. I start by adding the mango cubes in a food processor or blender with a little bit from the milk. I give it a couple of spins until the mango is chopped into small bits but not completely smooth, as I like the texture of small mango bits in my pancakes. Alternatively, you could blend it until it's smooth and creamy.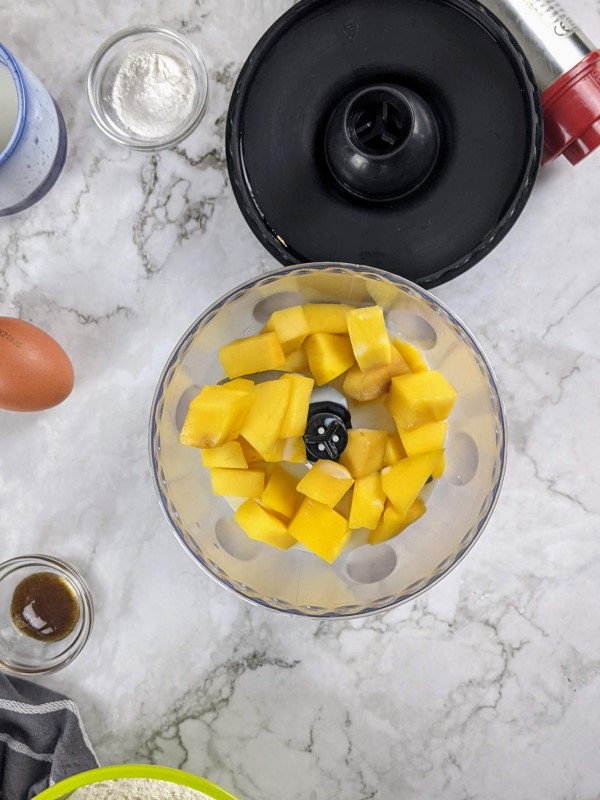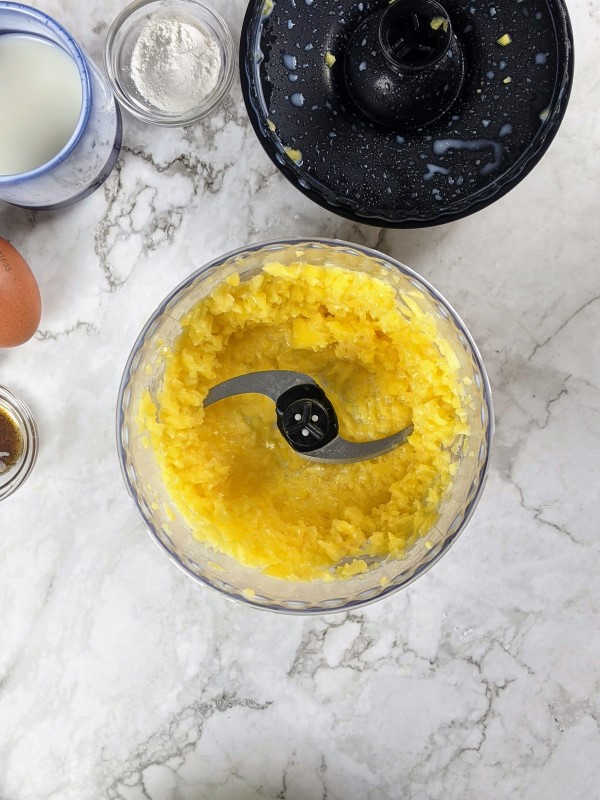 02. Next, I'm adding to the bowl all the wet ingredients, the egg, rest of milk, vanilla extract. I give it a stir until the egg is mixed and then add the mango inside and give it a mix. Now, it's time for the flour and baking powder. Don't overwork the mixture after adding the flour, just stir until it's incorporated.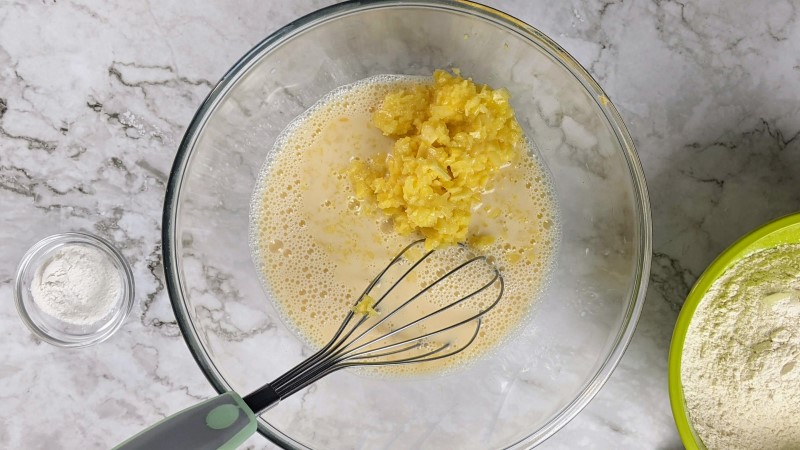 03. When the mixture ready, it's time to move to the stove. I'm warming up a pan in medium heat. I like to use a non-stick pan, so I don't have to add any butter or oil for the pancakes but it's completely up to you. Then, I add a bit of my batter with a ladle and wait until it starts forming bubbles before flipping it over. It usually takes a couple of minutes on each side until the pancakes are ready.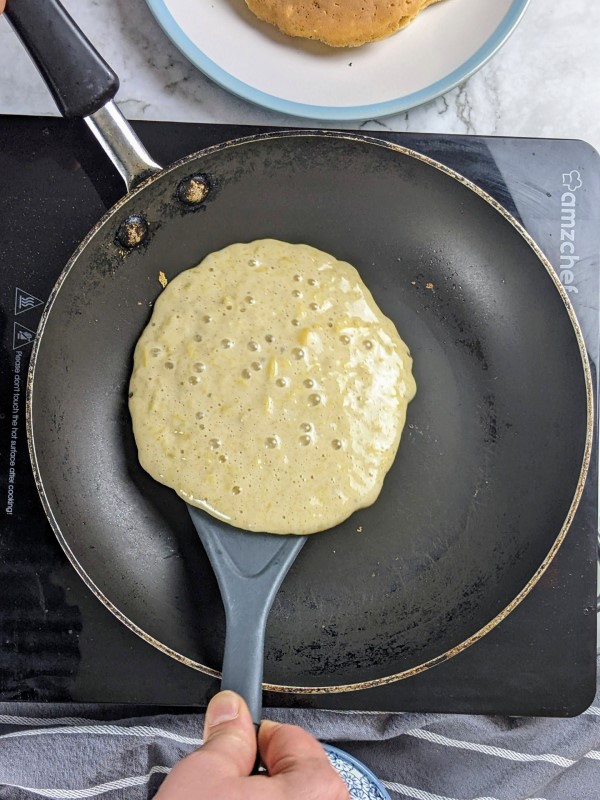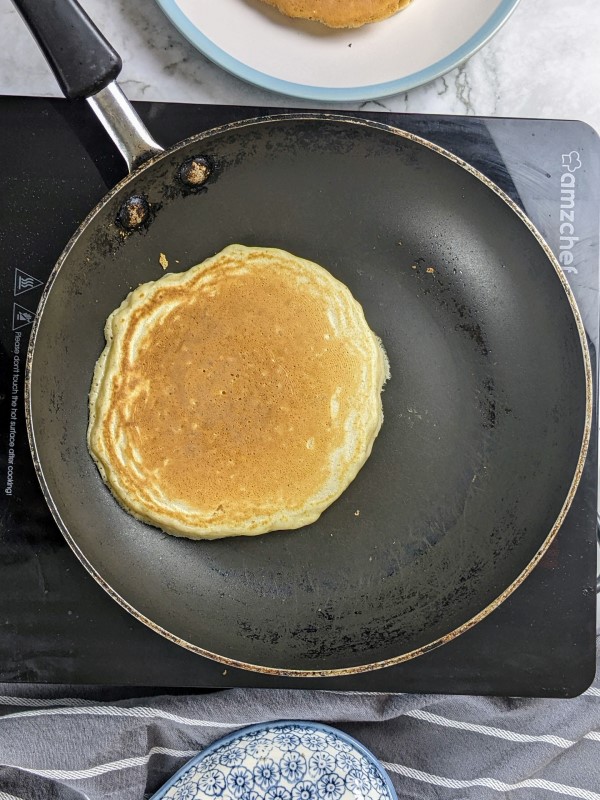 Serving suggestions
You could serve the mango pancakes with some honey or maple syrup on top and some fruits. They also go well with peanut butter or a chocolate spread. For little ones, you could serve them plain or mash some fruits and spread them on top for a healthier sugar-free version.
Storage
If you make a big batch of mango pancakes, you can store them in the fridge for a couple of days in an airtight container. They also do freeze well for up to 2 months. Make sure that they cool down completely and put some parchment paper squares between the pancakes so they don't stick together in the freezer.
FAQ
Are the pancakes freezable? Mango pancakes are freezable up to 2 months. To store them in the freezer, add some parchment paper between each pancake so then don't stick to each other.

How can I make the pancakes dairy-free? To make the mango pancakes dairy-free you could use a dairy-free milk of your choice like almond milk or coconut milk.

What can I serve with the pancakes to make them sugar-free? The mango pancakes don't have any sugar in them. You could serve them with mashed banana or berries for a sugar-free version or with some peanut butter.

Are the mango pancakes baby-friendly? Mango pancakes are suitable for babies from 6 months old as they don't contain any sugar and are easy to hold with their little fingers.
Watch the video
Sugar-Free Mango Pancakes
These mango pancakes are so easy to make and very healthy. They have no sugar in them as all their sweetness comes from the mango fruit. Great for adults and little children. Enjoy!
Print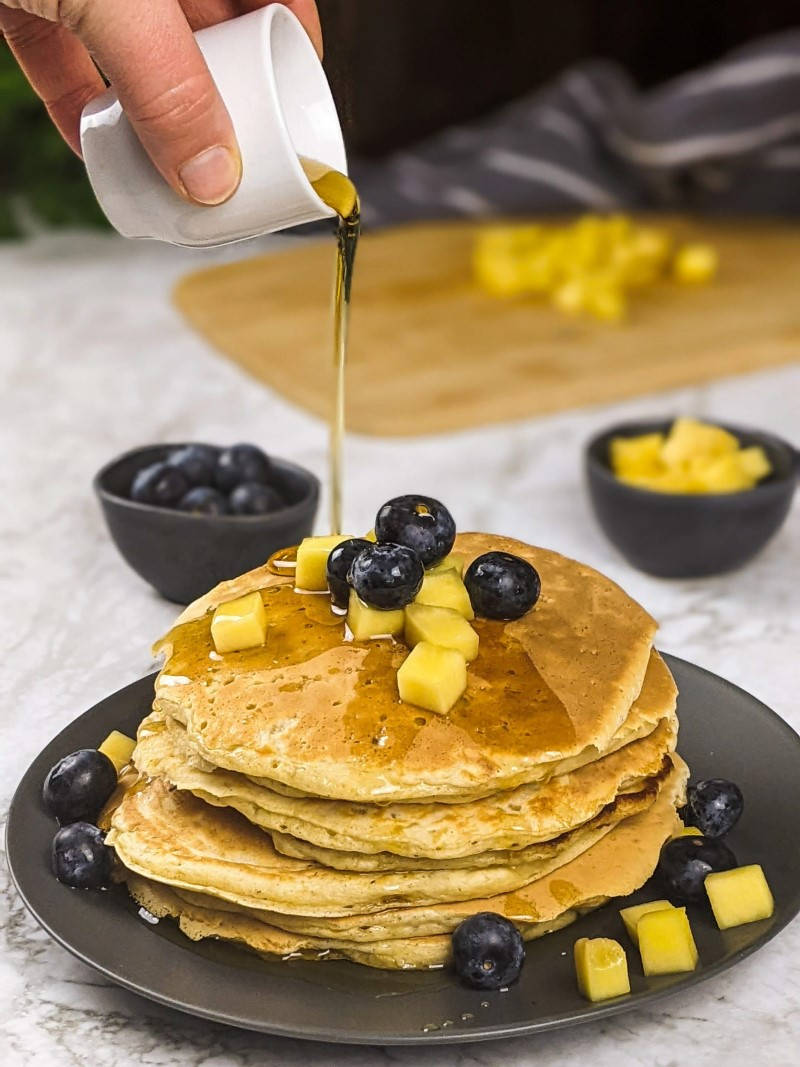 Ingredients
1 1/4 cups / 150gr plain flour
1 egg
3/4 cup / 185ml milk
2 teaspoons of baking powder
1 cup / 150gr mango in cubes
1 teaspoon of vanilla extract
Instructions
Add the mango cubes with some milk into a food processor or blender. Blend until it's in small, fine bits or smooth according to preference.

In a bowl, add the egg with the rest of the milk and whisk it until the egg is incorporated. Add the mango and stir until it's incorporated.

Add the flour and the baking powder to the mixture. Don't over mix it, just stir until the flour is incorporated.

Heat a pan over medium heat. Add a bit of butter or oil, or if the pan is non-stick just add some batter with a ladle to the pan.

Wait for a couple of minutes until you start seeing bubbles before flipping it over to cook on the other side.

Stack the pancakes one on top of the other to keep the bottom ones warm.
Notes
- You could use cow's milk or any other milk of your choice.
Storage
You can store them in the fridge for a couple of days or the freezer for up to 2 months.
Nutrition Info (per serving)
Calories: 101kcal | Carbohydrates: 18g | Protein: 4g | Cholesterol: 20mg | Fat: 1g | Saturated Fat: 1g | Polyunsaturated Fat: 0g | Monounsaturated Fat: 0g | Fiber: 1g | Sodium: 130mg | Potassium: 42mg | Sugar: 4g
I am not a nutritionist. The nutrition information has been calculated using an on-line calculator, and is intended for information and guidance purposes only. If the nutrition information is important to you, you should consider calculating it yourself, using your preferred tool.