This is a delicious and easy recipe for making salmon especially if you are one of those people who are afraid of cooking fish cause it might get too dry. I can't recommend it highly enough, try it and you are going to love it too! The salmon will be so juicy, tender and full of flavor, as all the aromas stay inside the foil.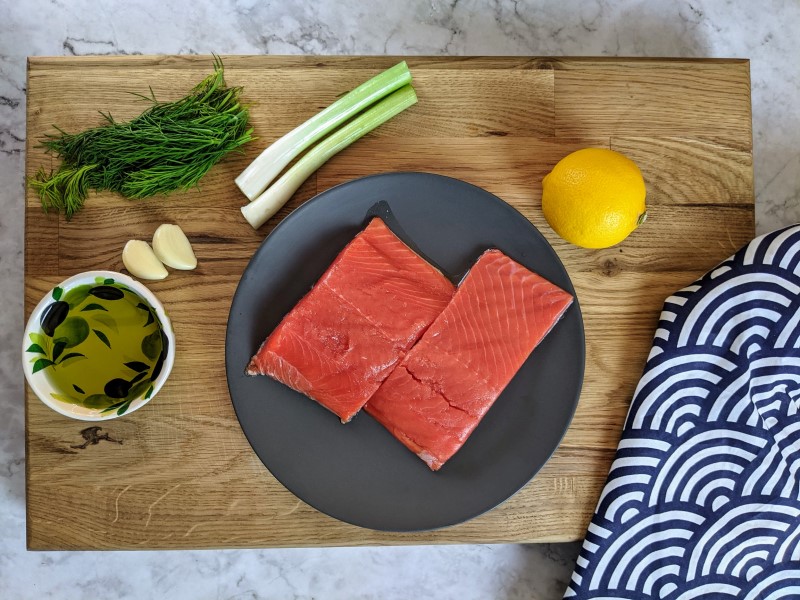 Ingredients & How-to
The recipe has only 5 ingredients including the fish. I usually buy a pack with two wild-caught salmon fillets that around 200gr, but if you like you could try this with a big long fillet, just make sure you increase the amount of the other ingredients.
Start by placing the salmon fillets in a baking tray lined with foil. Make sure you have enough foil to make a parcel with the salmon inside. I then add on top the other ingredients chopped, dill, green onions and garlic. Drizzle with some lemon juice and that's it really! So simple, right?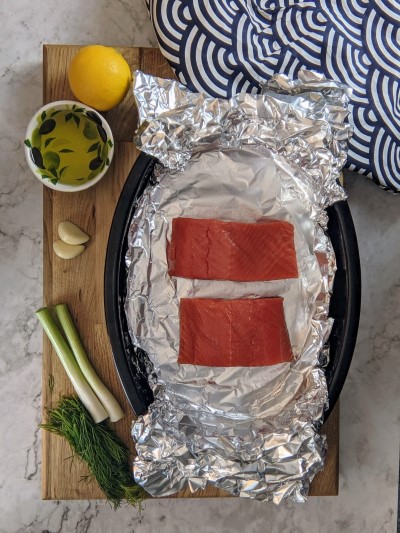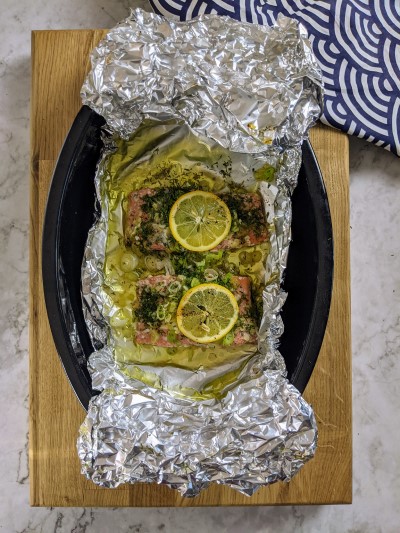 After placing all ingredients on top of the fish, use your fingers to seal the foil around the fillets and place it in a preheated oven. It only takes 15 minutes to be ready so in the meantime, you can prepare some salad or mash to serve it with.
Serving suggestions
This is quite lemony, so we usually have it with some steamed or roasted veggies, like broccoli, beans or asparagus. It also goes well with mashed potatoes. Serve warm, a few minutes after you get it out of the oven.
Storage
The salmon is best enjoyed the day it is made that's why we usually make two fillets. However, if you do have any leftover, put it in the fridge and consume the next day. Be careful when reheating the cooked salmon as it can dry out. I recommend either leaving it at room temperature for 5-10 minutes to warm up or reheat in the microwave for a minute.
Watch the video
Baked Salmon in foil
This baked salmon in foil is so quick and easy to make. It will make your meal look so special! Serve it with some steamed or roasted veggies and some potato mash.
Print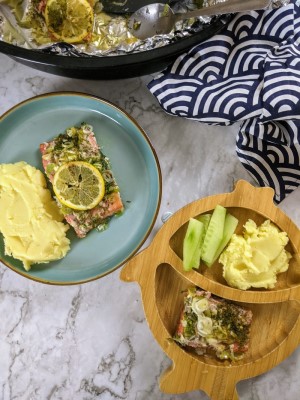 Ingredients
2 salmon fillets (around 200gr)
1 lemon
2 green onions chopped
1-2 garlic cloves chopped
bunch of dill chopped
1 tablespoon of olive oil
pepper
salt (optional)
Instructions
Preheat oven to 180°C/350°F

Place some kitchen foil on a baking tray.

Place the salmon fillets in the middle of the foil with the skin side down.

Drizzle with the olive oil. Add the chopped green onions, garlic and dill on top of each fillet.

Cut two slices from the lemon and get the juice from the rest. Drizzle with the lemon juice and add one slice of lemon on top of each fillet.

Sprinkle with salt and pepper. Seal the foil around the fillets.

Bake for 15 minutes.
Storage
Store any leftovers in the fridge. For reheating the next day, I recommend either leaving it at room temperature for 5-10 minutes to warm up or reheat in the microwave for a minute.
Nutrition Info (per serving)
Calories: 231kcal | Carbohydrates: 3g | Protein: 24g | Cholesterol: 50mg | Fat: 14g | Saturated Fat: 2g | Polyunsaturated Fat: 1g | Monounsaturated Fat: 5g | Fiber: 0g | Sodium: 124mg | Potassium: 38mg | Sugar: 1g
I am not a nutritionist. The nutrition information has been calculated using an on-line calculator, and is intended for information and guidance purposes only. If the nutrition information is important to you, you should consider calculating it yourself, using your preferred tool.