This pork and celery stew brings back lots of memories from my childhood and growing up in Greece. My mom used to make this stew quite often when selino (similar to chinese celery) was in abundance. It was a great way to eat more greens and also get some protein.
This type of lemony meat & greens stews are so typical in Greek recipes and Mediterranean diet in general. Sometimes they are related to specific holiday meals like mageiritsa, an Easter dish with lamb tripe and greens, or lenten recipes like my spinach and squid stew.
Celery leaves have a mild, slightly bitter taste that is similar to the flavor of the celery stalks but more concentrated. The leaves have a fresh, herbaceous aroma that can be quite pungent when they are crushed or chopped and are often added to soups, stews, and salads to provide a bright and fresh flavor to the dish.
In Greece, we use selino greens to make this pork and celery stew dish which is very similar to chinese celery. It has thinner stalks and comes with the leaves. If you can't find that, then some supermarkets sell celery with the leaves nowadays or alternatively, you could ask at your local farmers market if they have celery greens or bring you some next time you visit.
Jump to:
Why you should try my recipe
Hearty, comfort dish.
Full of protein and vitamins from the pork and celery greens.
Great way to eat more greens and detox.
You could freeze any leftovers.
Ingredients & How-to
To make this hearty Greek pork and celery stew you are going to need some pork meat, celery greens or chinese celery, onion, leek, lemons, egg, salt and pepper. For full quantities check the recipe down below.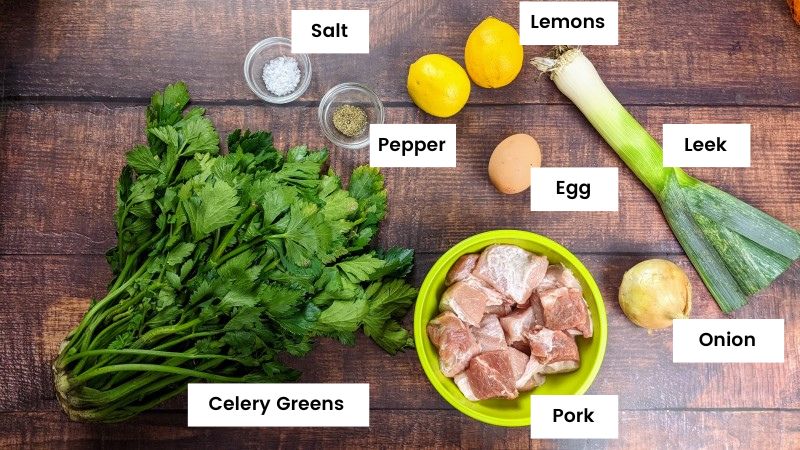 For the meat, I'm usually buying a big chunk of pork meat that is suitable for slow cooking like pork shoulder. I cut it into big cubes 5cm / 2in or you could leave it into bigger chunks but you might have to adjust the cooking time. You could also use different cuts like pork loin or pork belly but again you might need to adjust the time of cooking before adding the celery greens to the pot.
The best way to make this dish is using chinese celery or selino as we call it in Greece. Chinese celery has thinner stalks, a stronger taste than normal celery and also comes with the leaves. If you can't find any chinese celery then you could use normal celery with the stalks and leaves. Finally, if you can't find any celery leaves but only stalks, then you could use the stalks cut into big cubes and for greens, you could use some pak choy or lettuce.
Making the pork & celery stew
01. I start with prepping the celery greens. Make sure you clean them very well and remove any soil and bugs. Then, I cut them into 2-3 pieces, depending on how long they are, around 10cm / 4in each.
02. While I clean and prep the celery greens, I fill in a big pot with water and bring it to a boil. Before using the celery leaves for the stew, I add them to boiling water and leave them for a couple of minutes. Then, using a slotted spoon, I take them out and leave them aside to be used later in the pork and celery stew.
Blanching the celery leaves before adding them to the stew is something that my mom taught me and helps to get the strong taste and bitterness of the celery off. So I highly recommend doing it for a perfectly tasty pork and celery stew.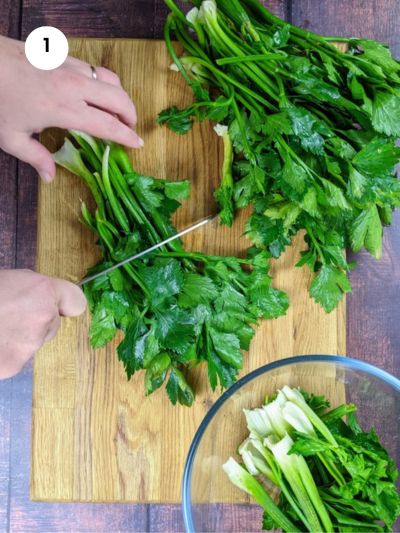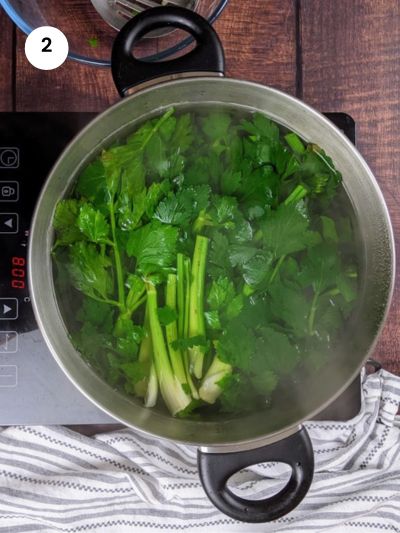 03. Now that the celery greens are ready, I continue with the rest of the ingredients. I cut the leek in half lengthwise and then into slices. Make sure you clean the leek well as you often get soil between the leaves. Same with the onion, I peel it and cut it into cubes. This stew has only a few ingredients, so it doesn't need much preparation really. You just need to be patient until the meat is cooked.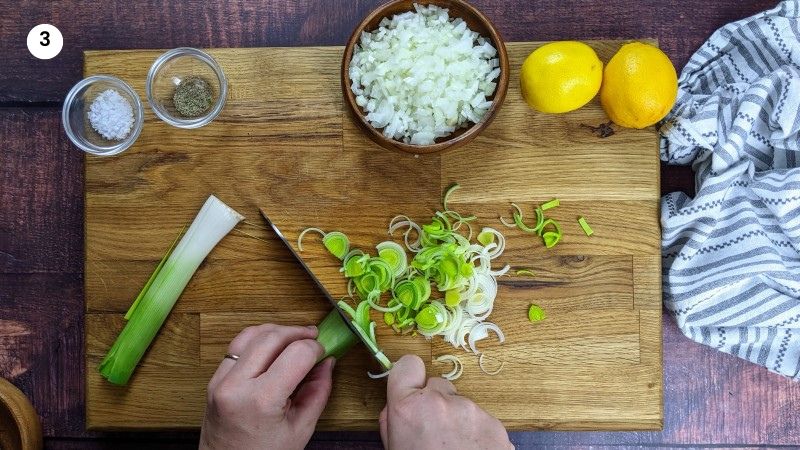 04. Let's move to the pot now! I'm adding some olive oil, about 4-5 tablespoons, to a pot and heat up over medium-high heat. I'm adding the pork chunks to the pot and keep stirring until they get a nice brown color on all sides.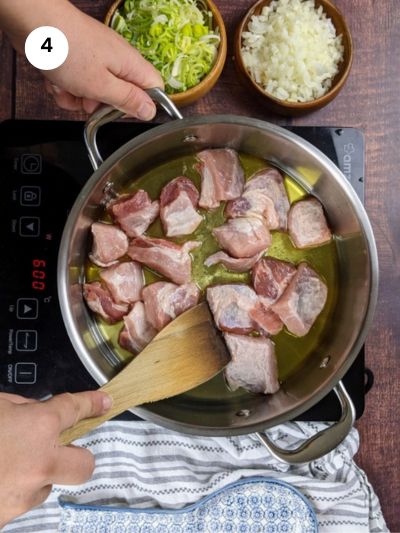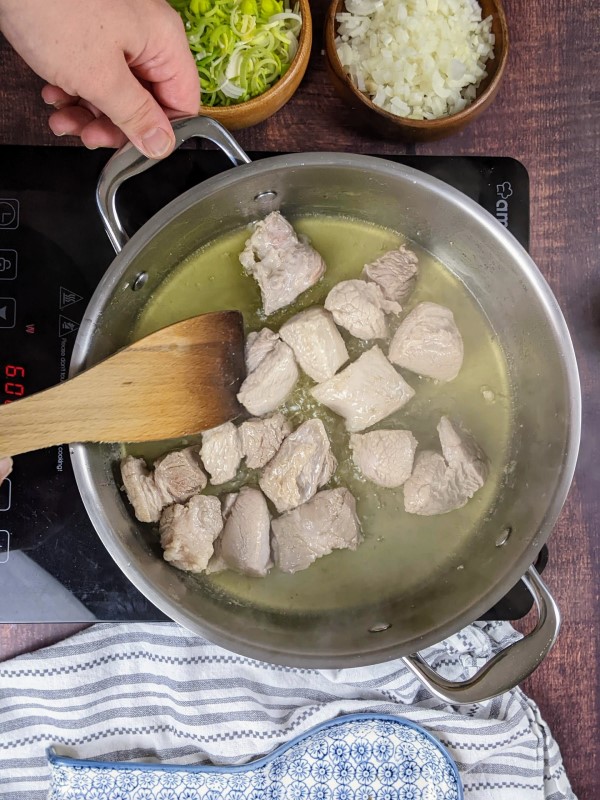 05. Next, I'm adding the chopped onion and leek and stir well to combine with the meat. Before adding the celery, we want to cook the meat until it's fork-tender. That will take about 1 hour in medium-low heat, depending on your pork chunks and cut. I'm adding about a cup of water to the pot and closing it with a lid to keep all the steam inside. You might need to add a bit more water depending on your stove, so do keep checking it every now and then.
06. Now that the meat is almost cooked, it's time to add the celery greens. We only need to cook them for 20-30 minutes since they are tender. Make sure you don't stir too much as you might break them and become mushy. When the celery is cooked, I turn off the heat and start preparing the avgolemono sauce.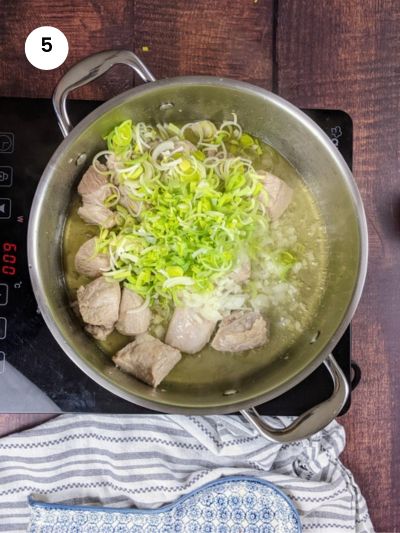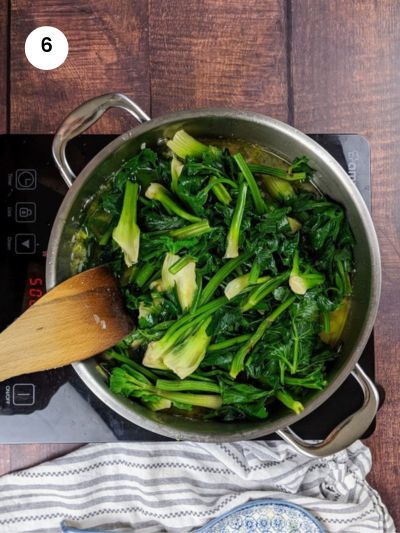 Making the avgolemono sauce
01. For the avgolemono sauce, I first separate the egg white from the yolk. With a whisk, I start beating the egg white until it gets foamy. We don't need it to be very stiff like meringue, just a bit frothy.
02. When the egg white is beaten, I add the yolk and juice from 1-2 lemons and mix them all well.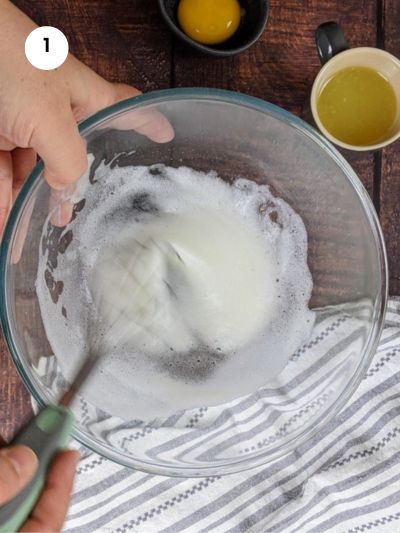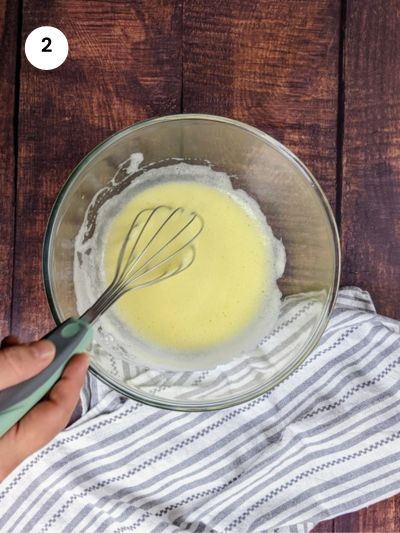 03. Then using a ladle, I add 2-3 big spoons at a time to the egg & lemon mixture in a thin stream while I constantly whisk. The key here is to slowly bring up the temperature of the egg.
04. Then, I transfer the avgolemono back to the pot and turn on the heat. I leave it for just one minute or until it starts boiling and then turn off the heat again. Just enough to bring everything together.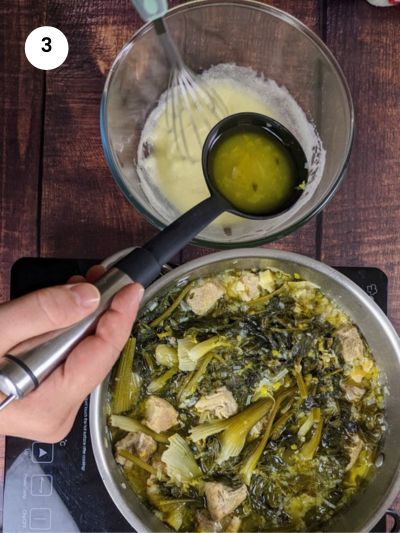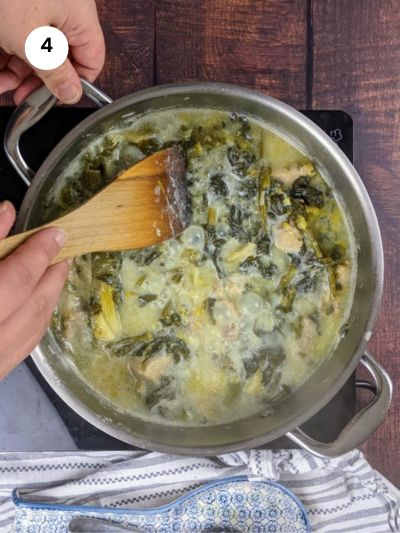 Substitutions
You could use chicken or beef instead of pork but you will have to adjust the cooking time.

If you can't find chinese celery or celery leaves, you could use celery stalks and replace the leaves with pak choy or lettuce.

If you find the avgolemono sauce too complicated or you can't have egg, then you could mix the juice of 1-2 lemons with some cornstarch and add it to the stew, bring it to a boil and turn off the heat.
Serving suggestions
This Greek pork and celery stew is typically served as a main with some nice crusty bread on the side for sopping up the lemony sauce from the stew. If you would like to serve it with some salad, I recommend some steamed vegetables to keep it simple or my homemade coleslaw salad or to keep it Greek, why don't you have it with a classic Greek salad.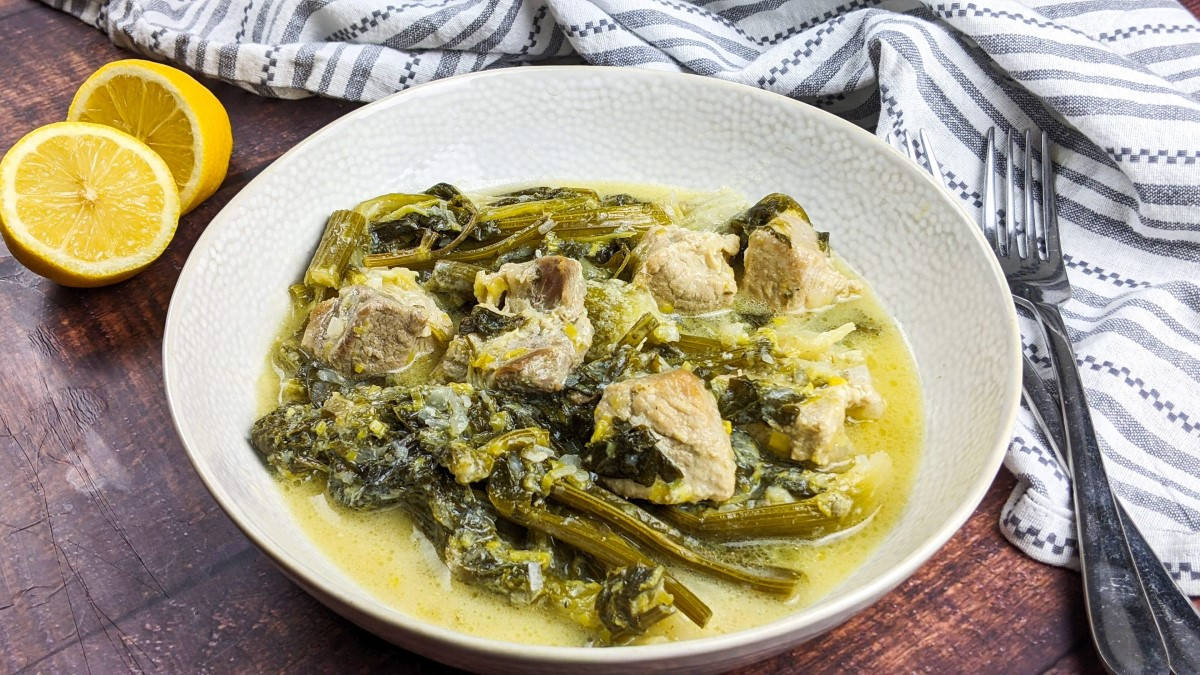 Storage
If you have any leftovers of the pork and celery stew, you could put it in the fridge and have it within the next couple of days warmed up in the microwave or in a pot for a few minutes. I don't recommend it heating it up to a boiling point as the lemon & egg sauce will potentially separate and it won't look nice aesthetically.
Another thing I love about this recipe is that you could freeze it and have it on another day. My husband is not a big fan of celery so I often make the stew for myself and my little one. Then I put any leftovers in the freezer for up to 2 months and we can have it some other day that I might be too busy to cook.
FAQ
Are celery leaves edible? Celery root, stalks and leaves are all edible. Celery leaves have a mildly bitter taste and are typically used in soups, stews and sometimes in salads. You could blanch them before adding them to stews to take the edge off the bitterness.

What pork cut is good for stews? Pork shoulder is the most typical cut of pork used for slow cooking. The high amount of connective tissue in this cut results in a tender, flavorful meat that falls apart easily when slow-cooked. Some other popular cuts for stews are pork loin and pork belly.

What can I replace avgolemono sauce with? If you find the avgolemono sauce to intimidating and are afraid you might get it wrong and ruin the dish, then you could simply squeeze a couple of lemons mixed with a tablespoon of cornstarch to thicken the sauce instead.

How long does celery take to cook in a stew? It depends on the age of the celery and how thick it is. Usually it will take between 20-30 minutes to get tender.
Watch the video
Pork And Celery Stew With Avgolemono Sauce
This hearty Greek pork and celery stew is the perfect food for chilling days. Tender chunks of pork are simmered until they are melt-in-your-mouth tender, while the celery greens add an earthy flavor and aromas to the dish. This stew is easy to make and can be prepared ahead of time, making it a great option for busy weeknights. Serve it with a side of crusty bread to soak up all the delicious flavors. Enjoy!
Category: Meat
Difficulty: Easy
Print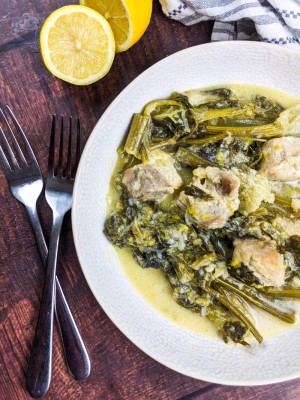 Ingredients
500gr / 1lb pork cut into cubes
450gr / 1lb celery greens or chinese celery (leaves and stalks)
1 onion
1 leek
4 tablespoons of olive oil
1 egg
1-2 lemons
salt & pepper
Instructions
Clean the celery greens and cut them into pieces around 10cm / 4in long. Cut the onion into cubes and the leek into half slices.

Fill a big pot with water and bring it to a boil. Add the celery greens and boil for 2-3 minutes. Remove with a slotted spoon and set aside.

In a pot, heat the olive oil on medium heat and add the pork chunks. Cook for 3-4 minutes until brown on all sides.

Add the onion and leek slices and mix well. Add about 1 cup of water. Season with salt and pepper.

Cover with the lid and simmer for 1 hour until the pork is fork tender.

Add the celery greens and cook for 20-30 more minutes on low heat.

For the avgolemono sauce, separate the egg white from the yolk. Beat the egg white until it's foamy. Add the lemon juice and egg yolk and mix well.

Using a ladle, add a couple of ladles of the stew juice to the lemon & egg sauce whilst stirring with a whisk continuously.

Add the avgolemono sauce back to the pot with the stew and heat up for a couple of minutes until it all comes together.
Notes
- Use a pork cut that is good for slow cooking like pork shoulder.
- Use one or two lemons for the sauce depending on how much lemony you like the food.
Storage
You can store any leftover pork and celery stew in the fridge and have it within the next couple of days. You could also freeze it for up to 2 months, then thaw it overnight and warm it up before you serve it.
Nutrition Info (per serving)
Calories: 408kcal | Carbohydrates: 21g | Protein: 28g | Cholesterol: 55mg | Fat: 25g | Saturated Fat: 6g | Polyunsaturated Fat: 2g | Monounsaturated Fat: 14g | Fiber: 5g | Sodium: 248mg | Potassium: 569mg | Sugar: 7g
I am not a nutritionist. The nutrition information has been calculated using an on-line calculator, and is intended for information and guidance purposes only. If the nutrition information is important to you, you should consider calculating it yourself, using your preferred tool.