A while ago we decided to sign up for a fruit box delivery service. We get one box every week with four different kinds of organic fruits, some exotic and some local ones. We usually add them in our breakfast bowl, except for my little one who could eat fruits all day if I let her. So this week, I decided to start a new challenge for me! I will make one smoothie recipe a week using some fruits from my box and veggies either from my garden or shop bought.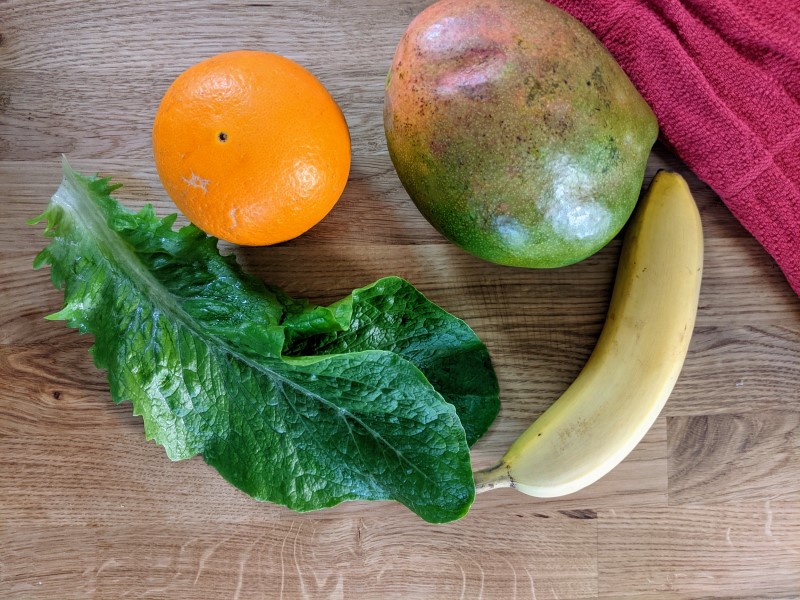 What's inside
For the first week, I'm starting with a sweet smoothie that contains mango, orange, banana and lettuce. All I do is chop each of the fruits roughly into cubes and cut in half the lettuce leaves with your hands or a knife. Then I blend all ingredients with a little bit of water for a couple of minutes. You could add more water to reach your desired consistency.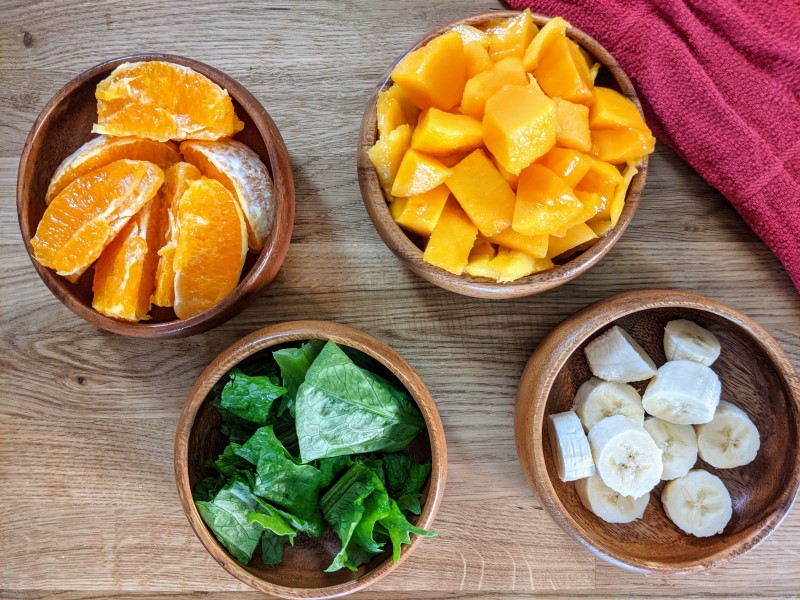 Health Benefits
This smoothie is packed with vitamins and nutrients. It's anti-inflammatory and great for your skin. Here is a breakdown of the most important nutrients that each ingredient offers:
mango: vitamin C, vitamin A and high in antioxidants
orange: vitamin C, fiber, folate and potassium
banana: vitamin B6, vitamin B12, potassium and magnesium
lettuce: fiber, iron, folate, and beta-carotene
Storage
You could store it in the fridge for the next day in an airtight bottle or glass. I do recommend though to drink it as soon as you blend it as fruits will lose some of their nutritional value.
Watch the video
Mango & Orange Smoothie
One Smoothie a Week - Week #1: This is a sweet smoothie recipe where the main ingredients are mango and orange. It's packed with vitamin C, B12, magnesium and beta-carotene. An anti-inflammatory and great for your skin drink.
Print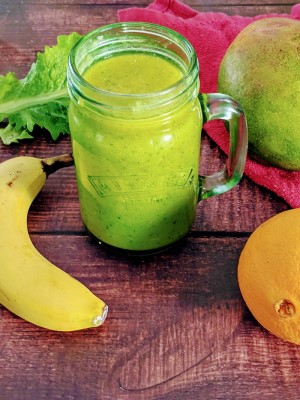 Ingredients
1 mango
1 orange
1 banana
2 lettuce leaves
½ cup water
Instructions
Chop the mango into cubes.

Peel the orange and cut into slices.

Peel the banana and cut into slices.

Roughly cut the lettuce leaves with a knife or your hands.

Add all ingredients to a blender with half a cup of water and blend well.
Notes
If you are making this smoothie just for one, simply use half for each of the ingredients.
Storage
You could store it in the fridge for the next day but I recommend drinking it fresh as you will lose most of the vitamins.
Nutrition Info (per serving)
Calories: 142kcal | Carbohydrates: 35g | Protein: 2g | Cholesterol: 0mg | Fat: 0g | Saturated Fat: 0g | Polyunsaturated Fat: 0g | Monounsaturated Fat: 0g | Fiber: 5g | Sodium: 13mg | Potassium: 530mg | Sugar: 23g
I am not a nutritionist. The nutrition information has been calculated using an on-line calculator, and is intended for information and guidance purposes only. If the nutrition information is important to you, you should consider calculating it yourself, using your preferred tool.