You might already know that eggplants or aubergines are one of those vegetables that we use a lot in mediterranean cuisine. You can find them in famous Greek recipes like moussaka or as a tapas, simply cut into slices and deep fried. One traditional Greek dish that has eggplants as a key ingredient is baked stuffed eggplants with a tomato rich onion filling. This dish belongs to politiki cuisine, comes from Constantinople and has turkish roots but it's enjoyed by Greeks in all corners of the country.
Jump to:
Why you should try my recipe
A hearty dish, full of flavor and aromas.
A vegetarian and Keto friendly dish.
Stores well in the fridge for up to 2 days.
Ingredients & How-to
The main ingredients for the baked stuffed eggplants are eggplants(aubergines), onions, garlic, parsley, chopped tomatoes, feta cheese, olive oil, bay leaf, salt and pepper.
I'm using large, long eggplants that I cut in half. If your eggplants are smaller then the recipe can also work, but in this case you might need to just cut them in the middle and stuff them rather than cutting them in half.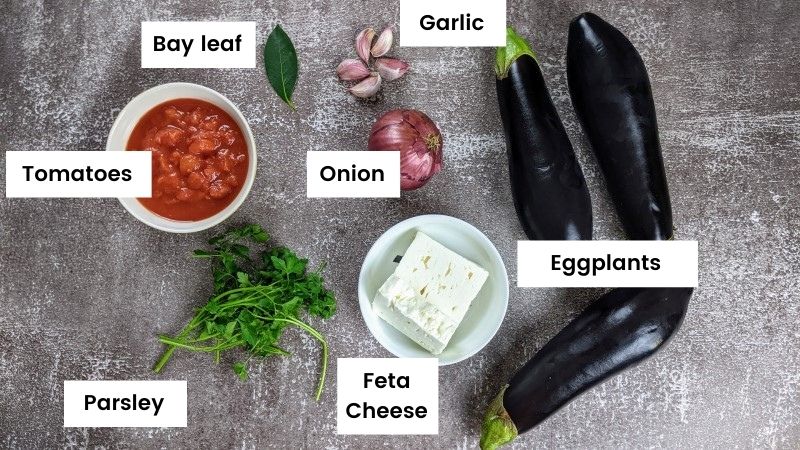 01. I start with preparing the eggplants. I give them a good wash, then remove the stem and cut each one in half. Using a teaspoon, I carefully remove the eggplant flesh, leaving around 1.5cm / 0.5'' on the sides. I keep the flesh on the side as I'm going to use it inside the sauce. The eggplants are very sensitive and they can get brown after you cut them. To prevent browning, I cut a lemon in half and brush the white inside the eggplant.
02. When all eggplants are cut and the flesh is out, I chop the flesh into small chunks. Then, I add all the flesh chunks into a bowl with water and lemon and leave it aside to be added later on in the filling.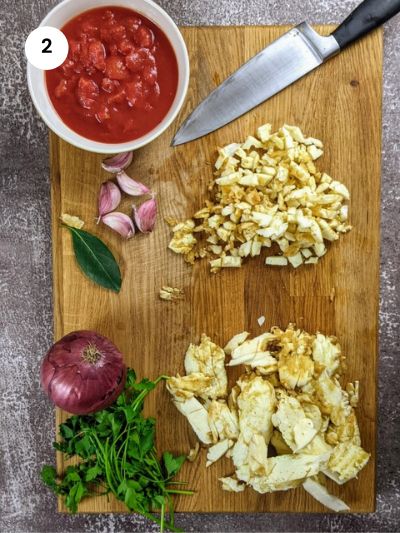 03. Now that the eggplants are ready, I'm moving to the rest of the vegetables. The main filling for the stuffed eggplants is onions cooked in tomato sauce. To fill in 3 eggplants, I'm using one big onion or 2 medium ones. It's better if you have some leftover filling rather than under stuffing the eggplants in the end. I cut the onion into slices as you want to actually taste the onion on each bite.
Another key ingredient here is the garlic. Garlic goes very well with eggplants and tomato based recipes. I'm using 4-5 garlic cloves that I just chop into smaller bits. Don't be afraid of using too much garlic as it really gives a nice kick to the onion filling.
04. Now, it's time to move to the cooktop. In a medium pot, I add 4-5 tablespoons of olive oil and turn on the heat to medium. I add the onion slices and sauté for 4-5 minutes until they are soft and translucent. Then I drain the eggplant flesh that has been sitting in the lemony water and add it to the pot along with the garlic cloves.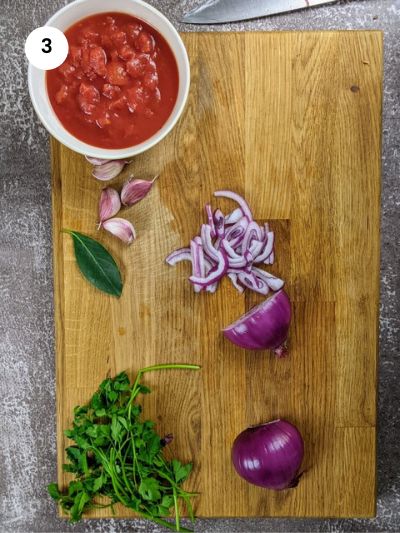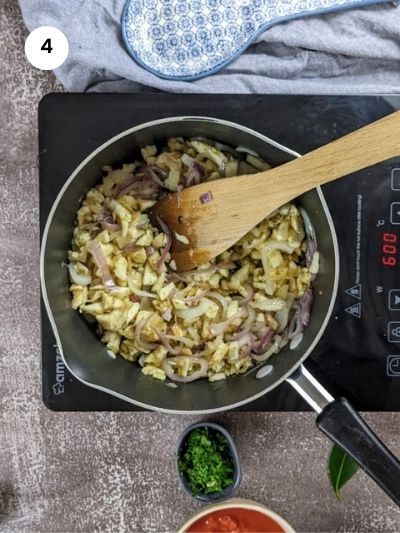 05. Finally, I add the chopped tomatoes to the pot, one bay leaf and season with salt & ground pepper. I add about a cup of water, cover the pot and cook for about 15 minutes. As for the tomatoes, I'm using chopped canned tomatoes but you can also use fresh ones, especially in the summer when the tomatoes are in season. If you decide to use fresh ones then I recommend cutting them into cubes and then reducing the amount of water you add to the pot into half as fresh tomatoes are more watery than canned ones.
06. When the filling is ready, I remove the bay leaf and add the chopped parsley in. I give it a stir and move into filling the eggplants. I place all the eggplants in a ovenproof dish or tray and start filling them till the top. If you have any leftover onion filling in the end then you could just put it in the tray between the eggplants.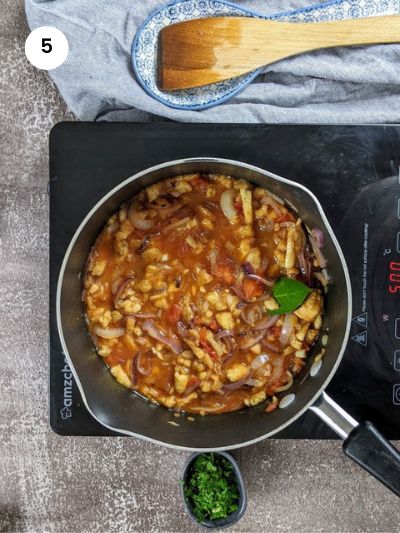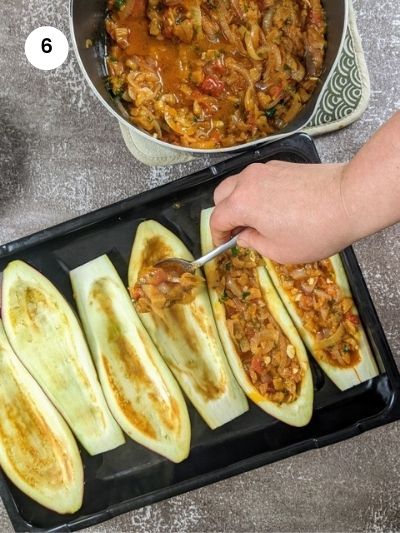 07. I drizzle the eggplants with some more olive oil on top and now it's time for the feta cheese. I'm using a block of feta cheese, that's around 200gr or 7oz. Using my fingers, I crumble the feta cheese on top of each eggplant to evenly distribute it. If you don't like feta cheese, then you could use some hard goats cheese instead or some manchego or padano cut into cubes.
As the feta cheese can easily get burnt in the oven, I cover the tray with some kitchen foil and bake for 30 minutes then uncover and bake for 10 more minutes to get a nice brown color on that feta cheese. The eggplants will release some water and the foil helps to keep the steam in, so there is no need to add any extra water to the tray. The eggplants will be cooked in all their juices and when you take them out they will be perfect and soft.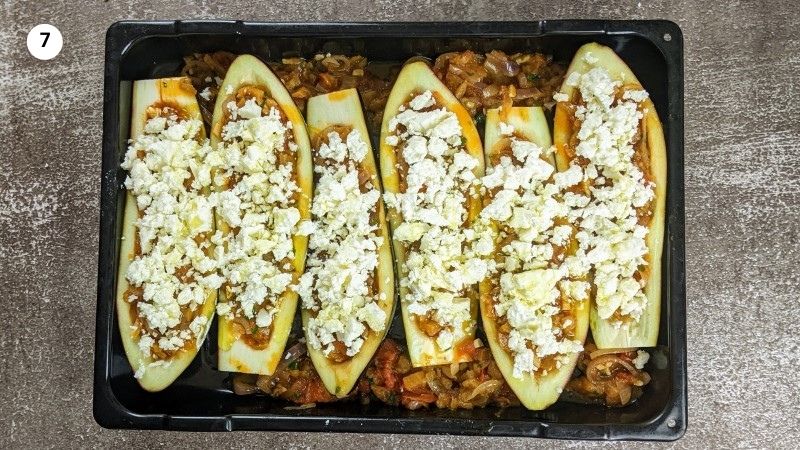 Serving suggestions
Serve the stuffed eggplants while they are still warm with some chopped parsley on top. We usually have them as a main with a slice of bread on the side and a salad.
For a vegan version of stuffed eggplants, all you need is to leave out the feta cheese or replace it with a vegan cheese of your choice.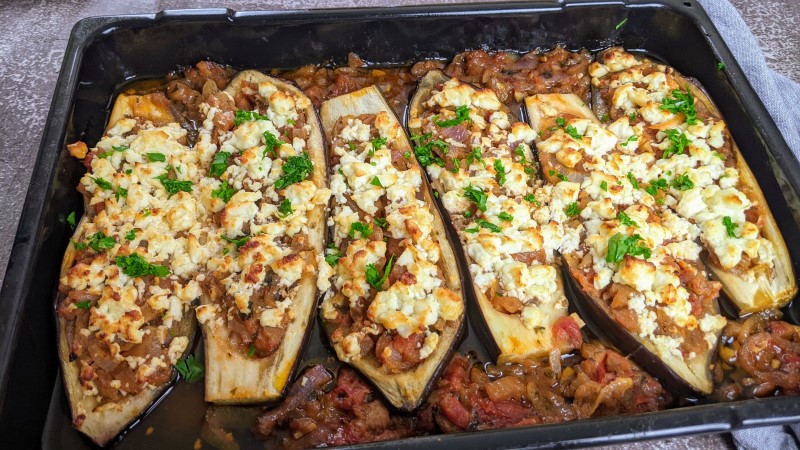 Storage
If you have any leftover stuffed eggplants, I recommend storing them in the fridge for up to 3 days. They are also freezable for up to 2 months. Thaw in the fridge overnight and then warm up in the oven for 10 minutes at 180°C/350°F before serving.
FAQ
What type of tomatoes can I use for the stuffed eggplants filling? For the filling of the stuffed eggplants, I'm using canned chopped tomatoes but you can also use fresh tomatoes, especially if they are in season and are nice and juicy. You could also use passata instead of chopped tomatoes, just reduce the amount from a cup to ¾ of a cup.

How can I make the stuffed eggplants vegan? To make the Greek stuffed eggplants vegan, simply leave out the feta cheese completely or you could replace it with a vegan cheese of your choice.

What type of cheese can I use instead of feta cheese? If you are not a fan of feta cheese and find it tastes too strong, then you could replace it with some graviera, manchego or padano cheese cut into small cubes.
Watch the video
Greek Stuffed Eggplants (Aubergines)
This dish of Greek stuffed eggplants with a tomato rich onion filling is full of flavors and goodness. Serve it with some salad on the side and a slice of bread to dip in the delicious sauce. Enjoy!
Print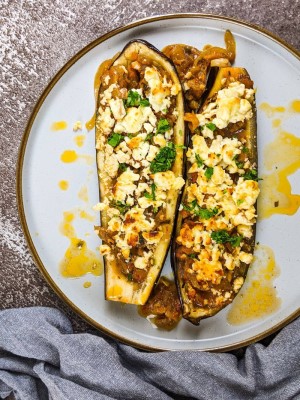 Ingredients
3 eggplants (aubergines)
1 big or 2 medium onions
4-5 cloves of garlic
1 cup (300gr) chopped tomatoes
1 block / 200gr / 7oz feta cheese
3 tablespoons of chopped parsley
olive oil
bay leaf
salt
ground pepper
Instructions
Wash the eggplants and cut them in half. Carefully remove the flesh in the middle of each eggplant, leaving 1.5cm/ 0.5in from the side. Rub the eggplant halves with a lemon to prevent browning.

Chop the eggplant flesh into smaller chunks and put it in a bowl with water and lemon.

Cut the onions into slices and the garlic cloves into small chunks. Finely chop the parsley and set it aside.

Add some olive oil (4-5 tablespoons) to a pot and heat up over medium heat. Add the onion slices and sauté for 4-5 minutes.

Add the garlic cloves, the eggplant flesh and the chopped tomatoes. Give it a stir to incorporate. Add 1 cup of water and season with salt and pepper.

Lower the heat to medium-low, cover with a lid and leave it to cook for 15 minutes.

Add the chopped parsley to the pot and turn off the heat. Stuff the eggplants with the cooked onions filling and top up with some crumbled feta cheese. Drizzle on top with some olive oil. If there is any onion filling left, simply add it to the tray between the eggplants.

Cover the tray with kitchen foil and bake for 30 minutes in a preheated oven to 180°C/350°F. Uncover and bake for 10 more minutes until the feta cheese gets a nice baked color.
Notes
- For a vegan version, you could leave the feta cheese out or use a vegan cheese of your choice.
- You could use fresh tomatoes instead of canned chopped ones. Chop 1-2 tomatoes into cubes and use half a cup of water instead.
Storage
You can store any leftovers in the fridge for up to 3 days. Freezable for up to 2 months.
Nutrition Info (per serving)
Calories: 490kcal | Carbohydrates: 21g | Protein: 18g | Cholesterol: 35mg | Fat: 38g | Saturated Fat: 11g | Polyunsaturated Fat: 3g | Monounsaturated Fat: 20g | Fiber: 11g | Sodium: 1593mg | Potassium: 968mg | Sugar: 12g
I am not a nutritionist. The nutrition information has been calculated using an on-line calculator, and is intended for information and guidance purposes only. If the nutrition information is important to you, you should consider calculating it yourself, using your preferred tool.