Cauliflower was one of my least favorite vegetables when I was growing up, along with beets. It must have been the strong smell when my mom was cooking it. I can't remember when exactly that changed, but now I love it. There are so many different ways to cook it, you could even crumble it and make pizza base or no carbs rice with it. So versatile!
In Greece, one of the most popular ways to have it is braised cauliflower in tomato sauce, kounoupidi kapama. It's a really easy recipe with just a few ingredients and you will be surprised by all the aromas and the flavors that such a simple dish has. Tender cauliflower florets soak up the rich and robust flavors of a savory tomato sauce, infused with aromatic herbs and spices. A very similar dish that you might have tried is Greek potatoes in tomato sauce.
Jump to:
Why you should try my recipe
Quick and easy to prepare.
You only need a few simple ingredients to prepare the braised kounoupidi.
Doesn't require any special cooking skills.
Ready in 40 minutes.
Great on its own with a slice of bread or as a side dish with your main.
Ingredients & How-to
To make this tomato braised cauliflower you are going to need a whole cauliflower head (around 2 pounds / 1 kilo), onion, garlic, tomato paste, crushed tomatoes or passata, bay leaves, cinnamon stick, olive oil, salt and pepper. Some people like to add some more veggies to their Greek kounoupidi kapama, like potatoes, carrots and celery but here I'm sharing with you the way my mom used to make it with just cauliflower as the main ingredient. So let's get started!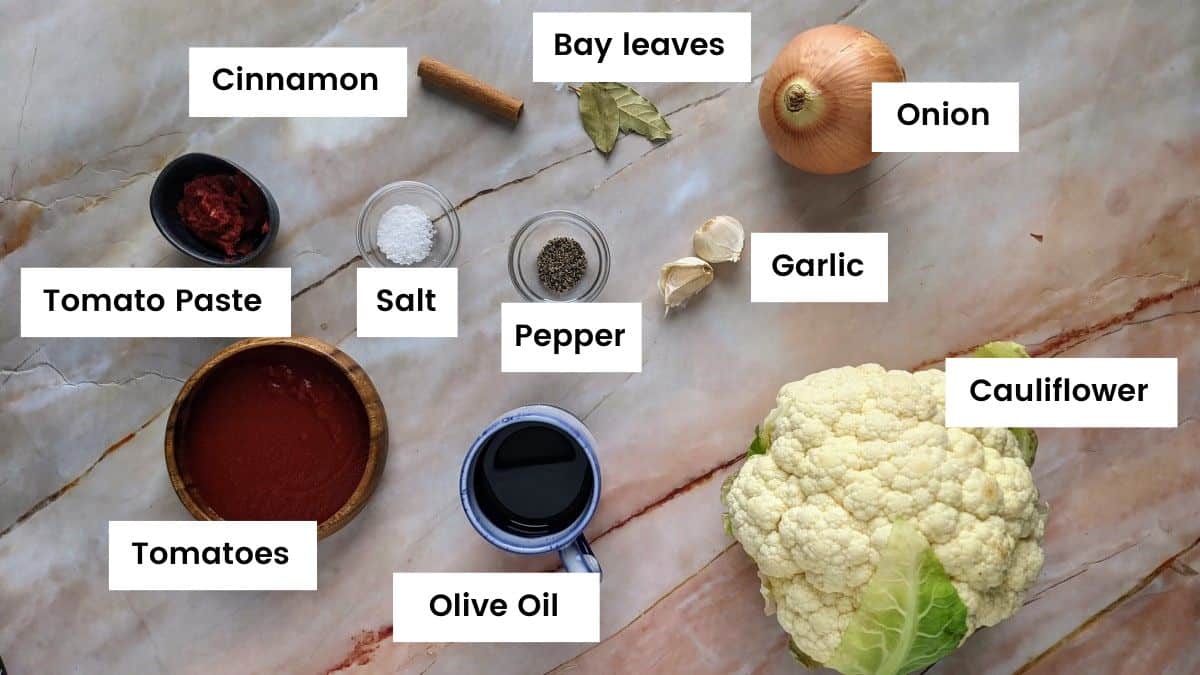 01. To start, I need to prepare and cut the cauliflower. I turn the cauliflower head upside down, with the root looking up and the florets down. Now using a knife, I start cutting the florets out. At the end, I have a bunch of little cauliflower florets and the hard stem which we are going to discard.
02. I fill up a large bowl with cold water and add a couple of tablespoons of vinegar. Then I place the cauliflower florets in and set it aside for 10 minutes. The vinegar helps with getting rid of any little bugs that have found their way inside the cauliflower. After 10 minutes, I discard the water and wash the cauliflower really well.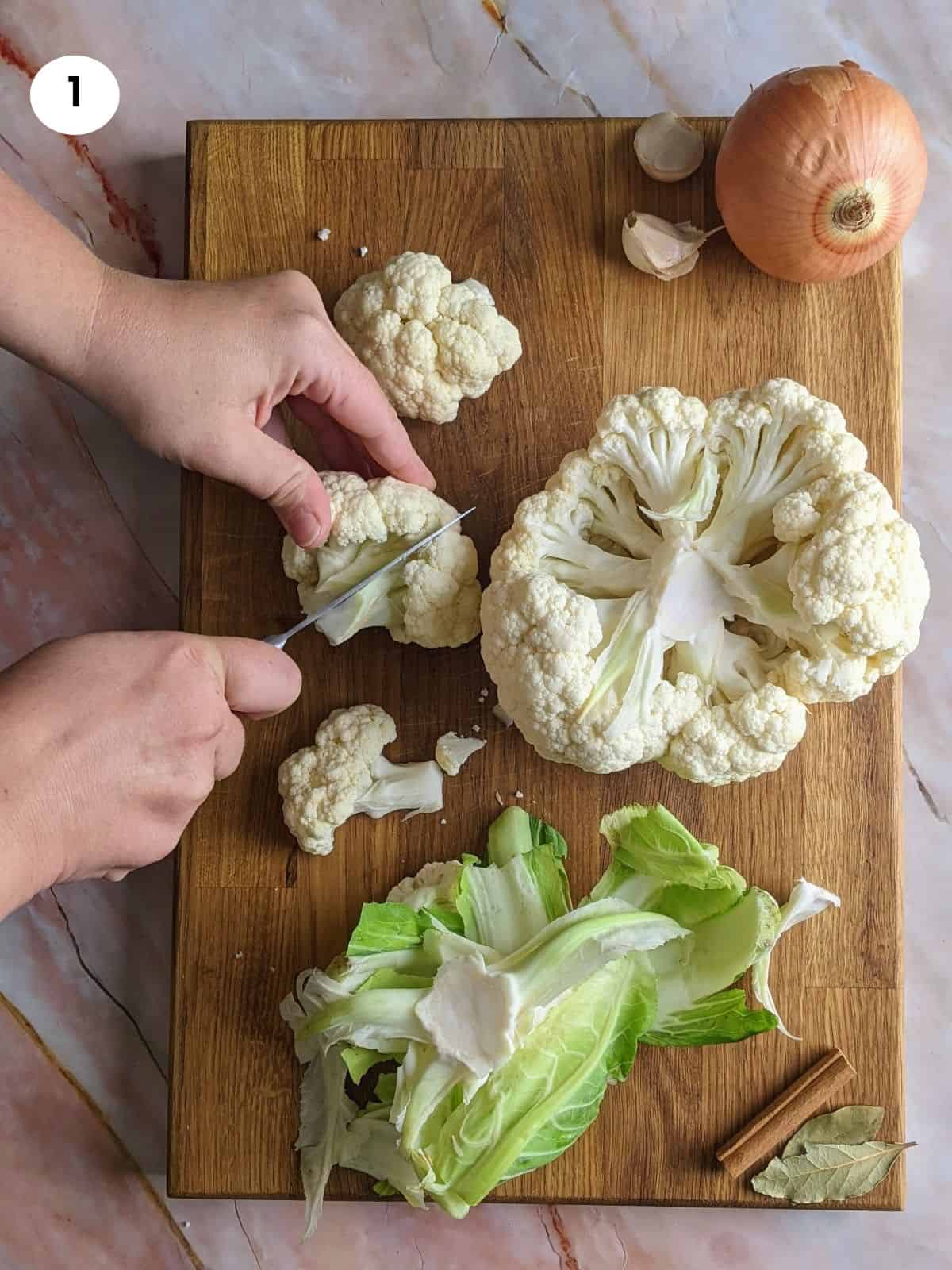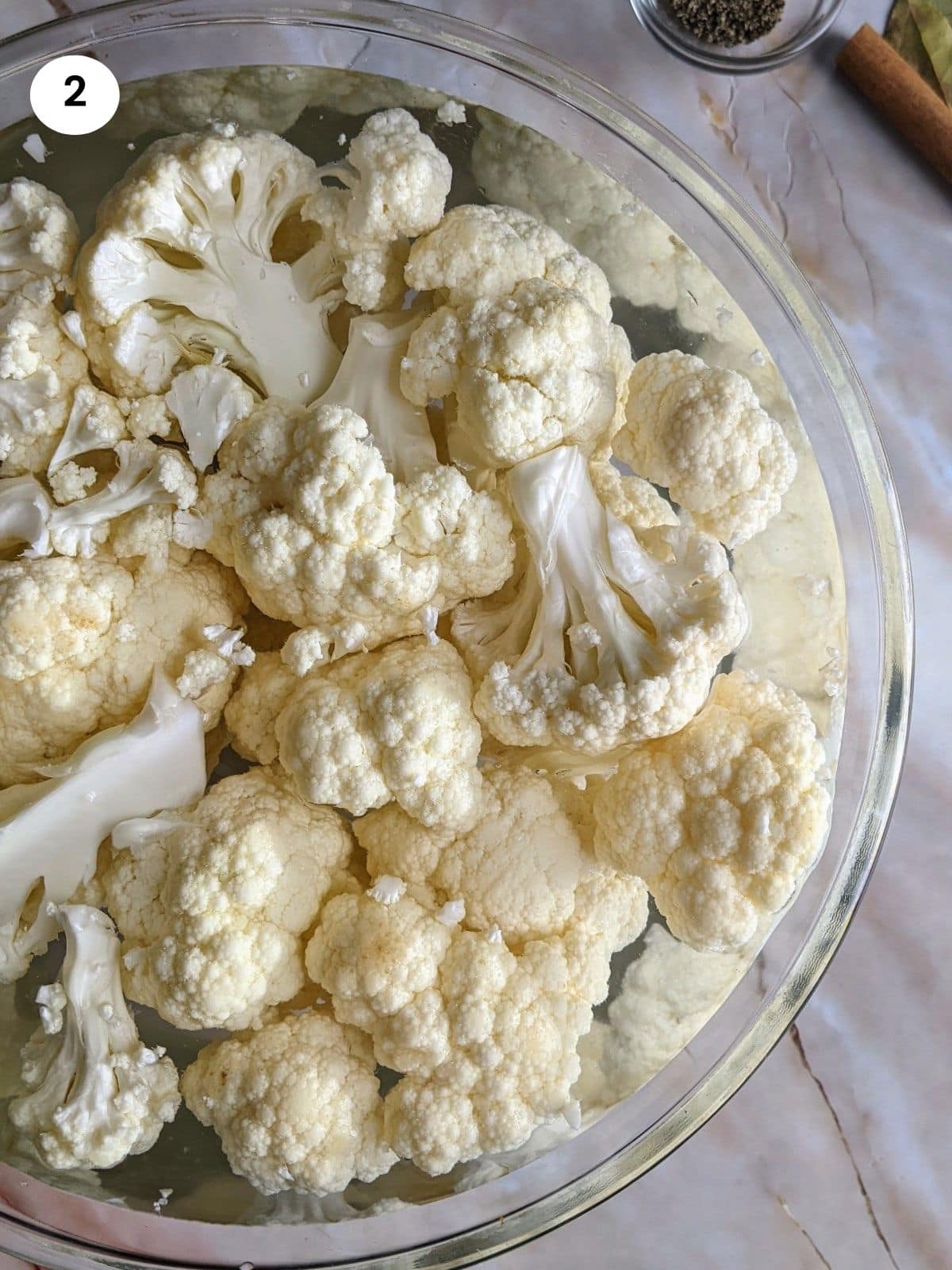 03. Now I'm ready to move to the pot. I add half of the olive oil to a wide pot, and heat it over medium heat. I add the cauliflower florets and sauté for 4-5 minutes until they get a little bit of color, but be careful not to burn them. Then I remove them and set them aside for later on.
04. I add the rest of the olive oil to the pot along with the onion slices. I sauté the onion for 2-3 minutes until it's translucent and all its sweetness is out. Now it's time to add the garlic and tomato paste. I cook them for 1-2 minutes to get the sweetness and the aromas of the tomato paste out. Cooking the tomato paste for a minute also helps to reduce any bitterness so it's something I always recommend doing when cooking with it.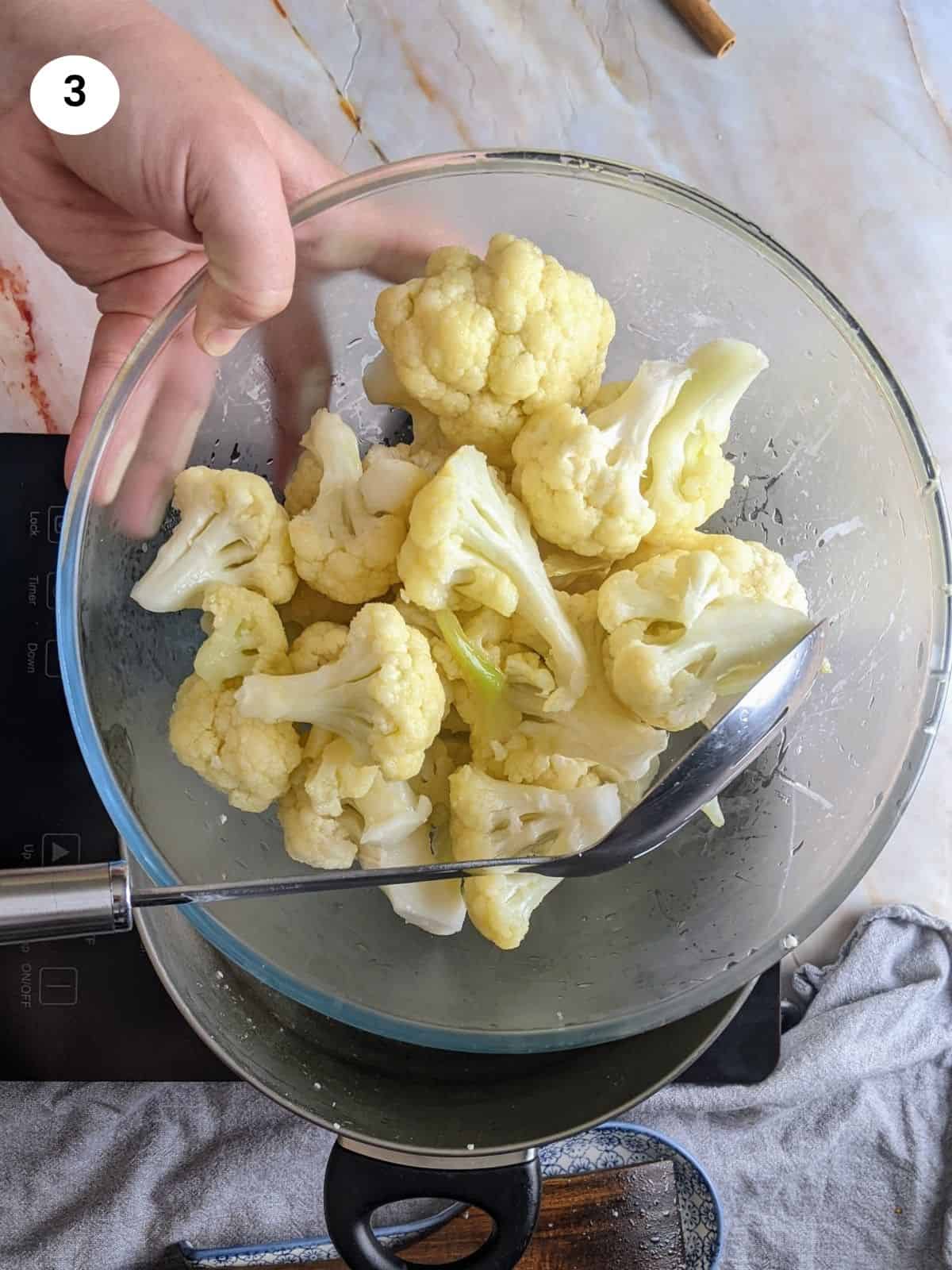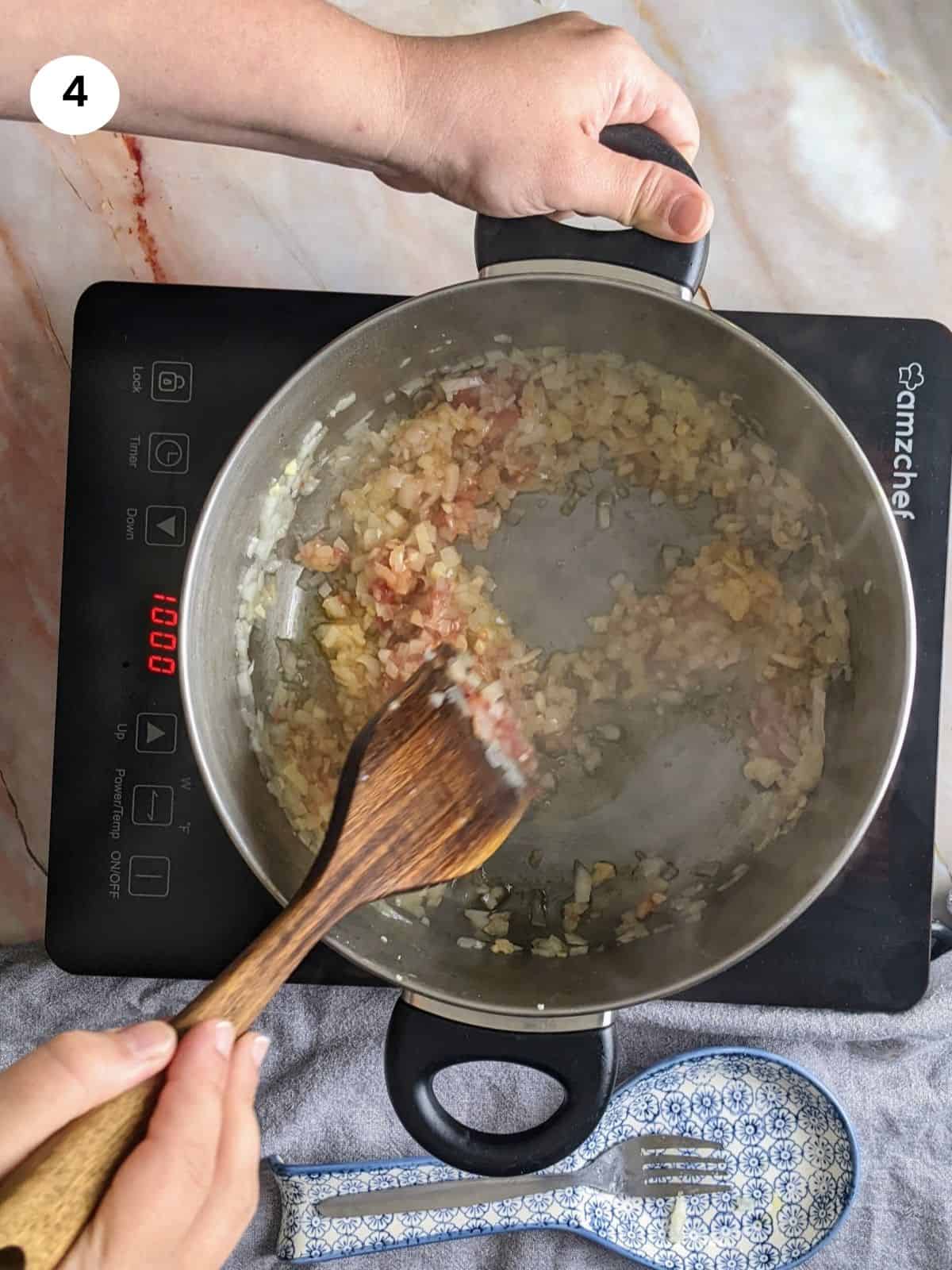 05. I add the cauliflower back to the pot along with the rest of the ingredients. I add the passata or crushed tomatoes, a cup of water, and the spices. I'm using a couple of bay leaves and a cinnamon stick that are going to give lots of flavor and aromas to the tomato sauce, and some salt and freshly ground pepper for taste.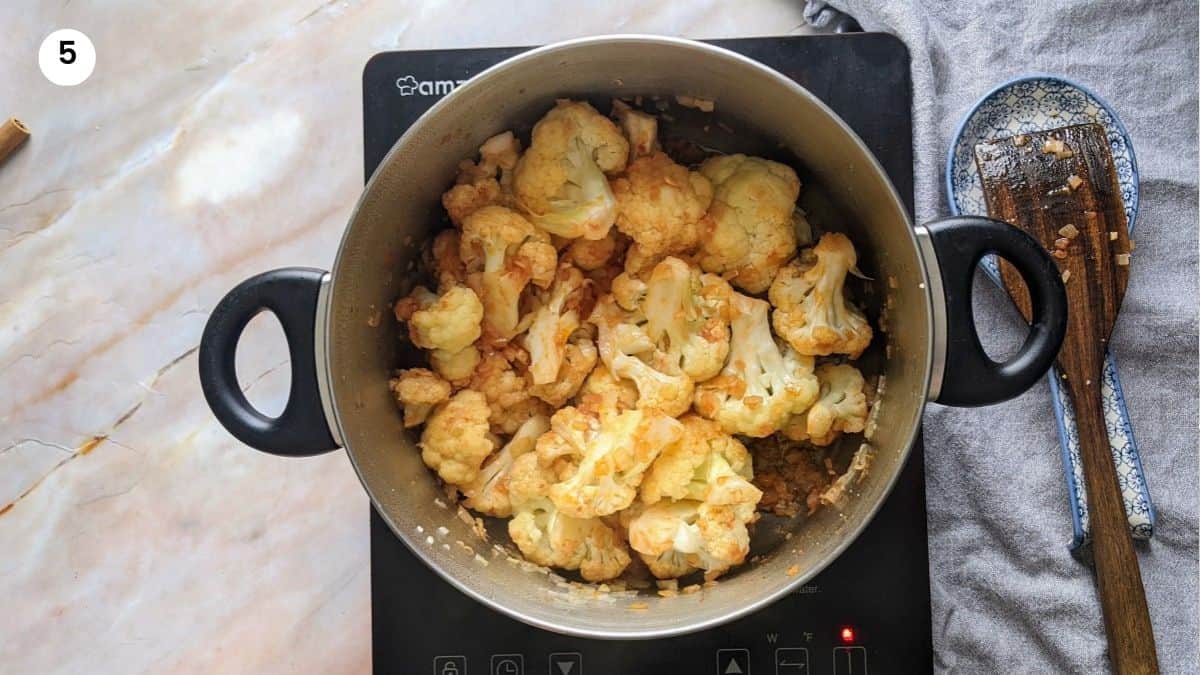 06. I turn the heat down to medium-low and leave the cauliflower to cook for 20-25 minutes. Whilst the cauliflower is being cooked, I don't stir with a spoon cause that might break the florets and you will end up with mashed cauliflower. If you do feel the need to stir, I recommend holding the pot by the handles and moving it in a circular way gently.
07. I also check occasionally in case I need to add a little bit more water. After 20 minutes, if the cauliflower is almost done but there is still water in the pot, then I remove the lid and turn the heat up a little bit until the water has evaporated.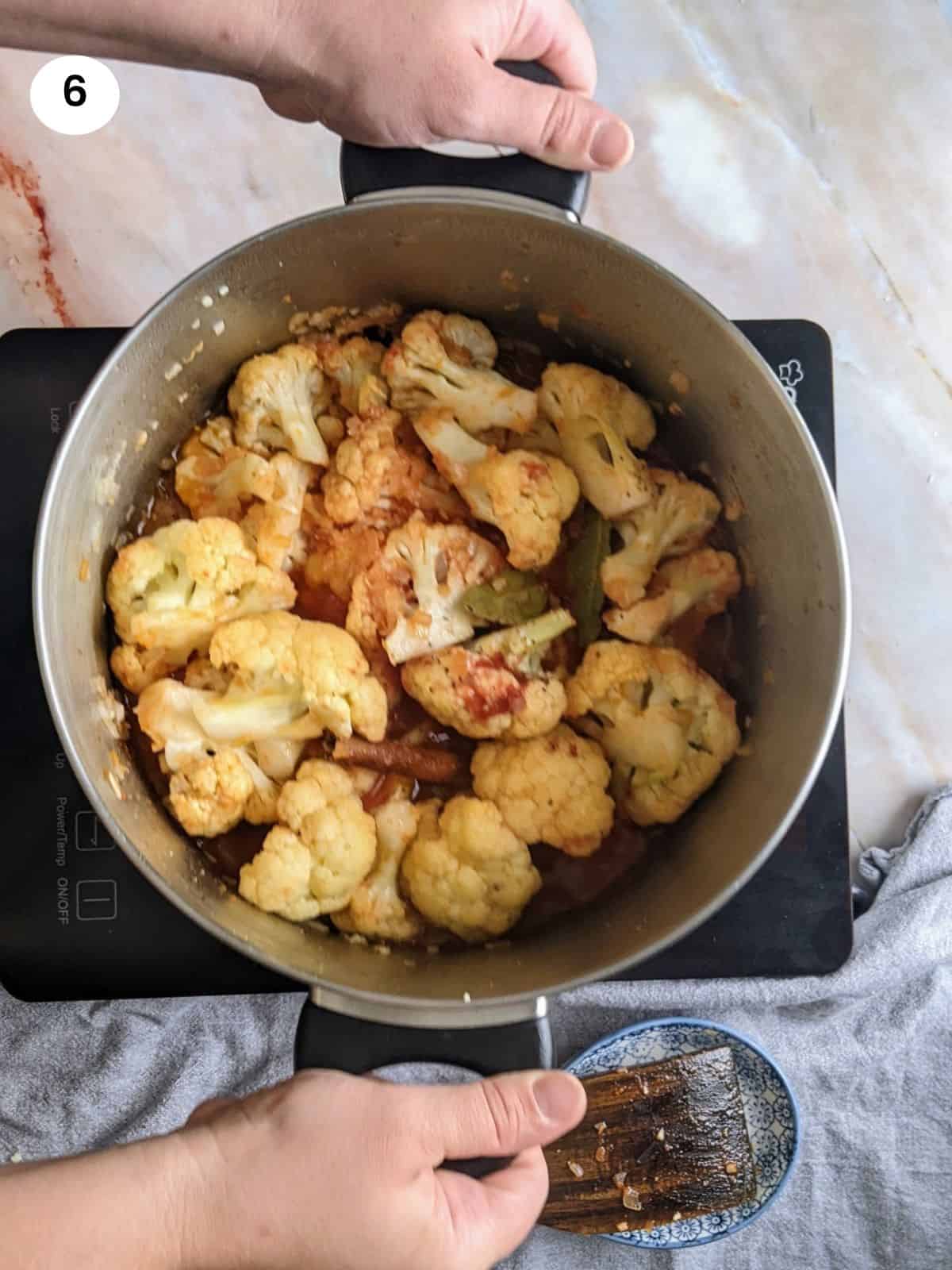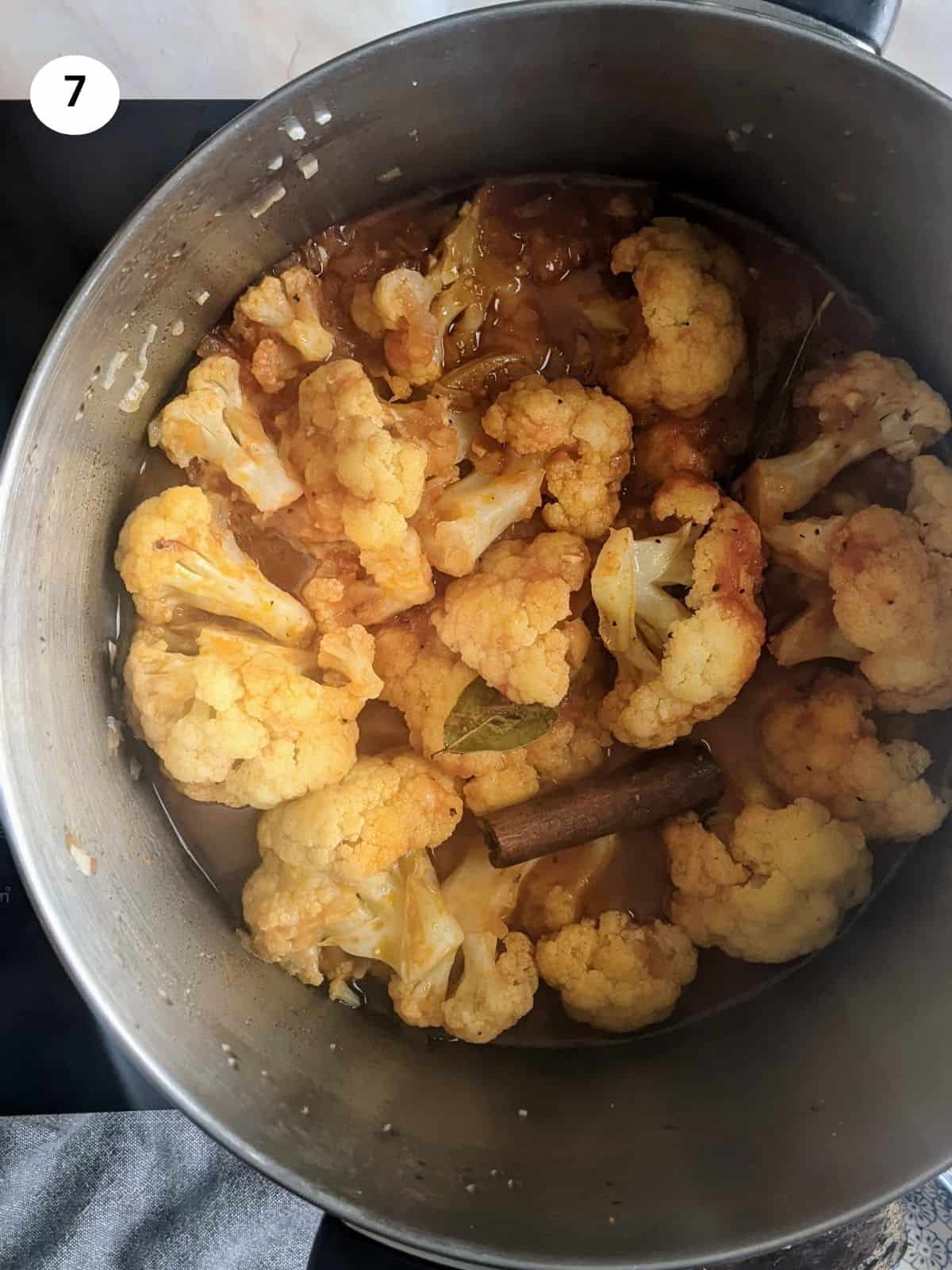 Tips
To clean the cauliflower, add it to a bowl with cold water and vinegar and let it see for 10 minutes. Then discard the water and wash the florets really well.
Avoid stirring with a spoon while the cauliflower is being cooked in the pot, as it can break and get mashy easily.
If there is a bit of water left in the pot towards the end, uncover and turn on the heat. Cook for a couple more minutes until the sauce thickens and the water has evaporated.
Sautéing the cauliflower and the onions in oil brings out the flavors and makes the food more delicious.
You could drizzle with some extra virgin olive oil in the end for some more goodness and flavor.
Substitutions
You could leave out the tomato paste and just use crushed tomatoes or passata or fresh tomatoes.
Instead of bay leaves, you could use 2-3 allspice kernels.
You could add some potatoes and carrots to the stew for more flavor and variety.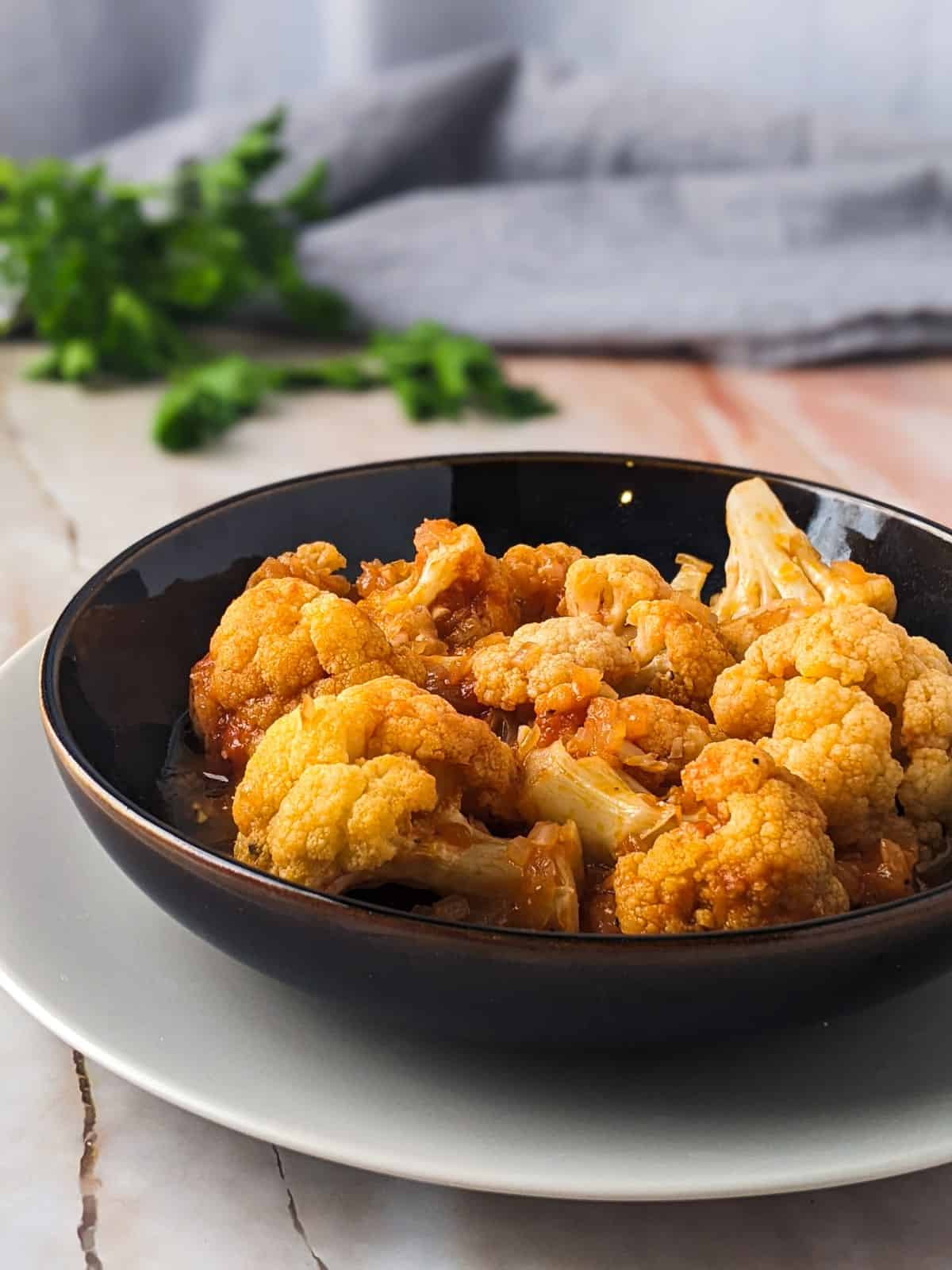 Serving suggestions
Typically, we enjoy this Greek braised cauliflower dish as a side with our main course. However, if you decide to incorporate potatoes and carrots and pair it with a slice of bread to absorb the flavorful juices, maybe even sprinkle some cheese on top, it transforms into a delightful full meal. The choice is yours to make!
Storage
If you have any leftovers of this Greek kounoupidi kapama, you could store it in the fridge for up to 3 days. Reheat it on the stove or in the microwave until it's nice and hot. While I haven't personally tested freezing it, I'd advise against it as thawing might make the cauliflower watery and less flavorful. If you do decide to give it a shot, share your experience in the comments below—I'm curious to hear how it turns out for you!
FAQ
What spices can I add to braised cauliflower? Some spices that go well with braised cauliflower in tomato sauce are bay leaves, cinnamon. The bay leaves can reduce the strong smell and taste of cauliflower and the cinnamon makes the tomato sauce more sweet and aromatic.

Why do you soak cauliflower before cooking? Soaking the cauliflower in water and vinegar before cooking it helps to reduce any bugs, dirt and soil that it might have.
Watch the video
Greek Braised Cauliflower In Tomato Sauce
This braised cauliflower in tomato sauce, or kounoupidi kapama as we call it in Greek, is a delicious, aromatic dish bursting with vibrant flavors and wholesome goodness. We only need a few simple ingredients to transform the humble cauliflower into a culinary masterpiece. Serve it with a slice of crusty bread to soak up the juices and some cheese or as a side with your main. Enjoy!
Print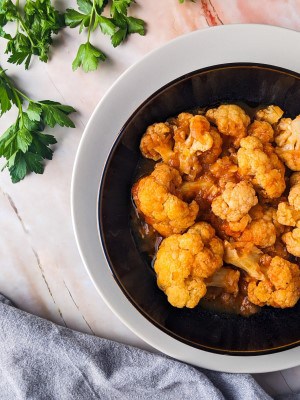 Ingredients
1 head cauliflower (about 1kg / 2lb)
1 onion
2-3 garlic cloves
1 tablespoon tomato paste
1/2 cup olive oil
1/2 cup crushed tomatoes / passata
1-2 bay leaves
1 cinnamon stick
salt & pepper
Instructions
Cut the cauliflower into florets and remove the hard root in the middle. Add the florets to a bowl full of cold water and a tablespoon of vinegar. Leave it for 10 minutes. Discard the water and rinse.

Add half the olive oil to a pot and turn the heat to medium-high. Add the cauliflower florets and saute for 4-5 minutes turning them around every now and then.

Using a slotted spoon, remove the cauliflower from the pot and set aside.

Add the remaining olive oil, the onion cut into cubes and the chopped garlic cloves. Saute for 2-3 minutes.

Add the tomato paste and cook for 1-2 minutes.

Add the cauliflower back to the pot along with the crushed tomatoes and one cup of water.

Add the cinnamon stick, bay leaf and season with salt and pepper.

Cover the pot with the lid and cook in low heat for 15-20 minutes until the cauliflower is cooked but not mushy and the sauce is not watery.
Notes
- After you add all the ingredients to the pot, avoid stirring cause you will break the cauliflower. You could lightly lift the pot from the handles and move in a circular way to stir the ingredients.
- Adding the cauliflower to a bowl with water and vinegar helps to reveal any little bugs that might live in it and it's easier to clean.
Storage
You could store the braised cauliflower in the fridge for up to 3 days.
Nutrition Info (per serving)
Calories: 320kcal | Carbohydrates: 17g | Protein: 5g | Cholesterol: 0mg | Fat: 28g | Saturated Fat: 4g | Polyunsaturated Fat: 3g | Monounsaturated Fat: 20g | Fiber: 6g | Sodium: 155mg | Potassium: 784mg | Sugar: 6g
I am not a nutritionist. The nutrition information has been calculated using an on-line calculator, and is intended for information and guidance purposes only. If the nutrition information is important to you, you should consider calculating it yourself, using your preferred tool.