Whether it's just a matter of timing, as Brussels sprouts grow well over the winter period, or a tradition that's been kept for years, they always have a place on the Christmas dinner table. But let's be honest, brussels sprouts are one of those vegetables that people either love 'em or hate 'em. I'm not sure if it's because of the strong smell or taste, but if you are on team hate, I implore you to give them a second chance and try my recipe. Believe me, with the right combination of flavors and ingredients, you are going to change your mind about these veggies. So let's get started!
Jump to:
Why you should try my recipe
It takes only 10 minutes to prepare the ingredients and 30 minutes to bake them.
A big hit even with people that don't really like brussels sprouts.
Nice flavors and sweetness from the orange and honey.
Cheese and bacon balance the sweetness of orange and honey.
Perfectly baked, juicy and crunchy brussels sprouts.
Ingredients & How-to
This recipe for roasted brussels sprouts has only a few ingredients with the key of course being the brussels sprouts themselves. On top of the sprouts, you will need an orange (zest and juice), bacon strips, parmesan cheese, balsamic vinegar, honey, olive oil, salt and pepper. That's it, simple! For full quantities check the recipe down below.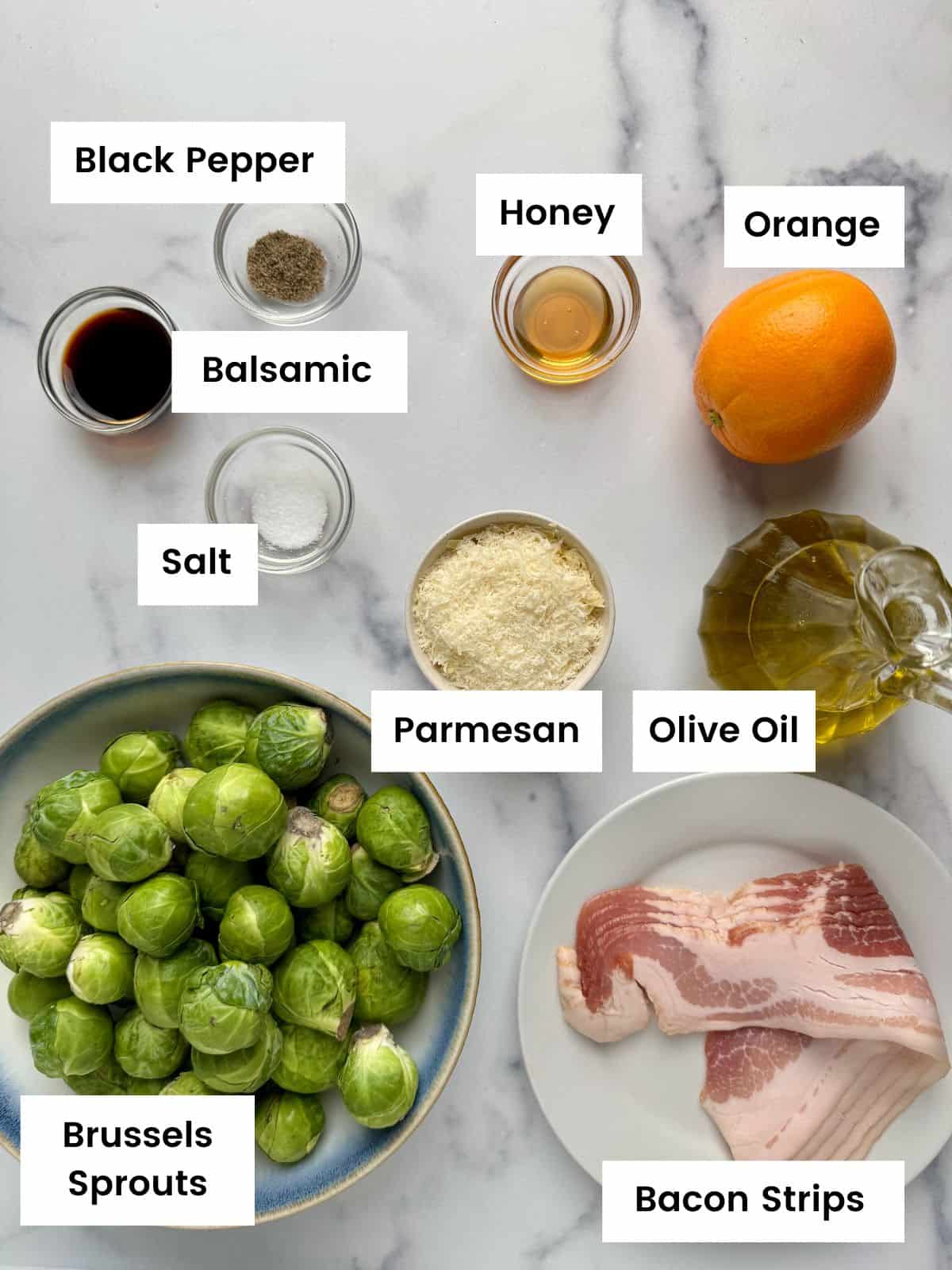 01. I start by cleaning the brussels sprouts and removing any of the bad leaves. In some supermarkets, you can get a bag of ready-to-cook sprouts, so that's a handy choice, especially if you are in a hurry. Then, I cut them into halves and set them aside.
02. Next, I start grating the parmesan cheese. Again, you could use pre-grated cheese if you are in a hurry, but I find it more convenient and cheaper to buy a block of cheese and grate it myself whenever I need some.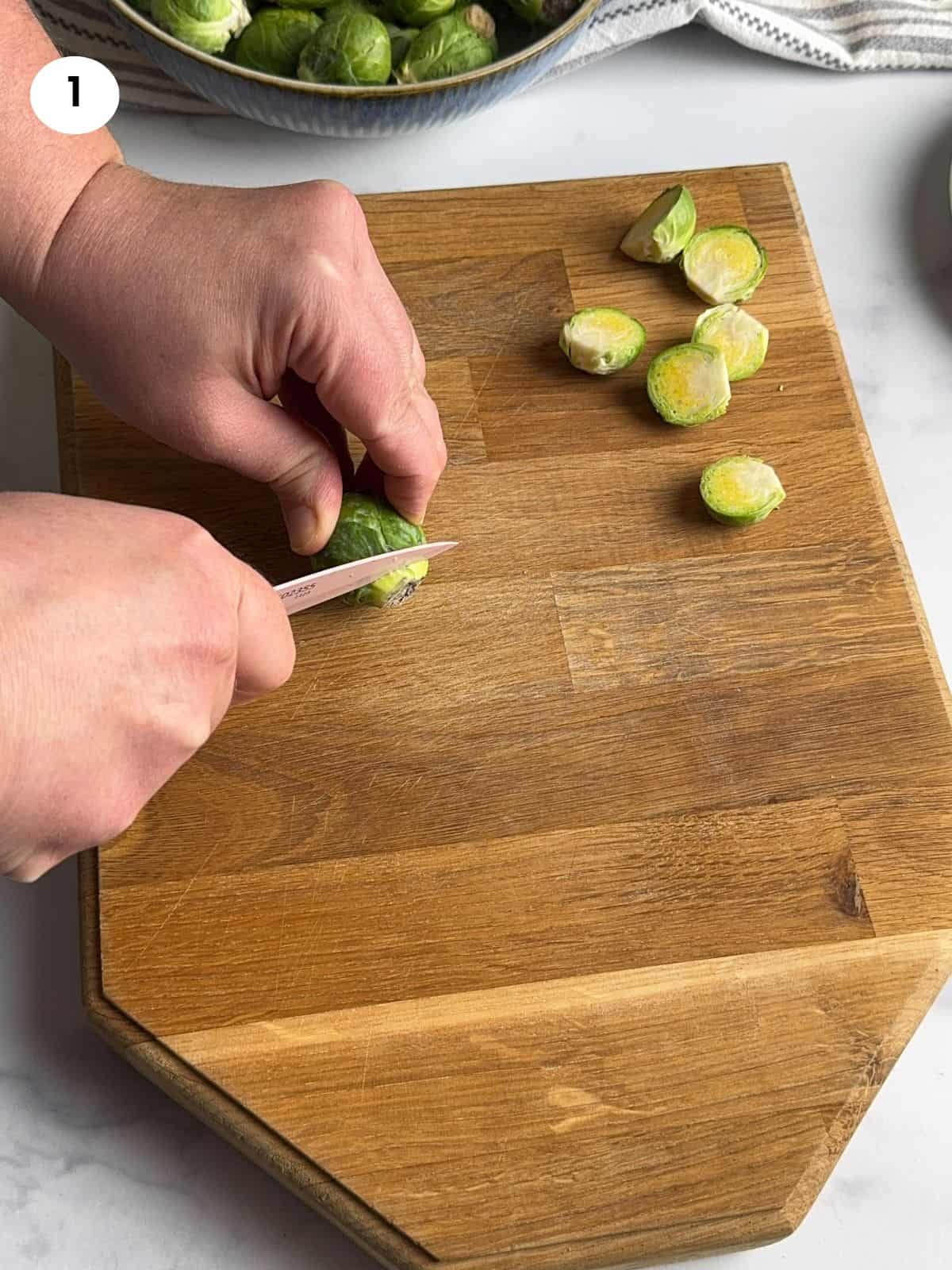 03. Now it's time to prepare the bacon. I cut 4-5 bacon strips into smaller pieces around 2cm / 1".
04. Next, I add the bacon pieces to a pan to cook for 2-3 minutes. This helps to get a bit crispier before adding them to the oven with the sprouts.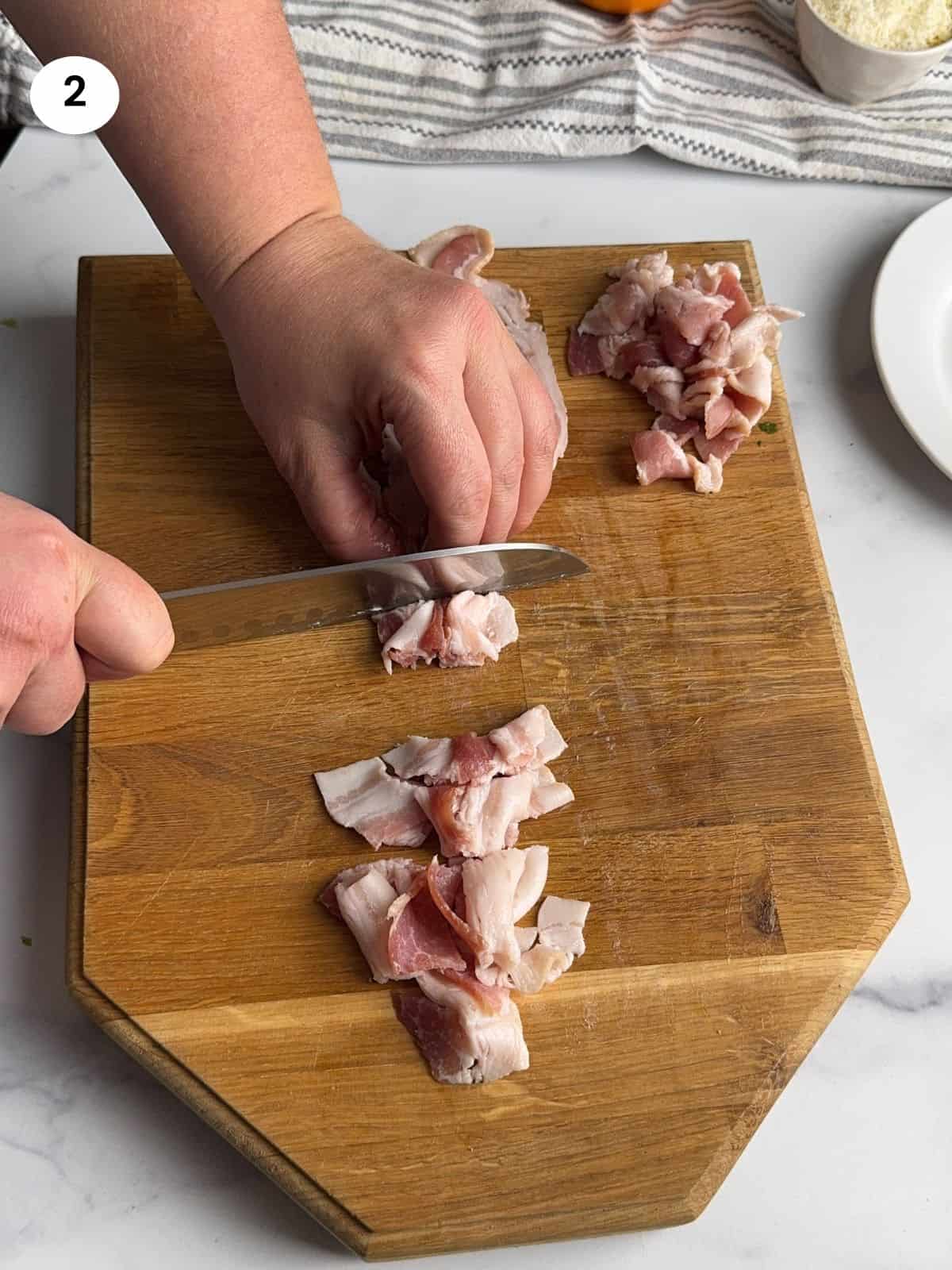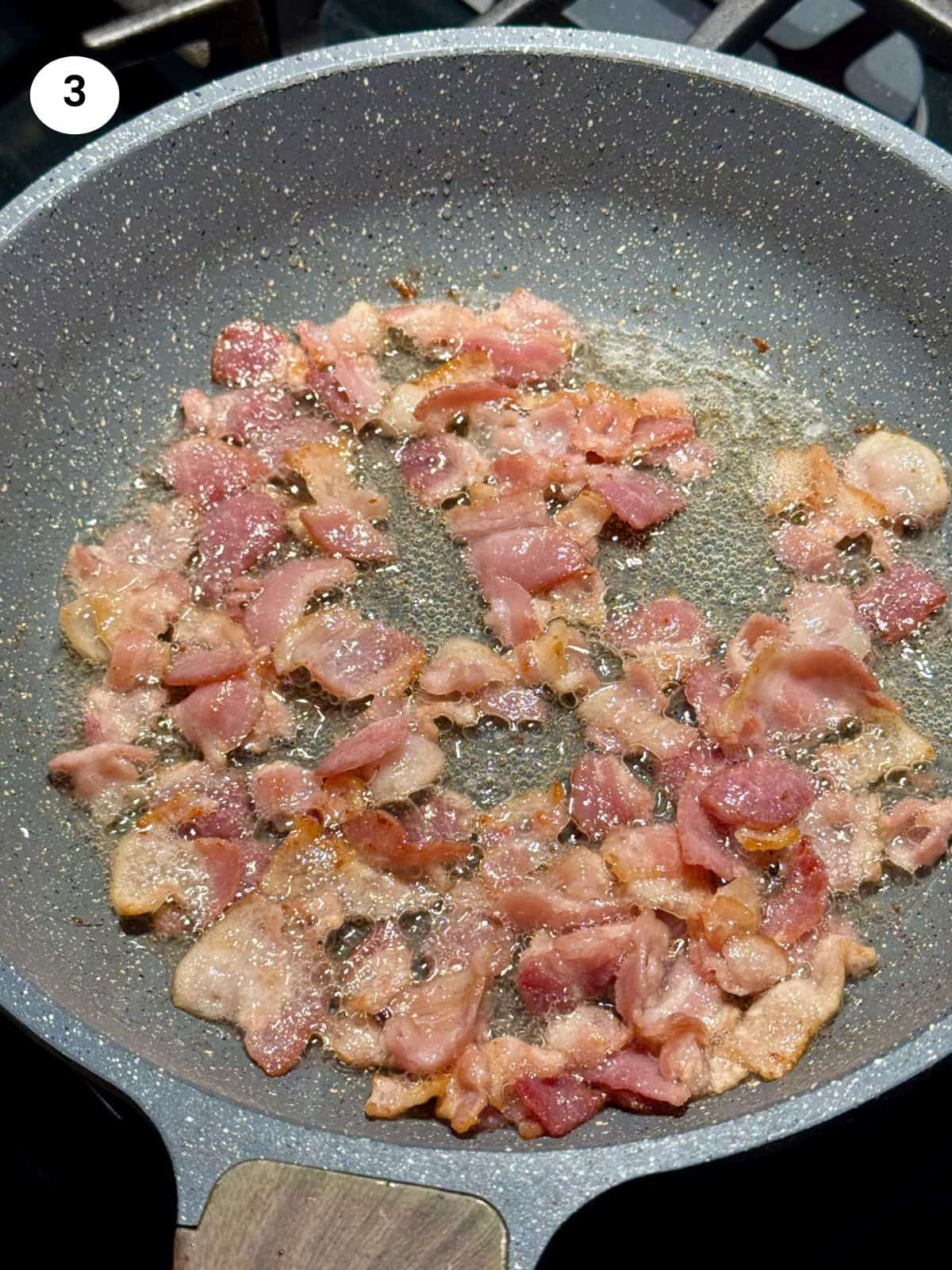 05. I add the brussels sprouts to a baking dish and zest the orange straight in. Then, I squeeze the juice from the orange and prepare the dressing.
06. For the dressing, I mix the orange juice with the olive oil and then I add the honey, balsamic vinegar, salt and pepper. I pour the dressing over the sprouts and mix well to get them all coated.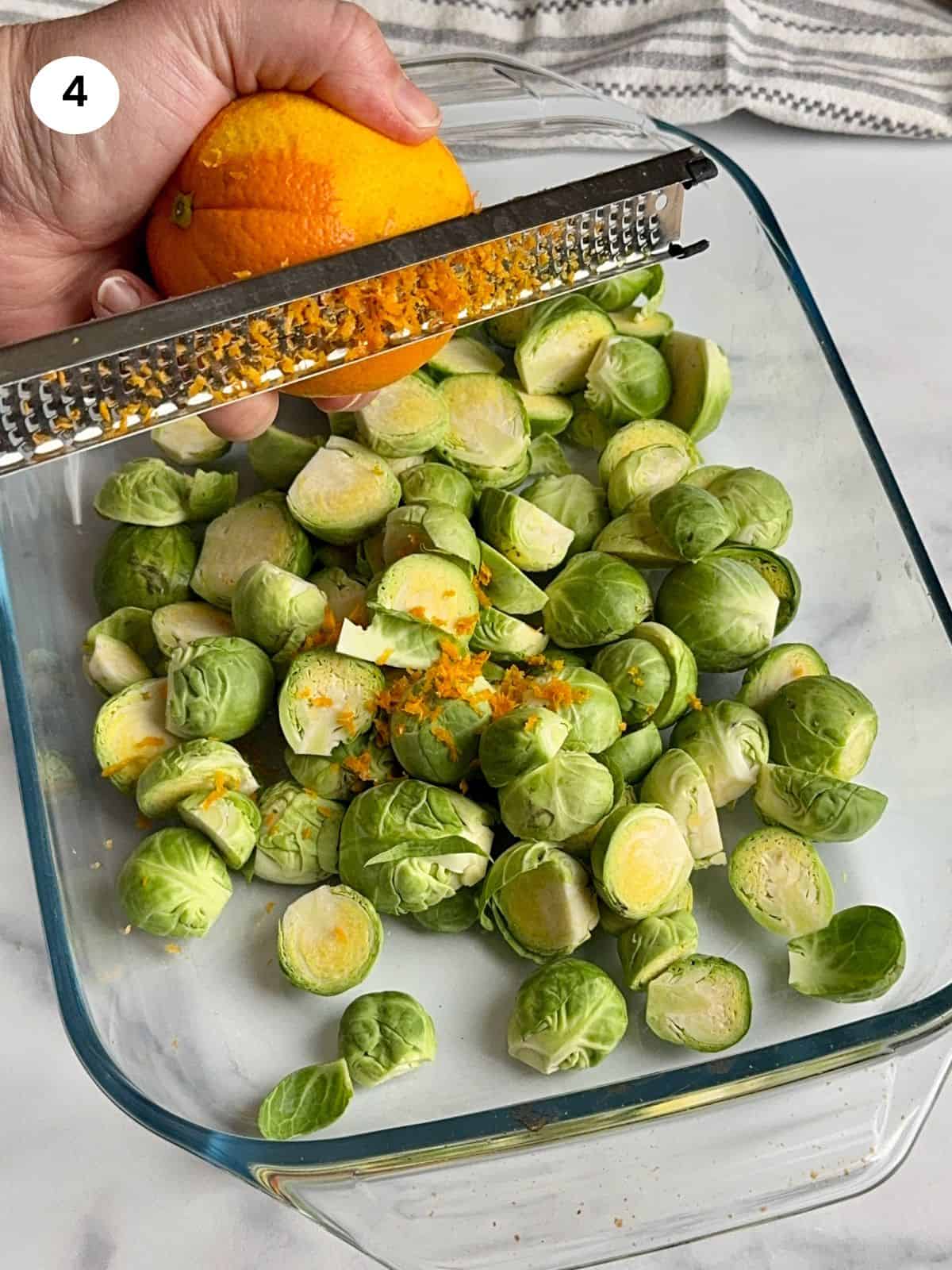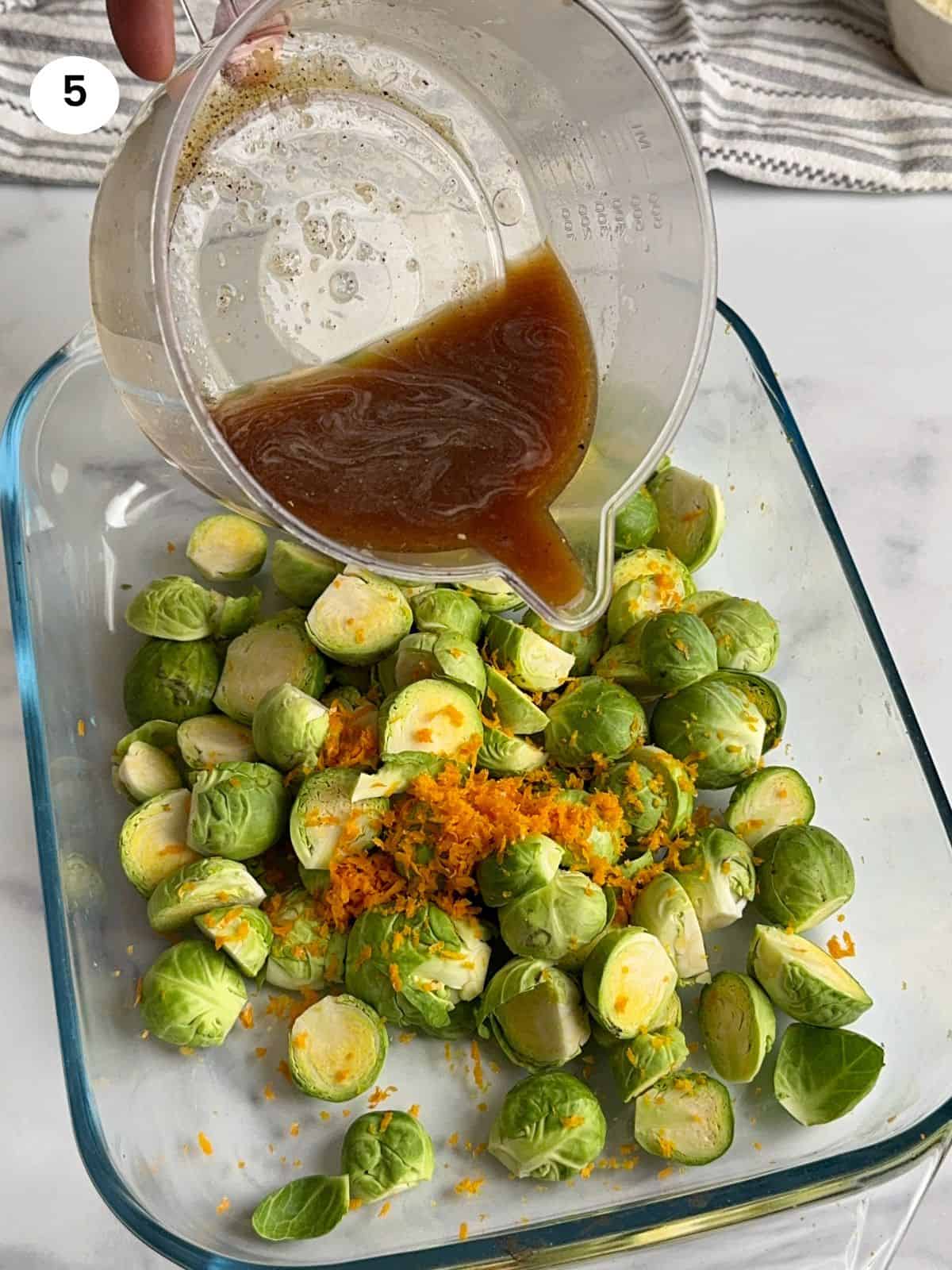 07. Now that the dressing is in, I add the bacon pieces to the baking dish, mix it a little bit and then add the grated cheese on top.
08. I bake the brussels sprouts for just 30-35 minutes, enough time to get tender but not mushy, absorb all the flavors from the dressing and get crispy without burning.
Serving suggestions
Roasted Brussels sprouts with bacon and parmesan can be served as a side dish with your main. It is the perfect winter side dish to accompany some roasted meat or the Christmas turkey. Make sure you serve them warm, as you want that cheese to be nice and soft.
Storage
If you have any leftover roasted Brussels sprouts, store them in the fridge and consume within the next 2 days. Simply warm them up in the microwave or the oven for a couple of minutes before serving.
FAQ
Why do brussels sprouts stink? Brussels sprouts, similar to other cruciferous vegetables like broccoli and cabbage, produce sulfur when being exposed to heat, hence the strong smell.

How to minimize the brussels sprouts bad smell? The longer you cook the brussels sprouts the more they will release sulfur and smell bad. Perfectly cooked sprouts should be tender and crisp, so try to minimize cooking to avoid any strong odors and enhance their taste.

Do I need to clean the brussels sprouts before cooking? Like with all vegetables, it is recommended to wash well the brussels sprouts to remove any soil and dirt before cooking. If the bottom of the stem is dry and hard, you could cut a slice off and also remove any outside leaves that are bad.
Watch the video
Roasted Brussels Sprouts With Bacon and Parmesan
These roasted brussels sprouts with bacon and parmesan are so delicious and easy to make. Crisp and tender, perfectly roasted sprouts with a sweetness from the orange and honey, salty and nutty from the bacon and cheese. You can serve them as a side dish with your main or with the Christmas turkey.
Print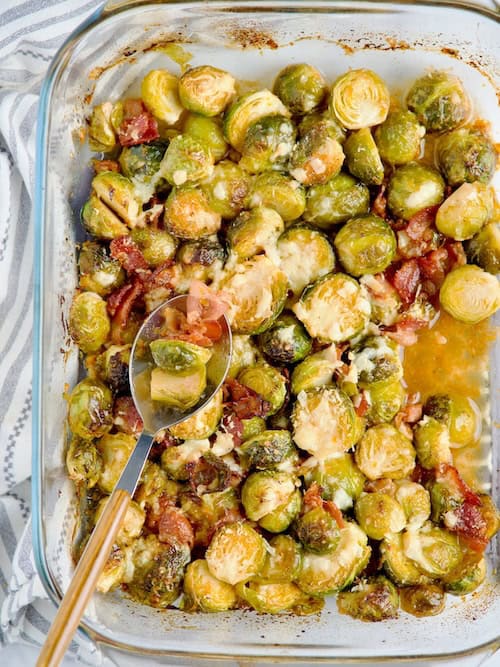 Ingredients
1lb / 500gr brussels sprouts
⅓ cup (50gr) parmesan cheese
3 tablespoons of olive oil
1 tablespoon of balsamic vinegar
1 teaspoon of honey
1 orange (zest+juice)
4-5 bacon strips
salt & pepper
Instructions
Clean the Brussels sprouts and remove any bad leaves. Cut them into halves.

Grate the parmesan cheese and set it aside.

Add the Brussels sprouts to a baking dish. Zest the orange and add it to the baking dish.

Squeeze the juices from the orange. Add the honey, balsamic vinegar, olive oil, salt and pepper to the orange juice and mix well.

Add the dressing to the baking dish with the sprouts and mix well so they are all coated.

Cut the bacon strips into smaller pieces around 2cm/1in. Add them to a non-stick pan and cook for 2-3 minutes.

Add the cooked bacon to the baking dish and distribute evenly. Add the created cheese on top.

Bake for 30-35 minutes at 180°C/350°F until the sprouts are tender and easy to prick but not burnt or mushy.
Notes
- You could substitute parmesan cheese with padano, manchego or romano cheese.
- Remember not to overcook the brussels sprouts as they will start having a strong smell. They need to be soft but crunchy and easy to prick with a fork.
Storage
Store the brussels sprouts in the fridge and consume within 2 days.
Nutrition Info (per serving)
Calories: 237kcal | Carbohydrates: 14g | Protein: 8g | Cholesterol: 19mg | Fat: 17g | Saturated Fat: 4g | Polyunsaturated Fat: 2g | Monounsaturated Fat: 8g | Fiber: 4g | Sodium: 455mg | Potassium: 428mg | Sugar: 6g
I am not a nutritionist. The nutrition information has been calculated using an on-line calculator, and is intended for information and guidance purposes only. If the nutrition information is important to you, you should consider calculating it yourself, using your preferred tool.