These grilled meatballs or mpiftekia in greek, are a bit more flat than usual meatballs. Something similar to burgers but more aromatic and lighter. I usually make a big batch and freeze some as they are my go-to on those busy days. Everyone in my family loves them! They are great for babies and little children too as they are easy to grasp and soft, just remember to skip the salt for babies.
How to and ingredients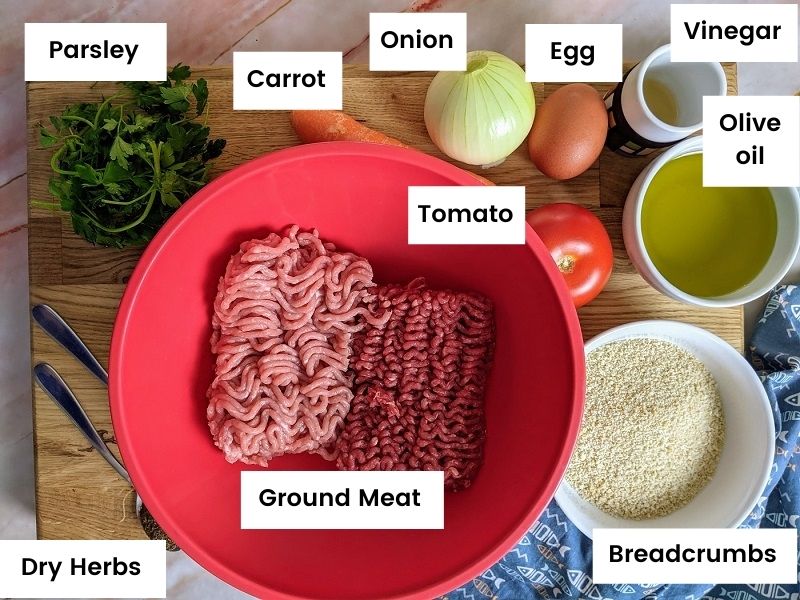 The recipe requires 500gr of minced meat. I like to mix beef and pork mince, half and half, but if you want you can use only one kind. I find that the blend works better as the meatballs are not very dry but soft and juicy.
I use a grater for the onion and the tomato but if you prefer you could use a blender to chop them finely. The addition of the grated carrot in the mix, adds a bit of moisture and softness to the end result and well, the more veggies the better, right?! The egg acts as a binder, a connection between the meat, veggies and the other ingredients. When my little one had an egg allergy, I used to skip the egg. The meatballs would still come out alright but they were a bit more crumbly.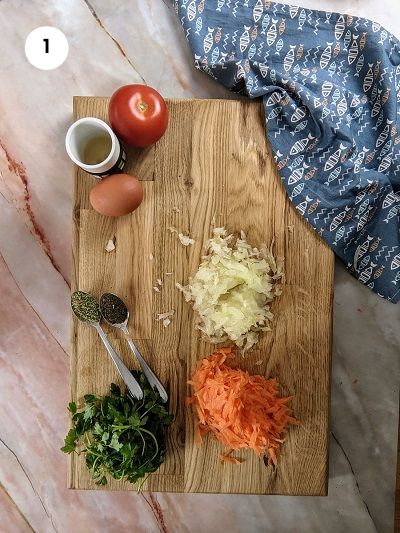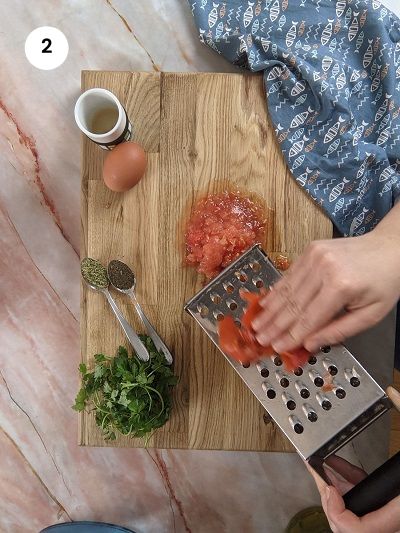 After adding all the ingredients to a bowl, mix well for around 5 minutes so everything gets well combined. It's best if you then leave the mix to rest in the fridge for 15-20 minutes. That will help all the flavors to come out and the breadcrumbs will also absorb any of the moisture, so it will be easier to shape.
I use a grill tray to bake them but if you don't have one then use an oven-proof dish. Usually, I get around 16 medium size meatballs from the mix. You can bake all of them or freeze some for another time.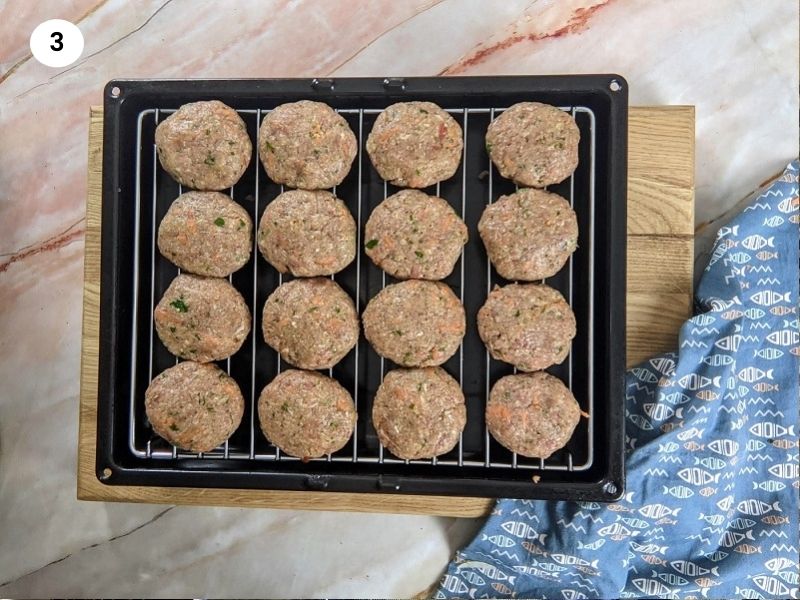 Serving little ones
These are great for baby led weaning and toddlers. As with all my recipes, I list salt in my ingredients list but you can skip it if you are preparing this for little ones where you want to control salt intake.
Storage
You can store any leftover meatballs in the fridge and have them the next day warmed up. You could put them in your sandwich and have them at work the next day! In the freezer, they will last for a couple of months.
Watch the Video
Grilled Meatballs - Greek Mpiftekia
These grilled meatballs are so soft, juicy and tasty! You can have them with some veggies and wedges or put a couple in your sandwich.
Category: Meat
Difficulty: Easy
Print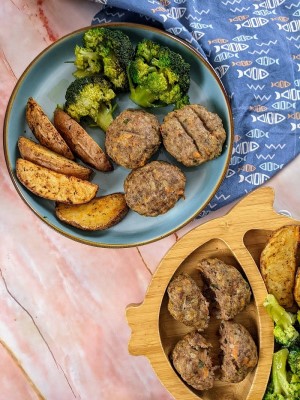 Ingredients
1lb / 500gr minced meat (half pork & half beef)
1/3 cup of olive oil
1/2 cup of breadcrumbs
1 carrot grated
1 onion
1 tomato
1 tablespoon of vinegar
2 tablespoons of parsley chopped finely
1 egg
1 teaspoon of oregano
1 teaspoon of mint dry or finely chopped
salt & pepper
Instructions
Grate the onion and tomato using a grater or blender.

Add all ingredients to a big bowl: minced meat, olive oil, breadcrumbs, carrot, onion, tomato, vinegar, parsley, egg, oregano, mint, salt & pepper.

Mix well for 5 minutes until everything is well combined.

Leave the mix to rest for 15-20 minutes in the fridge.

In the meantime, turn the oven to 180°C/350°F to preheat.

Take the mix out of the fridge. Shape into meatballs and pat each one a bit so it flattens out.

Place them on a grill tray and bake for 30min. Flip them over and bake for 15 more minutes.
Notes
If you are in a hurry, you can shape them immediately without leaving the mix to rest in the fridge. It might be a bit more difficult to shape though. If you don't have a grill tray, you could use an oven dish. Just leave them 5 more minutes in the oven after you flip them over.
Storage
You can store any leftover meatballs in the fridge for the next day. They also freeze well, consume within 2 months.
Nutrition Info (per serving)
Calories: 95kcal | Carbohydrates: 3g | Protein: 2g | Cholesterol: 16mg | Fat: 8g | Saturated Fat: 1g | Polyunsaturated Fat: 1g | Monounsaturated Fat: 5g | Fiber: 0g | Sodium: 29mg | Potassium: 36mg | Sugar: 1g
I am not a nutritionist. The nutrition information has been calculated using an on-line calculator, and is intended for information and guidance purposes only. If the nutrition information is important to you, you should consider calculating it yourself, using your preferred tool.