The famous greek dip Tzatziki! Anyone that has travelled to Greece has tried this refreshing, garlicky, tangy sauce. Greeks usually have it with grilled meat and it's one of the key ingredients in 'souvlaki'. My daughter loves to have it with some pitta bread slices or dip her carrot sticks in it! I use full fat greek yogurt in my recipe but if you want a lighter version you could always substitute with a low fat one.
Key ingredients
The three key ingredients to make a tzatziki sauce are greek yogurt, cucumber and garlic. Make sure that you use a strained thick yogurt type rather than a greek style one that will make your tzatziki more runny. I like to use a towel to remove any excess water from the grated cucumber as I find it more efficient than hand-squeezing it. As for the garlic, you could use one or two cloves depending on how sharp you want it to taste.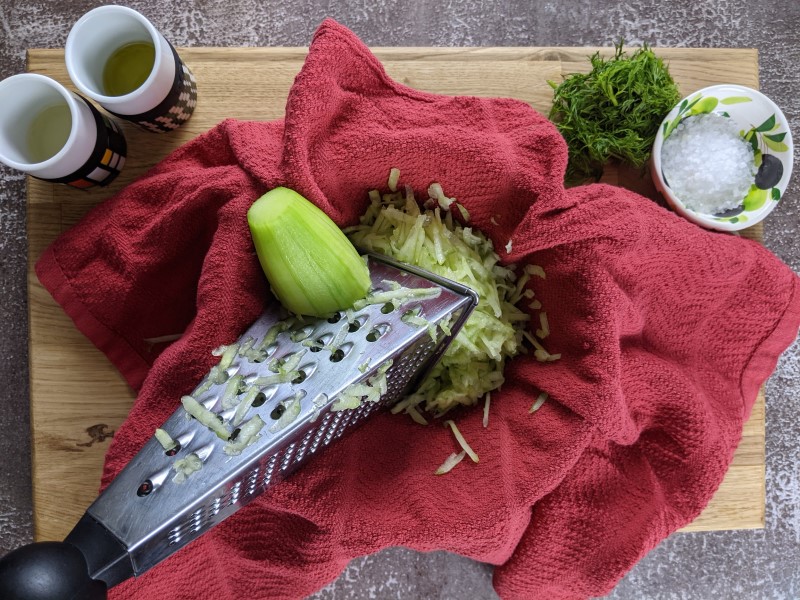 Goes well with
Grilled meat
Grilled vegetables
Bread and pitta bread
Raw vegetables like carrot sticks
As sauce in wraps and sandwiches
Storage
You can store any leftover sauce in an airtight container in the fridge for up to 4 days. After that, the sauce might get more runny and it will lose its flavor. I do not recommend storing tzatziki in the freezer as it will be very runny after defrosting it.
Watch the Video
Authentic Greek Tzatziki
The fresh and tangy taste of this tzatziki sauce will travel you to Greece! Make sure to use thick yogurt and strain your cucumber well to avoid ending up with a runny tzatziki dip. You could have this with your main course or as a meze with some bread or raw veggies.
Print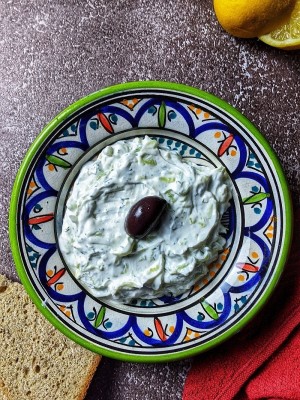 Ingredients
2 cups (500gr) greek yogurt
1 cucumber
2 tablespoons of vinegar
2 tablespoons of olive oil
1-2 garlic cloves pressed or finely chopped
2 tablespoons of dill finely chopped
salt
Instructions
Peel the cucumber and grate it on top of a towel. Use the towel to strain the grated cucumber and remove any excess water

Add the yogurt, cucumber, chopped dill, vinegar, olive oil, garlic and salt to a bowl

Mix well until all ingredients are well combined

Leave to rest for 5-10 minutes before serving to let the flavors meld
Notes
You could substitute greek yogurt with an alternative one like coconut milk yogurt for a dairy free / vegan version.
Storage
You can store any leftover sauce in an airtight container in the fridge for up to 4 days.
Nutrition Info (per serving)
Calories: 94kcal | Carbohydrates: 4g | Protein: 6g | Cholesterol: 0mg | Fat: 6g | Saturated Fat: 3g | Polyunsaturated Fat: 0g | Monounsaturated Fat: 2g | Fiber: 0g | Sodium: 37mg | Potassium: 41mg | Sugar: 3g
I am not a nutritionist. The nutrition information has been calculated using an on-line calculator, and is intended for information and guidance purposes only. If the nutrition information is important to you, you should consider calculating it yourself, using your preferred tool.