This baked feta in phyllo pastry, or 'feta me meli' as you would find it in the menu of a Greek taverna, is a great appetizer. A mix of flavors and textures, savory from the tangy feta cheese and sweet from the aromatic honey, nutty from the sesame seeds and crispy from the layers of phyllo around the feta block. You will only need 6 ingredients to make this baked feta in filo and it's ready in about 40 minutes including the prep time.
We love having it with some refreshing salad on the side, like a traditional Greek salad or a lettuce salad with tomatoes. It's quite filling on its own, so I do recommend sharing each parcel of feta in phyllo with at least 2 people. If you are looking for more ideas for appetizers with feta cheese, you should try my bougiourdi (baked feta with tomatoes) or strapatsada (feta, tomato and eggs) which is also great for breakfast.
Jump to:
Why you should try my recipe
Quick and easy to prepare.
You only need 5 main ingredients to make it.
Doesn't require any special cooking skills.
Great side dish or appetizer that will impress your friends.
Detailed instructions on how to wrap the feta in filo pastry.
Ingredients & How-to
This recipe for baked feta cheese in phyllo has only a few ingredients: feta cheese, phyllo pastry, olive oil, egg, honey and sesame seeds. That's it, simple!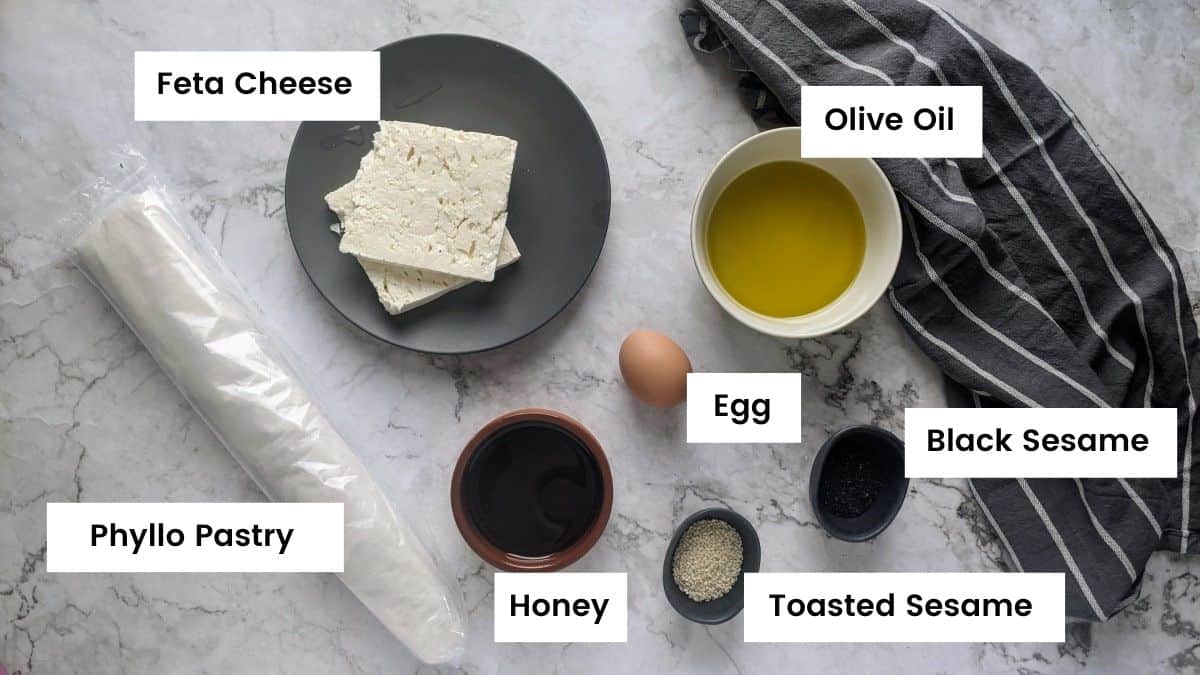 01. I start by pat drying the blocks of feta cheese with some paper towel to remove the extra water. This step is important as removing the moisture will help to get a crispy phyllo and not be soggy in the middle.
02. Now I place one phyllo sheet on my working area and brush it well with some olive oil.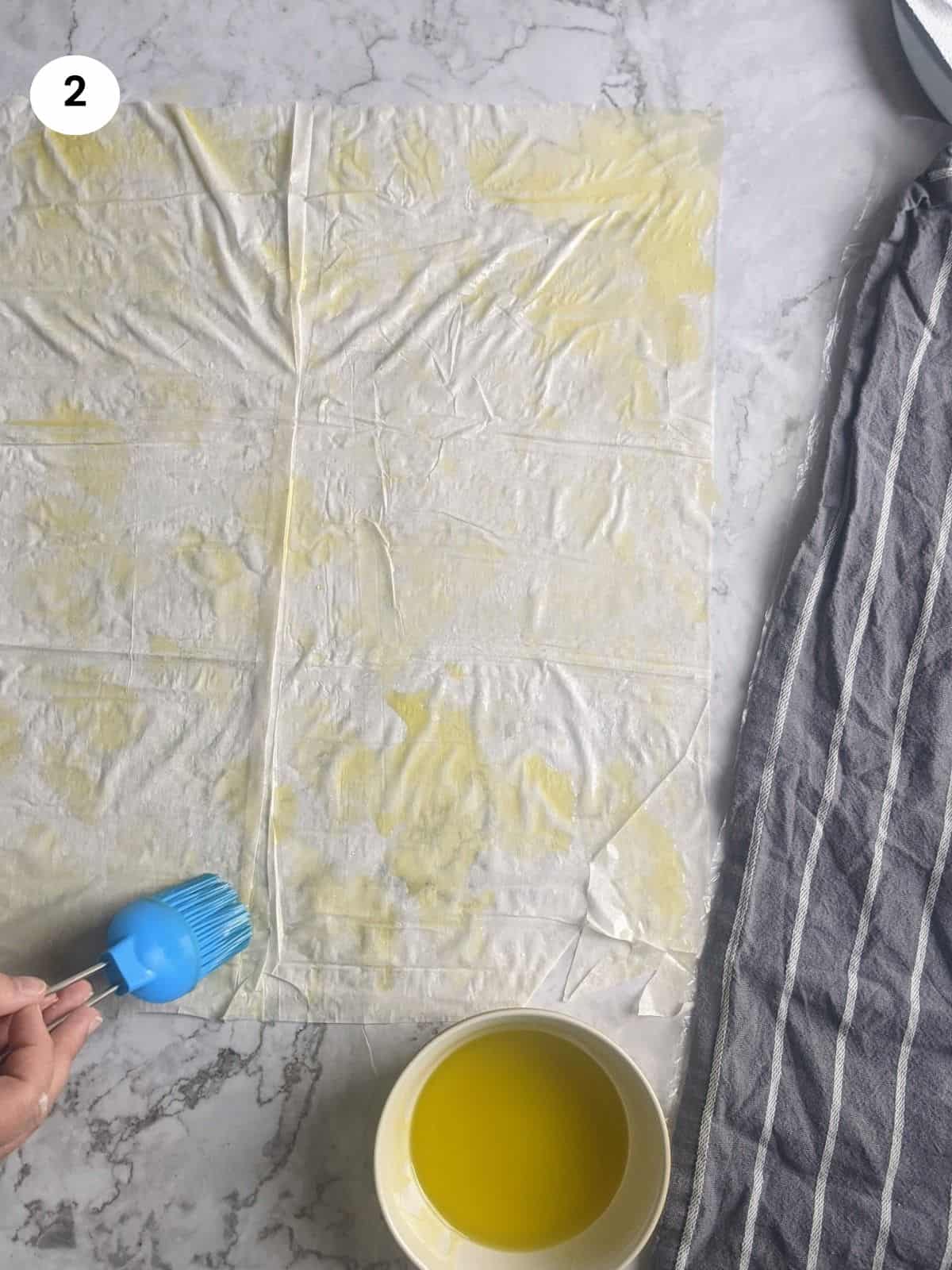 03. I place another phyllo (filo) pastry on top and brush it with oil. The two layers of phyllo dough with all the folding are going to be very crispy when baked and hold the warm and creamy feta cheese secured inside.
04. Now it's time for the feta cheese. Each block of feta cheese is about 0.5in or 1cm in thickness. If you can only find thicker blocks of feta, you could carefully cut it in half using a knife and make two parcels, like I'm doing here. I'm placing the feta cheese at the middle bottom of the phyllo.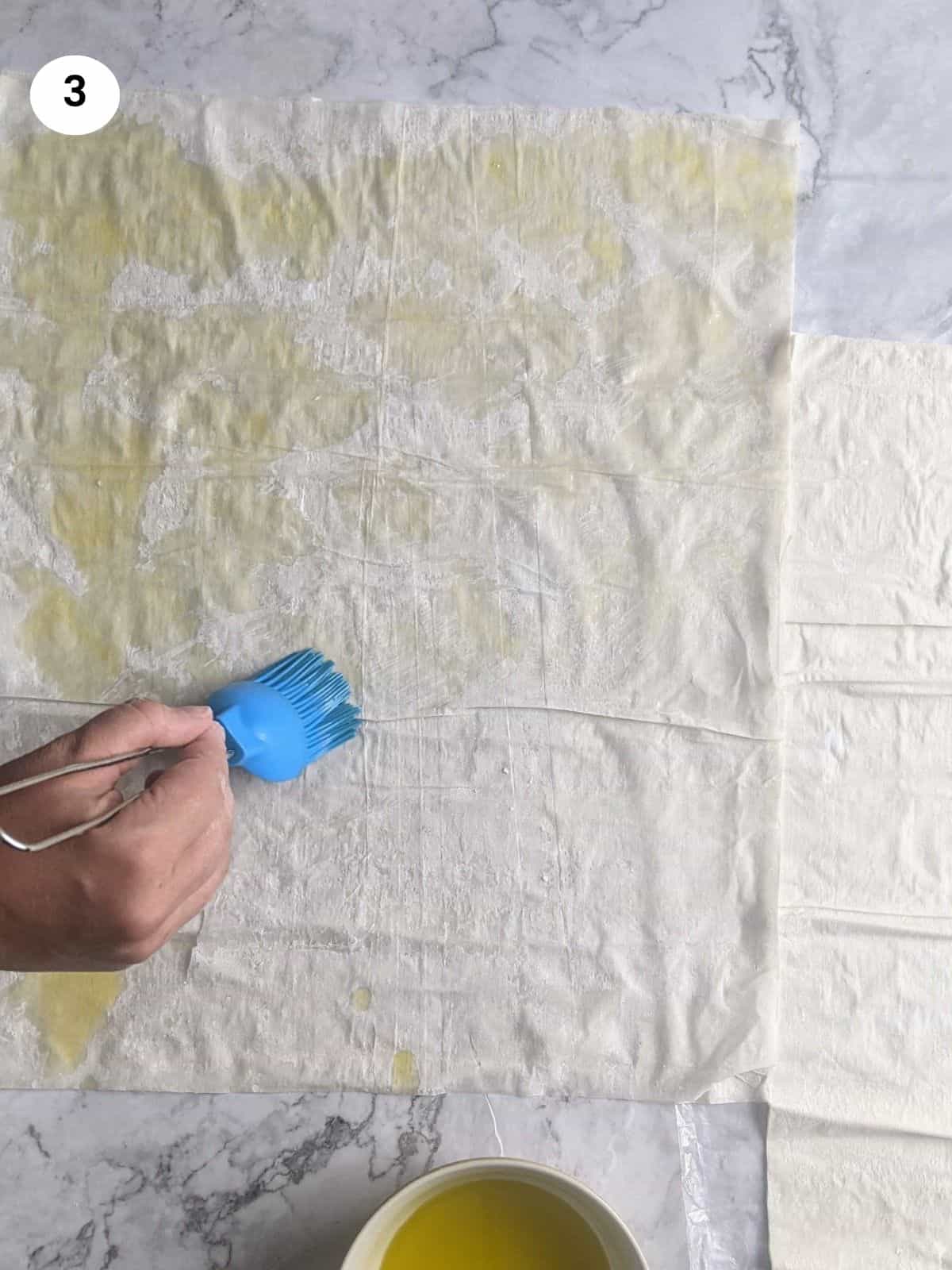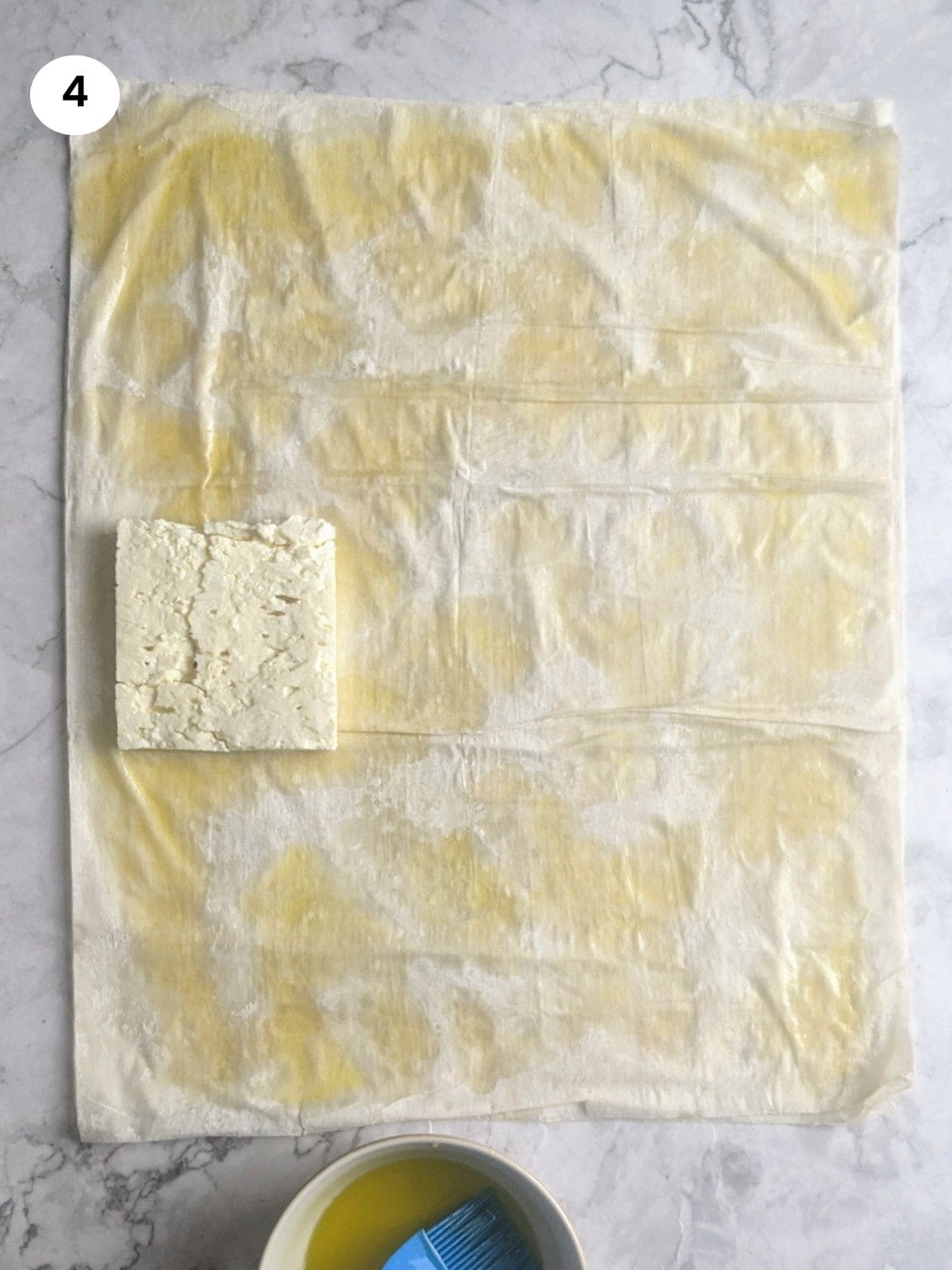 05. Now we start with the folding. I take the left side and fold it on top of the feta block.
06. I brush only the folded side with oil. All the oil is going to help get layers and make the phyllo crispy after baking.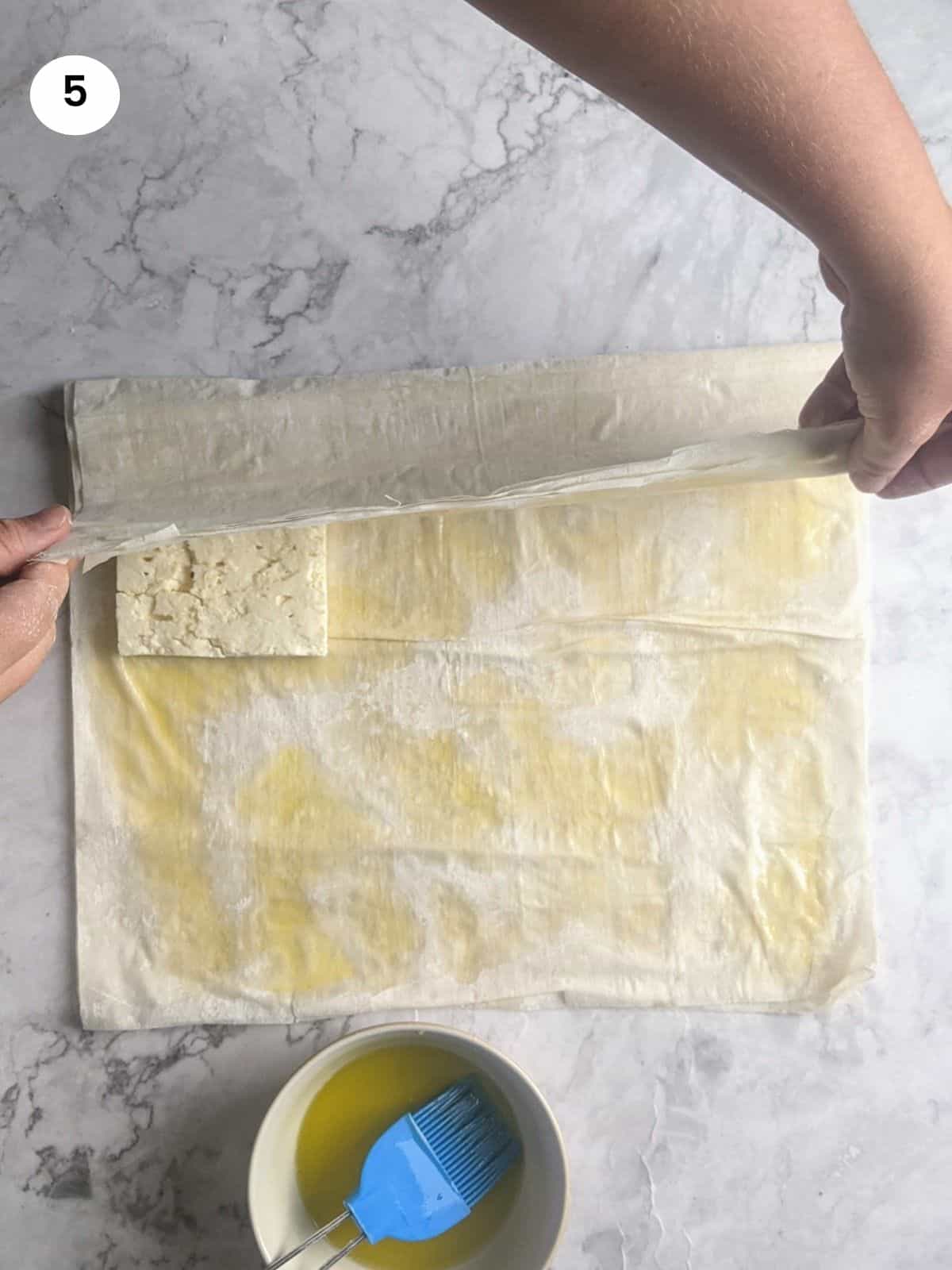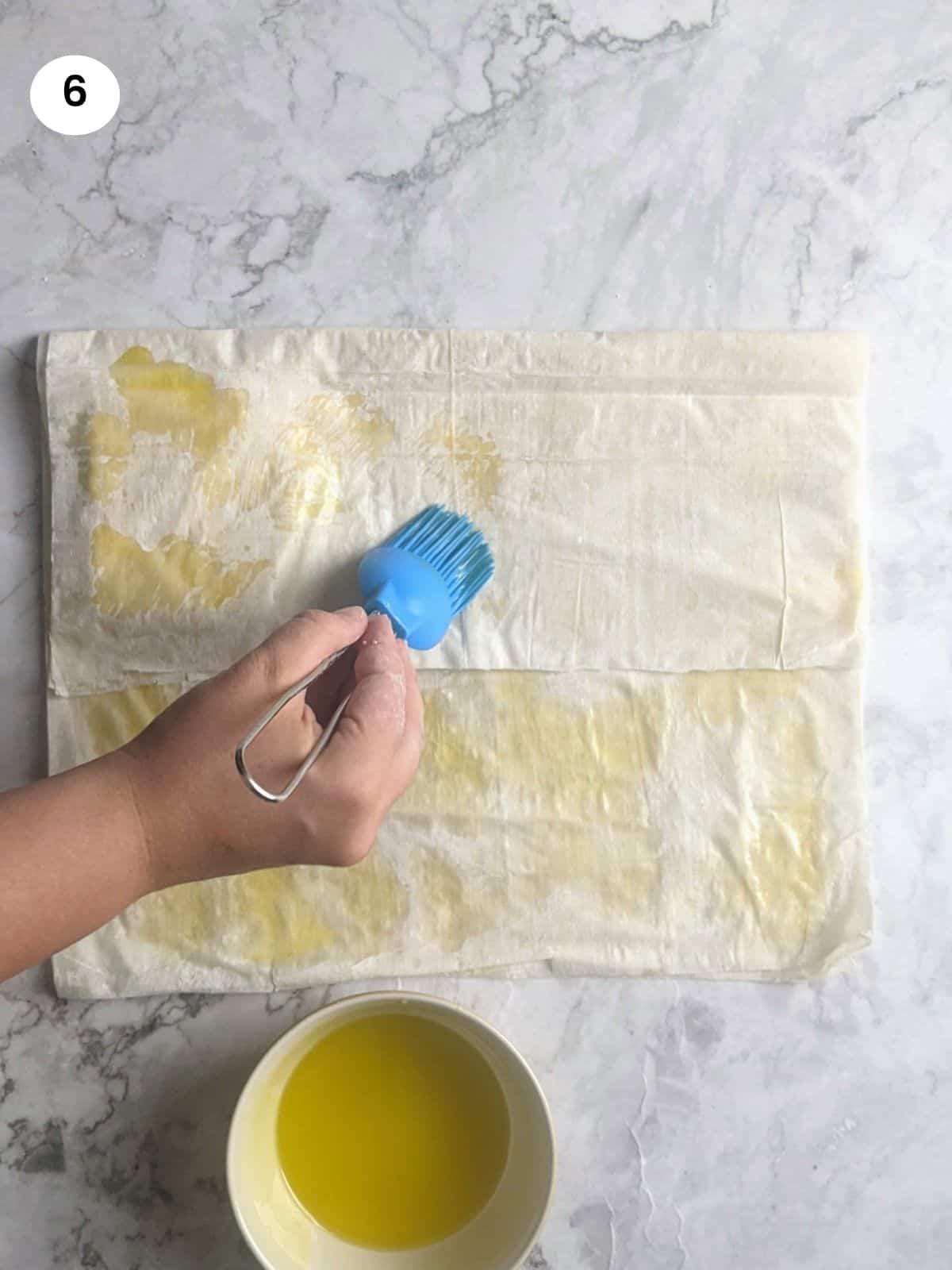 07. I fold the right side of the phyllo on top of the feta. So now we have a long piece of phyllo.
08. Before starting to fold upwards, I'm brushing with oil just the phyllo dough that is covering the feta cheese block.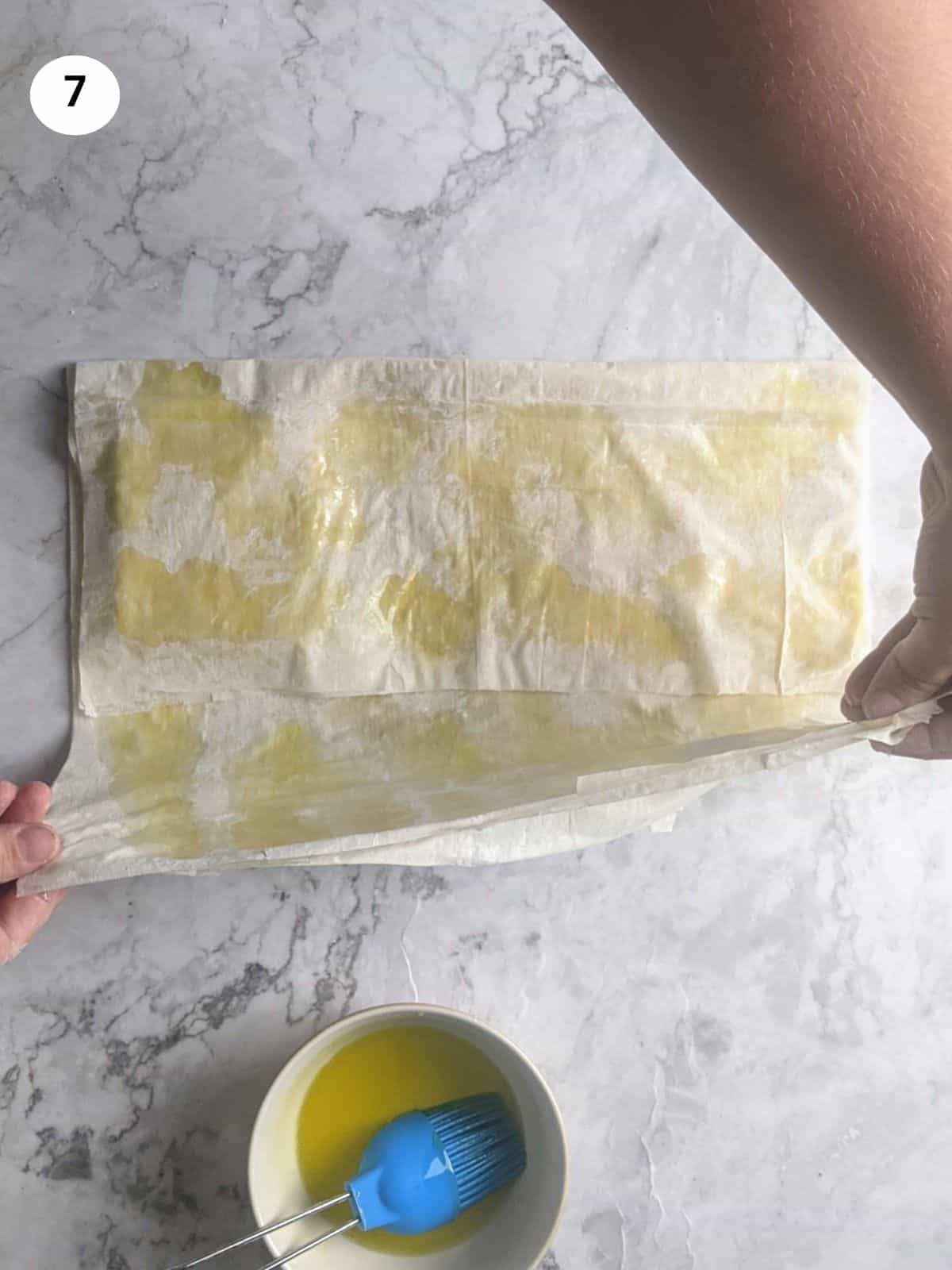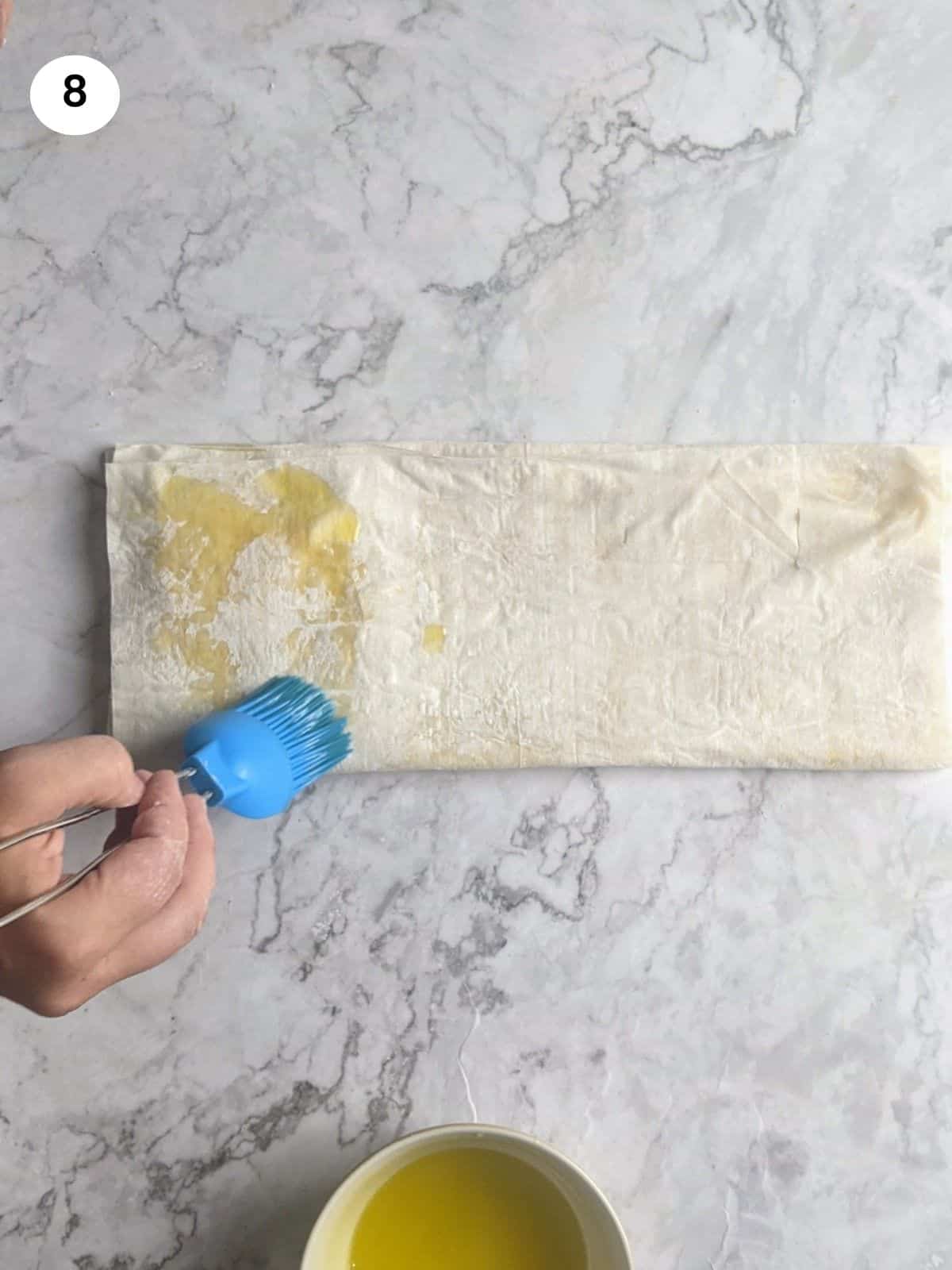 09. Now, we are going to start folding upwards or vertically. I fold the feta block one time up.
10. I brush the phyllo on top of feta with oil and then continue by folding one more time until I get a little parcel.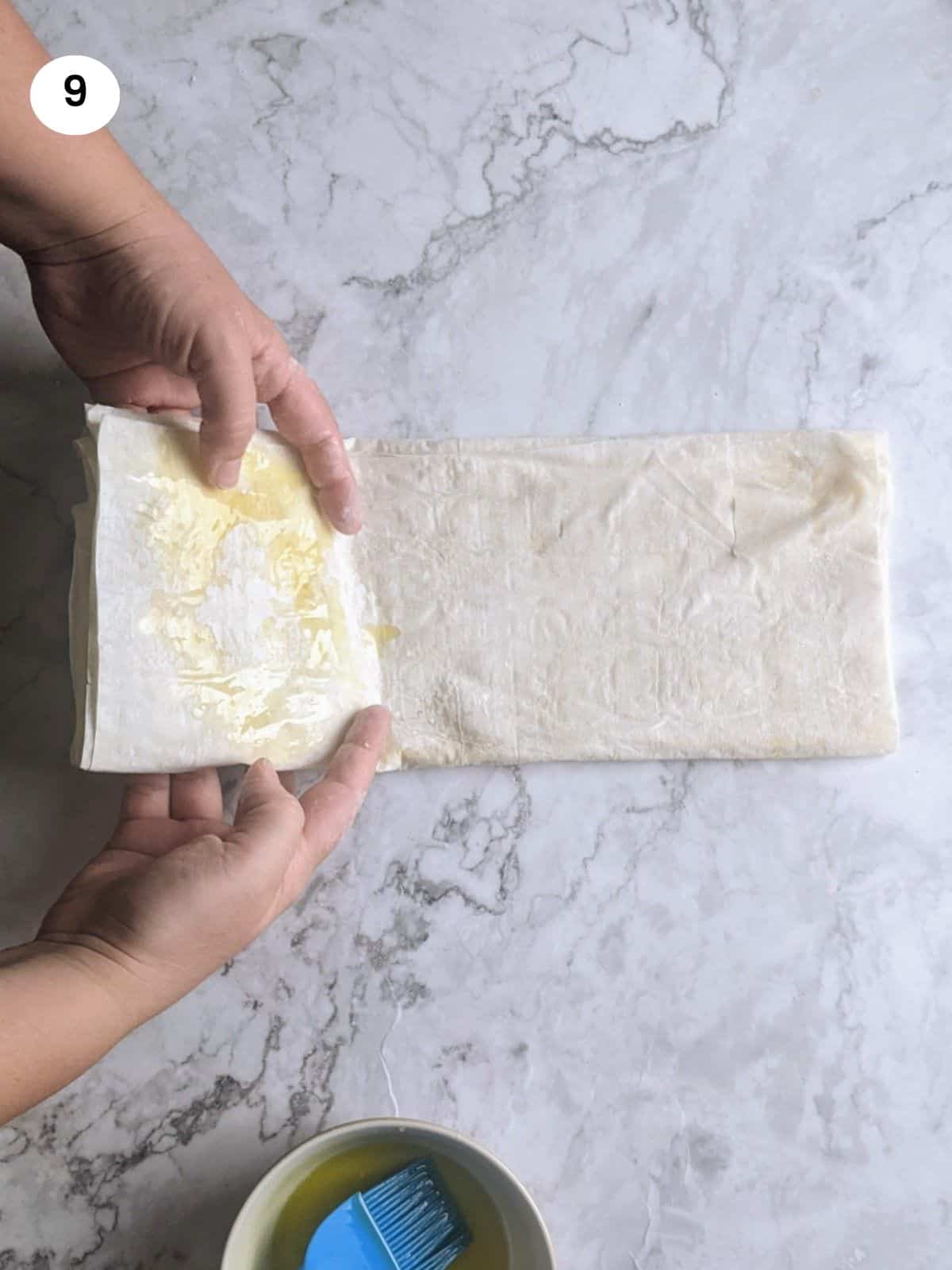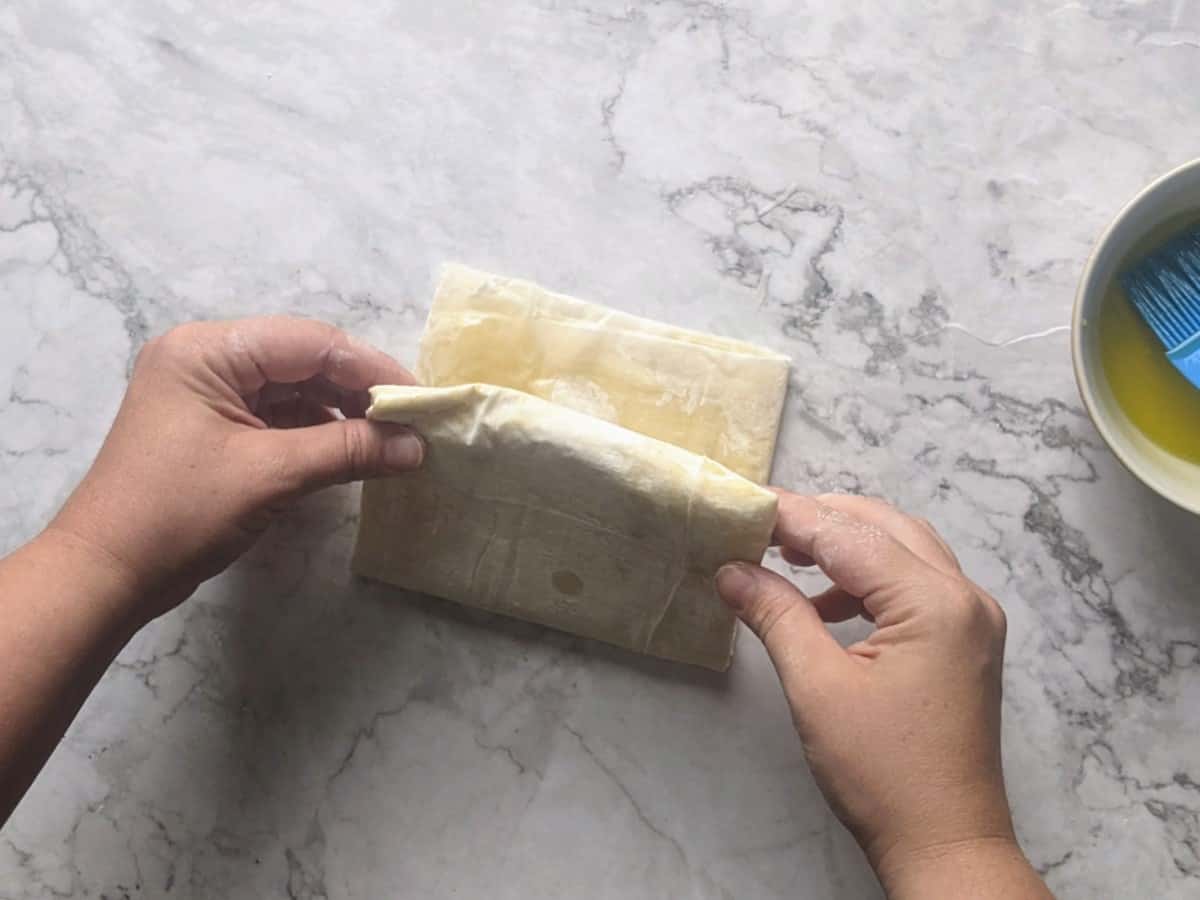 11. I place the two feta cheese parcels on a tray brushed with a bit of oil or lined with parchment paper. The seal of the phyllo when we were folding it, needs to be at the bottom so when it starts rising with the heat, it doesn't unfold. Then, I brush them with a beaten egg that will give them a nice golden color when baked.
12. I bake the filo wrapped feta in a preheated oven at 350°F (180°C) for 25-30 minutes. Check the oven after 25 minutes as the phyllo dough can get easily burnt and then it might taste bitter.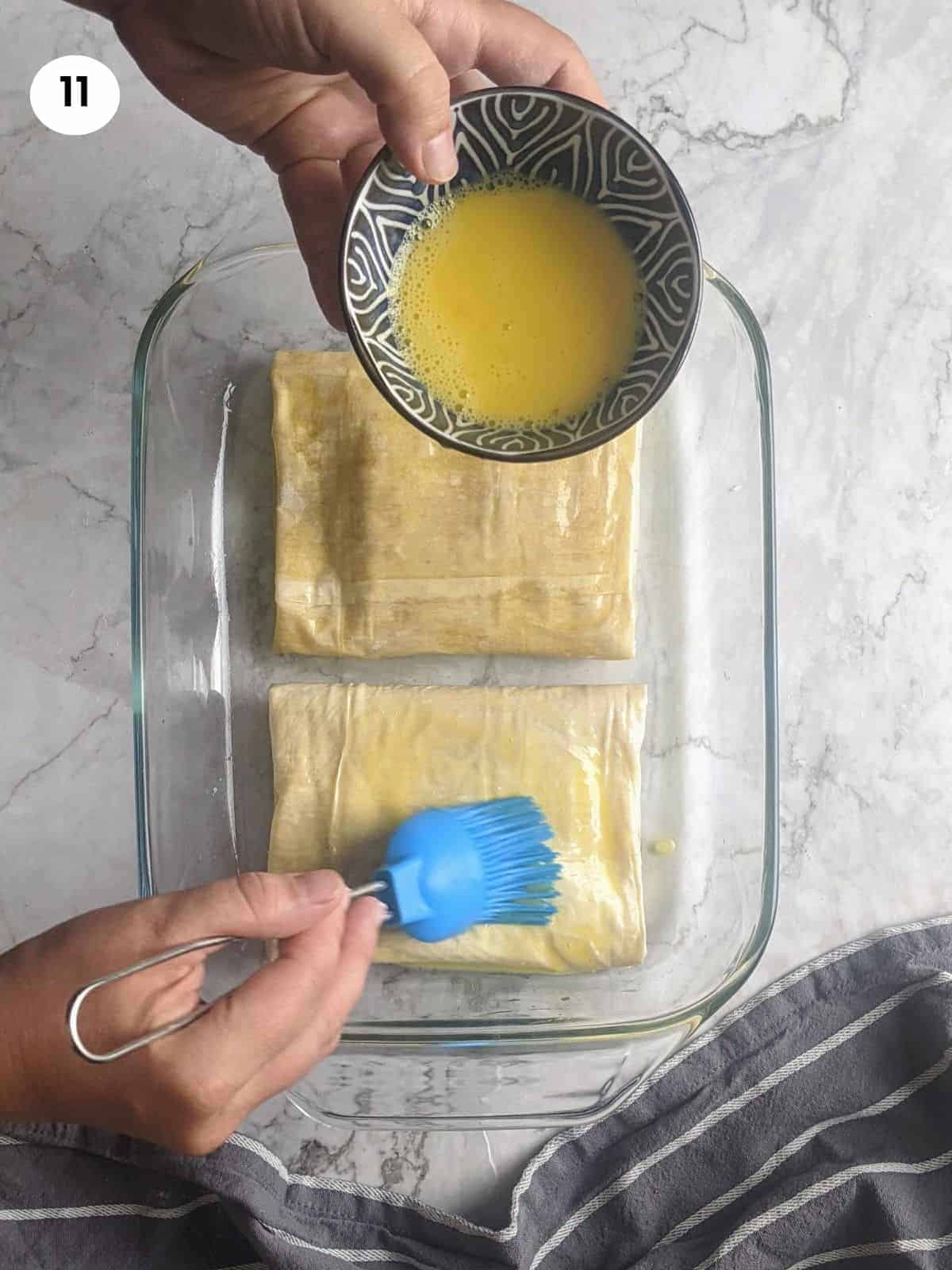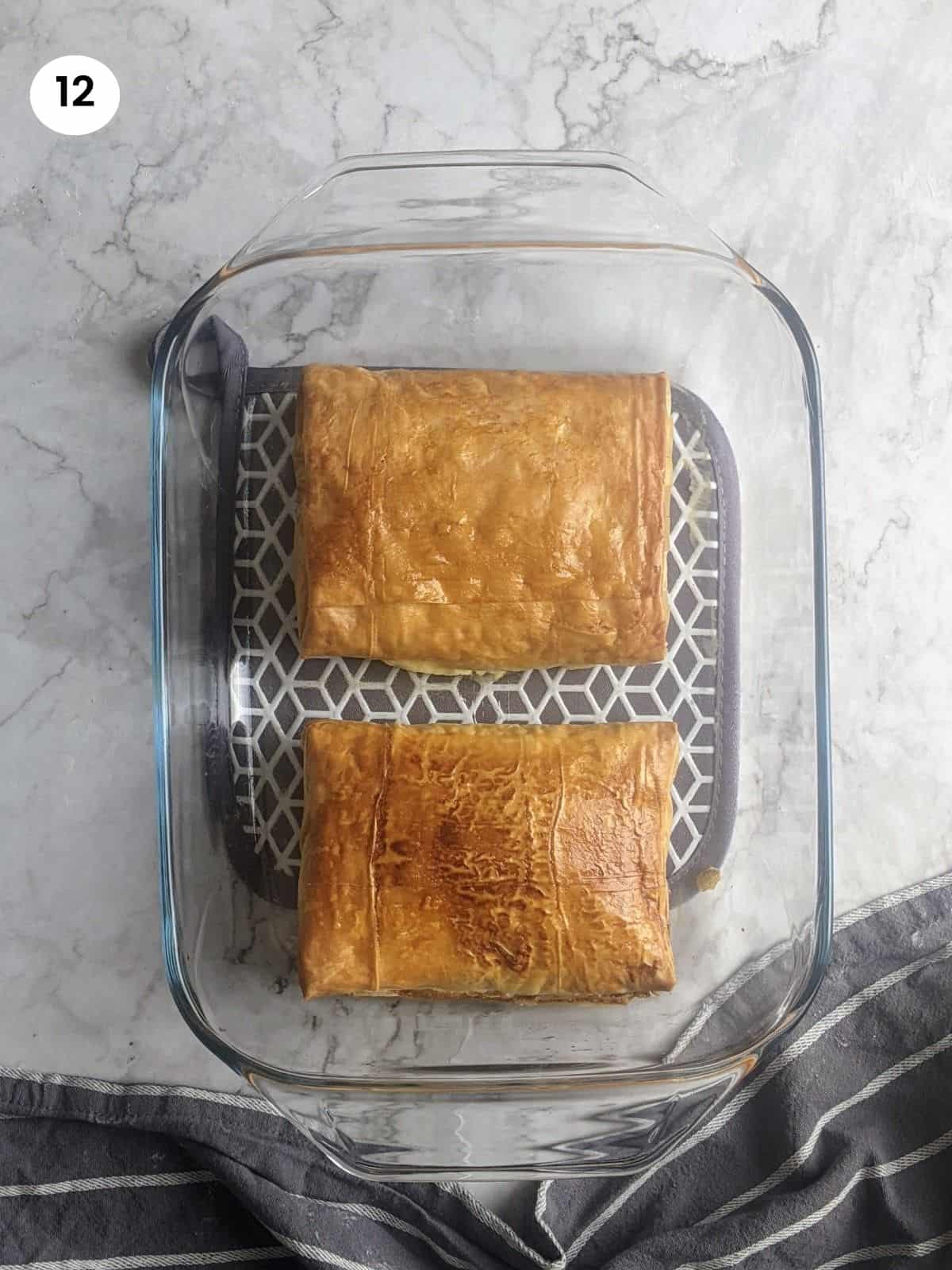 13. When the filo feta parcels are ready, I place them on a plate with a spatula. You will need to serve them warm while the feta cheese is still creamy inside. For the final touch, I drizzle some honey on top of each parcel and sprinkle a mix of some toasted and black sesame seeds. You don't have to use both, just toasted sesame seeds are enough, I just like the look of the black ones and they have a stronger flavor too.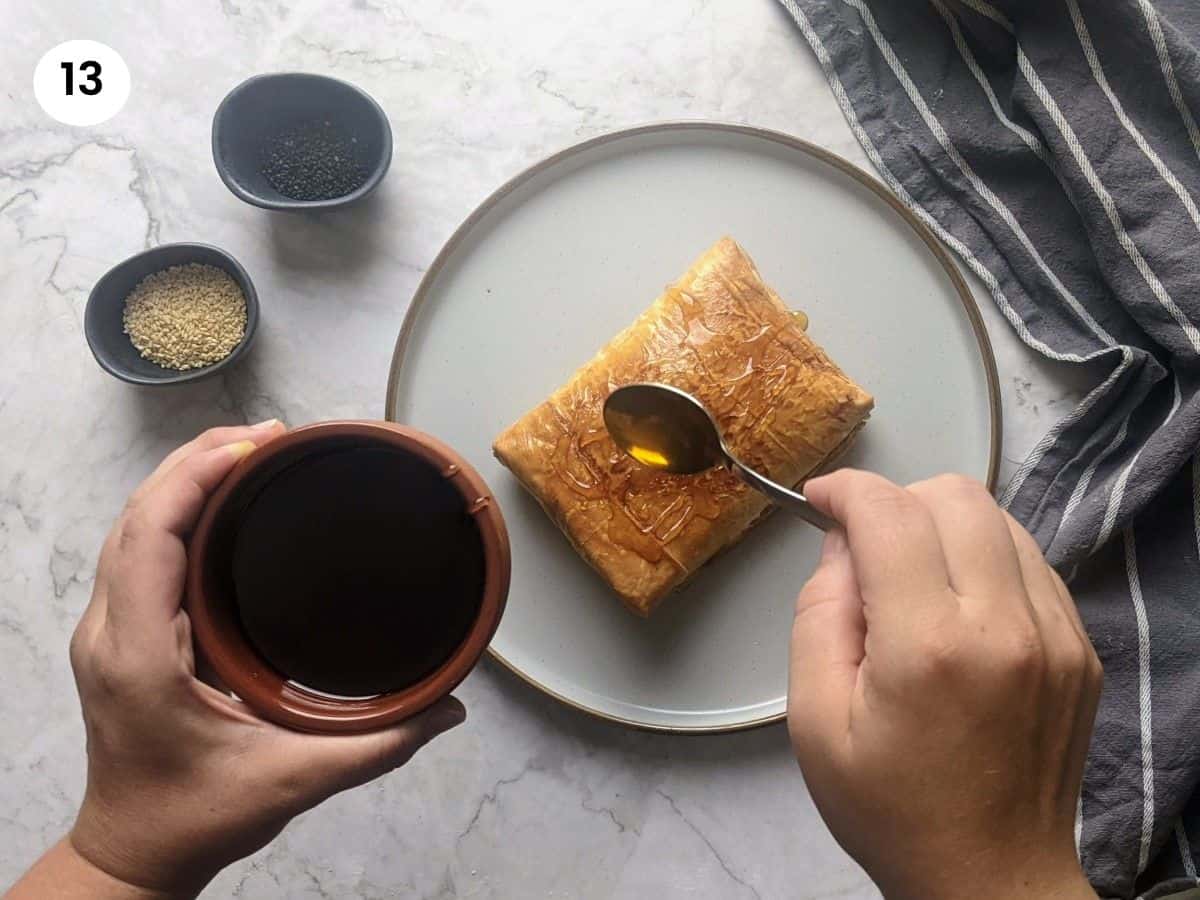 Serving suggestions
This baked feta wrapped in phyllo pastry is best served while it's still hot. The feta cheese should be creamy and soft, phyllo should be nice and crispy and then you just top it with some aromatic honey and some sesame seeds for an extra nutty flavor.
As it is an appetizer, it's great on its own or part of a mezze buffet with some refreshing salads like a traditional Greek salad or a pomegranate and goats cheese salad, some olives, grapes and cold meats.
Storage
As said before these baked feta filo parcels are best served hot when they come out of the oven. If you do have some leftovers though, it's best kept in the fridge and then warmed up before ready to consume.
FAQ
How do you wrap feta in phyllo? To wrap the feta cheese in phyllo, place the feta block in the middle bottom area and first fold the two sides vertically. Then start folding the feta block upwards until you get a little parcel.

What happens to feta cheese in the oven? Feta cheese is one of those types of cheese that won't melt completely whilst in the oven but it will get soft and creamy.

Can I airfry instead of bake the feta in phyllo? Instead of baking the wrapped feta in phyllo pastry, you could put it in an airfryer to get a similar taste to a frying wrapped feta.
Watch the video
Baked Feta In Phyllo With Honey
Baked feta cheese wrapped in phyllo pastry, drizzled with golden honey and topped with sesame seeds is an appetizer to impress. This is an easy-to-make appetizer that requires only a handful of ingredients and it will take you just 10 minutes to prepare. Enjoy!
Print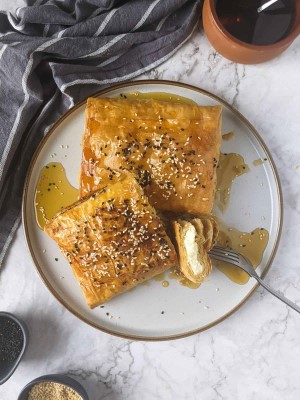 Ingredients
2 blocks (200gr / 8oz) feta cheese
1 egg
¼ cup olive oil
4 phyllo sheets
honey
sesame seeds
Instructions
Pat each block of feta cheese with a towel to remove most of the moisture.

Take one of the phyllo sheets and place it in front of you. Brush it with some olive oil. Lay another phyllo on top and brush it with oil.

Place one block of feta cheese at the middle bottom of the phyllo. Fold the left side to cover the feta.

Brush the folded side with oil, then fold the right side on top. You should now have a long vertical phyllo with the feta block at the bottom.

Brush with oil the phyllo on top of the feta block and fold it up. Repeat until the feta is all wrapped like an envelope.

Repeat with the other feta block and the other two phyllo pastry sheets.

Place the feta parcels on a tray lined with parchment paper or brushed with oil.

Beat the egg with a tablespoon of water and brush the top of the feta parcels.

Bake for 25–30 minutes in a preheated oven to 180°C/350°F.

Serve immediately while it's still warm, with drizzled honey and sesame seeds on top.
Notes
- You could use a mix of toasted sesame seeds and black sesame seeds on top.
- Each block of feta cheese shouldn't be too thick to allow it to get soft when baked. The thickness should be about 1cm / 0.5 inch.
Storage
You could store it in the fridge, warm it up and have it the next day, BUT this is an appetizer that is best enjoyed freshly baked.
Nutrition Info (per serving)
Calories: 362kcal | Carbohydrates: 20g | Protein: 10g | Cholesterol: 85mg | Fat: 27g | Saturated Fat: 9g | Polyunsaturated Fat: 2g | Monounsaturated Fat: 13g | Fiber: 0g | Sodium: 707mg | Potassium: 67mg | Sugar: 9g
I am not a nutritionist. The nutrition information has been calculated using an on-line calculator, and is intended for information and guidance purposes only. If the nutrition information is important to you, you should consider calculating it yourself, using your preferred tool.