I used to make this cake once or twice(!) a month when my daughter was around one year old and I was dairy, soy and egg free (she had/has multiple allergies). It took me a few tries to get the texture and the glaze right, but I was so happy with the end recipe that I kept making it again and again. Even my husband who didn't follow my special diet loves this cake! Nowadays, I don't make it that often but we still have it once every two-three months. It's really fluffy and light although it has no eggs or butter in it! Did I also tell you that you don't need a hand or stand mixer?! How cool is that!
What's inside
For the chocolate cake, I have my dry and wet ingredients. I like to mix my wet ingredients together with the sugar and then gradually add in my mix of the rest of the dry ingredients. My wet ingredients are
vegetable oil
water
orange juice
vinegar
vanilla extract
If you like the orange flavor, you could also add the orange zest before getting the juice from the orange. The dry ingredients are
plain flour
sugar
cacao powder
baking soda
salt
I like to use cacao powder instead of cocoa powder. Yes, there is a difference! For the cacao powder, the beans are processed at low temperature hence it is more nutritious, healthy and tastes more bitter compared to cocoa powder.
As the cake doesn't have any eggs or baking powder, my raising agents are baking soda and vinegar, and instead of butter, I use vegetable oil. As for the glaze, it's mainly powdered sugar, cacao powder, water and a bit of oil for the shine. Make sure you shift the powdered sugar and cacao powder and then add the wet ingredients. The glaze will be thin to start and gradually it will harden depending on the room temperature. If you don't use it immediately and it thickens, put it over the heat to thin it out again.
Serving suggestions
I usually make this cake in a ring cake tin and just add the chocolate glaze after it cools down. You can also make it in a normal round tin, cut it in half when it cools down and add some raspberry jam. It also goes well with some vanilla or raspberry ice cream.
Storage
Store it on the counter top at room temperature for up to 5 days.
Watch the video
Vegan Chocolate Cake
This vegan chocolate cake is so light and tasty that you won't be able to stop at one slice. It is really easy to make, you don't even need a mixer, just a whisk.
Category: Cakes
Difficulty: Easy
Print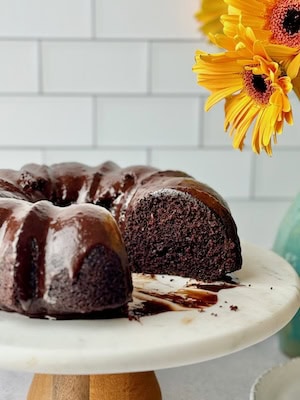 Cake ingredients
3 cups plain flour
⅔ cup vegetable oil
2 cups sugar
1 cup water
⅓ cup orange juice
3 tablespoons of vinegar
5 tablespoons of cacao powder
2 teaspoons of baking soda
1 teaspoon of salt
1 teaspoon of vanilla extract
Glaze ingredients
1 cup of powdered sugar
½ cup of cacao powder
⅓ cup of water
2 teaspoons of vegetable oil
1 teaspoon of vanilla extract
Instructions
Preheat the oven to 180°C/350°F

Mix all the dry ingredients except sugar in a bowl: flour, cacao powder, baking soda and salt.

Mix all the wet ingredients in another bowl, the oil, water, orange juice, vinegar and vanilla extract. Add the sugar and stir until it's dissolved.

Add the dry ingredients in the bowl with the wet ones. Using a whisk, mix all ingredients until well combined.

Add a bit of oil to your cake tin and spread it well using a brush or your hand.

Empty the cake batter into the tin and bake in the center of the oven for around 45 minutes (use a skewer to check if it's done).

Leave the cake to cool down before removing the tin. In the meantime, you can prepare the glaze.

Sift the powdered sugar and cacao powder into a bowl. Then add the other ingredients and mix until all well combined.

Slowly drizzle the chocolate glaze over the cake. Use a spatula to evenly distribute the glaze. The glaze is thin and will harden gradually based on the temperature of the room.
Storage
Store it on the counter top at room temperature for up to 5 days.
Nutrition Info (per serving)
Calories: 333kcal | Carbohydrates: 55g | Protein: 4g | Cholesterol: 0mg | Fat: 11g | Saturated Fat: 2g | Polyunsaturated Fat: 7g | Monounsaturated Fat: 2g | Fiber: 2g | Sodium: 294mg | Potassium: 91mg | Sugar: 30g
I am not a nutritionist. The nutrition information has been calculated using an on-line calculator, and is intended for information and guidance purposes only. If the nutrition information is important to you, you should consider calculating it yourself, using your preferred tool.