In my family, we love anything that has apples in it. We have tried many apple cakes, apple crumbles, apple muffins, you name it! This apple crumble tart is one of our favorites. It's so delicious, with a sweet & butter pastry that resembles biscuit and a spicy & nutty apple filling. Personally, what I love the most is how easy it is to make. Perfect for those days when I'm busy but everyone is asking for a cake or dessert. It takes me only 15 minutes to prep everything and assemble the tart. So let's get started!
Jump to:
Why you should try my recipe
Easy steps to follow for a delicious apple crumble tart.
Instructions with or without a food processor to cover every household.
Perfect with your coffee or tea, or as a dessert after your meal.
Ready in less than an hour.
Ingredients & How-to
To make the dough for the apple crumble tart, you will need self-raising flour, an egg, sugar, butter, milk and vanilla extract. Pretty simple baking ingredients that we usually have in our pantry.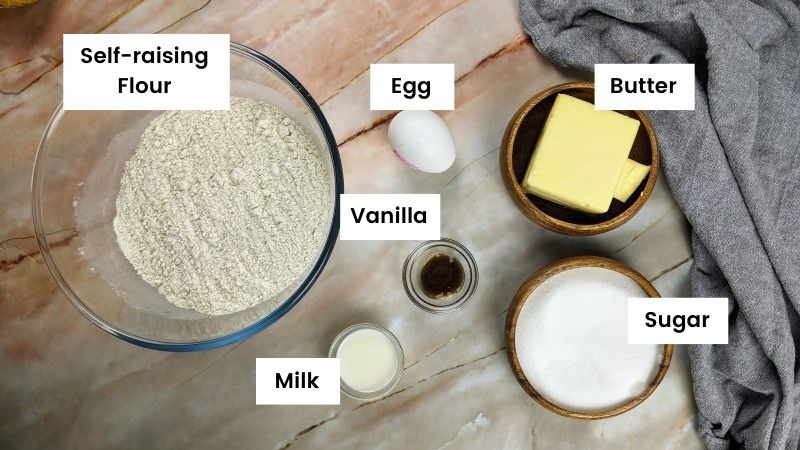 For the filling of the apple crumble tart, all we need is a couple of apples, soft brown or muscovado sugar, cinnamon and walnuts.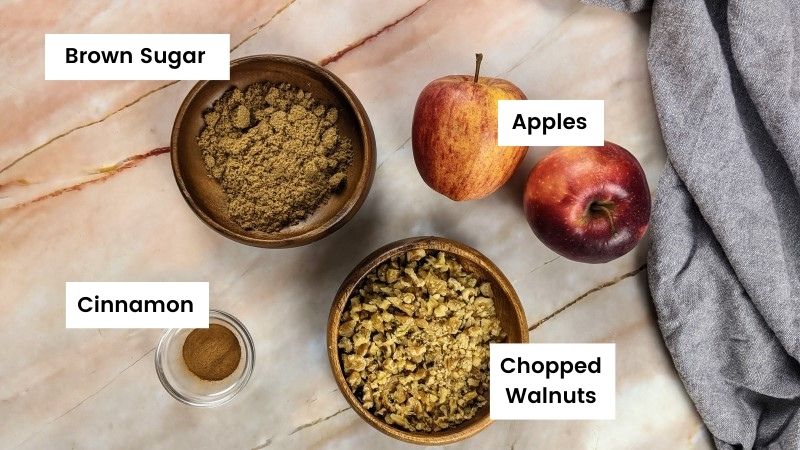 01. To start, I add the dry ingredients to a bowl or food processor, the sugar, self-raising flour and the cold butter cut into cubes. Make sure the butter is straight out of the fridge. This is particularly important, especially if you are making the dough without a food processor, as the mixture will be too sticky otherwise and difficult to handle.
02. If you are using a food processor, just give it a few spins until all the butter is incorporated and the mixture resembles breadcrumbs or sand. If you don't have a food processor, that is absolutely fine, I've often made the dough for this apple crumble tart using just my hands. Simply, start rubbing the butter into the flour mixture until it looks like breadcrumbs. If you shake the bowl then any lumps will come up to the surface. Try not to use your palms as you don't want the butter to melt.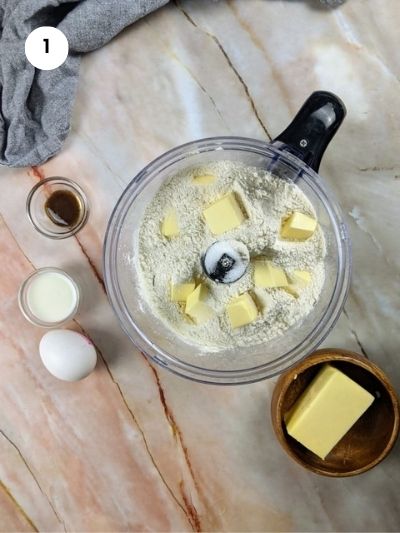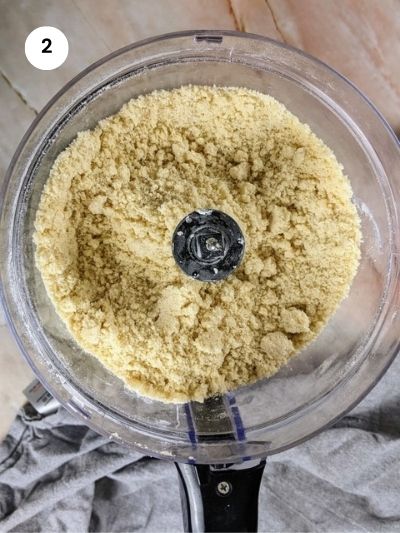 03. Now it's time to add the wet ingredients. I move the dry ingredients to a big bowl and add the egg, vanilla extract and milk. Using my hands or a spatula, I start mixing everything and adding some pressure with my hands until it forms into a dough. If the mixture is still too crumbly then add one more tablespoon of milk. I leave the dough to rest in the fridge, while I prepare the apple filling. If you leave it out at room temperature the butter will get soft and then it will be more difficult to handle the dough.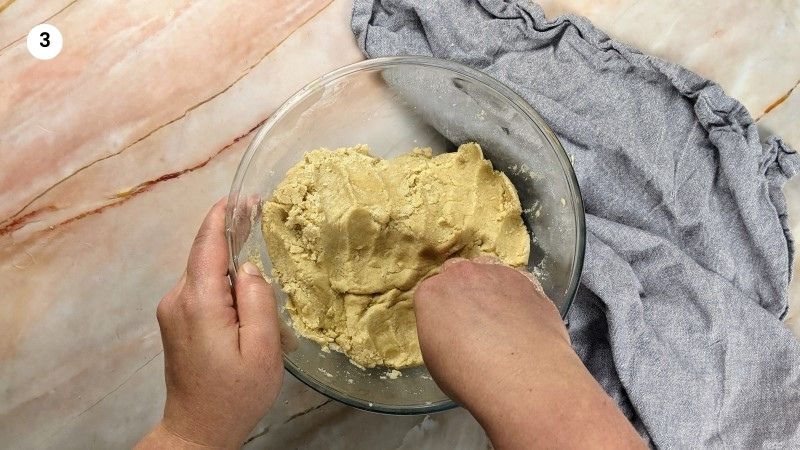 04. For the filling, I'm using two large apples. You could use any type of apples you like. I prefer to use more tart apples like pink lady or red delicious apples rather than the very sweet ones since we will be adding some sugar to the filling. I peel the apples, remove any seeds and hard bits from the core and then cut them into cubes.
05. I add all the apple cubes to a bowl along with the cinnamon, chopped walnuts and soft brown sugar. Make sure that the brown sugar you will use is soft or muscovado otherwise if it's too granule, it will not dissolve. As for the walnuts, I'm using about a cup that I roughly chop. If you don't like walnuts or have a nut allergy you could leave them out.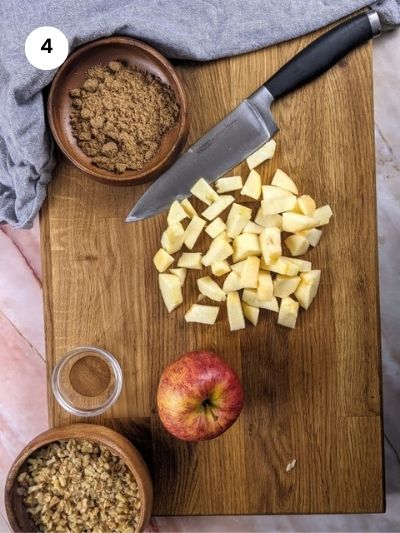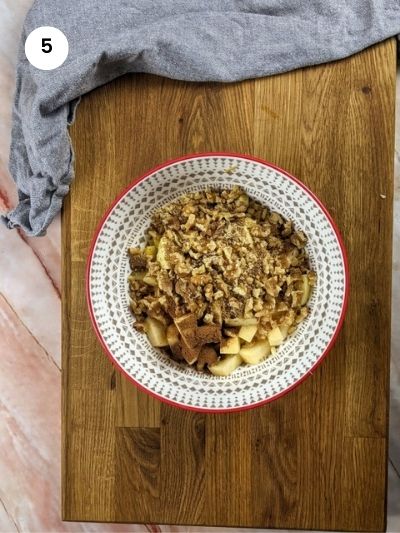 06. Now we are ready to start assembling the tart. I add half of the dough to the bottom of a tart tin that is about 9 inches wide. Using my hands, I spread the dough all around the tart tin evenly making sure that it is a bit raised around the edges.
07. I add the apple and walnuts filling and spread it evenly to cover all the dough.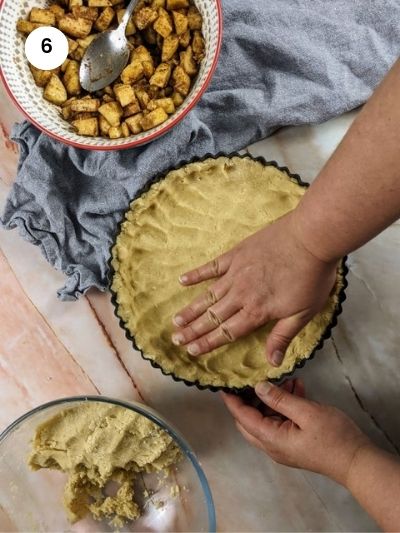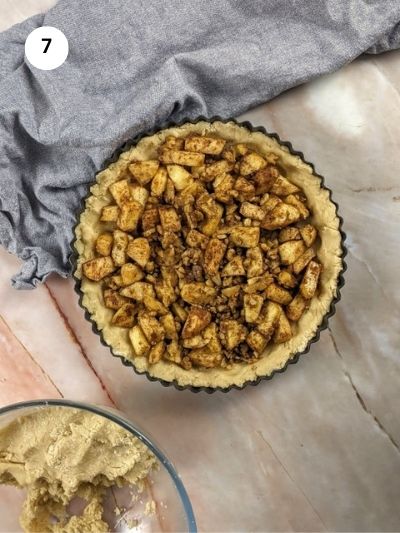 08. For the top of the apple crumble tart, I'm using the remaining dough. I just grab little bits of dough and sprinkle it on top with my fingertips until all the apple filling is kind of covered. Don't worry if there are little bits of apple filling uncovered. The dough will rise and cover it while it's in the oven.
09. Make sure your oven is preheated before placing the apple crumble tart inside. It will only take 20-25 minutes to get baked so do keep an eye on it as we don't want it to get burnt. When it's ready, I take it out of the oven and leave it to cool down for 10-15 minutes as it's too fragile to handle when it's hot.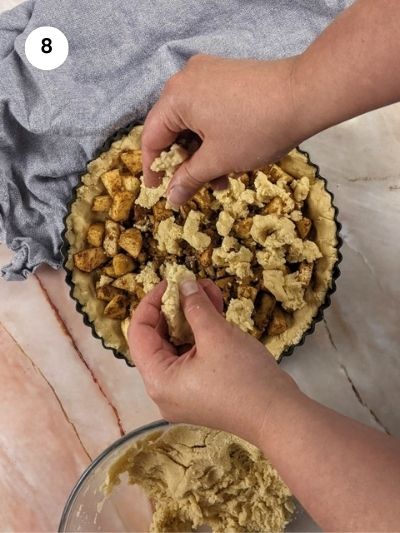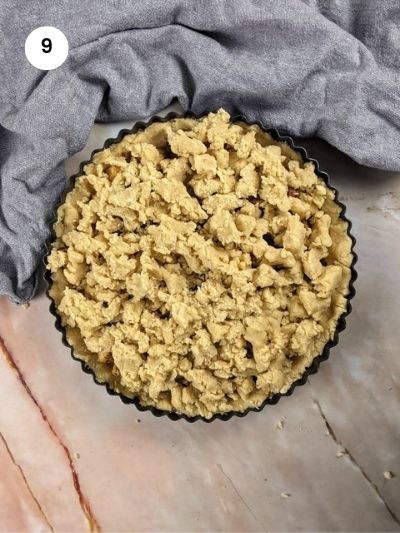 Serving suggestions
You could serve this apple crumble tart on its own or with some ice cream or custard on top. It's great with a cuppa or as a dessert after your meal.
Storage
I recommend storing the apple crumble tart at room temperature and consume within a week. It might get a bit softer after couple of days but it will still taste amazing.
FAQ
What can I use instead of a tart tin? If you don't have a tart tin then you could simply use a round ovenproof dish or tray.

How can I make the apple crumble tart dairy-free? For a dairy-free version of my apple crumble tart, you could substitute the butter and the milk with a dairy-free one of your choice.

What type of apples can I use for an apple crumble? It's best to use apples that are more tart than sweet ones as they will hold their shape better and won't become so jammy when baked.
Watch the video
Easy Apple Crumble Tart
You won't believe how easy, quick and tasty this apple crumble tart is. It will take you just 40 minutes to prepare and bake and everyone will love it. Serve it after your meal with a scoop of ice cream or have a slice with your morning coffee. Enjoy!
Category: Cakes
Difficulty: Easy
Print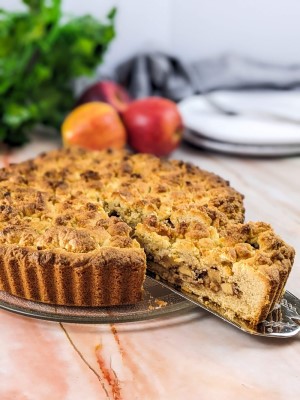 Dough Ingredients
400gr self-raising flour
200gr of cold butter
150gr sugar
1 egg
1 tablespoon of milk
1 teaspoon of vanilla extract
Filling Ingredients
2 apples
30gr brown or muscovado sugar
1 teaspoon of cinnamon
50gr chopped walnuts
Instructions
Add the sugar, flour and cold butter (cut into cubes) to a food processor. Mix for a couple of minutes until it resembles breadcrumbs.

Move the mixture to a bowl and add the egg, vanilla extract and milk. Mix with your hands or a spatula until it all binds together. Place it in the fridge to rest while you prepare the apples.

Peel the apples, remove any seeds from the middle and cut them into cubes.

Place the apple cubes into a bowl. Add the brown sugar, cinnamon and chopped walnuts. Mix everything well.

Add half of the dough to a tart tin and using your hands as a fist, spread the dough around the tart tin with the edges being raised at the side.

Add the apple filling and spread it evenly over the dough.

Using your fingertips, sprinkle the remaining dough on top of the apples, crumbling it with your fingers.

Bake for 20-25 minutes in a preheated oven to 180°C/350°F.

When you take out of the oven the apple crumble tart, leave it to cool down before you cut it as it's easy to break when hot.
Notes
- I'm using a tart tin that is 9 inches wide.
- You could use any type of apples you like. If you like the filling to be softer, you could grate the apples instead of cutting them into cubes.
- If you don't like the nuts or you have a nut allergy, you could leave the walnuts out.
Storage
Store the apple crumble tart at room temperature for up to a week.
Nutrition Info (per serving)
Calories: 444kcal | Carbohydrates: 57g | Protein: 5g | Cholesterol: 59mg | Fat: 21g | Saturated Fat: 11g | Polyunsaturated Fat: 3g | Monounsaturated Fat: 5g | Fiber: 1g | Sodium: 9mg | Potassium: 78mg | Sugar: 22g
I am not a nutritionist. The nutrition information has been calculated using an on-line calculator, and is intended for information and guidance purposes only. If the nutrition information is important to you, you should consider calculating it yourself, using your preferred tool.