These Greek honey biscuits or melomakarona as we call them in Greek, are a Christmas tradition for almost all Greek families. I remember my mom would always start baking melomakarona and kourabiedes, Christmas snowball cookies, in December in preparation for the festive days coming. She would make a big batch and share some with friends and family, which I like to do.
There are three things that make these Greek honey biscuits distinguishable from all other Christmas cookies and biscuits. The aromas from cinnamon and clove, the honey based syrup that we soak them in and the chopped walnuts on top. If you are missing any of those three, then simply it's not melomakarona!
Jump to:
Why you should try my recipe
Easy to follow step-by-step instructions on how to make the best Greek honey cookies.
They are hard outside and soft and syrupy in the middle.
Very aromatic from all the spices in the cookie and syrup.
A whole batch that can last for a few weeks if you can resist.
Ingredients & How-to
To make the syrup for the Greek honey cookies or melomakarona, you will need water, sugar, honey, a cinnamon stick, whole cloves (optional) and an orange.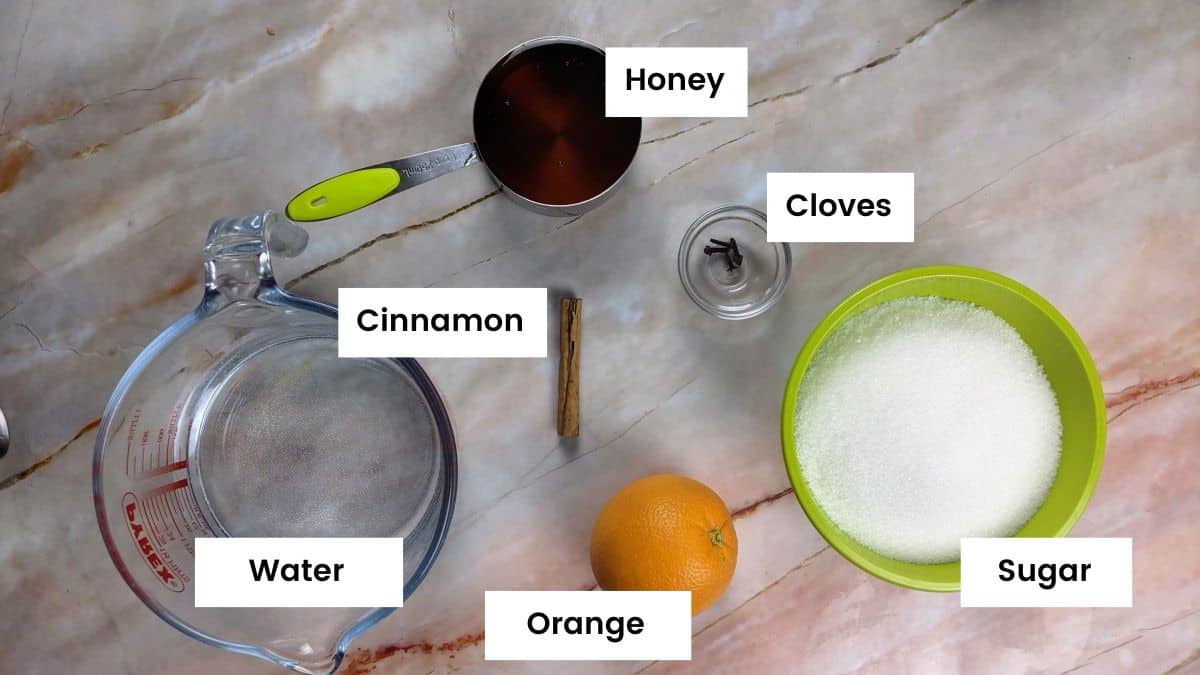 1. Preparing the syrup
01. You could make the syrup the day before or a few hours ahead. We basically want the syrup to be at room temperature when the biscuits are ready and hot out of the oven. For the syrup, I add all the ingredients to a pot, the water, sugar, honey, cinnamon stick and whole cloves and finally half an orange after I squeeze out some of its juice in the pot. If you don't have a cinnamon stick or whole cloves, then you could replace them with powdered ones.
02. I gently give it a stir to combine everything and dissolve the sugar and then I leave it to boil on medium heat. It will take around 5 minutes to start boiling. When I start seeing a lot of bubbles, I give it a minute to boil and come together and then I turn off the heat and leave it at the side to cool down. Now that the syrup is ready and cooling down, we can start preparing the melomakarona biscuits.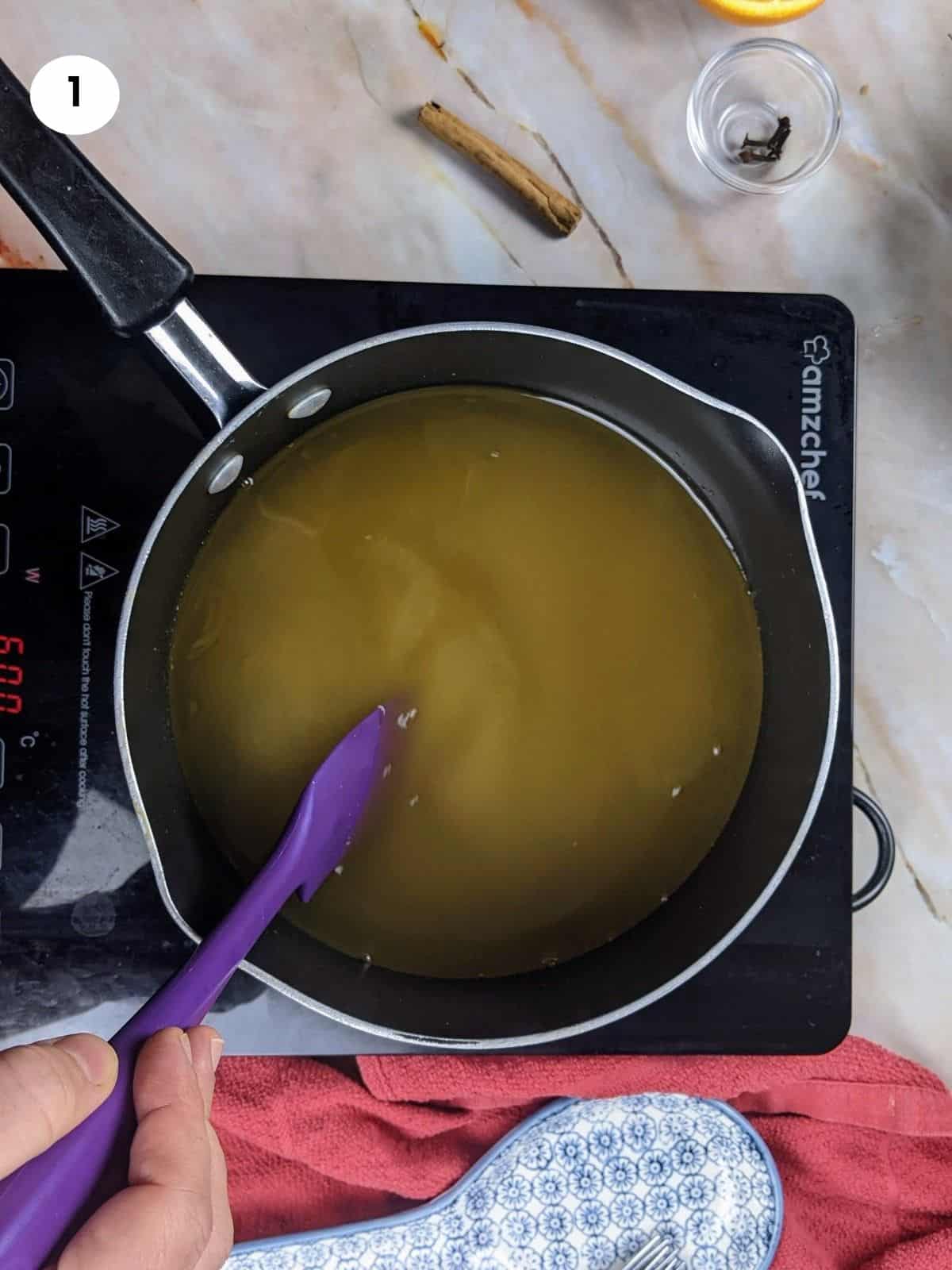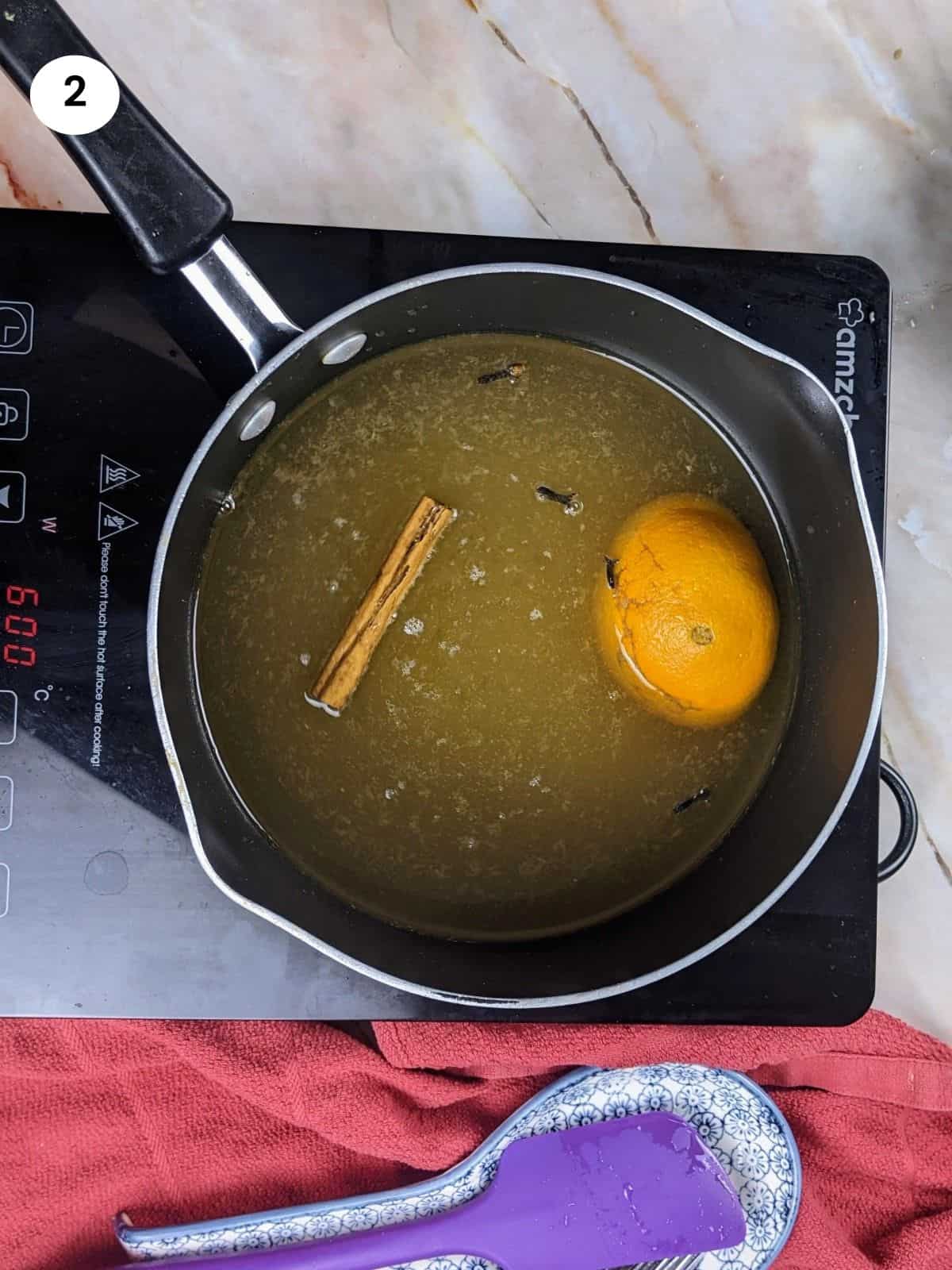 2. Preparing the melomakarona dough
To make the melomakarona dough, you will need plain flour, semolina flour, sugar, orange juice, olive oil, baking powder, baking soda, vanilla extract, cognac or brandy, cinnamon and ground cloves.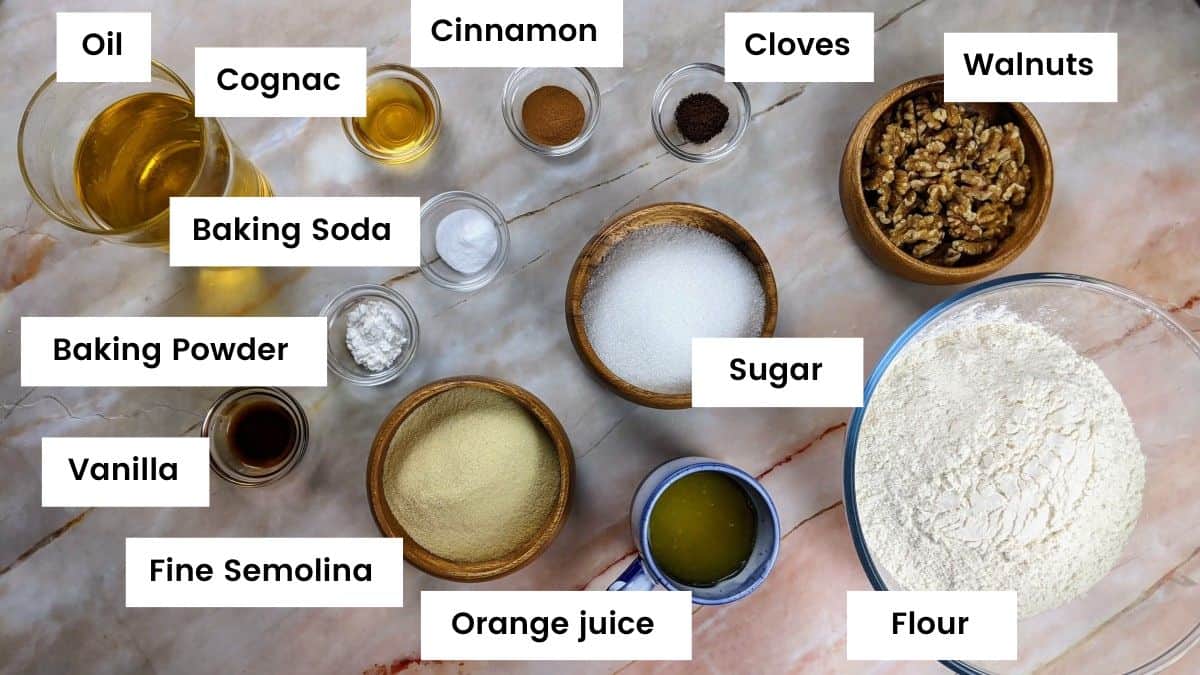 01. To make the dough for the biscuits, I mix the olive oil and sugar in a big bowl until the sugar has dissolved. As the biscuits are dipped in syrup later on, we don't need a lot of sugar in it.
02. Now let's add the rest of the ingredients. In the orange juice, I add the baking soda and stir it until it starts foaming. Then I add it to the bowl with the oil and sugar.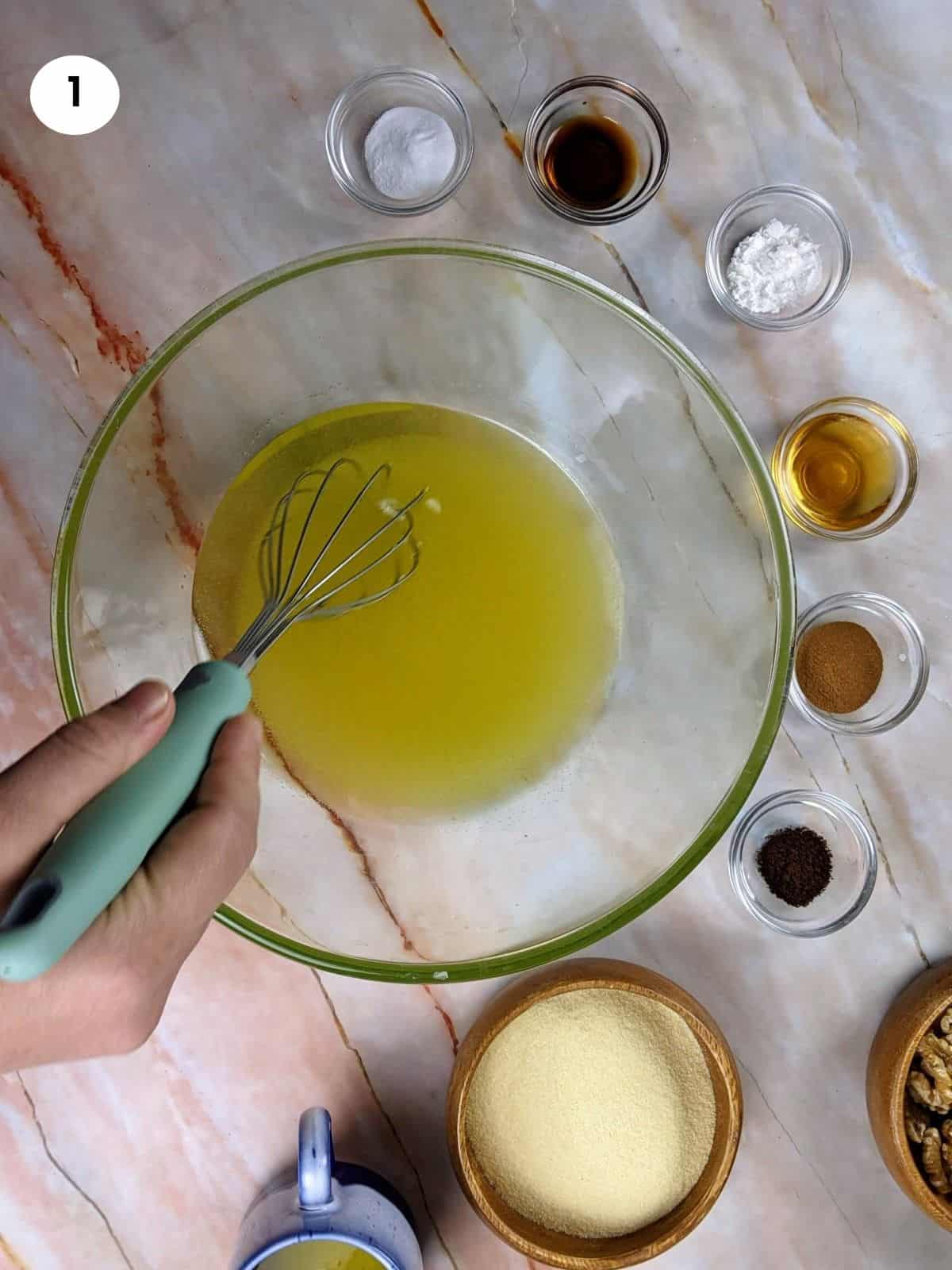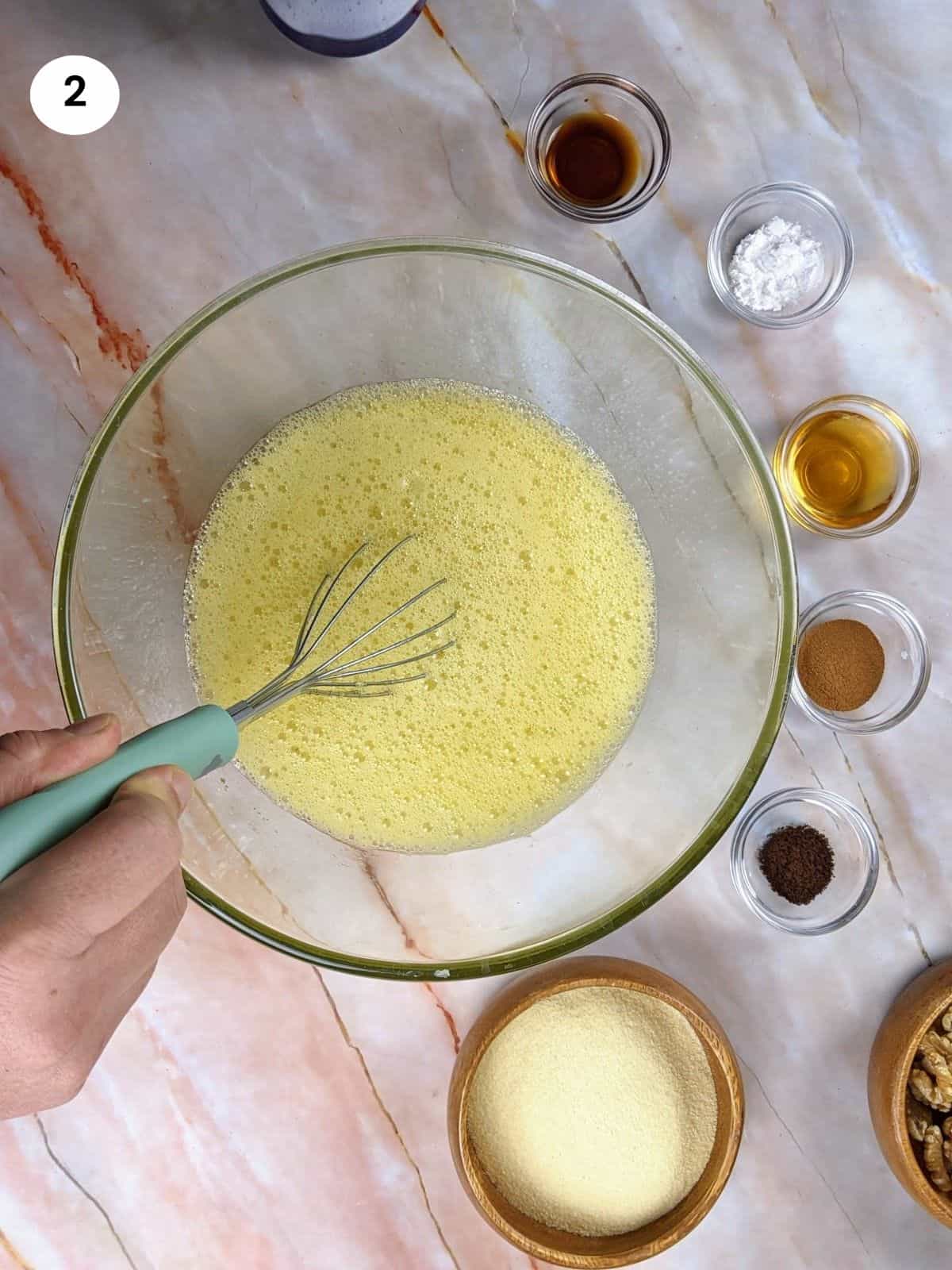 03. Next, I'm adding the spices, powdered cinnamon and clove. Cinnamon and clove are two of my favorite spices and it wouldn't feel like Christmas without them. Finally, I add the cognac and vanilla extract and I mix everything really well.
04. To bring everything together, I need to add the flour to the mixture. I'm adding a combination of plain flour and semolina flour, and some baking powder as a raising agent. The semolina flour is what makes these Greek honey cookies have a crumbly texture and to absorb more syrup. If you add too much semolina flour, the melomakarona cookies will have a weird taste and will break easily when you bite them. If you add too little, then they will be hard and dry, as they won't absorb as much syrup later on. So stick to the recipe for the best results.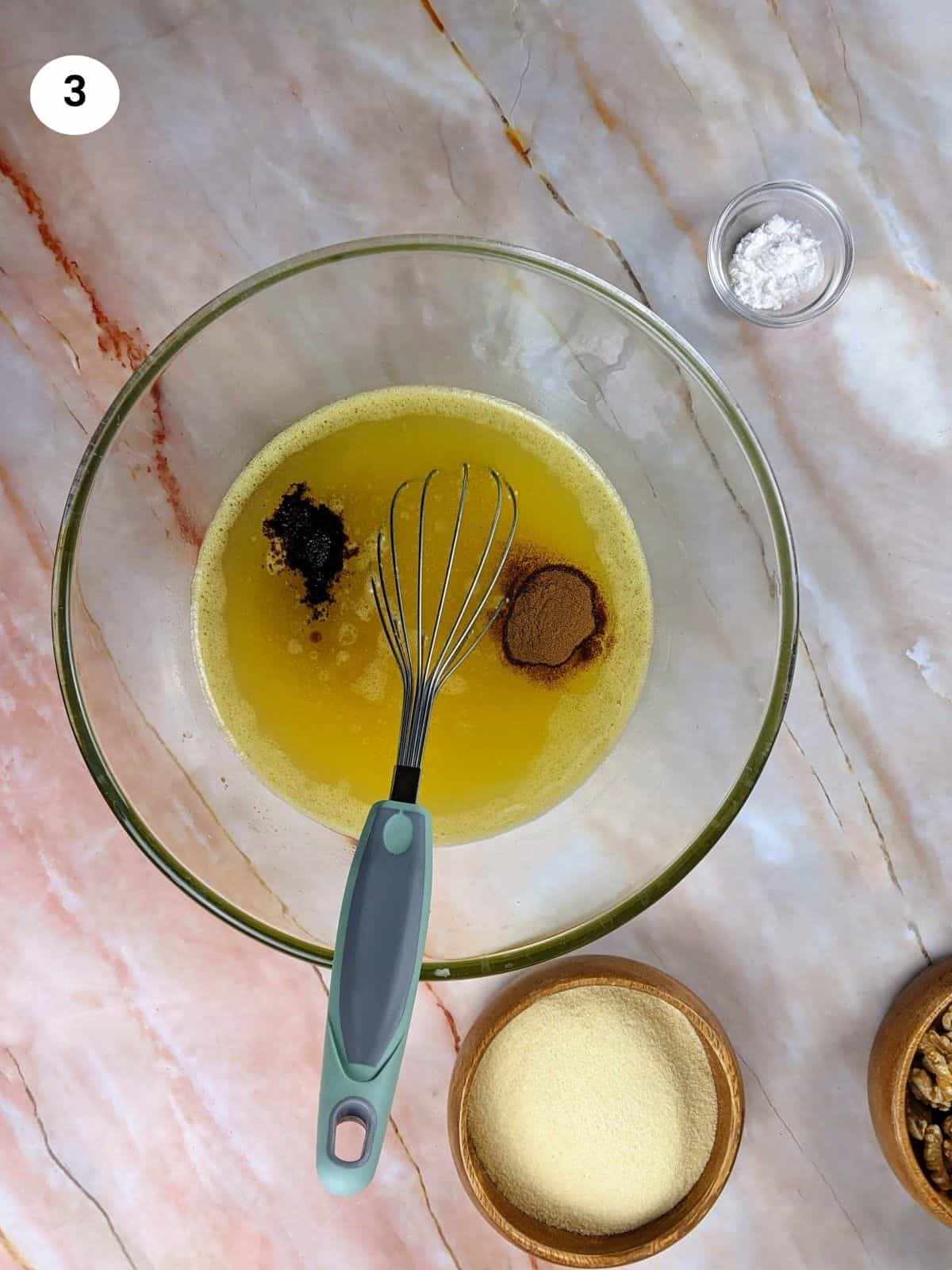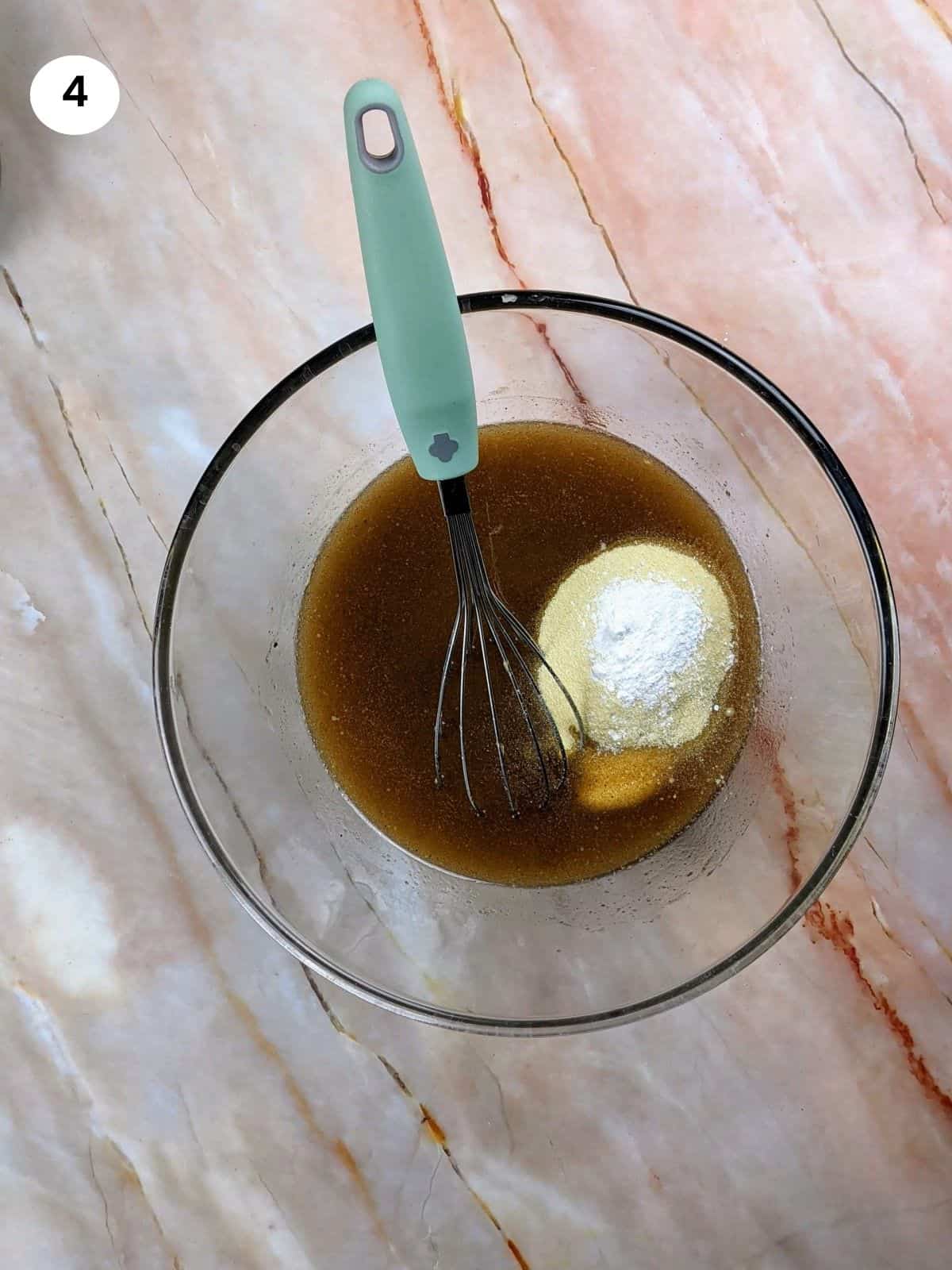 05. Finally, it's time for the flour. I'm using plain flour that is used for baking. Then I start mixing the flour using my hands. I like to use a pair of gloves as the mixture is quite oily. The melomakarona dough is one of those cases that you shouldn't overwork the dough with kneading, as the oil can easily separate. I gently mix everything with my hands until the flour is well combined.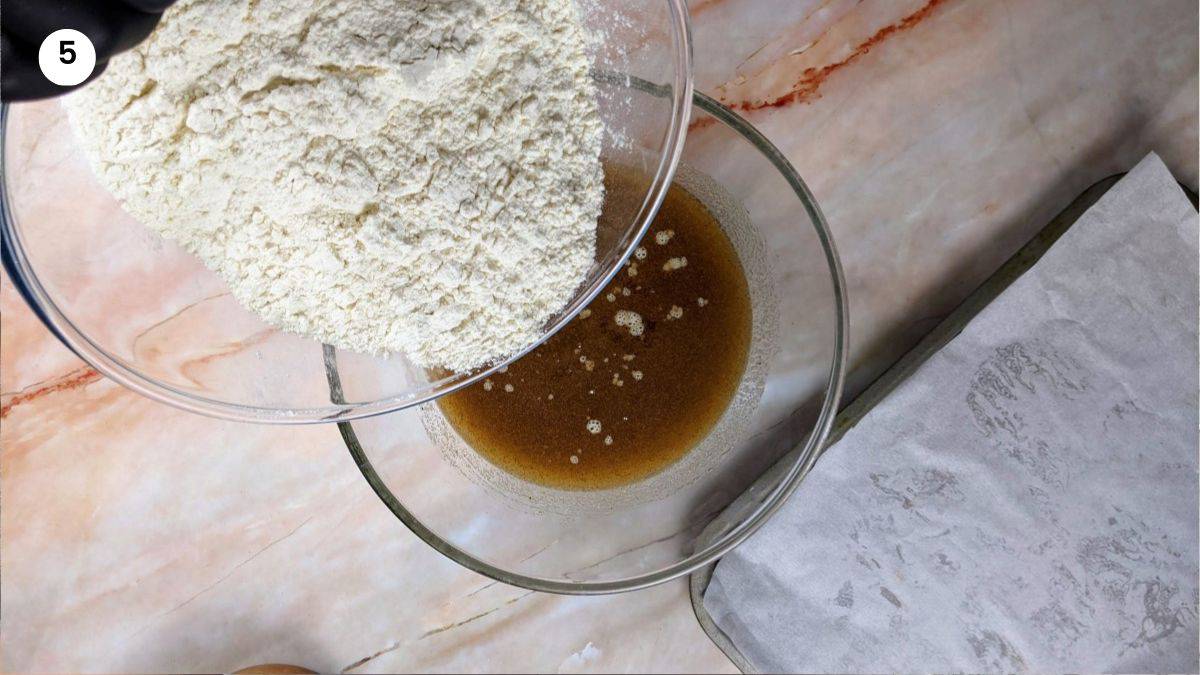 3. Shaping the Greek honey cookies
01. Now it's time to shape the Greek honey cookies. I take a small piece of dough in my hand, around 30 grams and shape it into an oval. Again, don't overwork the cookie. **Shape it into a ball and then press it gently to shape it. **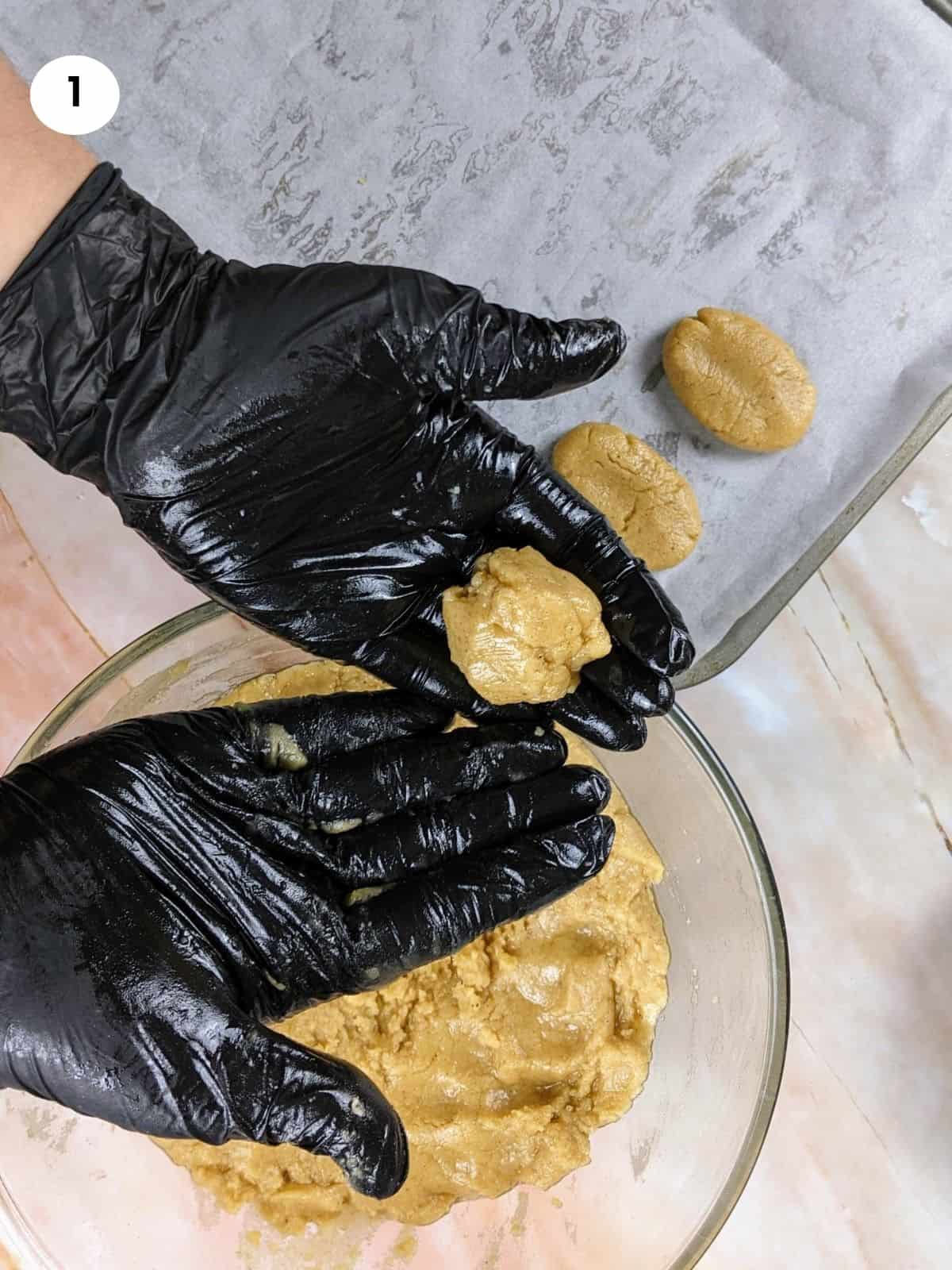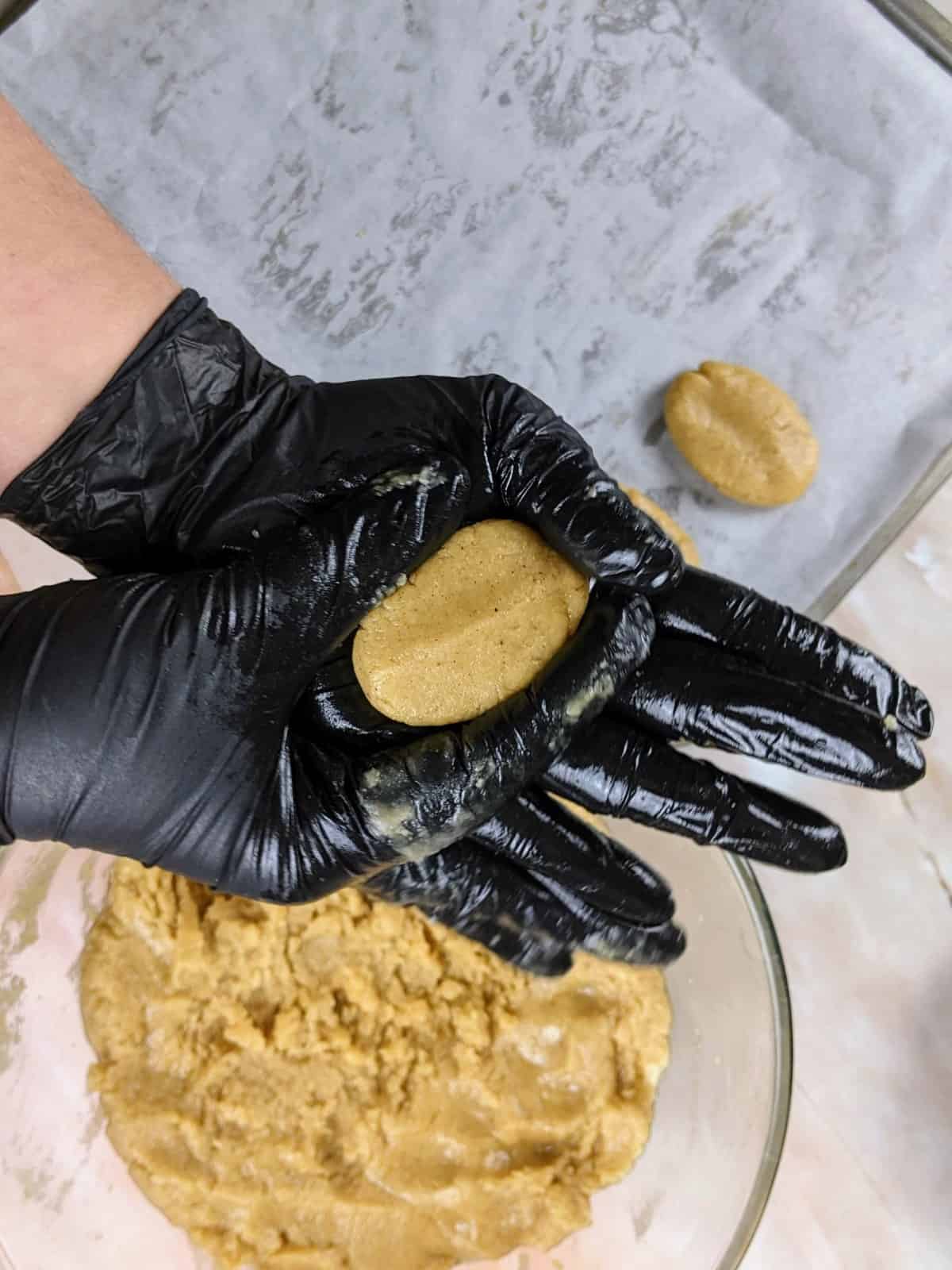 02. I place the cookies on a lined baking tray, leaving a finger space between them, as they will grow a little bit. Before putting them in the oven, I lightly prick each of the cookies 3-4 times using a fork for absorbing more syrup when we dip them later on.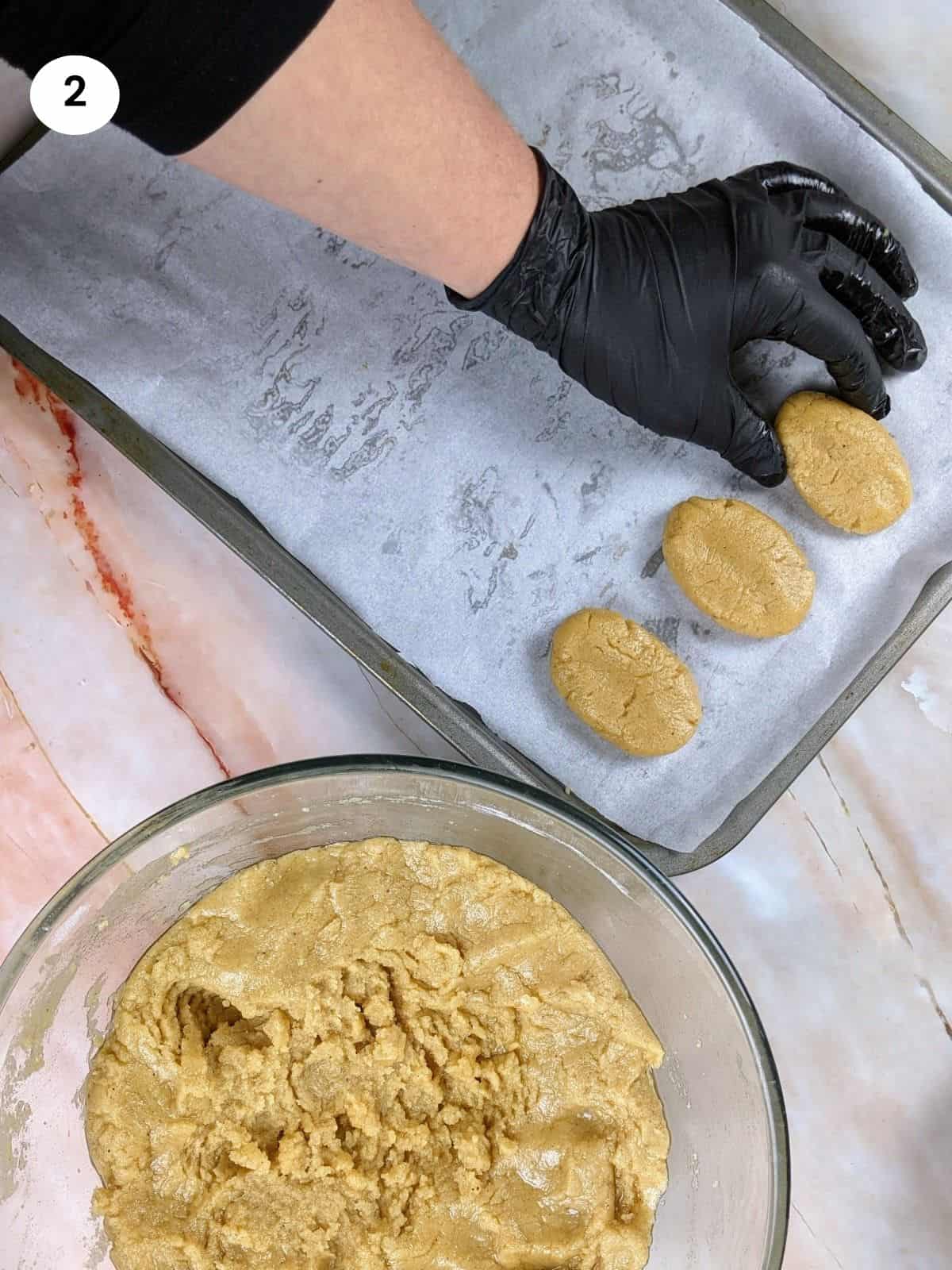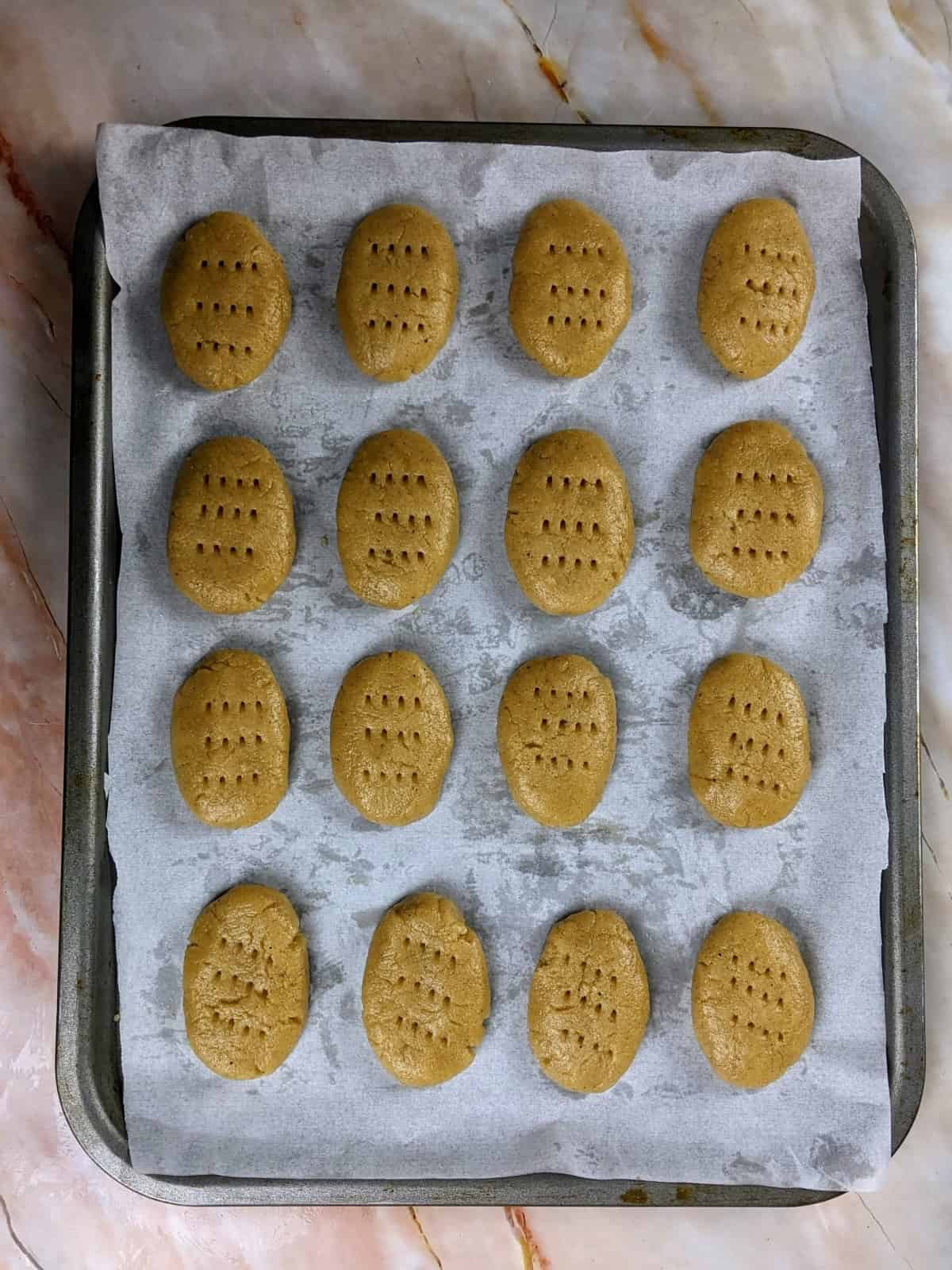 03. Now it's time for the oven! Make sure your oven is preheated to 180°C/350°F and place the tray in the middle oven. The melomakarona cookies will need to be baked enough to get a nice brown color for about 20-25 minutes. If you take them out while they are still light brown, then they will likely fall apart when you dip them in the syrup. So be patient and let the oven do its work.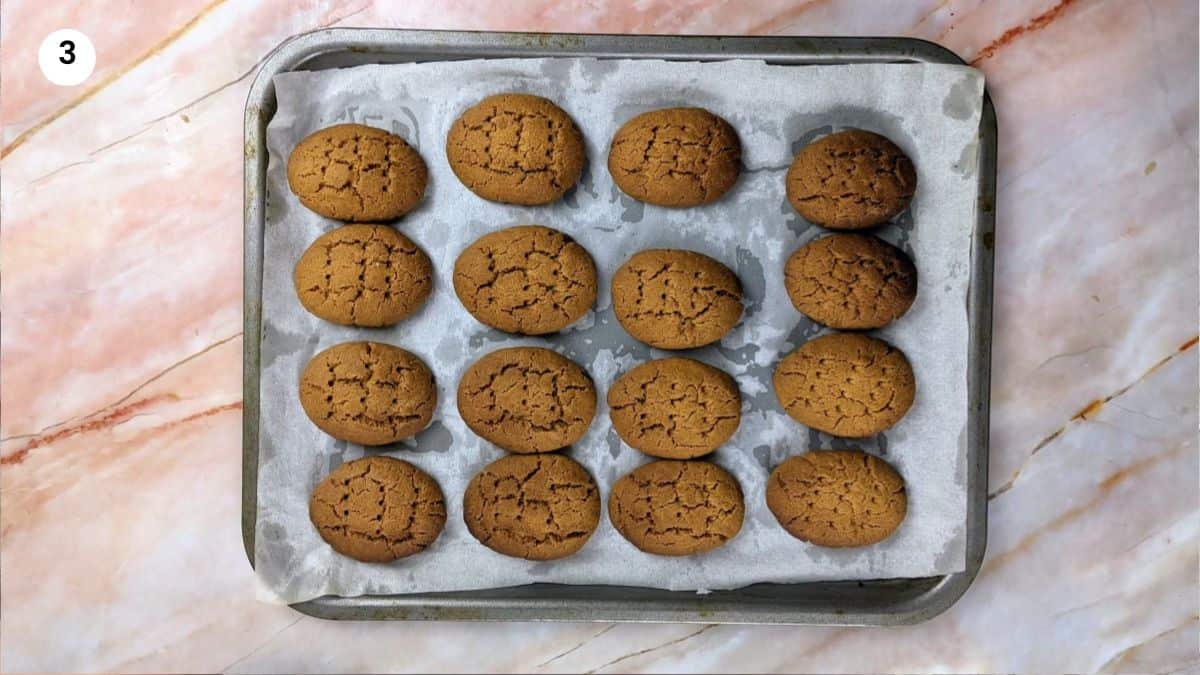 4. Dipping in syrup
01. Now that the cookies are baked, it's time to dip them in the syrup. The honey cookies need to be hot, as they come out of the oven, in order to absorb the syrup, and the syrup needs to be cold, at room temperature. For best results, I like to make the syrup early in the day or the day before to give it enough time to cool down.
Immediately, when I take out of the oven the tray with the cookies, I start adding them to the syrup in batches, 4-5 at a time depending on how big the pot is. Using a couple of forks or a slotted spoon, I turn them around to absorb syrup on both sides. After 10-20 seconds, I take them out and put them on another tray or plate to cool down and give them enough time to soak in all the syrup.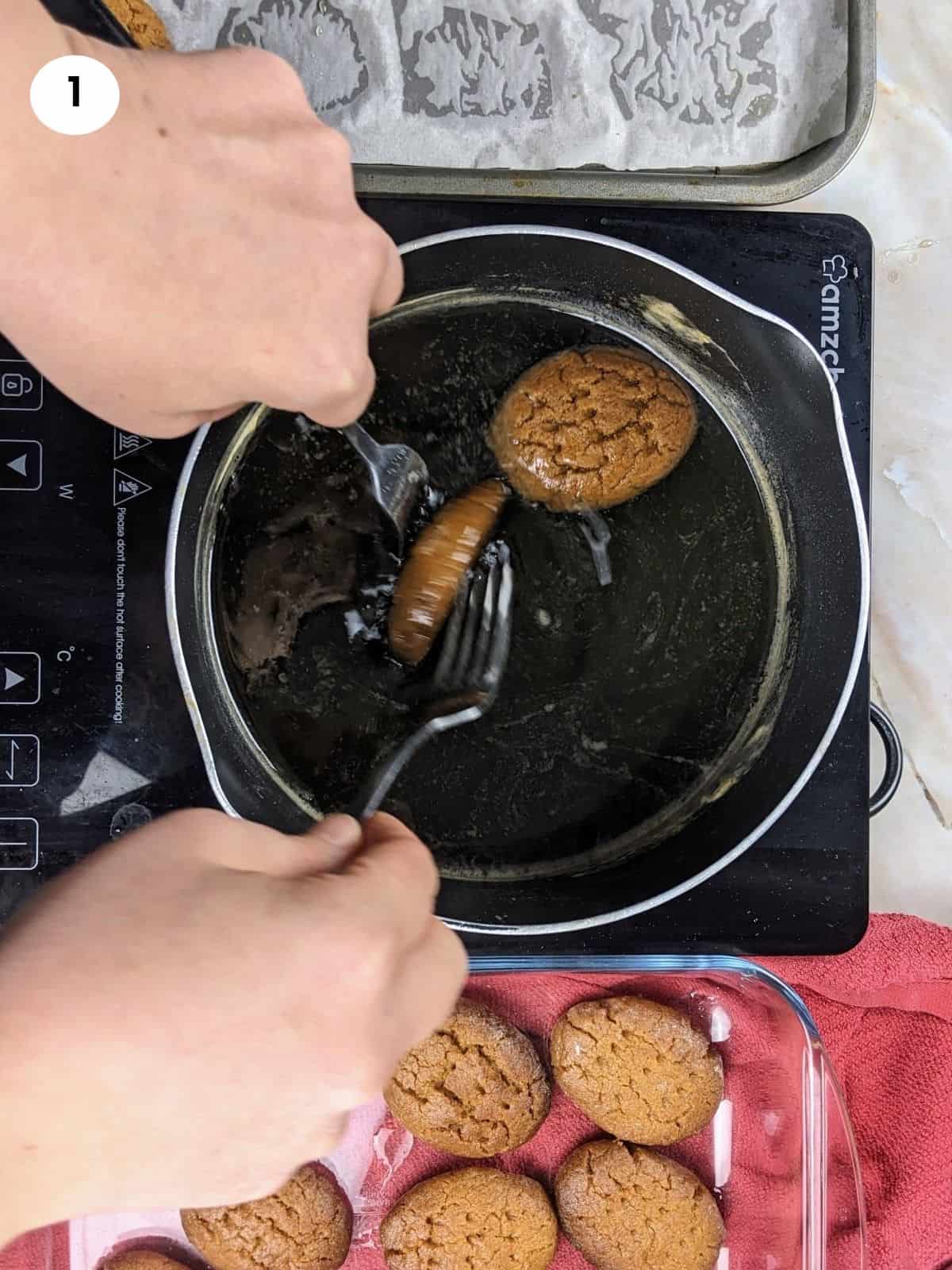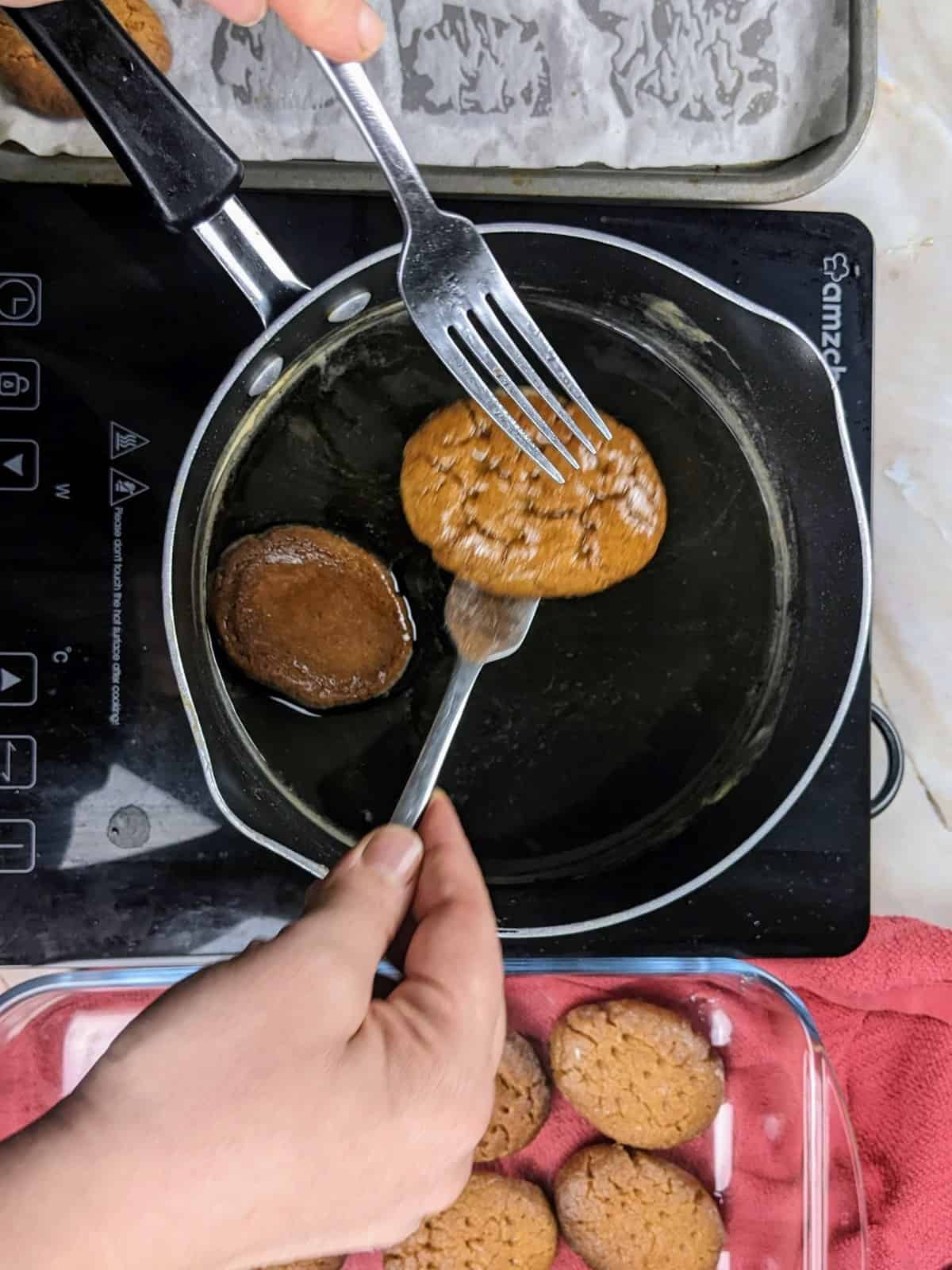 02. I leave the melomakarona cookies for an hour after dipping them in syrup to rest and then I place them in my display tray in rows. After I place each row, I drizzle with a bit of honey and a mixture of chopped walnuts and cinnamon. Some people like to use a mixture of nuts for the top, like walnuts and almonds. I just like to use walnuts, but I will leave it to you and your preferences.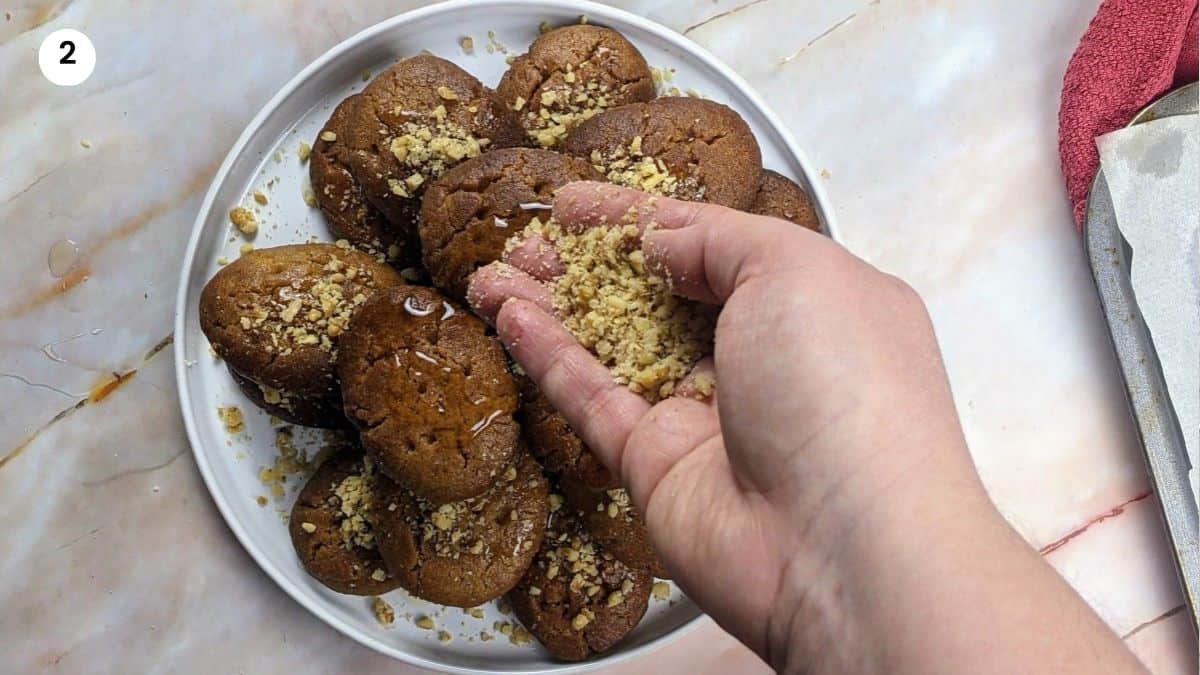 Tips
Use a combination of plain flour and semolina flour to get that perfectly crumbly and not hard cookies.
Use honey in the syrup on top of sugar for a nice thick syrup and more aromas.
Don't overknead the melomakarona dough as the oil will separate resulting in hard cookies.
Add a bit of cinnamon and ground cloves to the chopped walnuts for a more aromatic cookie.
Don't make the cookies too big as they will need more time to bake and more time to soak in syrup.
Add a little bit of alcohol in the dough, cognac or brandy to help with the cookie texture.
Bake the melomakarona until they have a brown color. If underbaked, they will break easily when dipped in the syrup.
Serving suggestions
We usually make these Greek honey cookies in December in preparation for the festive season. We have them as a dessert after food, with our morning coffee, afternoon tea, you name it. You simply can't resist them anytime of the day.
Storage
You can store the melomakarona cookies at room temperature for up to 2 weeks without going bad. If you make a big batch you could store them in an airtight container, although you might find that they get a bit soft this way. If you want to make a big batch in advance, you could also bake the cookies and don't dip them in syrup immediately. In this case, you make the syrup and dip the cold cookies in the boiling syrup for 20-30 seconds.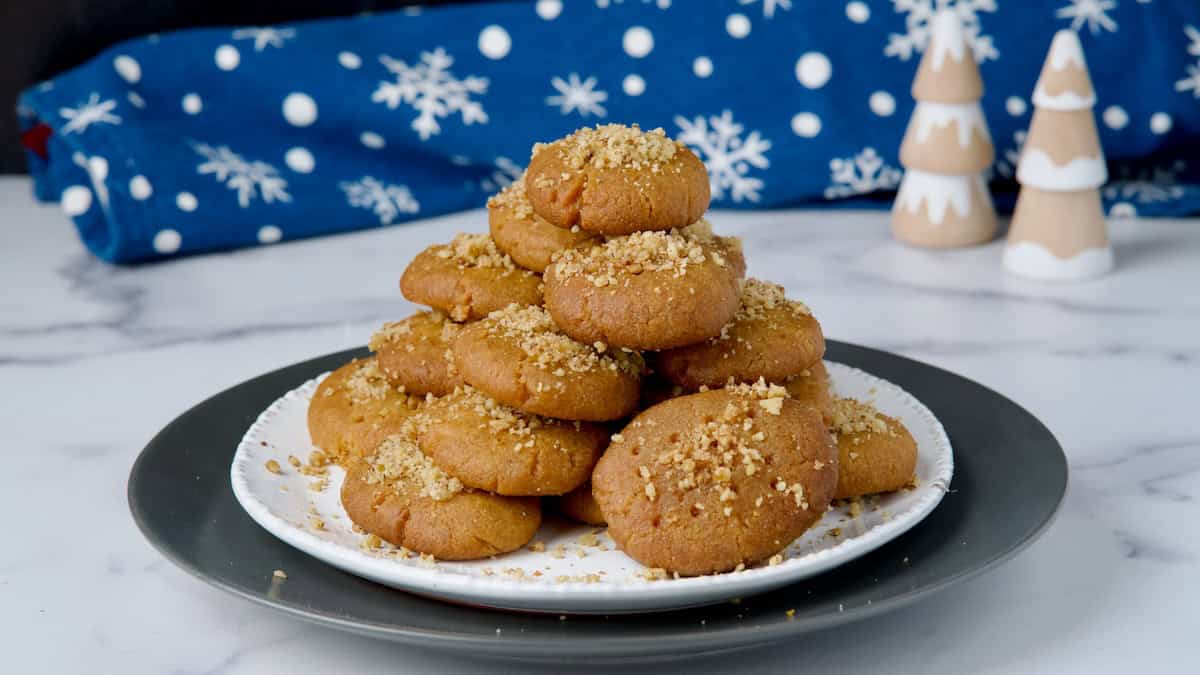 FAQ
Which are the traditional Greek Christmas cookies? In Greece, we traditionally make kourabiedes and melomakarona cookies for Christmas. Kourabiedes are snowball butter cookies usually with chopped almonds inside and a generous amount of powdered/icing sugar on top. Melomakarona, on the other hand, are honey cookies with the aroma of cloves and cinnamon, dipped in a honey based syrup and topped with chopped walnuts.

Why are my melomakarona too soft and falling apart? There are two things that could go wrong and make your melomakarona cookies fall apart easily. One is undercooking them. They will need to be baked enough to get a nice brown color and not light and golden. The other mistake that could happen is adding more semolina flour. If you add too much semolina flour then the cookies will crumble easily and break when dipping in the syrup.

What is semolina flour? Semolina flour is a type of flour made of hard durum wheat. It has a yellow color and comes in two textures, coarse and fine. It is high in gluten and often used in pasta, pizza doughs or for baking cakes and cookies in Eastern Europe. You can find it in all major super markets in the baking section next to other types of flour.

Why do we add semolina flour in melomakarona? Greek honey cookies call for the use of semolina flour to get that crumbly and nutty texture and also to help absorb more syrup. If you decide to leave it out and replace the semolina flour with plain flour, then you will get a more hard cookie even after soaking it in the syrup.
Watch the video
Greek Honey Cookies - Melomakarona
This recipe for melomakarona, the Greek honey cookies, is what you need for this Christmas. Crunchy on the outside and soft and syrupy in the middle, those cookies melt in your mouth. They are full of aromas from cinnamon and clove, sweet from the honey and nutty from the chopped walnuts on top. The recipe yields a big batch to please a crowd and why not give some as a Christmas gift to family and friends. Enjoy!
Print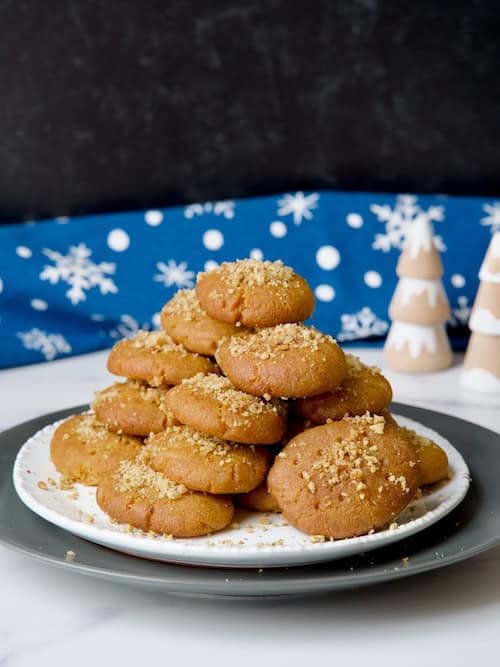 Dough Ingredients
4 cups plain flour
½ cup semolina flour
½ cup sugar
1 ½ cups olive oil
½ cup orange juice
1 teaspoon of vanilla extract
1 tablespoon cognac or brandy
1 teaspoon of baking powder
1 teaspoon of baking soda
½ tablespoon cinnamon
½ teaspoon ground cloves
Syrup Ingredients
2 cups sugar
2 cups water
1 cup honey
half an orange
1 cinnamon stick
2-3 whole cloves
Instructions
For the syrup, add all the ingredients into a big pot, the water, sugar, honey, cinnamon stick, cloves and half the orange after squeezing some of its juices into the mixture.

Boil the syrup on medium heat until you start seeing lots of bubbles. Then turn off the heat and let it cool down.

For the cookie dough, first add a bowl the olive oil and sugar and mix till the sugar has dissolved.

Mix the orange juice with the baking soda and add the foaming mixture to the bowl.

Add the ground cinnamon, cloves, vanilla extract, cognac or brandy to the mixture and mix well.

Add the semolina flour and baking powder and stir to mix.

Add the flour to the bowl and mix gently with your hands. When the flour is mixed with the wet ingredients and forms a dough, stop kneading. Don't overwork the dough, as the oil will separate and you will end up with hard cookies.

To shape the cookies, take a small piece of dough around 30 grams and form a ball. Shape the ball into an oval shape and place it in a lined baking tray. Leave at least a finger space between the cookies.

Before putting the tray in the oven, lightly prick the cookies 3-4 times with a fork to allow them to absorb more syrup later on.

Bake the Greek honey cookies for 20-25 minutes in a preheated oven to 180°C/350°F until they have a brown color.

When you take them out of the oven, immediately dip them into the cold syrup. Turn them around to cover both sides with syrup just for 10-20 seconds to soak the syrup and place them on a tray to rest.

Leave the melomakarona to rest for an hour, and then drizzle with honey and chopped walnuts and serve.
Notes
- This recipe yields around 35 honey cookies, depending on the size. Try to shape them the same size to cook uniformly.
- Leave some space between them on the baking tray as they will get slightly bigger and don't forget to prick them 3-4 on the surface to allow them to absorb more syrup when you dip them.
- You could use a mix of almonds and walnuts on top.
Storage
Melomakarona can last at room temperature for up to two weeks.
Nutrition Info (per serving)
Calories: 165kcal | Carbohydrates: 37g | Protein: 2g | Cholesterol: 0mg | Fat: 1g | Saturated Fat: 0g | Polyunsaturated Fat: 0g | Monounsaturated Fat: 0g | Fiber: 1g | Sodium: 51mg | Potassium: 12mg | Sugar: 23g
I am not a nutritionist. The nutrition information has been calculated using an on-line calculator, and is intended for information and guidance purposes only. If the nutrition information is important to you, you should consider calculating it yourself, using your preferred tool.