Fasolada, aka white bean soup, is not a common dish at Greek restaurants, so you might have not heard of it before. It's so delicious though and easy to make that I wanted to introduce you to it. It is considered our national food, probably because it has some simple & cheap ingredients, it's easy to make and so nutritious. In the past, when meat was a luxury and people wouldn't have it so often, you had to look for your protein and energy in other sources. That's why legumes play such a big part in Mediterranean cuisine & diet.
This fasolada soup is made using dried white beans for best results and a few vegetables. The secret to a perfect white bean soup is to cook it on the stove slowly, let the beans get soft with time and the sauce to thicken. If you love soups like me, and you are looking for more fall ideas, then I recommend trying another favorite Greek lentil soup.
Jump to:
Why you should try my recipe
Perfect comfort food for those cold winter days.
Easy to make and with simple, cheap ingredients.
Enough to feed a big family.
Store it in the fridge for up to 3 days.
Very healthy, full of nutrients, fiber and protein.
Ingredients & How-to
The ingredients you will need for this fasolada soup are: dried white kidney beans or cannellini beans, carrots, onion, garlic, celery, olive oil, tomato paste, crushed tomatoes, a potato, bay leaves, paprika, salt and pepper.
Soaking dried beans in water for several hours is necessary to speed up the cooking process and enhance their digestibility. While using canned white beans is an option for the soup, I personally prefer using dried beans as they always taste better, are more affordable and the end result is better.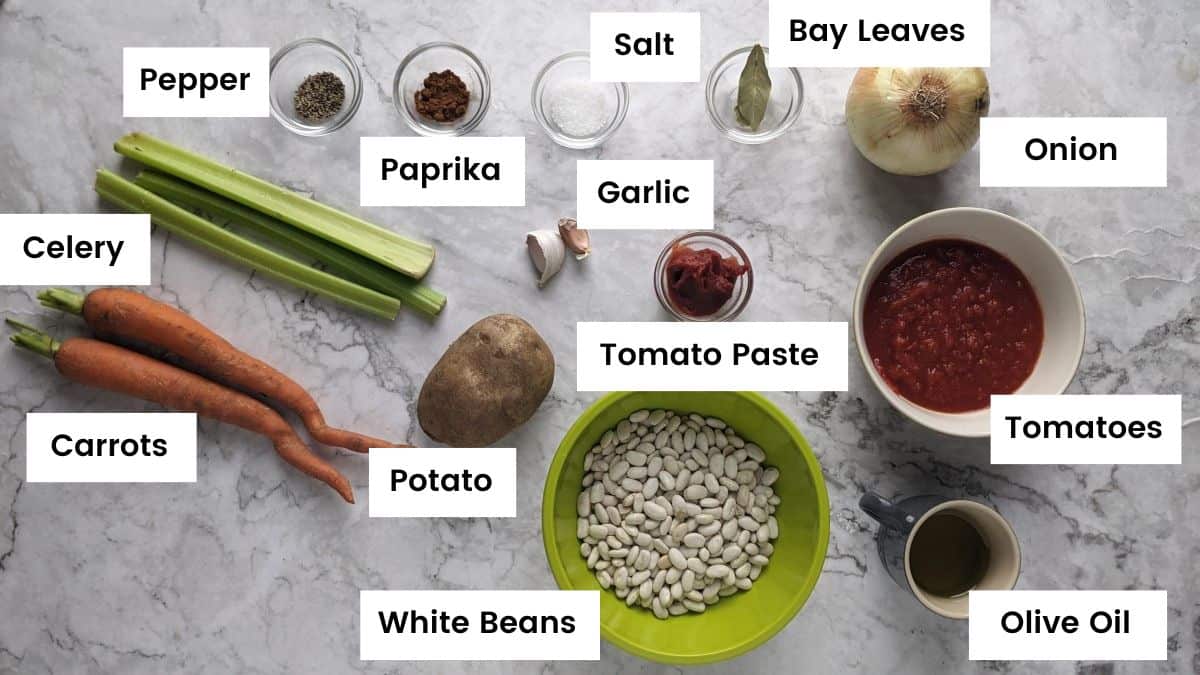 01. Firstly, I place the white kidney beans in a large bowl filled with cold water. I let it sit on the countertop overnight for about 8-12 hours. On the next day, I discard the soaking water and then rinse the soaked beans well in running water before cooking them.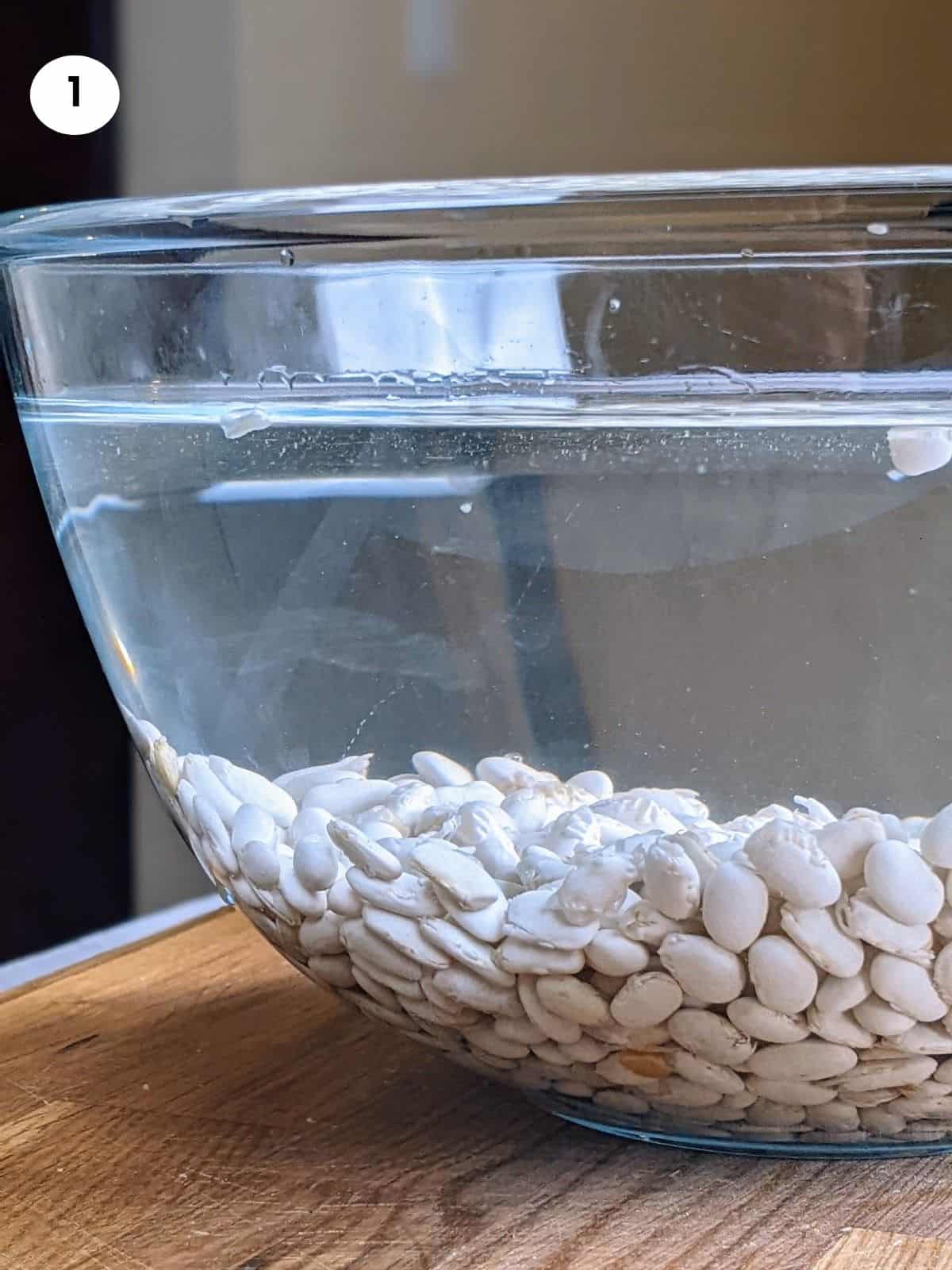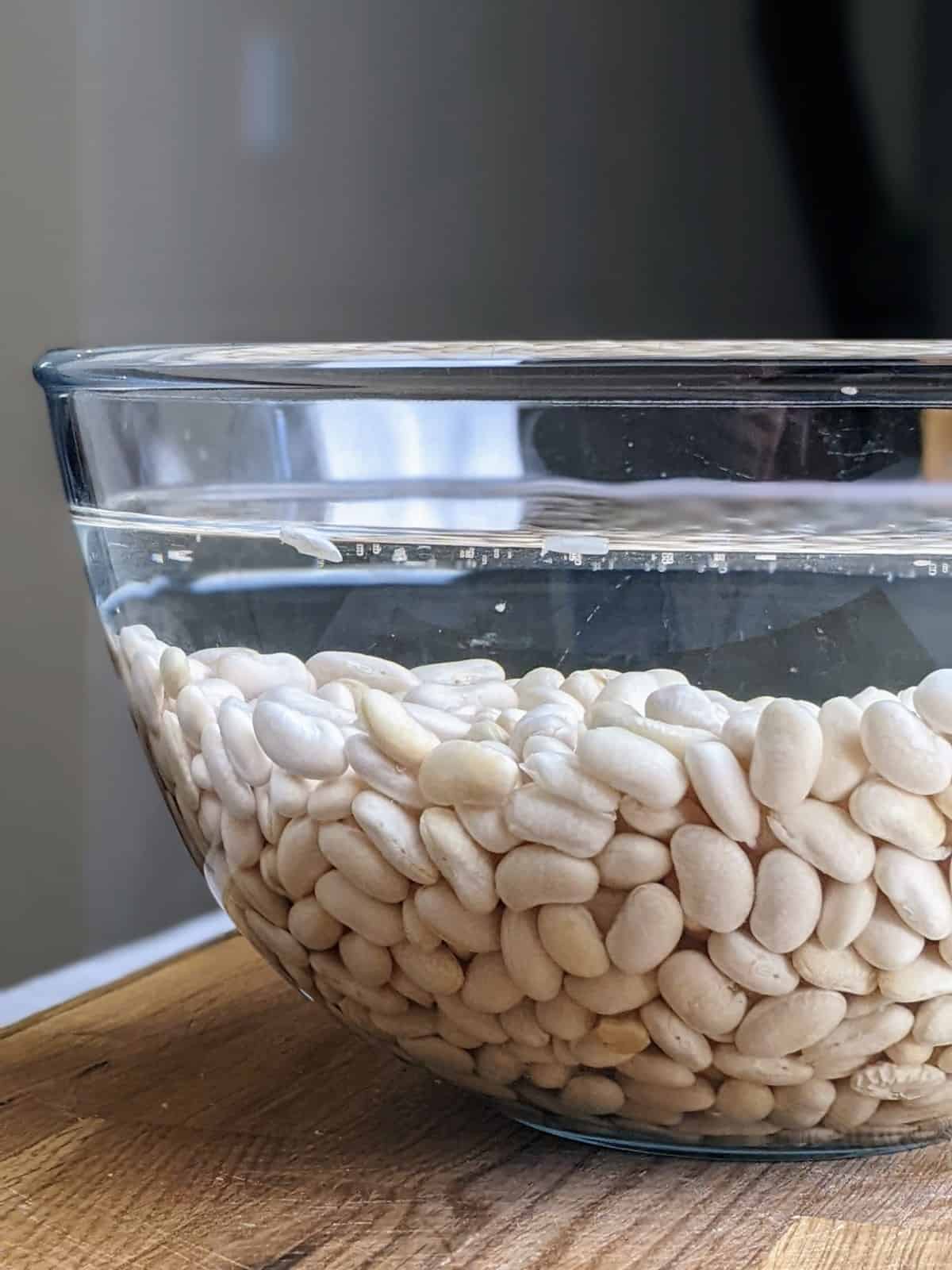 02. To prepare the vegetables, I roughly cut an onion into cubes and chop the garlic cloves. I peel and cut the carrots into thick slices and the same with the celery sticks. Instead of celery sticks, you could also use celery greens but you should add them towards the end, 15-20 minutes before the soup is ready.
03. I'm using a big pot for the fasolada soup since it needs lots of water to start with. I add 1/3 cup of olive oil and sauté the onion for a few minutes. Then I add the chopped garlic cloves and the tomato paste. I cook them for a couple more minutes to get all the aromas and sweetness out.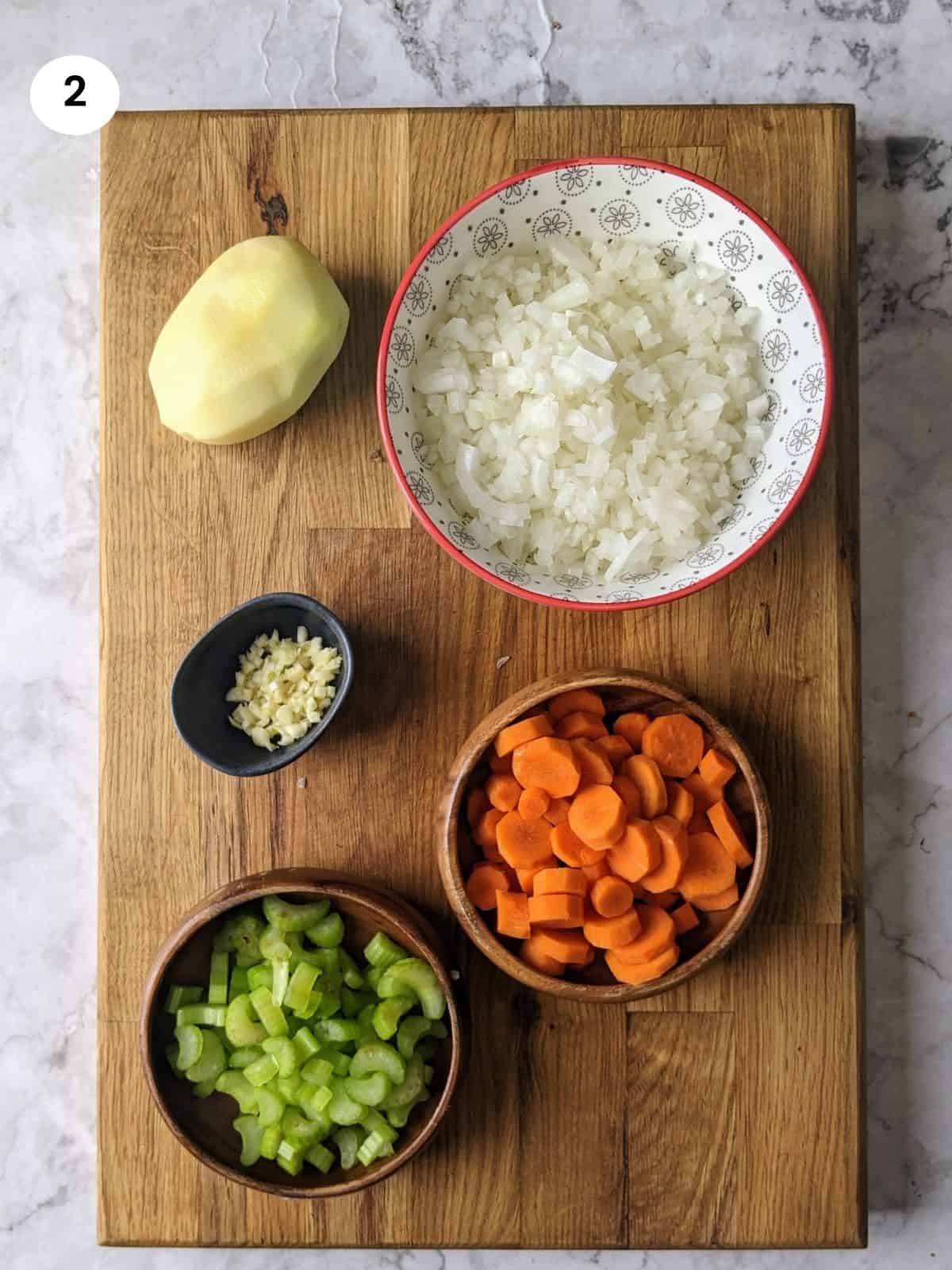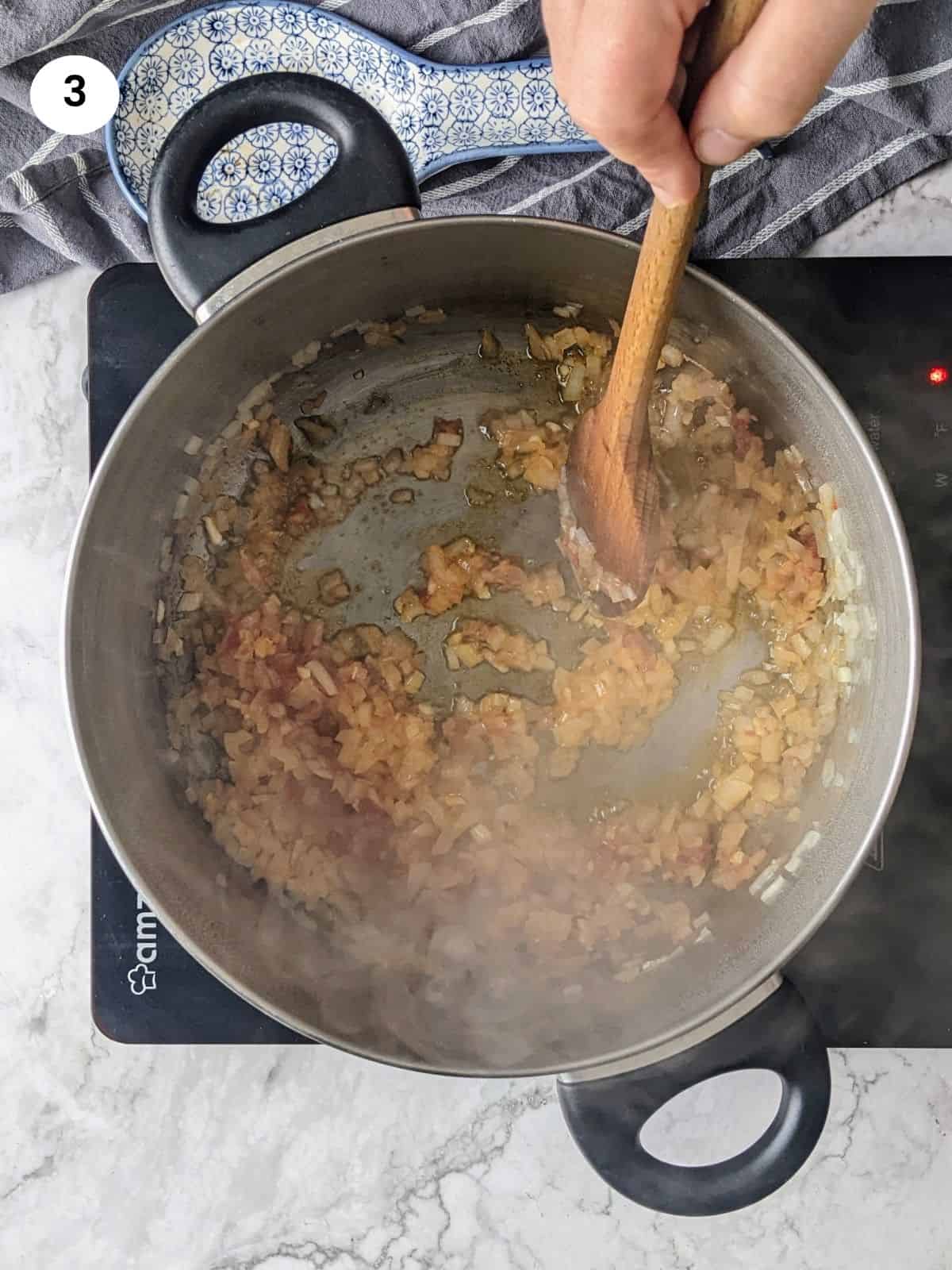 04. Now it's time for the white kidney beans. I add the drained and washed beans to the pot along with 1.5 litres of water (about 6 cups) and half a cup of crushed tomatoes or passata. The key here is to slow cook the white beans in low heat to allow them to get soft without completely falling apart.
05. For flavor, I'm using bay leaves that go very well with tomato based soups, some sweet paprika, salt and freshly ground pepper. I'm also adding a whole potato to the pot. The potato is going to slowly cook with the beans and help the soup to thicken later on. Now, I turn down the heat to low and simmer for 30 minutes.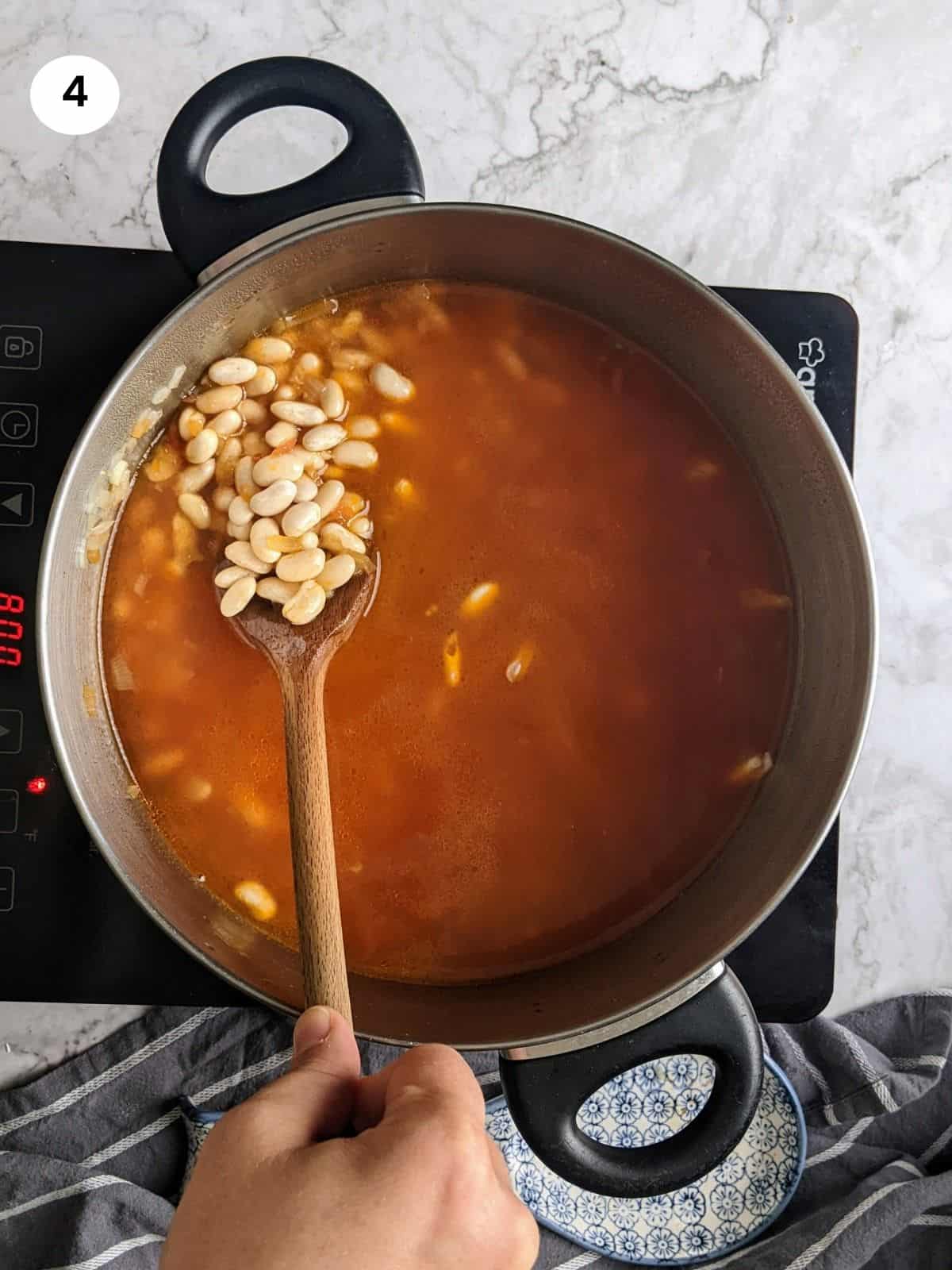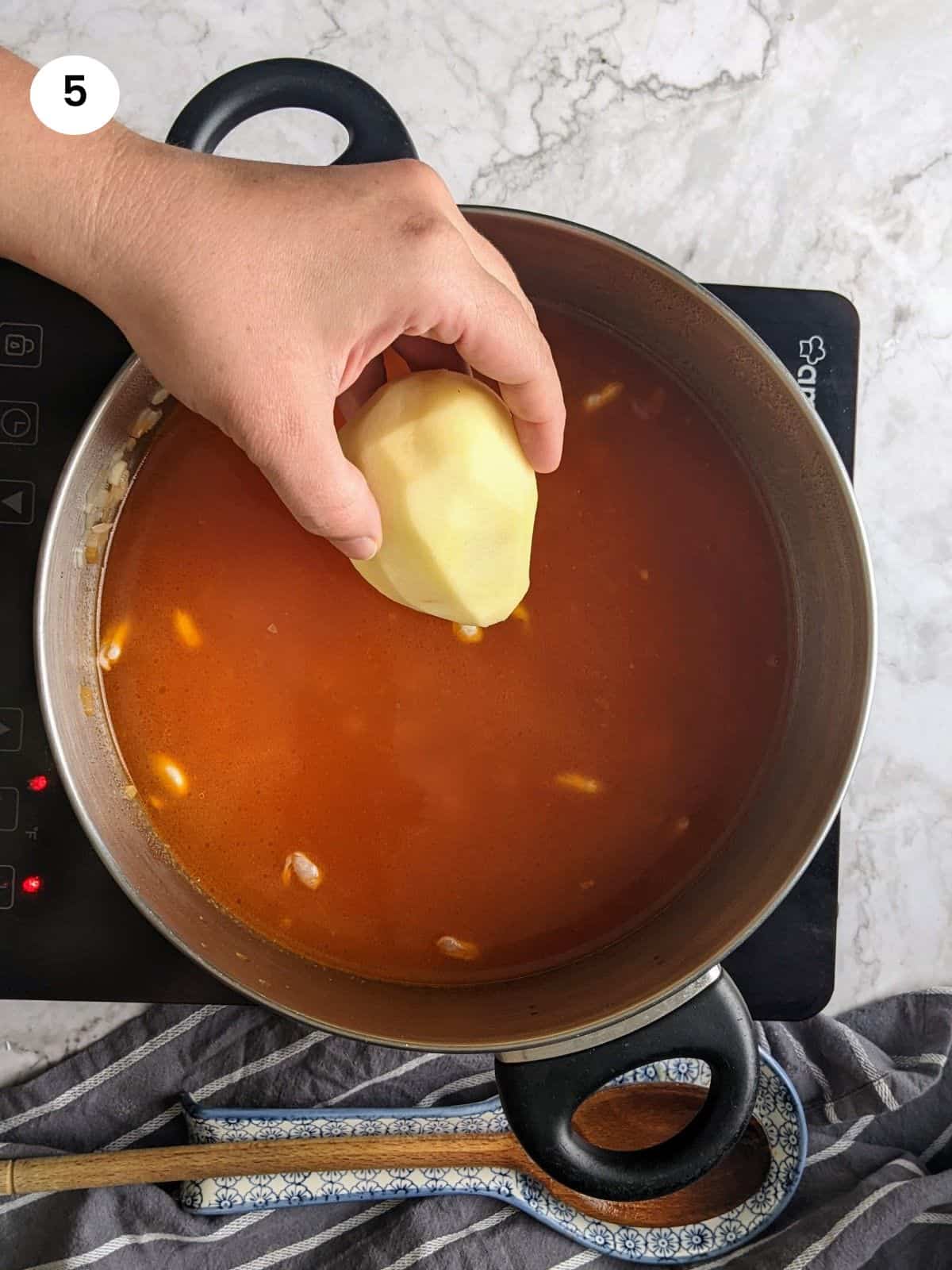 06. After 30 minutes, it's time to add the veggies in. I add the chopped carrots and celery to the pot. I cover with the lid and continue to simmer for an hour. Remember to check occasionally in case you need to add a little bit more water. If needed, then add 1 cup at a time and make sure it is warm water as we don't want to bring the temperature of the soup down.
07. Fasolada soup needs at least an hour and a half to be cooked and for the sauce to thicken. If after that time the beans are still not fully cooked, continue simmering for 15-30 more minutes, checking occasionally in case you need to add more water. Once the beans are ready, I take out the potato and put it in a chopper along with some of the juices. After blending it, I add the mixture back to the pot and boil for another 3-4 minutes until the soup thickens.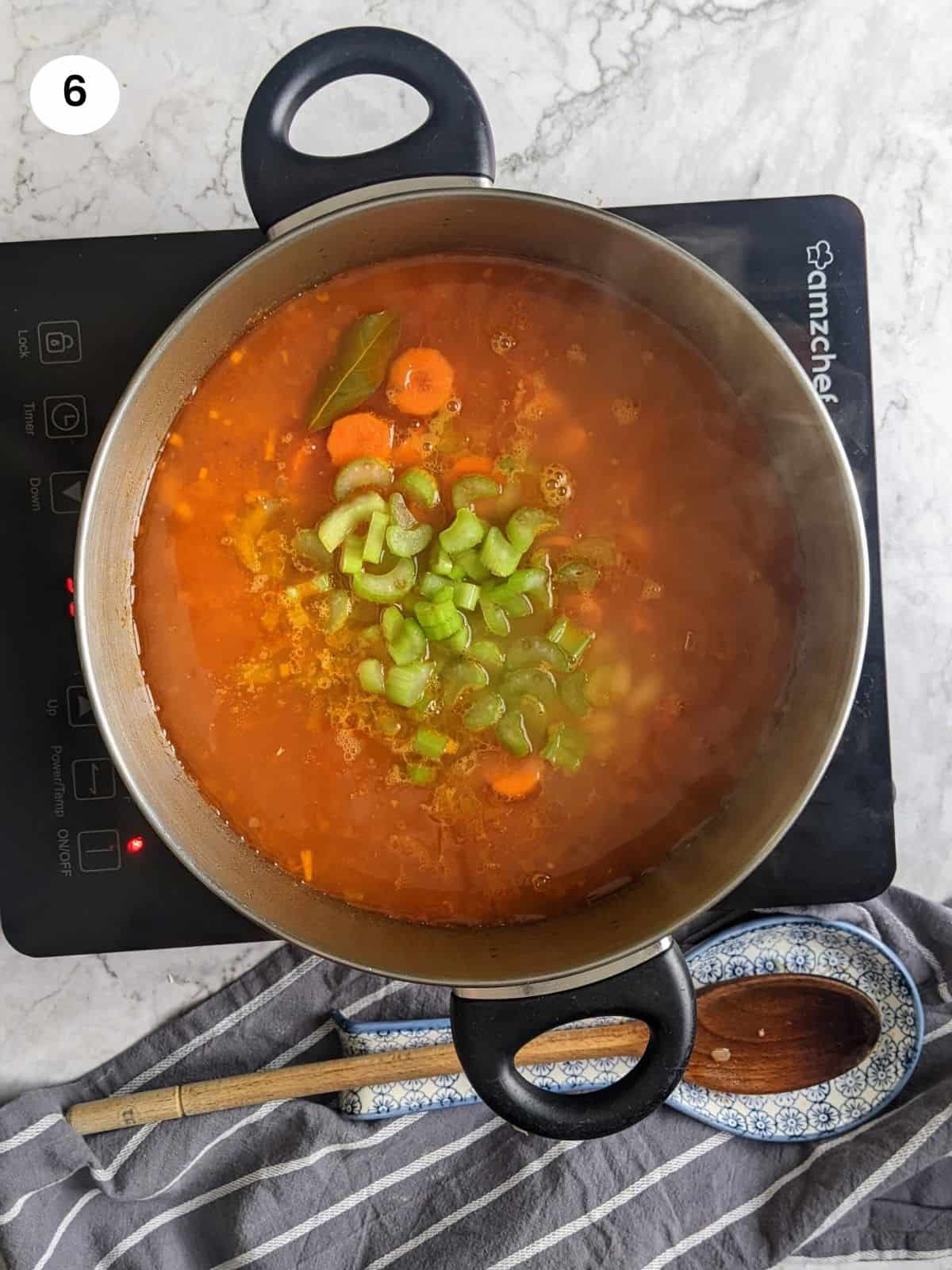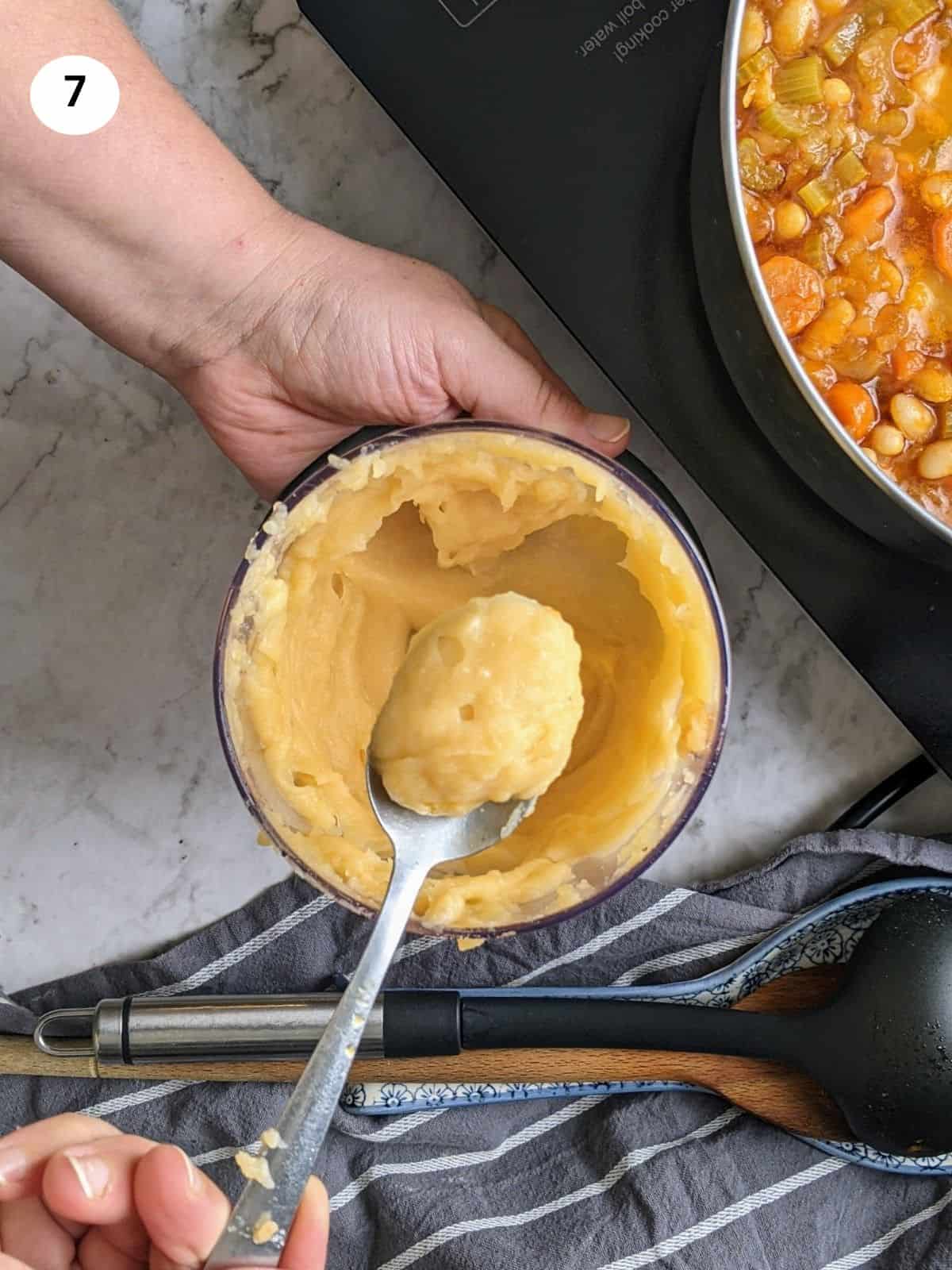 Tips
If the beans are cooked but the sauce is still watery, you could add a ladle of the soup (veggies, sauce & beans) to a blender until all combined and then add it back to the soup. Leave it to boil for 5 minutes and that should thicken the fasolada soup.
Soaking the beans overnight in cold water, helps to cook faster and reduces the sugars that cause gas after eating beans.
If you need to add more water to the pot, make sure it's warm, so you don't stop the cooking process by bringing the temperature down.
When the soup is ready, add some extra virgin olive oil to the pot or drizzle some on your plate for extra flavor and goodness.
Mamazilla's Product Recommendations
Substitutions
Instead of celery sticks, you could add celery greens.
Instead of white kidney beans (cannellini), you could use old navy beans.
If you don't have tomato paste, you could use 1 cup of crushed tomatoes or tomato sauce or passata instead.
Serving suggestions
We usually have this Greek fasolada soup as a main with a slice of warm, crusty bread to soak up the juices. For nibbling, you could add some olives, feta cheese or smoked fish on the side. And don't forget to drizzle some extra virgin olive oil over the soup just before serving for an extra layer of richness. It can't get more Greek than that.
Storage
If you have any leftover white bean soup, you could store it in the fridge, in an airtight container, for up to 3 days. Simply, take it out and warm it up on the stovetop or the microwave until piping hot.
Fasolada is also freezable for up to 3 months! You could put it into individual containers and store it in the freezer or I've seen people using freezer bags that they lay flat in the freezer and then it's so much quicker to defrost. Whichever way, thaw overnight and warm it up until piping hot.
FAQ
Why is fasolada the Greek national dish? You might have heard or read somewhere that fasolada is considered the national Greek food. This is because in the past, people were too poor to buy meat and beans were playing a huge part in their diet being very nutritious and filling. Fasolada was very popular during that time and still is to this day a very common weekly meal for Greek families.

What makes fasolada so healthy? The ingredients used in fasolada, such as beans and vegetables, contribute to a healthy and nutritious meal. It aligns with the emphasis on fresh, wholesome foods in Greek cuisine. Fasolada represents the essence of Greek culinary heritage, showcasing the use of fresh, local, and seasonal produce. It embodies the Mediterranean diet, known for its health benefits.

What are the ingredients of fasolada? Fasolada is made from simple and readily available ingredients, reflecting the resourcefulness of Greek cooking. The dish typically includes white beans, tomatoes, olive oil, and a variety of vegetables.

How can I make white beans more digestible? Eating white beans can cause lots of gas and you might often feel bloated. To make them more digestible and reduce the unpleasant effects, I recommend soaking the beans overnight or for at least 8-10 hours in salted cold water.
Watch the video
Fasolada - Greek White Bean Soup
On a chilly winter day, indulge in the goodness of this delicious, rustic, and nutritious white bean soup—known as fasolada in Greek. This tomato-based soup features white beans and a medley of veggies, slow-cooked in a large pot until achieving a creamy, velvety texture. Serve it with some crusty bread to soak up its flavorful juices and with a side of olives. Enjoy!
Category: Soups
Difficulty: Easy
Print
Ingredients
500gr / 1lb dried white kidney beans
2-3 carrots
1 onion
2-3 garlic cloves
3-4 sticks of celery
1 potato
1 tablespoon of tomato paste
1/2 cup crushed tomatoes or passata
2 bay leaves
1 teaspoon sweet paprika
1/3 cup olive oil
salt & pepper
Instructions
To start, put the white beans in a bowl filled with water to soak overnight or for 8-12 hours. On the next day, discard the water and rinse them well.

In a large pot, add the olive oil and heat up over medium-high heat.

Add the chopped onion and sauté for 3-4 minutes until translucent.

Add the chopped garlic cloves and tomato paste. Cook for 2 minutes.

Add the white beans, crushed tomatoes and one whole, peeled potato to the pot. Add 1.5lt, about 6 cups, of water.

Season with salt and ground pepper. Add the bay leaves and paprika. Cover with the lid and simmer for 30 minutes.

Add the celery sticks and carrots cut into slices. Cover and cook for 1 hour.

Add the potato to a small chopper with a couple of spoons from the soup. Blend until smooth and add the mixture back to the pot.

Cook for 2-3 minutes until the soup thickens. Serve with a slice of crusty bread.
Notes
- You could use one fresh tomato instead of canned crushed or passata.
- Drizzle with some more olive oil on the plate when served.

Storage
If you have any leftover fasolada, you could store it in the fridge in an airtight container for up to 4 days. Then you just warm it up in the microwave or a pot for 2-3 minutes until piping hot.
Nutrition Info (per serving)
Calories: 415kcal | Carbohydrates: 59g | Protein: 18g | Cholesterol: 2mg | Fat: 13g | Saturated Fat: 4g | Polyunsaturated Fat: 1g | Monounsaturated Fat: 9g | Fiber: 3g | Sodium: 93mg | Potassium: 413mg | Sugar: 3g
I am not a nutritionist. The nutrition information has been calculated using an on-line calculator, and is intended for information and guidance purposes only. If the nutrition information is important to you, you should consider calculating it yourself, using your preferred tool.