As I was growing up, I remember having soups with legumes at least once a week in my family. Soups with chickpeas, beans or lentils, like my classic Greek lentil soup are part of the Mediterranean diet and are so beneficial for our bodies. They are full of antioxidants and can help lower blood sugar and blood pressure.
This chickpea soup or revithia soupa is a staple meal in any Greek household. It's so easy to prepare, with just a few simple ingredients. A humble soup dish that doesn't cost much to make and at the same time it's so tasty, warm and comfort. Although many would argue that chickpea soup is best served and enjoyed on cold days, I personally disagree. I love it all year round, even in the summer with some warm crispy bread that will soak all the juices of this lemony chickpea soup.
Jump to:
Why you should try my recipe
Very easy to make and the perfect comfort food for any weather.
So healthy, full of antioxidants and nutrients.
Doesn't cost much to prepare and can serve a family.
Leftovers keep in the fridge for up to 3 days.
Ingredients & How-to
The ingredients you are going to need to prepare this revithia soup are chickpeas (dry or canned), onion, potato, olive oil, lemon, salt & pepper. That's it! So simple and basic.
I like to use dry chickpeas, and dry legumes in general, when making soups. I know it takes more time and you need to plan your meal in advance but it's also cheaper and most of all, they are not full of preservatives like the tinned ones. In order to be easier to cook and make them more digestible, you will need to soak the dry chickpeas in water for several hours to soften up. If you own a pressure cooker, then you could make the chickpea soup with unsoaked chickpeas but do expect to take longer than normal still. So let's get started!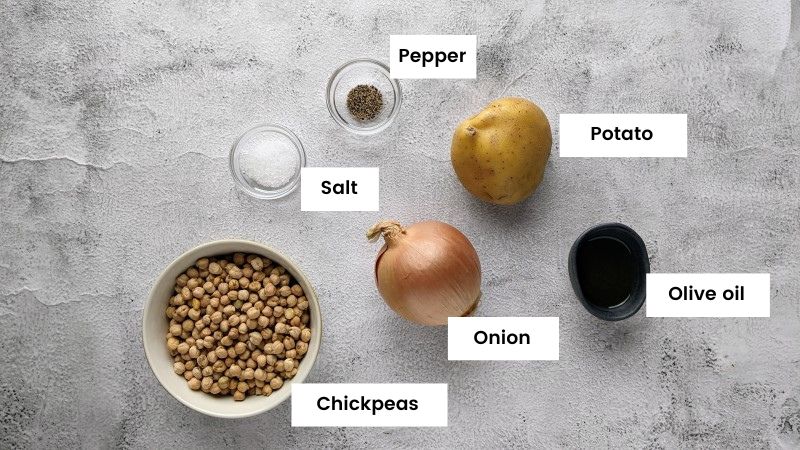 01. As said above, I start by soaking the dry chickpeas. I tend to put them in water overnight and leave them for 8-12 hours so the next day they are ready to cook. You could also use a tablespoon of baking soda to speed up the process but still, they will need to be soaked for around 6 hours and soda might leave a bit of an aftertaste, so it's not highly recommended. Another alternative is to use canned chickpeas or in a glass jar that are already soft and ready to cook as you please.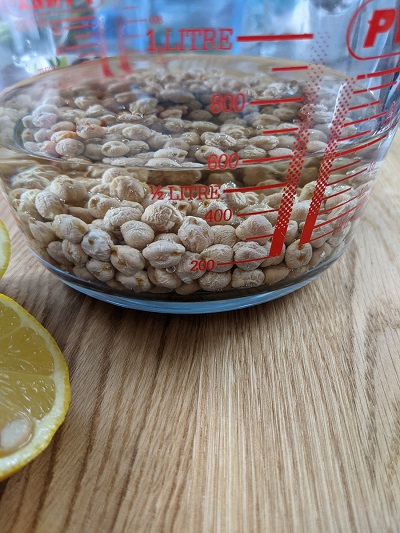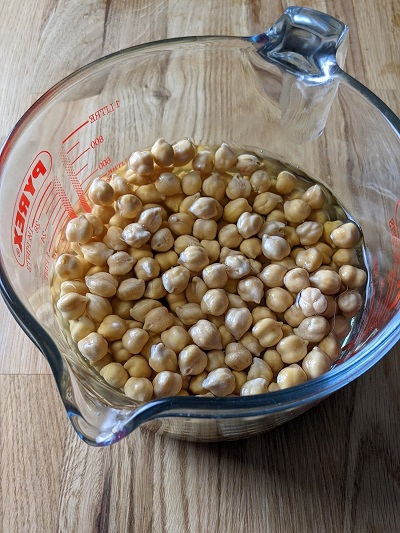 02. Now that our chickpeas are ready, it's time to prepare the other ingredients. In some areas of Greece, you will find that they use a bit of flour or cornstarch to thicken the soup at the end. Here I'm using a potato as a thickening agent as it works even better and it doesn't leave any flour aftertaste in my soup. I also like to add an onion for some extra taste. I add both the onion and the potato as a whole to the pot and leave them to boil and get cooked along with the chickpeas.
For seasoning, I like to keep it simple and just add some salt and freshly ground pepper. You could also add a couple of bay leaves for some extra aroma. I make sure the water in the pot is double in height to the chickpeas and cook everything in low heat.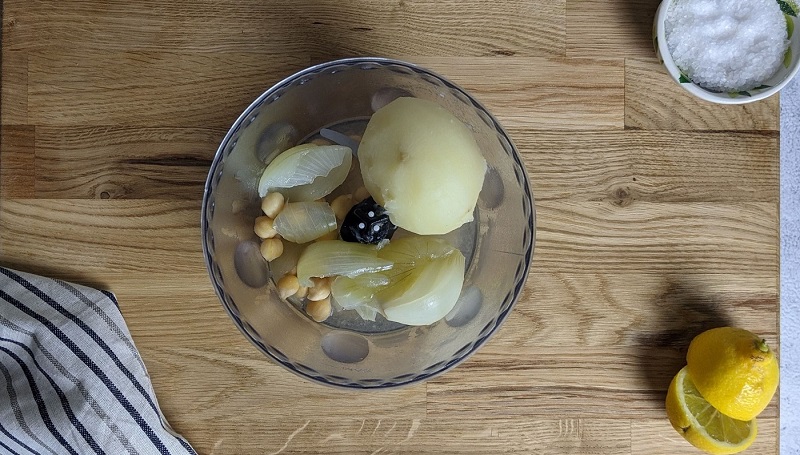 03. Towards the end, when the chickpeas are soft and cooked, I remove the potato and onion and add them to a small chopper. I add a little bit of the chickpea soup juice and the lemon juice and blend everything together. I then add that thick paste back to the pot. I leave it to boil for 5 more minutes to get all well combined and come together.
Mamazilla's Product Recommendations
I leave the olive oil for the very end and add some to the pot after I turned off the heat and it's not boiling anymore. You could also drizzle some in your bowl while you are serving the chickpea soup.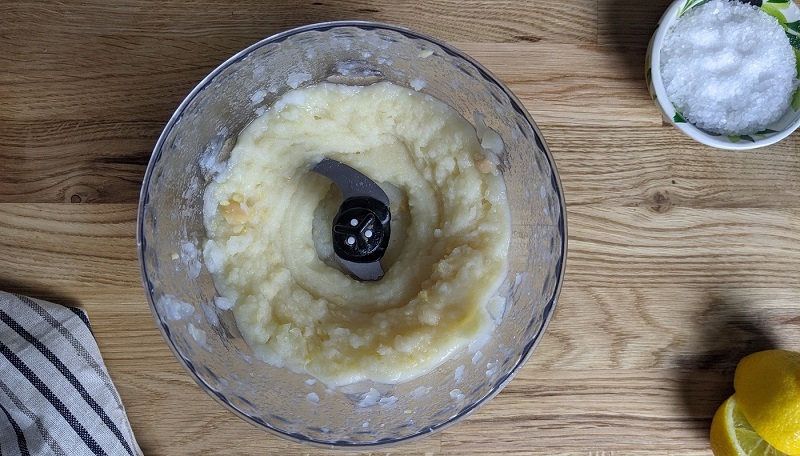 Serving suggestions
We usually have this Greek chickpea soup as a main for lunch with some nice crispy bread on the side and some salad or horta (wild greens like dandelions). We love to have this soupa with my light and lemony swiss chard and potatoes salad. If you are like me and have a preference for lemony flavors, then you could add some extra lemon juice to your plate and don't forget to drizzle with some olive oil for some extra goodness.
Storage
You can store any leftovers of this Greek lemony chickpea soup in the fridge and consume it within the next 2-3 days. What my mom used to do when I was little is to boil again the revithia soup and add a bit of rice to the pot and some extra water. She would leave it to cook for 10-15 minutes or until the rice is done and perhaps add a little bit more lemon and salt to taste. This way we were having something new from the leftovers and it didn't feel like we were having the same food as the previous day.
FAQ
Can I use canned chickpeas for Greek revithia soup? Yes, you can definitely use canned chickpeas or garbanzo beans for the Greek chickpea soup. Canned beans don't need to be presoaked overnight as they are already soft. Simply rinse them well and proceed with the rest of the recipe steps to prepare the soup.

What vegetables can I add to my chickpea soup? You could keep it simple and just add the potato and onion to the chickpea soup or add some more vegetables for some extra flavor like carrots and celery.
Watch the video
Greek Chickpea Soup - Revithia Soupa
This Greek lemony chickpea soup, or revithia soupa as we call it in Greek, is perfect for those days when you want some food to warm your tummy, full of goodness and comfort. We love it as a main dish with some nice bread to soak all the juices and some salad on the side. Enjoy!
Category: Soups
Difficulty: Easy
Print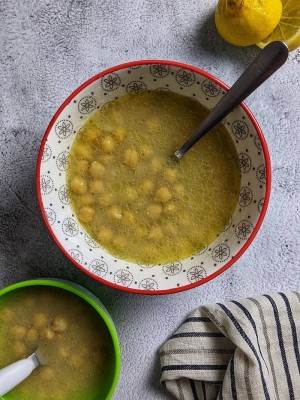 Ingredients
1 cup (200gr) dried chickpeas or 1 ½ canned chickpeas (garbanzo beans) (600gr / 22oz)
1 medium onion
1 medium potato
2 tablespoons of olive oil
1 lemon
salt & pepper
Instructions
If you are using dried chickpeas, then soak in water overnight or at least for 8 hours. If using tinned chickpeas continue with the rest of the steps.

Drain the chickpeas and give them a rinse with fresh water. Add the chickpeas to a big pot. Add the onion peeled and cut in half. Peel the potato and add it to the pot.

Cover with water, season with salt and pepper and cook in medium heat for 40 minutes until the chickpeas are soft.

Remove the onion and the potato. Using a mini chopper, blend the potato and onion with the juice from one lemon until it forms a thick paste.

Add the mixture back into the pot with the chickpeas and stir well until incorporated.

Leave the soup to boil for 5 more minutes.

Turn off the heat and add the olive oil to the pot before serving.
Notes
- Mash the chickpeas with a fork before serving young children and babies as they can be chocking hazard.
- Adding a tablespoon of baking soda to the dried chickpeas can help with the soaking process and in this case, 6 hours of soaking will suffice.
- For some extra flavor, you could vegetable or chicken broth instead of water to cook the chickpeas.
Storage
You can store any leftover soup in the fridge for up to 3 days.
Nutrition Info (per serving)
Calories: 215kcal | Carbohydrates: 28g | Protein: 6g | Cholesterol: 0mg | Fat: 10g | Saturated Fat: 1g | Polyunsaturated Fat: 1g | Monounsaturated Fat: 7g | Fiber: 6g | Sodium: 103mg | Potassium: 282mg | Sugar: 3g
I am not a nutritionist. The nutrition information has been calculated using an on-line calculator, and is intended for information and guidance purposes only. If the nutrition information is important to you, you should consider calculating it yourself, using your preferred tool.