This potato salad is so so tasty and really easy to make. I must confess that this recipe is not mine! Shhhh… It's the secret recipe of my aunt's Maria potato salad. Quite a few years ago, she invited us for dinner at her house and she had made this potato salad. Back then, I didn't really enjoy mayo based salads but she insisted on me trying it and I absolutely fell in love with it. Nowadays, it's a big hit whenever I make it and people are always asking me for the recipe. So I thought to share it here!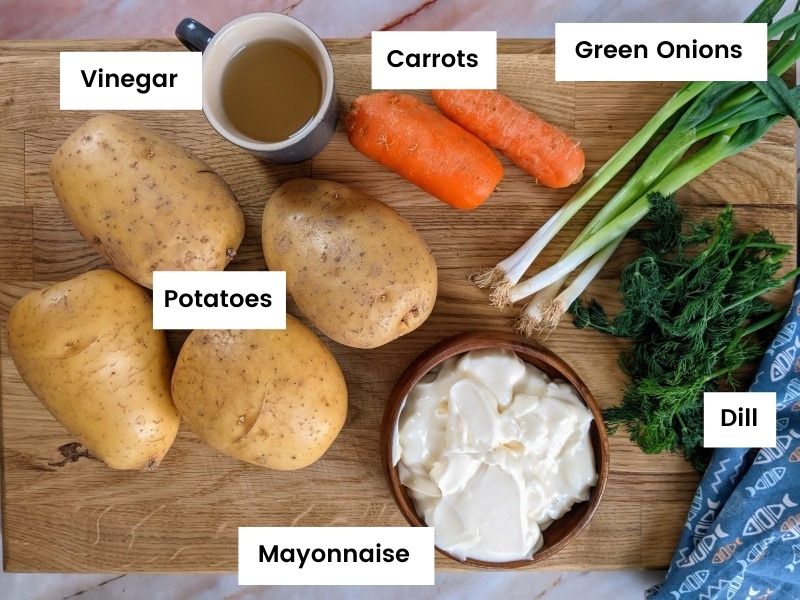 Ingredients & How-to
The recipe has only six ingredients that you usually have in your pantry already and it's really so easy to make. All you need is potatoes, spring onions, carrots, mayonnaise, dill and vinegar. I like to cut the potatoes into cubes and then boil them for 10-15 minutes. That way I don't have to wait for them to cool down before I cut them and they also cook faster. Win win!!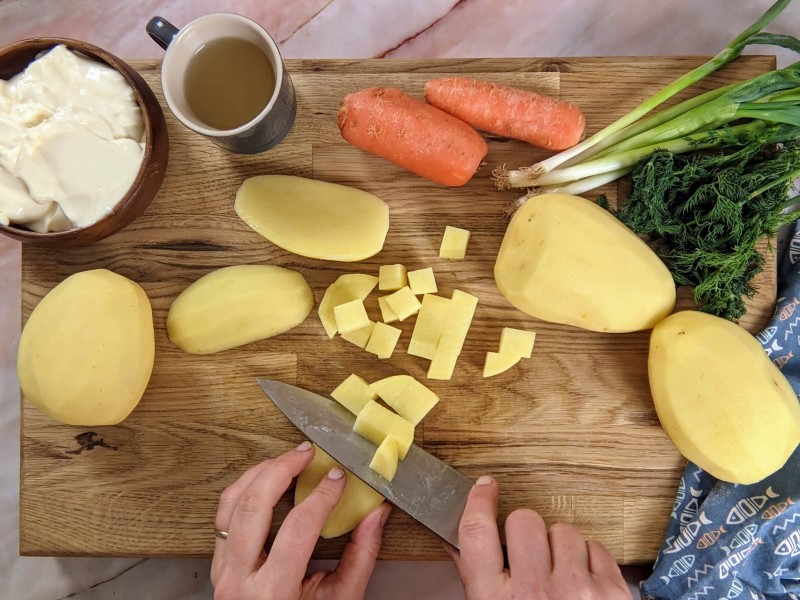 After boiling them, I put them in a bowl and add the vinegar in. The secret here is to leave the potatoes in the vinegar for at least an hour, the longer the better. I usually do this first step the previous night and leave them to soak in all the vinegar but if you are making this last minute, then one hour will be ok to leave them to rest.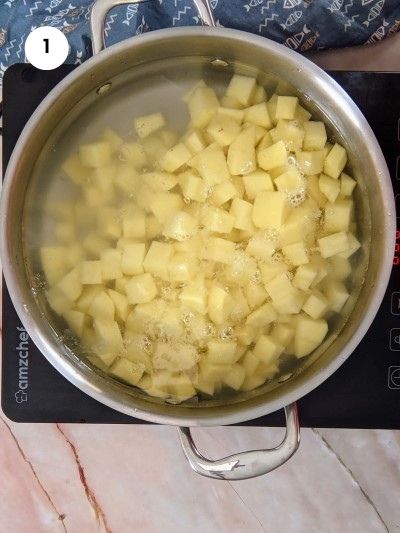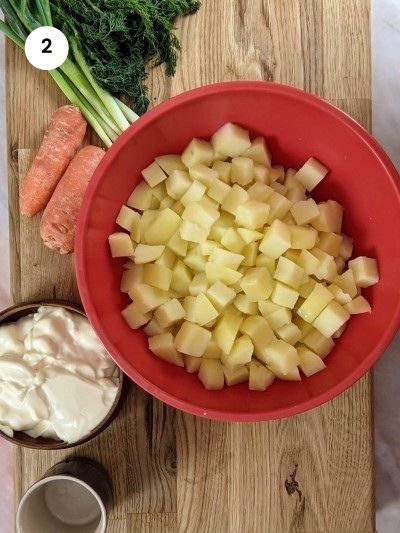 While the potatoes are resting, I prepare the other ingredients. I clean the spring onions and then chop them finely. Same with the dill, I chop it finely after giving it a good wash. For the carrots, I just grate them on the side of the grater with the big holes as I like the crunchy texture in my salad. You could also grate them finely on the side with the small holes and that will make your salad a bit more creamy.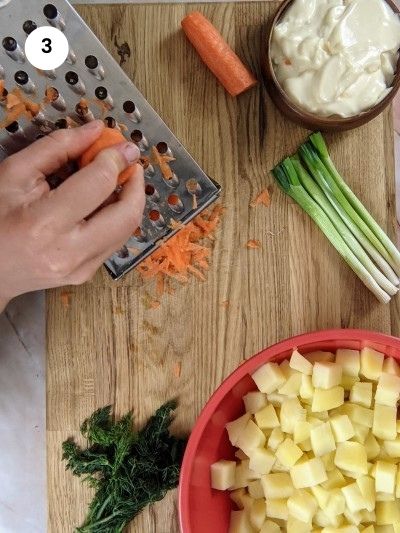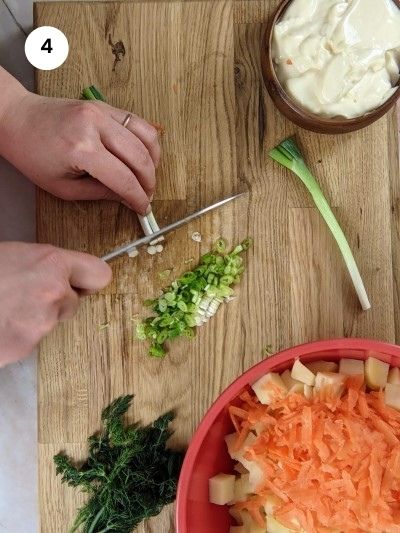 When everything is ready, I simply add all the ingredients to a big bowl and add in the mayonnaise. I give it a good mix so everything is well incorporated and leave it to rest for 10 minutes so all the flavours will come out nicely.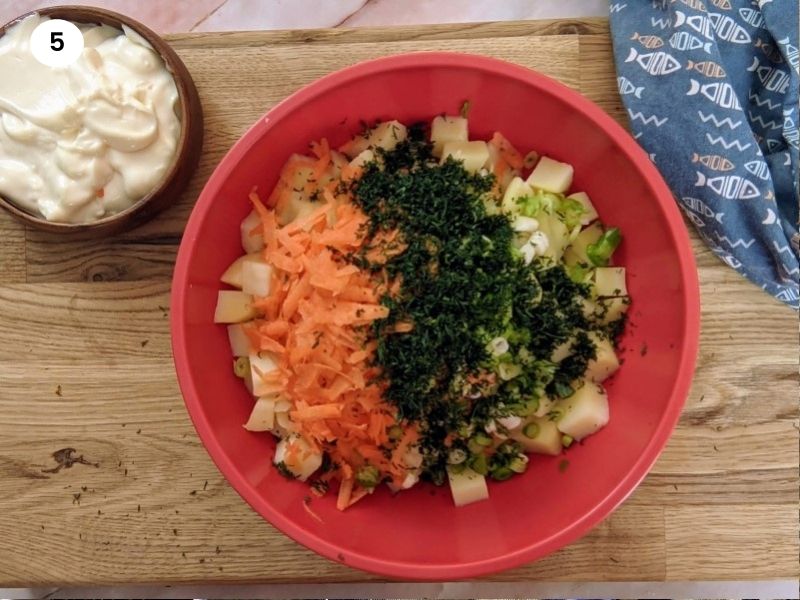 Serving suggestions
You can have it as a salad or side dish with your main, it goes very well with meat, burgers and patties. Why don't you try them out with my grilled meatballs.
Storage
You can store it in the fridge for up to 3-4 days. I do not recommend freezing any salad that has mayo in it.
Watch the Video
Easy Creamy Potato Salad
You will absolutely fall in love with this potato salad. So creamy, delicious and easy to make. You can have it on its own or as a side with your main. Try it out with some grilled meat or fish.
Category: Salads
Difficulty: Easy
Print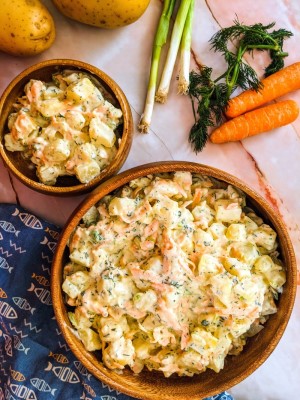 Ingredients
4 large potatoes
2 carrots
5 spring onions
2 tbsp fresh dill
1 cup (200gr) mayonnaise
1/3 cup vinegar
1 tsp salt
Instructions
Peel the potatoes and cut them into cubes around 1 inch / 2 cm

Boil the potatoes cubes for 10-15 potatoes until soft.

Put the potatoes in a bowl and add the vinegar in. Leave them to rest in the vinegar for at least an hour.

Grate the carrots. Chop the spring onions. Finely cut the fresh dill.

Add all ingredients in the bowl with the potatoes: carrots, spring onions, dill, mayonnaise and salt.

Mix well all ingredients and let it rest for 10 minutes before serving.
Notes
I usually boil the potatoes, add the vinegar and leave them in the fridge the night before.
Storage
Store it in the fridge for up to 3-4 days.
Nutrition Info (per serving)
Calories: 277kcal | Carbohydrates: 25g | Protein: 5g | Cholesterol: 0mg | Fat: 18g | Saturated Fat: 2g | Polyunsaturated Fat: 0g | Monounsaturated Fat: 0g | Fiber: 5g | Sodium: 577mg | Potassium: 820mg | Sugar: 1g
I am not a nutritionist. The nutrition information has been calculated using an on-line calculator, and is intended for information and guidance purposes only. If the nutrition information is important to you, you should consider calculating it yourself, using your preferred tool.