These are not the traditional type of pancakes but they have nothing to envy the classic ones. In fact, they are much healthier as they don't have any refined sugar in them. Their sweetness comes from a banana. They are super easy and fast to make, so perfect for those mornings when you or your little one has no patience and you want something yummy fast! The recipe makes 3-4 pancakes depending on how big you want them so double up the ingredients if you have a big family.
What's inside
The recipe has only 4 ingredients! Eggs, banana, coconut flour and vanilla extract..simple.
Coconut flour is made from dried coconut meat. It's low in carbs and high in protein and fibre. It's a very popular substitute for wheat flour for people with wheat allergy or celiac disease. Coconut flour is very absorbent compared to plain flour so you will only need a tablespoon for the pancakes. All the moisture comes from the banana and the two eggs.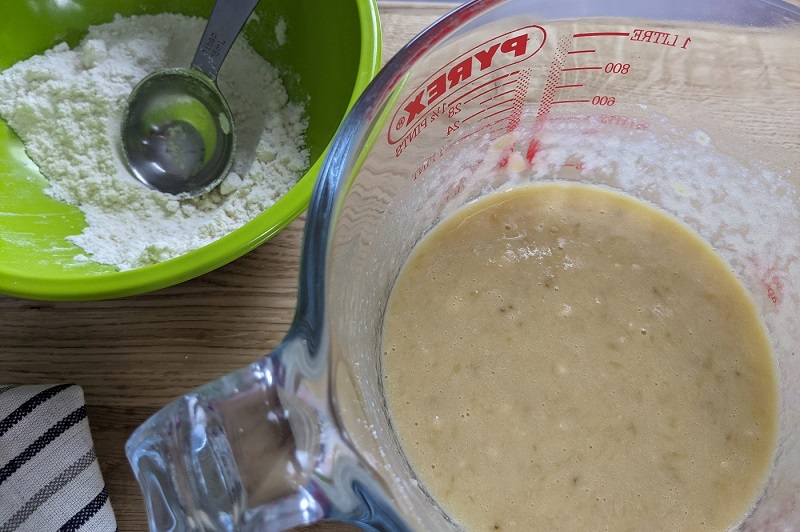 Add a bit of oil to a frying pan and a scoop of the pancake batter. Leave for a couple of minutes and then flip to cook on the other side for a couple more minutes. Simple as that!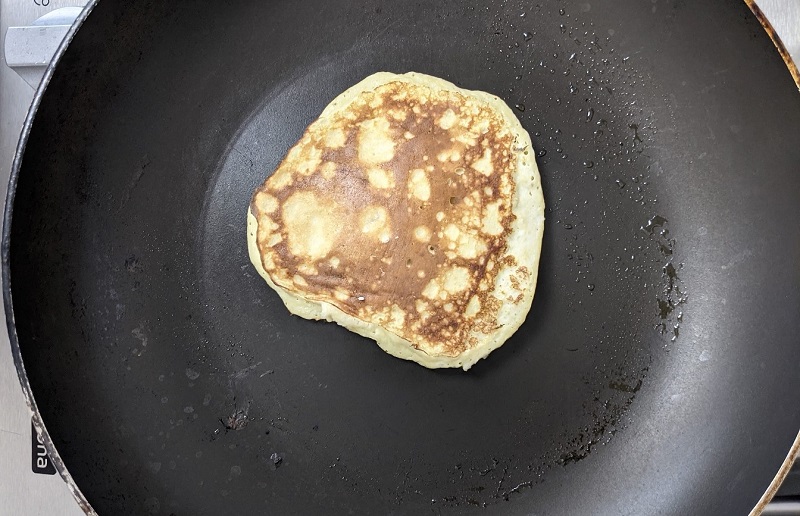 Serving suggestions
We sometimes have them plain, especially my little one as it's a great finger food and it's not messy at all. If we do sit down though to enjoy them, we have them with a bit of honey or maple syrup and some fruits. They also go well with some peanut butter or chocolate spread.
Storage
If you make a batch of those, you can store them in the fridge for a couple of days in an airtight container. They also do freeze well for up to 2 months. Make sure that they cool down completely and put some baking sheet squares between the pancakes so they don't stick together when defrosted.
Watch the Video
Gluten free pancakes
These gluten free pancakes are super easy and fast to make. They are full of protein and fibre because of the coconut flour and the eggs. They are also sugar free which makes them great for babies and young children!
Print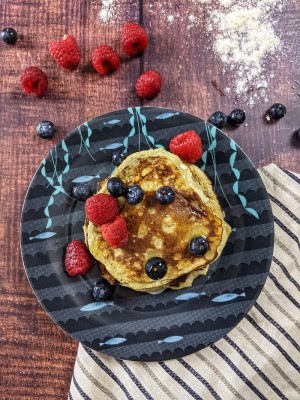 Ingredients
2 eggs
1 banana
1 tbsp coconut flour
1 tsp vanilla extract
Instructions
Mash the banana using a fork or a masher.

Mix the eggs, mashed banana, vanilla and then add the coconut flour. Using a fork or a whisk, mix the batter a little bit.

Heat a frying pan over medium heat and add a little bit of oil to it.

Add a scoop of the pancake mix to the pan. Wait a couple of minutes and then flip it. Wait until the other side is also cooked. Repeat with the rest of the batter.
Storage
You can store them in the fridge for a couple of days or the freezer for up to 2 months.
Nutrition Info (per serving)
Calories: 97kcal | Carbohydrates: 12g | Protein: 5g | Cholesterol: 123mg | Fat: 4g | Saturated Fat: 1g | Polyunsaturated Fat: 0g | Monounsaturated Fat: 0g | Fiber: 2g | Sodium: 52mg | Potassium: 199mg | Sugar: 7g
I am not a nutritionist. The nutrition information has been calculated using an on-line calculator, and is intended for information and guidance purposes only. If the nutrition information is important to you, you should consider calculating it yourself, using your preferred tool.