As we transition from summer to fall season, the zucchinis are slowly replaced by pumpkins and squashes of all different types and shapes. The good thing with this winter vegetable is that it can last a long time out of the fridge or even months in the freezer, grated and stored in freezer bags.
This orange flesh vegetable can be used in so many different dishes, sweet or savory. Here, I'm sharing with you one of my favorite ways of using the pumpkin or squash flesh in a sweet dish, Greek sweet pumpkin pie swirls. These pies or kolokuthopites as we call them in Greek, will remind you a bit of baklava because of the nuts and spices that we add in the filling, and because of the syrup that we drizzle over the baked pumpkin swirls in the end similar to what we do with baklava.
I know you might feel intimidated looking at the ingredients and the photo of these Greek sweet pumpkin pies, but let me assure you that they are quite easy to make with store bought phyllo pastry. The only tedious thing in this recipe or any recipe with grated squash is, well guessed, peeling and grating the squash. If you have a food processor with a grating blade then you could save some time and energy, otherwise just use a grater and be patient as the result will definitely worth your effort. So let's get started!
Jump to:
Why you should try my recipe
Delicious little pies that resemble baklava taste.
Easy step by step instructions for success.
Simple substitutions for a vegan version.
Stores at room temperature for 5 days or in the fridge for 10 days.
Ingredients & How-to
The main ingredients that you will need for the filling of these Greek sweet pumpkin pies are a pumpkin or squash, walnuts, orange zest, granulated sugar, raisins or sultanas, breadcrumbs, sesame seeds, ground cloves, cinnamon, ground nutmeg and ground ginger. On top, you will need around 12-14 phyllo pastry sheets and butter for assembling the swirl pies and for the syrup, we need water, sugar, a cinnamon stick, half an orange (keep half after getting the zest for the filling) and a tablespoon of honey.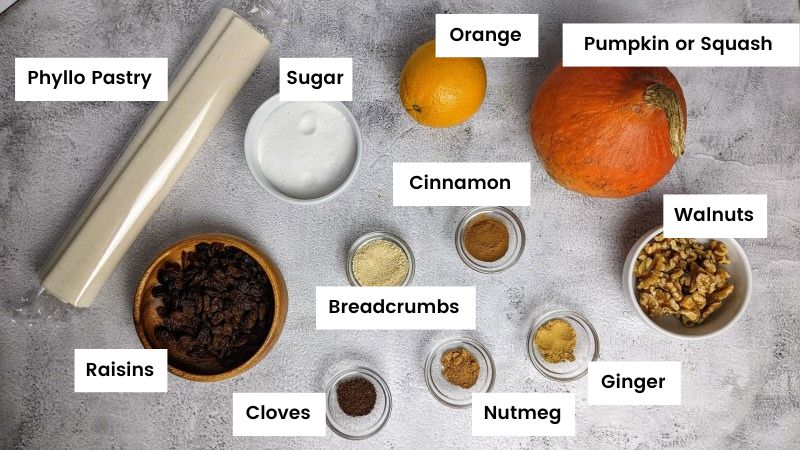 1. Preparing the syrup
01. I first like to prepare the syrup, as it needs to cool down completely before I add it on the pumpkin swirl pies. To make the syrup, I'm just using water, granulated sugar, a cinnamon stick, half an orange and a tablespoon of honey. Before adding the orange, keep the zest of the whole orange aside as we are going to need it for the filling.
02. I put all the ingredients in a pot and heat it up. It will take about 5 minutes to start boiling. When it starts bubbling, I leave it for a minute to boil and then turn off the heat. I leave the syrup in the pot to cool down while I'm preparing the sweet pies.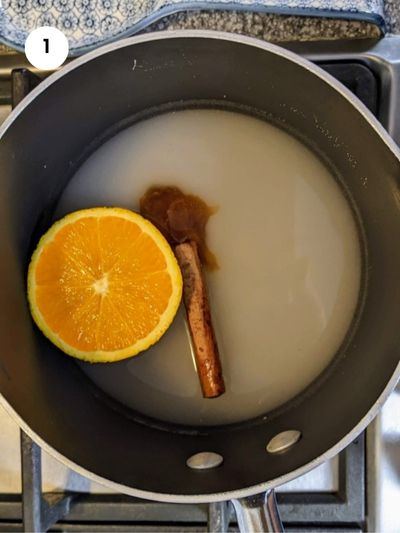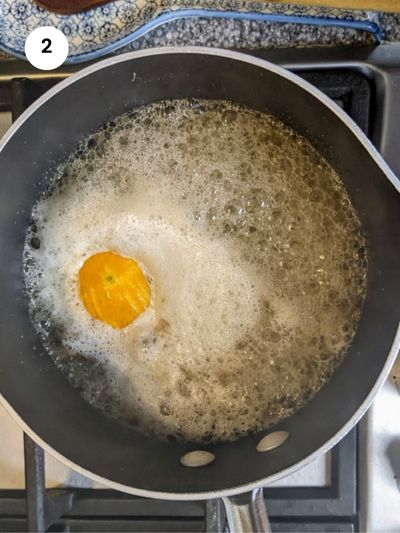 2. Preparing the filling
01. For the filling, you could use a pumpkin or any type of squash you have in hand. I will admit that grating the squash is the most difficult and time-consuming bit of this recipe. I remove the seeds and skin and then start grating the pumpkin or squash. If you have a food processor with grating equipment then you could really save yourself some time here but I understand that not everyone has, so in that case you could simply use a grater.
02. Using my hands or a tea towel I squeeze as much water as I can from the grated pumpkin. Then I add it to a big bowl with the rest of the ingredients, sugar, chopped walnuts, ground cinnamon, ground clove, ground nutmeg, ground ginger, breadcrumbs, raisins.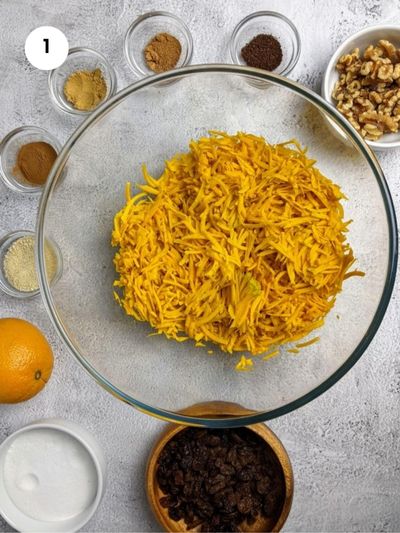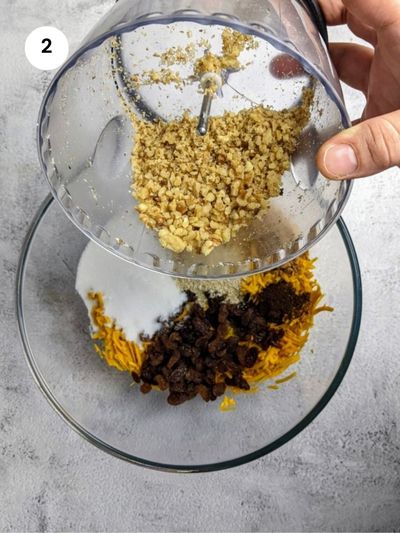 Mamazilla's Product Recommendations
03. I like to add the zest from one orange to the pumpkin pie filling as it gives a nice aroma and goes very well with the spices. I usually take the zest from the orange and leave it aside and then use half of the orange for the syrup. If you don't have any oranges, you could substitute with lemons just make sure they are unwaxed.
04. Now that all the filling ingredients are in the bowl, I mix everything well and leave it aside whilst I prepare my area to start making the little swirl pies.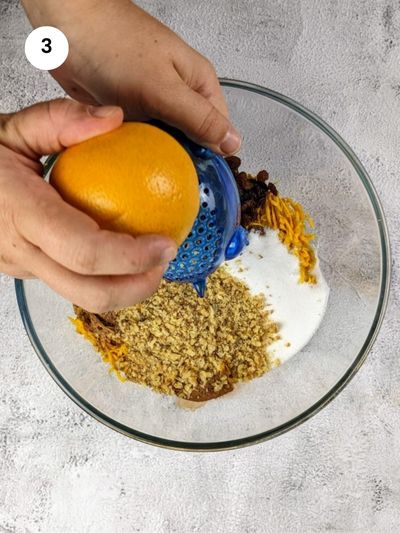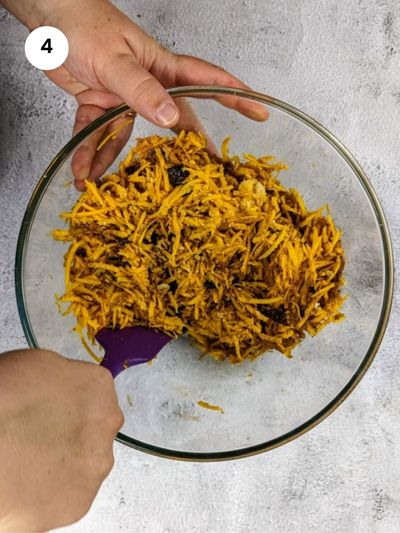 3. Assembling the pumpkin pies
01. I open the phyllo pastry package and take out 12 sheets to use. I place them on my working surface and cover with a tea towel to prevent the phyllo pastry from getting dry. As it's very thin and sensitive to air, it can get dry easily, so it's important to open the package when you are ready to start making the pies and not beforehand.
02. Now I take one sheet out at a time from the stack and place it in front of me. I drizzle with melted butter using a baking brush. Drizzling with butter helps to make little air pockets so when I fold the pastry it will get crispier and have layers. I prefer using full fat animal butter compared to margarine or shortening as it's much healthier and gives the greek sweet pies a better taste, but that's a personnal preference. If you are vegan or prefer vegetable butter then you could substitute it with your preferred one.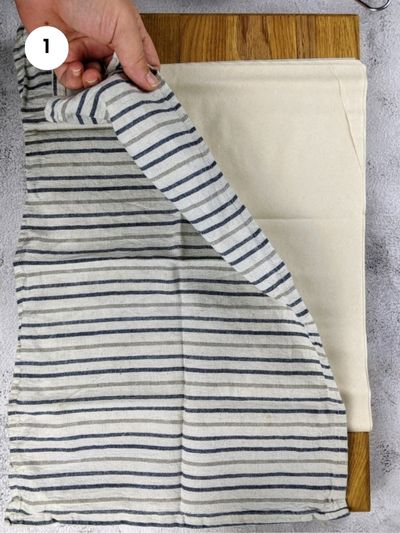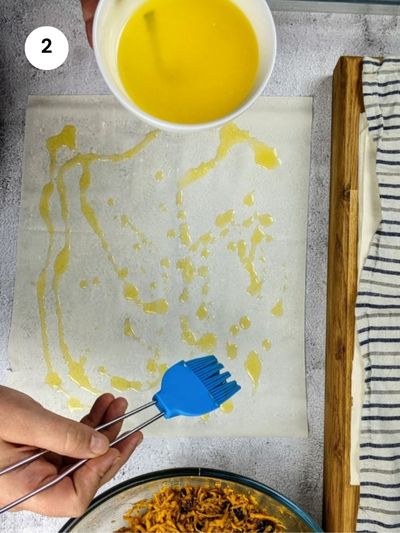 03. Then, I put a couple of heaped tablespoons of the pumpkin mixture at the bottom of the phyllo sheet. I start rolling the sheet upwards until I reach the upper long end. Make sure you are not pressing hard while folding the sheet, as we want the air to flow between the layers.
04. Then from one end, I start folding gently making a coil shape. Again, it doesn't need to be tight as we need the air to flow and bake evenly. I place the sweet pumpkin pie swirl to an ovenproof dish that I have first brushed with butter.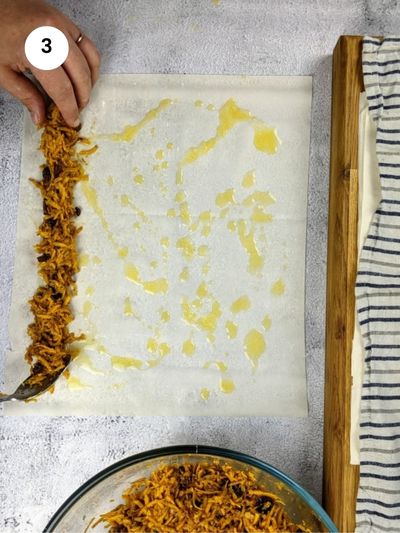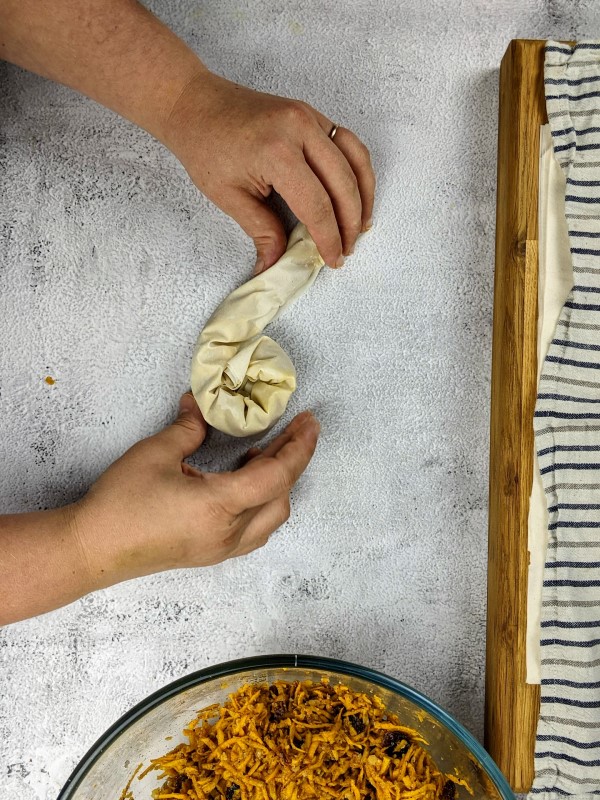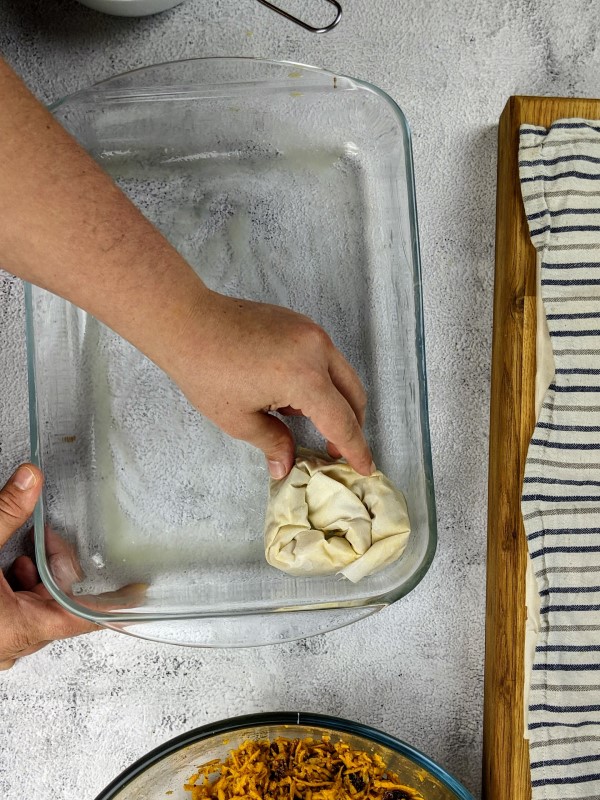 05. The pumpkin pie filling is for about 10-12 phyllo swirls. I place each one in the pyrex tray as I make it and then brush them all with the remaining melted butter. Brushing them with the butter, helps to prevent burning whilst in the oven baking and also to get crispier at the top layer.
06. Now it's time for the oven. I bake the Greek pumpkin pies in a preheated oven to 160°C/320°F for about an hour until they have a nice golden brown color. When they are done, I take the tray out of the oven and immediately pour over the cold syrup. In order to get a nice & crispy phyllo, you need the syrup to be at room temperature and the pies to be very hot as they come out of the oven.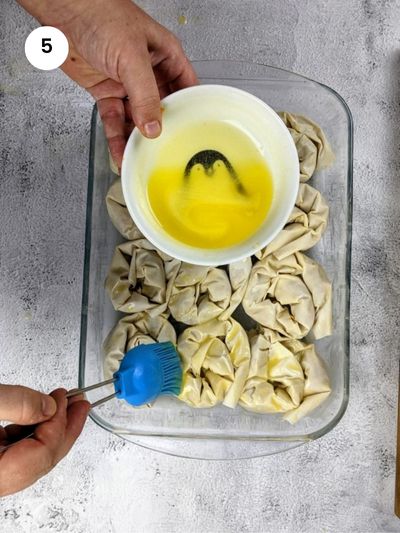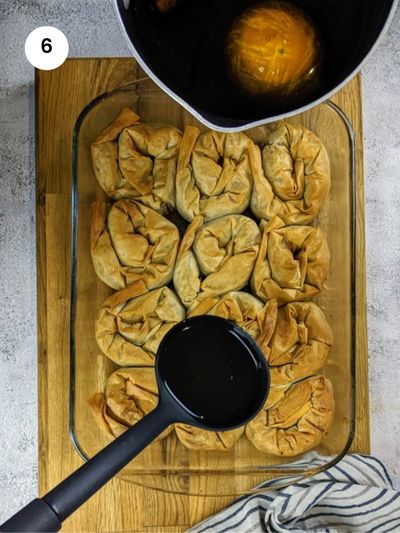 Mamazilla's Product Recommendations
Tips
Avoid any big hard pieces when chopping your nuts that will result in tearing the phyllo pastry.
Open the phyllo pastry packaging when you are ready to start rolling to prevent it from going dry and breaking while rolling.
Always pour cold syrup over hot baklava to avoid a soggy pumpkin pie.
For a successful syrup, you need to leave it just a minute after it starts boiling and you see loads of bubbles on the surface.
Squeeze the shredded pumpkin or squash to get all the water out to avoid a soggy pumpkin pie swirl.
Substitutions
Instead of walnuts, you could use almonds or pistachios that you roughly chop.
You could any type of yellow squash or pumpkin, you prefer and it's easy to find where you live.
For a dairy-free and vegan version, you could substitute the butter with a vegan one of your preference.
You could use sultanas or raisins or dry mixed fruits for the pumpkin pie filling.
Serving suggestions
We usually have these Greek sweet pumpkin or squash pies plain as a dessert after our meal or in the afternoon with a cuppa. You could also serve them with a scoop of vanilla ice cream on the side or with some powdered sugar on top.
Storage
You can store these Greek sweet pumpkin pie swirls at room temperature for 5 days. Leave them in the tray and cover with a tea towel or some kitchen foil to prevent the pastry from getting soft and soggy. You could also put them in the fridge in an airtight container where they can last up to 10 days.
FAQ
What type of pumpkin can I use for pumpkin pie? You could use any type of pumpkin or squash with a yellow or orange flesh like butternut squash, celebration squash etc. Some squashes are more watery than others when grated so try and squeeze as much of the water as you can to prevent getting a soggy pie.

What kind of nuts can I use for the Greek pumpkin pie? You can use walnuts or a combination of nuts like walnuts, almonds, pistachios.

How do I know when the syrup is ready? As every stove is different, all you need to remember is that when the syrup starts boiling and has a lot of bubbles on the surface then you leave it for one more minute to boil and then take it off the heat.

How to prevent phyllo pastry from drying out? Phyllo pastry is very thin and sensitive when exposed to air. When you open the phyllo pastry package cover the stack with a towel to help prevent from drying out and breaking. Then simply take one sheet out at a time to work while you keep the rest covered
Watch the video
Greek Sweet Pumpkin Pie Swirls
These little sweet pumpkin pie swirls or kolokuthopites as we call them in Greek are so delicious, nutty and full of aromas from the spices and the syrup. They will impress everyone and if you like baklava, you will definitely love them too. Serve them after dinner as a dessert or in the afternoon with a cup of coffee or tea. Enjoy!
Print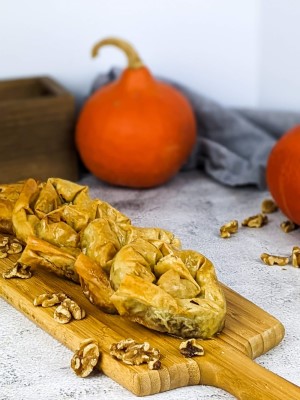 Pastry ingredients
1 squash or pumpkin (450-500gr or 7 cups grated)
250gr (12 sheets) phyllo pastry
½ cup sugar
6oz / 170gr / 1 ½ sticks butter
¾ cup raisins
1 cup walnuts
1 tablespoon breadcrumbs
1 tablespoon sesame seeds
½ tablespoon of ground cinnamon
½ teaspoon of ground clove
½ teaspoon of ground ginger
½ teaspoon of nutmeg
orange zest
Syrup ingredients
1 cup sugar
1 cup water
1 cinnamon stick
½ an orange
1 tablespoon of honey
Instructions
To prepare the syrup, add all syrup ingredients to a pot, the water, sugar, cinnamon stick, half an orange and honey.

Give it a bit of a stir and then leave it over medium heat. When it starts boiling and you see lots of bubbles on the surface, leave it to boil for one more minute and then take the pot off and leave it on the side to cool down.

Cut the pumpkin in the middle and remove the seeds. Peel the skin off the pumpkin and grate using a hand grater or a food processor.

Add the grated pumpkin to a big bowl. Add the sugar, raisins, chopped walnuts, breadcrumbs, sesame seeds, cinnamon, clove, ginger, nutmeg and the zest from one orange.

Mix all the ingredients well and set aside.

Melt the butter in the microwave for a few seconds or in a pan. Open the phyllo pastry package, lay open the sheets and cover with a tea towel so they don't dry out.

Take one of the phyllo sheets from the pile and put it in front of you. Drizzle with the melted butter using a brush.

Take 2-3 heaped spoons of the pumpkin filling and spread them at the bottom of the phyllo sheet lengthwise.

Start rolling the phyllo sheet until you reach the top side, forming a long snake shape.

Holding one of the ends, start rolling into a coil shape.

Brush an ovenproof dish with some butter and place the pumpkin pie swirl.

Continue with the rest of the pumpkin pies and place them all in the tray.

Brush all the pumpkin swirls on top with the remaining butter.

Place the tray in the oven and bake for 50-60 minutes at 160°C/320°F. When the pumpkin swirls are ready, take the tray out of the oven and immediately pour over the cold syrup.

Leave them for 30-40 minutes to rest and soak the syrup before serving.
Notes
- You could use any nuts of your preference instead of walnuts. Instead of orange, you could also use lemon.
Storage
Cover with a towel or foil and keep at room temperature for up to 5 days.
Nutrition Info (per serving)
Calories: 383kcal | Carbohydrates: 53g | Protein: 4g | Cholesterol: 30mg | Fat: 19g | Saturated Fat: 8g | Polyunsaturated Fat: 4g | Monounsaturated Fat: 5g | Fiber: 2g | Sodium: 100mg | Potassium: 273mg | Sugar: 34g
I am not a nutritionist. The nutrition information has been calculated using an on-line calculator, and is intended for information and guidance purposes only. If the nutrition information is important to you, you should consider calculating it yourself, using your preferred tool.