By now, you have probably realized my love for salads and how much I like to combine different ingredients until I get the perfect dish to share with you. I came up with this salad when I ended up having 2-3 red kuri squashes at home from our weekly local vegetable delivery. My husband is not a big fan of salads, especially if they have too many green stuff in them and this couscous salad with squash passed the test. He really enjoyed it as a side with his main and for me, it's great as lunch on those days that I try to go meatless.
As I said, this couscous salad doesn't have lots of greens in it, apart from the parsley for some freshness, but it's still full of nutrients and goodness. You can get your protein from the walnuts and feta cheese, carbs and energy from the couscous, vitamins and fiber from the squash, onion and pomegranate seeds. If you don't have any of the ingredients or have any allergies, do read through as I offer substitutions for some of the ingredients to fit different lifestyles so you don't miss out. So, let's get started!
Jump to:
Why you should try my recipe
Very easy to prepare and healthy.
Perfect for a light lunch and lunch boxes.
Full of nutrients and quite filling.
You can find substitutions for many of the ingredients.
Great for barbecues and gatherings.
Ingredients & How-to
The ingredients you will need for this mediterranean couscous salad are: squash or pumpkin, red or yellow onion, couscous, walnuts, pomegranate, feta cheese, parsley, vinegar, olive oil, balsamic vinegar, salt and pepper. For full quantities and bullet instructions check the recipe down below.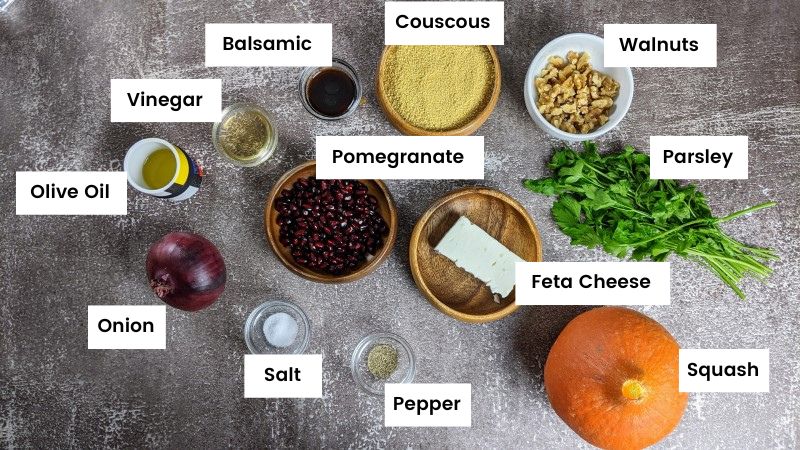 You could use any type of squash you like and have available like butternut squash, kabocha, red kuri, sweet dumpling etc. I'm using a red kuri squash that I got from a farm near our house with organic vegetables and has a nutty flavor when roasted.
01. I start with preparing the squash, peeling all the hard skin and removing the seeds. Then, I cut it into big cubes and put it in a bowl. You can use the seeds for planting and growing your own squashes or you could roast them with some spices and eat them.
02. Next, I cut the red onion into big slices around 1 inch / 3cm. You could also use a yellow onion but I prefer the red onion as it has a sweeter taste when roasted. I put the onion slices with the squash, in the same bowl. I drizzle with some olive oil and season with salt and pepper.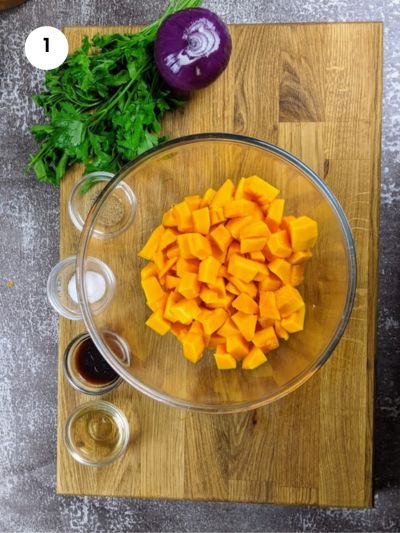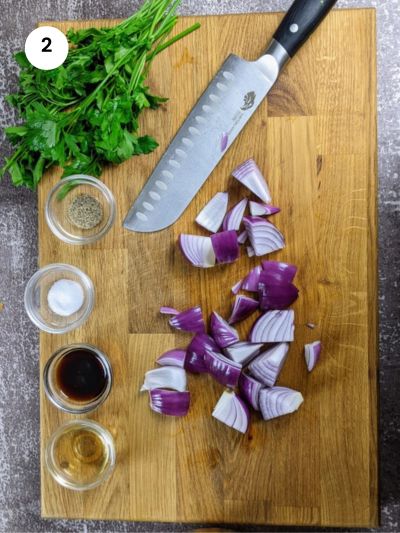 03. I place the seasoned onion and squash on a tray lined with baking paper and bake in the oven for about 20 minutes. We don't want the squash to get to mush just fork tender and the onion to get its sweetness out.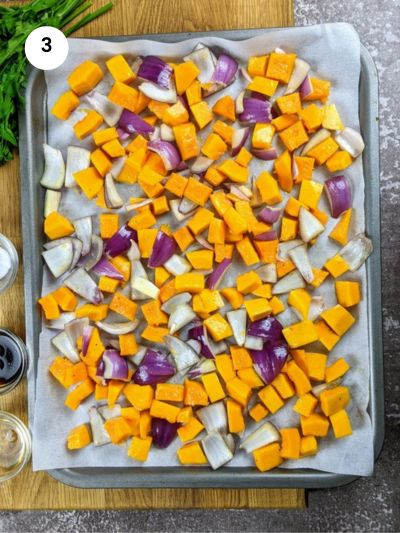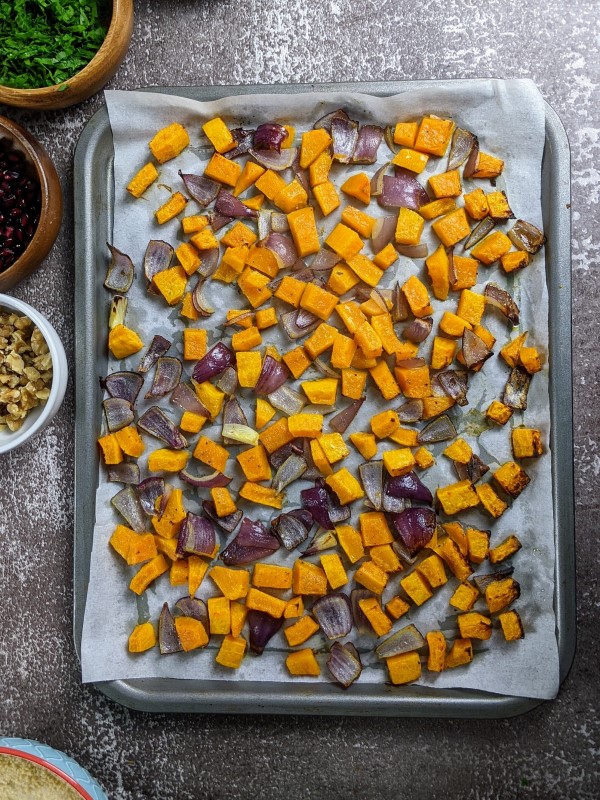 Mamazilla's Product Recommendations
04. For the couscous, all we need to do is add it to a big bowl and then add the same quantity of boiling water as couscous. Then I cover the bowl with some cling wrap to keep the steam inside and leave the couscous for about 10 minutes to absorb all the water and cook itself. If you decide to use pearl or Israeli couscous though, I recommend boiling it in a pan with water as it needs more time than the fine couscous.
05. I add all the ingredients to a serving salad bowl. The roasted squash and onions, couscous, chopped walnuts, pomegranate seeds, parsley and crumbled feta cheese and mix everything well. The couscous might need some fluffing up with a fork if you have left it too long in the water. You could also replace the walnuts with pine nuts or cashews if you have a preference.
For a dairy free or vegan version, you could substitute the feta cheese with a vegan one of your preference or leave it out. I do find though that the feta is one of the key ingredients in this salad and its tangy taste gives it a nice kick and compliments the flavor of the roasted squash and onion.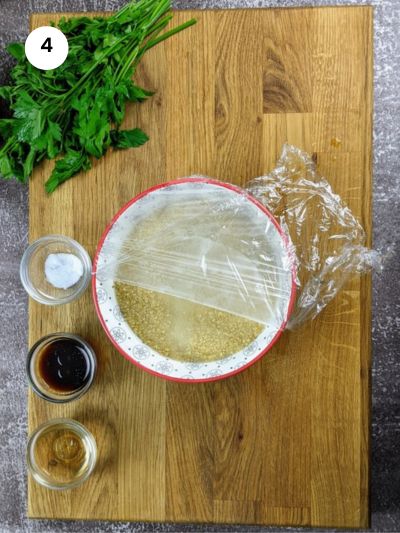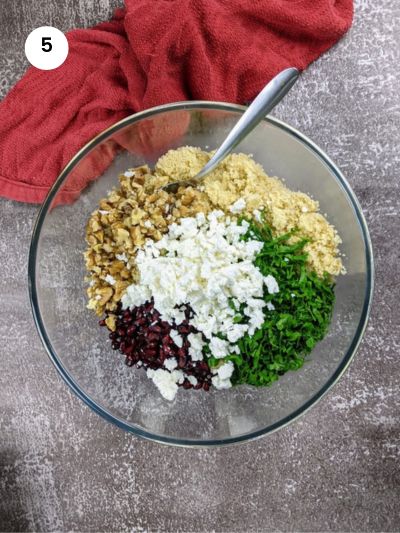 06. For the end, I leave the dressing and seasoning. I'm using a simple vinaigrette as a dressing with a combination of olive oil, balsamic vinegar and white vinegar, and season with a little bit of salt.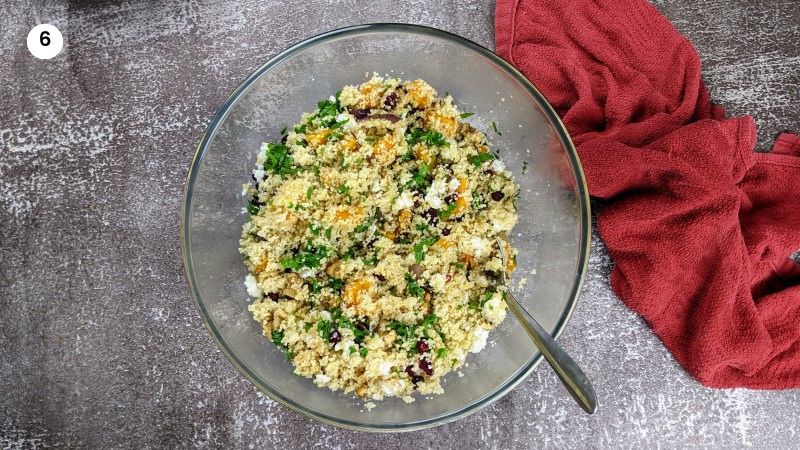 Substitutions
You could substitute the parsley with cilantro.
You could substitute the feta cheese with a vegan one of your choice.
You could use walnuts, pine nuts or cashews.
Serving suggestions
We usually have this mediterranean couscous and roasted squash salad as a side dish with our main or as a light lunch on its own. The combination of the roasted vegetables and couscous makes it quite filling and then the feta cheese and walnuts add some extra goodness. It's perfect for lunch boxes, barbecues and gatherings with friends or family.
Storage
You could store any remaining of the couscous and roasted squash salad in the fridge and have it on the next day. You could also roast the squash and onion and prepare the couscous in advance. Then it will only take you 5-10 minutes to put everything together and serve it like fresh.
I don't recommend storing this couscous salad in the freezer, as it won't taste that good when defrosted. What you could do instead, is store the squash raw and cut into cubes in the freezer. Then you could put it straight in the oven with a drizzle of olive oil and roast it for a bit longer until fork tender.
FAQ
How can I make the couscous salad vegan? To make this couscous salad with squash vegan, all you need to do is replace the feta cheese with a vegan one of your choice.

How long does it take for the couscous to cook? All you need to do is put the same quantity of couscous and boiling water to a bowl, cover with some cling wrap and let it rest for 10 minutes. When you remove the cling wrap, fluff it up with a fork.

What can I use instead of walnuts? You could replace the walnuts with another nut of your choice like pine nuts or cashews.
Watch the video
Mediterranean Couscous Salad With Squash And Feta Cheese
This couscous salad with squash is full of sweetness from the roasted vegetables and pomegranate, nutty from the walnuts and tangy from the feta cheese. It's great for lunchboxes and as a side dish with your main. We also love to serve it when having friends around or at barbecues. Enjoy!
Category: Salads
Difficulty: Easy
Print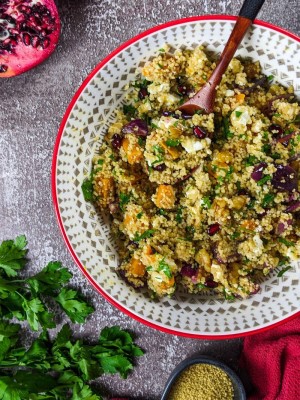 Ingredients
1 medium squash (300gr or 0.7 lbs or 3 cups in cubes)
½ cup pomegranate seeds
1 cup couscous
1 red onion
2 tablespoons of chopped parsley
½ cup or 100gr feta cheese
⅓ cup chopped walnuts
4 tablespoons of olive oil
2 tablespoons of balsamic vinegar
2 tablespoons of white vinegar
salt & pepper
Instructions
Peel the squash, remove any seeds and cut it into cubes around 1in / 3cm.

Peel the onion and cut it into big cube slices around 1in / 3cm.

Drizzle the squash and onions with olive oil and season with salt and pepper.

Put them on a lined tray and bake for 20 minutes at 180°C/350°F or until the veggies are soft.

Add the couscous to a big bowl and add 1 cup of boiling water. Cover with cling film and let it rest for 10 minutes until the water is absorbed.

In a big bowl, add the roasted veggies and couscous. Add the pomegranate seeds, crumbled feta cheese, chopped walnuts and parsley.

For the seasoning, mix the olive oil, balsamic vinegar and white vinegar. Add the seasoning to the salad and mix well. Add salt to taste and serve.
Notes
- You could use a yellow onion instead of red if you don't have one. The red onion will give a sweeter and stronger taste.
- For a dairy free or vegan version, you could leave the feta cheese out or substitute it with a vegan one of your choice.
- If you are allergic to walnuts, you could replace them with pine nuts or cashews.
Storage
You could store the salad in the fridge and having the next day. I wouldn't recommend freezing it as the couscous doesn't taste good when defrosted.
Nutrition Info (per serving)
Calories: 345kcal | Carbohydrates: 26g | Protein: 7g | Cholesterol: 17mg | Fat: 25g | Saturated Fat: 5g | Polyunsaturated Fat: 6g | Monounsaturated Fat: 12g | Fiber: 4g | Sodium: 298mg | Potassium: 514mg | Sugar: 10g
I am not a nutritionist. The nutrition information has been calculated using an on-line calculator, and is intended for information and guidance purposes only. If the nutrition information is important to you, you should consider calculating it yourself, using your preferred tool.